We use affiliate links. If you buy something through the links on this page, we may earn a commission at no cost to you. Learn more.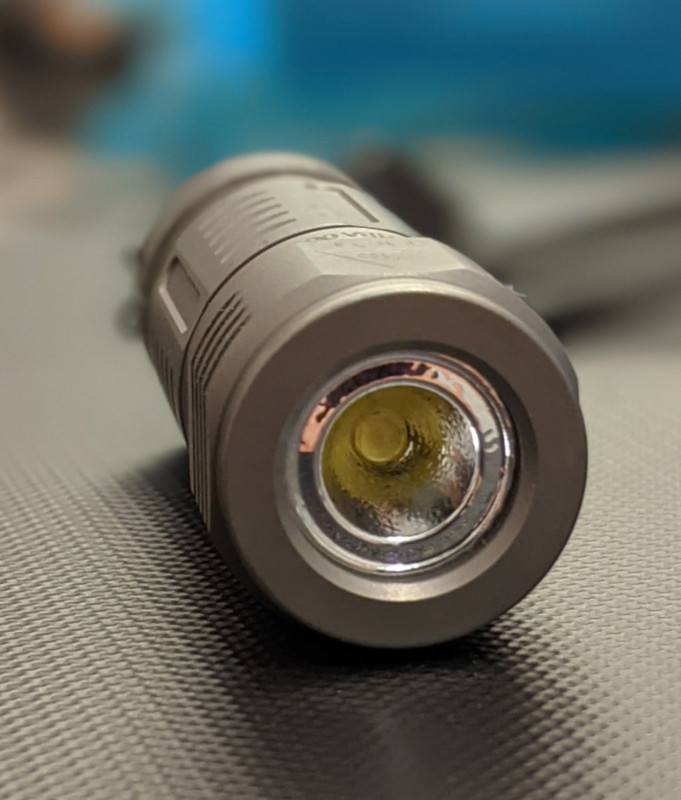 REVIEW – When I demonstrated the Cyansky M3 EDC Titanium flashlight to my wife, who is not easily impressed with my gadgets, she was very surprised by the maximum brightness this little light produced. Could this be the last flashlight you'll ever need? (I know, not possible.) Can this small flashlight replace larger flashlights for everyday use? For tactical use? I hope you feel LED to read on.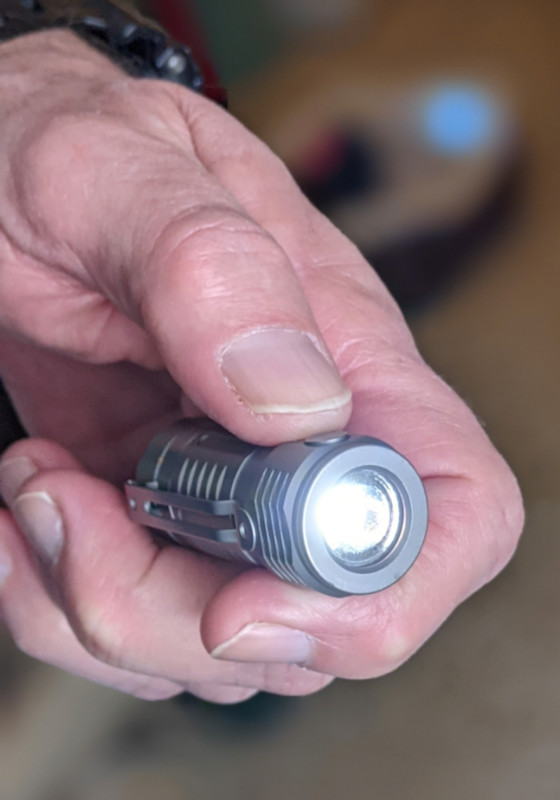 What is it
The Cyansky M3 EDC Titanium flashlight is a small LED flashlight with a rechargeable battery and four brightness levels plus strobe.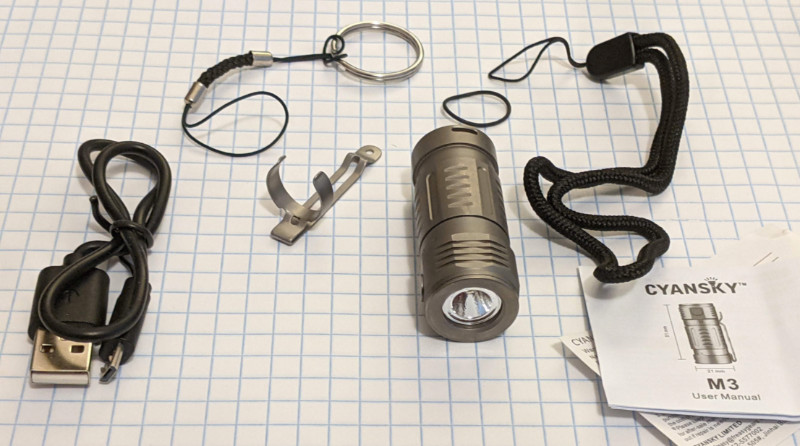 What's in the box
M3 EDC Titanium flashlight

700 mAh 16340 Lithium ion battery

Micro USB charging cable

Spare O ring

Pocket clip

Short keyring lanyard

Wrist lanyard

User manual and warranty card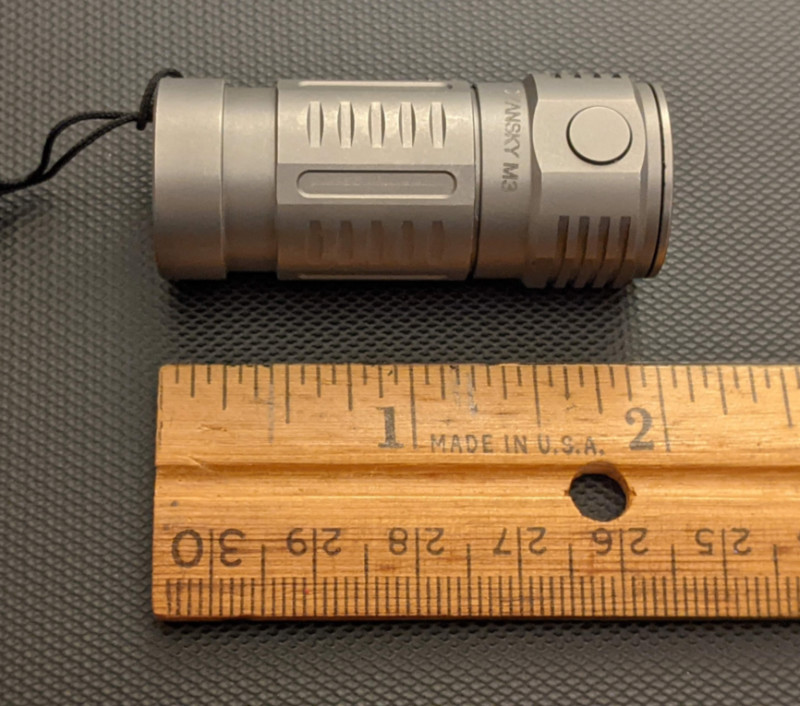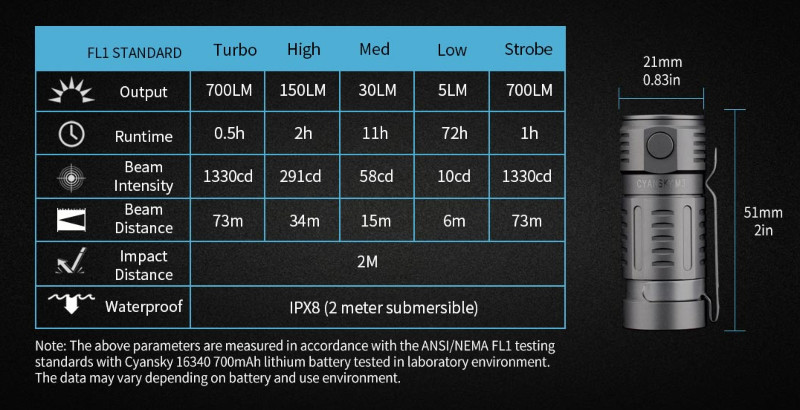 Hardware specs
LED: CREE XP-G3 S5

Lumen outputs: 5, 30, 150, 700

Material: Titanium alloy body

Drop resistance: 2 meters

Water resistance: IP68

Operating temperature range: -22 F degrees to 122 F degrees

Circuitry features: Low power warning, overheating protection, short circuit protection

Measurements: .83" diameter, 2" length.

Weight: 1.7 oz with battery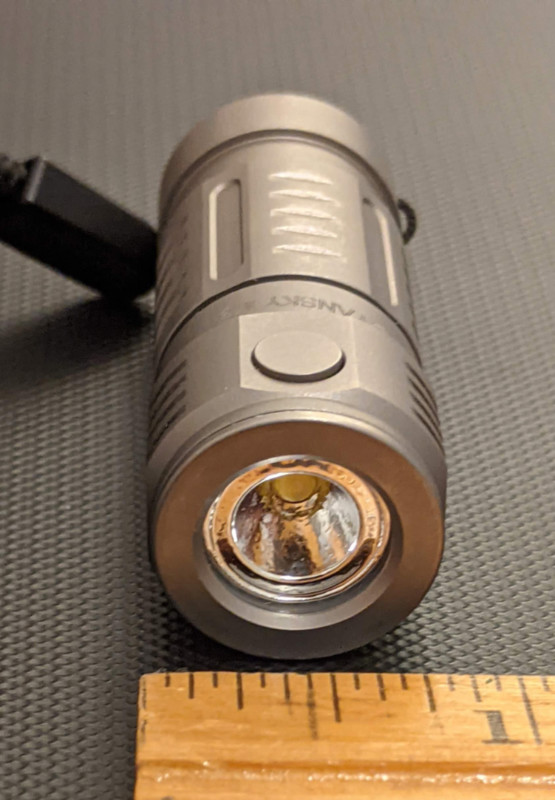 Design and features
The Cyansky M3 EDC Titanium flashlight is ruggedly built of a titanium alloy with an anti-corrosion, non-rust finish. There is one button to control all functions of the flashlight. Four light levels are available, as well as strobe. The button has a lock feature which -should- prevent the light from accidentally coming on in a pocket. More on that below.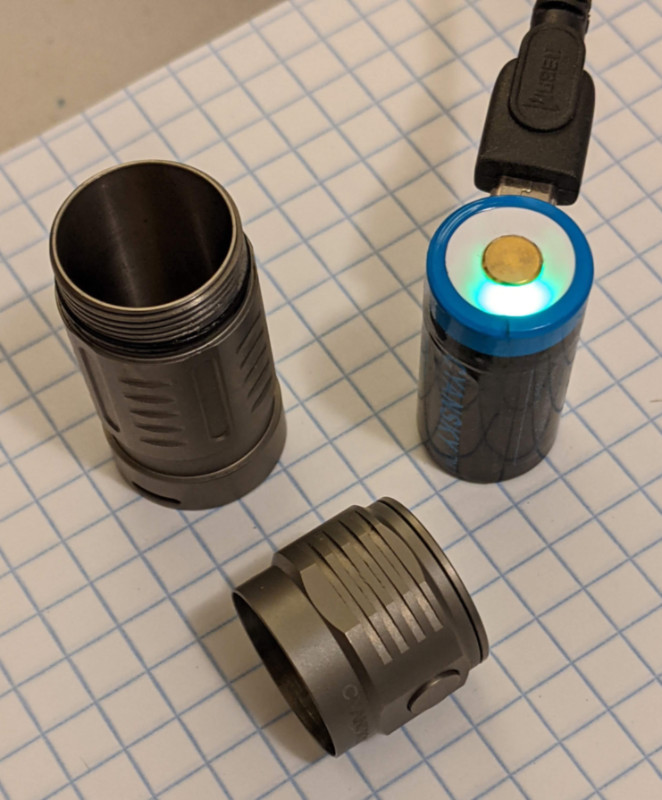 Installation and Setup
The Cyansky M3 EDC Titanium flashlight ships with a protective tab on the battery. This is easily removed when you unscrew the head cap. I charged the battery via the Micro USB port on the battery. A red light on the positive end of the battery glows during charging. When a green LED illuminates from the same area the battery is fully charged. My battery must have had a pretty good charge from the factory as it took about 30 minutes to see the green LED.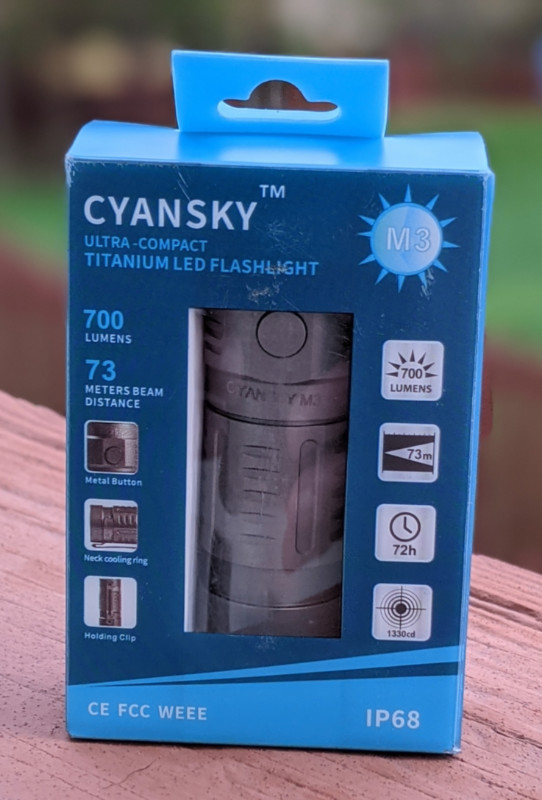 Testing and observations
PRACTICAL USE
I've had a unique flashlight need during my most recent flashlight reviews. I'm yard-training a 6 month old chihuahua. Seeing his 'production' from 20 feet off our deck contributes to my quality of life. Little dogs can be distracted if the owner is too close during 'production' plus the owner gets grumpy from standing in a cold wet yard. So if I have a light bright enough to let me see the 'twinkle from the tinkle' in my dry position up on the deck, I'm a happier pet owner. And yes we treat every 'go' immediately after, in order to reinforce yard use.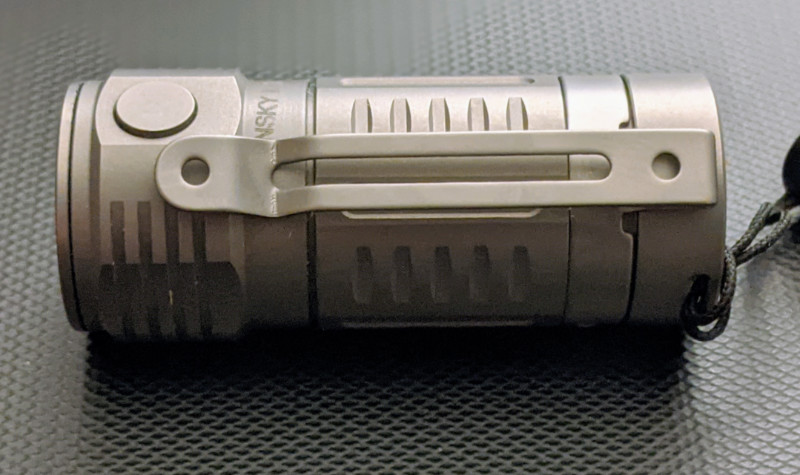 SWITCH
The Cyansky M3 has a power button you will not feel with your fingers. I had to attach the included pocket clip next to the button so in the dark I could identify by feel, where the switch is located. Flashlights are for use in the dark, right? 
It's great that the M3 accepts the widely available lithium non-rechargeable CR123 battery. They can be priced at $5 to $6 at most retailers but have a very long shelf life. Good bargains on brand name CR123 batteries can be had if you shop online. Especially check manufacturer websites, not just retailers.
OPERATION
A double-press of the power button within about one second yields two flashes of the flashlight LED and indicates the light is locked. This should/may prevent accidental 'on'. The same process unlocks the light. 
Given the almost flush position of the switch with the light body I thought the Cyansky M3 EDC Titanium flashlight might not accidentally turn on in my pocket but I got surprised a couple of times even when I'd locked the switch. I still lock the switch almost every time I pocket the light, but I need to be aware of the possibility of sudden, excess warmth when I'm carrying the M3 EDC. 
I was working at my desk and felt something hot in my pocket. I looked down and could see flashing in my pocket as the M3 was strobing. The heat got my attention but I got the light off before there was trouble. 
Again, when the light is locked, it can be unlocked by another double-press and the light comes on at its lowest output when unlocked.  
From 'off', a single one second button press turns the light on. The M3 always comes on at the lowest lumen setting. Once the light is on, successive brief button pushes cycle incrementally through the brightness settings. 
Strobe mode can be activated with the light off or on, by a two second hold of the power button.  The strobe mode features a fast and slower alternating strobe mode. It strobes fast for about two seconds then at a  slightly slower strobe frequency for about two seconds, continuing until you press the button for one second for 'off'. A quick press takes the light from strobe to the lowest lumen 'on'. The alternating strobe rate is a nice added feature to see engineered into the design if you like strobe. 
It takes me a while to remember that 'off' is a half-second hold. I have a couple of flashlights that operate like the M3. But in a given week I use and carry a variety of pocket flashlights. A momentary button push with the light on goes to the next brightness level. I'd prefer a quick button push to turn the light off and a long push to increase brightness levels. 
DURABILITY
The Cyansky M3 is very solidly made. I can't imagine any force damaging the light during routine use. 
INSTRUCTION SHEET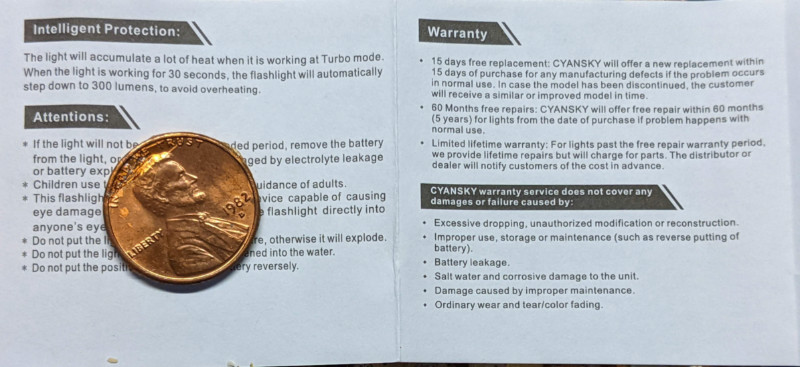 I've given up the crusade for product manuals and instruction sheets to be produced in a readable font size. They almost never exist. I am cursed to always need a magnifying glass for the reading of same. And I can drive without glasses! The Cyansky M3 instruction sheet is probably .5 to .3 point type or smaller. If you might be interested in something the instruction sheet has to say, have a magnifier handy. 
POCKET SECURITY
I immediately attached the wrist lanyard to the M3 thinking it would help me not loose it. I don't usually like lanyards so I removed it after a week and the M3 never escaped my pocket. It isn't heavy, but has enough weight to stay in a pocket.
DAILY UTILITY? TACTICAL UTILITY?
I worked in emergency medical services a while back and used a light I could access and activate quickly. Think 'quick draw'. And it needed to have a high battery capacity to ensure I had enough power to work back to back calls before I could do a recharge. 
The Cyansky M3 EDC Titanium flashlight could be considered a great pocket back up or secondary light for any and all users. I don't think it has the size and features to make it a primary light for public service, use in the trades, etc. Around the house it was great – it takes up very little pocket space and once you find the switch it makes a lot, or a little light.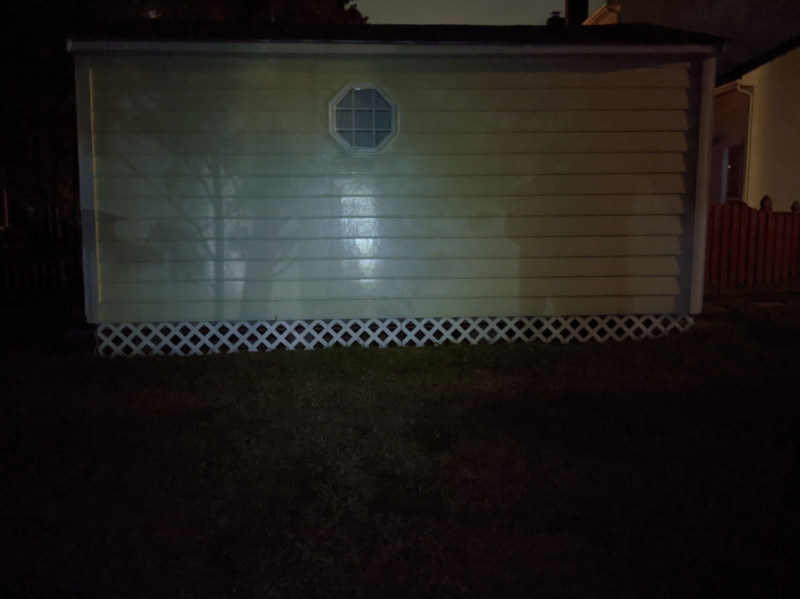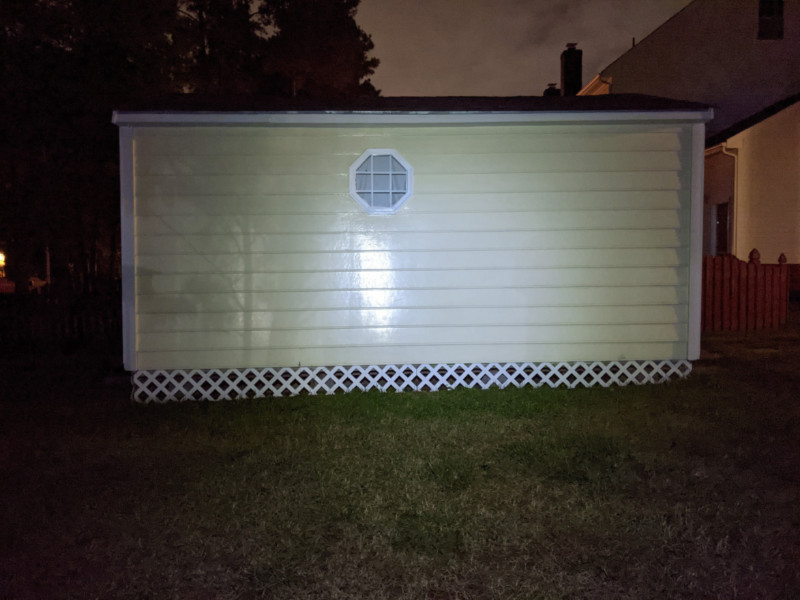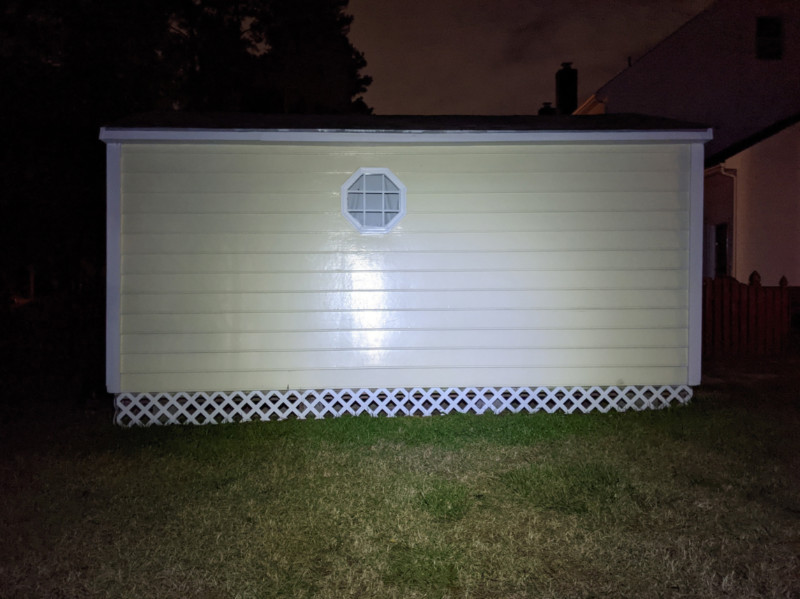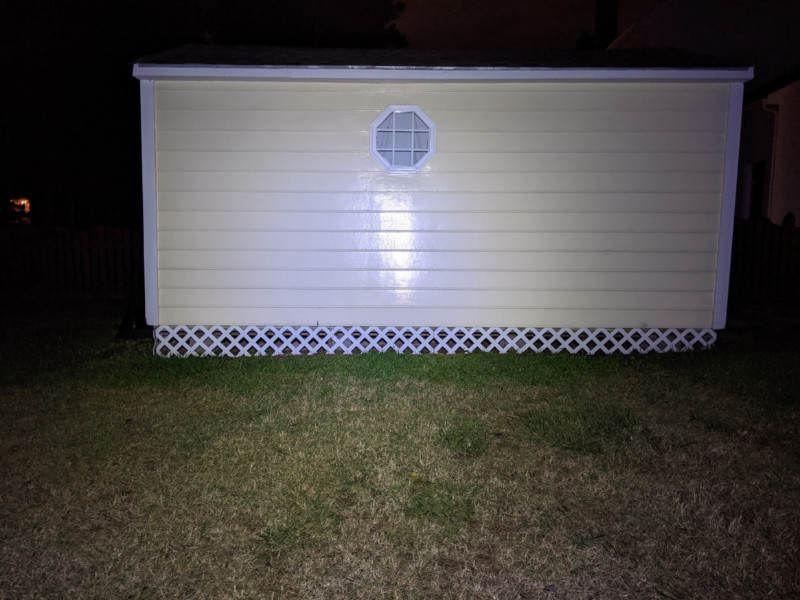 These photos show the lumen levels from lowest to highest. Light on the shed can be hard to differentiate so check the light spread on the grass.  The brightness levels are distinct in reality.
What I like
Convenient small size.

Nice brightness options for a light this small.

Rechargeability of the included lithium ion battery.

CR123 non-rechargeable battery also fits and works perfectly.

Fit, finish and lumen levels are nicely executed.  
What I'd change
The power switch should be 'find-able' by feel, without having to look at the flashlight.

I prefer brief button pushes for off and on, and long pushes to change brightness modes.

Make the instructions large enough to be seen.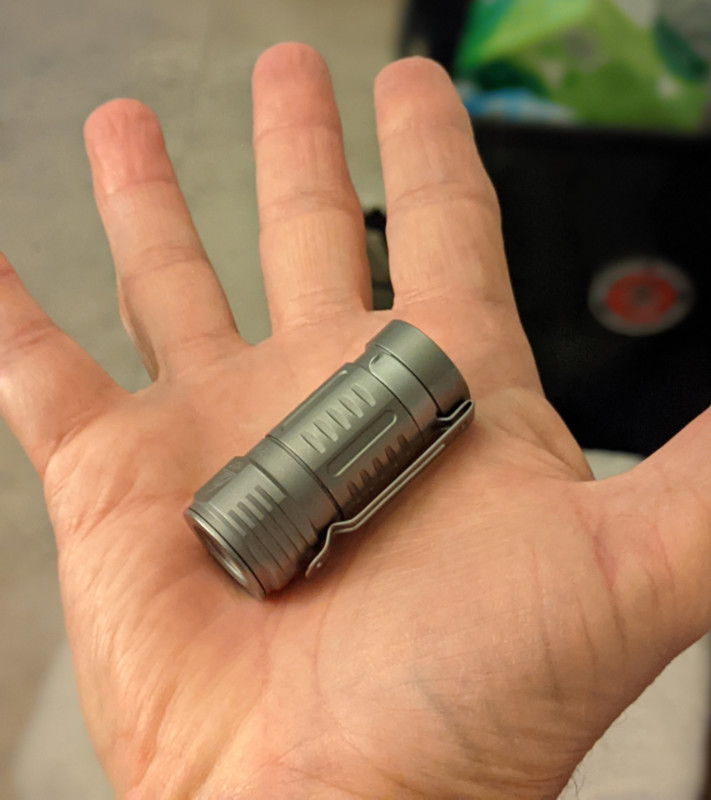 Final thoughts
Is the price of the Cyansky M3 EDC Titanium flashlight surprising given its size? Things made of titanium do tend to be pricier. The light is solidly built and performed well at all its lumen levels as I needed them. Accidental pocket activation notwithstanding, I recommend the Cyansky M3 EDC Titanium flashlight. You decide if the price is right. 
Price: $71.95
Where to buy: Cyansky
Source: The sample for this review was provided by Cyansky.