We use affiliate links. If you buy something through the links on this page, we may earn a commission at no cost to you. Learn more.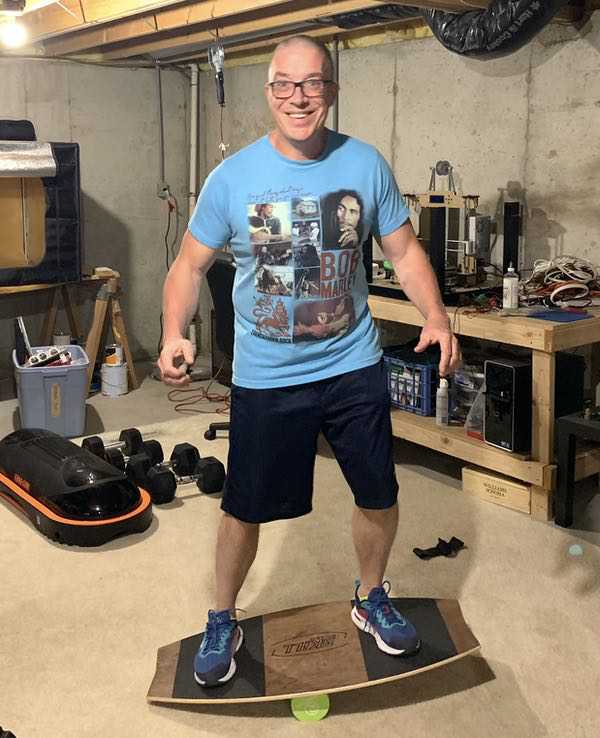 REVIEW – What was I thinking? I've never skateboarded, surfed, or done gymnastics a day in my life. But here I am, learning how to improve my balance with the Skill Board Balance Trainer. I may be nuts. We're facing our fears with this review, my friends. To the review!
What is it?
The Skill Board Balance Trainer is a balance training tool.
What's in the box?
Skill Board offers two board sizes along with a bunch of accessories & bundle packages. My test kit came with the standard sized board with grip tape, the large skill ball, and the air pump.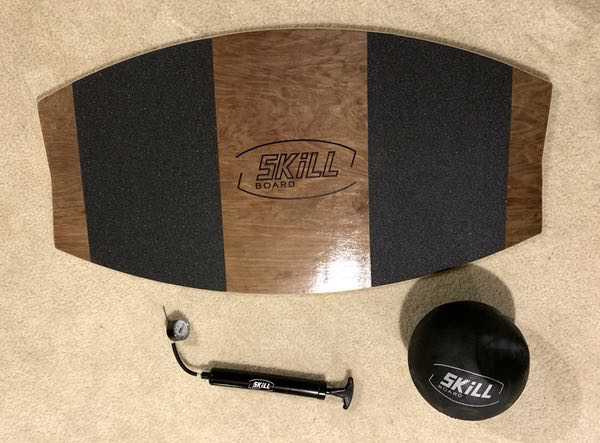 Hardware Specs
The Original Skill Board (tested here) measures 36.5″x19.5"(93x50cm)
The large ball is 9″ (23cm) in diameter – similar to a regulation soccer ball
Board and ball are rated for weights up to 300 lbs(136 kg)
Design and features
The Skill Board is a beautifully crafted, sturdy piece of gear. It's made of maple plywood with 8 laminated layers, similar to a skateboard. Check out the beautiful wood grain from the bottom side of the board.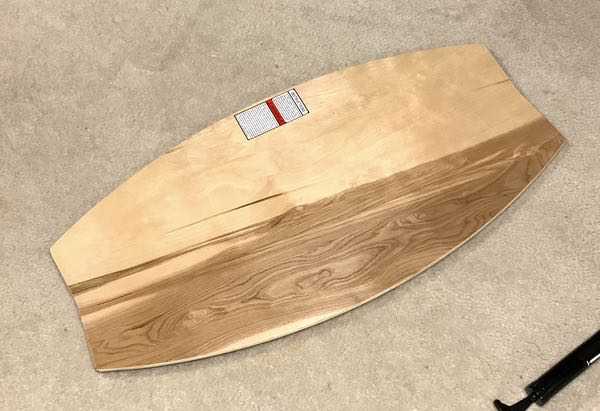 You can get the board smooth, or opt to add grip tape. The grip tape is a rough surface and Skill Board recommends wearing shoes with the tape. You can get it smooth if you prefer to go barefoot. I've been using the board, with grip tape, with sneakers or socks.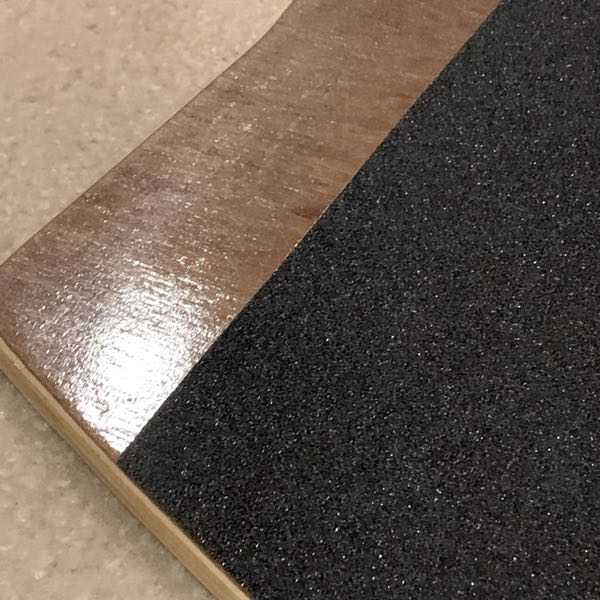 Your board comes with a rugged inflatable ball. This goes under the board when you stand on it to develop your balance. Other options are also available if you're not ready for the ball as we'll discuss below.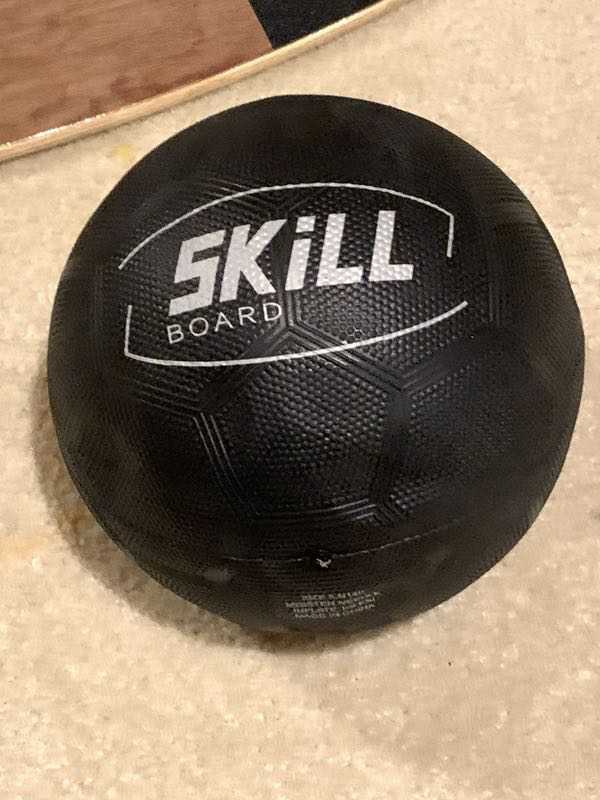 You'll also get an air pump with a pressure gauge. This is going to be important for your training. You don't want to fully inflate the ball to start if you don't know what you're doing.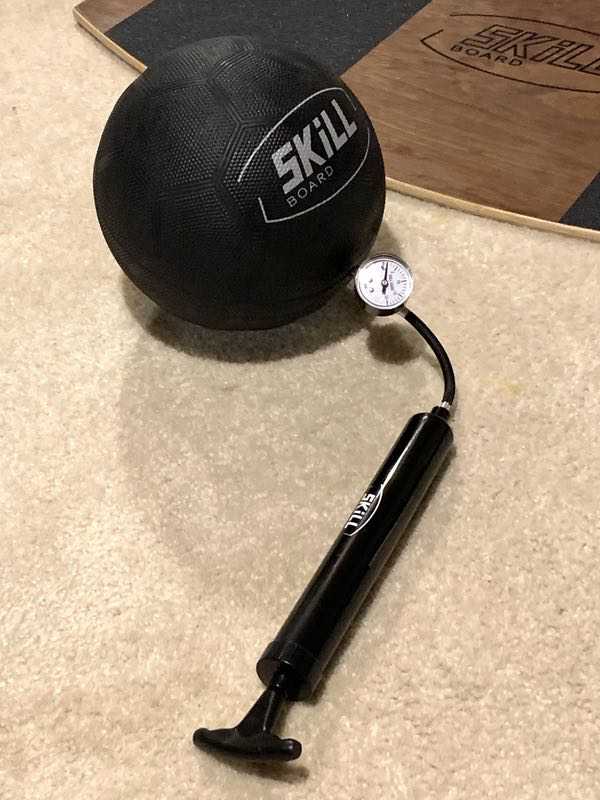 Skill board recommends that you start on a lower air pressure (2-3 PSI) to prevent to reduce sudden movements. As you get better, you can start to add more air.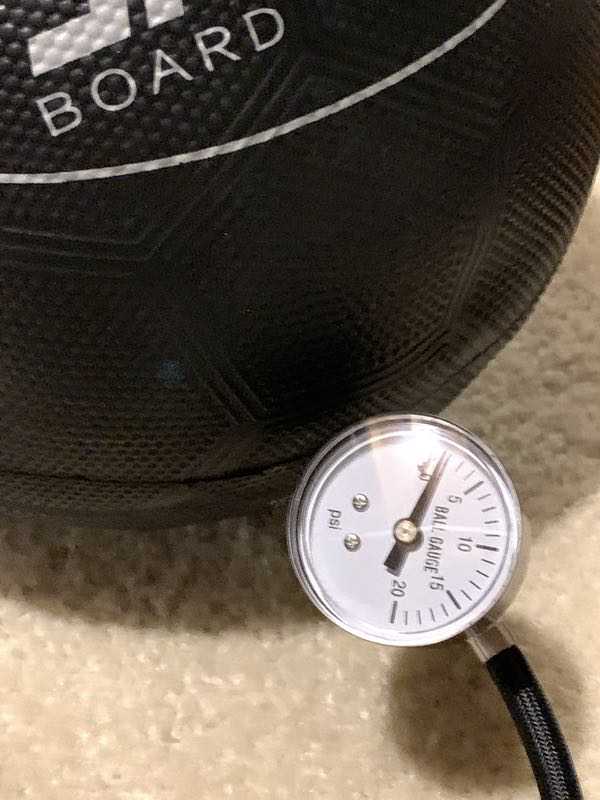 You'll set up the board as shown below. When you're getting started you can also use a carpeted surface to reduce sudden movements until you get used to it.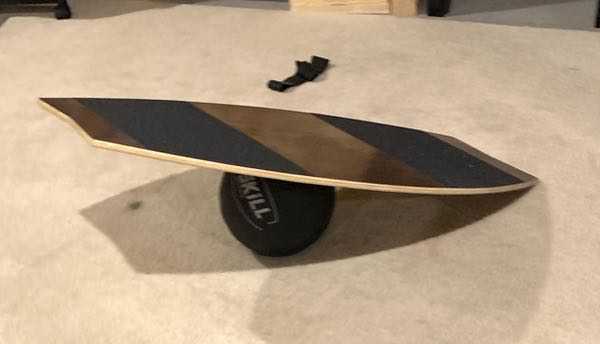 Having that ball under the board introduces a full range of motion, which can get crazy real quick. Skill Board also sells a "Wobble Cushion" (a donut shaped inflatable disk) that introduces the full range of motion in an easier-to-manage package, or a cylinder that lets to get comfortable with one axis (side-to-side) before you dive in. I'm using one of my foam rollers for that purpose below.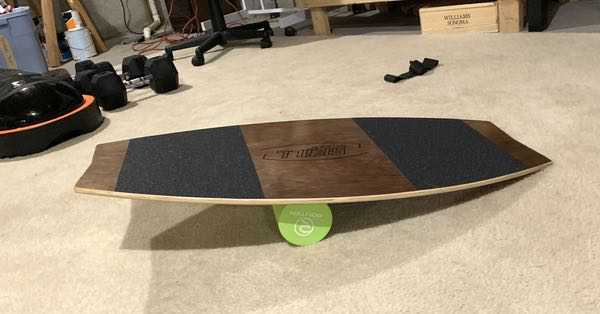 Then you're off and running. I started with the foam roller. You mount the board from one side and plant your foot…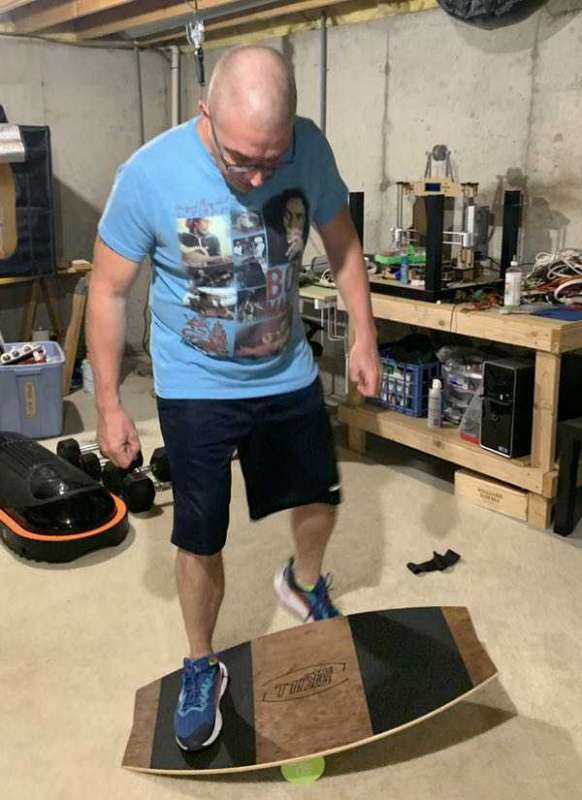 …then you get your other foot up there and get to work.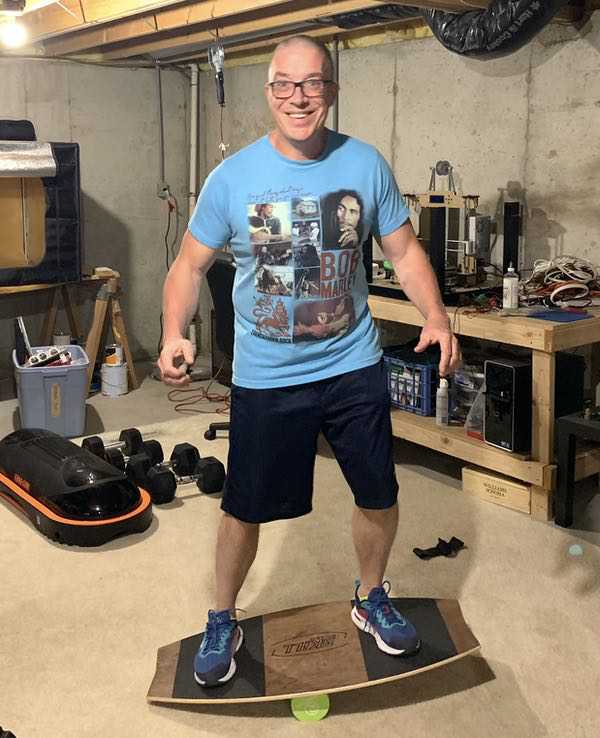 The goal is to start by simply balancing on the board, then slowly introducing lateral movement, rocking back and forth, while maintaining your balance. That doesn't sound so bad, right?
Well. Things change when you get to the ball.
Adding the ball introduces a full range of motion on the X and Y axis. You'll be working harder to stay up, and it takes some practice to get there. When you first step on the board, you'll feel it right away.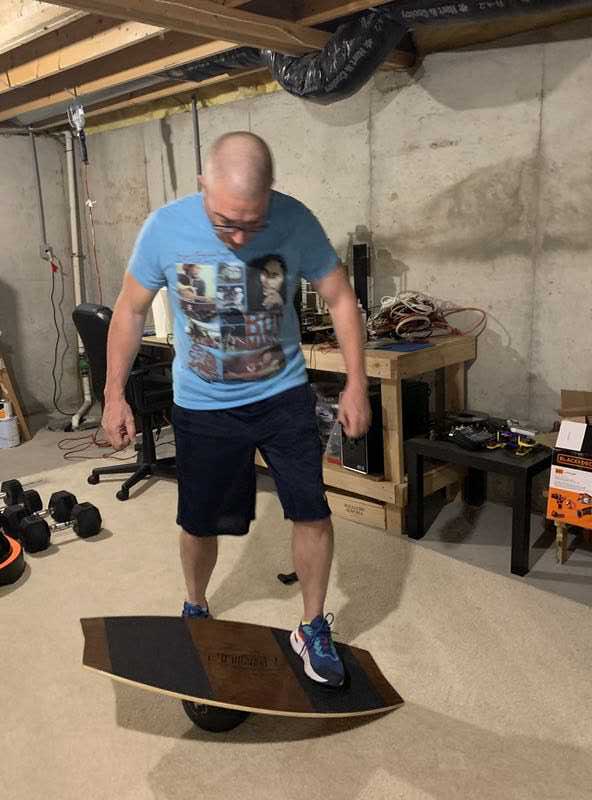 Here I am getting myself in position…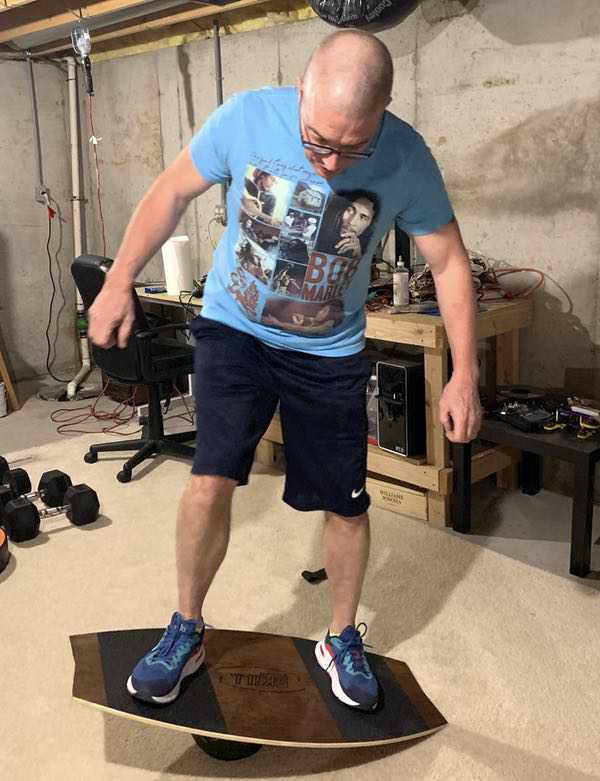 And look! Success! That expression may be surprise. It may be fear. But we got there!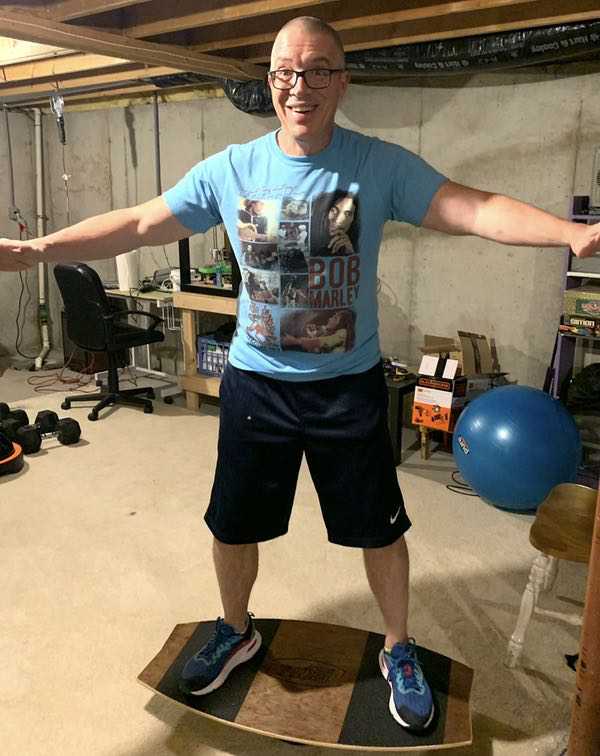 Performance
Before we talk about performance and my experience, it's REALLY important to note that the Skill Board is not for everyone. This device introduces sudden movements that can lead to injury if you're not careful. It's an exercise in patience and persistence. But I am finding that the rewards are worth it.
I started by playing around on the board with my roller to get a feel for it. Then I switched over to the ball, always making sure that I had a solid object nearby to steady myself. I would start with 5 minutes a day, working my way up to 15-20 minutes as I got more balance & confidence.
Gradual progression is the key here. The first few days I found myself bobbling and wobbling all over the place. I spent a lot of time keeping a hand on a solid object to keep from falling. Then I'd work on letting go for a few seconds, focusing on staying upright. After a few weeks, I'm starting to get much better at maintaining my balance and even incorporating a little movement.
I even found a neat little way to work the Skill Board into my work-at-home routine.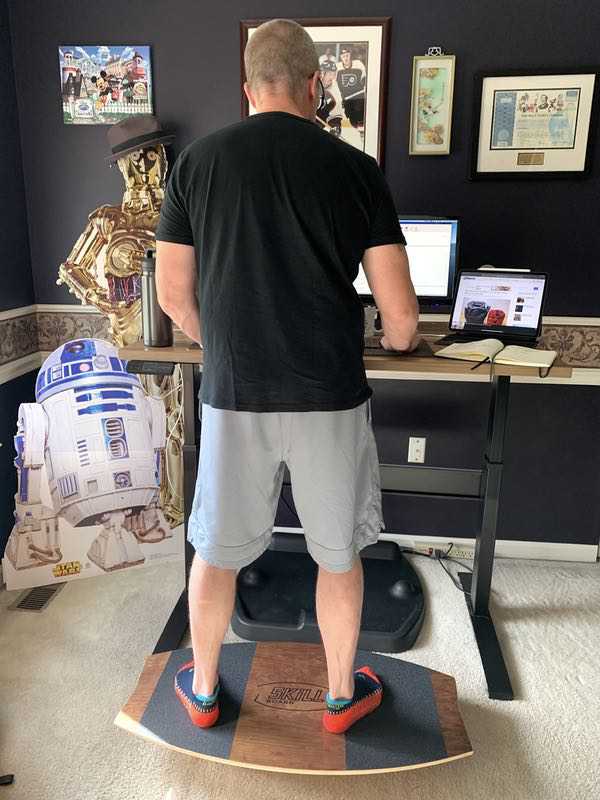 I'm definitely feeling that my balance is getting better, and can feel the improvements even after a few short weeks. I'm getting more stable and more confident on the board, even though I am still using the lower PSI to get some help. I'll get there eventually; it's all about the journey and staying safe while doing it.
Balance isn't the only benefit. There's also some serious work involved here! You'll feel it in your ankles, your calves, your hips, and your core after a session. It definitely works a whole bunch of muscles that you're not used to, and I'm feeling stronger as a result.
Athletes, skateboarders, and surfers can probably jump to the more difficult moves but I'd recommend looking at some of the accessories for newbies like myself to ease into the Skill Board. I'd start with the Wobble Board, for example, if I was starting over. Skill Board also sells an assortment of options including different sized balls, edge guards to protect your floors from banging with the board, and a carrying case for travel.   
What I like
Solid build for its intended purpose
Regular use produces measurable results
Great for core and lower body work
What needs to be improved
Can be dangerous; exercise caution and safety as you build up your skills
I'd strongly recommend looking at some of the starter accessories if you're new to this sort of thing
Final thoughts
I really like the Skill Board as an alternative exercise tool that produces a very different workout & performance experience. Athletes will see the value right away. It's great for developing your balance, lower body, and core. It's also easy to grab and use for a few minutes here and there; you can pretty much store it in any closet or under your bed (or couch) when not in use. Just be patient, persistent, and safe!
Price: Pricing depends on your options. The base kit (like the one I tested) retails for $158.00. The "mini" travel version starts at $148.00. Accessories range from $9.99 to $19.99. A bundle kit is available that includes pretty much all the accessories for $204.00
Where to buy: Go visit the Skill Board web site and Amazon
Source: The sample of this product was provided by Skill Board USA.