We use affiliate links. If you buy something through the links on this page, we may earn a commission at no cost to you. Learn more.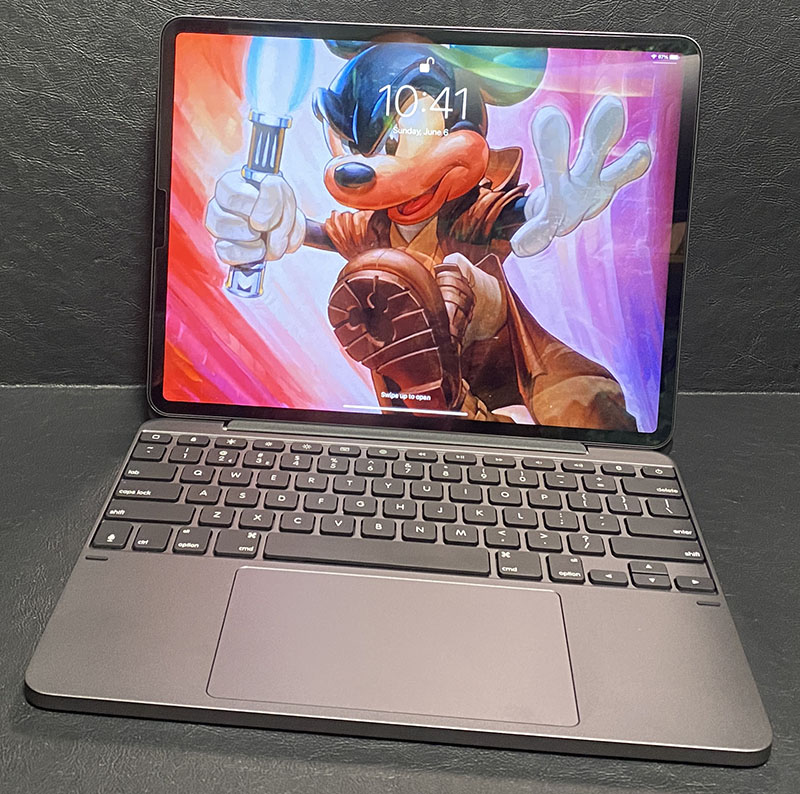 REVIEW – Tell me this doesn't look like the long rumored/envisioned/just announced 14" MacBook Pro. The designers at Brydge have done it again…getting ever closer to transforming your overpowered iPad Pro into a touchscreen MacBook Pro. For years now, Brydge has been creating Bluetooth keyboard cases that add greater functionality to Apple's flagship tablets. For this review, Brydge sent me their recently released 12.9" MAX+ keyboard case that seriously takes their hardware to the next level…let's see if it works as well as it looks.
A bit of background: Even though we have more than our fair share of computers around here, I would say for the better part of 2020 and 2021, I have been using an iPad Pro as my main computing device. I used the 2018 11" iPad Pro up until Apple released their M1 miniLED 12.9" iPad Pro for doing everything but some Photoshop work and file optimization/organizing that are both easier on a 'real' Mac. For months now, I have been swapping between the Apple Magic Keyboard case and an early/preproduction Brydge MAX+ to interface with my iPad Pro to get things accomplished.

What is it?
The Brydge MAX+ iPad Pro 12.9″ keyboard case is a high-quality wireless Bluetooth keyboard case engineered specifically for Apple's 12.9" iPad Pro (Gen 3/4/5). This next-generation Brydge keyboard case uses a new magnetic design to hold your iPad Pro in place, Bluetooth 5.0 connectivity for near lag-less "Instant-On" operation, large responsive trackpad, excellent backlit keyboard, etc…
What's in the box?
Brydge MAX+ iPad Pro 12.9″ keyboard case
USB-C Cable
User Manual
Hardware specs
Dimensions: Length: 11.2 in (285 mm) x Width: 8.8 in (223 mm) x Height: 0.7 in (17 mm)
Weight: 2.1 lb (970 g)
Battery life:

40 hours per charge with consistent backlight use
3 months at 2 hours use per day with no backlight use

Colors: Space Gray / Silver / White
Warranty: 1-Year Limited Warranty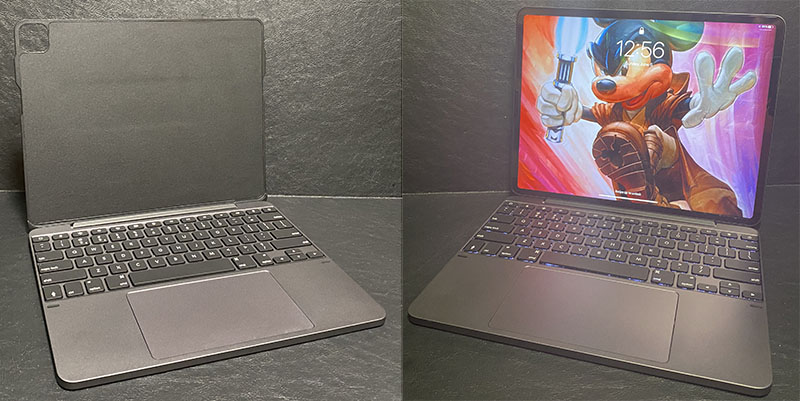 Design and features
Brydge has done an excellent job creating a wireless keyboard case engineered to add greater functionality to the 12.9" iPad Pro. The Brydge 12.9 MAX+ has an industrial design meant to match Apple's ecosystem to the finest details.    

The MAX+ base has a Bluetooth 5.0 keyboard housed in a high-quality aluminum casing in Space Gray that perfectly matches Apple's iPad Pro coloring/feng shui. The base of the MAX+ has four rubber feet, one on each corner. Brydge does this to keep the two from sliding around or metal scratching the work surface.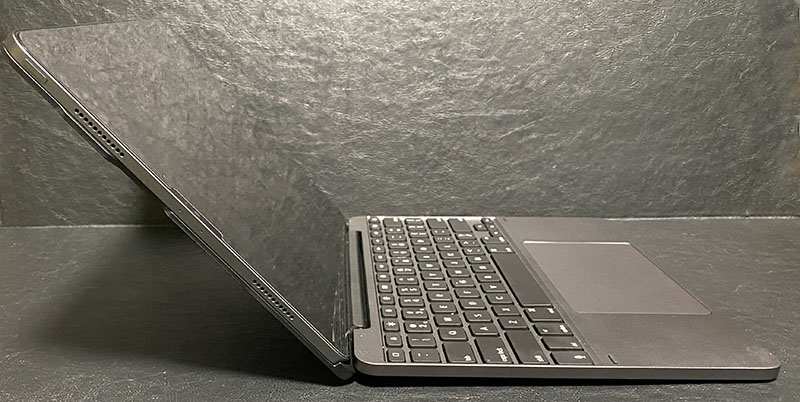 The iPad Pro sits in the top plastic/rubber cover and is secured in place via both device's embedded magnetics. I much prefer the new magnetic connection to the Brydge's past compression U-clamped hinge design. The new hinge and magnetic mounting system is by far a superior design.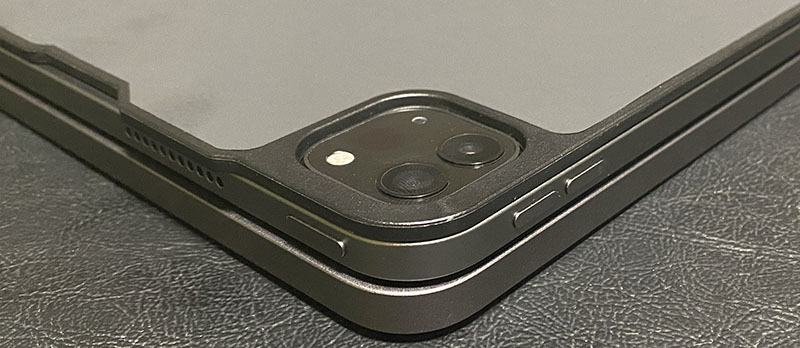 The cover is made from a hardened dark plastic material with an inlaid soft rubber material on its exterior surface. The Brydge MAX+ iPad Pro 12.9″ keyboard case cover is engineered to work specifically with the iPad Pro. As you can see, the cover has a corner cut out for the iPad Pro's camera assembly to peek thru and securely protect the lens themselves. The MAX+ allows for full access to the power and volume buttons, speaker grills, and Thunderbolt port.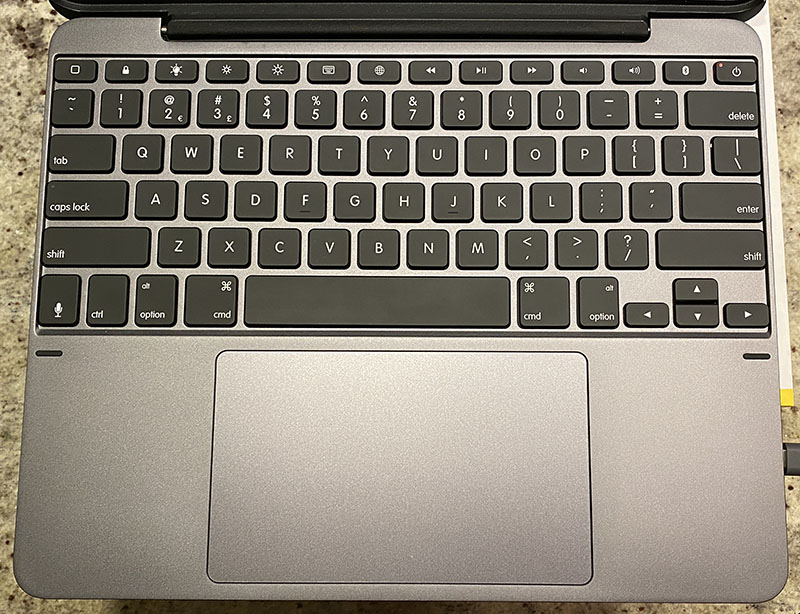 The top case attaches to the keyboard base by a rigid hinge that holds your iPad Pro at just the angle you prefer. Another excellent feature of the Brydge iPad keyboards is the physical row of function buttons (something Apple should have originally added to its Magic Keyboard).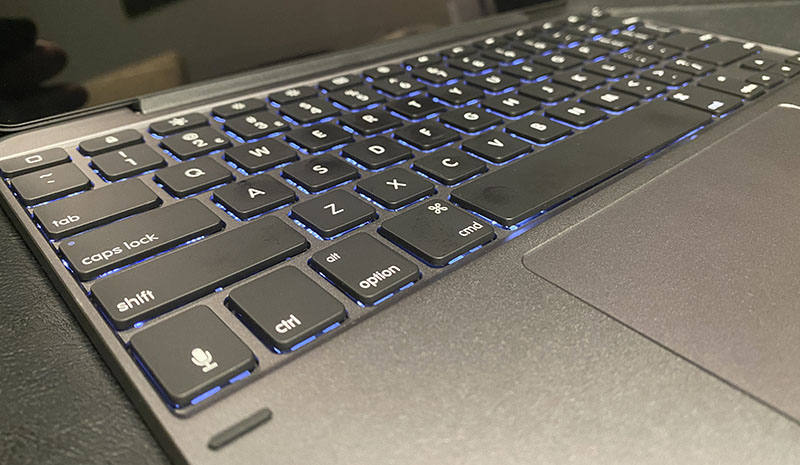 The Brydge has a full-sized backlit keyboard slightly recessed into the cover's base to not press the keys into the iPad's touch screen when closed. The keys are very nicely constructed with an excellent feel, travel, and click…once again very Apple-like in use.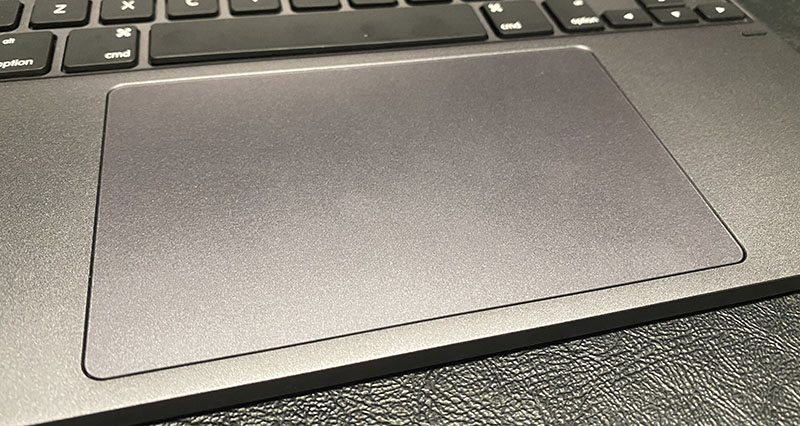 The Brydge MAX+ iPad Pro 12.9″ keyboard case has a very large and responsive "diving board" trackpad that works well…just not as Magical as Apple's click anywhere design with physical connectivity thru the smart connector of Apple's Magic Keyboard…but pretty dang close. I have tried 2-3 Brydge wireless keyboards over the past few years and they have taken strides in making their keyboard accessories as Apple-like as they can.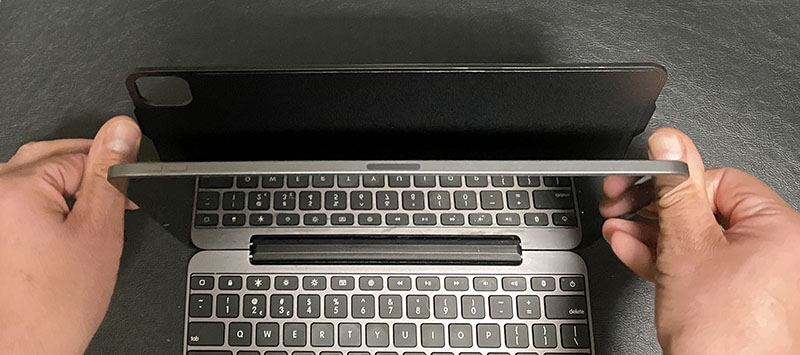 As I've mentioned above, the 12.9 MAX+ features an "all-in-one SnapFit Case" that is not only designed to flawlessly match your iPad, but easily remove/protect it as well. Installing the tablet is easy and locks into place in the blink of an eye… Simply set the 12.9" IPad Pro into the hinge/rail then lay the tablet against the back cover where it leans back and magnetically locks into place.

The MAX+ protects the iPad Pro's main face, back, and the keyboard itself. The MAX+ is compatible with Apple's pencil.

The MAX+ sides are exposed and vulnerable to scratching and impacts but allow easy access to the USB-C ports for charging, Apple Pencil connection point, speaker grills, etc.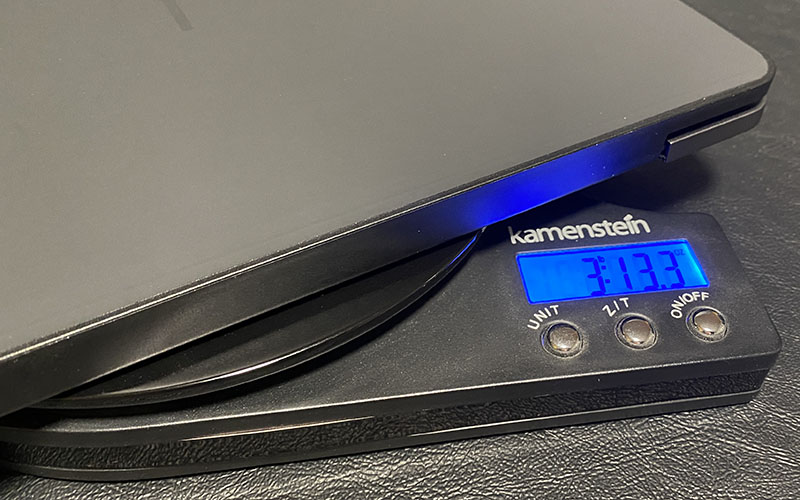 The Brydge MAX+ wireless keyboard case brings the already hefty (for a tablet) sleek and slim 12.9" iPad Pro into MacBook range in regards to weight & volume but thankfully functionally as well. At over 3.75 pounds, the MAX+ and 12.9" iPad Pro combo weighs more than the MacBook Air, 13" MacBook Pro, and 14" MacBook Pros.
Setup
Setting up and connecting the iPad Pro to the Brydge MAX+ Bluetooth is quick and easy. Download the Brydge Connect app from the AppStore. Press and hold the MAX+'s Bluetooth button for a few moments then go into the iPad's Bluetooth settings and pair the two. Finally, turn on the Brydge Connect app to confirm you have the latest & greatest firmware and you're good to go. 
Performance
Other than a few minor nuances, I really enjoy using the Brydge MAX+ iPad Pro 12.9″ keyboard case especially when I'm pounding out long reviews/documents or using my iPad Pro more as a computer than a classic tablet. Admittedly the MAX+ is (laptop-) heavy but that weight in the keyboard base keeps the pair upright and not tipping over (cough, Magic Keyboard). But easily removed for media or gaming consumption, Brydge's new magnetic dock connection is an excellent improvement when compared to the previous generation of their keyboard cases.
What I like
Excellent typing experience
Very nice build quality
Aluminum Base 
Built-in, dedicated function key row
Adjustable backlit keys
Charges via USB-C cord
Long battery life
What needs to be improved
While very well made and responsive, a shame the MAX+ doesn't utilize Apple's Magic Connection tech
The trackpad isn't responsive on the upper third of it surface area.
My box did not include power brick or USB-C cable
The Brydge MAX+ comes in Space Gray, Silver, and White and is available for the 12.9", 11", and Air 4 iPads all backed by a one-year warranty (can be expanded to 2 yrs for $23 and 3 yrs for $28). 
Final thoughts
I did my best to not make this review a comparison between Apple's Magic Keyboard and Brydge's MAX+ keyboard cases. Because I like them both and the nuances between the two are pretty small. Both definitely get the job done. I find the Brydge MAX+ iPad Pro 12.9″ keyboard case an excellent wireless keyboard that really does transform the 12.9″ iPad Pro into a touch screen MacBook Pro with a very Apple feel and user experience. Due to its weight, I find myself using the iPPro & MAX+ combo around the house or at our local coffee shop while taking Apple's Magic Keyboard while on travel (when more portability is needed). 
Price: $249.99
Where to buy: Brydge.com and Amazon
Source: The sample of this product was provided by Brydge.