We use affiliate links. If you buy something through the links on this page, we may earn a commission at no cost to you. Learn more.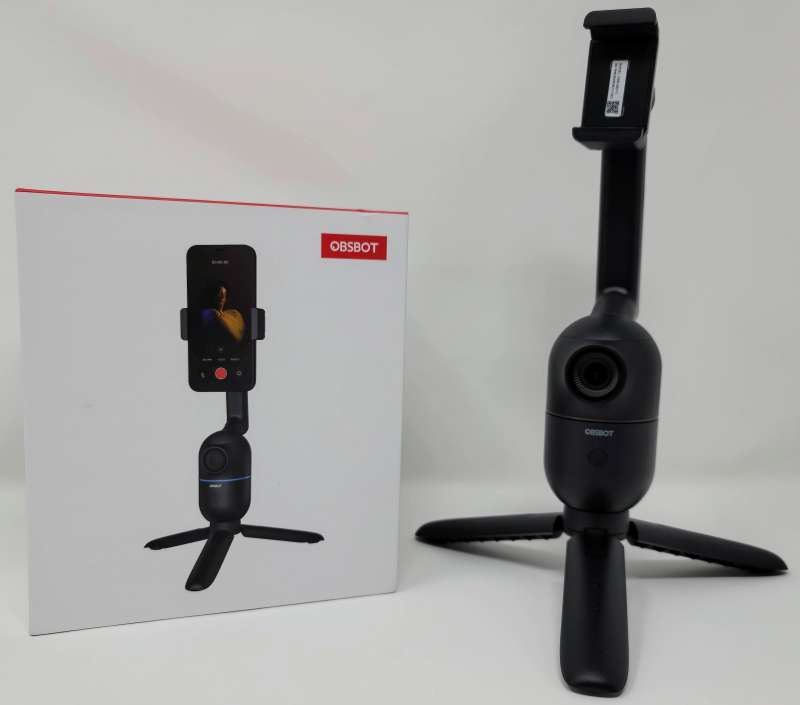 REVIEW – In a world that is increasingly connected via video, everyone is looking for a way to step up their game, to be noticed by more and to produce higher quality product.  Selfie sticks have been with us as close to forever as we can imagine, but in all that time they have hardly progressed past being a metal cylinder to hold your phone at arm's length.  The Obsbot ME AI Selfie Mount is looking to reinvent the selfie stick using artificial intelligence and in the process, delivering a much needed rest for your arm.  Is it successful?  Let's find out…
What is it?
The Obsbot ME AI Selfie Mount (which we'll just call Obsbot to prevent typing that multiple times) is a foldable selfie device that you can use on a table top, a tripod or anywhere you can get a firm footing for your cell phone.  Through AI contained in the cylinder, the camera on the front can track movement and keep your phone's camera centered on the subject.
What's in the box?
The Obsbot selfie device with integrated phone mount
Tripod legs suitable for placing your phone on  a flat surface
A nice hard case to transport the device and tripod legs
A USB A to USB C charging cable
A camera lens cover/protector
Documentation
How is it set up?
The body of the Obsbot is basically a capsule with an attached, foldable and rotatable arm to hold your phone, a lens to help the AI track movement, a button to power on and off, and a standard tripod mount on the bottom to allow connection to stationary holders.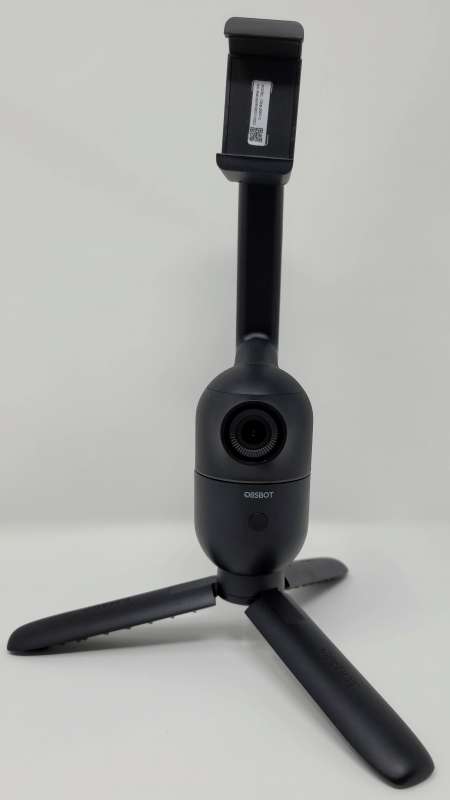 The capsule body of the Obsbot is where all the action happens.  There is a ring light just above the name which will show you when the device is locked on a target or when the target is released.  Just above the name is also where the movement takes place – as the subject moves, the lens captures the movement and rotates the top part of the capsule to keep the target locked.  The phone mount swivels a couple of degrees up and down, so you can point it pretty much anywhere you need it.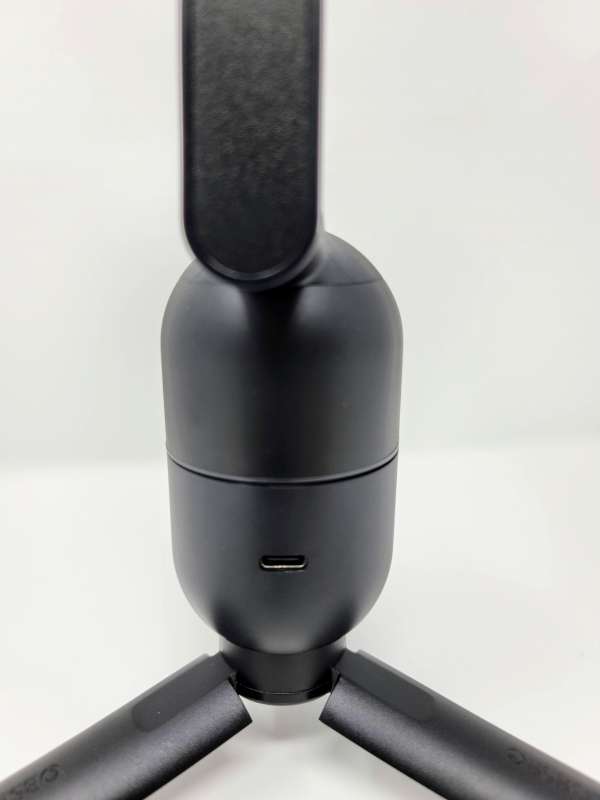 Around the back of the capsule is a USB C port to charge the onboard battery.  About 75 minutes of charge time will get you just over 2 hours of continuous use.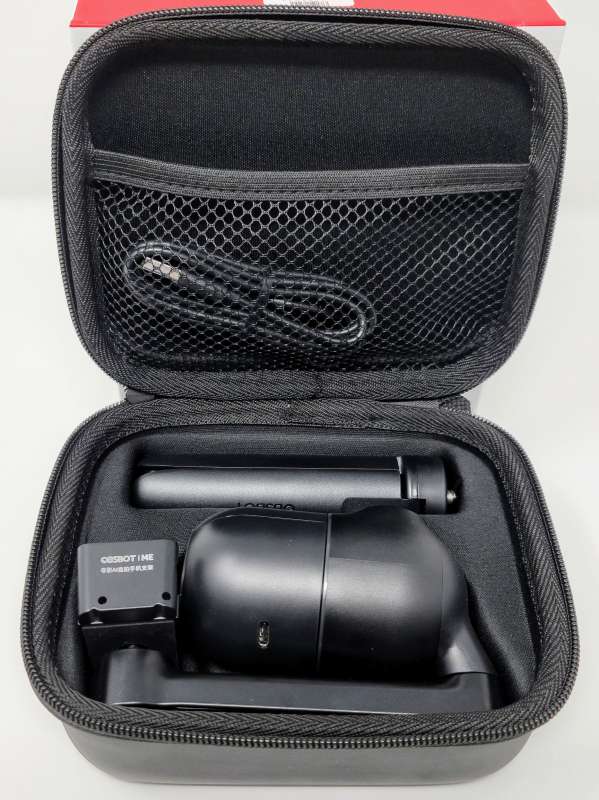 The whole unit fold and packs nicely into the included travel case.  The case is about 6.75 inches wide, 5.75 inches deep and 2.75 inches high – small enough to pack in a suitcase or travel bag without displacing other needed equipment.
When you are ready to shoot, place your camera into the mount in either landscape…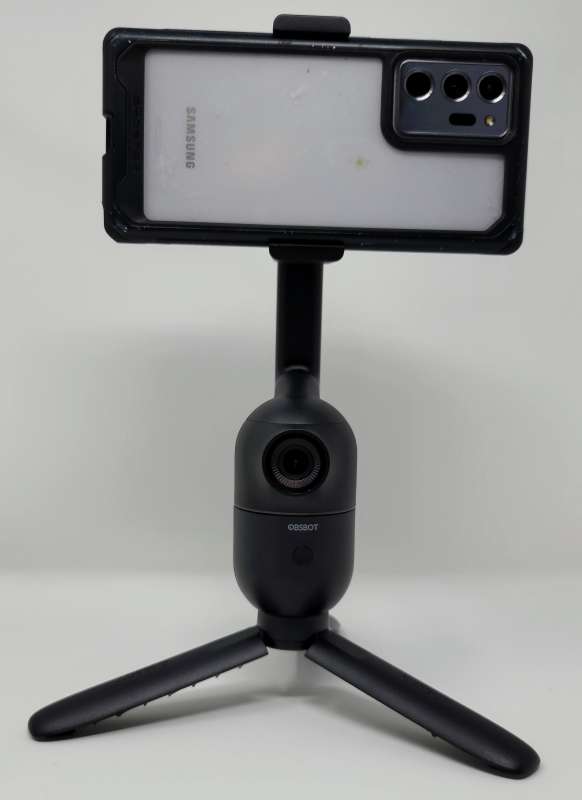 …or portrait.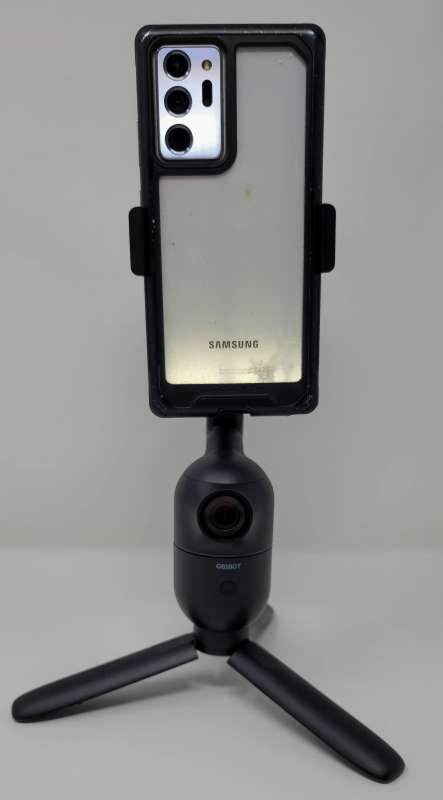 For testing, I was using my Samsung Note 20 Ultra – this is NOT a small phone and the case is a large, protective one.  Although the specs for the phone were right at the edge of what the Obsbot will support, I had no trouble using this beast of a phone.
How does it work?
First, let me say that most devices like this would have some sort of poorly maintained app that is really designed to get your personal information (and not so much as to make the experience better).  Refreshingly, the Obsbot does not have one – all of the intelligence lives on-device and the main function of the device – tracking a person's movement – is handled through a simple hand gesture.  This means you can use ANY app you like on your phone to capture video, and the Obsbot will just keep your subject centered.  And because there is no direct connection with the phone's camera, you are free to use either front or rear cameras with the only limitation being whether your app of choice supports the particular camera.  Since the rear cameras on the Note 20 are so very good, the videos below were recorded using that camera array and the standard Samsung camera app.
Once the phone is in the holder, press and hold the Obsbot's power button for a couple of seconds to power the selfie mount on.  The ring light will glow green for a second to let you know it is ready.  At that point, simply stand in front of the Obsbot, raise a hand with the palm facing towards the Obsbot's lens and fingers slightly apart.  This gesture serves to lock or unlock the Obsbot on the subject – you.  Alternately, you can stand in front of the Obsbot camera and press the button to lock/unlock – I tried this with mixed results.  If I could get my head low enough compared to the Obsbot lens, this was a fast and easy way to connect.  But more often than not, I was slightly over the lens top and I couldn't get a lock.
Because this is an AI-based device, it is designed to lock onto human faces.  If you want to use this to track your dog or cat, you are out of luck.  I tried multiple times to get the Obsbot to lock onto my little dog who likes to roll around on her back on the patio while making Satanic noises, but it just never happened.  Not that Obsbot says it should work, but just a warning in case you are thinking this will be the perfect funny pet video maker.
The optimal range for the selfie mount is somewhere between 2 feet and 25 feet.  In my testing, I found that the Obsbot had around 140 degrees of horizontal movement, so it should be able to keep up with most anywhere you would go.  Movement is very smooth as you will see in a moment.
So all sounds good, right?  Well, the Obsbot is not without its quirks.  For example, most everywhere the color green generally means "go", right?  Well, when the Obsbot is locking on the subject, the ring light flashes green twice and then solid blue for a second to show it has obtained the lock.  When releasing the lock, it flashes blue twice and then solid green for a second.  It really feels like that should be reversed – green meaning you are good to record, blue that there is no subject lock.
Also, if you have a Samsung device and have enabled gesture control in the camera app, you will quickly find that the same gesture used to lock the subject with the Obsbot is also used by the camera app to start/end video recording.  I don't know if this was by design, but for me it meant a bit more editing to trim off the useless bits on either side of the video.  In the end, I just shut off gesture control and used the Note's stylus to control start/stop recording – something I probably wouldn't want to use if I were recording a Tik Tok dance video (to be fair, though, I would NEVER record a Tik Tok dance video).
I think Obsbot missed out on a great opportunity.  The phone mount is permanently attached to the capsule base.  Had they removed that and used a standard 1/4 inch tripod screw, they could still have included the phone mount, but also opened up the device for small cameras like a GoPro or DJI Osmo Action.  If they had done this, I think the Obsbot would become the compelling device for a wide variety of devices and not just phones.
Minor quirks aside, here is the Obsbot in action.  First, having locked onto myself, I recorded the Obsbot tracking me:
Next, from the camera's point of view, the Obsbot enabling the camera app to stay focused on me:
And now you can see why I never will record a Tik Tok dance video.
This is a fantastic device that can be used in a variety of different ways, provided all of them involve your phone.  If you are using your phone for a conference call, the Obsbot will keep you front and center.  Teaching yoga?  It has you covered there, too.  Want to create a fashion photo shoot without a cameraman?  Can do as well.  Anything that involves you, movement and your phone is fair game.
What I like
Movement is responsive and smooth
The Obsbot is small and light, so it can easily go anywhere
The AI really works!
What I'd change
The light sequence for locking/unlocking seems reversed
Replace the permanent phone mount with a tripod screw
Final thoughts
The Obsbot ME is an amazing little unit.  Although it will never replace a good cameraman, if you are alone content creator, the Obsbot can really step up your game.  You can generate professional video content beyond the talking head format.  The AI built into the Obsbot really works – once it locks on, any movement in any direction is automatically tracked (although the Obsbot only rotates on a horizontal plane).  And with a wide track range, your content is just limited to a foot or two on either side.
If you are a beginning vlogger, a content creator or just need a professional video created with you at the center, the Obsbot is your device.
Price: $149.00
Where to buy: Amazon
Source: The sample for this review was provided by Pergear