We use affiliate links. If you buy something through the links on this page, we may earn a commission at no cost to you. Learn more.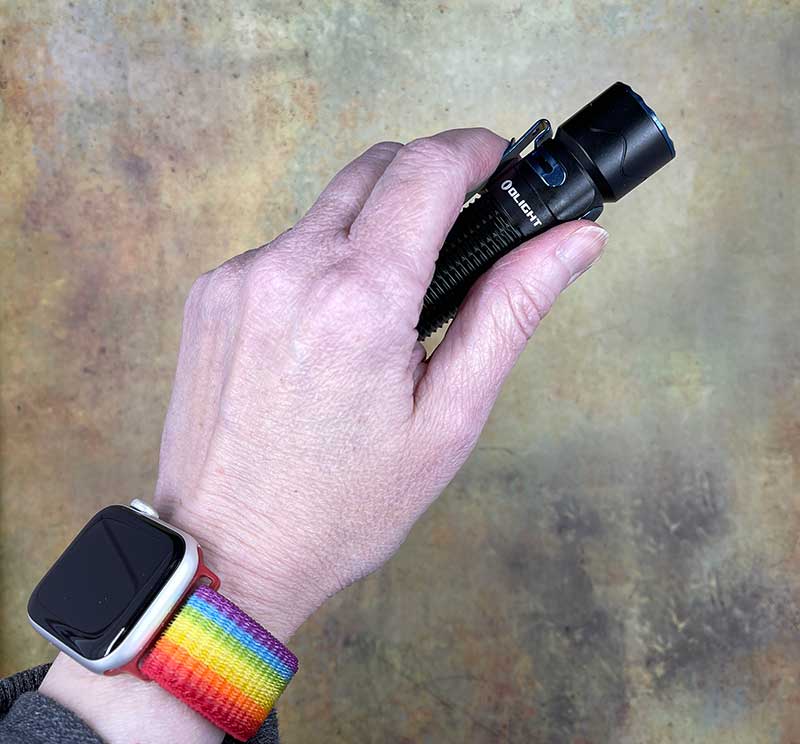 REVIEW – A reliable flashlight is an important part of everyone's EDC. But the downside of most flashlights is that their batteries always seem to be dead just when you need to use one. The Olight Warrior Mini 2 flashlight solve this problem because you can recharge the battery while it's still inside the flashlight. Let's check it out.
What is it?
The Olight Warrior Mini 2 flashlight is a small pocket-sized LED flashlight that has 2 switches, 6 light modes, and a rechargeable battery. This flashlight is available in limited edition colors that include 4 titanium allow versions and a raw Copper edition. I was sent the Spring Ti version that you see above which has an iridescent blue, purple, green, gold, copper shimmer.
What's in the box?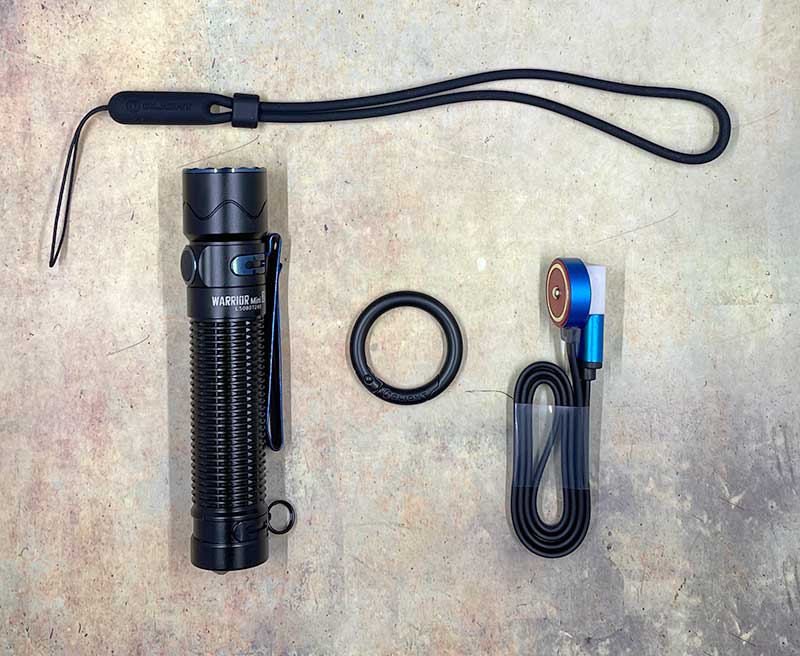 Olight Warrior Mini 2 flashlight
3500mAh 18650 battery
Lanyard
Carabiner
USB charging cable
User manual
Flashlight specs
Light Source – High Performance LED (6000~7000K)
Maximum lumens – 1,750
Light Intensity (candela) – 12,300
LEVEL 1 (lumens) – 1,750~500~200
Run-time LEVEL 1 – 4+206+40 minutes
LEVEL 2 (lumens) – 500~200
Run-time LEVEL 2 – 218+55 minutes
LEVEL 3 (lumens) – 120
Run-time LEVEL 3 – 19 hours
LEVEL 4 (lumens) – 15
Run-time LEVEL 4 – 164 hours
LEVEL 5 (lumens) – 1
Run-time LEVEL 5 – 45 days
Strobe – Yes, 1,750 lumens
Beam Distance – 722ft / 220m
Mode Operation – Dual Switch
Charge type – MCC3 Magnetic Charging Cable
Compatible Batteries – Customized 3500mAh 3.6V 18650 Rechargeable Lithium Battery
Waterproof – IPX8
Weight (g / oz) 122/ 4.3
Length(mm / in) 118/ 4.65
Head Diameter (mm / in) 25/ 0.98
Body Diameter (mm / in) 23/ 0.91
Design and features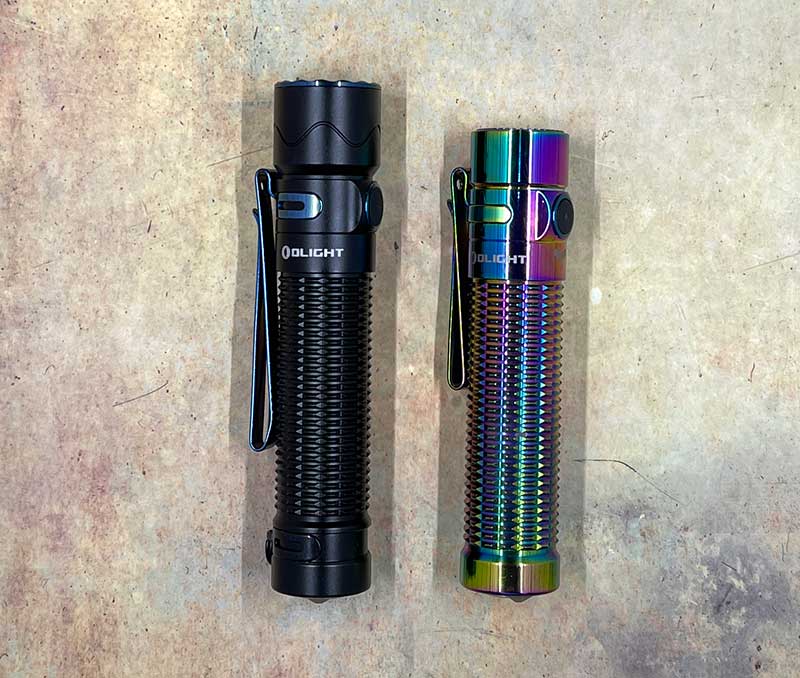 The Olight Warrior Mini 2 is my second Warrior Mini flashlight which I reviewed back in November. The funny thing is that the new Mini 2 is not as mini as the first mini as you can see from the image above – the Olight Warrior Mini 2 is on the left and the original Olight Warrior Mini is on the right.
The Olight Warrior Mini 2 flashlight is 4.65 inches long, with an anodized black, desert tan, or mountain sky case that weighs 4.3 oz (122g) and has knurling around the grip.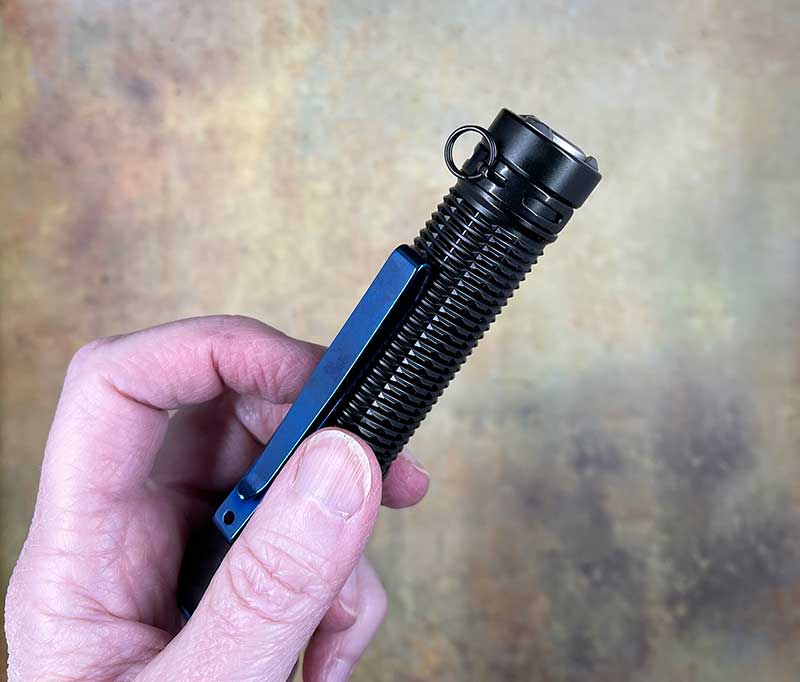 The Olight Warrior Mini 2 comes with a removable steel 2-way pocket clip and a lanyard that attaches to an eyelet in the pocket clip. What's a 2-way pocket clip? It's designed to clip in your pocket or belt with the bezel up or down. Or you can clip it to the brim of your hat for handsfree use.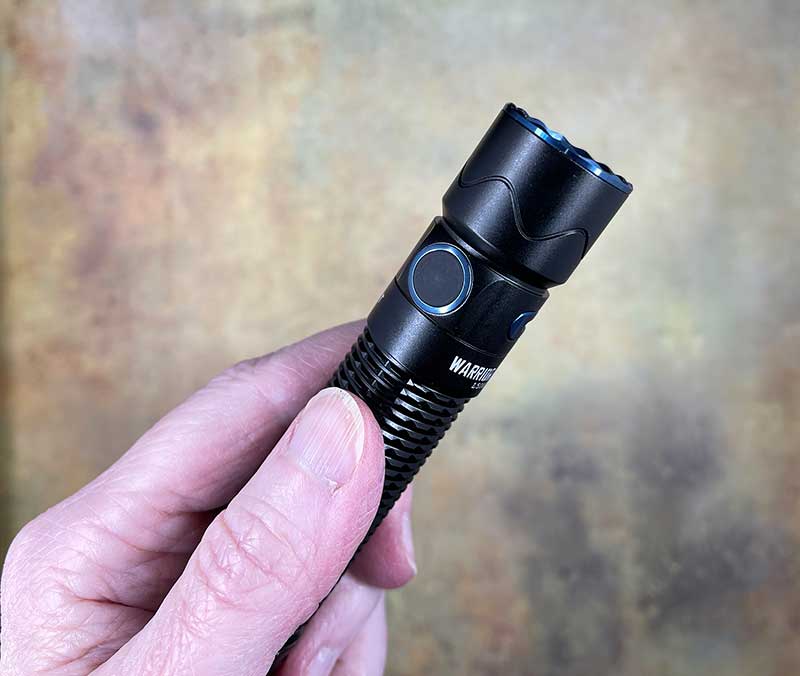 The Warrior Mini 2 flashlight has a side switch with a rubber cover that provides easy activation and really good tactile feedback. The side button also has an LED under it which glows green when the battery level is > 60%, orange when it is 10-60%, red when it is 5-10%, and it blinks red when the battery level is below 5%.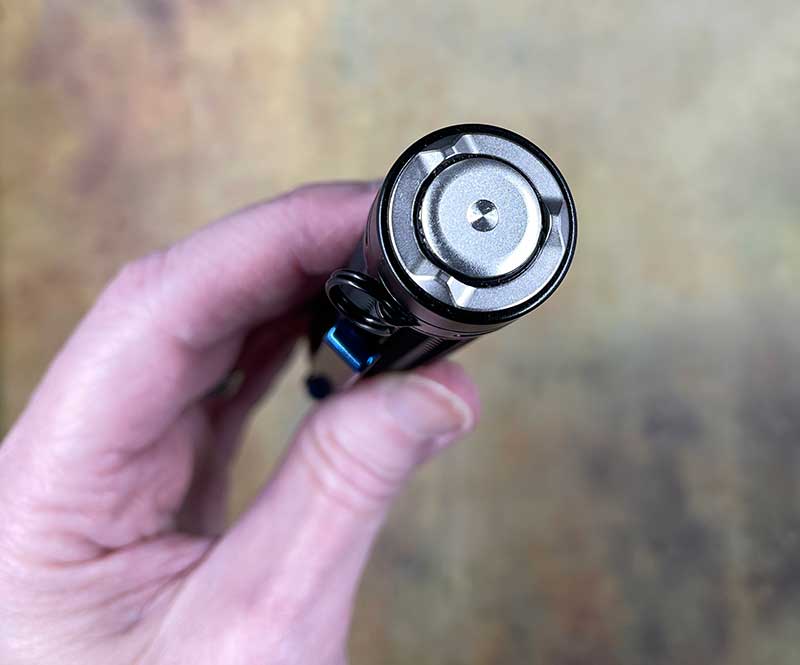 The tail cap is flat and magnetic like some of the previous Olight flashlights that I've reviewed. But the magnet doesn't seem to be as strong as the first Warrior Mini or it's just that the Mini 2 is larger and heavier, but it won't stick to a steel surface in the horizontal position without falling off.
The tail cap is also a 2nd activation button that you can use for quick momentary light for as long as you're holding the button.
The tail cap unscrews to reveal the battery compartment. The Olight comes with a 3500mAh 18650 rechargeable lithium battery.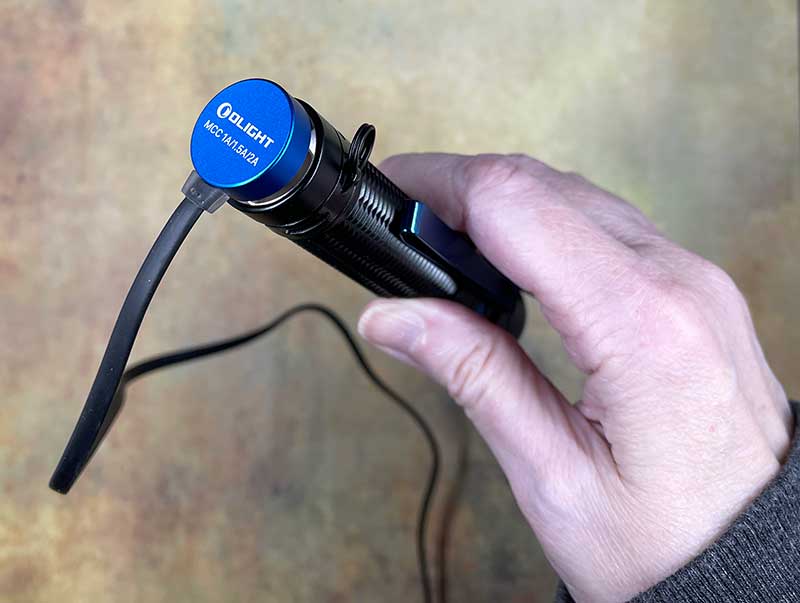 Charging is done using the included USB cable that attaches magnetically to the tail cap.
An LED around the cable glows red during the charging process and turns green when the battery has been fully charged which takes ~ 3.5hrs for a full charge.
Using the Olight Warrior Mini 2 flashlight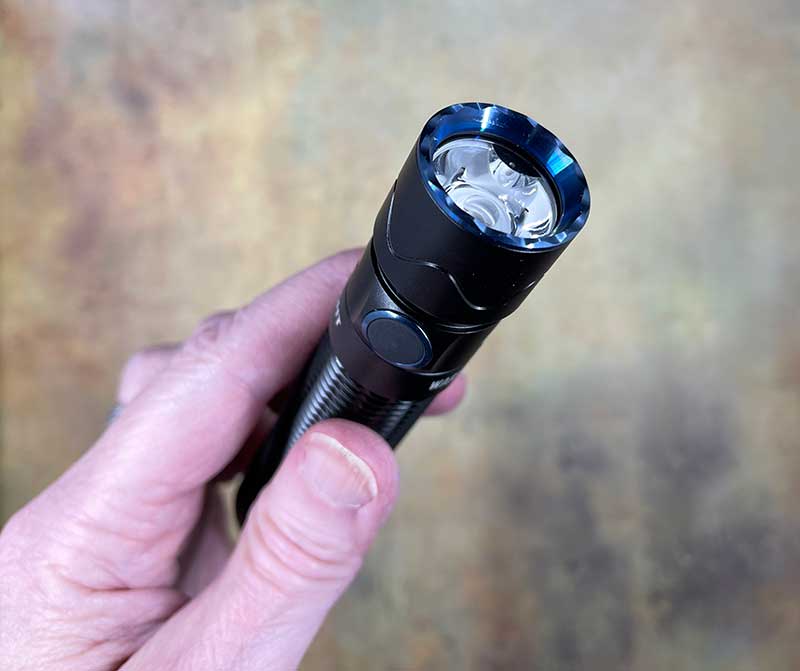 The flashlight has six light modes that all have different runtime lengths and beam through distances at each level.
Turbo: 1750 lumens, 4 minutes, 220 meters
High: 500 lumens, 218 minutes, 117 meters
Medium: 120 lumens, 19 hours, 57 meters
Low: 15 lumens, 164 hours, 19 meters
Moonlight: 1 lumen, 45 days, – meters
Strobe: Unknown
Compared to the previous version of this flashlight, the runtime lengths and beam throw distances have all been improved slightly.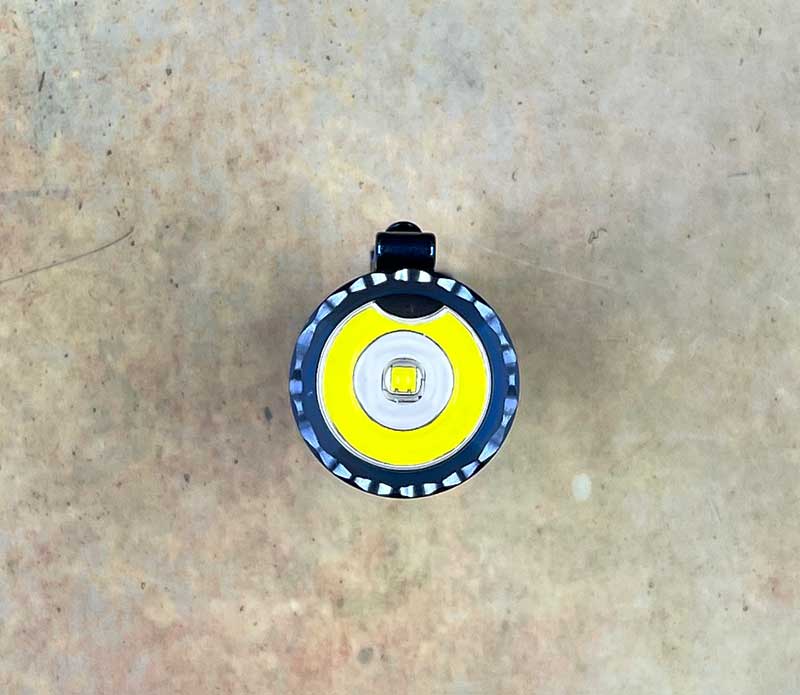 This EDC flashlight has an IPX8 rating and uses an LED that has a max of 1750 lumens when in it's in turbo mode and has a very dim 1 lumens when it's in moon mode. In that mode, it can shine for up to 45 days.
Do you see the crescent-shaped cutout at the 12 o'clock position in the image above? That's the proximity sensor. This is a new feature that Olight has added to the Warrior Mini 2. When the sensor detects an obstruction, it will automatically lower the brightness. If the obstruction has not been removed, the light will turn off after 60 seconds. This safety feature helps prevent overheating and battery drain in the event that you accidentally activate the flashlight in a bag, pocket, or other enclosed areas. Check out the video below to see how it works: With my basement living room completely dark (lights turned off/at night). I used my iPhone 12 Pro Max to take these images without using a flash. Pressing and holding the side switch when the flashlight is off will switch it on in moonlight mode. This mode only 1 lumen and is so dim that if you're in a well-lit room when you try to turn it, you might think the flashlight is still turned off until you look at the bezel.
This brightness level of light barely changes the brightness of the room and can be a useful mode for people who don't want to ruin their night vision with a bright light, like when doing night/astronomy photography, etc.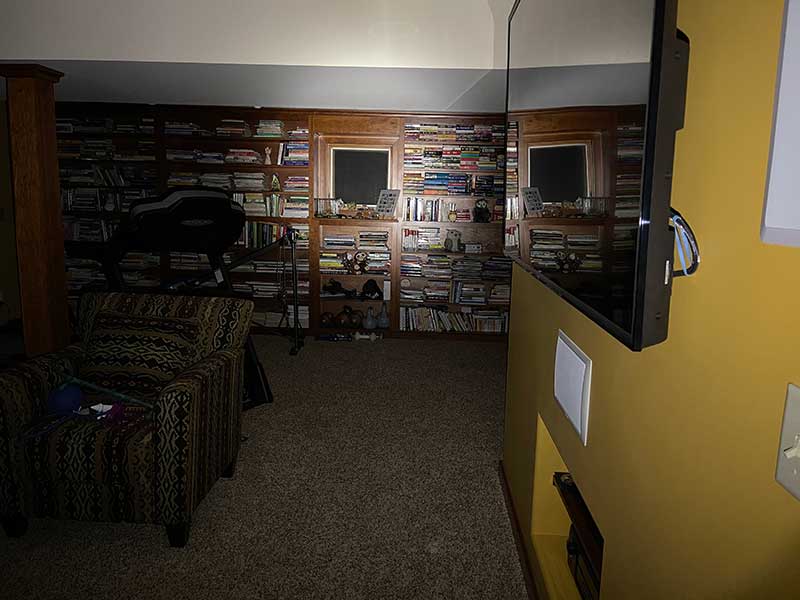 If you hold the side switch when the light is on, it will cycle through the other brightness levels. The image above is with the flashlight in Low 15 lumens brightness mode.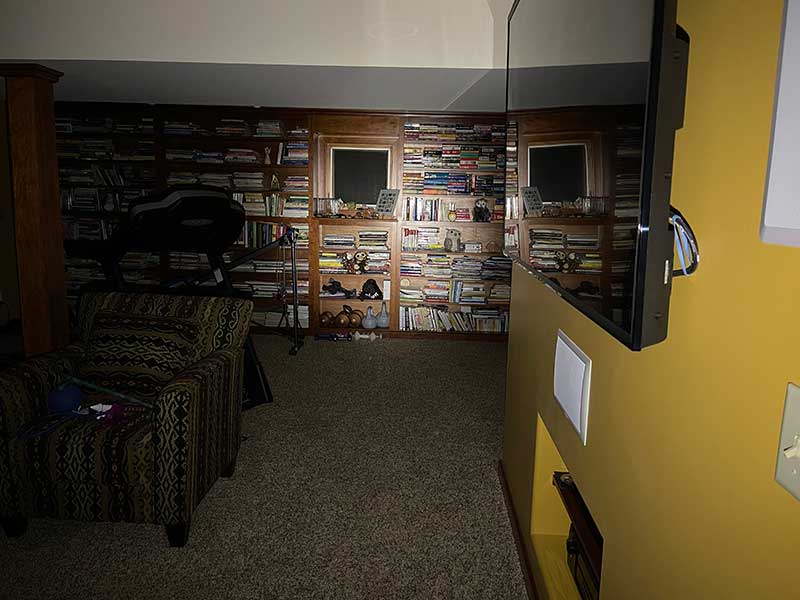 This is Medium 120 lumens brightness mode. You can also get this mode by half-pressing and holding the tail cap button.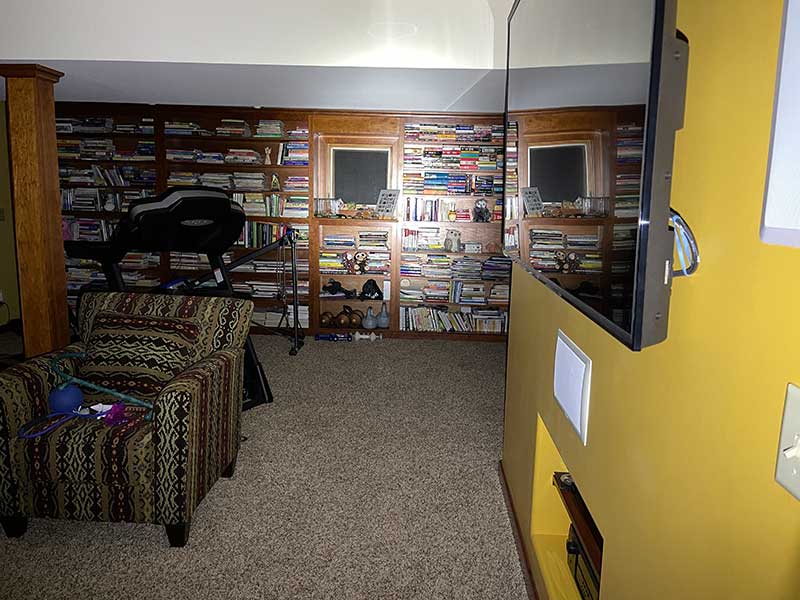 Here is the High 500 lumens brightness mode.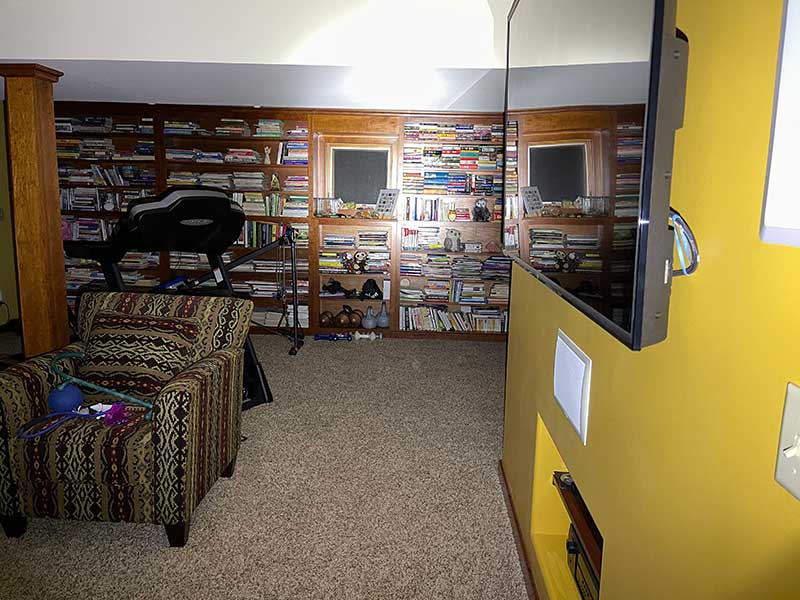 The brightest level is Turbo mode at 1750 lumens. This mode is accessed by double-pressing the side switch while the flashlight is on or hard pressing the tail cap button.
Triple pressing the side switch puts the flashlight in strobe mode.
The flashlight will remember the light mode and will use that mode again when you turn it on the next time. But, you can change/cycle the mode by just holding down the side button.
What I like
Two switches: handle switch and tail switch
Multiple brightness modes
Proximity sensor
Rechargeable battery
What I'd change
Final thoughts
The Olight Warrior Mini 2 is easy to use and I like that there are two different switches that you can use to activate the light.
The flashlight does get warm if you leave it in turbo mode for several minutes but it doesn't get warm enough to burn your hand.
I really like the Olight Warrior Mini 2 flashlight because it is well made, a great size for a pocket or bag, puts out a LOT of light and it can recharge using the included magnetic USB charging cable.
Price: $89.95
Where to buy: Olightstore
Source: The sample for this review was provided by Olight.