We use affiliate links. If you buy something through the links on this page, we may earn a commission at no cost to you. Learn more.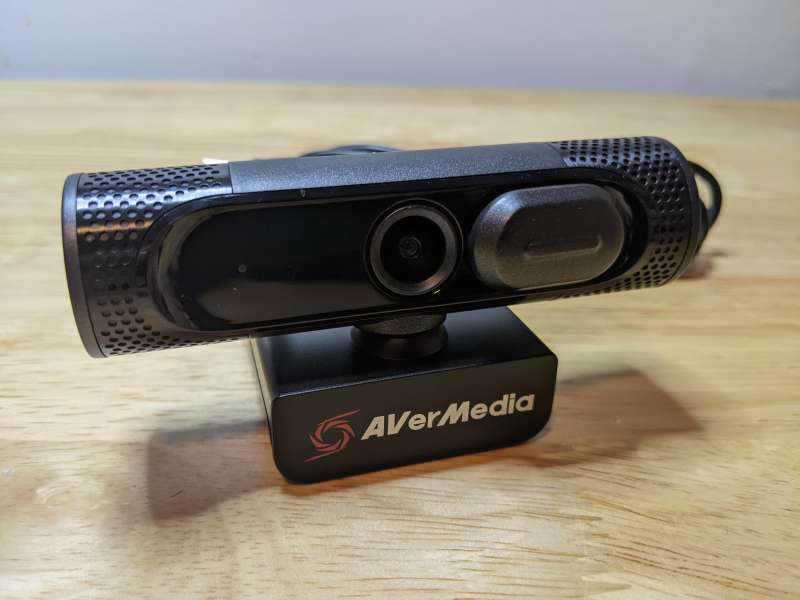 REVIEW – Since working from home became the standard for me, along with millions of others, I've started to upgrade a lot of the equipment I use most frequently for my job. One item that has long needed upgrading is my webcam. I've been working remotely and attending endless daily video meetings for close to a year now using only my laptop's internal webcam. As you can imagine, the quality of my video in those meetings has been severely lacking. Now, I know that I have what my college broadcast journalism professor described as a "face made for radio," but I'd still like my video to look its best. I was finally able to achieve high-quality video by switching to the AVerMedia PW315 1080p Wide Angle Webcam. The PW315 is a huge improvement over internal webcams and has some cool features, but at $119.99 it may be a bit high-priced for what it delivers.
What is it?
The AVerMedia PW315 is a wide-angle external webcam capable of recording and streaming video at 1920 x 1080 pixels at a frame rate of 60 fps with a 95° field-of-view.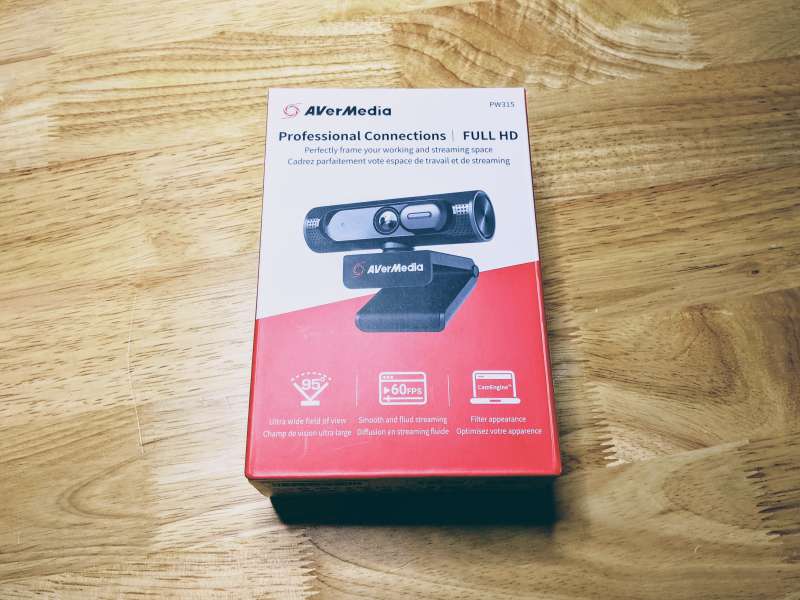 The PW315 arrives well-protected in a sturdy box that details all its features and capabilities.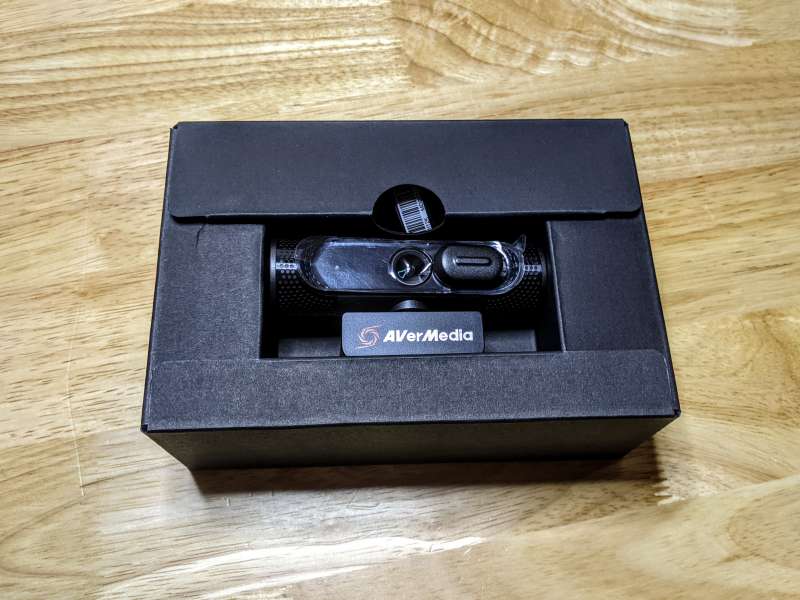 What's in the box?
AVerMedia PW315
Quickstart Guide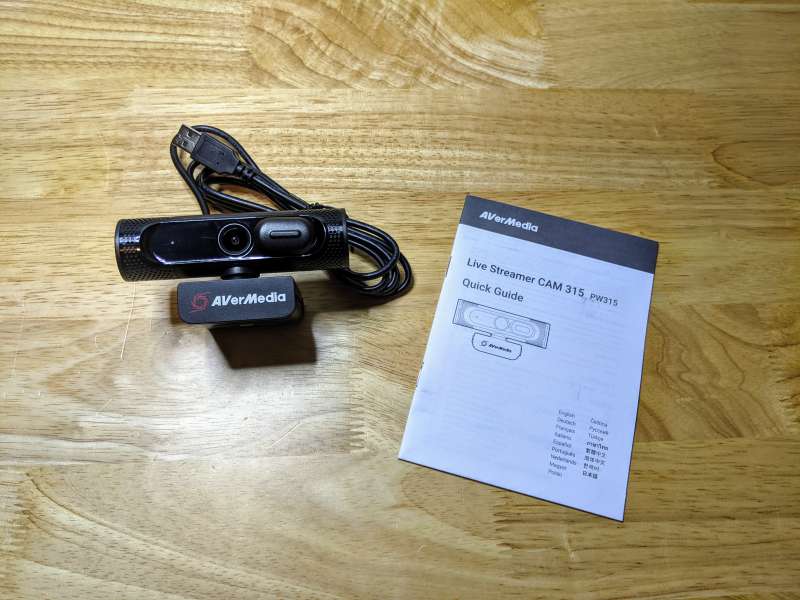 Hardware specs
Model Name: PW315
Image Sensor: 2MP CMOS image sensor
Maximum Resolution/Frame Rate: 1920 x 1080@60fps
FoV: 95.8° (D), 88.4°(H), 57.6°(V)
Focus Method: Fixed Focus
Format: MJPEG, YUY2
Microphone: Dual Omnidirectional Stereo
Microphone Coverage: 3m/9.8ft
Privacy Shutter: Yes
Mounting: Swivel Monitor Clip, ¼" Thread Tripod support
USB Cable: Corded USB Type-A Cable 1.5m/4.92ft
Supported System: Windows®, macOS®, Chrome OS™
Dimensions: 95 x 53.6 x 45.8 mm/ 3.7 x 2.1 x 1.8 in.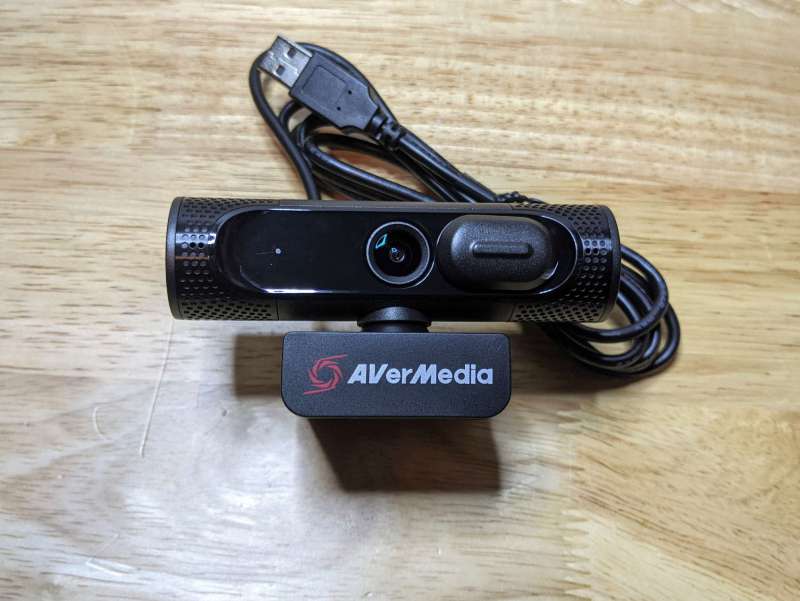 Design and features
The AVerMedia PW315 has a sleek design, with a glossy and matte black textured plastic encasing. I'm not crazy about the large AVerMedia logo on the front, but it can easily be covered up with some tape.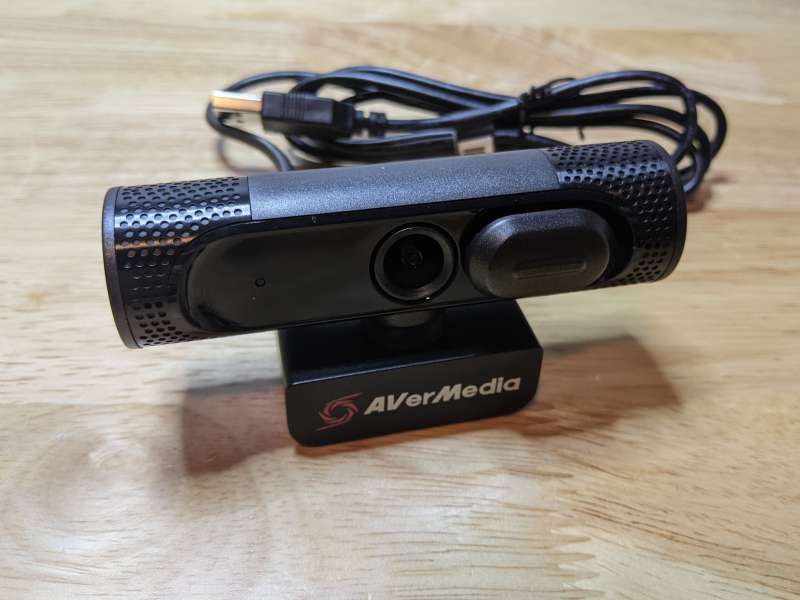 The PW315 has a handy privacy shield that easily slides over to cover the lens whenever the webcam isn't in use. The cover locks into place with a satisfying click and it is good practice to use this security feature regularly.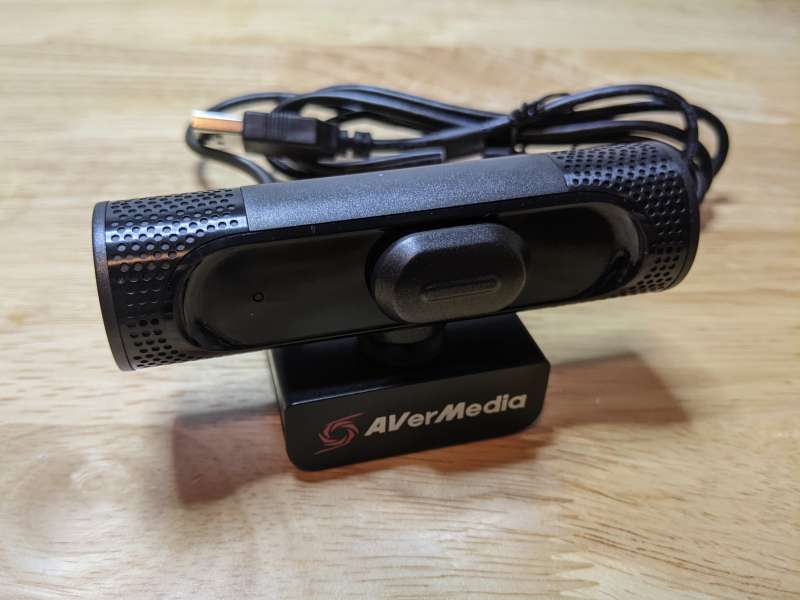 The PW315 has a hard-wired USB-A cable that comes out of the back of the unit.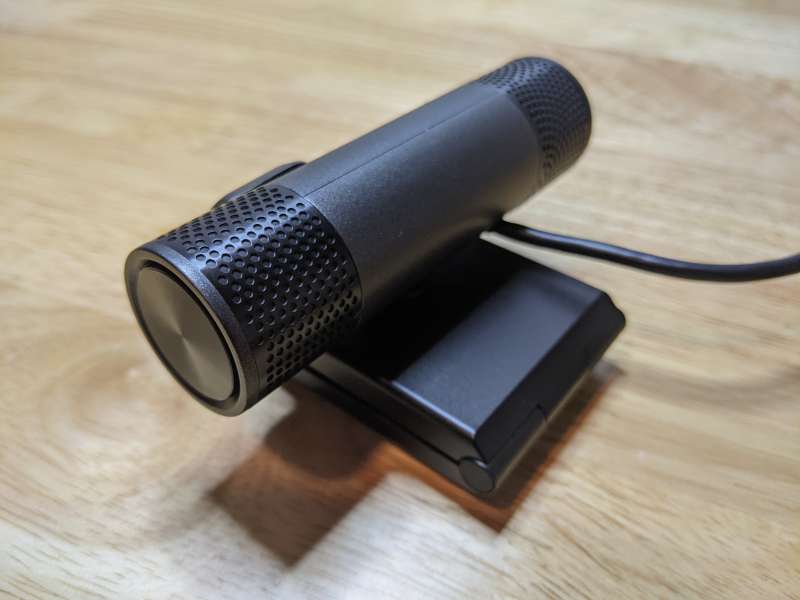 This a standard non-removable USB cable for connecting the PW315 to your laptop or desktop machine.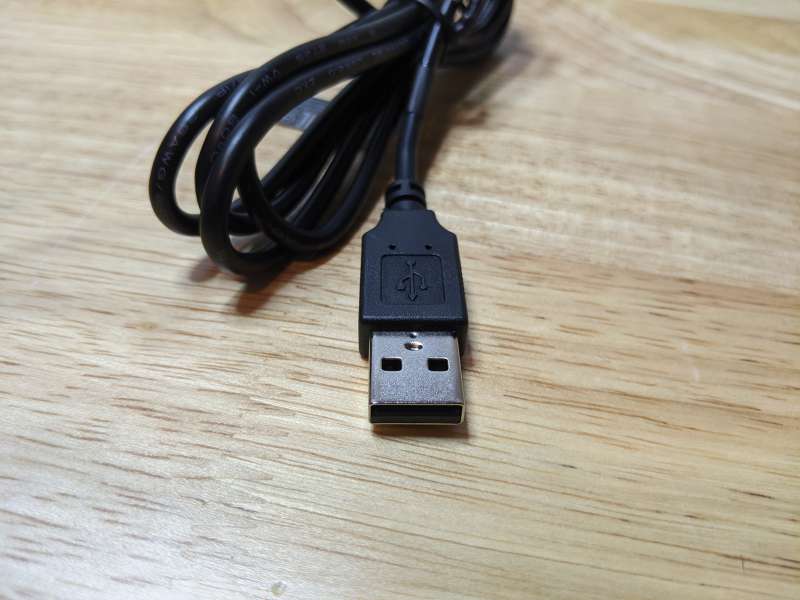 The PW315 can be mounted on top of a monitor or laptop using the clamp built into its base. The clamp is easy to use, fit snugly, and held the PW315 firmly in place on all three of my different monitors as well as both of my laptops.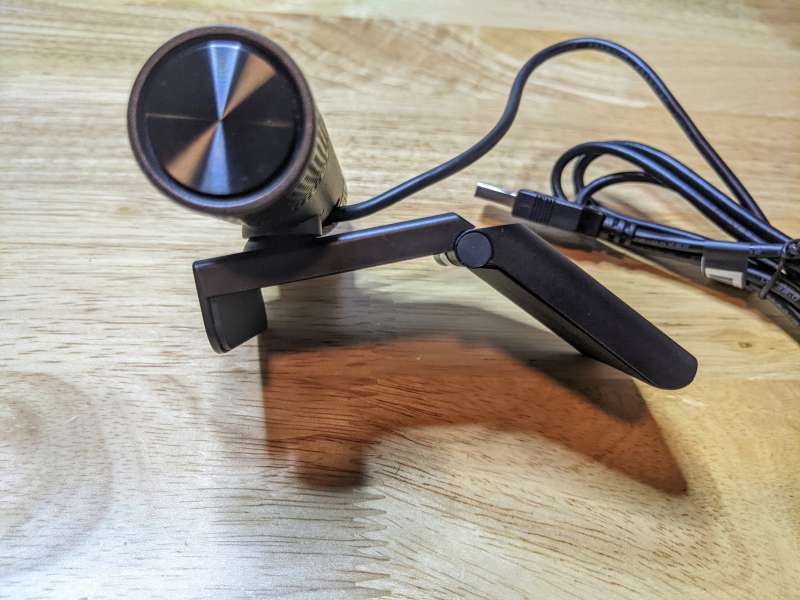 Once it's clamped into position, the webcam can be rotated a full 360° on its mount.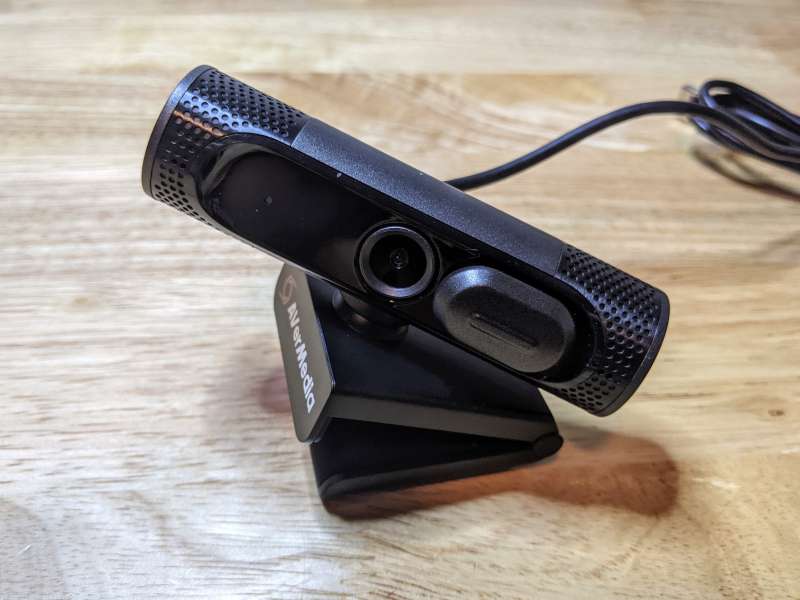 On the bottom of the PW315 is another mounting option, a ¼" thread tripod mount. I really like that this was included in the design of the PW315 as it adds to its versatility.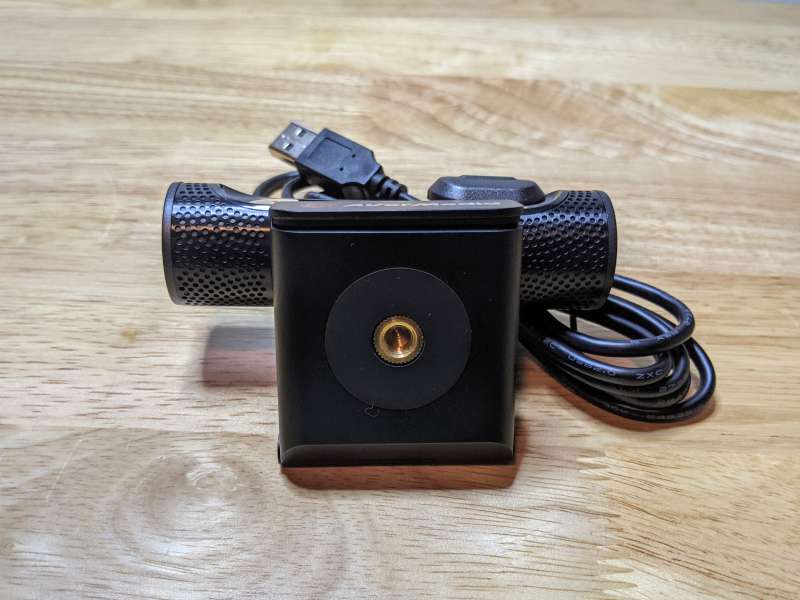 Even though it's just black plastic, I liked the overall look of the PW315, with the stippled ends, glossy center, and textured top.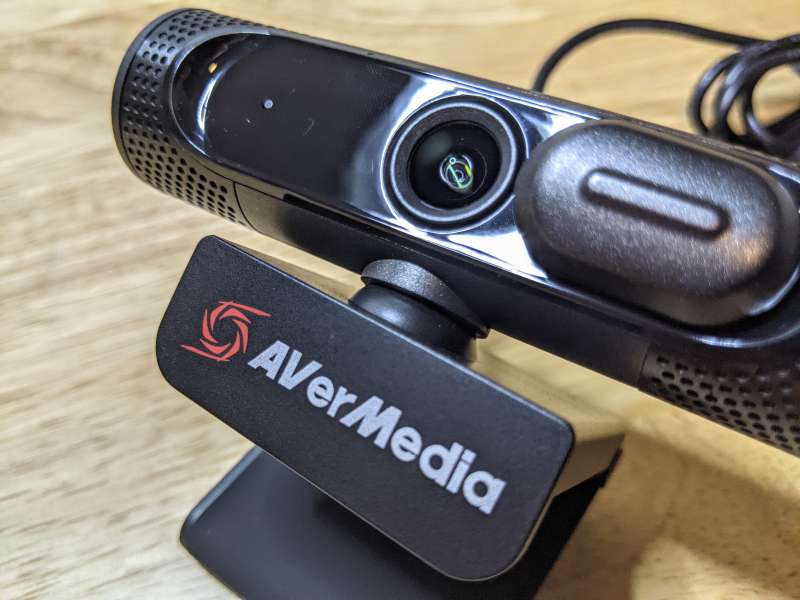 Once mounted onto my laptop, the PW315 looked very professional and not at all out of place, except for that huge logo of course.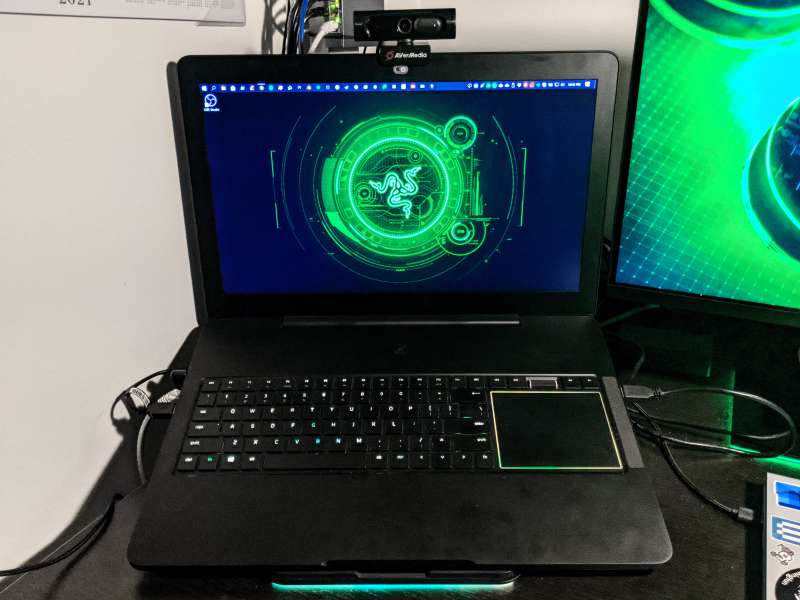 Setup
If you plan on only using the PW315 as a standard webcam and have no desire to tweak its settings or explore its features, then setup is as easy as plugging the webcam into your computer and selecting it as the video source in whatever app you use for streaming, chatting, or recording.
But, if you'd like to really see the full capability of the PW315, you'll need to go a step further and download the AVerMedia PW315 CamEngine. Since I tested the PW315 on my Razor Laptop, I downloaded the Windows version of the CamEngine. The software is also available for macOS as CamEngine Lite.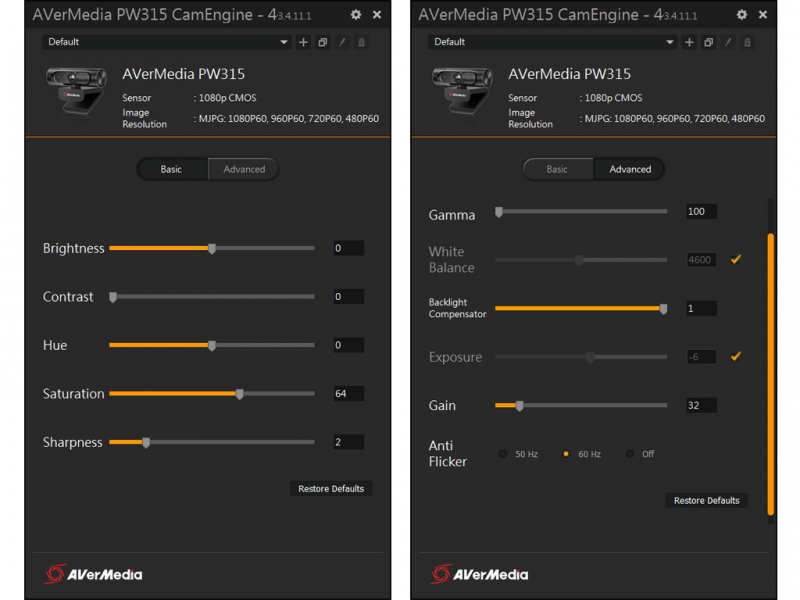 The CamEngine software is simple to use and all the features are easy to figure out. There are options for changing typical video parameters such as brightness, contrast, hue, saturation, and sharpness. There are also advanced options that allow you to change the PW315's gamma setting, exposure, gain, flicker, and an option to toggle a backlight compensator.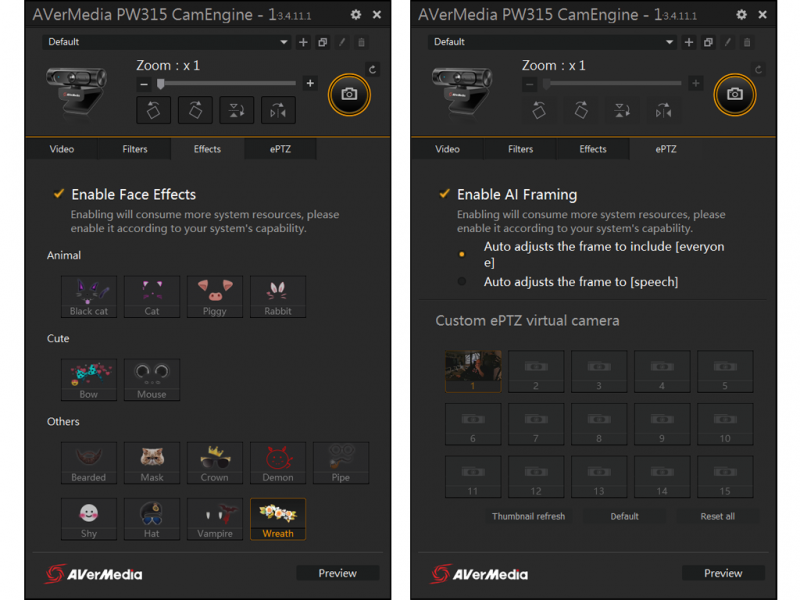 Deeper into CamEngine's tabs you'll find some of its more advanced features like Face Effects and the cool AI Framing option. I demonstrate both features in the video embedded in the Performance section of this review.
Face Effects are similar to filters found in most video apps like Snapchat and let you adorn your video image with all manner of ridiculousness. The problem though is that these effects aren't executed as expertly as similar ones in other apps. The effects never aligned with my face correctly. For me, this option is pretty useless.
The more useful feature is the AI Framing. This feature works to automatically crop the video image to only the person in the frame who is moving or talking. It's particularly useful when using the PW315 in a conference room setting or when there is more than one speaker. You can also pan, tilt, or zoom the camera digitally in the same ePTZ (electronic pan tilt zoom) tab and then bookmark favorite croppings and assign them hotkeys. I could see this being very useful as well, allowing me to save favorite croppings and camera zooms for certain situations, apps, or content.
As cool as all these features are though, their usefulness is severely hampered by how buggy the CamEngine software is. The app crashed on me several times, failed to reopen until I restarted my laptop, and just disappeared at times. Another issue that I ran across was not knowing that in order to use the advanced features of the PW315 in my video chat apps I had to choose CamEngine as the video source instead of the PW315. That was a frustrating problem that could've been addressed easily with a line of text in the user guide.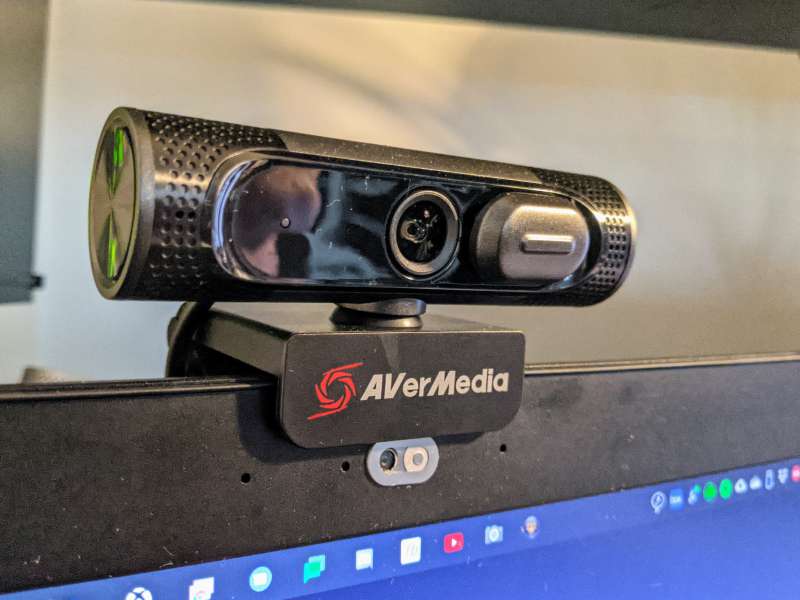 Performance
Once I got the PW315 setup, it was easy to use and after employing it for several weeks as my main video source I don't have any major issues. It performs exactly as a webcam should, the default color settings are perfectly serviceable, and I never had any complaints about my audio. The PW315 works great in a variety of lighting conditions and is a huge improvement over the internal webcam I was using. To illustrate this point, I've included a video with a side-by-side comparison between the AVerMedia PW315 and the internal webcam on my 2017 Razor Blade Pro 17.
As you can see from the video, the PW315 was able to record in 1080p at 60fps, and the quality is much better than my internal webcam. I also took two snapshots for comparison.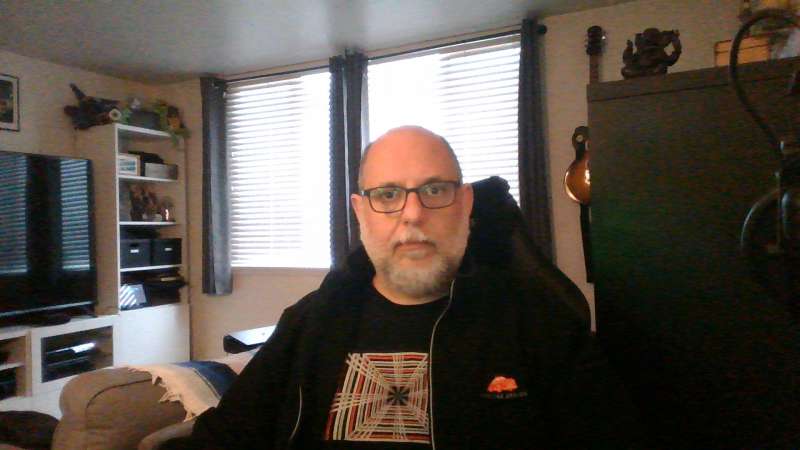 The top snapshot was taken with my Razor Blade Pro 17's internal webcam and the lower snapshot was taken with the AVerMedia PW315.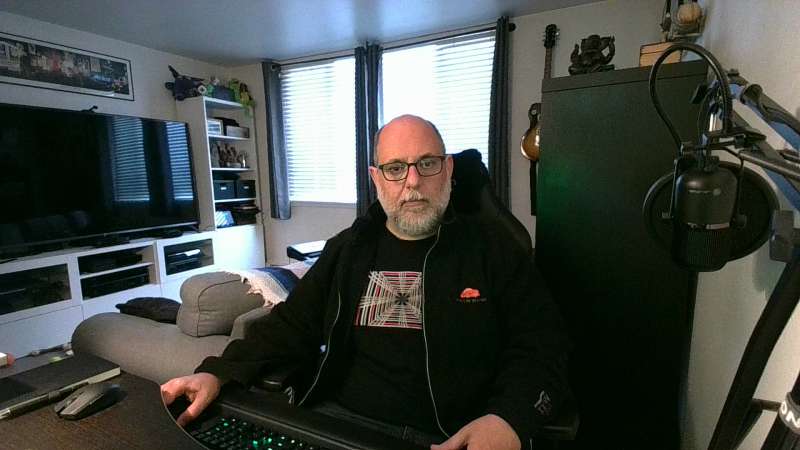 To be honest, the snapshot quality of the PW315 did not blow me away and was nowhere near as impressive as the video quality.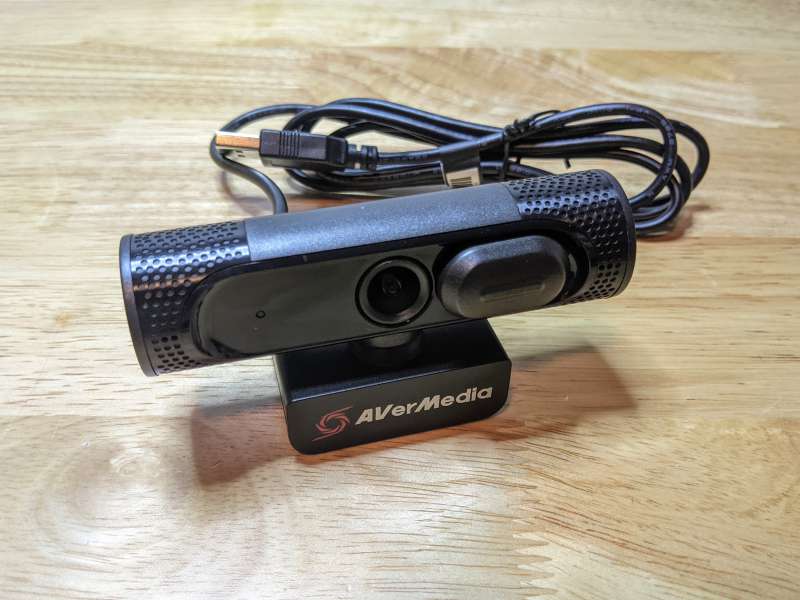 I'm glad to have the PW315 take over from my internal webcam for all of my video chatting, streaming, and recording needs, and it's definitely an improvement, but there are a few shortcomings that might not make this the best choice for everyone.
What I like
Great field of view and decent image quality
AI Auto Framing a cool feature
Easy setup
What needs to be improved
Software a bit buggy
Priced higher than most comparable webcams
Final thoughts
Overall, the AVerMedia PW315 is a decent, multi-featured webcam. The build quality and design are good, and it has great out-of-the-box functionality. The AVerMedia CamEngine software is nice to have and adds some fun features, but it's ultimately a little bit buggy and inconsistent. For some, features like AI Auto Framing, a 95° field-of-view, and tripod mounting might make the PW315 worth the $119.99 price tag, but it's still priced a bit high compared to similar webcams, so there may be better options at lower prices. Check out all of our other webcam reviews.
Price: $119.99
Where to buy: Amazon
Source: The sample of this product was provided by AVerMedia.