We use affiliate links. If you buy something through the links on this page, we may earn a commission at no cost to you. Learn more.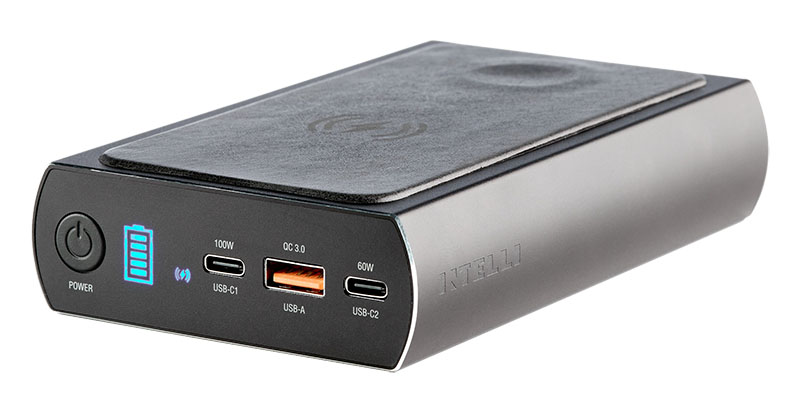 CROWDFUNDING REVIEW – Wireless chargers, USB charging hubs, and powerbanks are everywhere these days, coming in all sorts of shapes, sizes, and capacities. But few combine all three into one. Well the engineers at INTELLI have done just that with their new ScoutPro series of all-in-one powerbanks. They are introducing their new power solution via a Kickstarter campaign that started on April 6th, running for 30 days. I've received a preproduction ScoutPro for us to take a look at…let's check it out.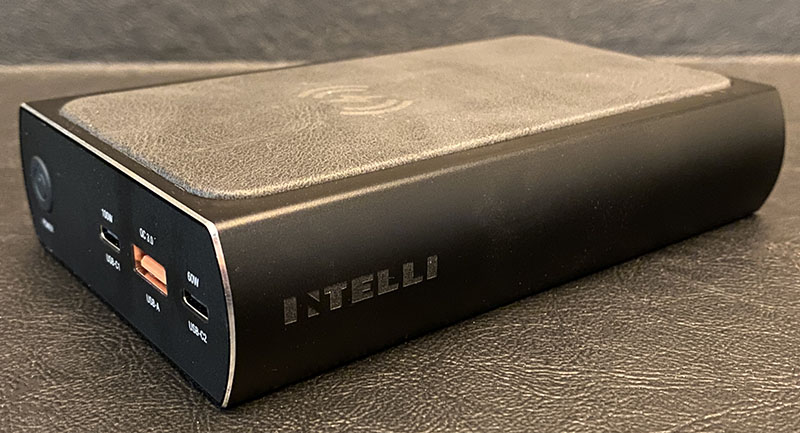 What is it?
The ScoutPro is a well constructed all-in-one power charging station, combining strong Power Delivery, wireless charging (including dedicated smartwatch/Apple Watch location), and 200W of internal powerbank battery capacity (240W in the ScoutPro Max)…all in a relatively compact, portable package.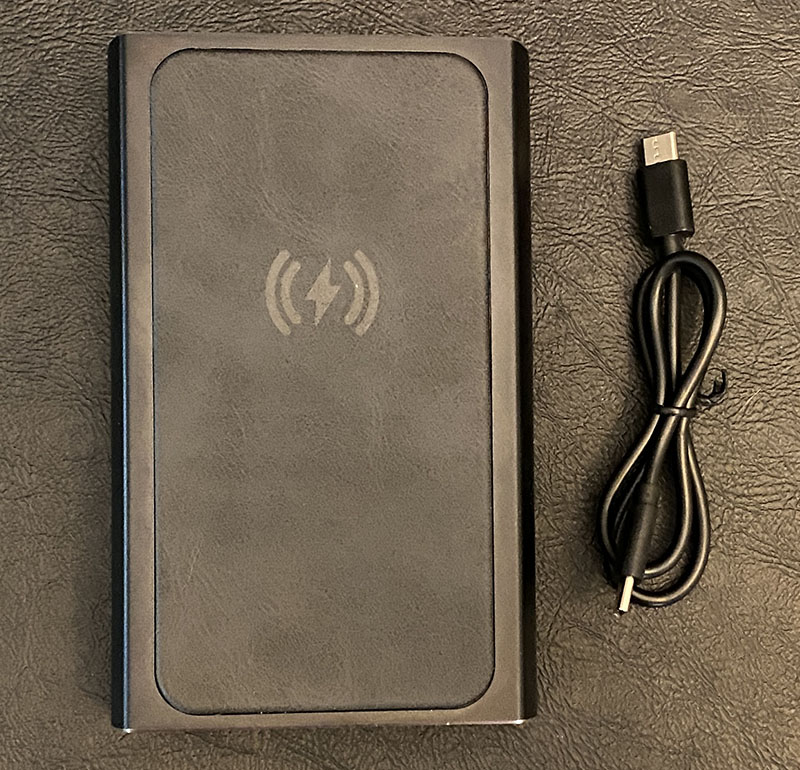 What's in the box?
ScoutPro all-in-one powerbank
12″ USB-C to USB-C cable

Hardware specs
| | | |
| --- | --- | --- |
|   | ScoutPro | ScoutPro Max |
| Capacity | 20000 mAh / 74 Wh | 24000 mAh / 88.8 Wh |
| Batteries | Lithium Graphine Composite | Lithium Graphine Composite |
| Conversion Effeciency (max) | 85% | 85% |
| Combined Total Power | 195W | 240W |
| USB-C Port-1 | 100W | 100W |
| USB-C Port-2 | 60W | 100W |
| USB-A | 22.5W | 22.5W |
| MagSafe Wireless Charger | 10W | 15W |
| Dedicated Apple Watch Charger | 2.5W | 2.5W |
| Smartphone Fast Charging | Yes | Yes |
| Combined Simultaneous Output | 160W | 200W |
| Recharge Time | 55 minutes | 120 minutes |
| Dimensions (in.) | 5.4 x 3.3 x 1.14 | 6.2 x 3.3 x 1.18 |
| Weight (g) | 515 | 545 |
Design and features
INTELLI touts the ScoutPro as "Your Everything Charger". This all-in-one power solution has the ability to charge up to 5 devices simultaneously. The ScoutPro can charge USB-C enabled laptops, tablets, smartphones, smartwatches, earbuds, etc.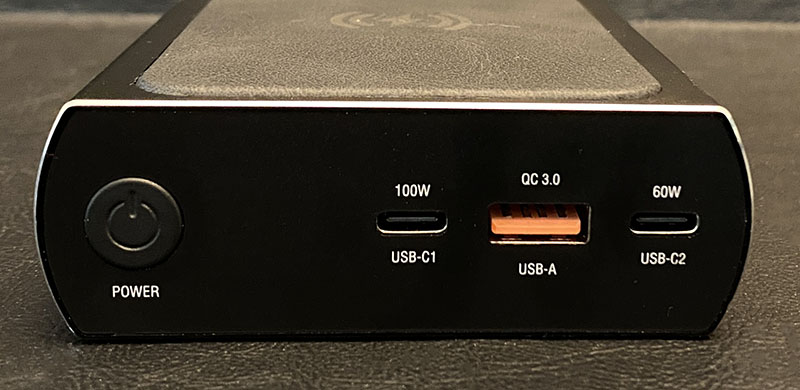 The ScoutPro's main face has a physical power button, LED status display, two USB-C ports and one USB-A QuickCharge 3.0 port. The USB-C ports both charge the ScoutPro's internal batteries and allows pass-thru charging for both wireless and wired charging.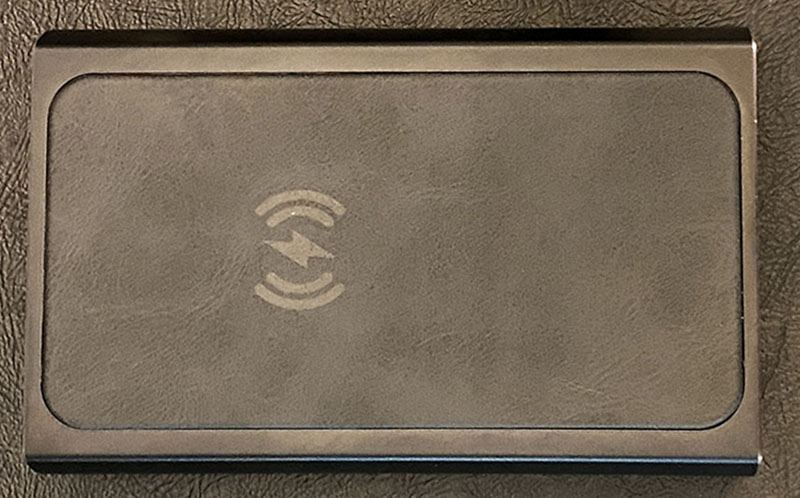 The top of the ScoutPro has a dedicated 10W (15W on the Max) smartphone and 2.5W Apple Watch charging points.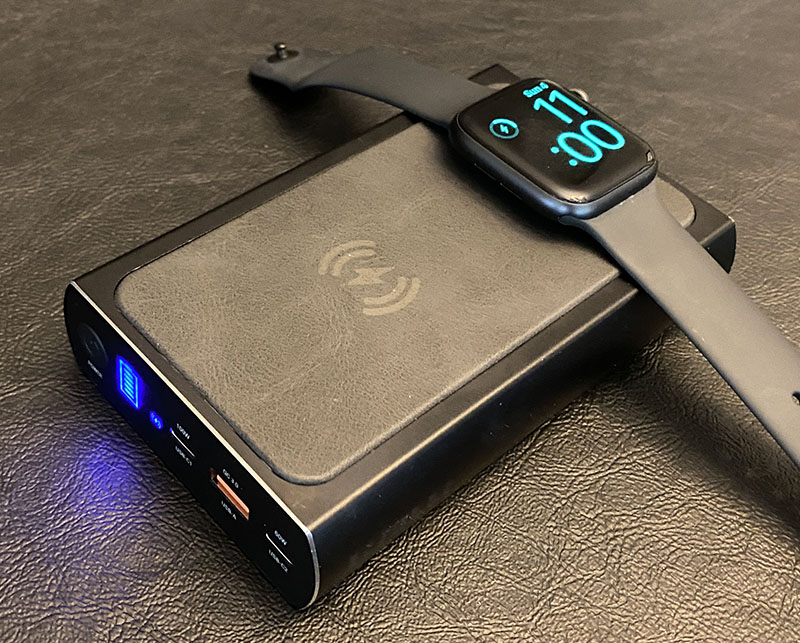 The built-in universal wireless charger is MagSafe compatible with the iPhone 12 but works with any Qi enabled smartphone. 

The housing is well made from powder coated aluminum that has curved sides, flat ends, and chamfered edging. The wireless charging mat is made from a non-marring, faux leather to not scratch your smartphone or Apple Watch.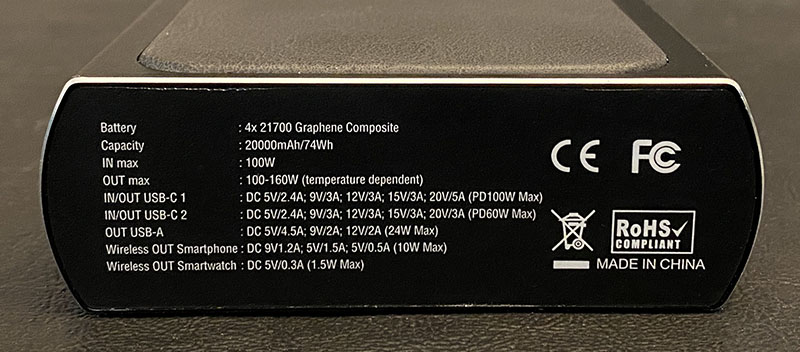 The ScoutPro houses 4 'next-gen' graphene batteries to provide power while unplugged (5 in the ScoutPro Max).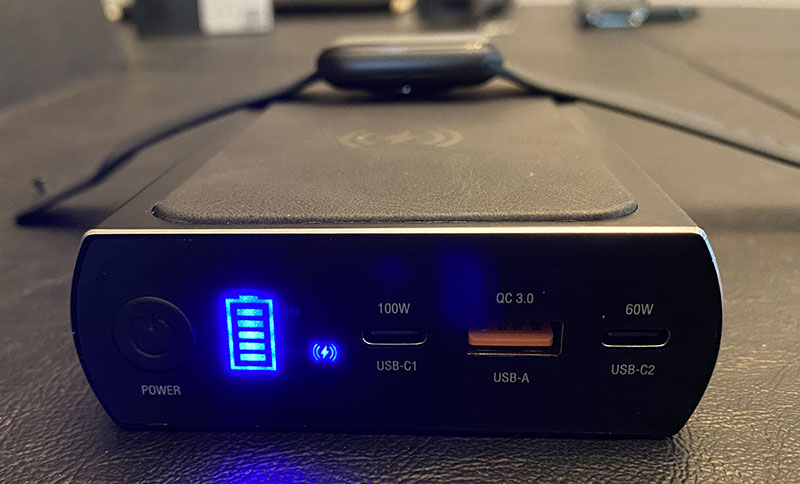 Performance
The ScoutPro is available in two versions: the base and Max versions. Both include identical universal wireless charging points and USB-A QuickCharge 3.0 port. The ScoutPro base model holds 20,000mAh and includes a 100W and 60W USB-C ports. It's 5.4 x 3.3 x 1.1 inches and weighs 1.1 pounds. The ScoutPro Max holds 24,000mAh with both USB-C ports providing 100W of power. The Max is slightly longer and heavier (6.2 inches and 1.2 pounds) due to an additional power cell.
According to INTELLI, the ScoutPro can charge your iPhone Pro Max up to 6 times, 11″ iPad up to 3 times, or your MacBook while on the go via its internal batteries. I didn't test every scenario but did recharge my 11″ iPad Pro several times, iPhone 11 Pro Max / Apple Watch /Jabra Elite earbuds many times, and was able to take my 16″ MacBook Pro from zero to 55% each on a single charge. 
The ScoutPro can also act as a USB-C charging hub able to charge 4 devices at the same time when plugged into a high capacity power brick. When paired with INTELLI's 100W mini GaN charger, you can charge the battery to 70% in 30 minutes or fully charge it in an hour. Shame they didn't have an option in their Kickstarter campaign to buy them as a package deal. Cause IMO, you really do need this kind of power supply to get the most out of the ScoutPro. 
What I like
All-in-one power bank
Well made/constructed
Excellent power delivery options
Can charge up to 5 devices at once
Lifetime warranty
What needs to be improved
Should include an optional high capacity power plug
The ScoutPro Kickstarter effort was fully funded in less than 2 hours and 1 day into the campaign had more than 300 backers and nearly $50,000 in funding.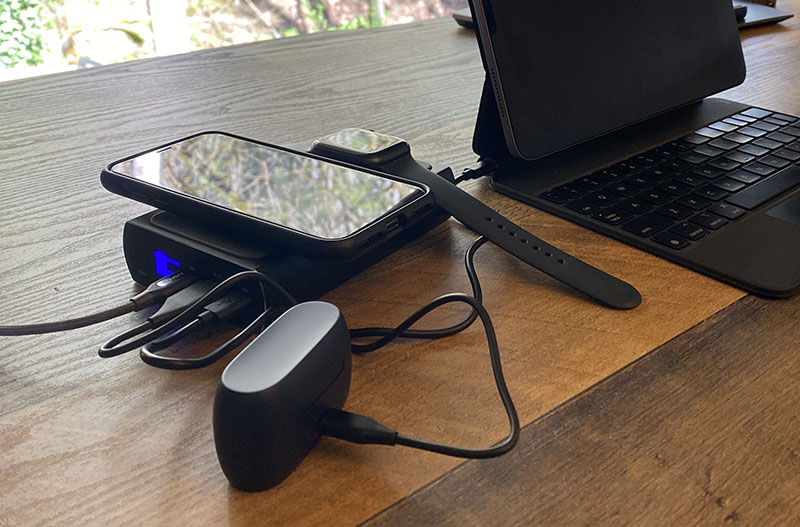 Final thoughts
The ScoutPro powerbank works as advertised. INTELLI has done a great job creating an all-in-one portable charging solution. The ScoutPro provides solid wireless and wired battery power while on the fly to most, if not all of your EDC tech gear. While not the smallest or lightest powerbank on the market, it does provide more capacity and charging options than most. Add in its ability when plugged in to be a multi device power hub for everything from a 16″ MacBook Pro to your earbuds, the ScoutPro makes for an excellent travel or desk companion.
Price: $119 (Kickstarter pricing)
Where to buy: The ScoutPro and ScoutPro Max are available on INTELLI's current Kickstarter page.
Source: The sample of this product was provided by Intelli.