We use affiliate links. If you buy something through the links on this page, we may earn a commission at no cost to you. Learn more.
REVIEW – I've been a fan of RHA for many years. This 10-year old Scottish company has seldom disappointed with whatever they've produced—from affordable to quite expensive (and quite good) earphones, as well as a headphone DAC/amp (discontinued). RHA also does not rest on its success. They continually innovate and upgrade their line. Case in point: The new TrueControl Active Noise Canceling Earbuds. Do they measure up to what is expected from RHA?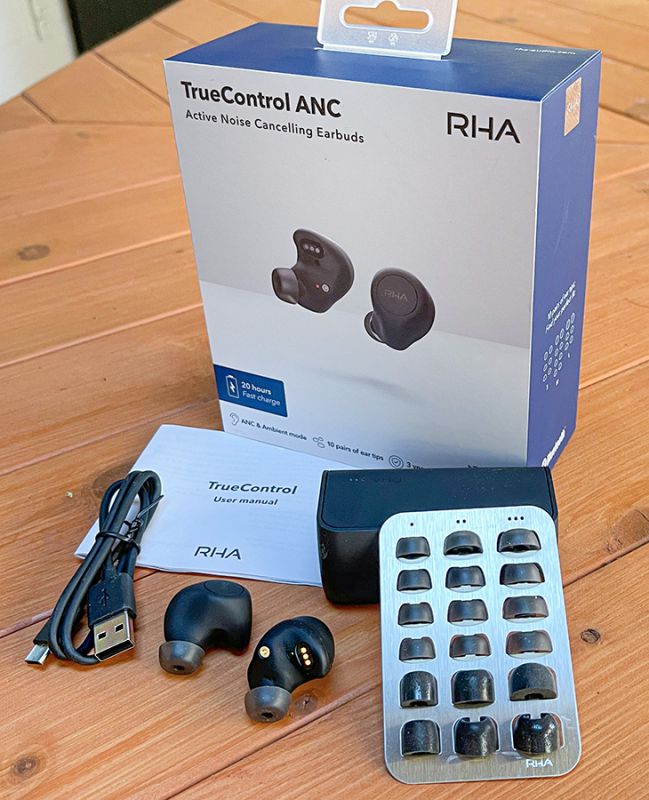 What is it?
The RHA TrueControl Active Noise Canceling Earbuds are RHA's new totally wireless earbuds (or earphones if you prefer). The TrueControl ANC earbud comes with Qualcomm AptX sound quality (does not work with Apple iOS), AAC sound quality (does work with iOS), adjustable noise cancellation, ergonomic design, and the RHA Connect app (iOS and Android) allowing for some customization.

Specs
IPX4 sweatproof and water-resistant rating
Active noise canceling
Capacitive touch controls
6mm dynamic speaker
Wireless and USB-C charging
Bluetooth 5.0
31 ft. wireless range
Weight: 3.3 oz. (case and earbuds)

Design and features
The RHA TrueControl Active Noise Canceling Earbuds follow RHA's design ethos—a matt black look combined with bulletproof build quality. The TrueControl earbuds are RHA's first ergonomically designed wireless buds. This design decision has good and not-so-good points. The fit from the earbuds is snug, meaning that they will not fall out—if inserted properly. Maybe my ears are weird or I'm not as smart as other people, but it took me a while to figure out how to twist them into place. The manual has no explanation or diagram. See, there's this slightly protruding part on the earbud that's made to fit under the antihelix part of the outer ear (look it up). If not properly fitted, they can fall out. Unfortunately, RHA has no diagram showing how to get a good fit. I asked them about this and RHA replied by sending photos showing an ear with the earbuds already inserted—and still no diagram.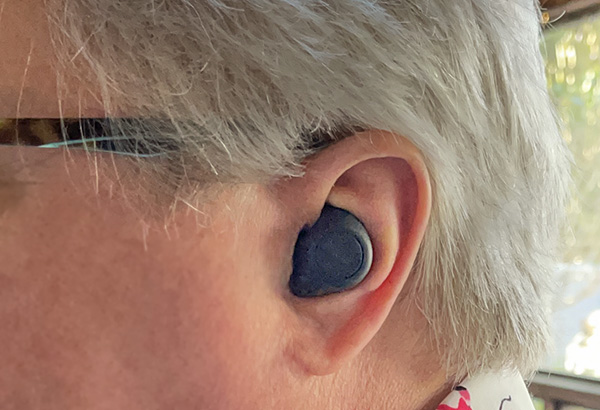 With the TrueControl earbud properly in place (finally), my ears began to hurt after a few minutes from its tight fit. However, since I review earphones, I had to use them for hours to test. So I did. And that's where it got weird. The longer I wore them, the more comfortable they became. I can't explain it, but I wore them for 3.5 hours one-day doing yard work and had no comfort issues. But when I re-inserted them later that day, they hurt for a short while before they again felt comfortable.
I could have worn them longer than 3.5 hours, but the batteries needed recharging. RHA claims 5-hour battery life from the earbuds with 3 extra recharges from the case for a total of 20 hours. My pair came up 1.5 hours short and yes, they were fully charged when used. Note that battery life is determined by many factors, including volume settings. I tend to listen to music loud, so it's not surprising battery life was reduced.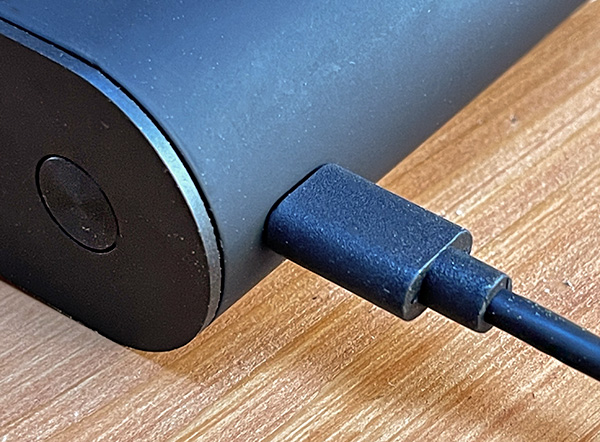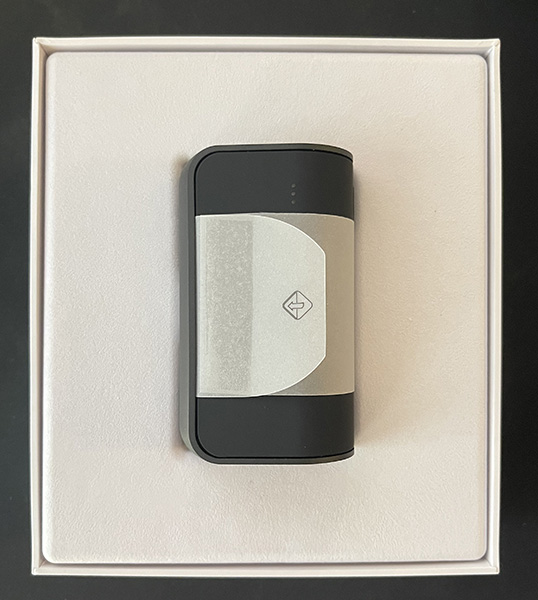 Inside the box of the TrueControl earbuds are a case, ear tips, and a USB-C to USB A charging cable.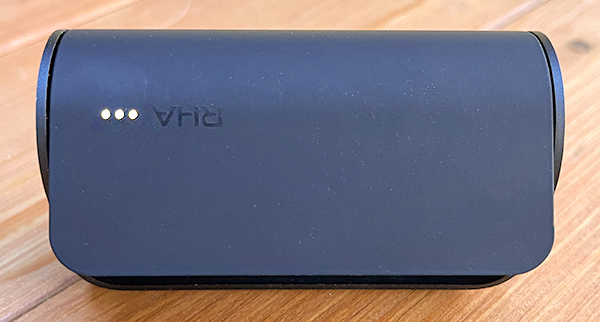 The case for the TrueControl earbuds is the same design as the RHA TrueConnect earphones (with the stem). However, this case features Qi wireless charging in addition to UCB-C charging. It's a solid metal case covered in a silicone-like surface that grips well, but easily shows fingerprints. It's a great case, but when opened, the earbuds are flipped. The right earbud sits on the left side of the case and vice-versa. The TrueControl earbuds magnetically snap into place when placed inside the case, for successful charging.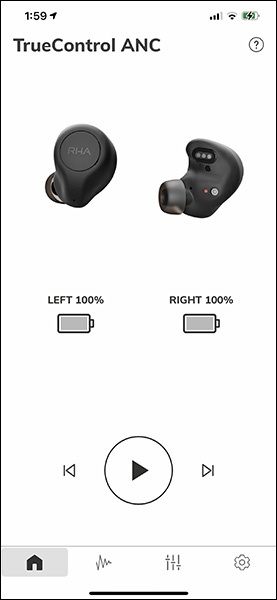 The RHA Connect app is a bare-bones app that allows some customizing of the TrueControl earbuds. The app is easy to use and very stable, with no crashing or glitches (unlike other audio headphone/earphone apps). More about the app throughout the review.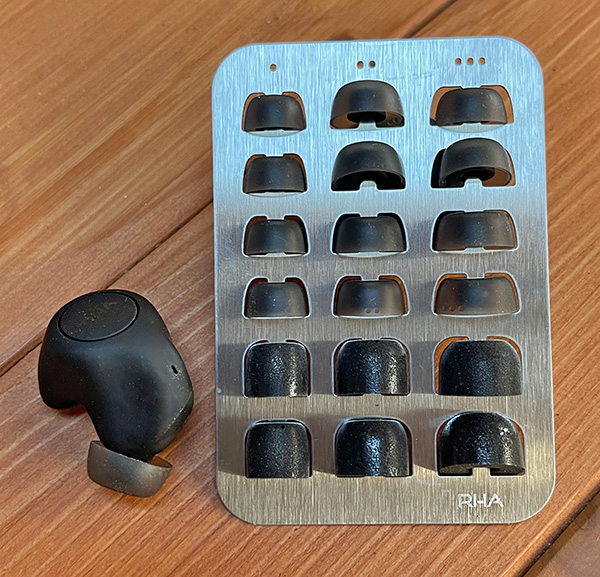 RHA has always provided many ear tip choices with their previous earphones and the TrueControl earbuds are no different. Along with differently-sized silicone ear tips, there is a selection of foam tips for even better isolation. I was able to find the right-sized ear tip—a big deal for me. I have sizing issues with most earphones.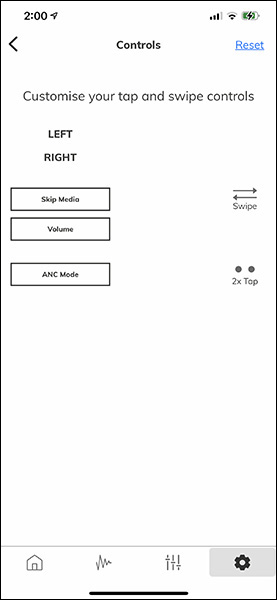 Each earbud has a circular capacitive button allowing different uses depending on how it's set up. The buttons can be either lightly tapped or swiped. Since the buttons are capacitive, they do not need to be pressed. Due to the earbuds' small size, I'm not a fan of swiping the buttons, so I turned this function off in the app. I realize that others will appreciate the ability to use swiping to adjust volume, skip or repeat tracks or control ANC. Instead, I use the "Tap twice" setting to toggle between ANC on/off and Ambient modes. 
Tapping once will either pause or play the music. That setting is not changeable. You can set whether the TrueControl earbuds will pause when either earbud is removed and resume when reinserted.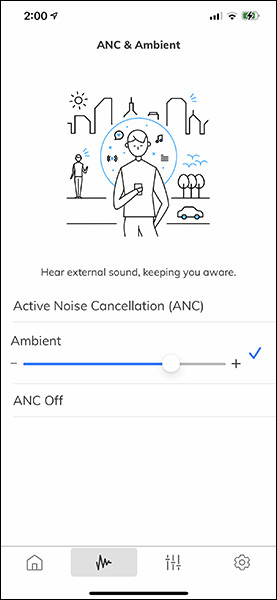 In the RHA Connect app, there are three settings for RHA's excellent use of noise canceling. Because of the TrueControl earbud's tight fit, they are quite good at passive noise reduction. However, they are even better with ANC on. Only Apple's AirPods Pro earphones offer better noise canceling—and that's high praise. With ANC on, the world gets eerily quiet. Then there's Ambient mode, which lets in all the sound from the surrounding outside world. Not only that, but the app lets you dial in how much or how little of the world you want to hear. Not even Apple has that feature.
You can also have a conversation without removing the earbuds—even with ANC on. Just hold the left earbud and Ambient mode kicks in allowing you to hear everything clearly. Once you let go, full noise canceling returns. Despite this cool feature, not removing earbuds while talking with someone just seems rude. 
RHA touts their call quality with the TrueControl earbuds. People I spoke with could hear and understand me fine, but vocal quality wasn't as good as talking directly into my iPhone. The be frank, few earphones sound as good as an iPhone's mic.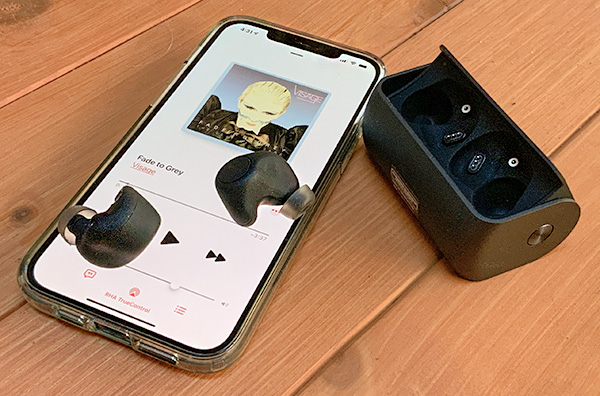 So how do the TrueControl earbuds sound? This is where RHA shines. RHA is known for excellent sound throughout their line of earphones. Audio from the TrueControl earbuds has a sound quality not usually heard in totally wireless earphones. I find it difficult to distinguish these from a wired pair of earphones. Music has a warm tonal quality that sounds fun—whether noise canceling is on or off. These are earbuds that can be your exclusive pair of music earphones. They sound that good.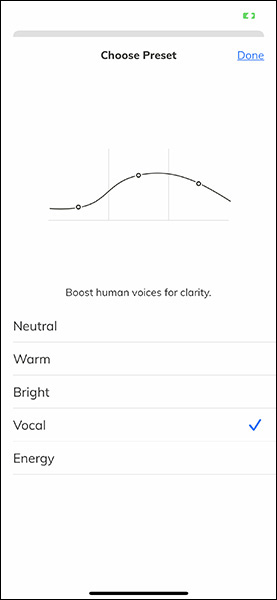 The RHA Control app allows you to customize the audio with 5 equalizer presets. Unfortunately, only the presets can be used. There is no personal EQ customizing. Each preset has its own unique sound, so it's easy to find one you prefer—or not. After trying the 5 presets, I decided to revert to EQ flat (or off). To my ears, music just sounds more natural with minimal or no EQ adjustments.
What I like
Comfortable (except when they aren't)
Well made
Sound as good as most wired earphones
Excellent active noise canceling
Adjustable Ambient setting
Music sounds great with ANC on or off
3-year warranty
What I'd change
Expensive
Not comfortable (except when they are)
Fitting can be tricky

Final Thoughts
At $300, the RHA TrueControl Active Noise Canceling Earbuds are definitely not cheap. What you get for the money though, is RHA's time-tested and excellent audio quality combined with equally excellent build quality. With each new product, it's obvious that RHA spends their R&D money wisely. Few earphones can outperform RHA in this price range or even higher.
Price: $299.95 US
Where to buy: BH Photo and Amazon when they are added to the RHA shop
Source: The RHA TrueControl Active Noise Canceling Earbuds were provided by RHA.