We use affiliate links. If you buy something through the links on this page, we may earn a commission at no cost to you. Learn more.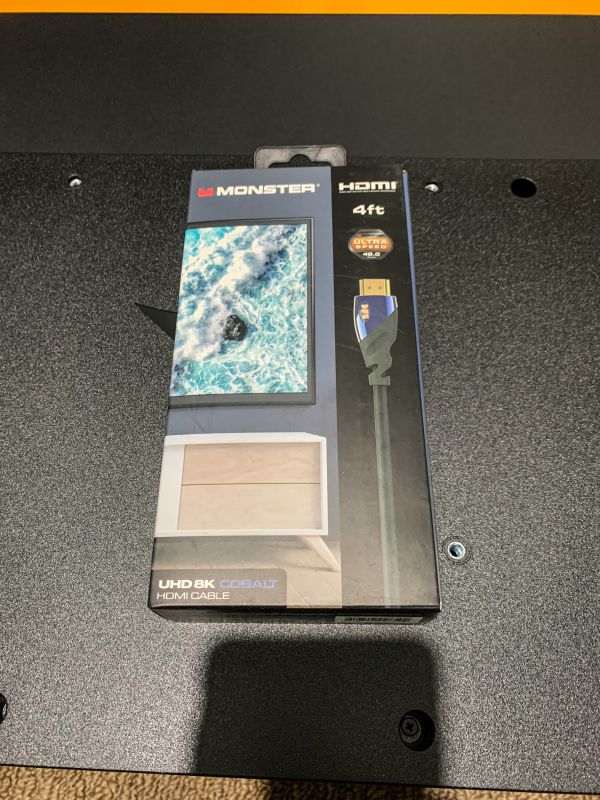 REVIEW – As an audiophile, I have spent a lot of money over the years on various audio cables for my stereo system. While I am often engaged in heated discussions regarding the concept of better cables equaling better performance, I always use what are considered "high-end" cables for my equipment. The cost of the "high-end" cables can be very prohibitive and as such, there is a large market for well-built, good performance cables at more palatable consumer prices. One leading brand in this category has been Monster cables. Let's see how this Monster Ultra High-Speed 8K Cobalt HDMI 2.1 cable performs.
What is it?
The Monster Ultra High-Speed 8K Cobalt HDMI 2.1  cable boasts data speeds at 48 Gbps. According to Monster, this high-definition multimedia HDMI cable has been independently verified to provide up to 48 Gbps data transfer rates. They also state that it is capable of delivering a frame rate of up to 120HZ, along with 12 Bit Color, which translates to fluid, realistic images with greater perceived depth and no lag. It also supports Dynamic HDR for brighter whites and amazing color saturation. With the Enhanced Audio Return Channel (eARC), it can support all home theater audio formats and streaming video services with advanced audio technology such as 7.1 Dolby DTS-HD for uncompressed surround-sound quality.
What's in the box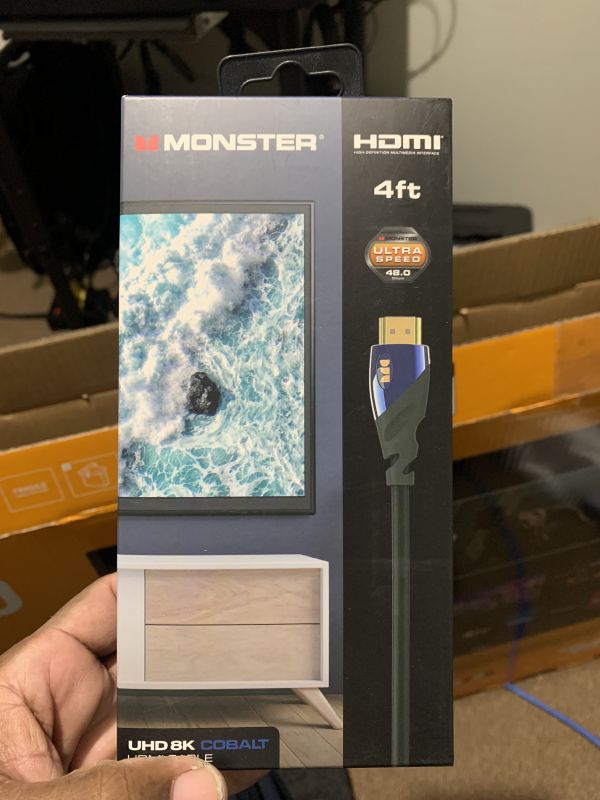 1 x Monster Ultra High-Speed 8K Cobalt HDMI 2.1 Cable
Design and features
Features
ULTRA HIGH-SPEED DATA TRANSFER: Our 8K HDMI 2.1 cable delivers one of the fastest data transfer rates at 48 Gbps; This means it can support up to 10K resolutions with lossless digital audio for the ultimate viewing and audio experience
CRISP DYNAMIC HDR IMAGES: Monster's high-speed HDMI cables support Dynamic HDR for videos with greater detail, depth, brightness, contrast, and wider color range
CRYSTAL CLEAR SOUND QUALITY: Features Enhanced Audio Return Channel (eARC) for simplified connectivity and support for the most advanced audio formats; our cobalt HDMI cable supports uncompressed and lossless multichannel audio for superior sound quality
PRECISION TECHNOLOGY: Our HDMI 2.1 compatible cables support fixed-rate link (FRL) technology which allows for uncompressed resolutions at high frame rates; enjoy 4K at 120Hz, 8K at 30Hz, and right up to 10K resolution for commercial and industrial applications
UNIVERSALLY COMPATIBLE: Can be used with all HDMI devices and backward compatible with older HDMI standards; Connect to your HDTVs, laptops, Blue-ray Disc player, gaming devices, cable, satellite, and more
Specifications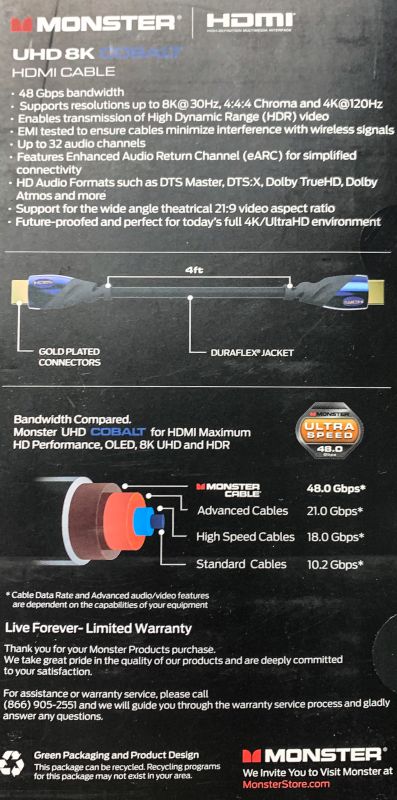 This HDMI cable is available in 4 lengths and is well shielded with gold-plated connectors.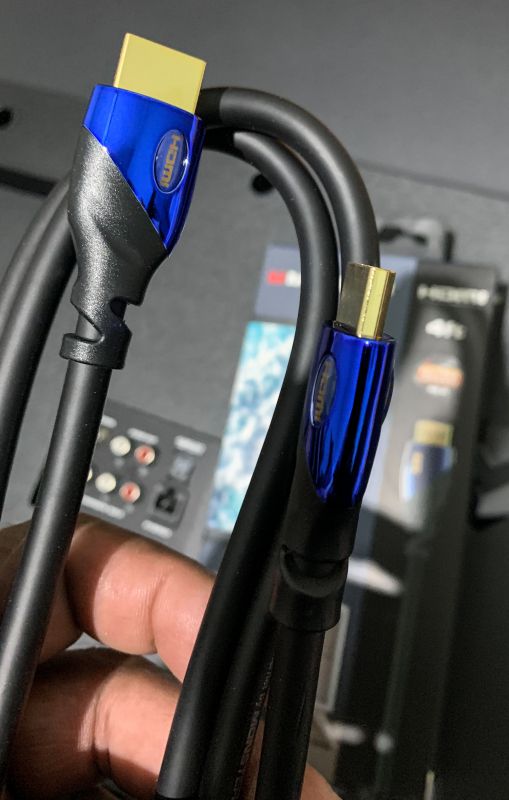 Performance
I use this HDMI cable to connect my Apple 4K TV streaming box to a 4K TV. The picture is great as well as is the sound. I have not seen any of the video distortions that I have experienced with some other cables, but I am not sure what I can attribute that to other than the proper shielding and connectors that this Monster cable provides.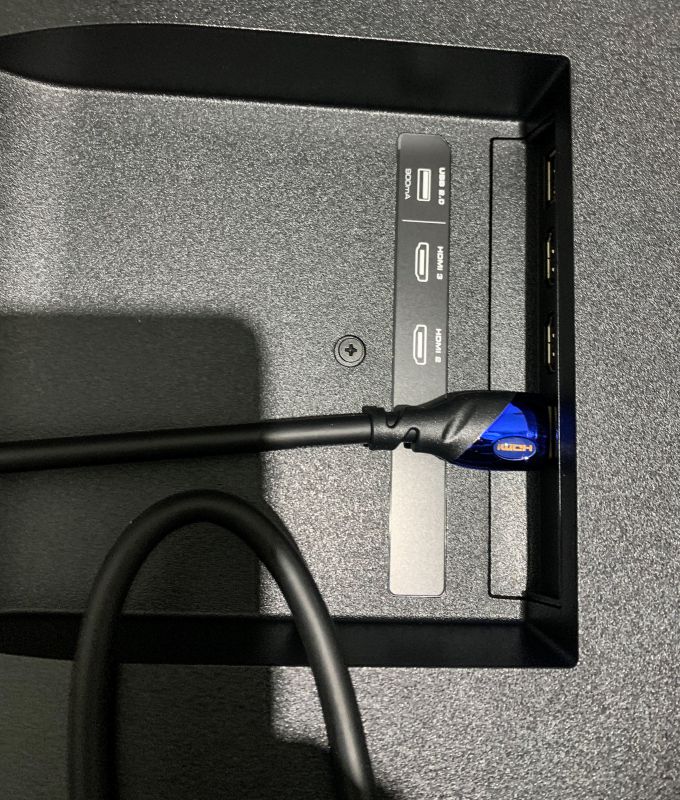 With the advancement of the technology associated with TVs today, it is expected that just about all relatively new HDMI cables should support HMDI 1.4 as a base level, but also with the expectation that they support HDMI 2.0. The speed rating is also important and the cables should fall within one of three categories: Standard HDMI cable: 4.95 Gbps, High-Speed HDMI cable: 10.2 Gbps, Ultra High-Speed HDMI cable: 48 Gbps. HDMI cables that are older and not within one of these 3 categories will likely not support 4k.
HDMI 2.1 is stated to be capable of 8K resolution and higher refresh rates. Currently, 8K devices are not mainstream for most consumers, and for my experience with this cable, I am only able to test on a 4K TV. For this use, this cable has performed flawlessly. I am also not a gamer but from my research, it seems that this cable also works well with Playstation, PS5, PS4, and Xbox. Since it is likely that 8K will become more popular in the not too distant future, this cable is great to have now and in the future.
What I like
The built quality
The consistently good overall performance
What I'd change
Nothing that I can confidently say at this time
Final thoughts
While I do not have an 8K TV as yet, I was very interested in testing and reviewing this cable because I have always liked the quality and dexterity of Monster cables, and have always found them to be more than adequate for heavy use scenarios. While it is difficult to truly measure if and how much of an improvement this cable offers over others that I have tried, I will say that I am very happy with the quality of my 4K picture and that it has not faltered nor failed in any way since I started using it. There is also the usual good build quality that Monster has always provided.
Price: 4 ft-$34.99; 6 ft-$39.99; 8 ft-$44.99; 12 ft-$49.99
Where to buy: Amazon
Source: The sample for the review was provided by Monster.