We use affiliate links. If you buy something through the links on this page, we may earn a commission at no cost to you. Learn more.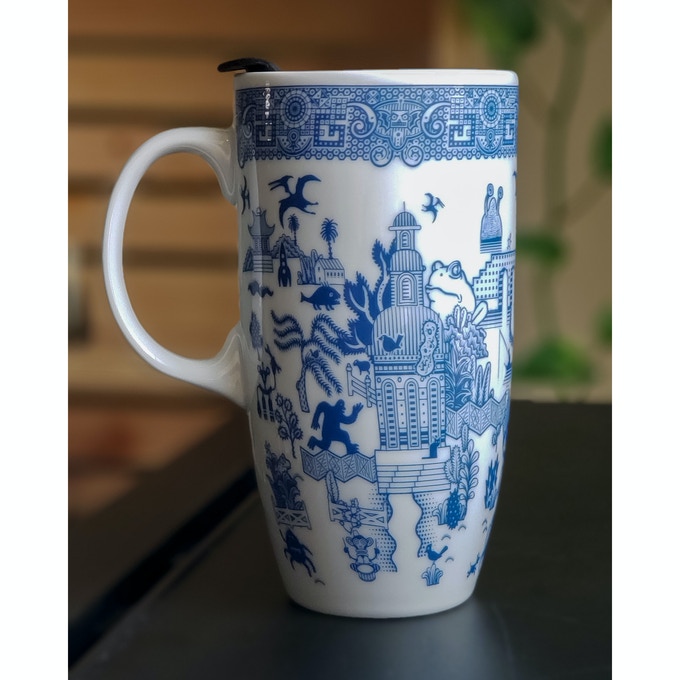 CROWDFUNDING NEWS – Someday, hopefully soon, we will all be back at work, and If you're like me, that will involve coffee and multitasking.  Today I found my perfect travel companion for my commute:  The new Calamityware Things-Could-Be-Worse travel mug available on Kickstarter.
If you're not familiar with Calamityware, it's a line of household items that feature monsters, disasters and the occasional UFO.  They are the product of retired graphic designer Don Moyer who spends his days drawing and designing catastrophes for pleasure and then launching his products on Kickstarter.
His new travel mug features Calamityware's signature style: porcelain with blue designs (he was originally inspired by a Willow pattern plate), but instead of beautiful landscapes and scenes from nature, his mug has threats to our very existence.  Pterodactyls, Sasquatch, dubious musicians, pirates, zombie poodles and other menaces are all attacking on the side of the 16-ounce mug.   It's a good reminder that even though traffic might be awful and you are dreading the meeting you have in the afternoon, at least giant frogs haven't started a reign of terror.
Moyer has launched other travel mugs previously that are similar, but this one is taller and thinner.  It is not insulated, but it has thick walls to hold heat longer and the anti-slosh lid can be opened and closed with one finger.  It has what he calls a "civilized" handle.
If you already have enough travel mugs or you can't get enough Calamityware in your life, he sells all of his excess Kickstarter merch on his website.  You can get entire 12-piece dinnerware sets, cookie jars, serving ware as well as other items such as reusable grocery bags and assorted accessories.
Here is a link to the mug on Kickstarter where you can pre-order one for $28 with shipping due in June. You can also check them out at Calamityware store.