We use affiliate links. If you buy something through the links on this page, we may earn a commission at no cost to you. Learn more.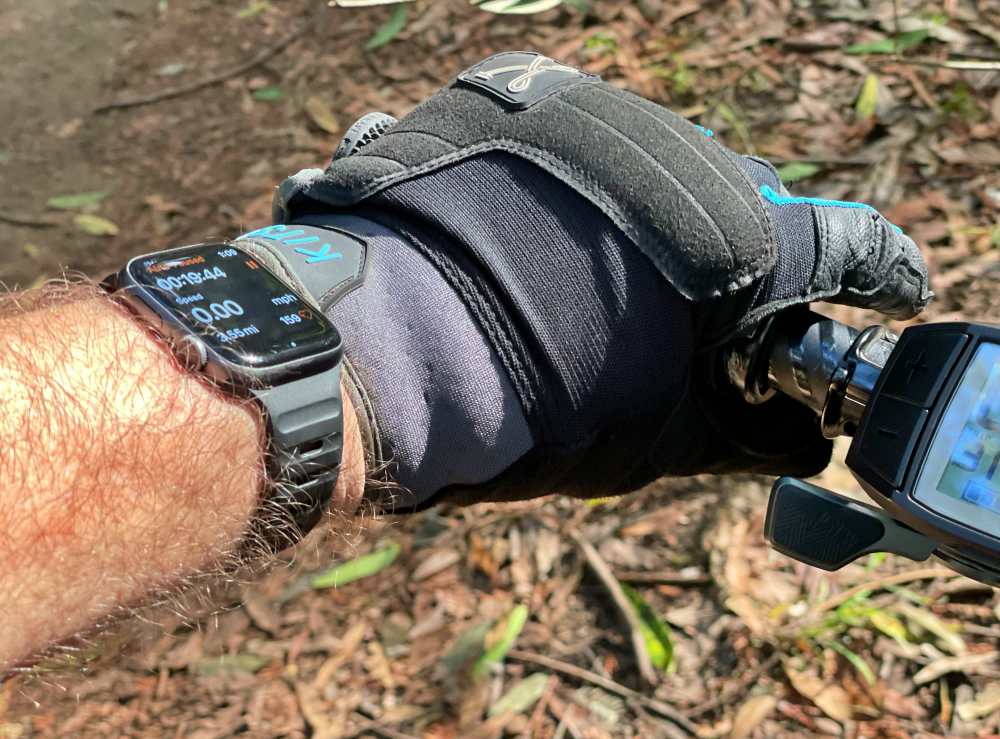 REVIEW – Apple Watch is a great device for tracking health metrics and, when paired with apps like Strava, fantastic for logging cycling adventures. When it comes time to strap one on your wrist though, you'll want to make sure that it stays there and it might as well look good while doing so. The Sport Strap from Nomad does just that and it's my new favorite.
What is it?
Nomad's Sport Strap is a lightweight, athletic band for Apple Watch that provides additional flex and breathability over solid silicone bands, along with a more secure closure.
What's in the box?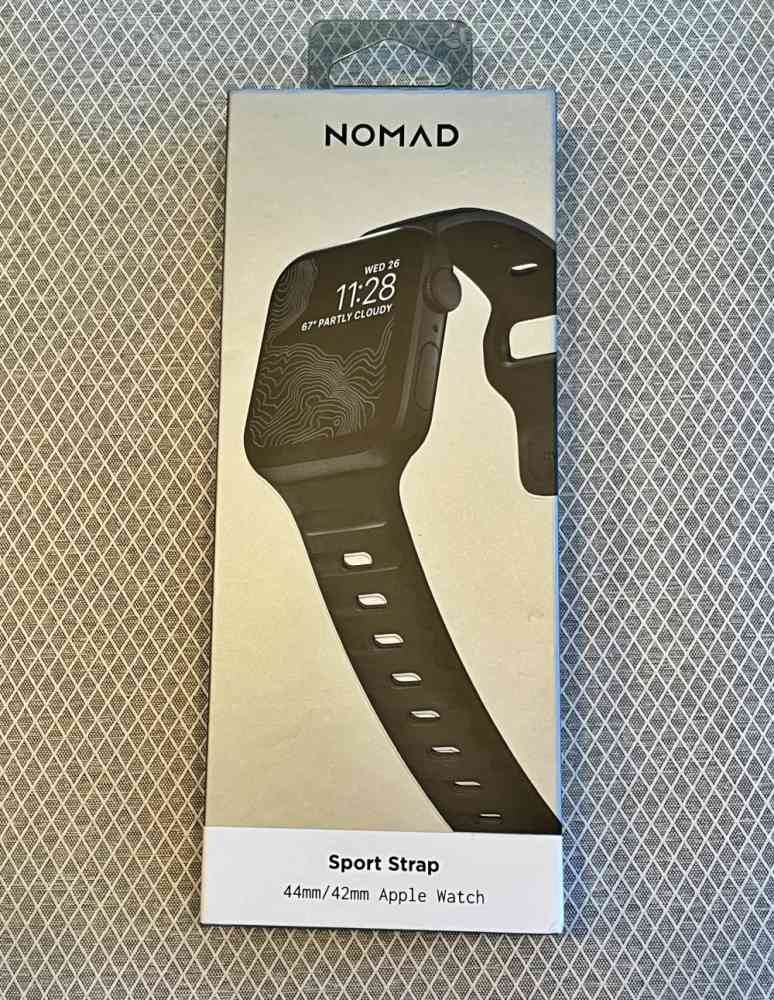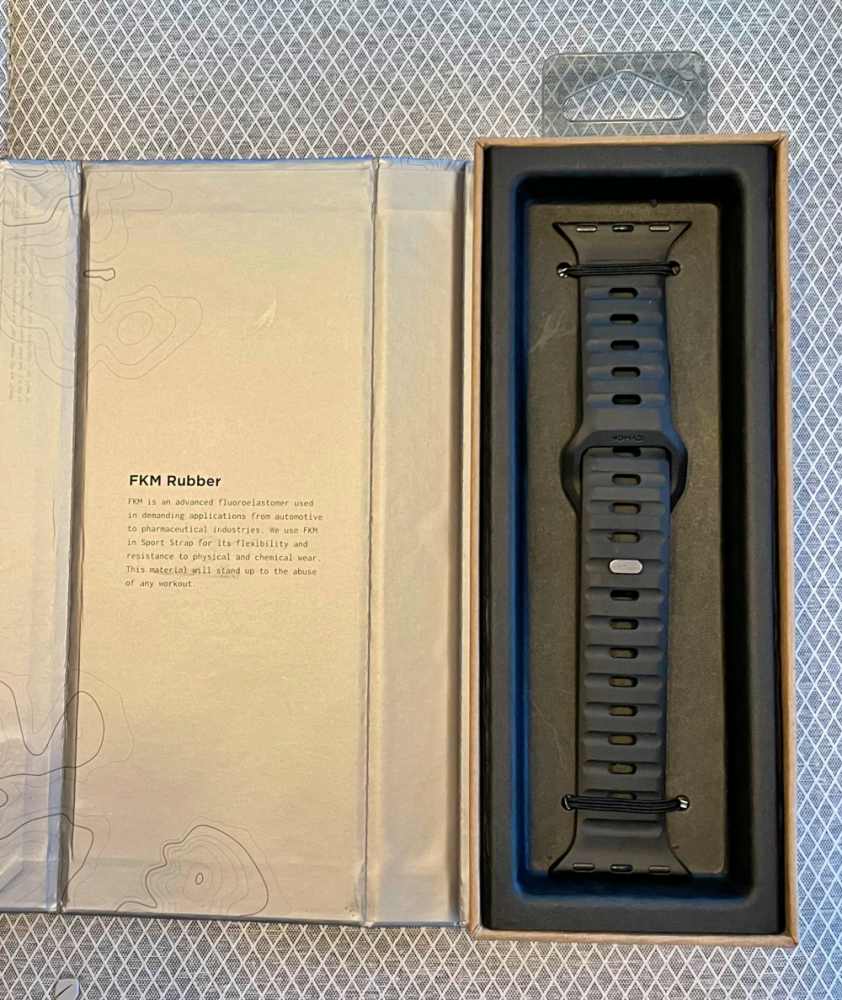 Hardware specs
FKM fluoroelastomer rubber
100% waterproof
Interior ventilation channels
Custom aluminum closure pin
Designed for Apple Watch Series 6, SE, and all previous versions of Apple Watch
Design and features
Nomad has designed the Sport Strap with adjustment holes covering almost the full length of the strap including the keeper side for some symmetry. As a result it will fit any wrist and the only size you'll need to worry about is picking to match the width of your Apple Watch connection: 44/42mm or 40/38mm.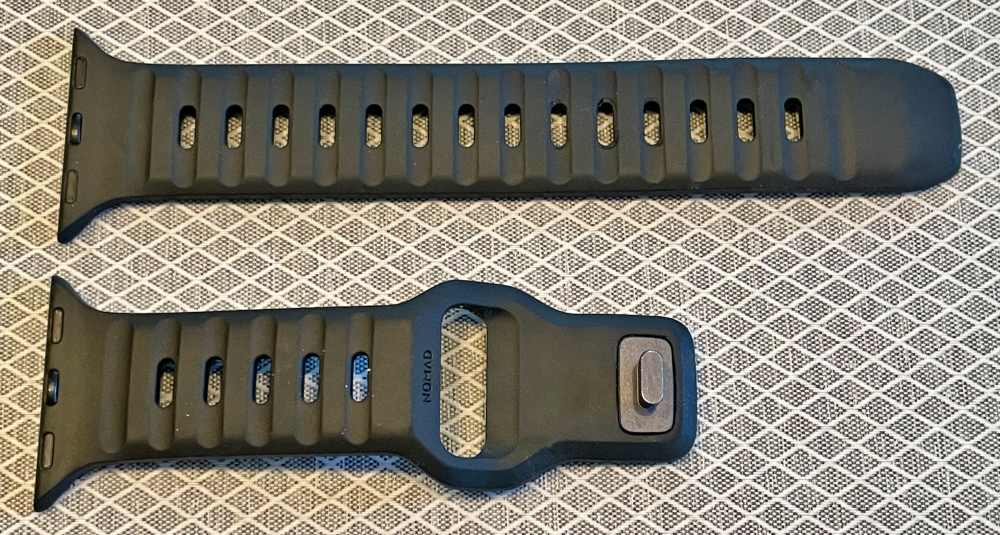 The strap attaches to the Apple Watch using the same proprietary design that has been around since the Apple Watch launched. The strap closure uses a pin-and-tuck design similar to Apple's but the extra width and lip of the lug is more secure as you tuck the loose strap away. Say goodbye to accidental opening as you're trying to put it on.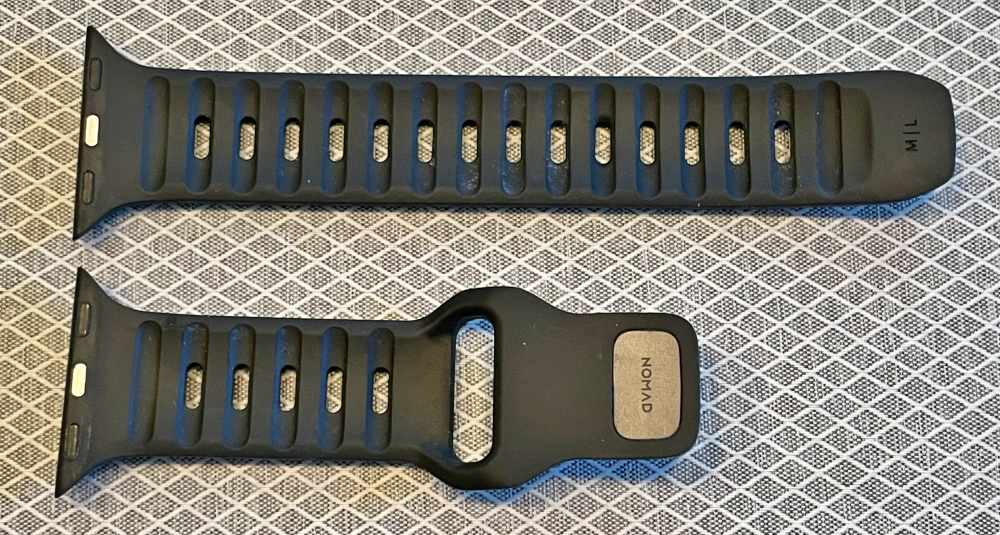 There are channels running across the width of the strap on both sides that serve three purposes. The first is that create more air space against your wrist which helps to increase airflow and minimize sweat which you can see in the photo above. Second, it increases flexibility making it wrap around your wrist more easily. And third, it reduces weight.
Setup
If you have an Apple Watch then you're likely quite familiar with how to change bands. Go ahead and press the button on the underside of the Watch module as you slide your current band to either side. Repeat for the other side before sliding the new Sport Strap into place.
As for getting it on your wrist, lay the longer strap over the shorter side and push the hole over pin/lug that fits best, then tuck the loose end into the "garage". Depending on the size of your wrist you'll want to leave a little room when pinning so that it's not too tight for the amount you need to tuck in.
Performance
I'm going to fess up first thing. I've been running Nomad's original Sport Strap for a couple years. It's been my favorite band for athletic and everyday wear. Here's a comparison photo with that one on top and the new one below.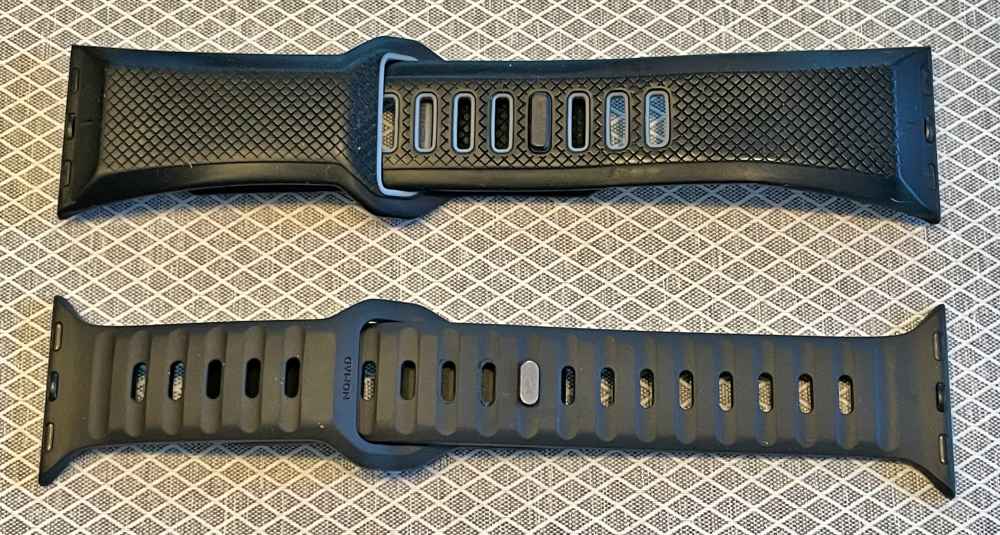 This new Sport Strap has a little more refined look to it and a hint of that diver watch strap look. The matte surface finish feels as good as it looks, with the channels definitely helping to wrap the wrist comfortably.
It feels really good on and it's definitely secure. I think that's my favorite feature as I've had troubles with the Apple straps popping off the small ball pin as I try to tuck in the loose end. This one just works every time.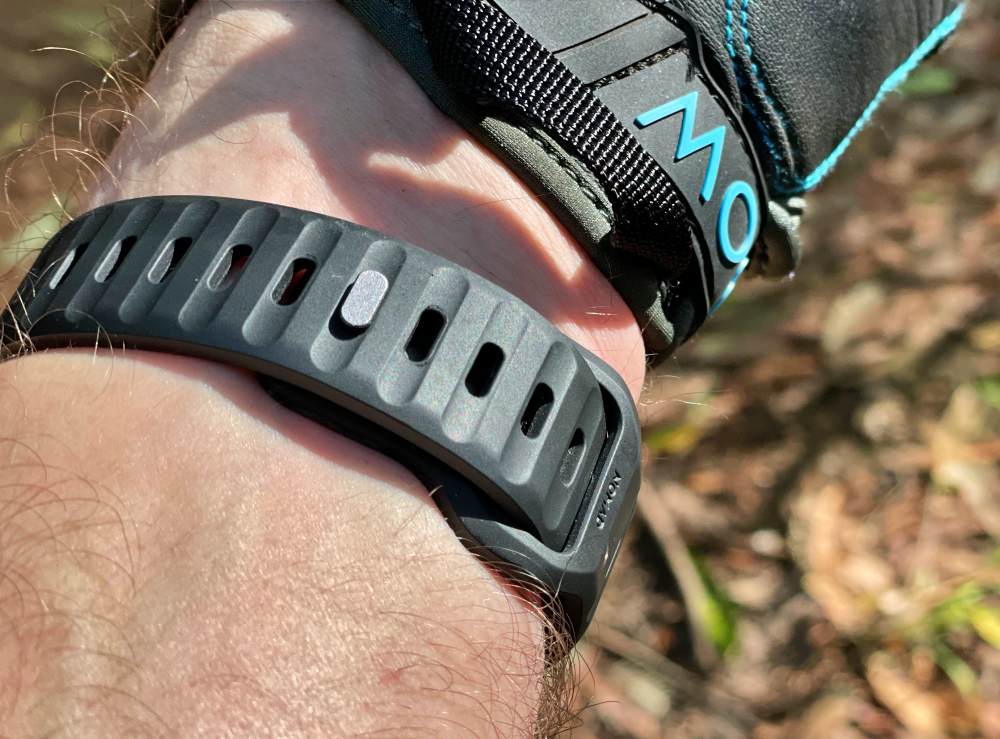 I've definitely noticed that it does not trap water under the band the same way a solid rubber strap does, and that will go for mud as well which happens a lot out on MTB trails. Considering how much more we're all washing our hands, it's nice to be able to just shake out some water and know any remaining moisture is going to evaporate quickly.
What I like
Fit and feel
Secure closure that stays on
Ruggedly handsome
What I'd change
Nothing in regards to function or aesthetics
Would love to see wider option
Would love to see other colors
Final thoughts
It's easy to not think about a watch band all that much as the core job is pretty pedestrian. However, when the band looks good and works really well it helps improve the overall experience of the watch. Nomad has done just that with the Sport Strap. It won't be leaving my Apple Watch anytime soon.
Price: $49.95
Where to buy: Nomad and check them out on Amazon
Source: The sample of this product was provided by Nomad