We use affiliate links. If you buy something through the links on this page, we may earn a commission at no cost to you. Learn more.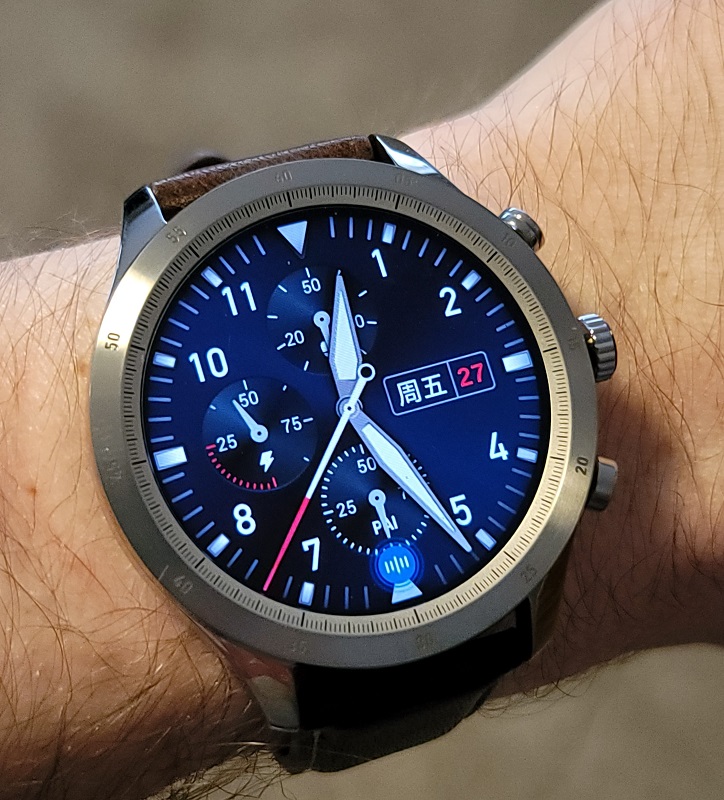 REVIEW – Earlier this year I reviewed the Amazfit T-Rex smartwatch, and it was one of my favorites so far.  Since then I also tried out a Ticwatch Pro 3 GPS Wear OS watch, which had better features overall but a much shorter battery life.  Zepp (either a rebrand or sub-brand of Amazfit depending on different sources) has now released the Zepp Z smartwatch and sent one over for review.  I've been using it as my daily driver for a few weeks and have thoughts.  What are those thoughts?  You know how this goes, you'll have to keep scrolling to find out!
What is it?
The Zepp Z smartwatch is a premium smartwatch with marathon battery life.  This is common to most of Zepp (and Amazfit's) products, and their software and features haven't changed much since my earlier review (though the small changes I did notice are great!).  This particular model has premium build materials and finish, a beautiful big screen, and a nice leather band.
What's in the box?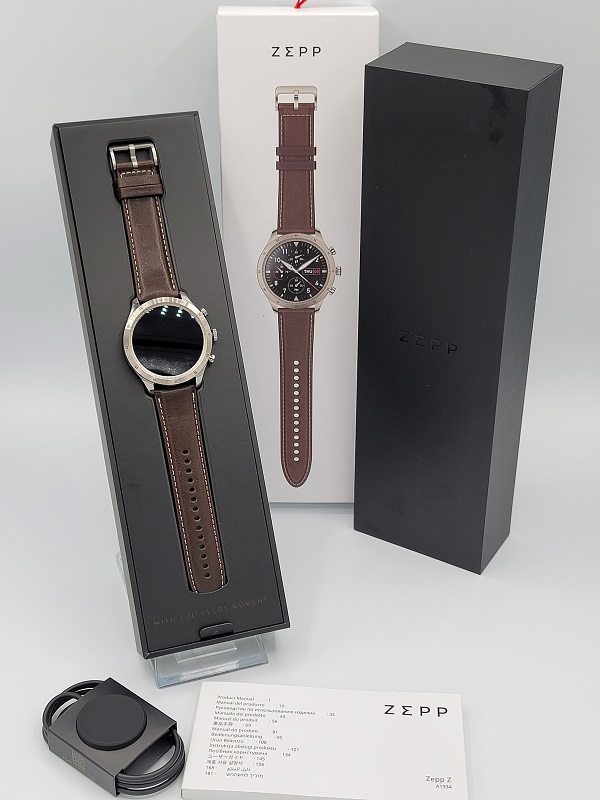 In the box is the Zepp Z smartwatch, the wireless charger (USB-A connection, no wall plug included), and the multi-language instruction manual.
Hardware specs
Materials: Titanium alloy, tempered glass, and plastic
Water Resistance: 5 ATM
Connectivity: Bluetooth 5.0 LE, GPS+GLONASS positioning
Sensors: Barometer, Heart Rate, Blood-oxygen (SpO2), acceleration, geomagnetic
Weight: 45 grams
Size (without strap): 45.9 x 45.9 x 10.8 mm
Screen: 1.39 inch AMOLED, 550 nits peak brightness with ambient light sensor
Band size: 22 mm, included leather strap has quick-release
Audio: Microphone, no speaker
Battery: 340 mAh battery, up to 30 days in long-battery-life mode, up to 15 days normal use
Design and features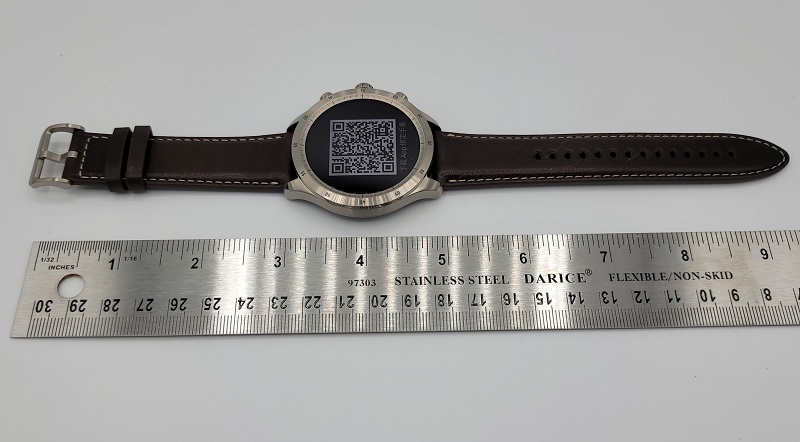 The Zepp Z smartwatch is a classic round watch design with a medium-sized titanium bezel, big bright AMOLED screen, and a nice leather strap.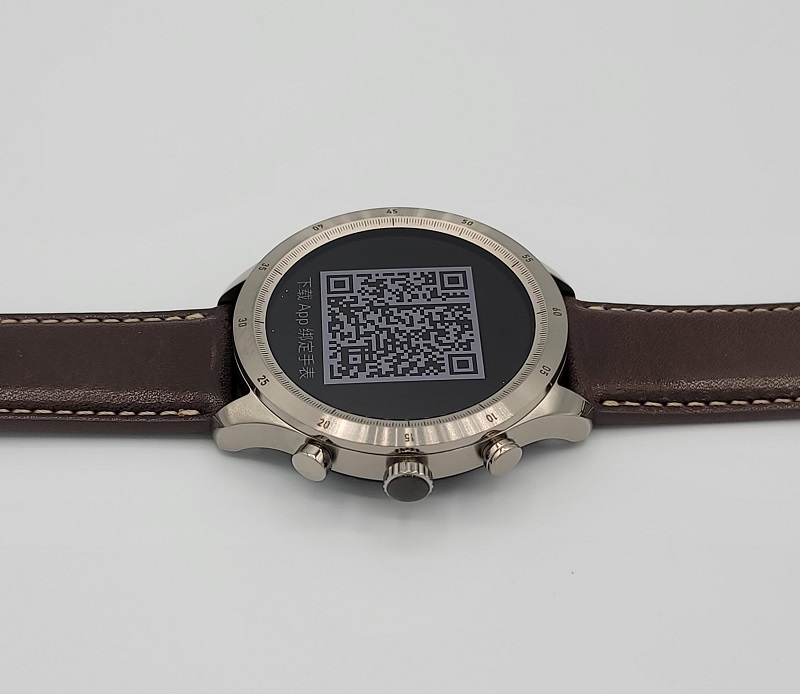 The right side of the watch has 3 buttons: on the top is a non-depressible touch-sensor button (disabled by default to prevent accidental touches), in the middle is a crown that can be rotated and pushed for various features, and the bottom is a simple press-button which can be mapped to a function of your choosing.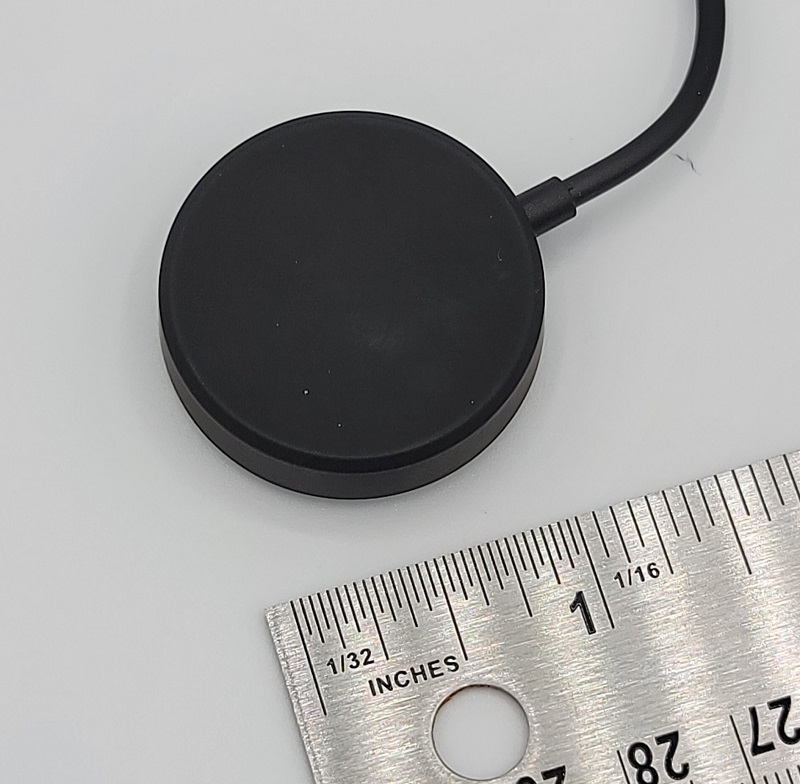 The small wireless charger has a USB-A connection, and worked on all the wall plugs and portable chargers I tried.  Input is rated at 5V/1A, I'm guessing it draws less than that though.  Battery life on the watch was great, with heavy use I burned through it in about a week for the first week, then my 2nd charge went exactly 14 days before I needed to recharge again (with always-on heart rate tracking, always-on screen, but lift-to-wake off).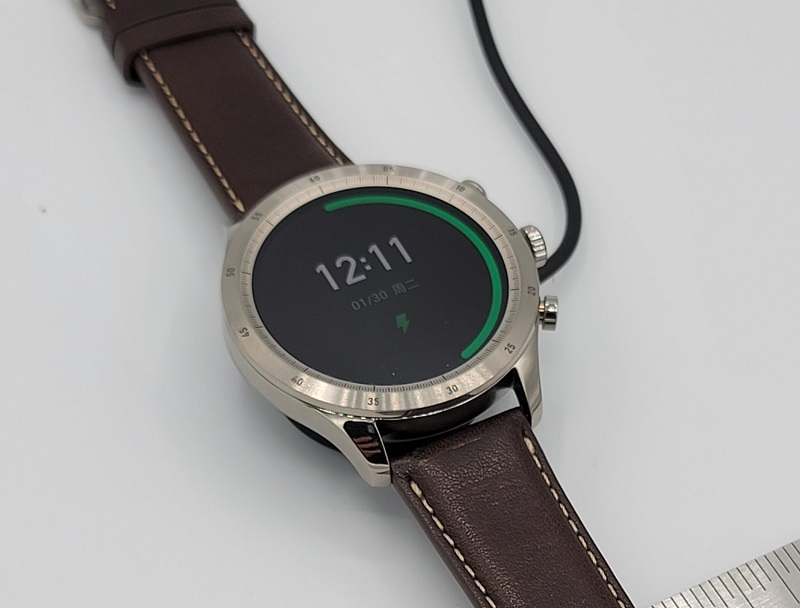 Charging was easy – simply set the watch on the charger.  I appreciated that it didn't have to be carefully aligned with pins (that can get full of gunk).  It was fairly quick too, about 30 minutes from nearly empty to full.  The screen is bright and vibrant, easily readable even in full sunlight.  It is just slightly recessed from the bezel, which I think looks better than deeply recessed screens, but does mean it's a bit more at-risk for damage.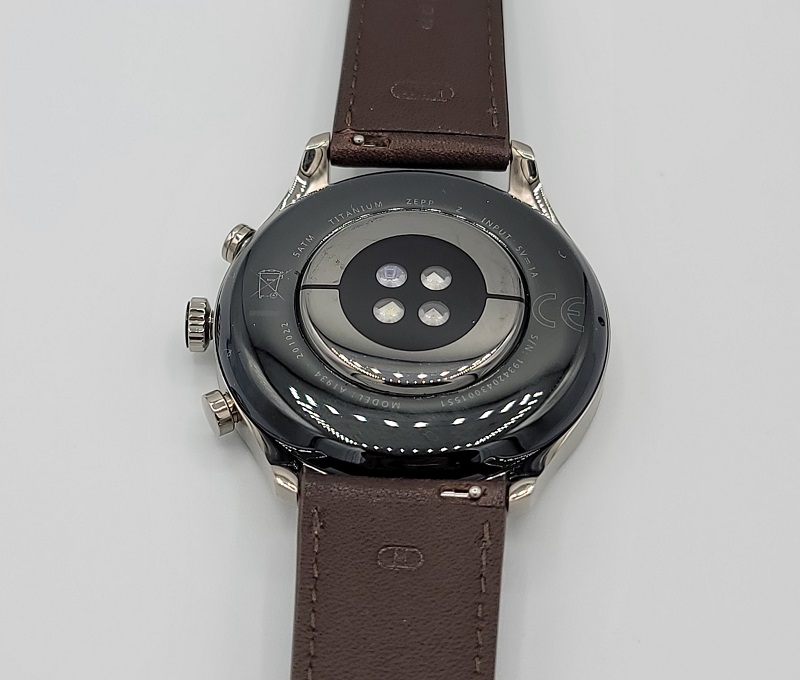 On the plastic back is is the sensor hump and regulatory info.  Also notice the quick-release pins on the included band (always a nice feature).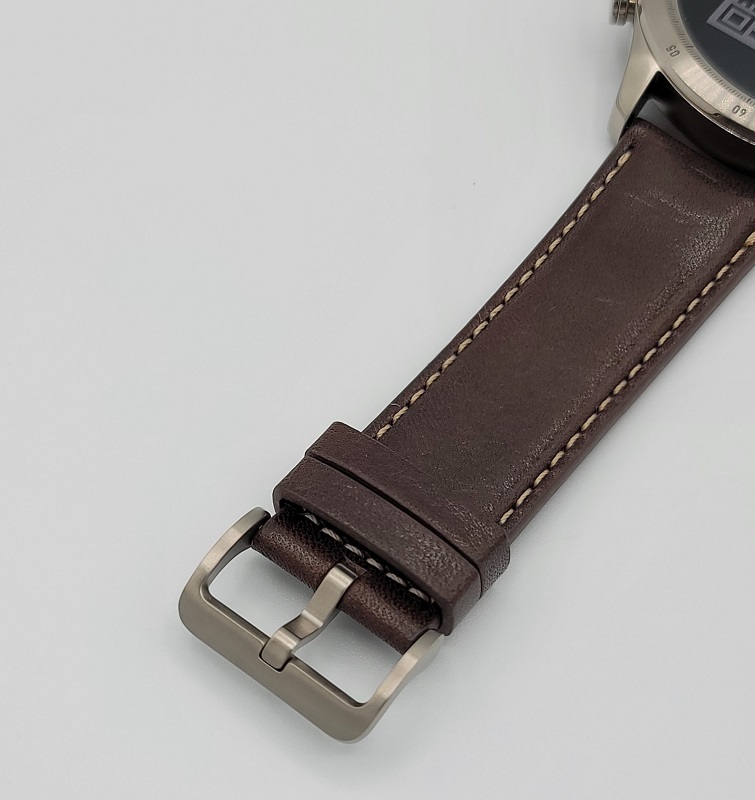 The included band has a nice feel to it.  It appears to be real leather and well-built.  My only complaint here would be a mildly hard to open clasp when it's strapped on tight.  It wasn't impossible, just harder to open with one hand than some others that I've tried.
Installation and setup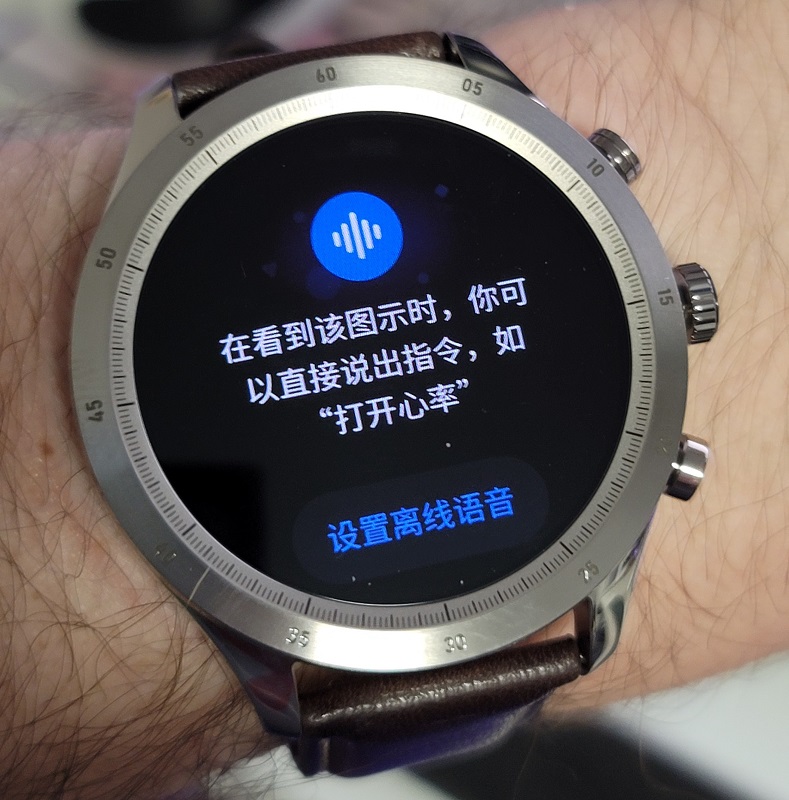 The Zepp Z smartwatch was listed as pre-order when I received it for review (and appears to still be in a pre-order status when the review was submitted for publishing).  As such, the software experience is likely still in development and will probably change over time.  I'll post updates when/if such changes hit, especially if they change experiences I comment on here.  As you can see in the screenshot above, the watch interface was all in Chinese when opened.  This is a normal/acceptable/expected thing when you receive a cheap device, but on a premium model like this I would hope they update this to be region-specific when launched.  I think when consumers pay a premium, they don't want to deal with wrong-language hassles.  After clicking the blue button, the QR code appeared to download the mobile companion app, and from there it was an easy setup.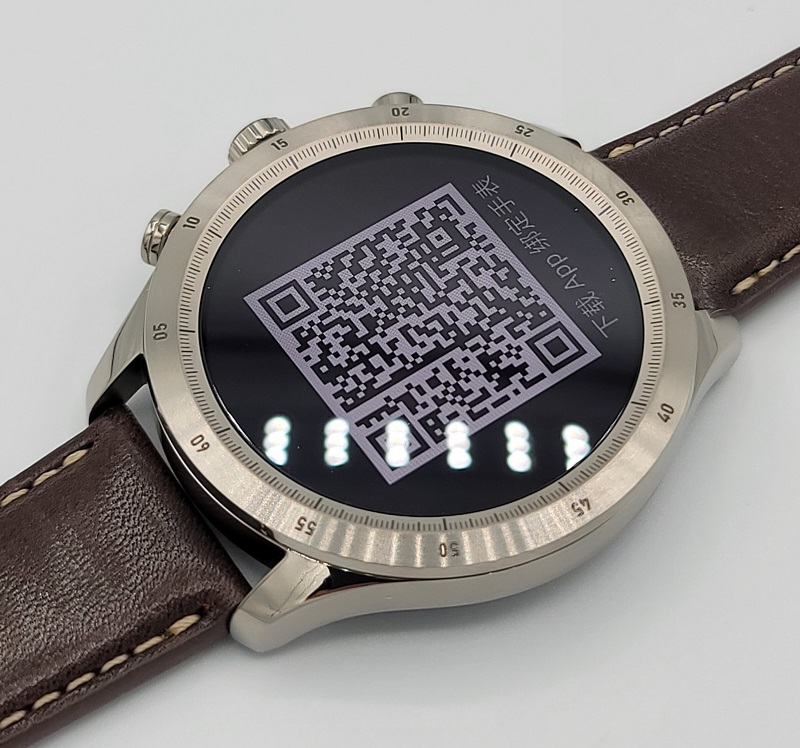 The QR code is also available in the manual, or you can search for Zepp to find the necessary app.  I tested on Android (Samsung Galaxy Note 20), but it's also available on iOS.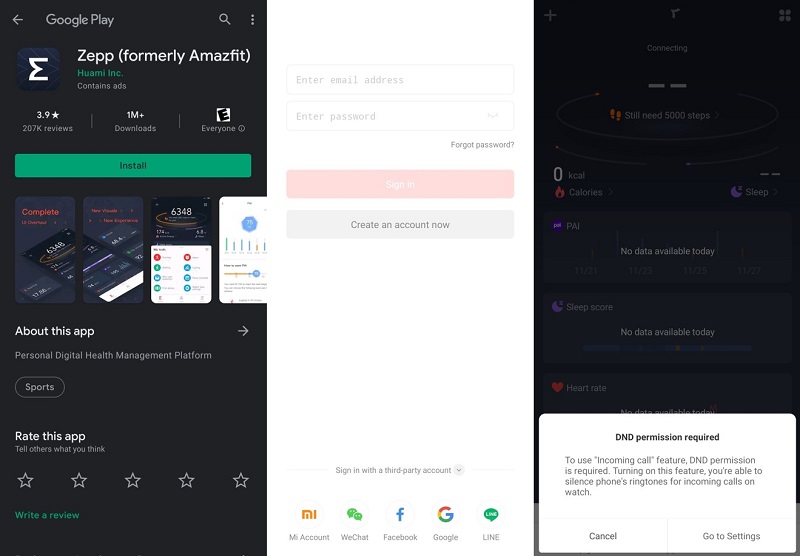 Install was fairly straightforward, you are required to create a Zepp account (or sign in with a third party account like Google or Facebook, which is what I did).  After account creation/login, a series of permissions are required (on Android this ended up being Call logs, Camera, Contacts, Location, Phone, Physical activity, and Storage).  The app also requires notification and Do Not Disturb access, and to function properly runs an always-on notification.  All of this adds up to some fairly significant privacy concerns, but I don't think you could avoid those and still have a decent smartwatch experience, so it's a price you'll need to pay regardless of the make and model of smartwatch.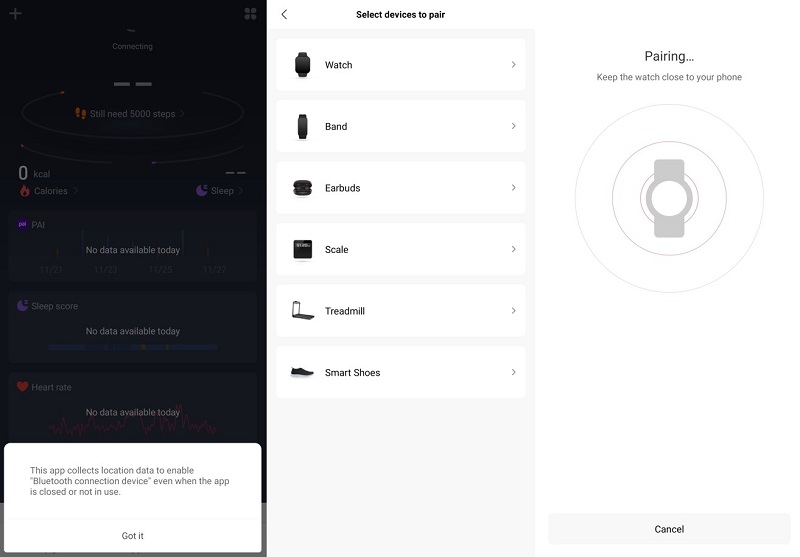 The app guides you through steps to pair with the watch which were easy to understand and navigate.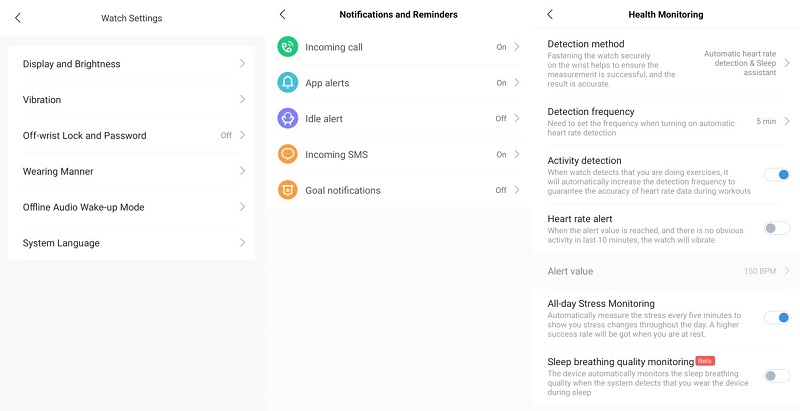 Once paired, you're immediately taken to Watch Settings, which can be customized for experience and battery life.  The display and brightness settings include auto-brightness, manual brightness settings, auto-screen-off, always on display, and lift-wrist-wake-up.  The always-on display shows time and date on a black background, and didn't seem to impact battery life much if at all.  I really appreciated the schedule-always-on feature which lets you turn on the screen only for certain times.  Combined with disabling the lift-to-wake feature, this made for a great experience wearing the watch to bed for sleep tracking.  Some smartwatches constantly light up at night, which can be very annoying in a dark room.  With previous Google Wear watches, I had to remember to turn on the "movie theater" setting to avoid blasts of light through the night.  With the aforementioned combination of settings (always on scheduled and no lift-to-wake) I had blissfully dark nights.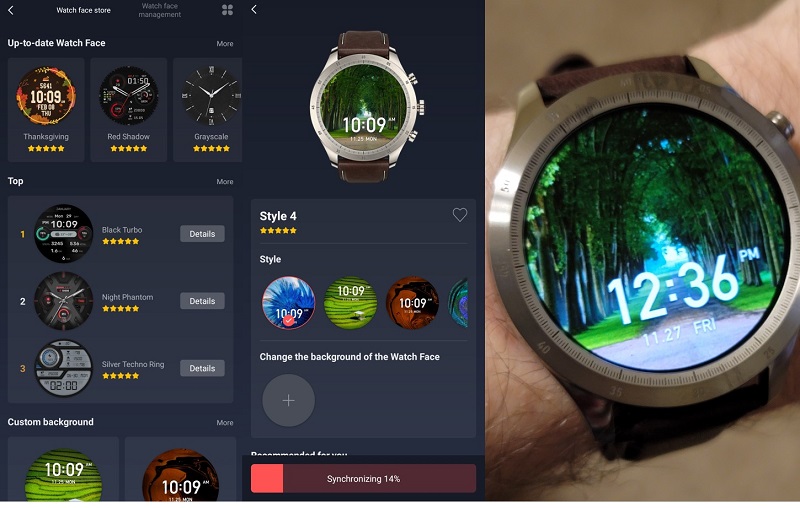 Watchfaces can be selected and customized from the application.  There is a "watchface store" with about 45 designs.  These cover a fairly wide gamut of styles and most seemed pretty well-polished.  Previous Zepp/Amazfit watches have a large community-made library of watchfaces as well, and I'd expect those to be ported to the Zepp Z once it's released, so there's a lot of options.  Even better, they have a custom-image "style" that's easy to use so you can use any image or background you'd like (pictured above).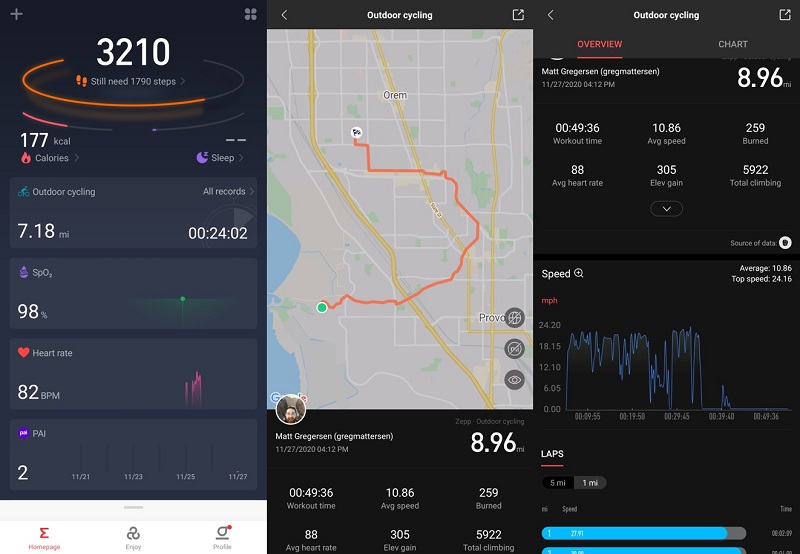 I've used Zepp/Amazfit's fitness tracking in the past and found it to be acceptable, and they seem to have made some nice improvements over time.  I tracked several runs, hikes,  and bike rides, and the GPS location tracking was very good.  The recorded "tracks" stray up to about 20 meters from phone-recorded tracks at every once in a while, but overall seems close enough.  The statistics and charts are useful with lots of good info and lap breakdowns, it's more than I need but I appreciate it being there.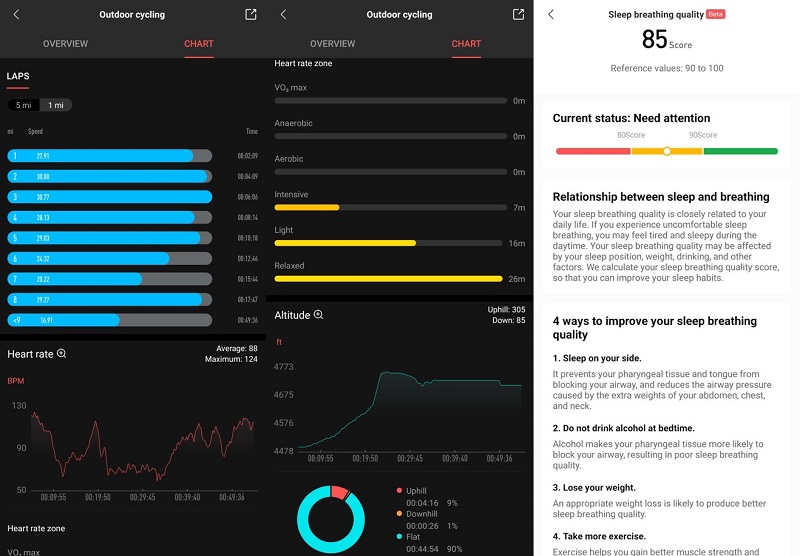 The heart rate tracking also seems good.  I don't have a higher quality HR tracker to compare against, but it's within 5-10 bpm of other watches I've tested doing the same activities so it's at least tracking somewhat accurately.  With a family history of heart disease, my main workout goal is getting some good cardio, and the Zepp Z lets me know if I'm at least getting that.
I like how Zepp uses the PAI (Personal Activity Intelligence) health score.  With Apple and Google health tracking I find it hard to care about the 2 or 3 ring-based goals.  Even after years of using Google Fit, I'm not even sure which ring/score means what when I glance at a Wear OS watch.  However, PAI is a single number based on your last 7 days of activity, and is tailored to your age/height/weight.  The goal is simply to keep the number above 100, so if I see it dipping lower I know I need to get more cardio in.  It motivates me to get the kind of exercise I need most, instead of just thousands of steps (which are good, but don't help cardiovascular health nearly as much as high intensity interval training or some intense Beat Saber in VR).  I'm sure this is anecdotal and other people love the goals and motivations in other programs, but I'm glad to have found something that works well for me!
The first 3 weeks of the review had only about 10 workout types available for tracking, but an update right before I wrote this review increased the workout types to 40+.  There is a "free" workout type that just tracks heart rate and time spent, so if you're doing something not included in the list you can still track it.
The Zepp Z is advertised as having Amazon's Alexa assistant "coming soon".  As far as I can tell, there's no speaker on the watch so I'm not sure how this will work (perhaps text feedback pushed to the watch in response to spoken commands)?  Many modern devices offer either Alexa or Google voice assistants, I do wish that choice was available here too.  There are also "offline voice commands" which I tried out, but these were recognized less than 50% of the time, so I disabled the function.
What I like
BATTERY LIFE
Beautiful screen
Snappy performance
Fitness tracking
What I'd change
Add function to take calls from watch
No way to reply to notifications from watch
ECG/EKG sensor would be nice at this price point
Final thoughts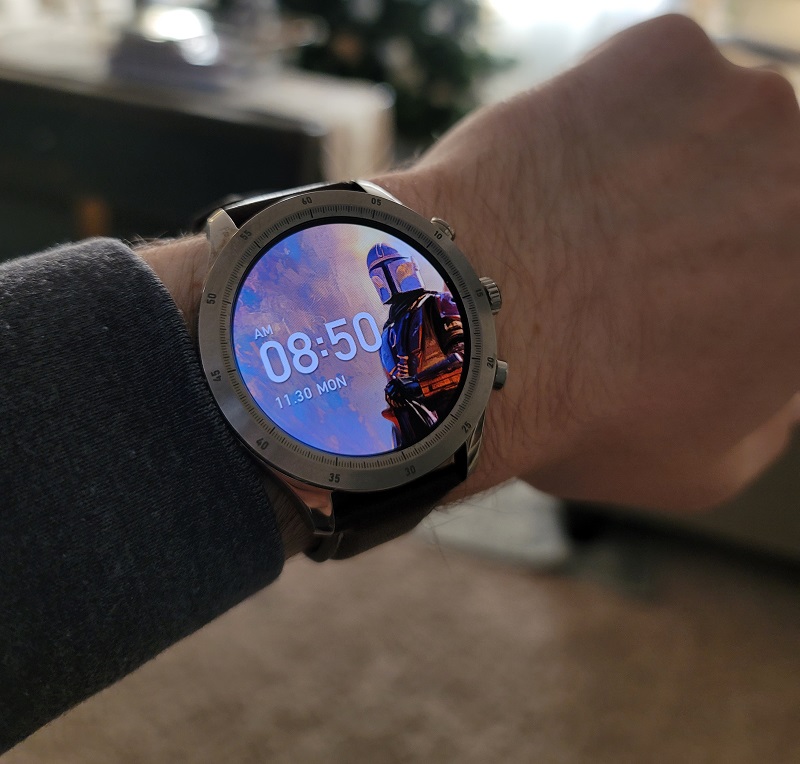 The Zepp Z smartwatch is a fantastic looking watch with a fairly easy and intuitive user experience.  Battery life is excellent, but comes at the cost of less interactivity with the watch itself (no calls or notification response options).  The premium finish and materials look and feel great, and it's my current favorite watch.  I do really dislike daily charging and don't care as much about calling and texting on the watch, so take that with a grain of salt, your priorities may (and should) vary!
Update 6/5/21
Previously I had bought and sold several watches per year trying to find the best one for my needs, but the Zepp Z smartwatch has remained on my wrist since I reviewed it and I have no desire to change anytime soon. I do miss some of the features you'll find on a Google Wear or Apple watch, but taking calls or composing text messages from my wrist is just something I rarely need so I don't miss it too much. The Zepp Z helps me track my fitness levels quite well for my needs and motivates me to keep moving – I especially like that they display the rolling 7-day PAI score: I tend to do big workouts every few days rather than smaller daily goals.
Price: $349
Where to buy: Zepp or Amazon
Source: The sample for this review was provided by Zepp