We use affiliate links. If you buy something through the links on this page, we may earn a commission at no cost to you. Learn more.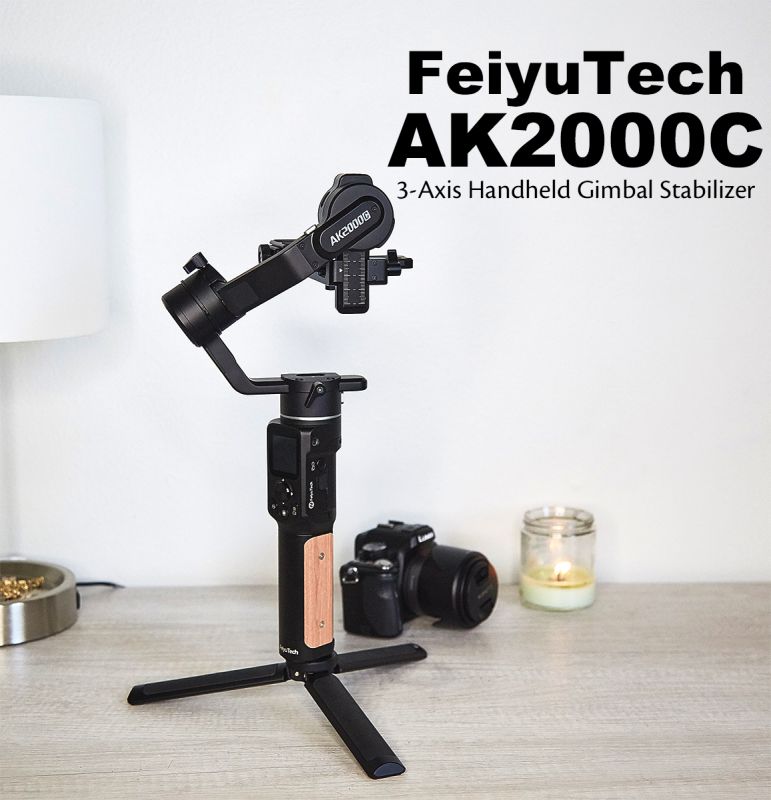 REVIEW – I started shooting videos back in my inline street skating days where we would skate alongside our rollerblading buddies as they skated a line going from trick to trick. So, filming with an actual video camera with a built-in scene stabilizer really helped to steady the footage as we skated on streets with surfaces varying from smooth to rough. Fast forward to shooting with a DSLR camera that doesn't have any kind of built-in image stabilization. Let's just say the footage wasn't pretty. Although there are some lenses that do have image stabilization, many don't. So, if neither the camera nor the lens has any electronic stabilization then you are looking at a very jerky and shaky image. Literally. Nowadays with camera stabilizers and gimbals such as the FeiyuTech AK2000C, it stabilizes the camera you are holding and allows you to capture smooth and fluid footage which gives your video a more professional and polished look.
What is it?
The FeiyuTech AK2000C is a motorized gimbal for mirrorless and DSLR cameras to help you capture smooth footage with its 3 axis sensor stabilization. The gimbal balances and counterbalances the camera with electronic stabilization to help steady the camera. The AK2000C is not only for front and forwarding recording but also allows you to shoot steady video of yourself while holding it, and it has an Inception and time-lapse feature as well. This gimbal is not only suitable for smaller mirrorless cameras but it is also capable of supporting larger DSLR cameras. The AK2000C has several shooting modes giving you options to use for certain applications and shooting styles. With the 3 axis stabilization, this gimbal helps you capture that smooth floating footage giving your video a more pleasing look and feel.
What's in the box?
AK2000C Gimbal

Control cable Type-C to Type-C (C02)

Shutter cable for Panasonic DC2.5mm (Type-C to 2.5mm)

Shutter cable for Sony Type-C to Multi

Control cable Type-C to Micro (A03)

Control cable Type-C to TRS2.5 (T02)

Data cable USB2.0 to Type-C

ARCA quick release plate +fixed screw (short)

Anti-slip metal tripod

Lens holder + fixed screw

Wrench
Hardware specs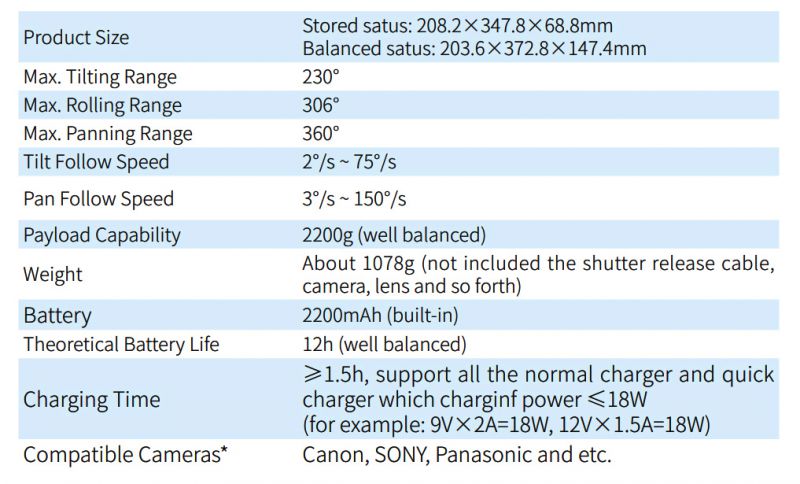 Design and features
The AK2000C is lightweight thanks to its aluminum alloy construction and feels very solid sturdy when handling it. It weighs in at 2.38 lbs. (1078 grams). The AK2000C comes with an extension arm that conveniently opens up to a tripod, which you can attach to the base of the AK2000C. When you attach the tripod extension, it gives you more support when using the AK2000C.  In doing so, you are able to better hold and support the gimbal with both hands.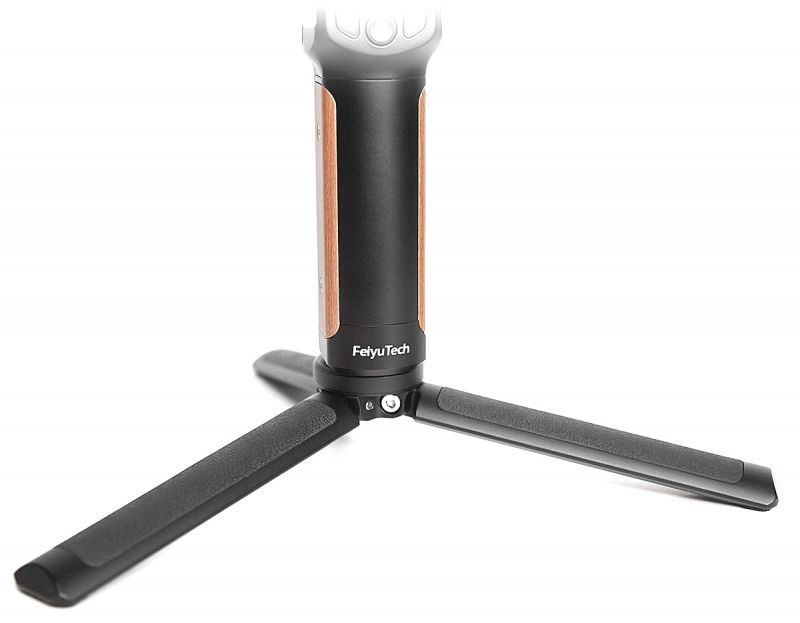 Plus, having the ability to open the extension arm up as a tripod helps when you need to place the AK2000C down. It was nice to see that there were several 1/4″ in. thread holes on the AK2000C which are handy in case you want to attach some extra equipment to it such as a small monitor, light, microphone, or another accessory you may need that could be useful when operating the AK2000C. There is a 1/4″ in. at the end of the sliding arm and one on each side of the handle.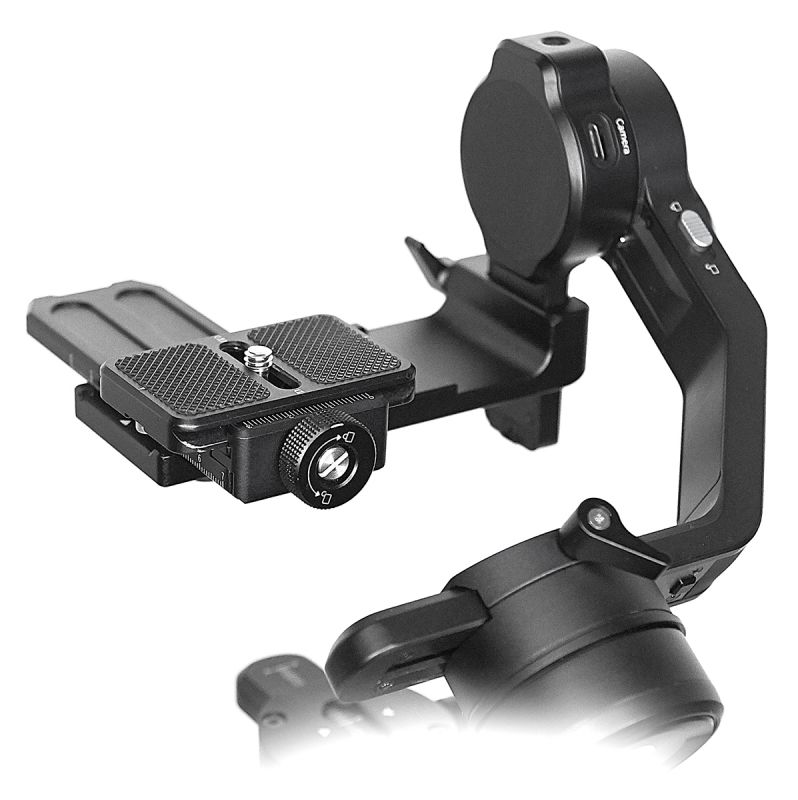 The thread holes on the handle are also there to mount an optional handle, or Versatile Arm, which helps in shooting at a low slung position or just as extra support in shooting and carrying the AK2000C. I also like that the AK2000C comes with an ARCA Quick Release Plate for your camera. It makes mounting and removing the camera so much easier and convenient.
Right near the 1/4″ in. thread hole on the sliding arm is a USB-C port where you can plug in one of the included camera cables to control some settings and features on your camera.
On the side of the handle is a USB-C port which is the port to charge the internal non-removable battery.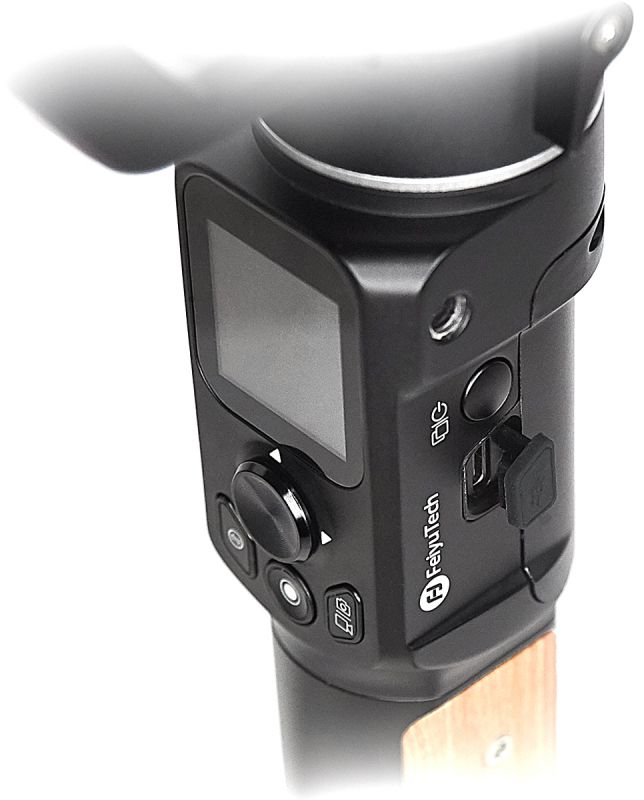 Shooting with the AK2000C really helps to stabilize your camera allowing you to capture fluid motion when walking or running with it as well as keeping a steady static position. I initially thought it would be cumbersome to hold and shoot with the AK2000C since you generally will be holding it upright. I was concerned if the camera on top would make the gimbal top-heavy and put stress on my forearm. But after my first try with this gimbal, I felt no stress or fatigue in my forearm. Naturally, if you hold the AK2000C for a super long period of time with just one arm then your arm will get tired. But being able to hold onto the attached extension tripod, and just the design of the handle on the gimbal itself, I never really felt my forearm getting exhausted. However, I think I would have like to have the optional Versatile Arm attachment since I am used to shooting in a low slung position which I tend to do a lot.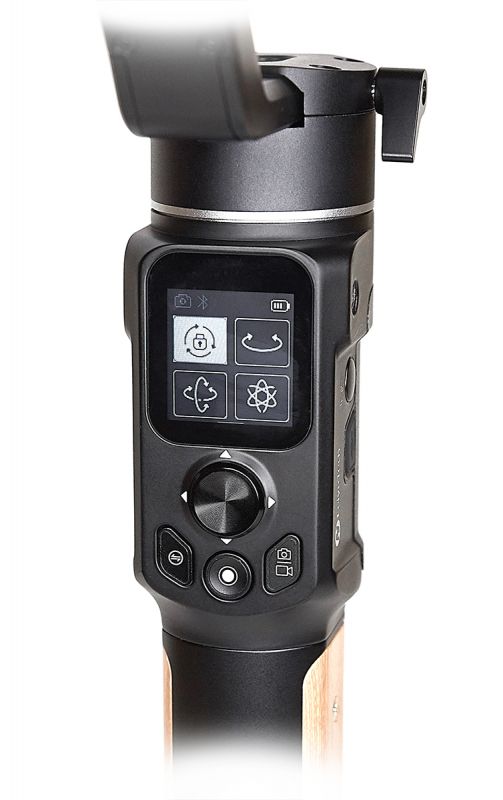 On the handle is a small OLED LCD touchscreen which displays the settings, Modes, and status of the AK2000C. I really liked how clear and readable the screen is, even when viewing it at an angle. It is nice that the touchscreen is just within your reach so it is super easy to use even while holding the gimbal with just one hand. Plus, in combination with the provided camera cables, you are able to adjust your camera settings like the ISO, aperture, white balance, etc., all from the touchscreen.
The default display on the LCD screen is the four Modes: Pan, Follow, All Follow, and Lock Mode. Each Mode has specific functions that benefit the user in the type of shooting style they need. Basically, you can select an orientation of the camera by which Mode you choose. And selecting the Mode you want is as easy as tapping the Mode on the touchscreen or by pressing the Mode Button just below and to the left of the LCD touchscreen. The Mode Button allows you to cycle through the modes in order to select one.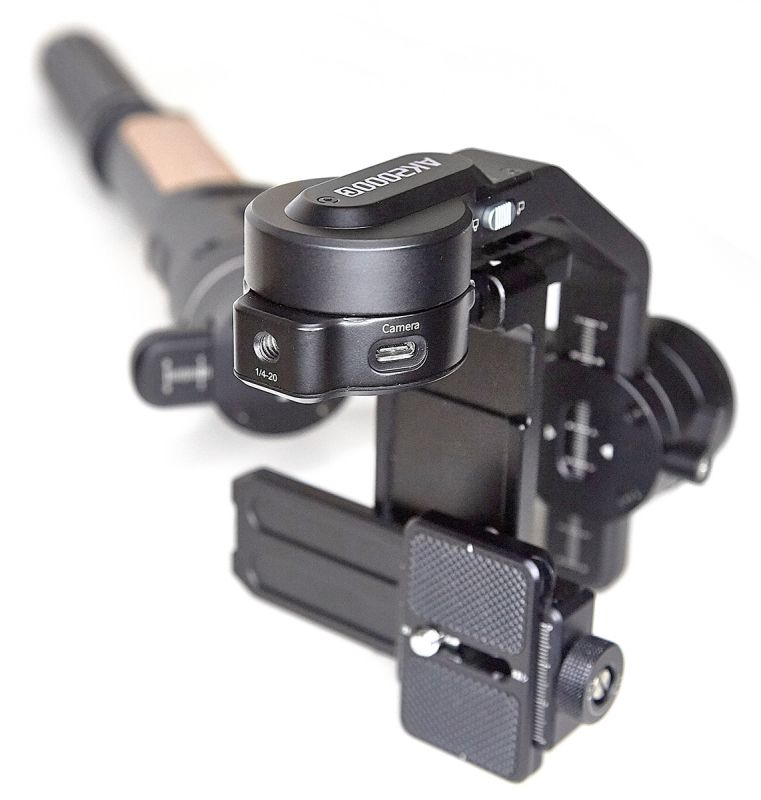 Besides the previous four shooting Modes, there are other modes and functions that the AK2000C can do. There is a Selfie Mode, Portrait Mode, Motion Timelapse Mode, and an Inception Mode. The Inception Mode is basically making the camera spin in a 360° direction, which was made popular during a zero-gravity fight scene in the movie Inception starring Leonardo DiCaprio. Using the Inception Mode is fast and easy to get into.  Just swipe left on the screen and there is an Inception Button to tap. There are a few options for the direction of the spin and the number of spins.
The Selfie Mode is a nice feature to have so you can still have the handle and buttons facing forward all the while the camera is turned back at you. To enter the Selfie Mode you just press the Trigger Button three times and the AK2000C spins the camera around to face you. With the trigger button, I found it helpful to use to reset the gimbal to its default and ready position. It's helpful if I ever feel that the gimbal is a little off. I just squeeze the trigger button two times and the gimbal moves right into its standby position like when you first turn on the gimbal.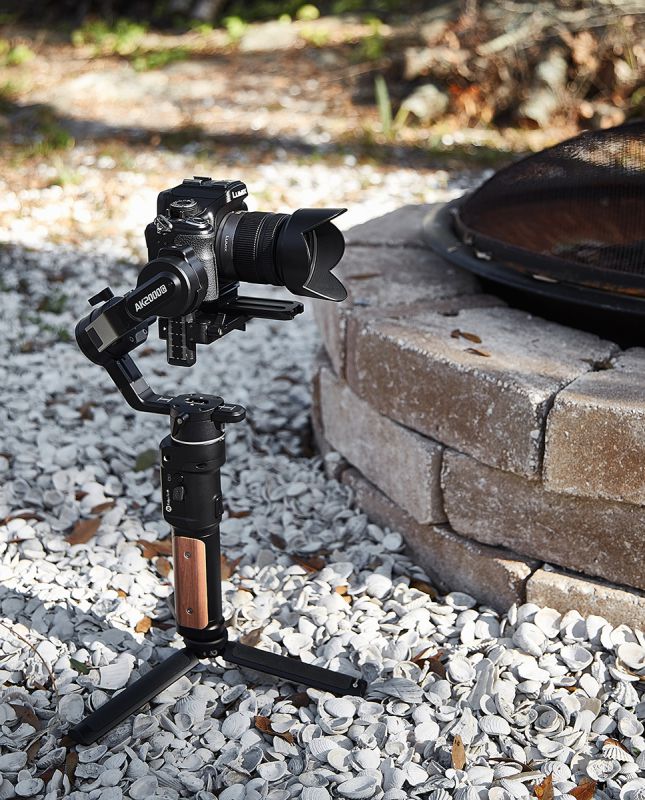 And if ever fancy your camera in a vertical position instead of the traditional landscape position, there is a Portrait mode for those of you that want that vertical format view. I'm not a fan of shooting in a portrait mode because you lose so much space and scenery. However, I can forgive that look if you are holding your smartphone and recording yourself but if you have a gimbal or even a selfie stick for that matter, then I think you should take those few seconds to turn your smartphone, or camera, to a normal landscape view.  But if you ever need to shoot your camera in a vertical position just know that it is available with just a tap on the touchscreen.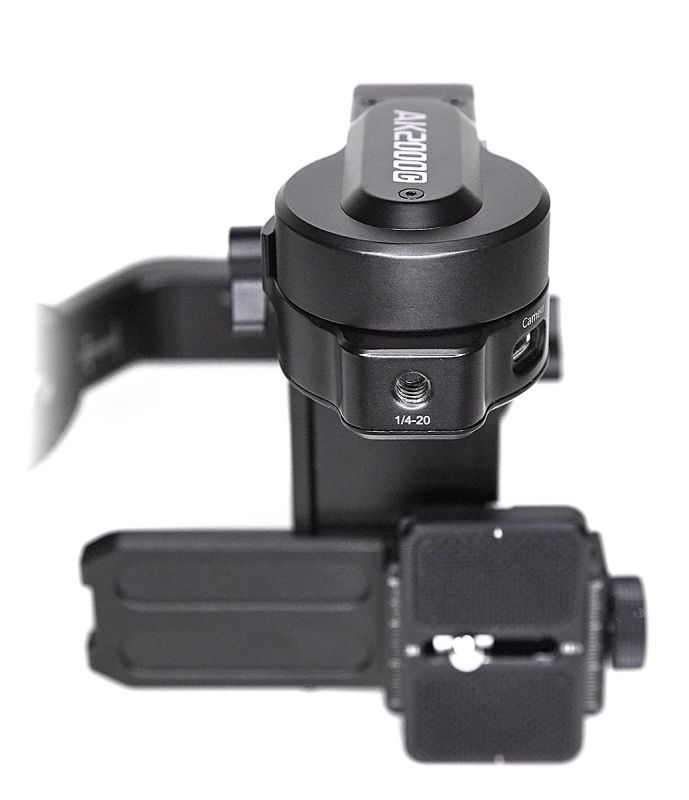 But I like how responsive the touchscreen is to use. I felt like swiping and tapping on the touchscreen was effortless. Located directly below the touchscreen is a joystick that helps navigate through the Menu. It's nice to have the joystick right within your thumb's reach truly making this gimbal easy for one-handed operation. Plus, the joystick can move the camera lens position up or down and left to right when needed.
For those of you that like to capture time-lapse footage such as the sun setting or rising or a flower opening, or maybe even capturing someone painting a picture, then using the Motion Timelapse feature would be perfect for you. There are parameters and settings for the Motion Timelapse that you can set either right on the AK2000C touchscreen itself or with the Feiyu ON app. The online Manual goes into more detail on how to set up this feature. There is also a video for it on the Feiyu website as well.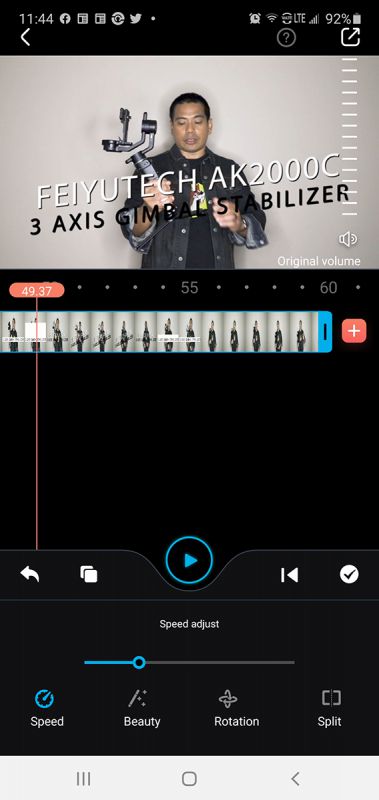 And speaking of the Feiyu app, I found out that you can edit videos within the app as well, which I really liked. You can add some simple effects and texts so I was really surprised that this app allows you to edit and export videos. It's always nice to have a handy video editor handy on my smartphone.
Unfortunately, I could not get the Bluetooth on the gimbal to work. I just could not get my phone and the gimbal to connect. I went to the Settings on the gimbal but never saw the option for the Bluetooth, or WiFi for that matter. However, there is a Bluetooth icon on the LCD screen but it is grayed out. I tried several times with the Feiyu On app but it would not recognize nor connect to my phone's Bluetooth. Maybe there is something I am missing. I'll have to play around with it some more and update when I can.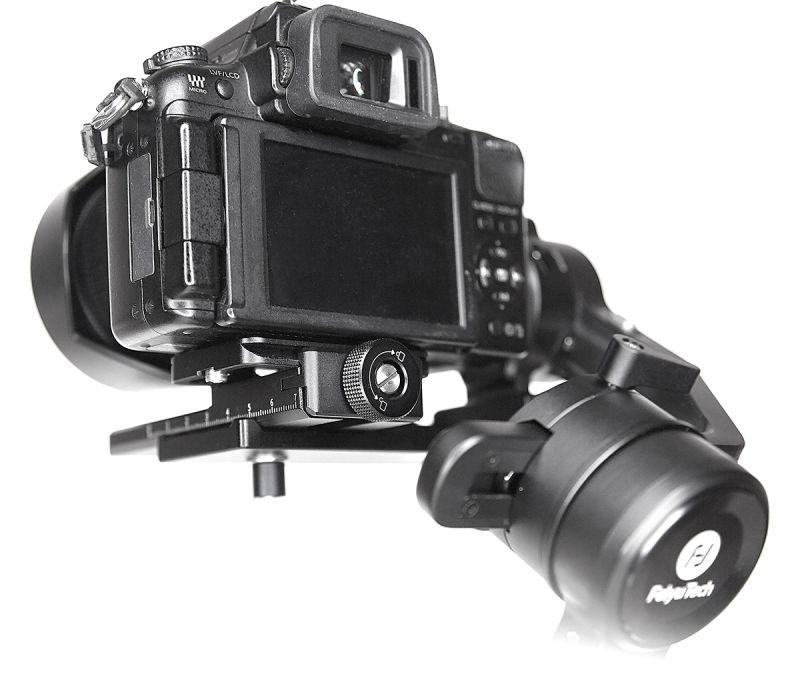 Setup
Prior to turning on, you must pre-balance your camera on the axis arms to achieve the proper and effective stabilization. The included manual gives a quick description on how to balance the gimbal but there are Video Tutorials as well as a downloadable PDF manual on the Feiyu website that go into more detail.
Performance
I was really surprised at how well the AK2000C performed and I loved how the AK2000C stabilized the camera resulting in capturing smooth fluid video. Not only could I walk fast and jog with this gimbal, but it was very stable while walking up and down the stairs with it.
Don't get me wrong, there still is a small learning curve when it comes to which mode that you have the gimbal set to on but when you use each mode long enough then you start to become more familiar with that mode setting. It's that repetition of use that gets you to be better at using and controlling the AK2000C. And if you do need to spend the extra time on learning and practicing with the AK2000C, just know that it has a great battery life of around 7 hours working time, and 12 hours standby time, so you have tons of battery life to use the gimbal.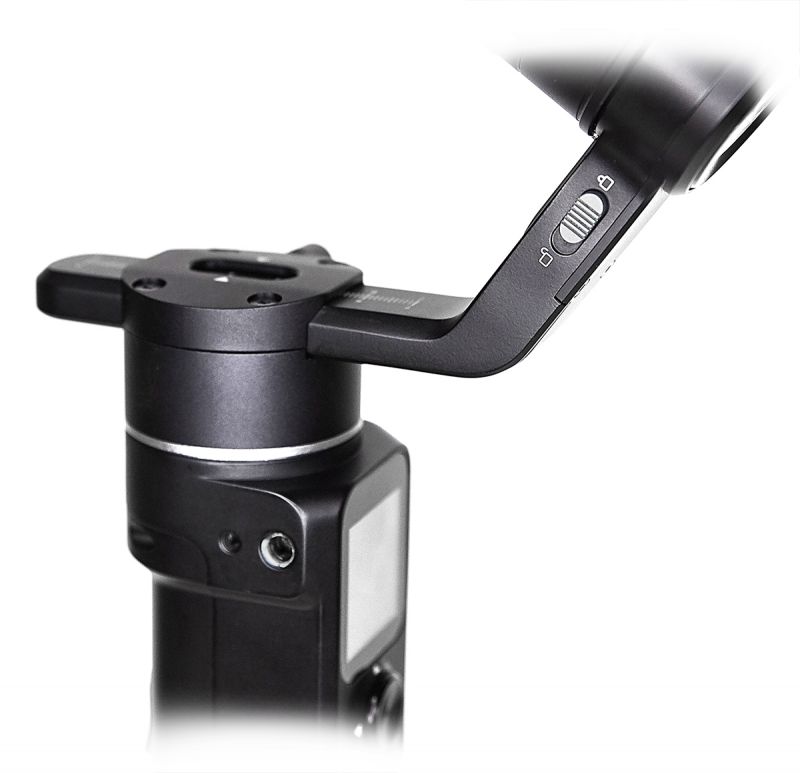 I loved the amount of battery life that this gimbal has. So, even if you are using it for personal or business use then you can be sure that you have plenty of time before you have to recharge the battery. Having to go for hours with video and photo equipment without switching batteries during a shoot is a huge bonus because it cuts out on downtime. However, if you feel like the battery life isn't enough, you can plug in a portable battery charger into the AK2000C in between breaks and I think I even saw where someone had the charger plugged into the AK200C while he was using the gimbal. So, that can definitely extend the battery life and use of the AK2000C and it only takes one and a half hours to fully charge the battery.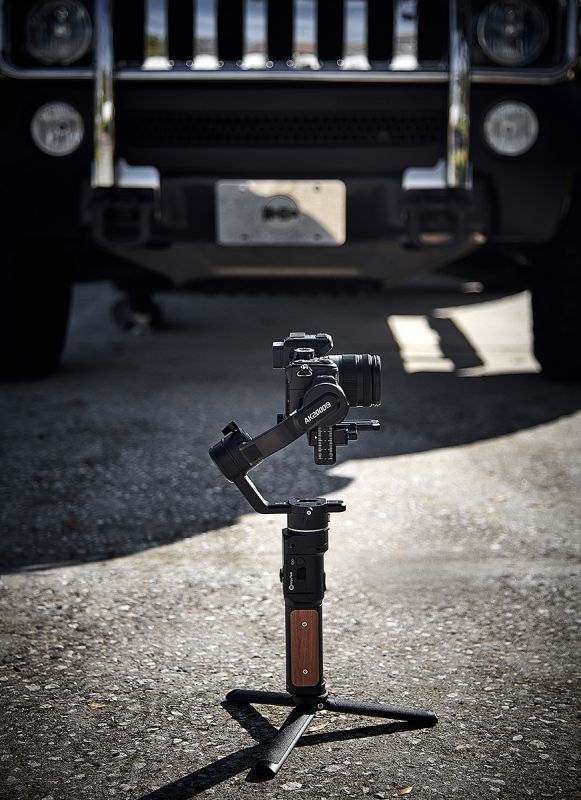 What I like
smooth and easy setup
responsive touchscreen
1/4″ in thread holes
ARCA Quick Release Plate
Supports mirrorless and bigger DSLR cameras
Inception Mode
What I'd change
Fix the Bluetooth Connection Issue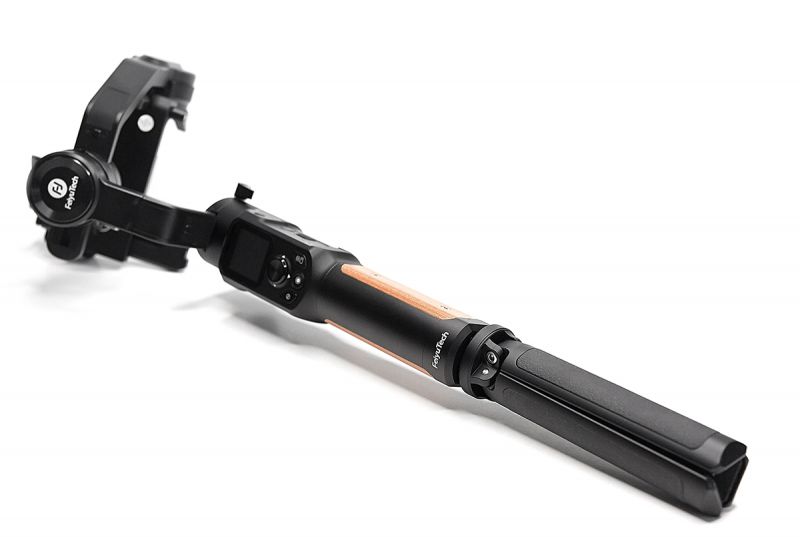 Final thoughts
FeiyuTech also has the AK2000S, which is beefier and has a few more options and included accessories than this gimbal. The AK2000S is like the big brother to the AK2000C.  But even though the AK2000C is smaller than the AK2000S, it delivers what it offers and that is stabilizing your camera while shooting. I really like that this gimbal is small anyway because it makes it easier to pack and carry in your luggage, suitcase, gear bag, or even your backpack when you go traveling. It's a great piece of video equipment to bring if you are out shooting on a hike, camping, or on an adventure shooting a documentary.  Since this is my first time using one of these gimbal stabilizers, I think I could use a little more practice with it but overall I am very satisfied with using the AK2000C.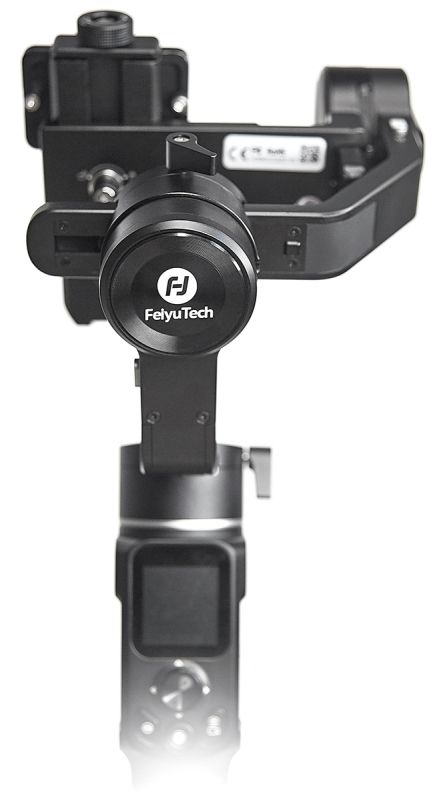 For what it does and what it offers, the FeiyuTech AK2000C gimbal stabilizer can greatly benefit any budding filmmaker, video producer, content creator, or anyone that wants to capture smooth-flowing video to add a bit of production value to their next video. As a video creator, I myself have been wanting to use one of these electronic gimbals for a long time. I actually started out using a Steadicam type stabilizers, the ones with the vest, articulated spring arm, and the camera mounted on the sled. So, having an electronic gimbal stabilizer like this in such a small package was a huge benefit. I'll probably be using this gimbal until it breaks down or I lose it. But for now, this is definitely one of my go-to equipment when shooting my videos.
Price: $229.00
Where to buy: FeiyuTech and Amazon
Source: The sample of this product was provided by FeiyuTech.