We use affiliate links. If you buy something through the links on this page, we may earn a commission at no cost to you. Learn more.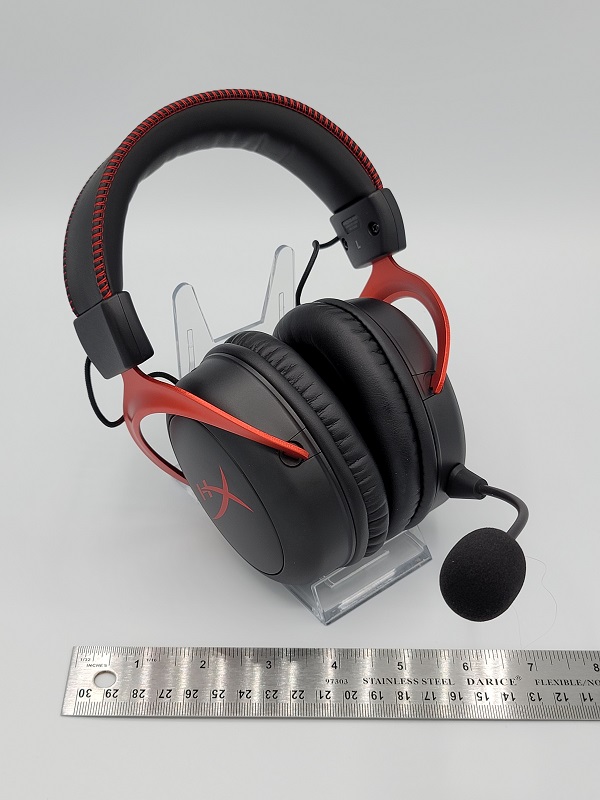 REVIEW – Hyper X has dropped another set of gaming headphones into quite the crowded market.  Even their own lineup can be confusing to come to terms with, and that's before we start to compare models with the many other manufacturers pumping out a dizzying variety of "cans" for the modern gamer.  So, will Hyper X's latest offering stand out of the pack?  I put the Hyper X Cloud II Wireless headset through many nights of gaming and many days of work-from-home music sessions, and ended up struggling to populate the "Cons" section and paring down the "Pros", for me these ended up being near-perfect for gaming and daily use.
What is it?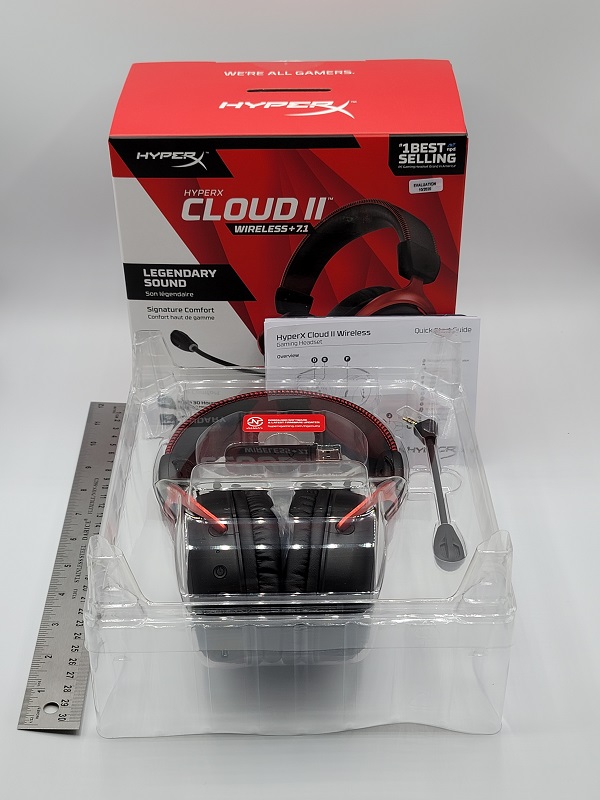 The Hyper X Cloud II Wireless headset is essentially a wireless version of the already popular Hyper X Cloud II headset.  This set features large drivers (typically in headphones, the larger the better), a well-balanced sound profile, and a dead-simple setup and operation process.  The headset is compatible with Windows PCs, Macs, and Playstation 4 and 5, and Nintendo Switch (in dock mode).  I tested on multiple PCs, a Macbook Pro (2018), and Playstation 4.
What's in the box?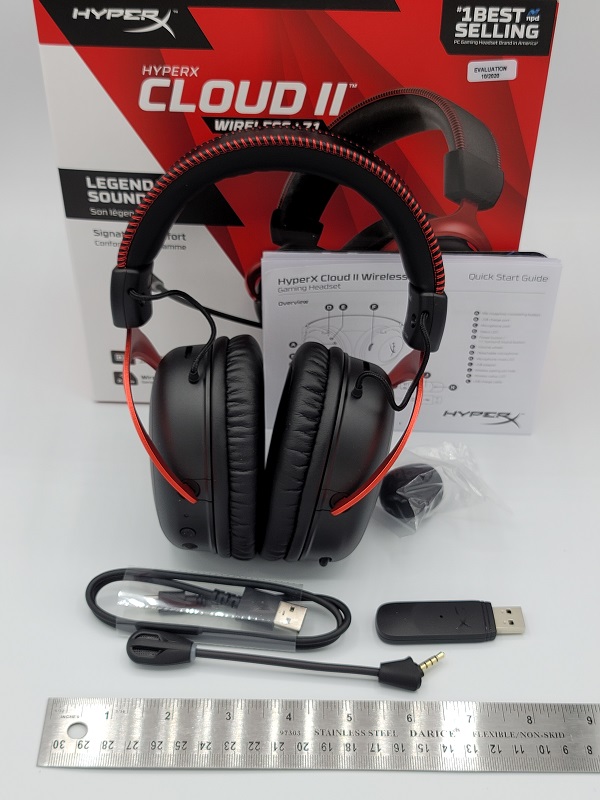 In the box is the Hyper X Cloud II Wireless headphones, the wireless dongle, a short (0.5M) USB-C charging cable, the detachable microphone, and the USB-A wireless dongle.
Hardware specs
Drivers: 53mm "Dynamic" with neodymium magnets
Frequency Response: 15Hz-20kHz
Impedance: 60 Ω
Sound pressure level: 104 dBSPL/mW at 1 kHz
T.H.D.: ≤ 1%
Weight: 300g (309g with mic)
Cable length: USB charge cable (0.5m)
Battery life: Up to 30 hours
Wireless type: 2.4 GHz
Wireless range: Up to 20 meters
Microphone type: Electret condenser microphone
Microphone polar pattern: Bi-directional, Noise-cancelling
Microphone frequency response: 50Hz – 6.8kHz
Sensitivity: -20dBV (1V/Pa at 1kHz)
Design and features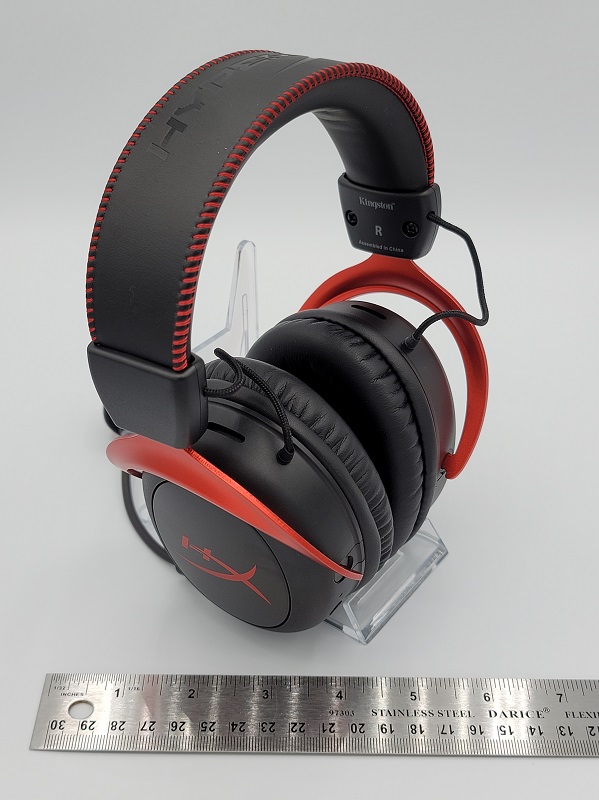 The model of Hyper X Cloud II Wireless headphones I was sent for review was a red-and-black affair (which seems to be the only color combo available at the moment).  Materials include aluminum, ABS plastic, memory foam, and leatherette.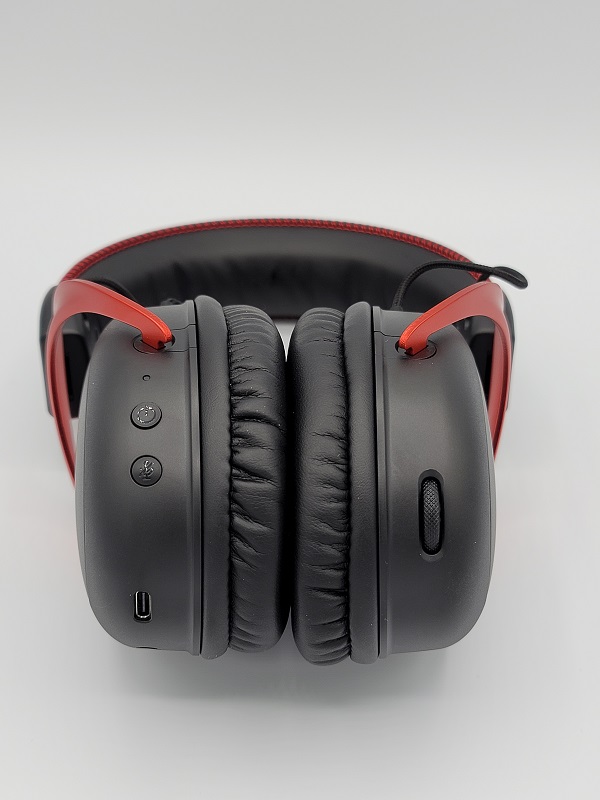 On the bottom-left we have the Power button (which doubles as the Virtual 7.1 Surround Sound toggle with a double-press), the Microphone mute button, and the USB-C charging port.  There is no wireless charging here like on the HyperX Cloud Flight S.  On the right earcup is simply the volume adjustment dial.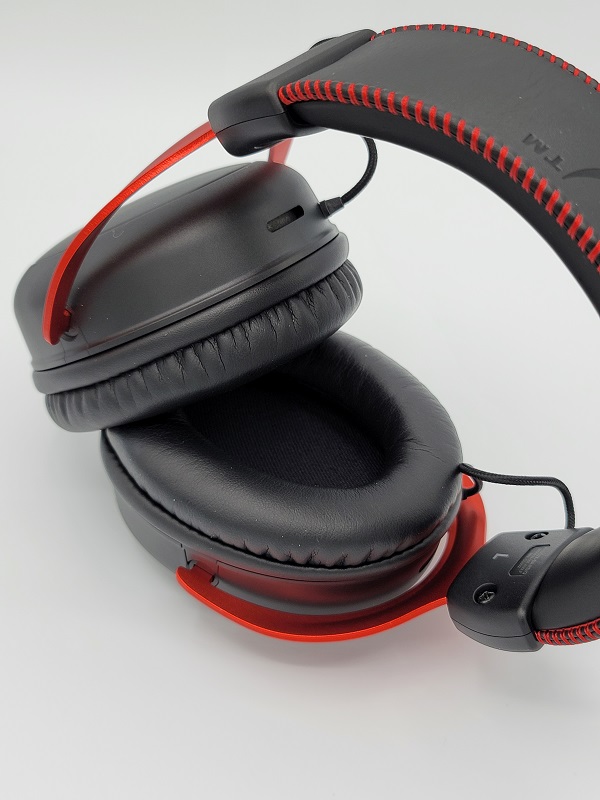 The earcups are clearly labeled with white text on the band, and have a decent range of tilt (both horizontally and vertically), though they do not fold flat.  I do wish they would fold flat, headphones that don't are quite bulky when rested on your neck.  Connections and materials seemed sturdy, nothing worried me in my review period as likely to break or wear out.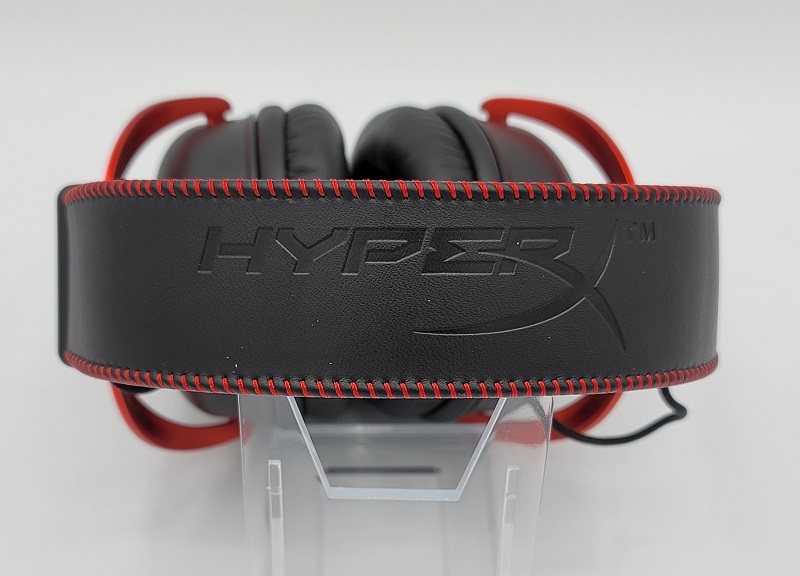 On top of the headband is a stamped HyperX logo, with red stitching across both edges of the band.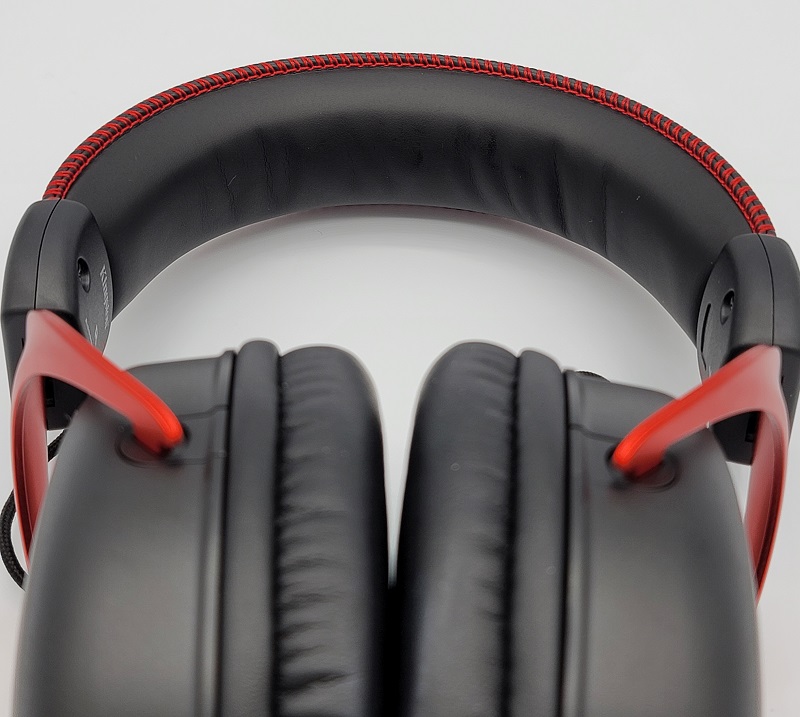 The inside of the headband features memory foam and leatherette material.  It is soft and lightweight, comfortable for hours of use at a time.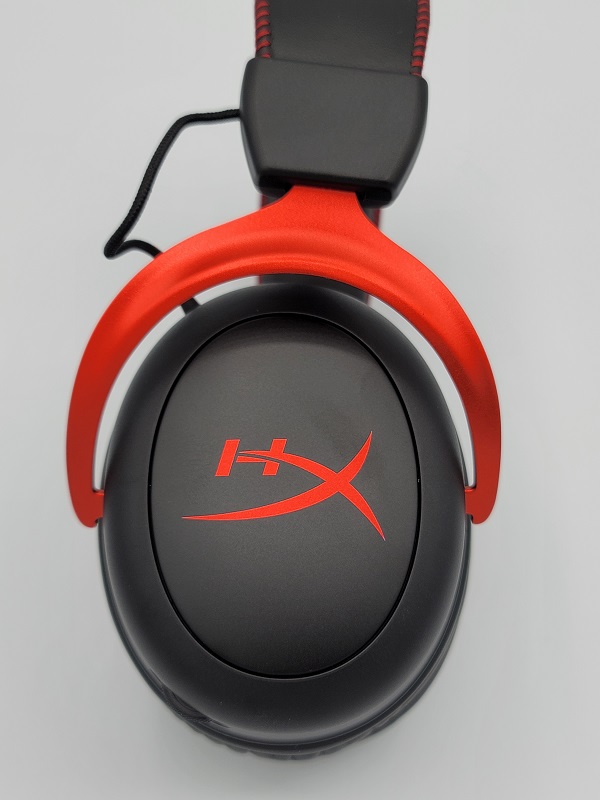 Both earcups feature a bright red HyperX logo, and are closed-back over-ear designs.  They are not the most noise isolating headphones though, I found them to be middle-of-the-pack in terms of noise isolation (they are not noise-cancelling).  They did nearly silence my gaming PC, which can get moderately loud under load.
Installation and Setup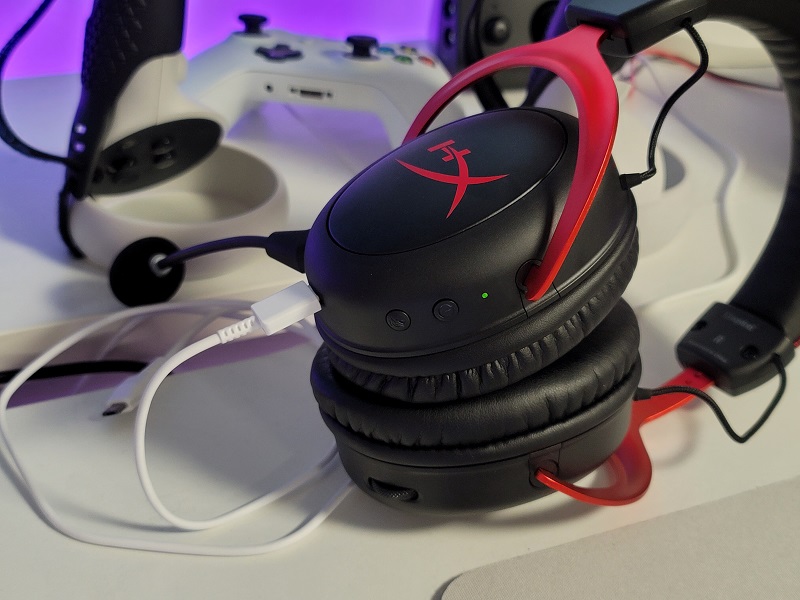 Installation is as simple as charging the headphones (FINALLY a USB-C charging port!  It's crazy in 2020 how many devices still use Micro-USB), and plugging in the USB dongle.  I didn't need to install drivers or change any settings on any of the devices I tested with.
Even the "Virtual 7.1 Surround Sound" seems to be entirely handled by the USB, this worked great without requiring any extra software installation.   There is the nGenuity software from HyperX that allows for some software control, but the only thing I found in the program that I couldn't easily do with the buttons and dials on the headphones themselves was to turn the mic monitoring on/off (this feature is on by default, and feeds a bit of the microphone input back to your ears which sounds more natural).  I immediately uninstalled it after testing it out as I didn't need it.
These were the easiest wireless headphones to set up that I've tested or bought myself so far.
Performance and Comfort
I tested the Hyper X Cloud II Wireless headphones with a variety of games and music genres, and they performed good-to-great across the board.  Some gamer-focused headphones tune the sound for competitive gaming to emphasize sounds that may give players an edge – like footsteps.  This can result in strange sounds in other media (like music and movies).  The sound balance is on the Hyper X Cloud II Wireless headphones is definitely game-tuned, but not so much that music audio sounds strange.  You aren't overwhelmed with bass, and noises or instruments across the sound spectrum are crisp and easily distinguished.  With some equalizer tweaks you can change them to be very bass-heavy if desired.  The big drivers are really nice and put out amazing sound in everything I tested.
The wireless performance blew me away.  In all other wireless headphones I've tested, wireless interference has been moderate to nearly-gone, but previously I always had at least a bit of static or buzzing from interference.  With the Hyper X Cloud II Wireless headphones I had none, full stop.  The entire review period (several weeks) they performed flawlessly, as good as any wired headphones I've tested so far.  I never once heard a cell-phone caused buzz or any static at all.
The Virtual 7.1 Surround Sound is easily toggled on/off with a double-press of the power button.  The two buttons on the left earcup are easy to differentiate by feel.  The Surround Sound definitely made game sounds more directional, I spent many hours in ArmA 3 (a shooter game) during this review and was able to pinpoint gunshots and approaching vehicles more easily by sound when using the Virtual 7.1 Surround feature.  I find these virtual surround modes usually modify the sound balance to be strange – sometimes it feels like you're in a giant concert hall and there is some strange reverb, but HyperX's implementation here is a good balance between directional audio and sound quality overall.
The microphone is good.  I've used better, but it's definitely a high quality one. It picks up a balanced voice and cuts out background noise as you'd expect, and is on an adjustable boom that is not too intrusive.  Gaming partners (and coworkers) commented on the crisp clear audio on my end.  It's even easily removable, though I didn't feel the need to do so as it's unobtrusive.  The icing on the cake here is the red LED ring that lights up when you mute it (visible in your peripheral vision), which is a really nice touch.
What I like
Rock-solid audio
Good microphone
Lightweight and comfortable for long sessions
Long battery life
What I'd change
Ability to twist earcups 90 degrees
More color options
Smaller USB dongle
Final thoughts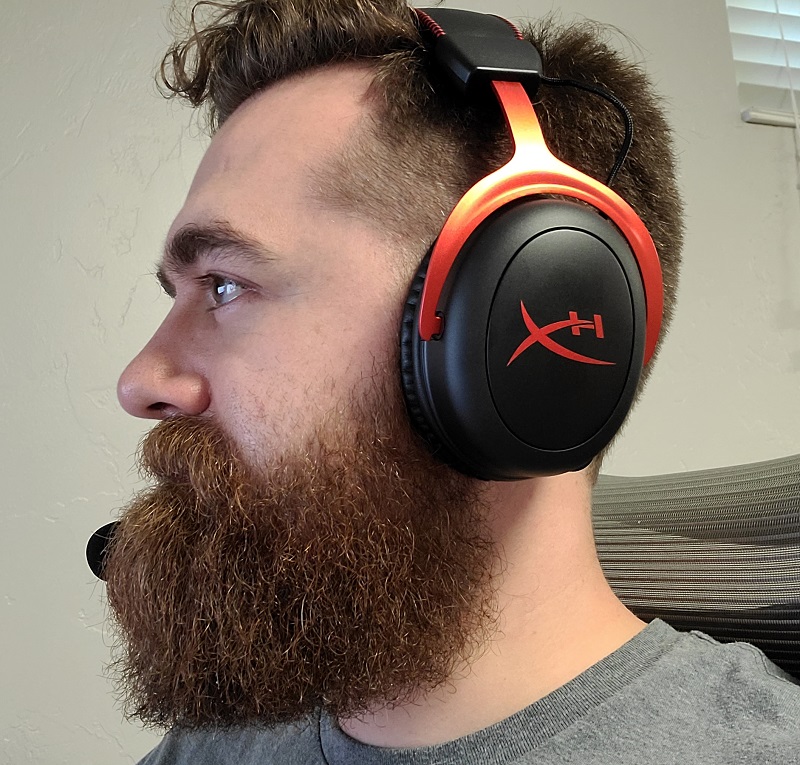 I heartily recommend the Hyper X Cloud II Wireless headphones. They were a delight to use, never had any issues, and were comfortable for long sessions of work and play.
Price: $169.99
Where to buy: HyperX and Amazon (wired version which is only $79.99)
Source: The sample for this review was provided by HyperX.