We use affiliate links. If you buy something through the links on this page, we may earn a commission at no cost to you. Learn more.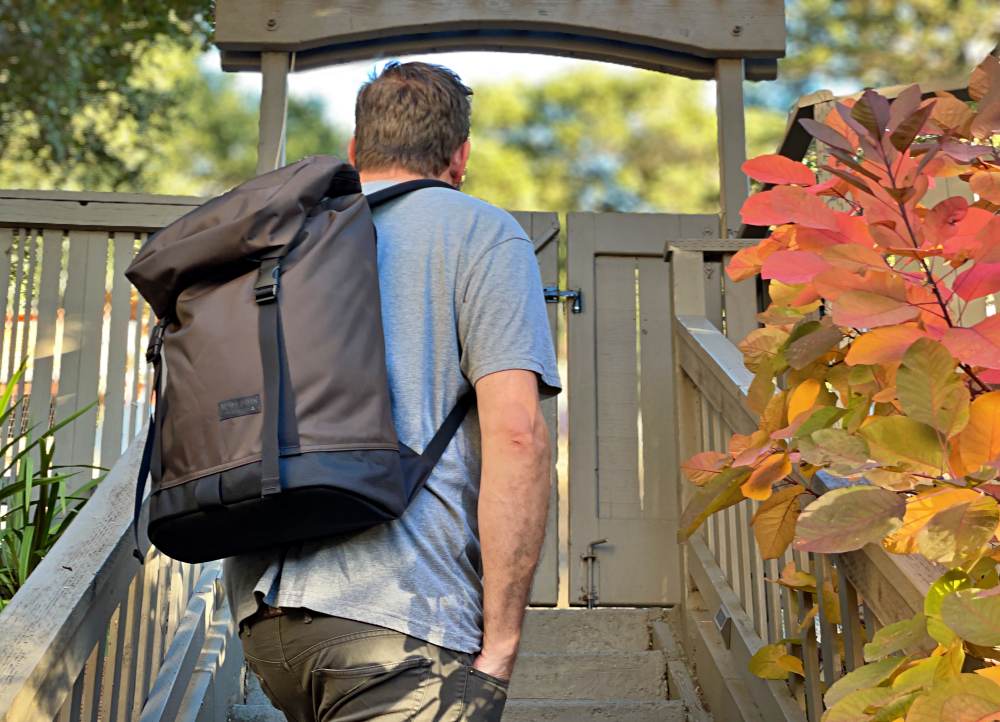 REVIEW – I have a complicated relationship with backpacks. I've developed a few through the years and deeply appreciate both the design and construction that goes into making each one unique. I typically get enamored with a new brand or a new model from a brand I already know and pull out the wallet. I then usually find something that irks me enough that I start the search all over again. Tom Bihn is a brand I've been aware of, but have never owned or even looked at closely, but their Shadow Guide 33 backpack hit my radar and the game is on!
What is it?
Tom Bihn's Shadow Guide 33 is a hybrid 33 liter backpack that combines a top-loader design with a rucksack-ish top flap sporting an additional 3 quick access pockets. But there's a lot more to uncover so read on.
What's in the box?

Material specs
Exterior: 525 denier 2×2 Ballistic Nylon
Lining: 210 denier 2×2 Ballistic Nylon
Bottom: 1050 denier HT ballistic nylon
Back: Nylon Diamond mesh upper back
Padding: Closed cell foam (back), EVAZOTE® foam (straps)
Hardware: Duraflex®, Nexus, and Woojin buckles and related components
Zippers: Water Resistant Racquet Coil YKK zippers
Frame: Removable internal frame w/ aluminum stays
Design and features
This Shadow Guide is the 33l version in the Ursa color.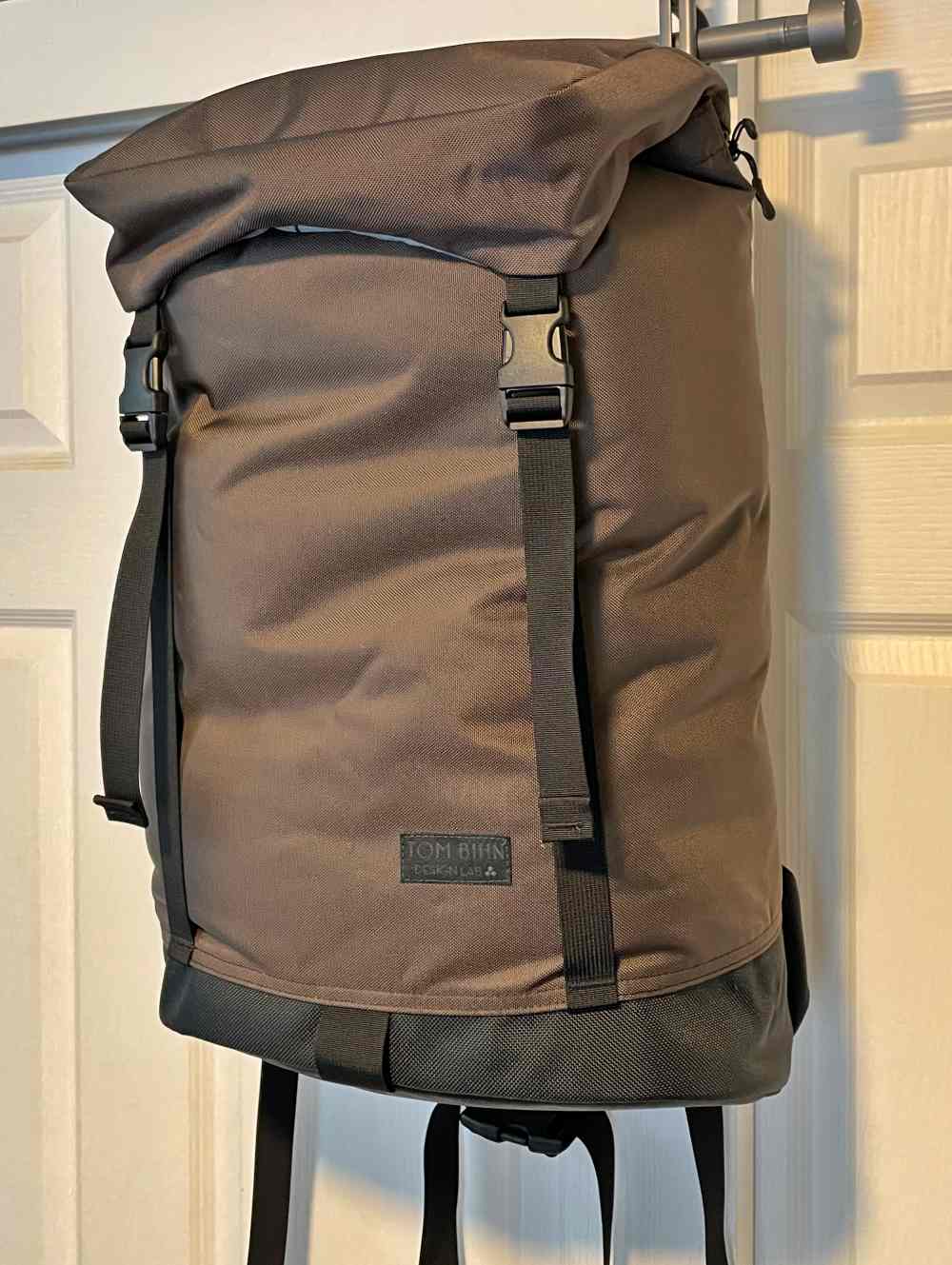 It's also available in a smaller 23l size and both come in black if that's more your thing. It's the first release under Tom Bihn's new moniker of Design Lab which are kind of experimental side projects. You can read more about Design Lab over at their website.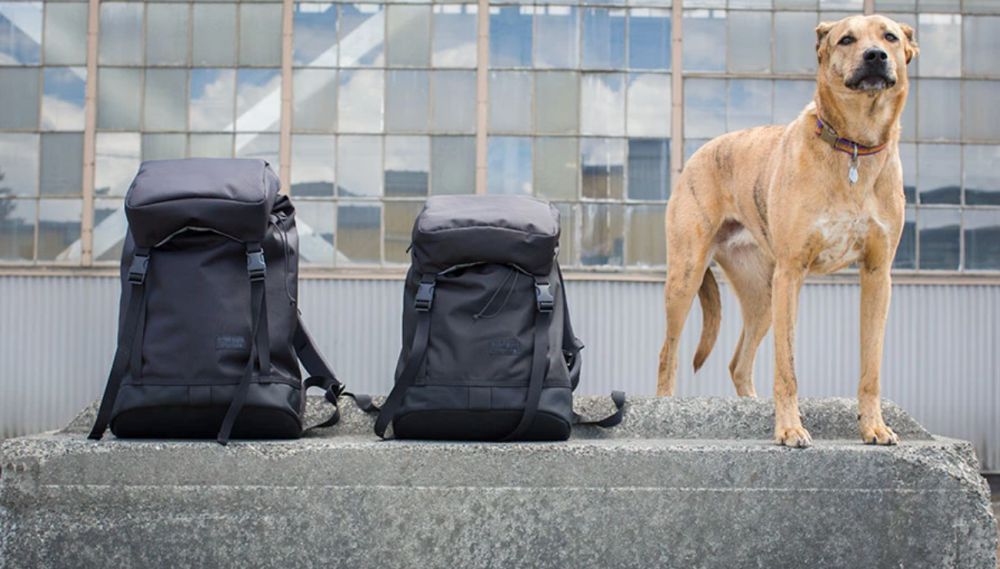 The top is a flap that covers the main compartment as well as a trio of pockets. The top pocket is great for instant grab items like a hat, sunglasses or small notebooks and includes a detachable keychain.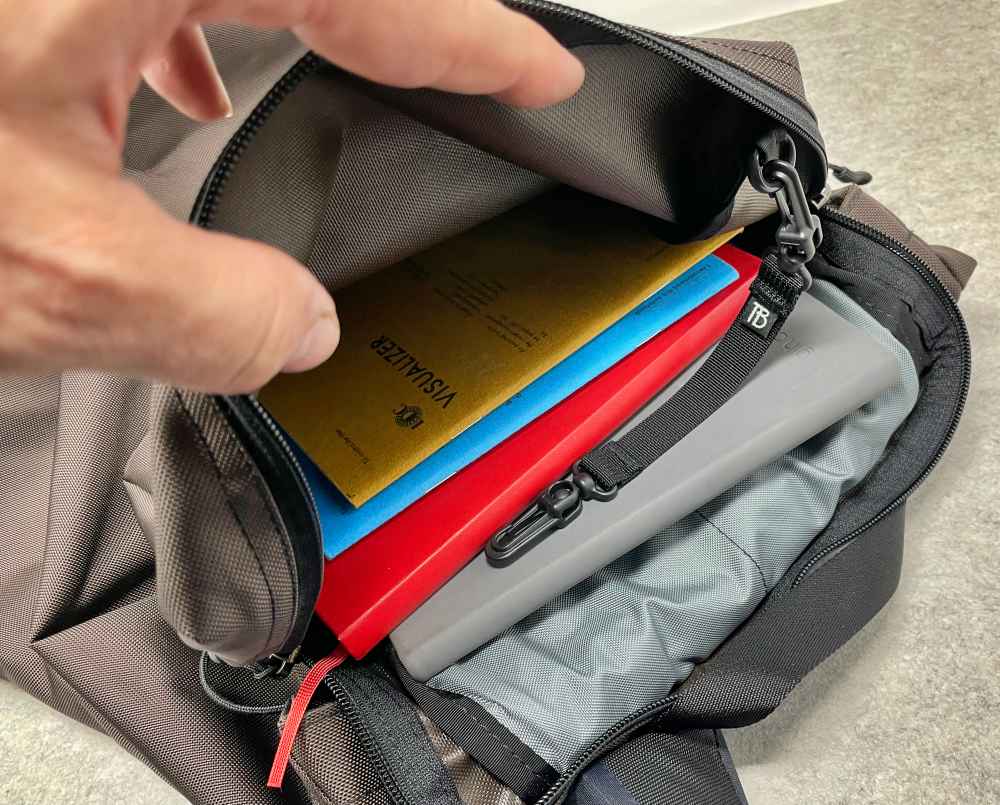 The two underside pockets aim outward so they can be accessed without unbuckling the top flap.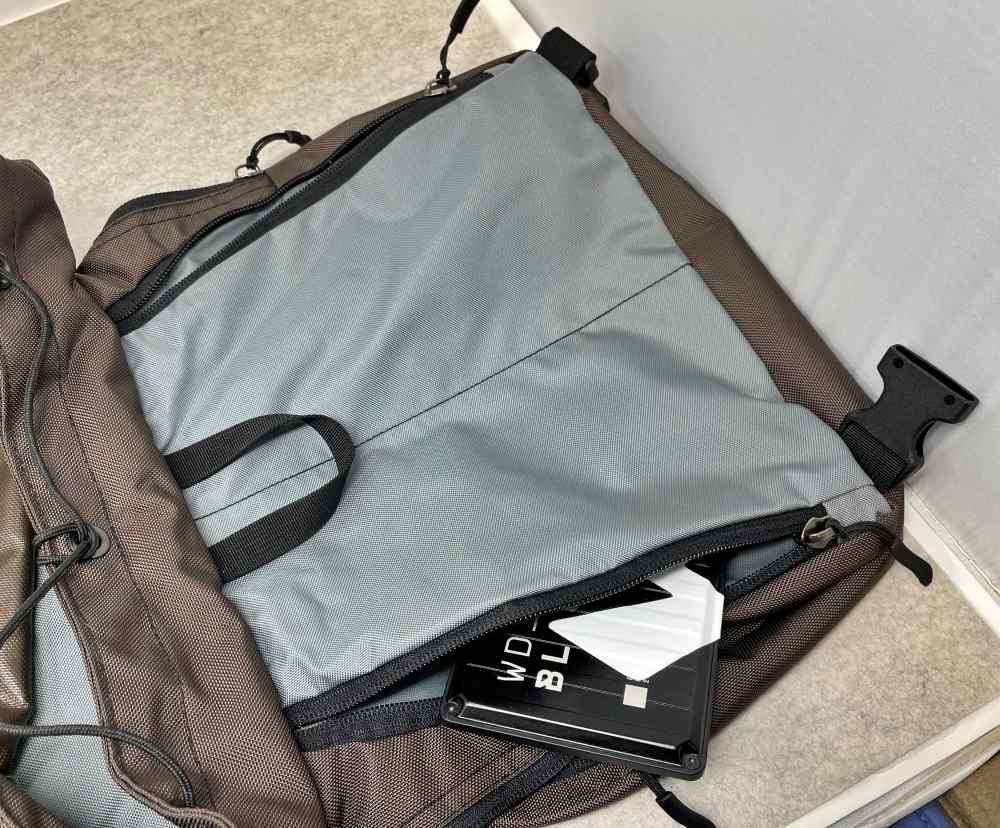 When open, the 33l capacity is readily apparent and should swallow almost anything you need to carry around.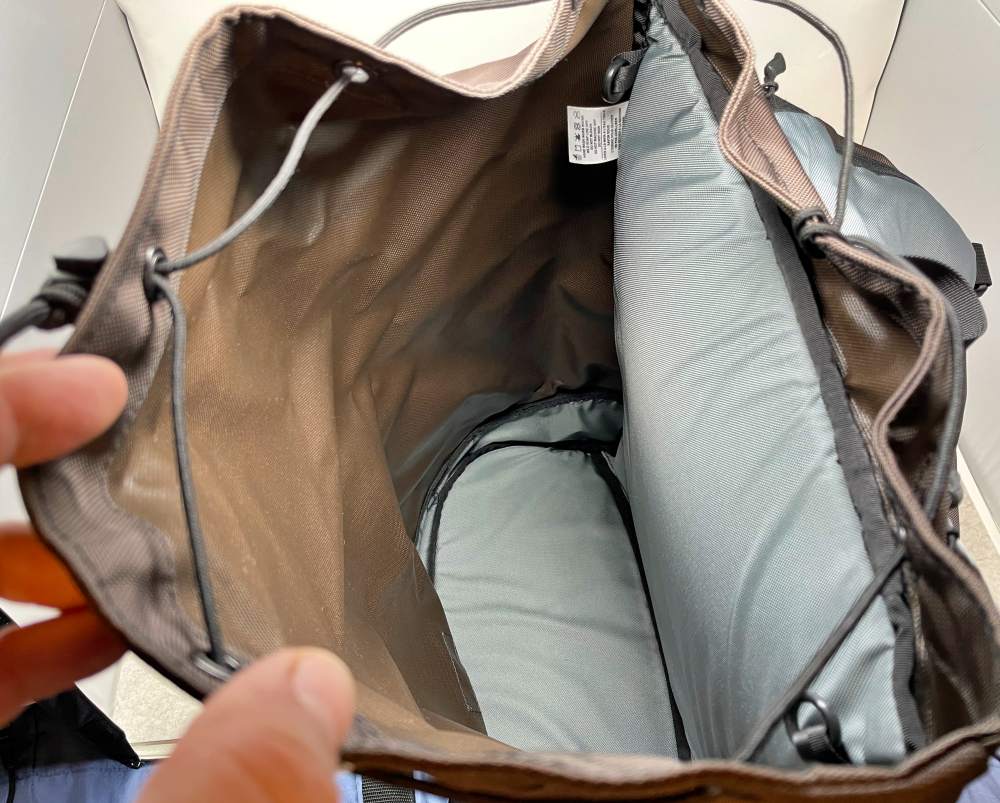 A quick-draw cord closes it up easily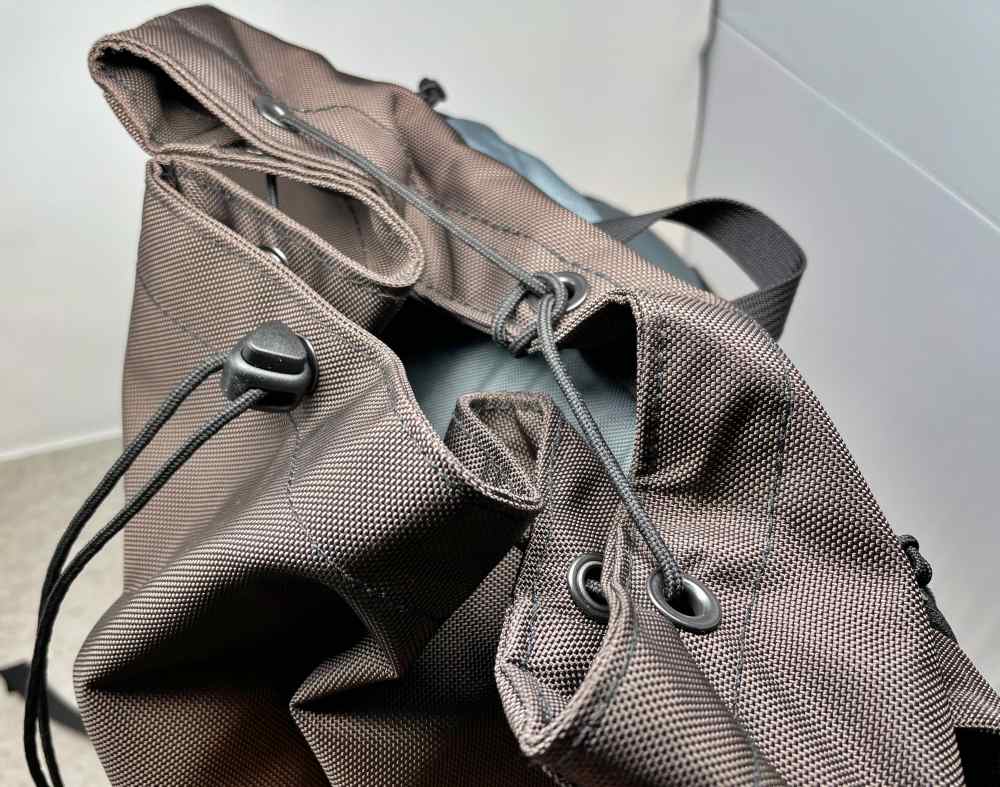 A spacious, suspended and padded laptop compartment is accessed through a zipper on the side. You'll have no problem fitting even a 17″ laptop in here. The bottom is also padded doubling the laptop protection and anything else that might be at the bottom of your pack.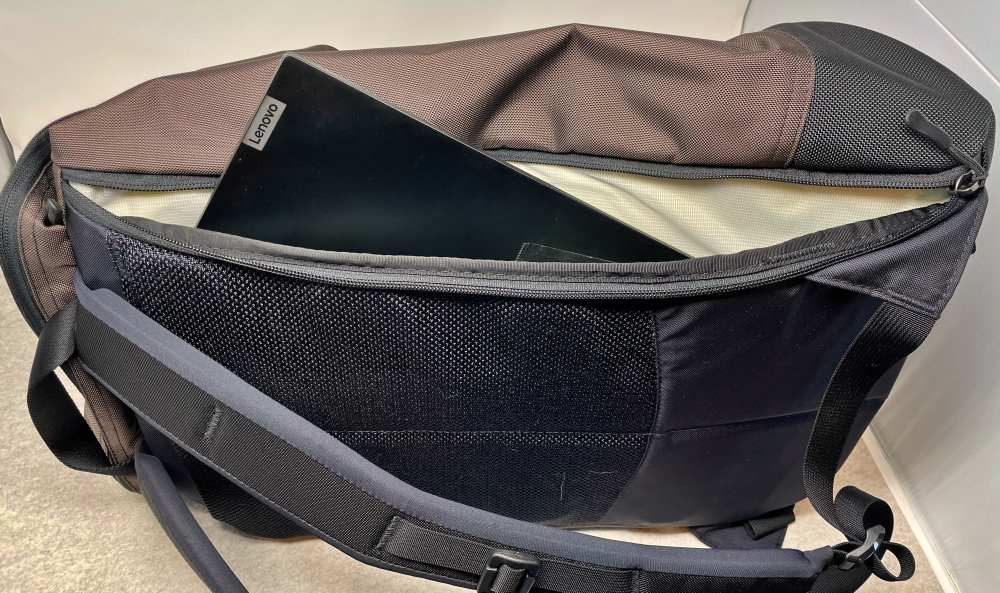 The straps use an edgeless design where the soft lycra material wraps around to the top for increased comfort eliminating any upper chest or arm abrasion. An adjustable, centered sternum strap keeps thing locked down while a removable waist belt lets you decide when you need the extra support.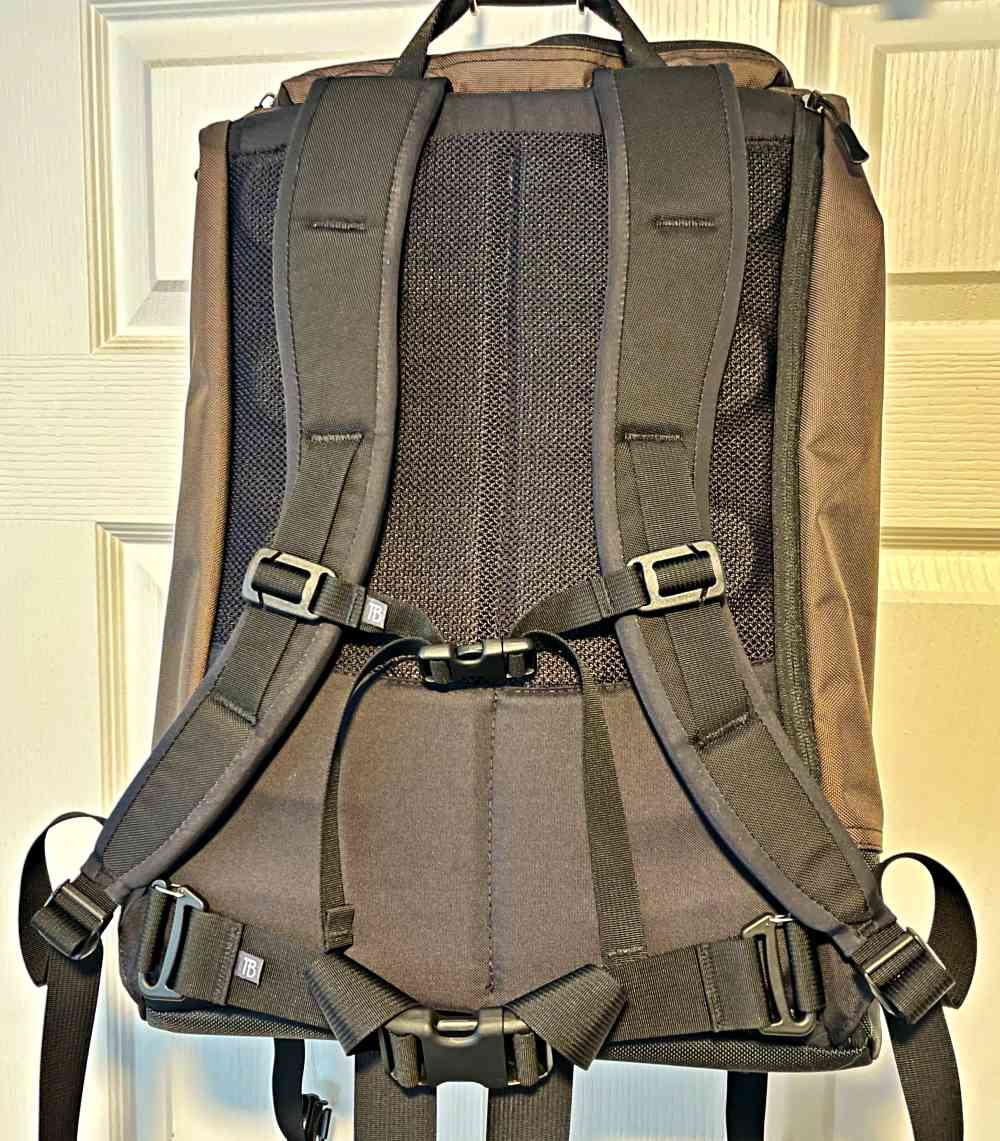 The back panel features a "skeleton" shaped foam panel that increases airflow while cushioning.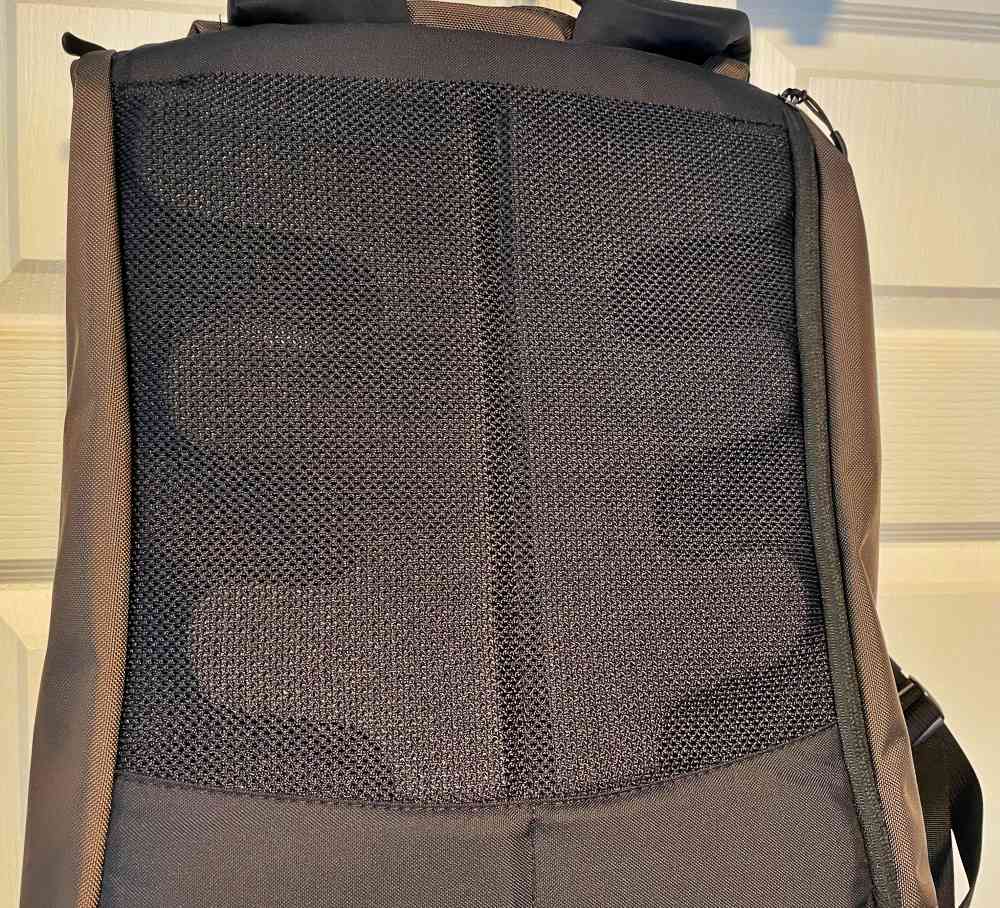 Lastly, there's a removable internal frame that is minimal enough that you'll likely leave it in, if you even notice it.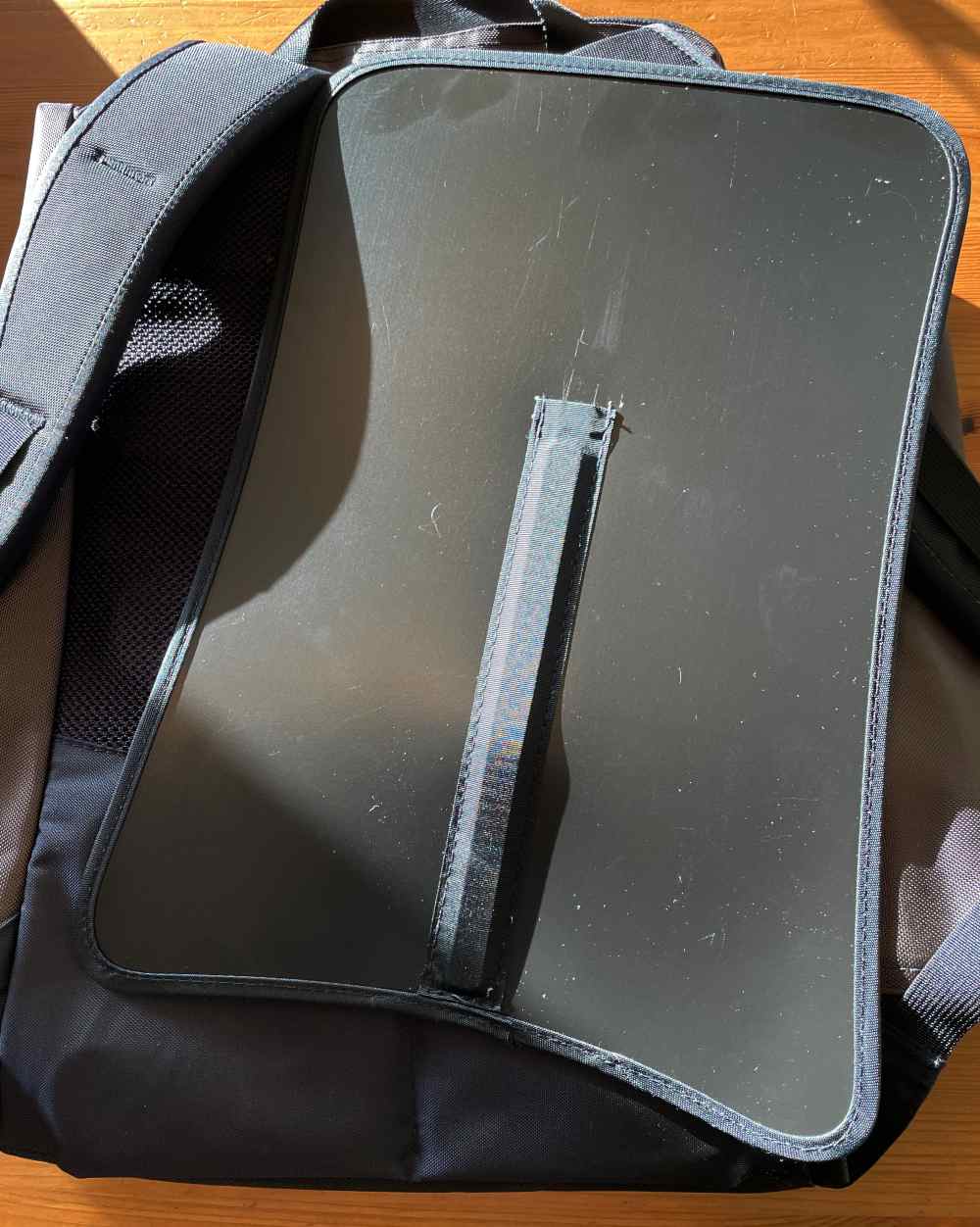 Key benefits are support for your back with its gentle curve that should work for most users, and that it anchors the suspended laptop sleeve so that pocket won't actually make contact with the ground.
Performance
The first thing I do with any pack is load it up and figure out if I'll need to change my organization strategy. Here's everything in my first go.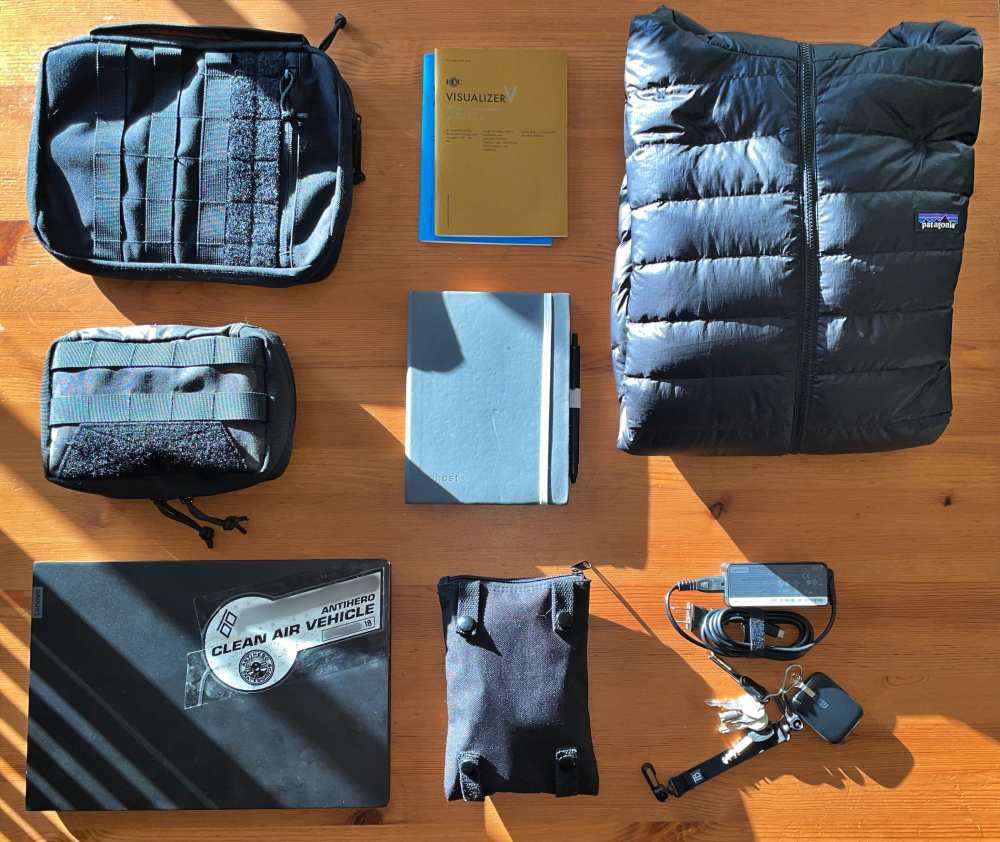 The capacity is dangerous in that you can really fit a lot in there. As with a lot of top-loaders, they aren't set up for micro-organization and instead function better with other smaller bags that tackle that purpose for you.
The straps are super comfortable, even with more weight than I'd typically run around with. The lycra material that faces your body wraps around the side to the top edge of the strap and they really do feel edgeless.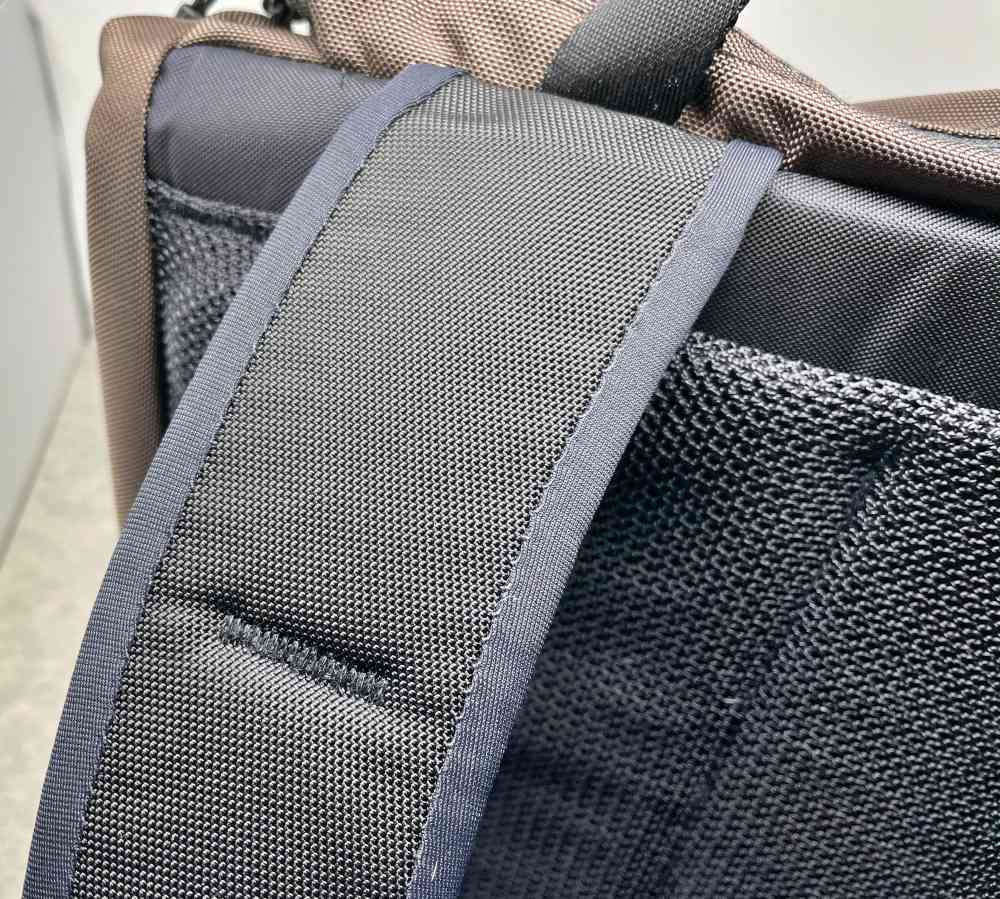 It can be a little slippery on top of a smooth rain jacket, but the shoulder distance is narrow enough that it shouldn't cause many issues. I dig that the sternum strap is adjustable from both sides and really appreciate that the waist strap is removable.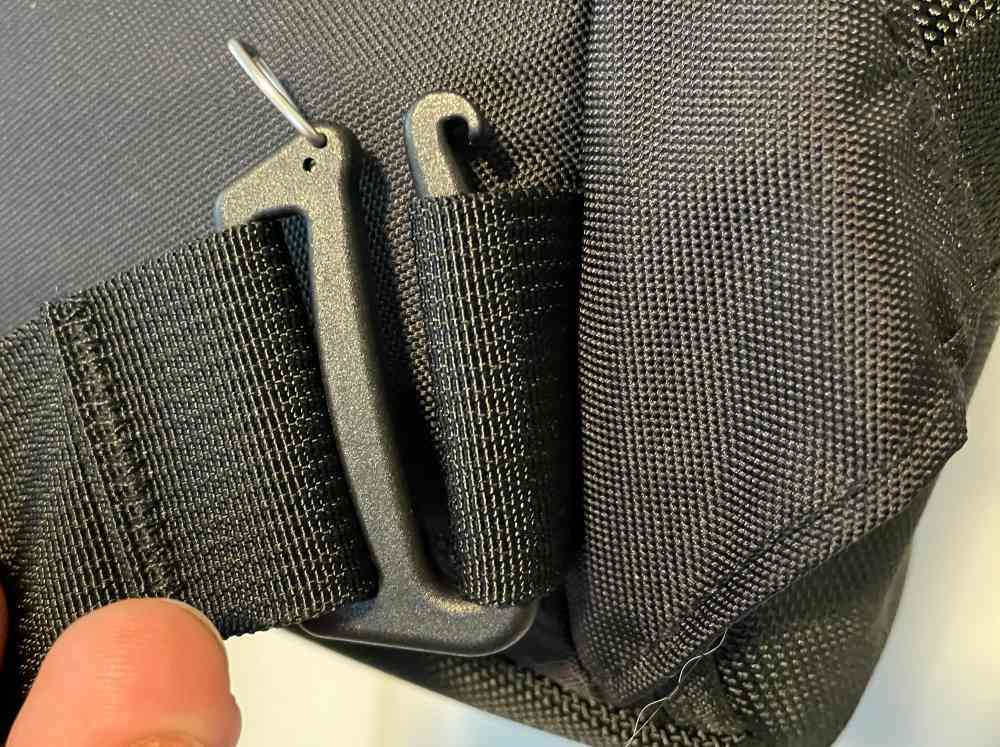 The internal frame feels good against your back and helps significantly if you happened to load any awkwardly shaped items. It also keeps the laptop pocket flat all the time so it's super easy to unzip, load and re-zip. Requisite PSA for any side load laptop pocket (not a criticism, just a friendly reminder) – Always check that your laptop pocket is closed before lifting your pack.
All of their zippers are quality YKK, but with the metal pulls removed and replaced with nylon string pulls with an overmolded end that has a cat-tongue type feel. I almost always make this modification to the bags I buy as it gets rid of some extra weight and silences any jangle. Stoked to see this stock.
The Shadow Guide hangs as full as you load it. That is to say that you'll only see its full volume if you stuff it full. The top flap likes to compress the main body and will do so even more if you've got that loaded with anything heavy. The two straps that lock it down really are compression straps so if you do load it up you can secure everything well. I look forward to putting this pack through it's paces on some longer journeys soon.
What I like
The fit, finish, feel and structure
Large capacity that feels smaller until you need the size
Attention to detail
What I'd change
I'd add some elastic loops to help corral excess strap lengths
Straps can be a little slippery on top of a smooth jacket
Final thoughts
The Shadow Guide 33 is a fantastic backpack that can adapt to your needs. The volume is there when you need it without feeling large all the time. It's clear that Tom Bihn cares about quality and it is evident in every detail throughout the pack. There's a ton of detail on the Shadow Guide on their site and I can honestly say they are as transparent about everything they do, from making all their bags in Seattle, to their mission, being carbon neutral and to how they operate. If any of this is striking a chord, but the Shadow Guide isn't your style, browse their site a bit. They have something for almost everyone.
Price: $280
Where to buy: Tom Bihn
Source: The sample of this product was provided by Tom Bihn