The Gadgeteer is supported by readers like you! If you buy something through links on our site, we may earn an affiliate commission at no cost to you. Thank you! Learn more.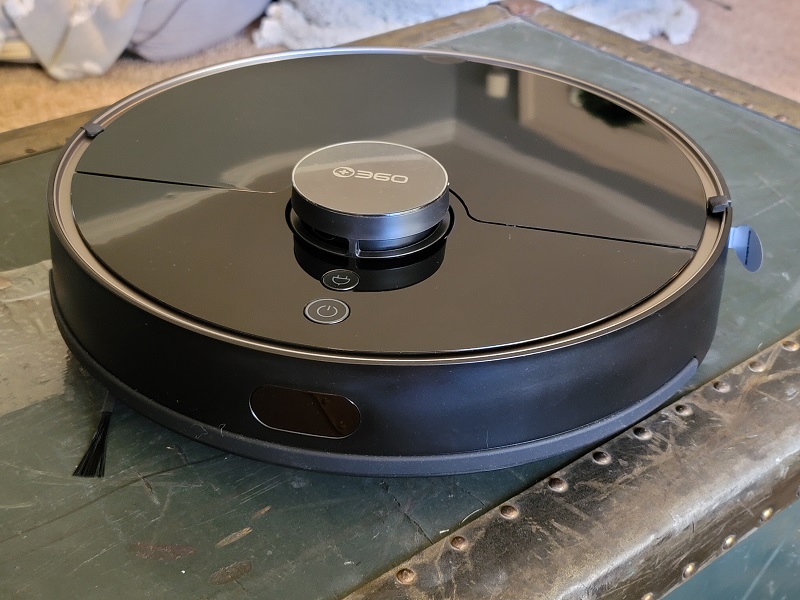 REVIEW – Robot vacuums have come a long way from the original Roomba I used circa 2004.  New technology like AI and Lidar result in impressive mapping and eye-pleasing zig-zag carpet lines, instead of the chaotic randomness of the early robot vacuums.  The 360 S7 Pro Robot Vacuum and Mop has just about every feature I would want in a robot vacuum, but can the promises on paper result in real-world performance?  Let's see!
What is it?
The 360 S7 Pro Robot Vacuum and Mop is an automated home robot vacuum and mop system.  It has LiDAR and AI-assisted cleaning algorithms and mapping to ensure that an area is fully cleaned efficiently.  It features an app for setting up boundaries and floor types, and the app also controls many options and settings.  In a nutshell, it cleans all the floors.
What's in the box?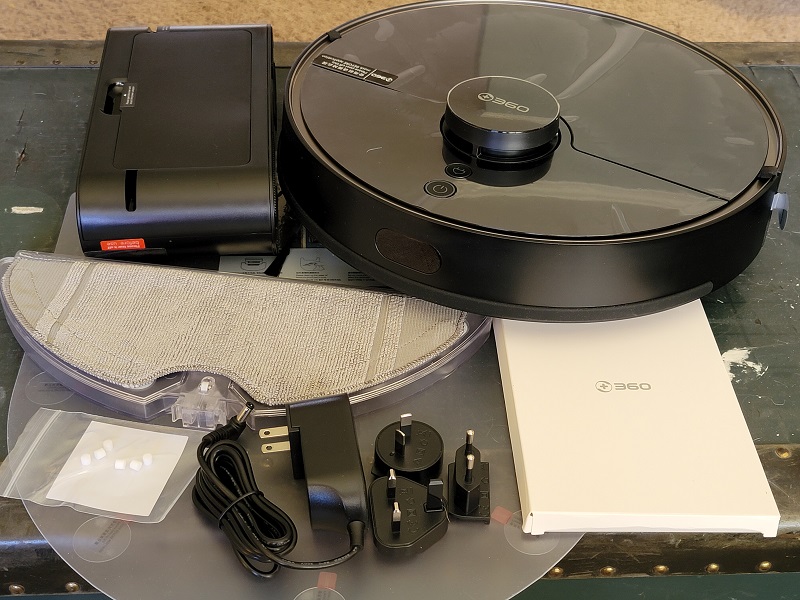 Included in the box is the 360 S7 Pro Robot Vacuum and Mop, charging/base station, water reservoir, microfiber cleaning cloth, AC adaptor with multiple international plug types, a cleaning tool, a plastic pad to prevent drips from the water reservoir while charging, and the instruction manual/quick-start guide.
Hardware specs
Mapping/navigation:  LiDAR sensors, as well as optical sensors
Suction: Up to 2650 Pa
Runtime: 120 minutes on standard mode
Auto Recharge and resume: Yes
Dust bin capacity: 580 ml
Water tank capacity: 170 air pump water tank
Design and features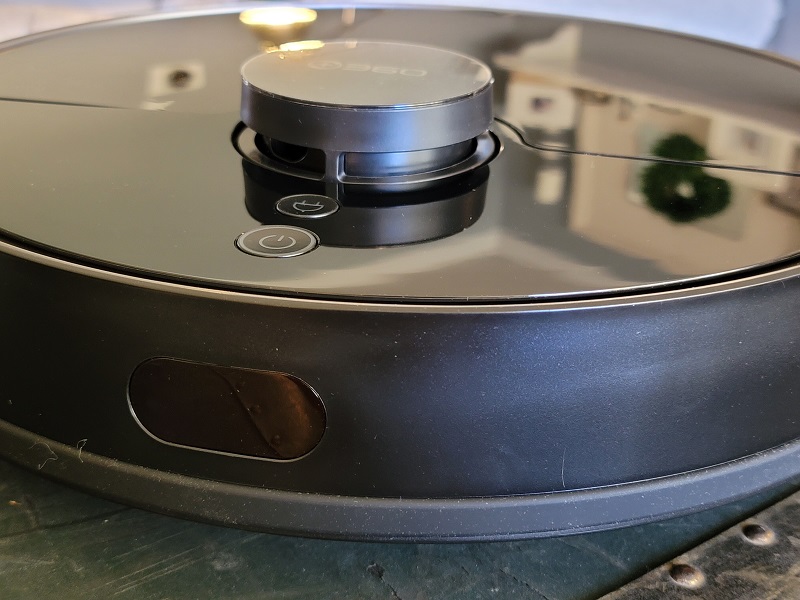 The design of the 360 S7 Pro Robot Vacuum and Mop is pretty straightforward – it's a round robot vacuum with a distinctive LiDAR turret on top.  Glossy black plastic seems to be the preferred material, with matte black on the edges.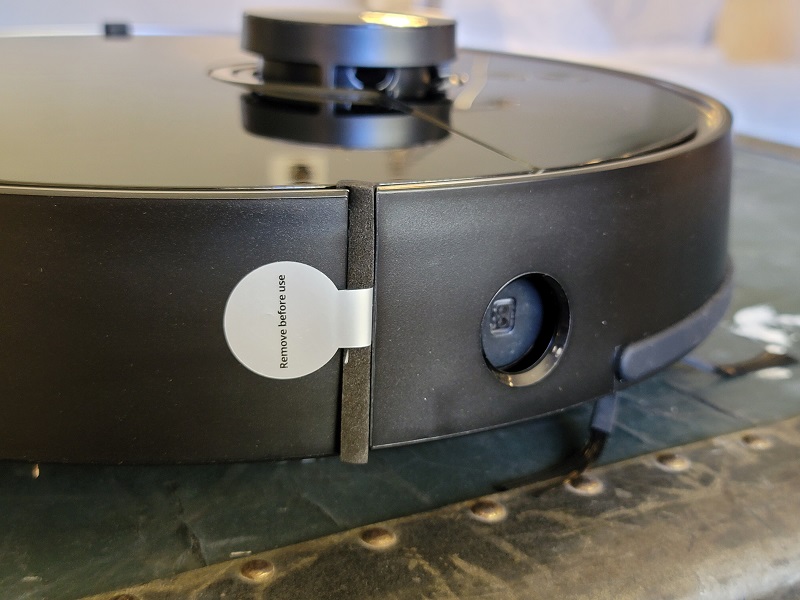 The front bumper has a lot of give – letting the robot bump into items without damaging them.  Multiple optical sensors are arranged around the sides of the 360 S7 Pro Robot Vacuum and Mop.  During testing the robot seemed very good at scooting along right next to edges and walls, and only lightly bumped objects like stools and chairs.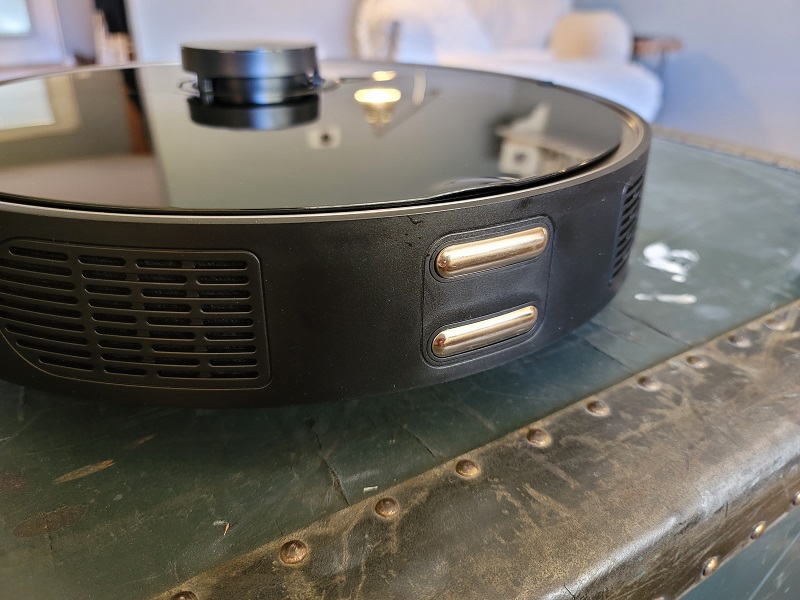 On the backside we have the charging contacts.  I like this system, the robot simply has to back up and lightly touch the base station to recharge.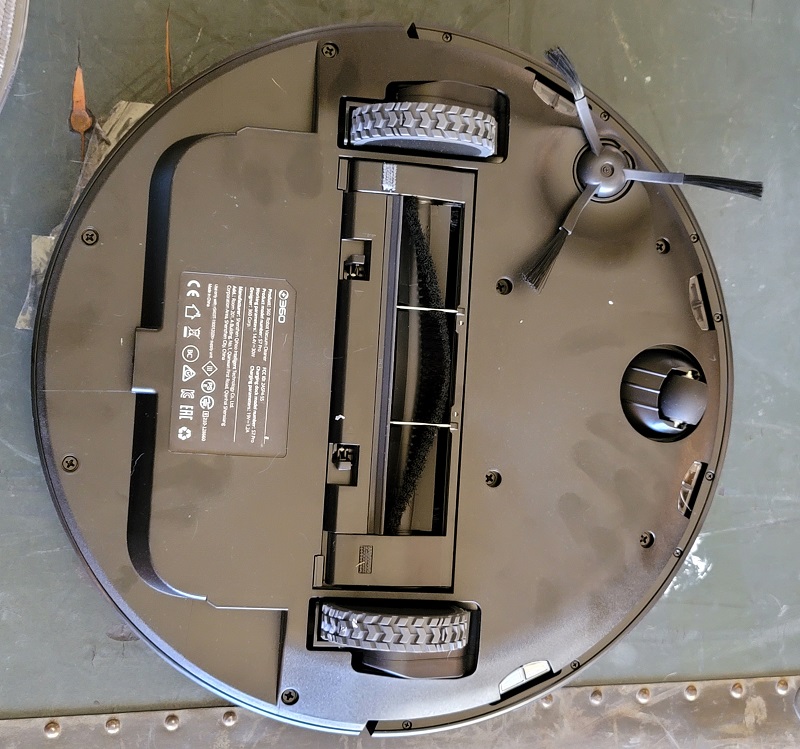 On the underside we have the vacuum brush, 2 heavy duty drive wheels and a small pivot wheel, and the edge-cleaning brush.  The mopping water reservoir and microfiber cleaning cloth slide into the back/bottom of the 360 S7 Pro Robot Vacuum and Mop.  Up front is the edge-sensors, which prevent the bot from going headfirst (does a round robot have a head?) down stairs.  This worked great, it didn't even come close to falling down the one flight of stairs it could have.
Installation and setup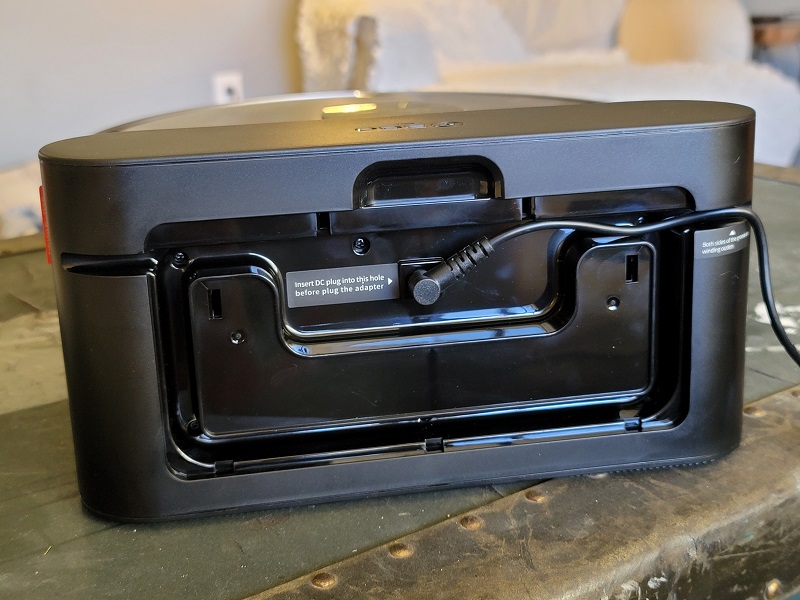 Installation was quite simple, and I really appreciated the many stickers that + 360 installed on the base station and 360 S7 Pro Robot Vacuum and Mop to help me out.  First, you select your AC wall adaptor type and click that adaptor onto the wall brick, then attach this to the base station.  You can coil extra wire into the station, and it has routing going either right or left which helps with placement.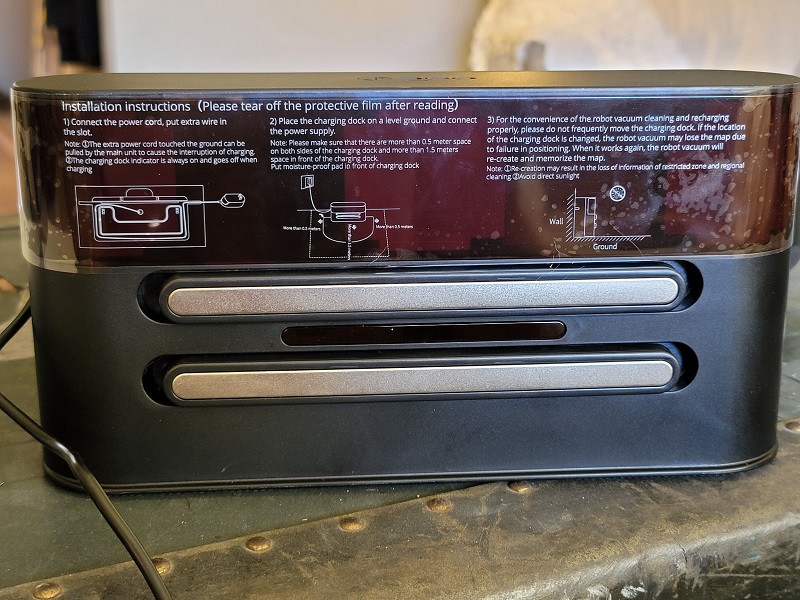 Next, you plug in and place the base station on a wall in the room where the vacuum will live.  The 360 S7 Pro Robot Vacuum and Mop does support saving maps for multiple rooms, but for ease of use you'd want this to be in the most frequently-cleaned room.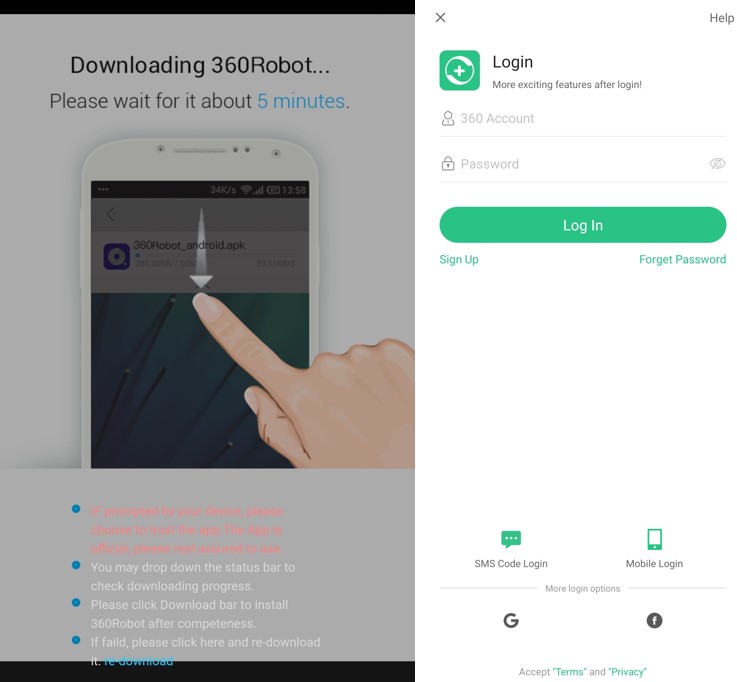 Installing the Android/iOS app was a breeze, and while it had some rough edges (couple of bad translations and text overrunning other elements on pages) it worked well.  You do have to create an account and allow some permissions (you're always giving your data away for any connected features these days, eh?), then the app walks you through wifi setup.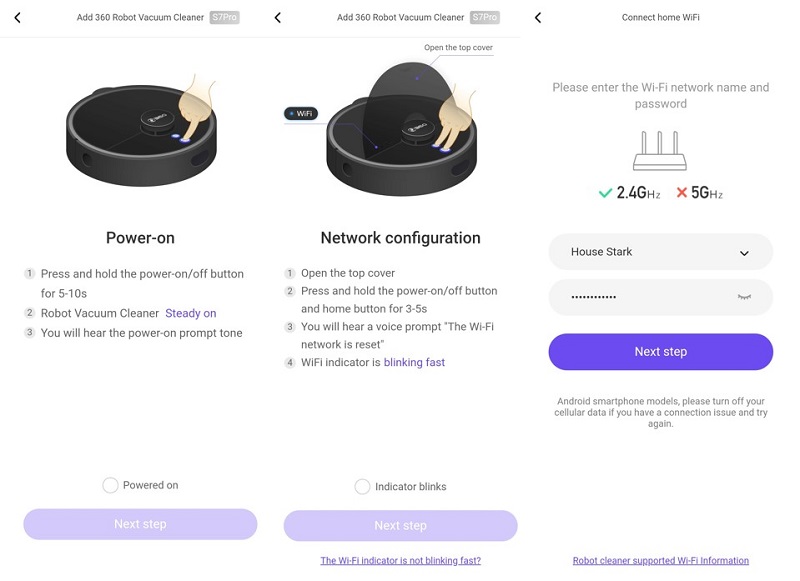 I followed the instructions in the app to boot up and turn on network setup on the 360 S7 Pro Robot Vacuum and Mop, then connected it to my wifi network.  You do have to have a 2.4 Ghz band available (most routers are on this band by default or run on both 2.4 and 5 Ghz.  If you only have 5 Ghz, you're going to have some issues here.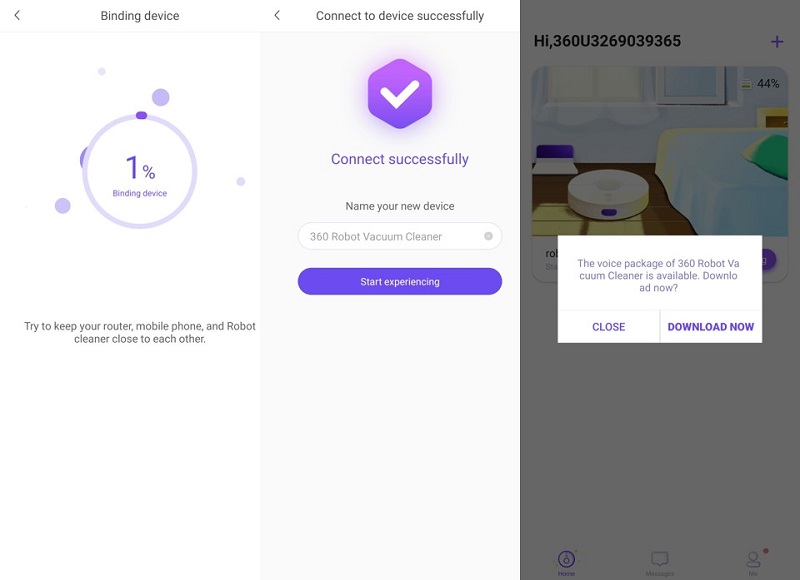 Once connected, the app went through a "binding device" step, and then offered me new voice packages, which I of course downloaded to try out.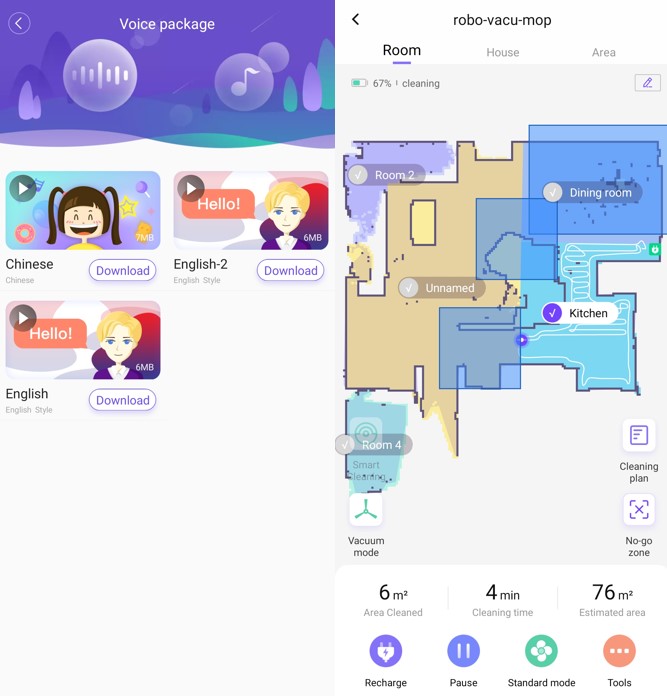 I then initiated the first-time room mapping setup from the app.  This sent the robot merrily on its way, scooting this way and that around my main floor (~800 sq feet of complex floor around a kitchen, dining room, and living room).  As you can see in the screenshot above, it did a pretty good job mapping everything out.  The LiDAR is impressively accurate, except for mirrored closet doors which created an extra room the vacuum wanted to clean (I simply set this area off-limits and now it ignores it).  The app controls were easy to use and intuitive, I set to work splitting up rooms and defining no-go zones.  I wanted to keep the vacuum out of corners where I had many cords – even though it has a feature to detect and spit back out cords, I thought it best to just avoid them.  I also wanted to define where it would mop, so it wasn't dragging a wet cloth across the carpet and wood floor areas.
It did get stuck on an abnormal floor air vent in a corner, and prompted me to set a small no-go zone there.  I complied, and it never had the problem again.
Performance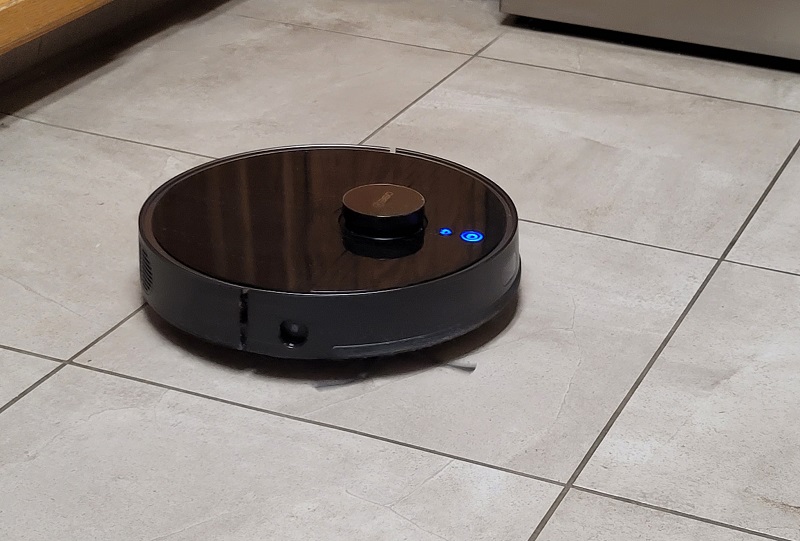 The 360 S7 Pro Robot Vacuum and Mop does an impressive job at vacuuming.  It gets under furniture and pulls pet hair out of carpet very nicely, and it's decent-sized dustbin only had to be refilled mid-cleaning the first time.  Every subsequent cleaning (I ran it nearly every day during the review period) resulted in less than a full bin.
The edge brush does a good job getting things out of corners so that the vacuum then sucks them up.  The only thing that was missed occasionally was during the fall leaves season, many leaves were thrown willy-nilly by the edge brush too far, so the vacuum then missed picking them up.  I'd imagine this would be true of pretty much any robot vacuum though, light leaves are always going to be hard to corral.
The voices were useful and hilarious.  The first time I started the vacuum up, it loudly proclaimed "CLEANING MAKES ME HAPPY!" in a very cheerful voice.  It told me when the dust bin was full, when it was returning to recharge, when it was stuck and needed help (which only happened once), among other voice notifications.  The app also pushes notifications (which can be disabled) for these events.
The 360 S7 Pro Robot Vacuum and Mop itself also has buttons on it, such as a power button (to start/stop auto-cleaning), the battery button (which returns to home to recharge), and a few hidden buttons under a lift-up panel.  Speaking of this panel, the dust bin is also accessible here, and is easy to take out and dump.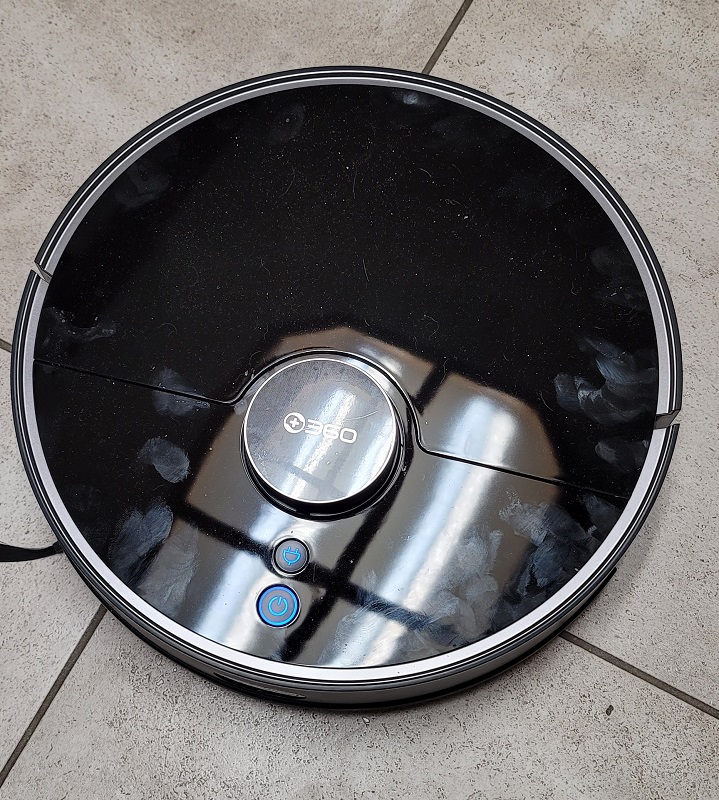 After the first run, I immediately noticed how many fingerprints were gathering on the vacuum as well as dust.  By the end of the review period, it was looking like a Willem de Kooning painting.  It was easy to clean up back to a glossy black, but if you have this sitting out in open view, know it's going to be constantly smudged and dirty.
The mopping feature didn't work as well as I'd hoped on my floors, but I'd imagine it would work pretty well on smoother surfaces:  my kitchen tile is textured enough that after the 360 S7 Pro Robot Vacuum and Mop passed over a tile I could tell it had cleaned the upper part (they were wet), but not the recessed portions.  It's not going to beat a good hand-mopping, but running it every once in a while in the mopping mode would pick up light grime.  The app was easy to set up for which surfaces should be mopped and which avoided while the water reservoir is attached.
The app/robot can be connected to Alexa or Google Assistant.  I tested this with Google Assistant, and once connected I can just say "Google, run the 360 vacuum", and it starts a cleaning cycle.  You can also set up schedules and run it overnight or whenever you'd like, which is nice.
What I like
Ease of use
Good mapping and cleaning patterns
Quiet in normal operation
What I'd change
Different surface to resist dust and fingerprint build up
Either improve the mop function or remove it to lower cost a bit
Final thoughts
The 360 S7 Pro Robot Vacuum and Mop is a solid cleaning product, and it seems to be at a fair price – other name brand robot vacuum and mop systems are roughly twice as much.  The build quality and materials appear to be great, and held up very well in the multi-week review period with daily use.  I'd imagine this should work well for years, and provide good cleaning during that time.
Price: $426.99
Where to buy: Amazon
Source: The sample for this review was provided by 360.