We use affiliate links. If you buy something through the links on this page, we may earn a commission at no cost to you. Learn more.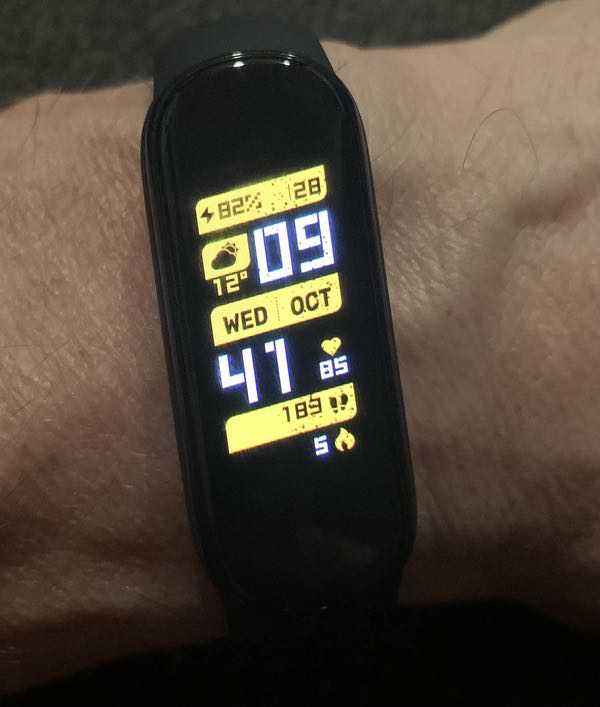 REVIEW – The Amazfit Band 5 Smartwatch is a wellness-oriented solution that provides 24 hour monitoring of your biometrics for overall health… even when you sleep! This thing is chock full of features, (including typical smartphone stuff) and I'll try to cover as many of them as I can. Let's get busy!
What is it?
It's a smart watch that incorporates biotracking technology to measure steps, exercise, sleep quality, stress levels, and overall physical activity.
What's in the box?
You'll get the watch, the clip dock for charging, and the user manual.
Hardware specs
15 day battery life between charges
Amazon Alexa compatible
1.1" full-touch color AMOLED screen
Proprietary bio-tracking optical sensor
Waterproof to 5 ATM
BioTracker TM2 PPG Bio-Tracking Optical Sensor
3-axis acceleration sensor | 3-axis gyroscope sensor
24 gram total weight with strap
Polycarbonate shell and strap construction
Bluetooth 5.0 compatible
Android 5.0 and iOS 10.0 app compatibility
Design and features
Combined with an app on your smartphone, the Amazfit Band 5 Smartwatch has a ridiculously long feature set. You can monitor just about every aspect of your physical activity, customizing the monitoring activity to your needs. You'll find all sorts of smartwatch features in there as well. Let's start with the hardware, then work our way down to how the app pulls it all together.
Hardware Overview
The Amazfit Band 5 Smartwatch is designed for health & fitness, with a sleek build that's designed to handle active lifestyles. Thanks to a rugged polycarbonate shell and waterproof build, you can wear this anywhere (including swimming).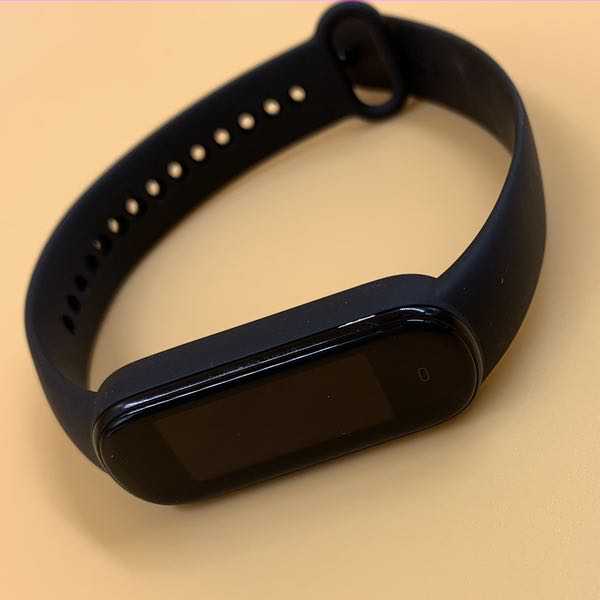 A simple rubberized peg & ring clip allows you to find a snug fit. Amazfit recommends that you wear the watch about 1 inch below your wrist for accurate biometrics.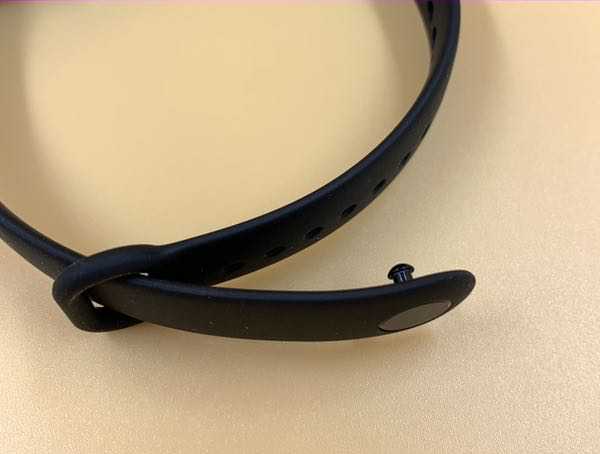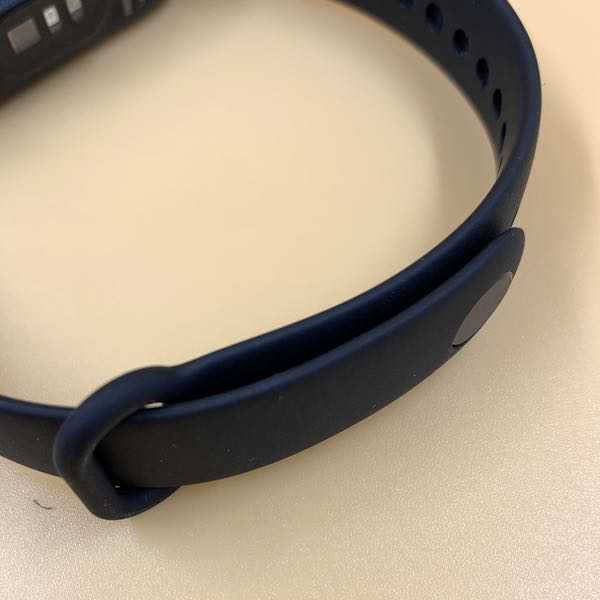 On the back of the watch is a bio-tracking optical sensor that is used to monitor heart rate & blood oxygen levels. Internal sensors also include 3-axis monitoring of your acceleration and a built-in gyroscope. This combination of sensors enable a whole variety of measurements that you'll use to track your activity.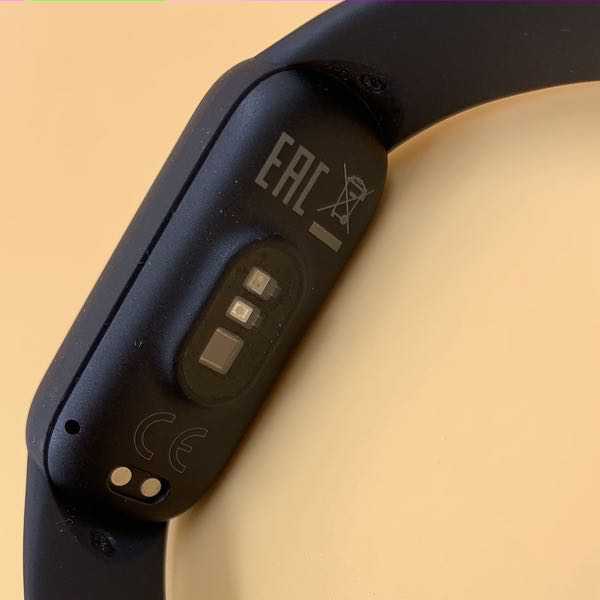 The front face of the watch uses a colorful AMOLED display that is bright and easy to read. You can choose from dozens of virtual watch face options that combine different graphic looks & data. You can also upload pictures as screen backgrounds.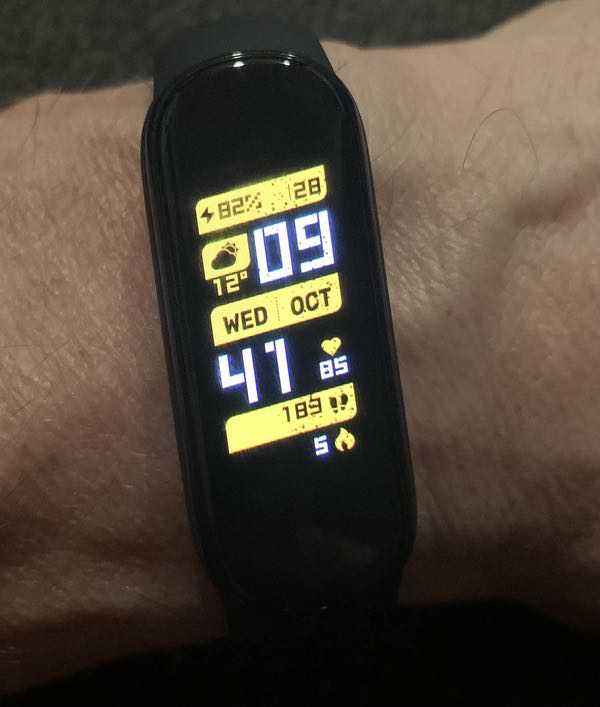 The watch face is full-touch sensitive, allowing you to slide and toggle between functions and measurements. That little white oval on the face acts as your "home" button to activate the watch and to jump back up a level when you delve into different menus.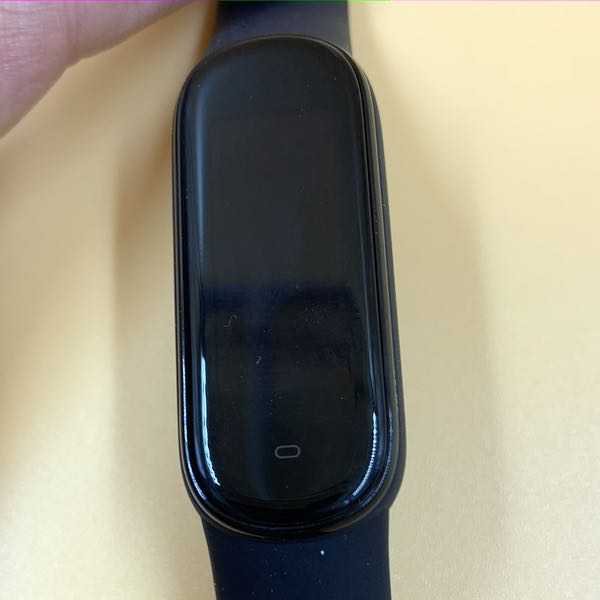 The battery life is very impressive. I've been using the watch for 24 hour monitoring of my biometrics, uploading the data when I open the app on my phone. It will go for two weeks without requiring a recharge. A proprietary magnetic charging puck plugs into any USB port for charging.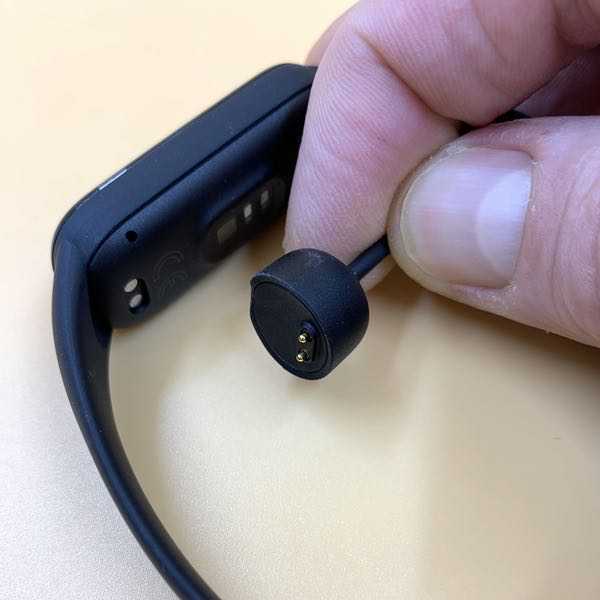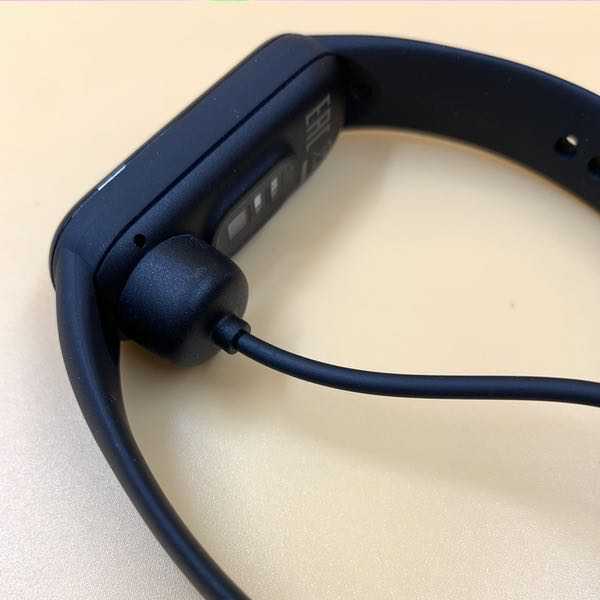 If you're looking for a watch that can stand up to active lifestyles, you'll find this watch to be up to the task. Beat it up, get it sweaty, shower with it, swim with it… no problem. The design also resists collecting gunk in corners for easy cleaning.
Watch Function Overview
You'll activate the Amazfit Band 5 Smartwatch by tapping on that little zone at the bottom of the watch face. Your selected watch face is displayed.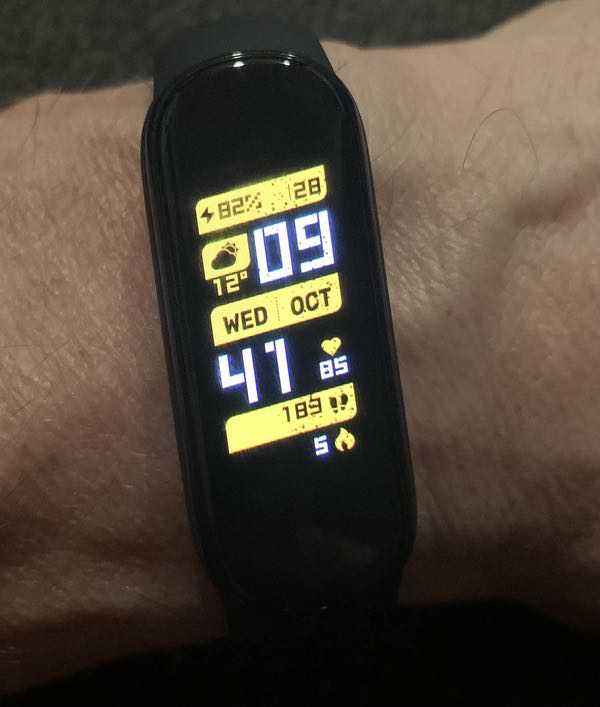 When the Home Screen is displayed, you can swipe up or down to select watch functions. Here I've scrolled to the Workout Mode.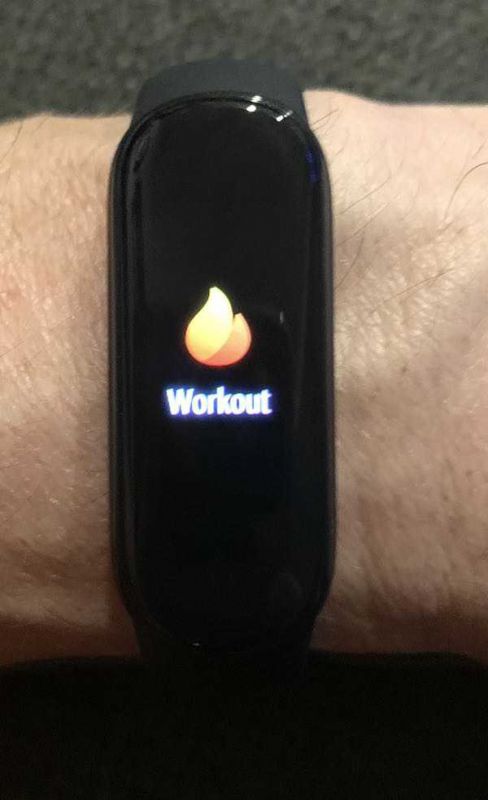 Tap that icon, and now I have menu of workout types to choose from. I've tapped "Walking" for this particular workout.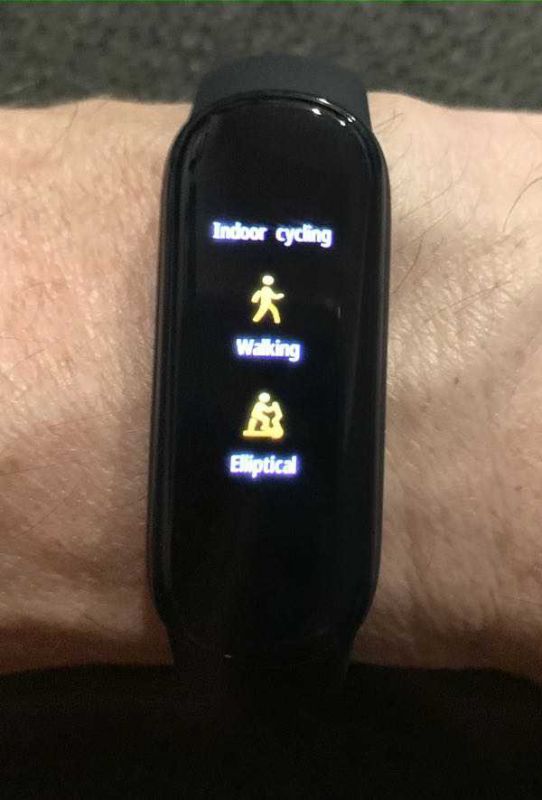 The watch gives me a few seconds to get ready, then we're off!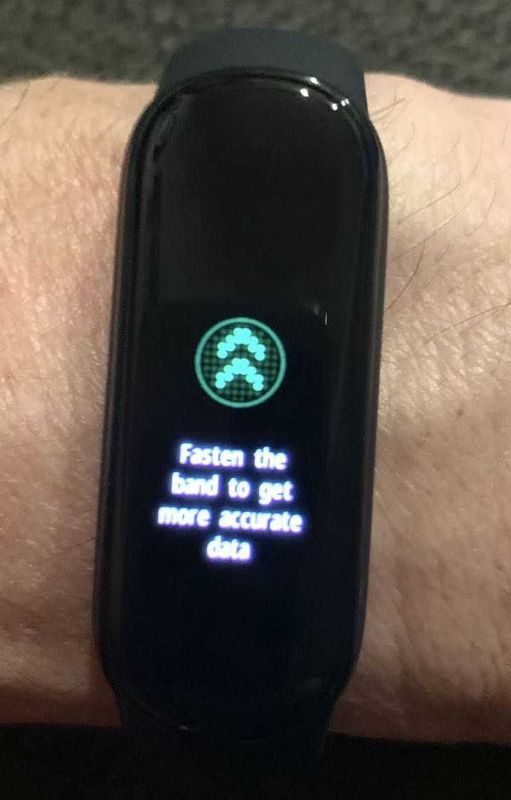 Depending on the workout you selected, the watch will now start monitoring your activity. Steps, distance, speed, calories burned, heart rate, etc. are calculated and recorded as appropriate. When you're done the workout, you can tap the watch to stop recording.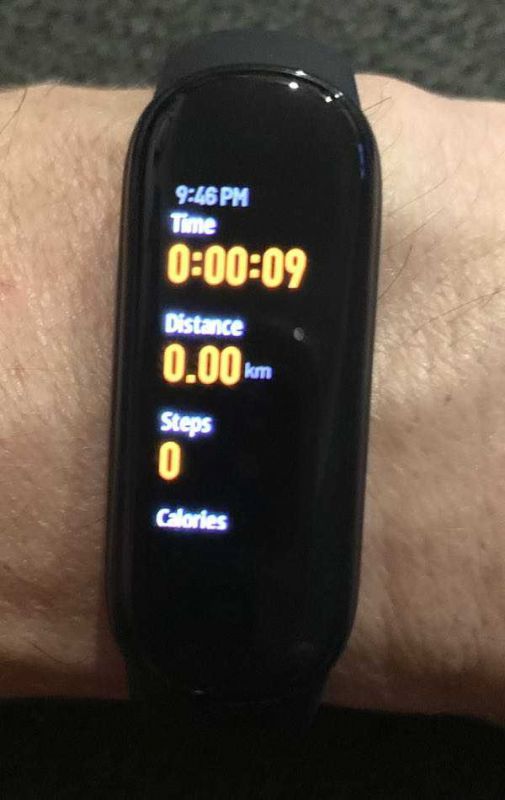 This is just one example of the many features you can activate from the phone. You can pull a blood oxygen level check, check your stress levels, or your current heart rate as shown below.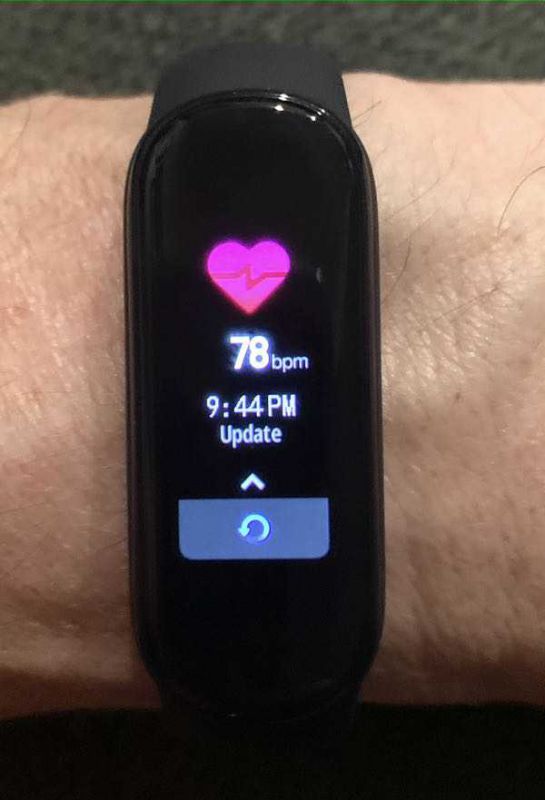 Results of your measurements are stored for upload to the app. The watch will keep track of your steps and calories burned by default, with deeper continuous monitoring configured in the app if you want complete 24/7 monitoring of your physical activity.
In addition to the assortment of health monitoring tools, you'll get a set of Smartwatch functions like weather updates (you can scroll to see the week's forecast).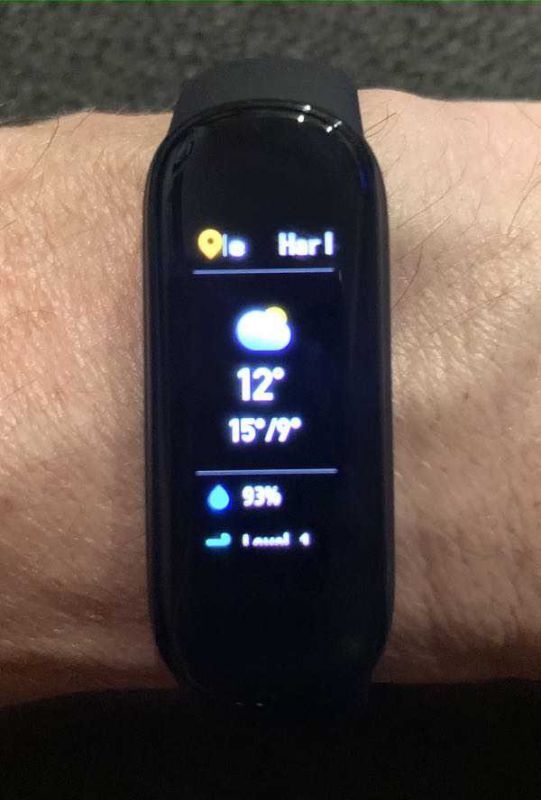 You can also pair the watch to your phone in the app to enable alarms, calendar events, incoming calls, local times in multiple cities, and app alerts like I show below.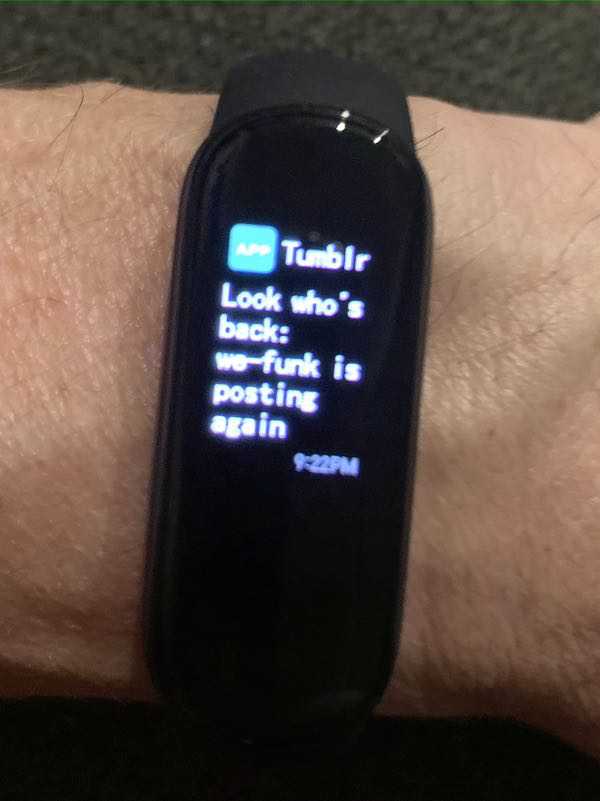 There's even a breathing exercise applet, and an idle reminder you can set to tell you when you have been sitting too long and should get up and walk around.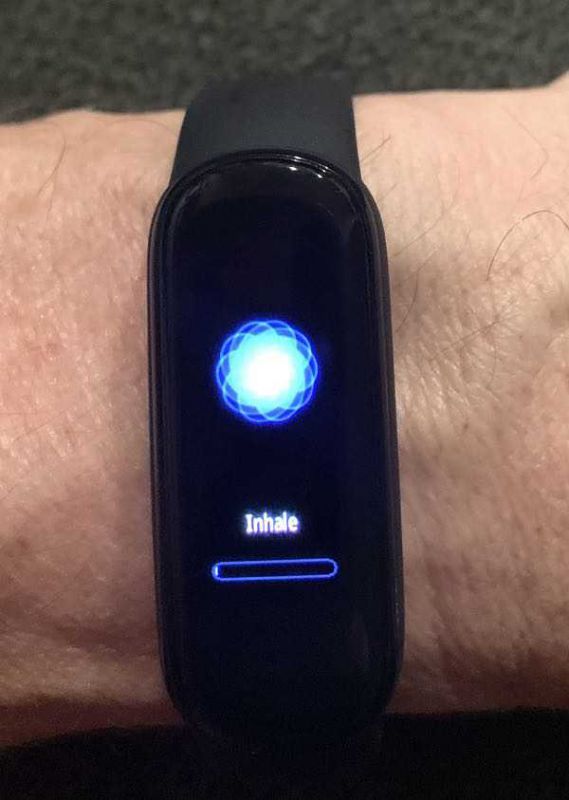 I'm touching on the big features, but there's more to be had! You can access Alexa, trigger pictures from your phone, or manage your music playing on your phone from the watch through a set of applets. You can also remove applets that you don't want to use. It's all configurable in the app.
App Overview
The smartwatch is connected to the Zepp app, which is designed to connect to suite of smart health & exercise devices. The Amazfit Band 5 does not leverage all of the features (like blood pressure monitoring), so our review will only focus on the compatible functions.
Pairing & setup is a no-brainer. You'll enter some basic personal data (age, height, weight) to get started. You can also set goals for daily activity like steps or calories burned. Once you have all that sorted out, the app defaults to a dashboard that downloads and updates your data when it's opened and connected to the watch.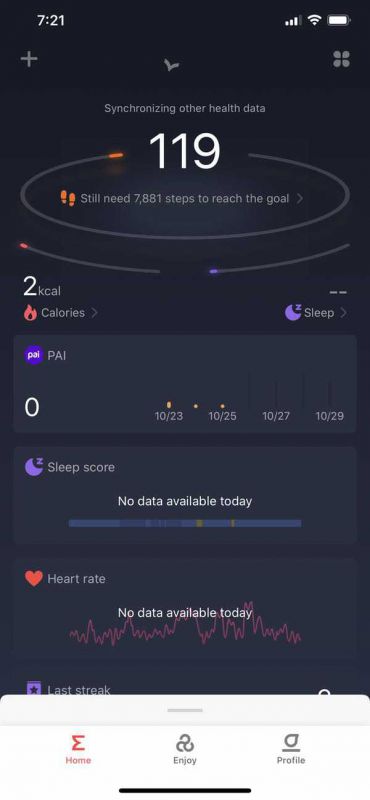 This dashboard is a handy spot to review your daily data, but you can deep-dive into the history around each monitored activity. Here's a snapshot of my step activity for the month of October. The report also provides easy-to-read summary information to compare your progress if you won't want to spend time analyzing bar charts,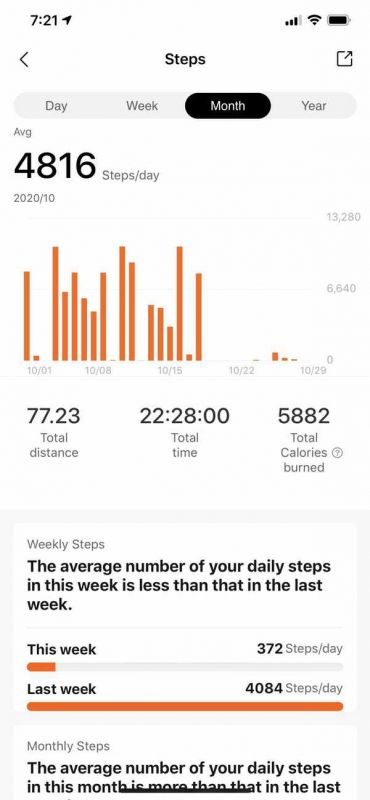 Heart rate is also continuously monitored. This particular report shows my measurements with 24 hour monitoring taken every 5 minutes (this is customizable). It also accounts for workouts or strenuous activity, showing you how long you were in relaxed vs. intensive states.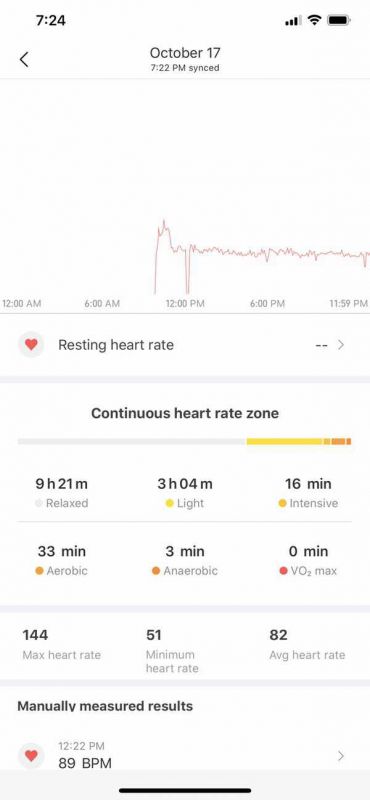 Coupling this with the activity measurement & your profile data, you can see your calorie burn by day, week, or month.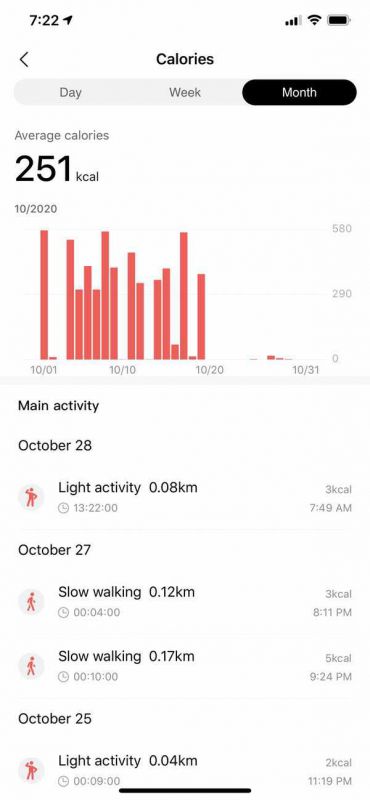 The daily report here shows period of peak burn during the day, aligning with my exercise.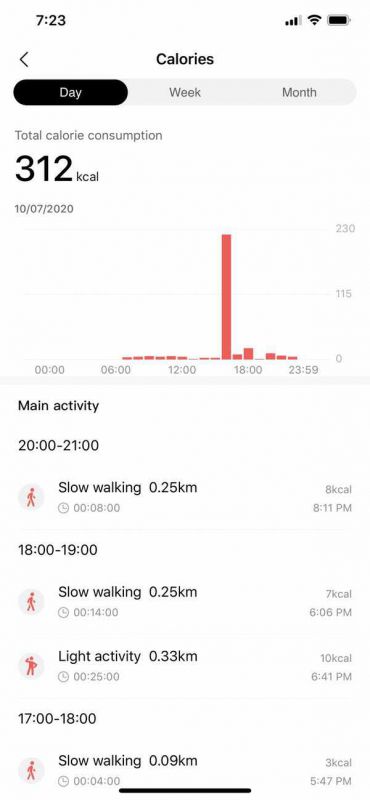 You can also track your sleep quality by setting sleep monitoring in the app. Keep the watch on at night and it will monitor your heart rate and movement to identify deep sleep vs. light sleep periods. The report provides analysis of how this translates to sleep quality.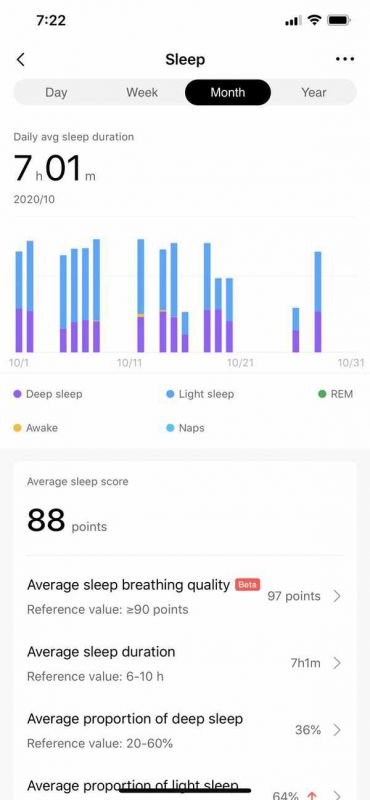 Amazfit pulls all of this together with a PAI (physiological activity indicator) score that you can use to track your overall activity. I'm not 100% sure how it calculates all of the biometrics, but the idea is that it sets activity goals for you to maintain or improve your overall fitness. You can check this on the watch or the app, and you'll be presented with recommendations to get active if you haven't met your daily goal yet.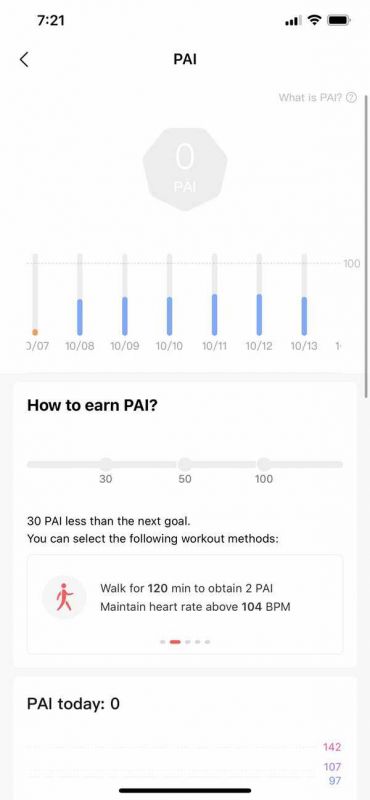 There's a bit of gamification here that tracks streaks and encourages more activity. The net/net of all of this translates to a "current health age" score. Keep up the work, and your cumulative results can lower that health age. The screen shot below shows that my cumulative score to-date pegs me at a relative age of 47 (I'm 51), and bringing my score down. If I continue at my current pace, I'll be able to knock that down to a relative age 44!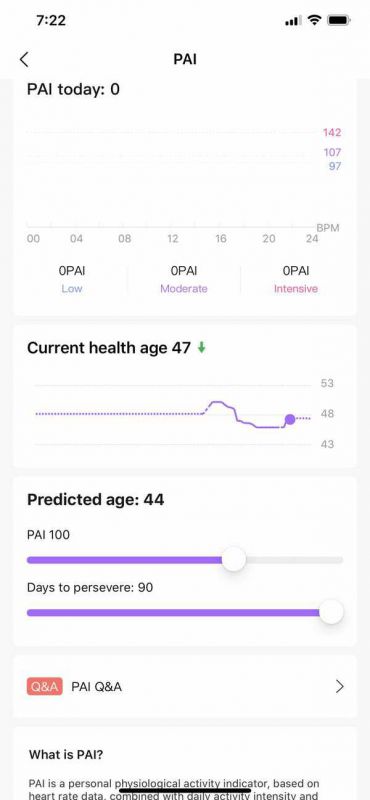 This scratches the surface of the wellness monitoring. You can set individual goals and dial up or dial down the continuous monitoring functions for a more comprehensive picture of your activity. The more measuring you do, the more power it will drain from the watch and your phone.
I mentioned customizations, and there are a ton of them. Here's a little taste of the dozens of options you have for your watch face. It looks like Zepp continues to add new ones periodically, as well as producing software upgrades and applets that you can integrate with the watch.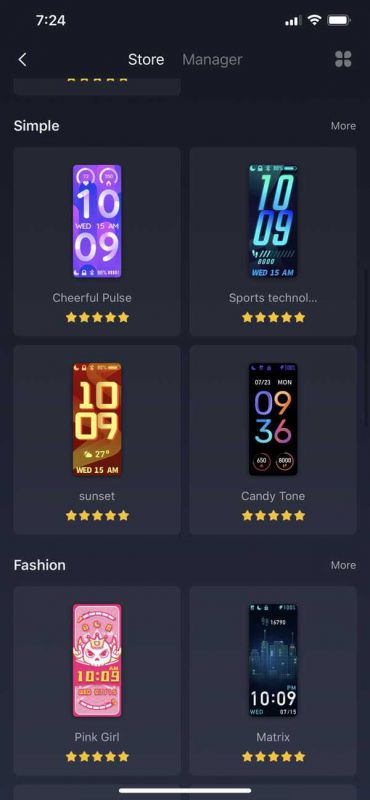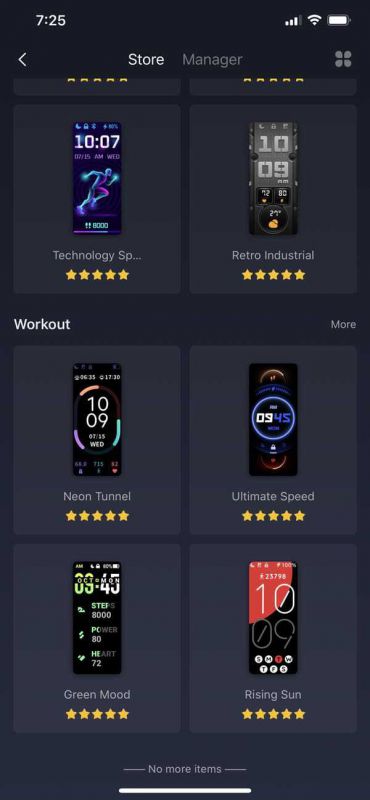 Performance
As far as smartwatches go, the Amazfit Band 5 has a pretty robust (albeit basic) set of features. Bonus functions like weather alerts and such are nice, but they're not game changing. The health monitoring suite is really the core of this device, and it excels in that area.
If you're looking for an activity tracker you won't get far without a durable device, and the Amazfit checks all the boxes here. The rugged build can be worn 24/7 for all types of activity including swimming, and it's easy to clean. I've been punishing it for month and haven't noticed any material fails or recording/connectivity issues. When you coupled that with excellent power efficiency you've got a watch that you won't mind wearing all the time.
I'm also really liking the robust suite of health measurement tools. I've been into rucking these days (walking with a weighted backpack), and was concerned that I would not get accurate calorie burn calculations because it would just measure steps. The integration of heart rate changes that game, however, as the device factors that into the estimated calorie burn regardless of activity. I don't know that it is as accurate for stationary work (like weightlifting) when steps don't matter, but the heart rate measurement makes up for that. I feel like I'm getting a pretty good picture of the work I am doing in any case.
(Side note: you can map your runs or walks when paired with the app. Even if you don't, I did some testing to measure the distance calculations against the GPS in my MapMyRun app, and the accuracy is good.)
The sleep monitoring function is also very interesting. I believe that this is a beta they are testing, and I have no ability to correlate how the calculations are being met. But I do feel like my personal experience aligns with the reports… if the app tells me I had good or bad sleep quality, it feels like it correlates to my feeling when the next day.
The deep-dive reporting and measurement offers numerous ways to set your own personal goals and monitor progress, and the whole package is particularly strong in this area. Want to set step goals? You got it. Week-to-week calorie burn? Done. Measurement of peak heart rates during workouts to push your intensity? You got that too. The app serves up all your data in a way that is easy to track, easy to understand, and easy to use as a measuring tool towards future goals.
I'm still playing with the PAI measurement concept, but I do like how it doesn't restrict you to specifics to measure whether or not you are being active. You get a good overall sense of whether you're active enough, or spending a day on the couch being a lump. I also like that it factors in those couch-potato days, looking at weekly and monthly progress for the big picture.
I do have a couple of areas for potential improvement or consideration. The AMOLED display is bright and colorful, but it isn't Apple Watch quality. The low-res display does limit the amount of data you can get on that screen. I don't find this to be a big issue, but you should be aware of it. I also find that the band needs to be kept tight for accurate readings, which might be uncomfortable for some (especially when sleeping). It will occasionally throw some wacky  numbers. But if you keep in mind that this is a directional tool, I think you'll be just fine.
What I like
Durable, waterproof build
Amazing suite of health monitoring tools
Well-designed and actionable reporting & goal setting
Just about everything is customizable
Efficient power management
What needs to be improved
Don't expect high-resolution graphics on the watch
Needs to be worn tight for accurate measurement
Final thoughts
If you're looking for an inexpensive fitness tracking smartwatch, the Amazfit Band 5 is a pretty great package that, in many ways, punches above it's price point. The suite of tools and features is pretty incredible, and app integration is excellent. Robust customization of applets, ], personalization to your fitness goals, and all of those configuration options make for a device that I think works for both fitness enthusiasts and those that just want to be more active. And at a starting price of 50 bucks, it looks to me like a pretty great deal.
Price: $49.99
Where to buy: us.amazfit.com and Amazon
Source: The sample of this product was provided by Amazfit.