We use affiliate links. If you buy something through the links on this page, we may earn a commission at no cost to you. Learn more.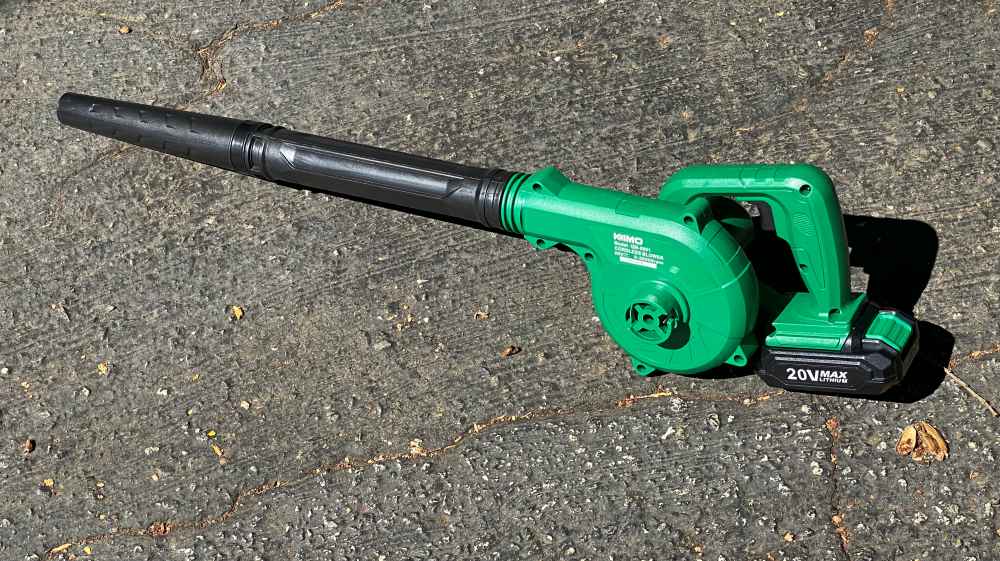 REVIEW – As a home owner, there's always those upkeep tasks that need to get done. At our home it's a never ending battle with leaves, tree nuts and Juniper needles. KIMO offered their 20V cordless leaf blower for review and that sounded like a perfect chance to see if I could reduce the time and effort it takes to stay on top of this chore.
What is it?
The Cordless Leaf Blower by KIMO is actually a 2-in-1 product that marries a blower with a vacuum function is a much smaller form factor than I was expecting. It's a 20V system with a removable battery, collection bag and tube making it very compact to store.
What's in the box?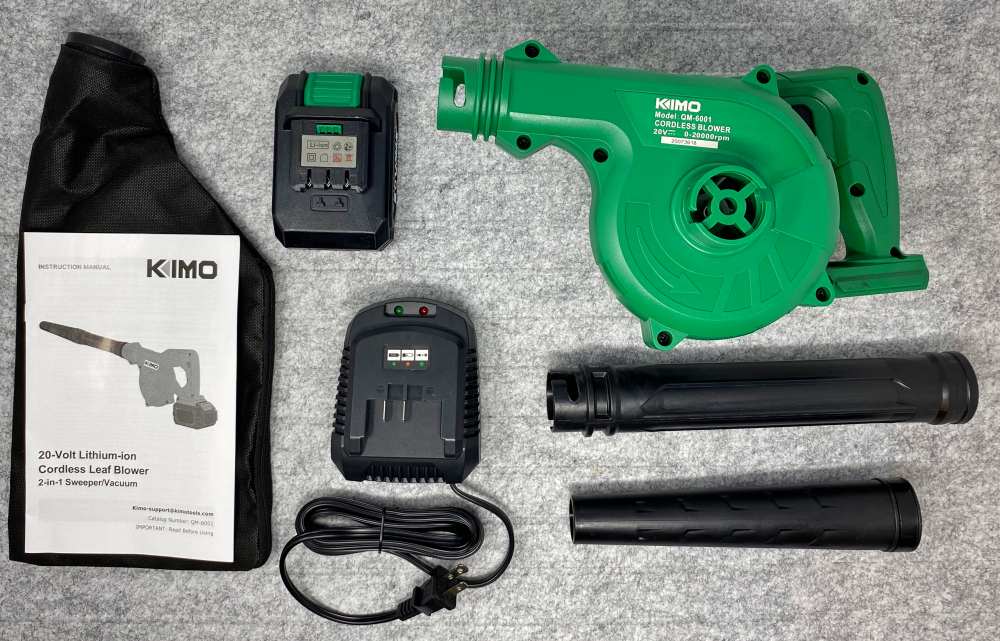 KIMO Blower/Vacuum
Blow tube
Extension tube
(1) 20v, 2Ah battery
Corded fast charger
Vacuum collection bag
Instruction manual
Hardware specs
Model No: 6001
Rated Voltage: 20V
No-Load Speed: 0-20,000 r/min
Air Volume: 2.6M/min
Wind Pressure: 5.4KPA
Charge Time: 60 minutes
Dimensions: 3 lbs and 30″ long
Design and features
The KIMO blower is designed similar to a lot of rechargeable tools with a removable battery and segmented tube.

Fully assembled the total length is just 30″ with both tubes attached and only weighs 3 pounds making it very easy to use. It also functions as a vacuum by attaching the tube to the right side and the collection bag to the front.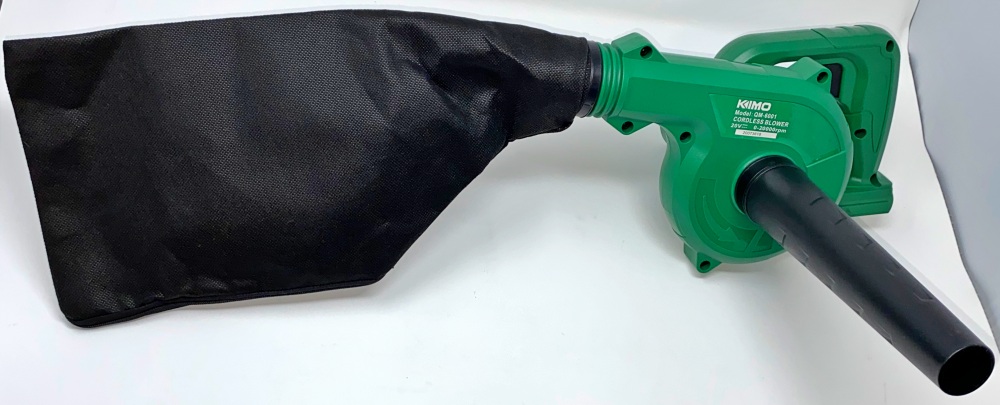 Never miss one of our posts again. Sent MON, WED, and FRI with the latest gadget reviews and news!
The quick charger provides a full charge in about an hour and is also easy to use.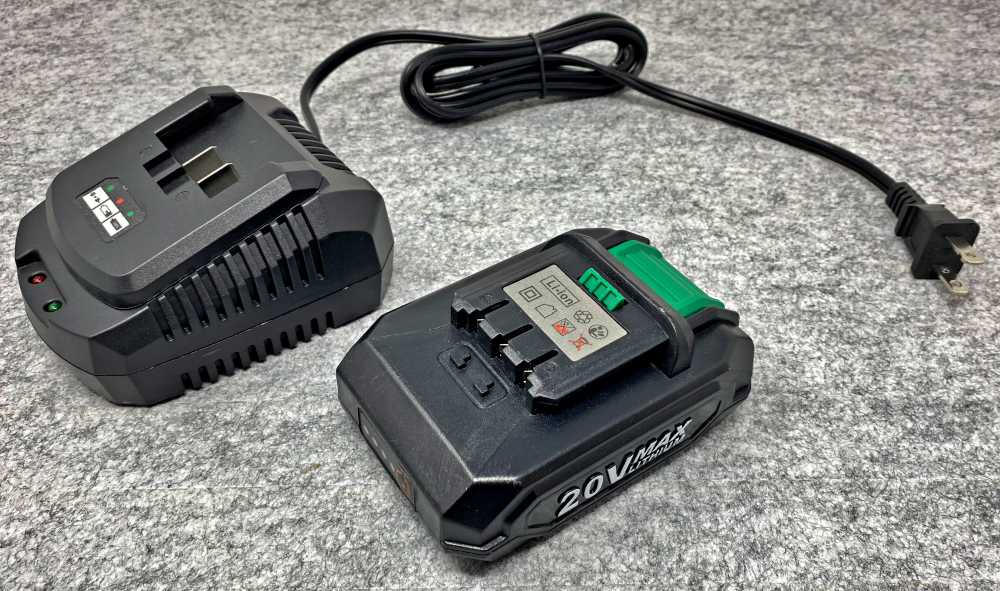 Setup
Charge the battery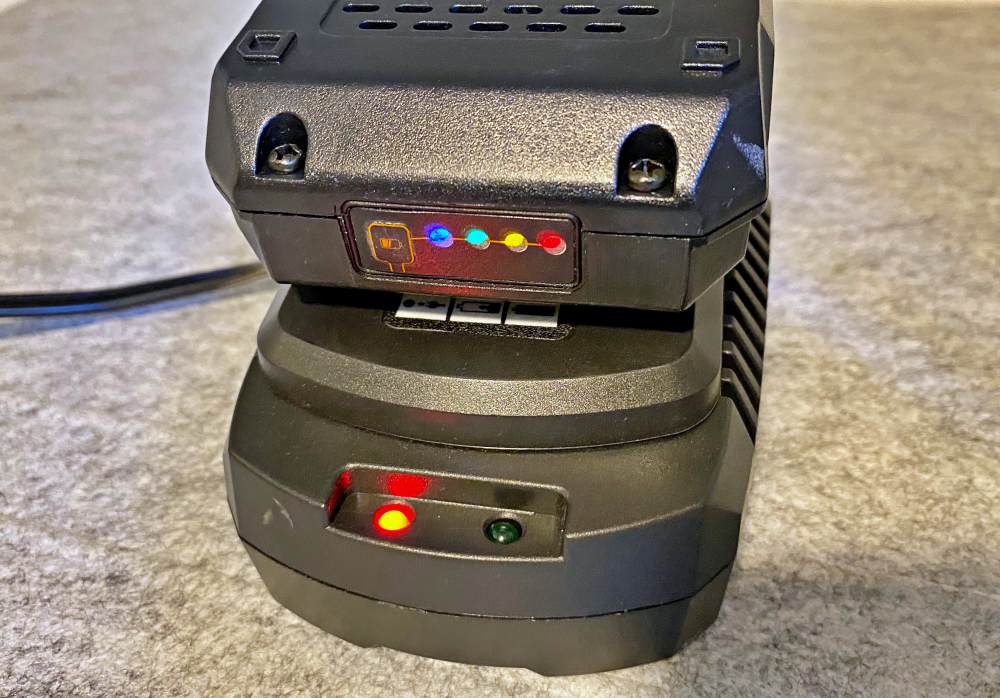 Plug the fast charger into a power outlet and slide on the battery. Charge until full (Green LED will be lit).
Remove battery from the charger and slide onto the blower until you hear and feel it click into place. A press on the power level button will show you battery left with 4 stage colorful LEDs shown above.
Set up as a Blower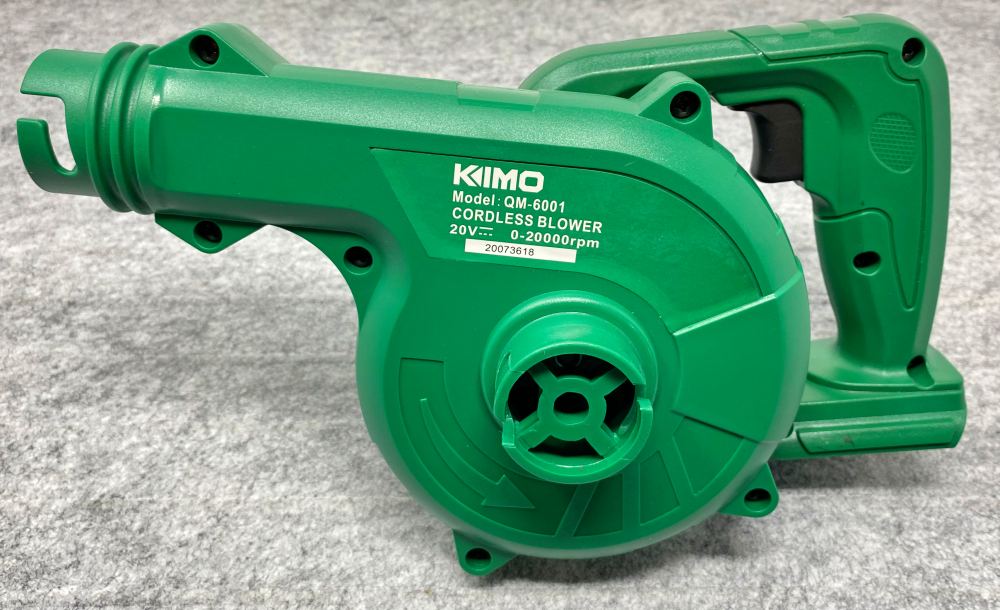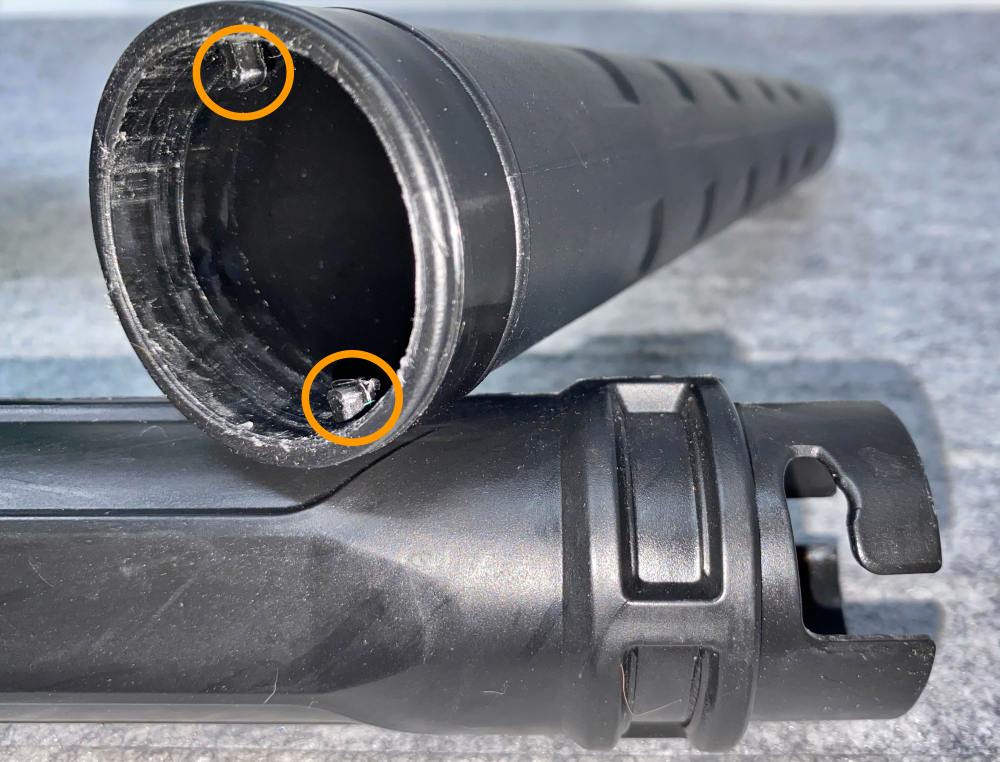 If you need the extra length, install the extension tube by aligning the two molded pins (shown with orange circles above), pushing onto the front of the blower about 1″ until bottomed out and then rotating ~30º until fully seated
Install the cone-shaped blower tube onto the extension tube the same way.
To use: Point the tube at what you need to blow around and pull the trigger. Experiment with different sweeping motions to direct the airflow to deal with the particular material you're trying to manage.
Set up as a Vacuum
Install the cone-shaped tube onto the intake port on the side of the blower using the same method described above
Install the collection bag onto the front of the blower the same way
To use: Point the tube (that's aiming 90º left) at what you want to vacuum and pull the trigger
Performance
Our "yard" is actually a 30º slope below the house that has to be weed whacked a couple of times a year while wearing a rappelling harness (not kidding). As for the tasks I need a blower to tackle, they're constant battles with leaves and pine needles on the steps and driveway, and the same getting into the crevices of the car hood and trunk. I've been using a 2-in-1 vac with a removable blower for so long I can no longer find filter replacements for it.
I was expecting this to be a typical blower size as they all tend to be similar. When the Kimo arrived, I actually thought they had sent the battery separately and I'd have another box arriving in a day or so. Lo and behold, everything was in the box. When assembled if feels more like holding a drill driver than it does any blower I've used in the past, and that ends up being a good thing. Only weighing 3 pounds, it's easy to use for extended periods of time although you're likely to kill the battery in around 20 minutes. The trigger also has a bit more tension than I was expecting so your forearm can tire out a bit, but not due to how much weight you're carrying. Here's a quick vid of blowing some of the Juniper tree mess left over from pruning the tree last weekend.
I was pleasantly surprised by the blowing power. I had no issues with leaves or needles and the relatively small diameter of the tube allowed for good control without everything going everywhere. It made quick work of clearing the steps down to our front door as you can see in these before and after photos.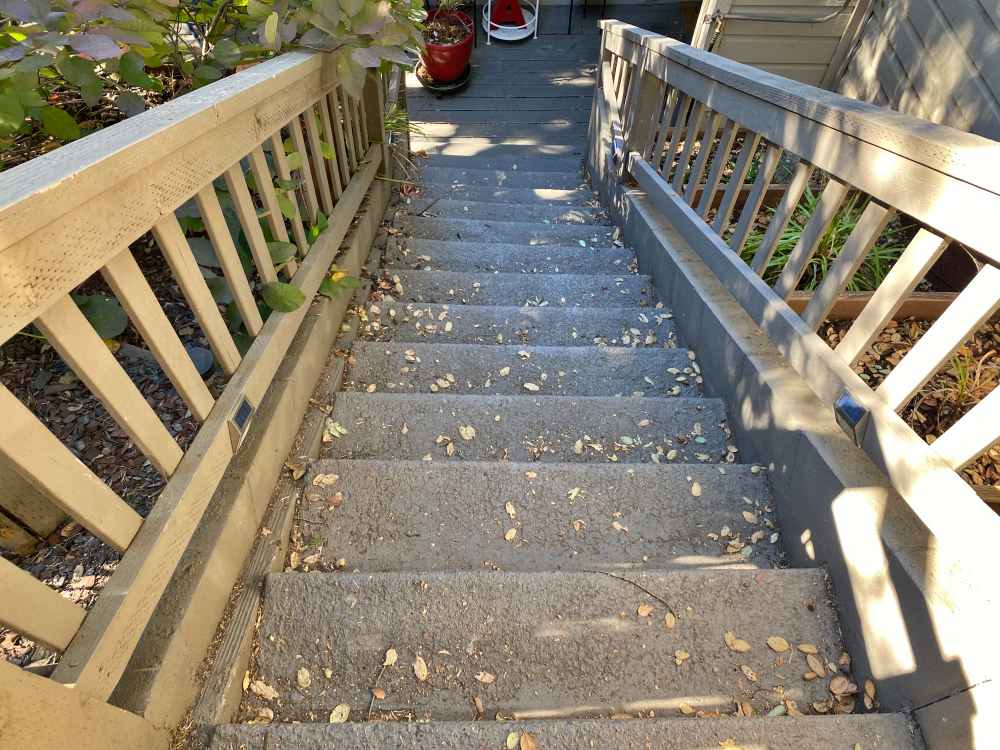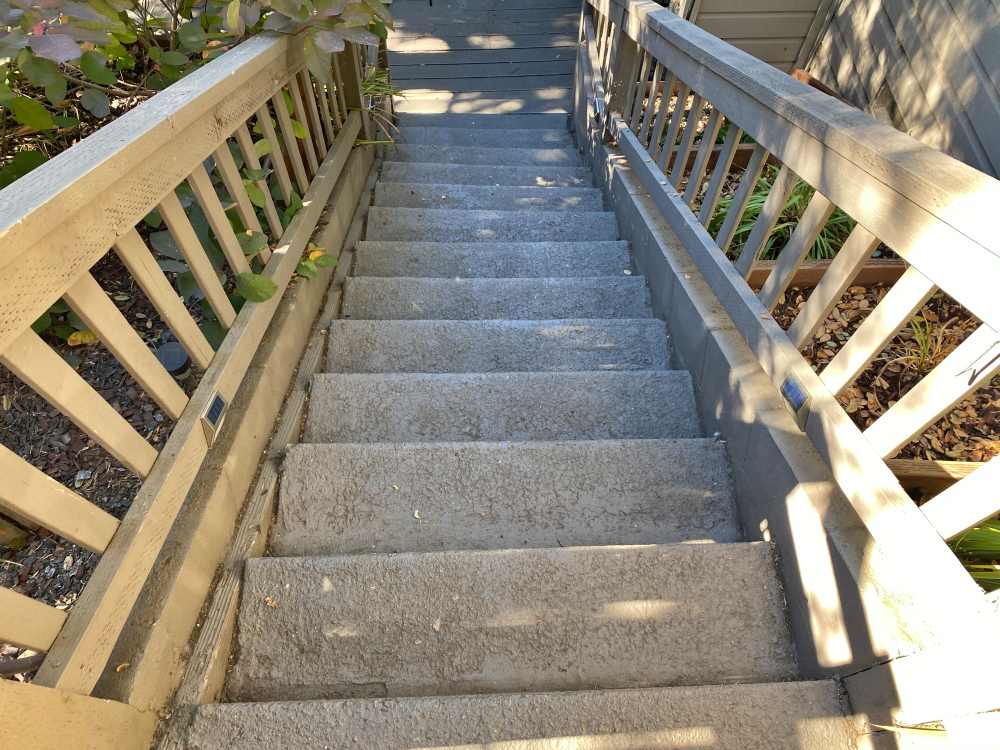 Now trying to use it as a vacuum? Awkward at best. It has plenty of power, but the suction end points 90º to your left if you hold the handle the way it was designed. Again, there's plenty of power which translates to good suction, but to actually vacuum, you'll be contorting your wrist, or changing your grip to try and pull the trigger in an unnatural way. If the trigger had a lock to keep it down, you would be able to turn it on, lock it and then hold the handle any way you want. It would at least be an improvement.
We've got two dogs and one of them is a big shedder. The vacuum does not have a filter so I did have an issue with large amounts of dog hair clogging the intake. It's easy to remove the tube and clean out anything blocking the intake so wasn't a huge problem, but depending on what you're vacuuming, you might need to do it a few times. Emptying the collection bag is as easy as opening the bag's zipper over the trash can. Here's a video of vacuuming some of that hair from our steps.
Ergonomics aside, It's a lot easier to get a device this small into the car to vacuum up debris in the foot wells and I don't have to worry about a rolling canister at the end of a hose banging into the side of the car when I tug on it. The collection bag sticks out awkwardly from the front and gets in the way a bit, so again… awkward at best.
Depending on the amount of blowing or vacuuming you need to do, spare batteries are available through Amazon at $39.99 for 2.0Ah and $59.99 for the 4.0Ah version. Both are compatible with other devices from KIMO (Drill Driver, Angle Grinder, Reciprocating Saw, Oscillating Tool, Brad Nailer, etc.)
What I like
The small size is a huge bonus
Nice and lightweight
More powerful than I was expecting
What I'd change
The side tube vacuum mode is really awkward
No filter, so thick dog hair can clog intake quickly
Trigger is a bit of a strong pull and there's no lock to keep it on
Final thoughts
For it's namesake activity, the KIMO Cordless Leaf Blower performs admirably for light to mid-weight duties around the house. And while it does technically work as a vacuum, and I might use it for that purpose occasionally to clean out a car, I'll be using it primarily to keep the driveway, stairs and deck clean. It's light weight and small size are its super powers making it fun to use and easy to store.
Price: $79.99 – Cordless Leaf Blower | $39.99 Spare 2.0Ah Battery | $59.99 Spare 4.0Ah Battery
Where to buy: Amazon
Source: The sample of this product was provided by KIMO