We use affiliate links. If you buy something through the links on this page, we may earn a commission at no cost to you. Learn more.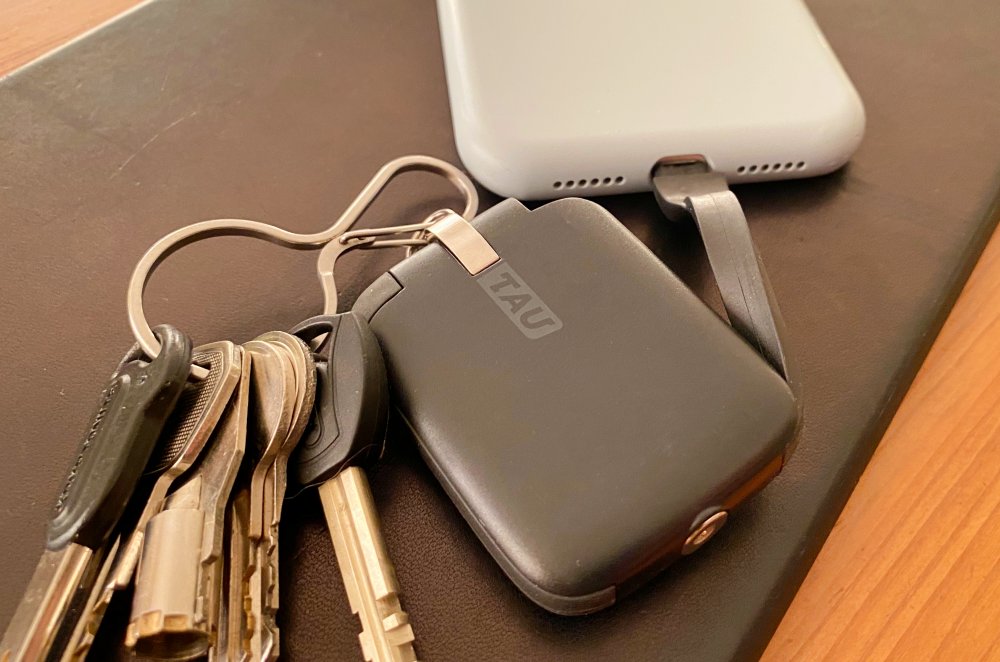 REVIEW – There are a few things that you always grab on the way out of the house; wallet, keys and phone being the main ones plus a mask these days. A power bank is also on my quick list but harder to remember if it's not already in my backpack. Even then keeping it charged up can be challenging. Rolling Square's new Tau power bank is aimed squarely at that use case (see what I did there?). Does it pass the leave the house test? Let's see.
What is it?
The Tau power bank from Rolling Square is a small 1400 mAh battery pack with on-board connectors built to hang out on your keychain.
What's in the box?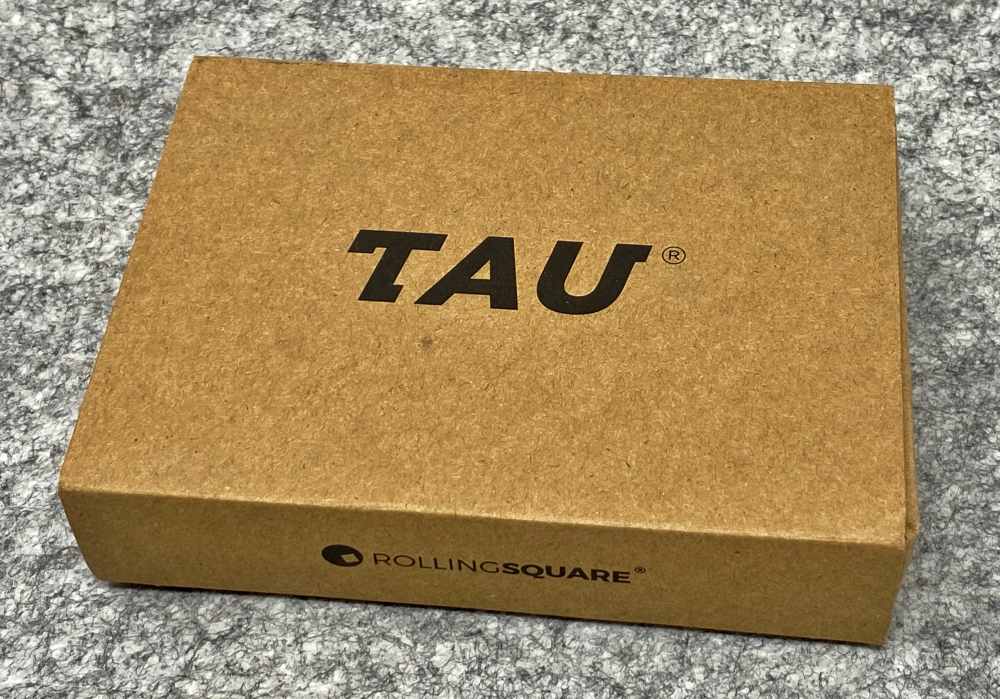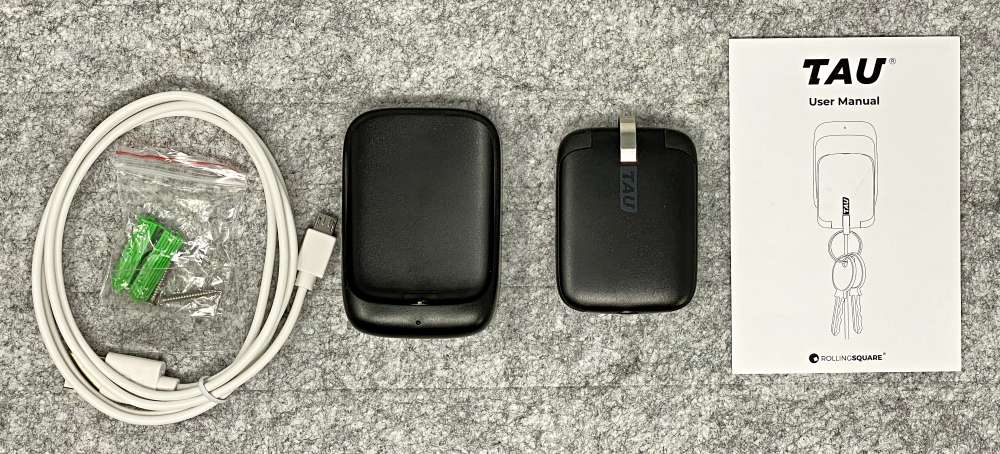 Tau power bank
Wall dock
Charging cable
Mounting options (wall screws and nan0-tape)
User manual
Hardware specs
Capacity: 1400 mAh
Charging Connector: Proprietary connector to charging dock
Device Connectors: USB-C and a Lightning/USB Micro hybrid connector
Dimensions: 60 x 45 x 12mm | 40g
Design and features
The Tau power bank is designed to hang with your keys and still be small enough to pocket. It's available in Black, White or an Olive green.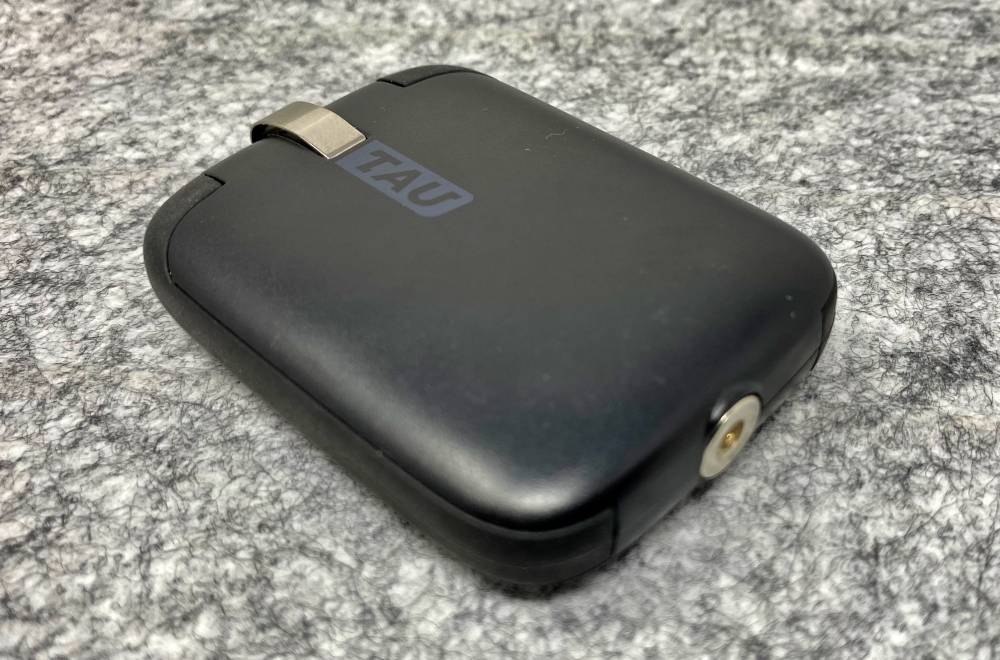 Each side has a short tethered cable with a connector. One USB-C and one unique hybrid that combines both a Lightning and Micro-USB.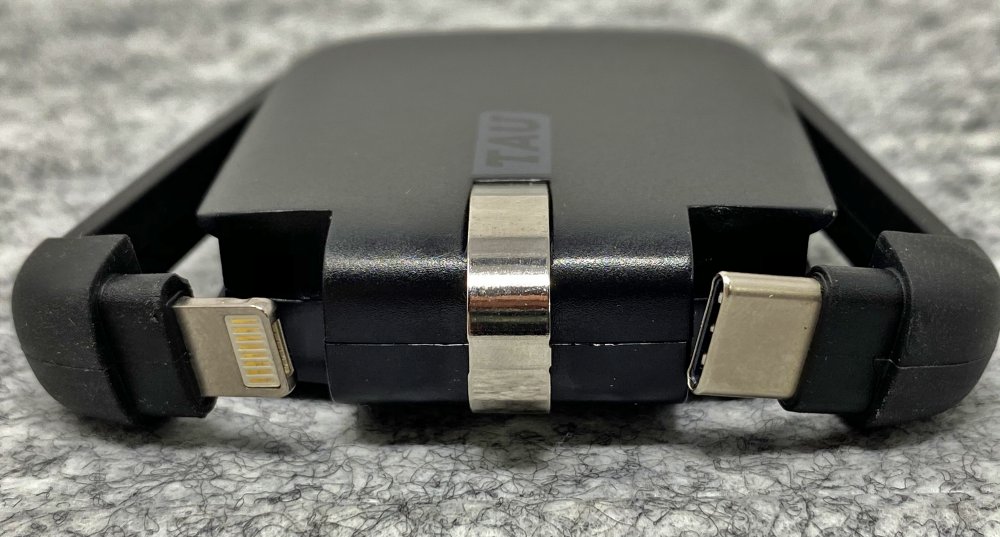 The charging connector is a two-pole magnetic connector that interfaces with the charging dock which can be placed on a table, or hung on the wall with screws or the double-sided nano tape (both included).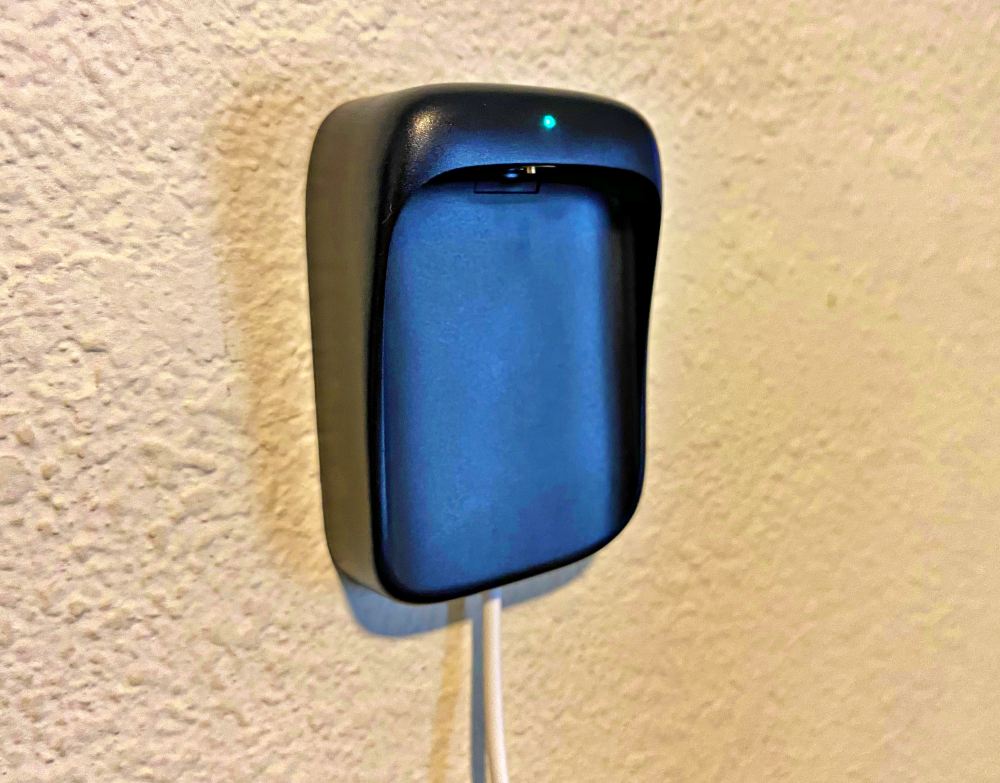 If on the wall, the magnetic connection is strong enough that it will hold the additional weight of most key sets.
Setup
Installing the wall charger is a matter of deciding where you want to place it. The charger has a sliding plate on the back, that when removed exposes the charge cable connector.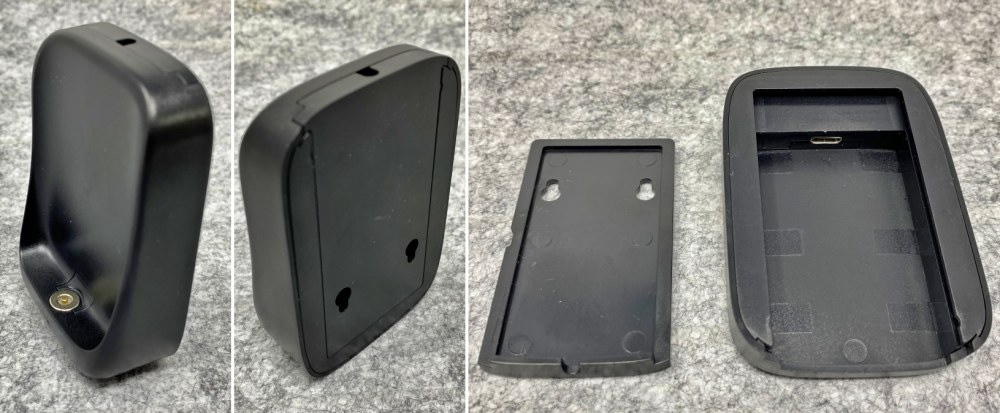 Connect the USB-micro side of the charging cable inside the charger.
Use the tape or the screws to mount the sliding plate to the wall then slide the charger down into place with the cable exiting the bottom.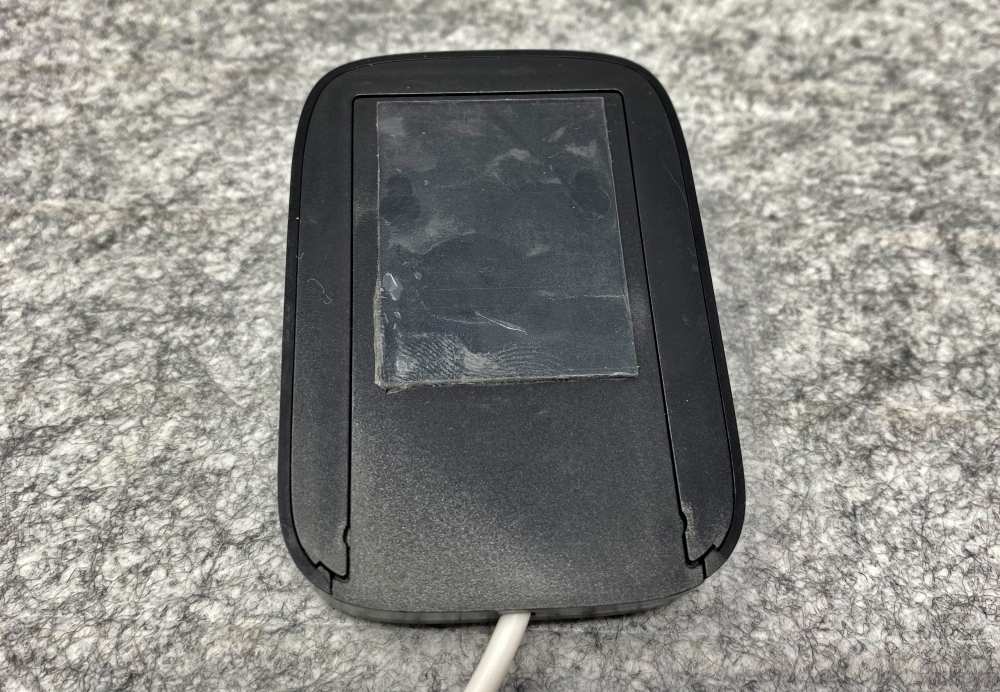 Depending on how many keys you need to attach you may need to experiment a bit. If you only have one or two keys, you may be able to thread them onto the the Tau directly if your keys have large enough holes. Otherwise, you'll need to provide your own split ring if you want to hang the Tau to hang the thin direction to play nice with your other keys.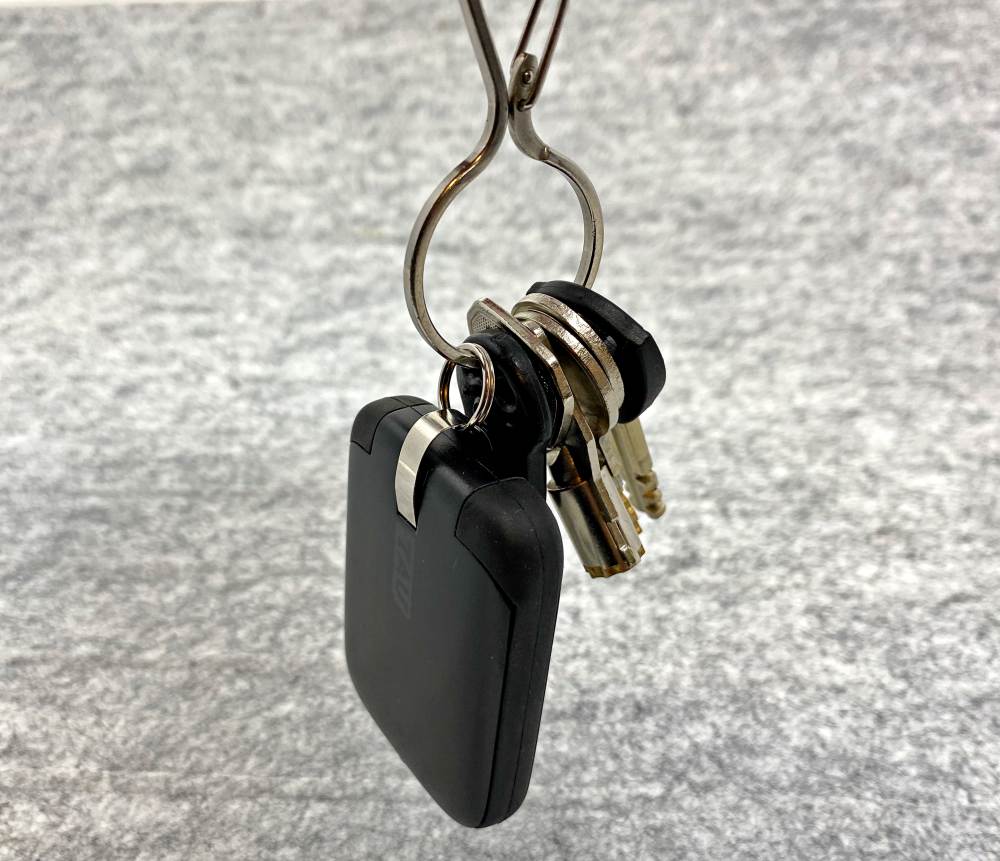 The keyring clasp can be pried up slightly to side on a split ring or a key, but be careful not to over stretch as it could affect how secure the clasp holds on.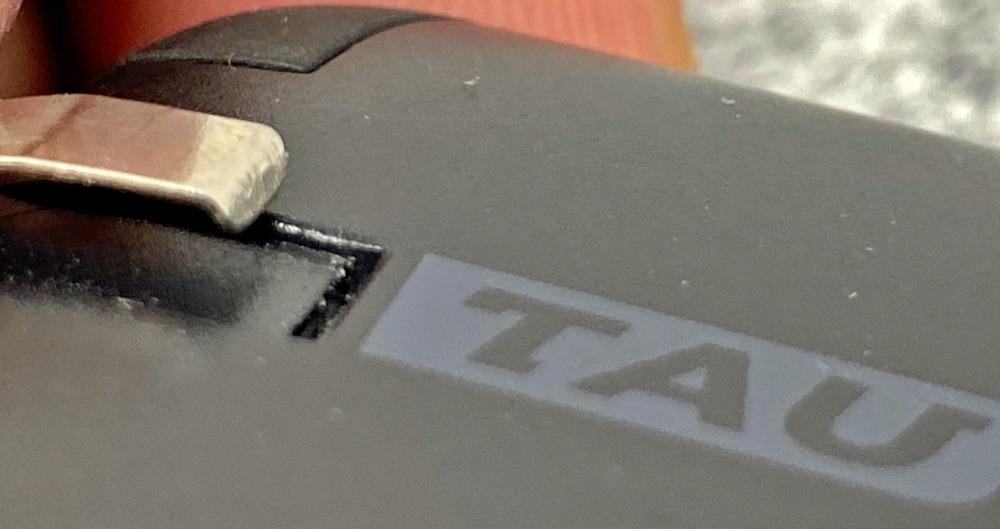 Once your keys are on, you can place the Tau in its dock with the charging connector at the top. The magnetic connection will lock it in place and voila, your keys are now hanging and charging!
I opted for the tape and chose to hang it by the arcade inspired light switch in my office.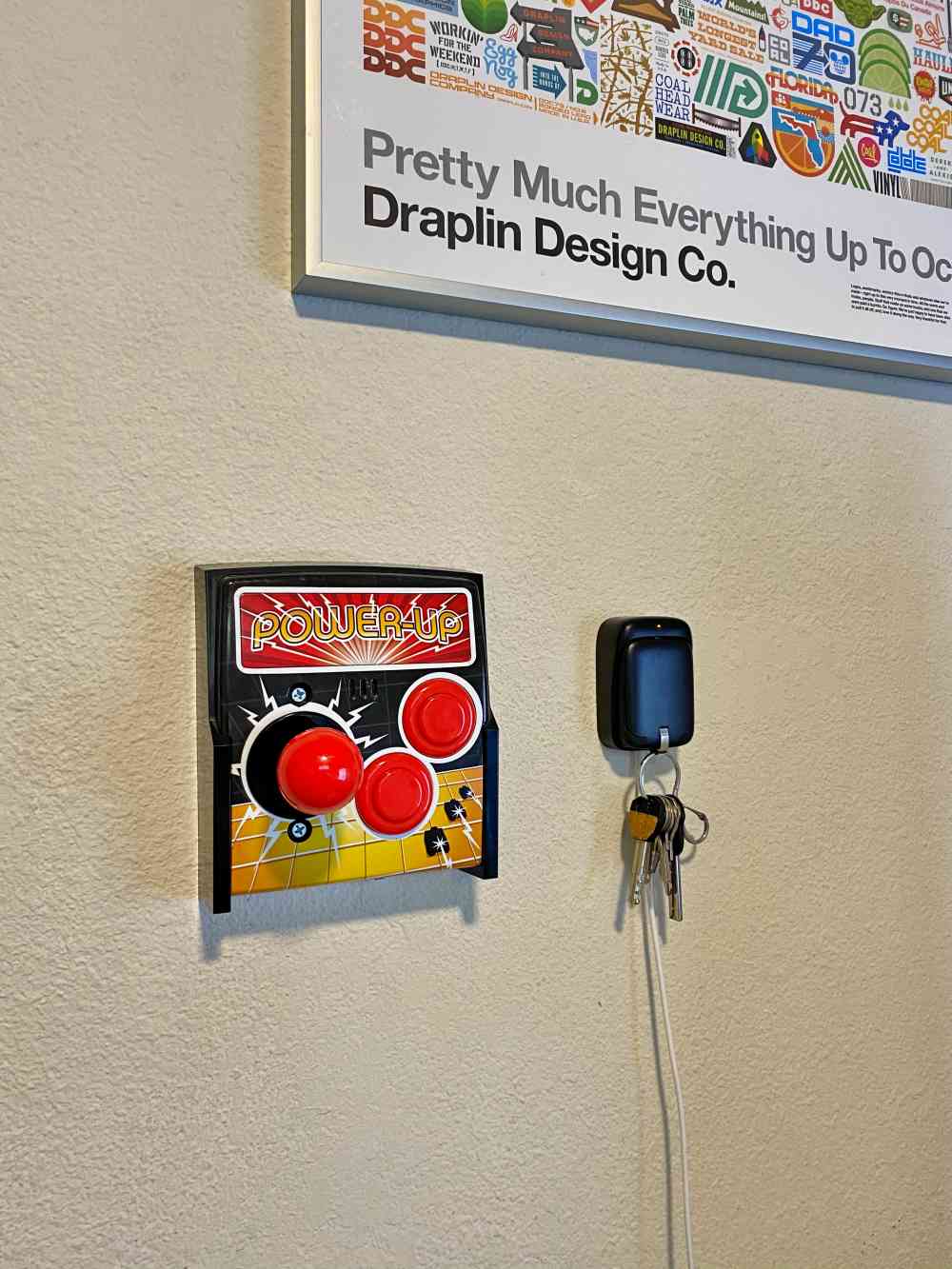 Performance
Tau can be inserted into the dock with either side forward, so hanging the keys is really easy and you're ensured a full charge every time you grab them on your way out.
I was able to connect my iPhone 11 Pro using the built-in Lighting connector and charge without issue. From plugging in to fully depleting the Tau's battery, my charge went from 17%-44% (leaving my phone alone other than occasionally tapping on the screen to check charging status).
The max output is only 1A so if your device is more power hungry than that, it isn't going to work. For instance my iPad Pro wouldn't register it at all, but the the USB-C happily charged compatible TWS earbuds and even my GoPro Hero 8 dual battery charger.
As for extracting the charging cables, you'll need a little bit of a thumbnail to get them out of their caves as both the plastic and rubber are a little slippery. Putting them away is easier as long as you line them up straight.
There's a safety sticker on the back of the unit that has the certification information along with a warning that the magnetic connector could be hot when removing from the dock. I checked for this but did not experience this being overly warm. My guess is this is precautionary.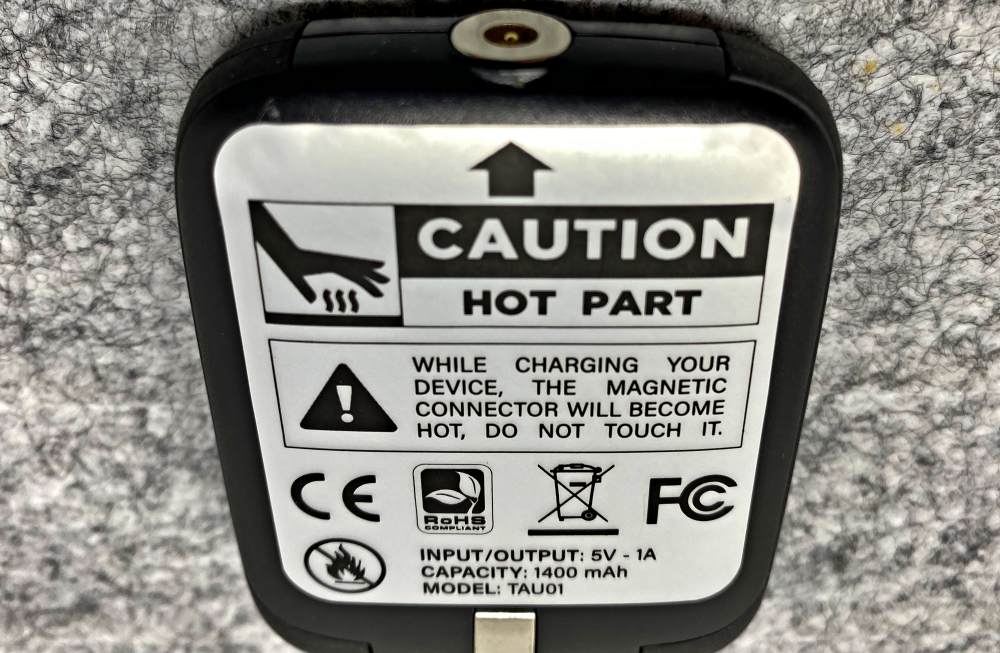 As for gripes, the only LED is on the charging dock, so you'll know you're full or not as your grab your keys, but not when you're out and about as there's no way to tell . There's also no way to top it off away from the dock due to the proprietary charger.
So… about that hybrid Lightning/Micro-USB connector… It's the first time I've seen this on a device. It looks like a Lightning connector until you look at the very end and then you see the Micro-USB connections in the hollow end.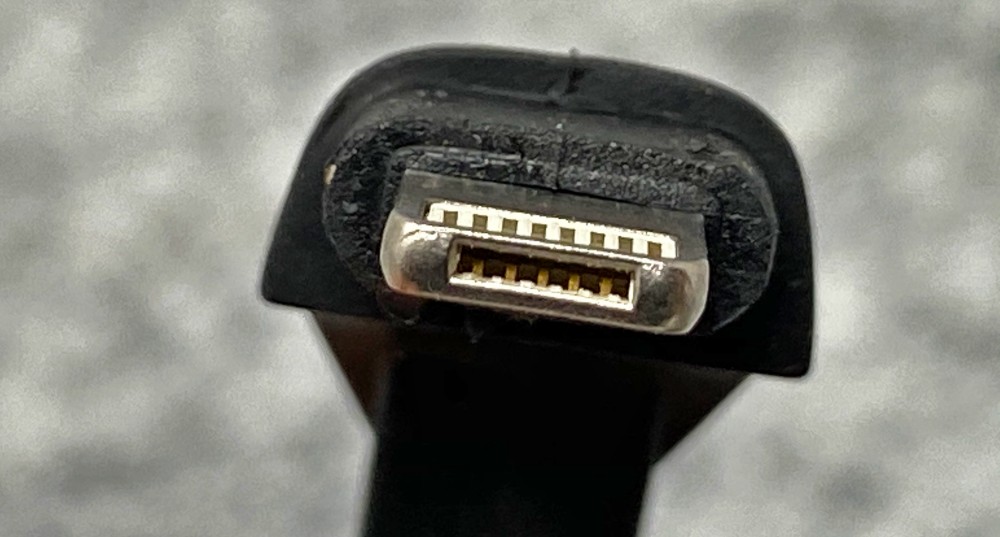 While I can confirm that this does indeed connect and work with my iPhone and with Micro-USB devices, I seriously doubt this is an authorized connector. Furthermore, it is not reversible when used as a Micro-USB making it much more difficult to correctly determine orientation. It would be pretty easy to over-push and damage a connector on your Micro-USB device.
Rolling Square also sent through two cables to check out that are available separately.

These are unique in that they use a wide, flat, woven cable and magnets in the connector ends to help keep things neat. Both ends of the connectors pivot and offer up several connector combinations including USB-A, USB-C and the same hybrid Lightning/Micro-USB.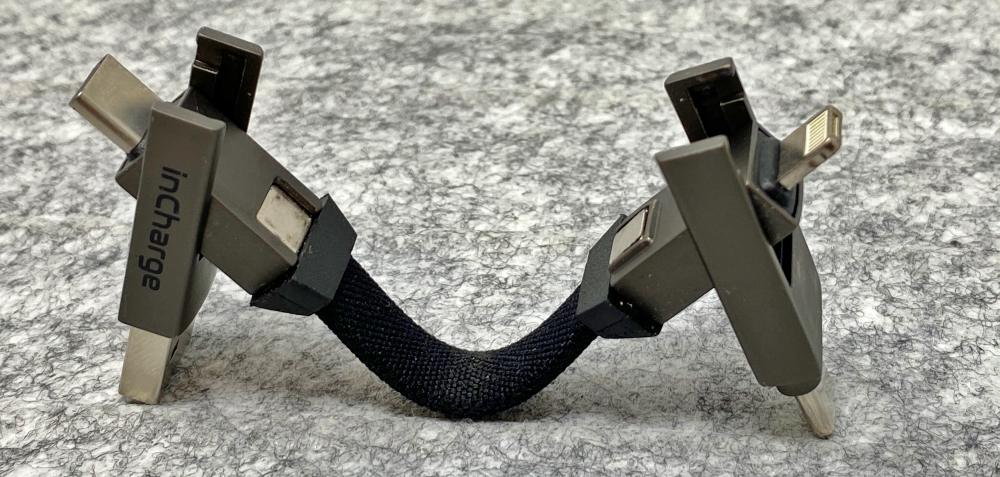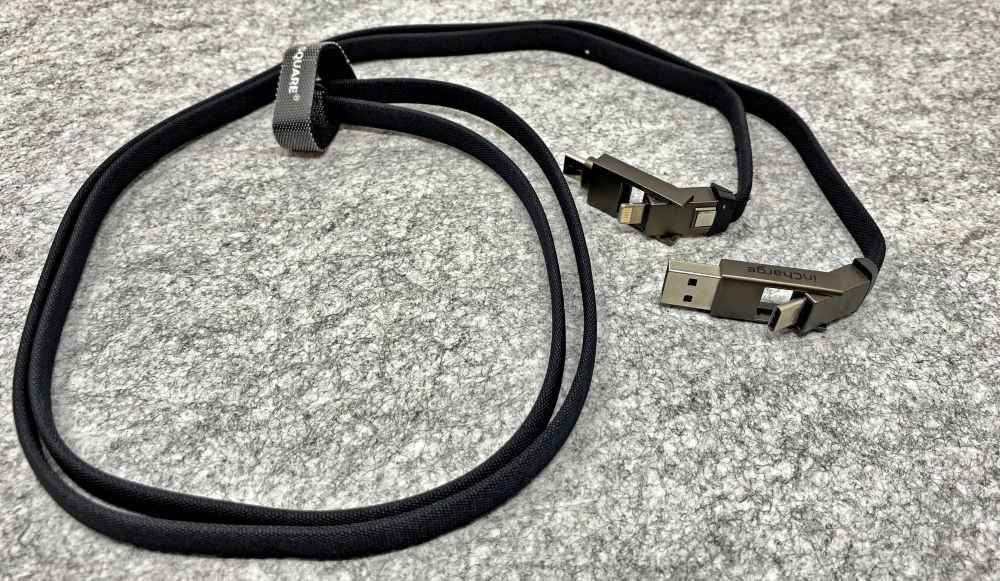 I really like the cables, but that connector has me singing "Don't be suspicious, don't be suspicious". The short one is called inCharge 6, while the longer one inCharge Max selling for $19 and $24 respectively.
What I like
Keychain form-factor
Docking system to keep it charged
Always with you
Low price
What I'd change
Create two separate versions:
(1) USB-C and Lightning (Apple MFI approved)
(2) USB-C / USB-Micro
Final thoughts
Rolling Square has built a small portable battery that is almost guaranteed to leave the house with you and have a full charge. It'll add about 1/4 of battery back into your phone which makes it ideal for emergencies which are those times you don't plan for. From that perspective it passes the "leaving the house test" as well as the "I just need enough juice to…" test. If you have a USB-C phone I can recommend this without hesitation. If you have a Lightning or Micro-USB-C equipped phone, you'll have to decide for yourself if the potential risk of using this hybrid connector is worth it.
Price: $29.00
Where to buy: Rolling Square
Source: The sample of this product was provided by Rolling Square