We use affiliate links. If you buy something through the links on this page, we may earn a commission at no cost to you. Learn more.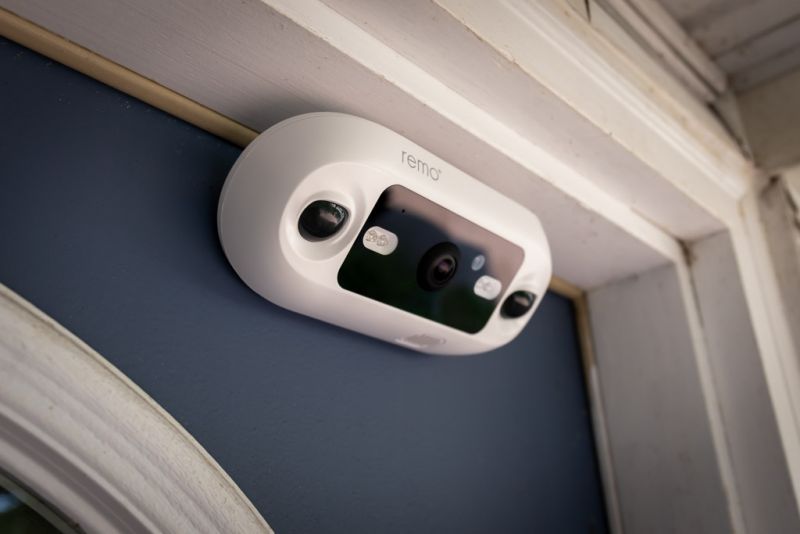 REVIEW – Door security cameras are very popular today. I've reviewed several security cameras in the past, but the Remo+ DoorCam 2 was unique, so I just had to give it a go.
What is it?
The Remo+ DoorCam 2 is an over-the-door smart security camera.
What's in the box?
DoorCam 2
Quick Start Manual
Three D-Cell Batteries
Protected by Remo+ sticker
Screws and Hex wrench
Hardware specs
1080p (Full HD) Resolution
Battery or DC (USB) Power
Wi-Fi Connectivity
Night Vision
2-Way talk
0°F – 140°F, IPX4 Weather Proof
Smartphone App: iOS version 11 or above, Android version 5 or above
Design and features
The Remo+ DoorCam 2 has a revolutionary design in that it hangs over the top of your door. This unique design places the camera and sensors outside the door while allowing the control module, batteries, and Wi-Fi antenna to reside inside your home. The antenna position being inside your home dramatically increases the Wi-Fi range, especially with metal doors.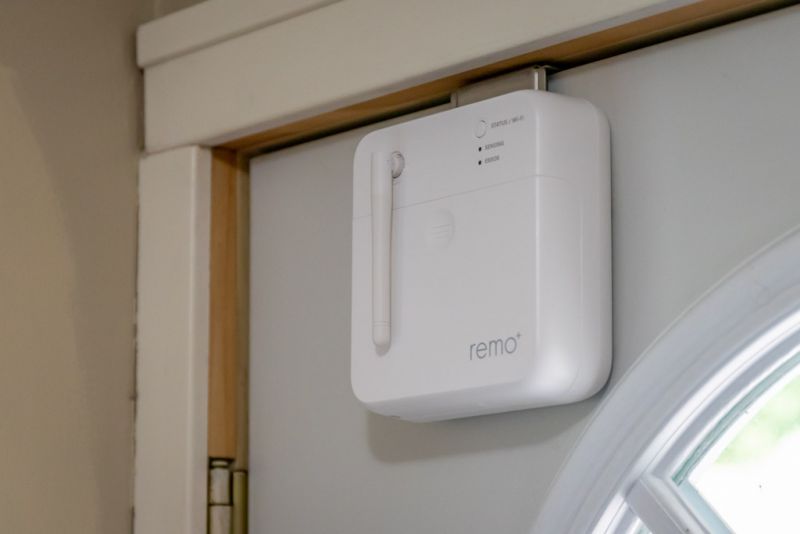 After setting up the DoorCam 2, I placed the DoorCam 2 on my metal front door, where I previously had difficulty with the Wi-Fi signal. Installation was easy. First, I put the DoorCam 2 over the door and adjusted the bracket for the door's thickness. Since the top of my door is also metal, I didn't use the included screws but placed a piece of tape over the bracket to keep the DoorCam 2 from sliding either direction.
The day after I installed the DoorCam 2 I left for a three-day weekend road trip. I was expecting several packages to be delivered, and my son was going to be watching the house/dog for me. The notifications were quick and accurate. I knew within seconds when the packages arrived and when my son showed up. I even surprised him by speaking to him with the 2-way talk feature, as he didn't know about dad's latest gadget!
My front door doesn't face the street but instead faces my driveway with a view parallel to the street. This placement makes it easier to avoid false motion events from cars driving down the road. If your door faces the street, you can adjust the two motion detectors if you use the USB power feature.
The 1080p full HD video starts quickly and captures video with a 160-degree field of view. You can see, hear, and talk to visitors as soon as they walk up to your door.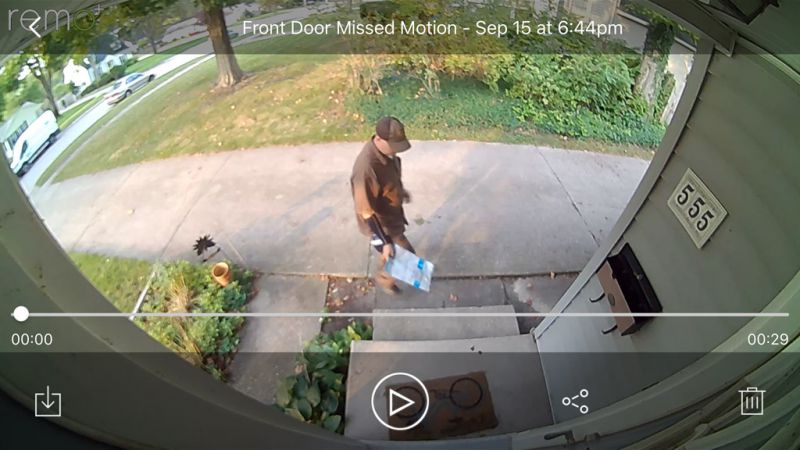 I was not able to get the Live View function to work. I'm not sure exactly why. However, every time I got a notification of motion, I was able to view the live video.
I do wish there was a feature to pause notifications for a set period of time. When you have repeated motion detections, such as someone loading a vehicle in the driveway, the notifications can get annoying. Although there are settings for notification frequency, and the ability to turn them off or turn off motion detection, you have to remember to turn them back on.
Never miss one of our posts again. Sent MON, WED, and FRI with the latest gadget reviews and news!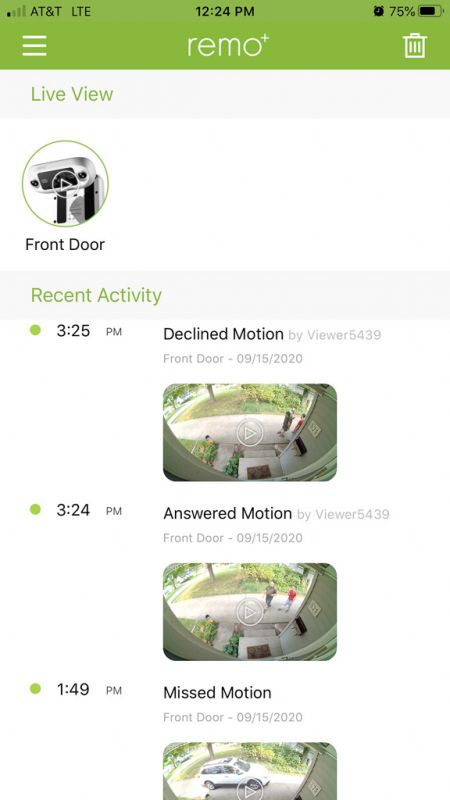 The settings for the app are easy to navigate and fairly self-explanatory. Click for a full view.
Setup
The setup was simple and only took a minute or so. Once you create an account, you simply choose which device you are adding, your timezone, scan the barcode on the camera, connect to the DoorCam 2 Wi-Fi, then connect to your home Wi-Fi.
What I like
Free 3-day cloud storage
Quick notifications
What I'd change
A pause notifications feature would be nice
Better live-view operation
The ability to view videos via a desktop web browser would be nice
Final thoughts
Overall I have been very pleased with the Remo+ DoorCam 2. It has been reliable and has had very few false motion detections, even with the many squirrels I have running around.
Update 11/18/20
When I initially tested the DoorCam 2 via the USB power, I did so on an interior wood door. It worked as advertised.
However, after finally getting a USB cable long enough to reach my door, I experienced problems. It appeared to work as the LED light came on, but it failed to send notifications or capture video. After a long back and forth email with their support and trying multiple cables and power adapters, they have stated that the DoorCam 2 will not work on a metal door.
With D batteries lasting about a month, I would conclude that this camera, as nice as it is, would be too expensive for me to operate.
From the Remo+ Support:
Based on our engineer we have come to a conclusion where if Doorcam 2 is
using USB adapter on a metal door there are some issues due to metal door
being on a stainless steel part is disrupting the network issues. If you use
the batteries it would not cause this issue. I apologize for the
inconvenience but we do not have a solution for this.
Price: $199.00
Where to buy: Remo+
Source: The sample of this product was provided by Remo+.