We use affiliate links. If you buy something through the links on this page, we may earn a commission at no cost to you. Learn more.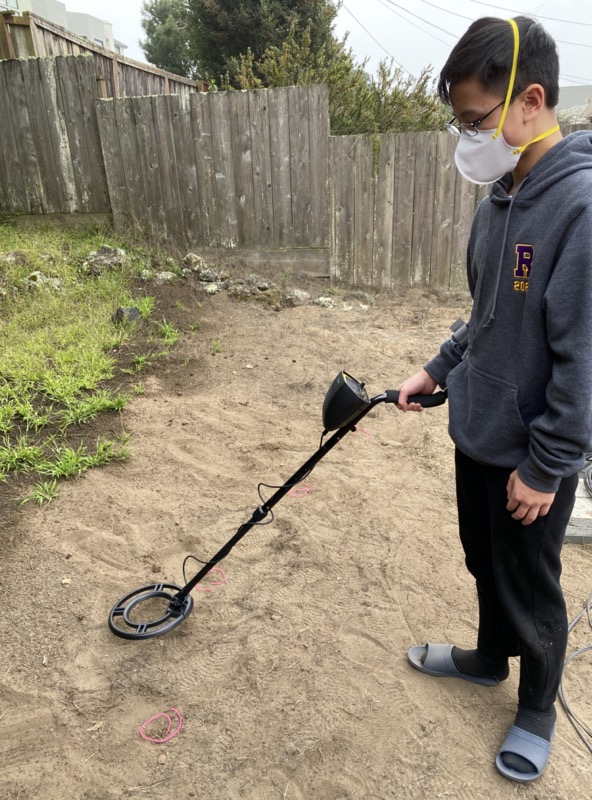 REVIEW – When I was young I always remembered this inexpensive, orange-handled metal detector in the Radio Shack catalogs. Never got one. I've quietly wondered how well these things work. I finally got my chance with the Sakobs GC1032 metal detector. The hunt is on!
What is it?
The Sakobs GC1032 is a portable metal detector with an LCD display and a 10-inch search coil. The boom is adjustable from 41.3 to 47.6 inches.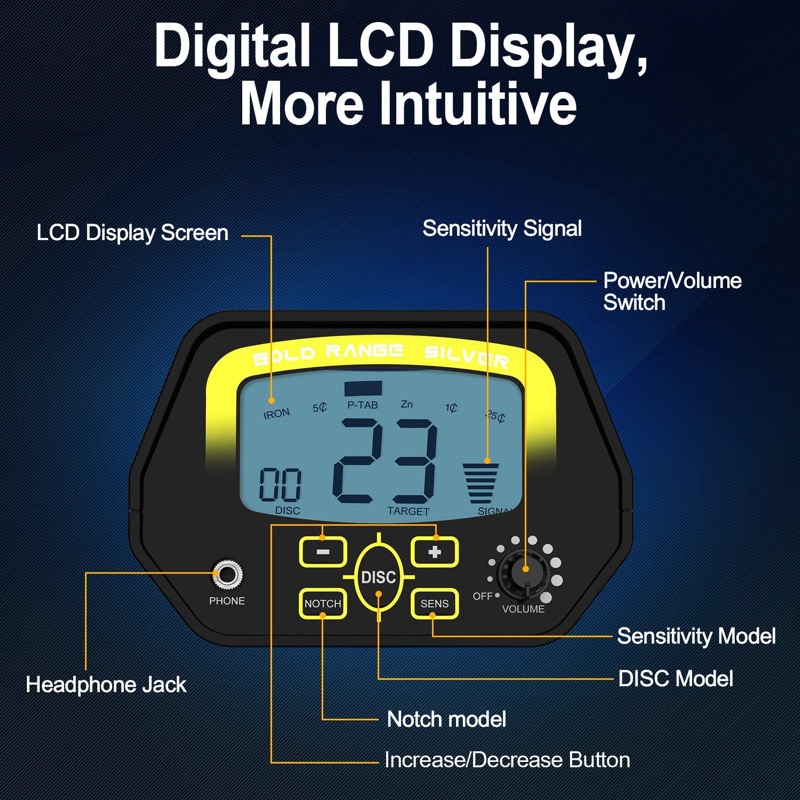 What's in the box?
Metal Detector
Folding shovel and pouch
Pouch for the entire kit and shoulder strap

Instructions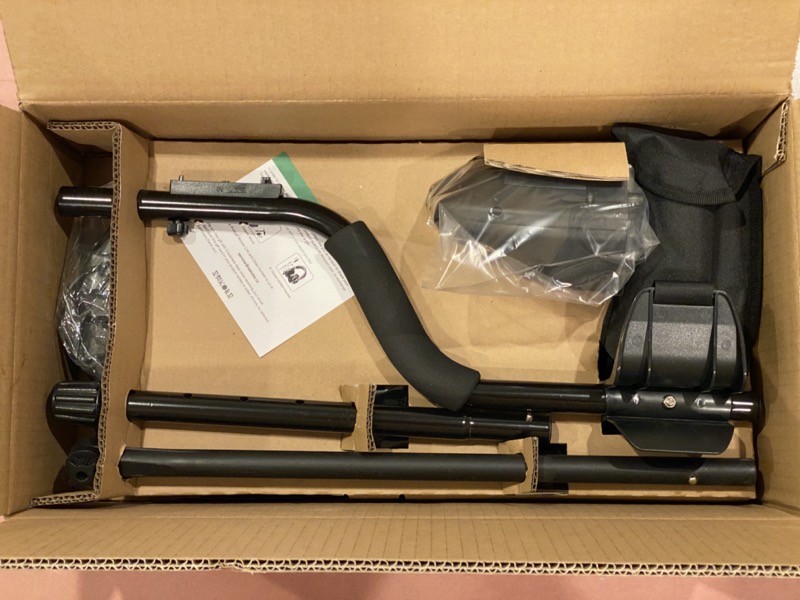 Everything came packed very neatly in a plain box.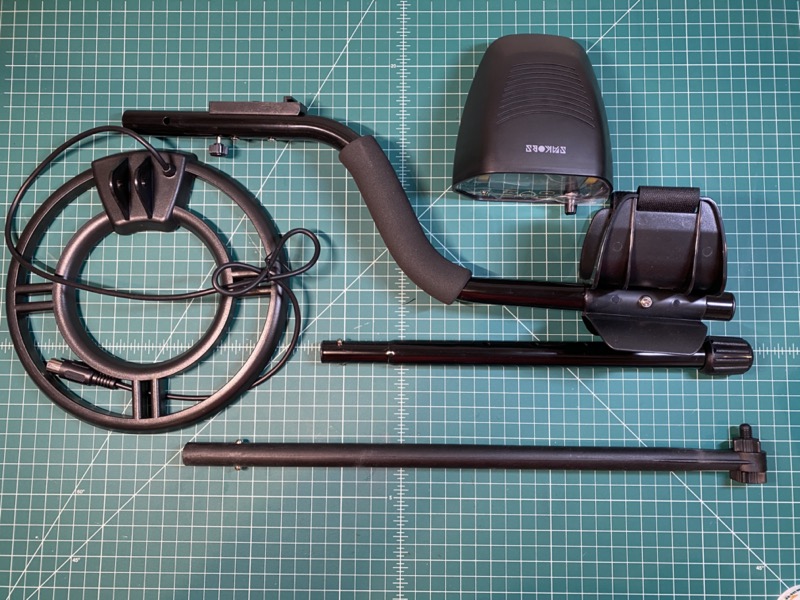 I was surprised to find a folding shovel in the kit. It has a screw-on handle, and everything folds up nicely into the included pouch.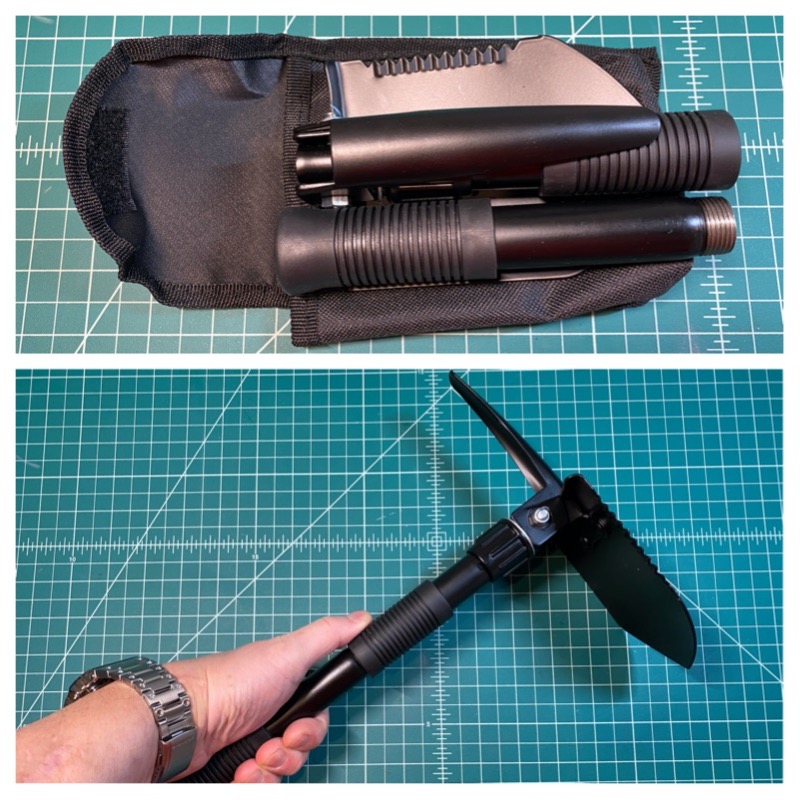 A zippered carry bag holds everything. The bag has a few smaller zippered compartments for the shovel, manual, batteries, etc.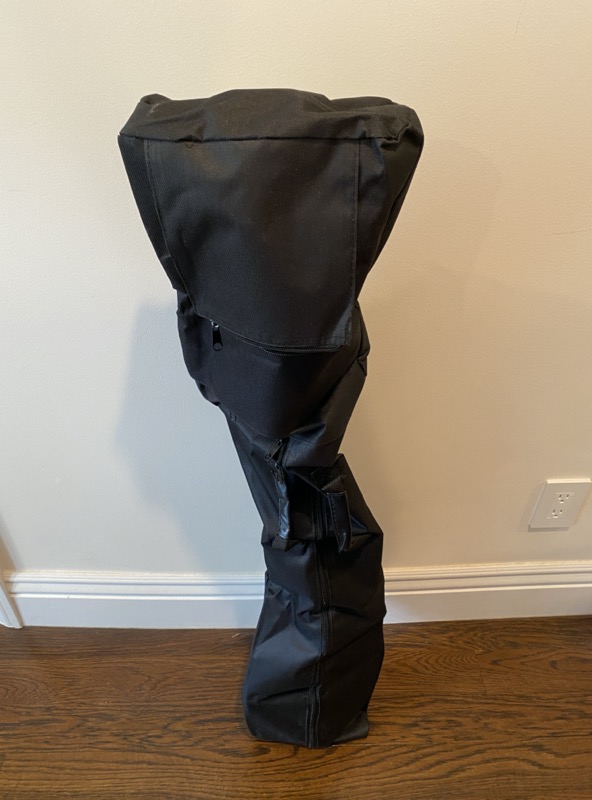 Hardware specs
I managed to find the specs buried in the manual:
Power: 2x 9V batteries
Operation Modes: DISC, Notch All Metal
Sensitivity: > 20cm (for a US quarter)
Search Coil Size: 10″
Frequency: 6.4-6.8 KHz
Gross weight: 8.6kg
Net weight: 6.9kg
Design and features
The centerpiece of this metal detector is the large LCD display. The top row tells you it's best guess (Iron, 5 cent piece, pull tab, etc). The center number (TARGET) is a relative two-digit value. For example, iron would range 00-05, a nickel coin (5 cents) at 06-17, and so forth.
On the left is a two-digital value for DISC. It does not say in the manual, but I interpret this as Discrimination. The higher you set DISC, the more you'll reject.
The SIGNAL bars on the right can be increased or decreased.
NOTCH is used to individually filter out certain things. For example, you can "mute" out all things Zn (zinc alloys).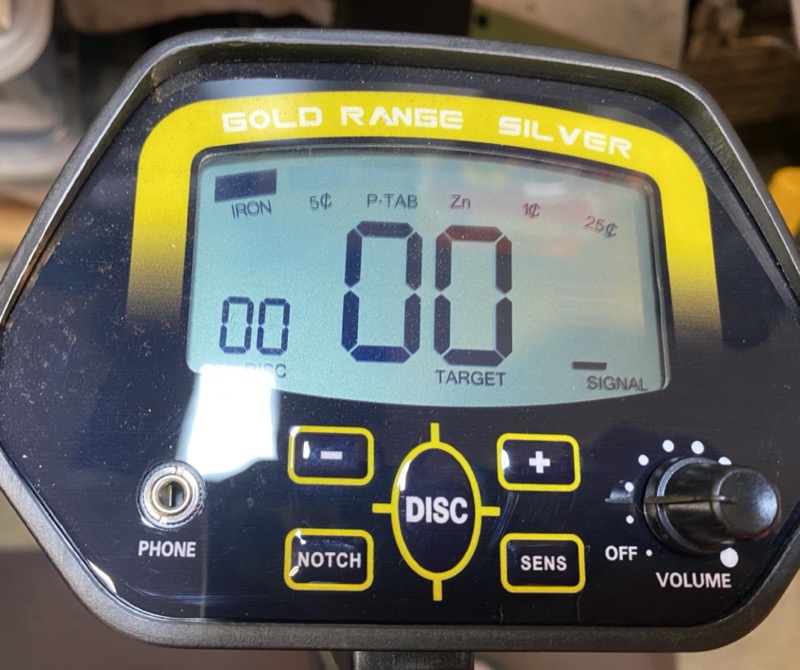 Setup
Assembly is quite simple. The detector snaps together without tools. The cable connection doesn't hold very securely. One time I could not figure out why nothing was working. The plug wasn't in all the way! Make sure it's in snug.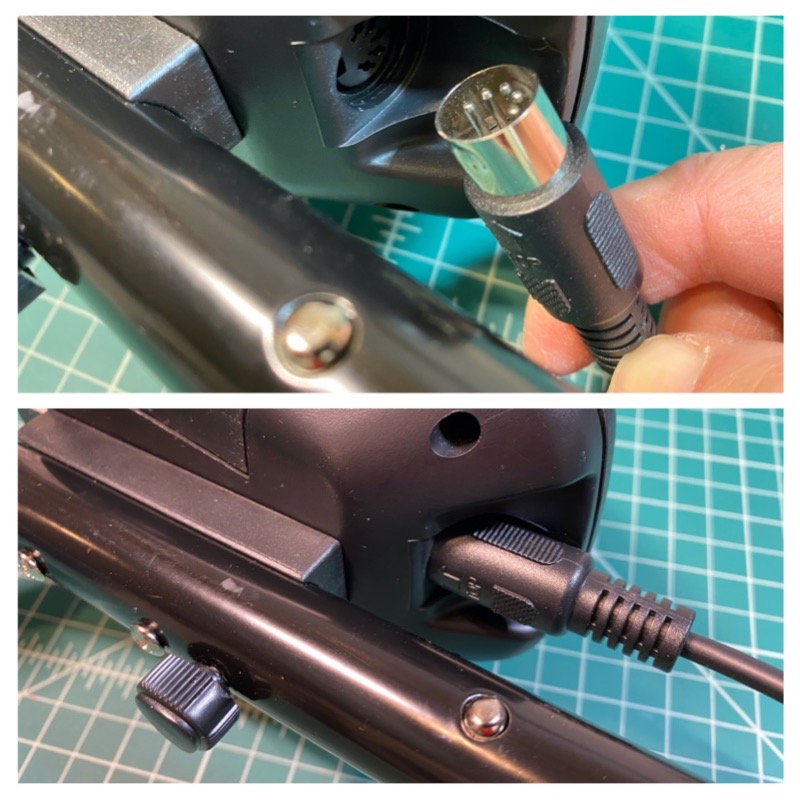 This takes two 9V batteries, not included. Don't get the battery doors mixed up. They're not swappable and won't fit right.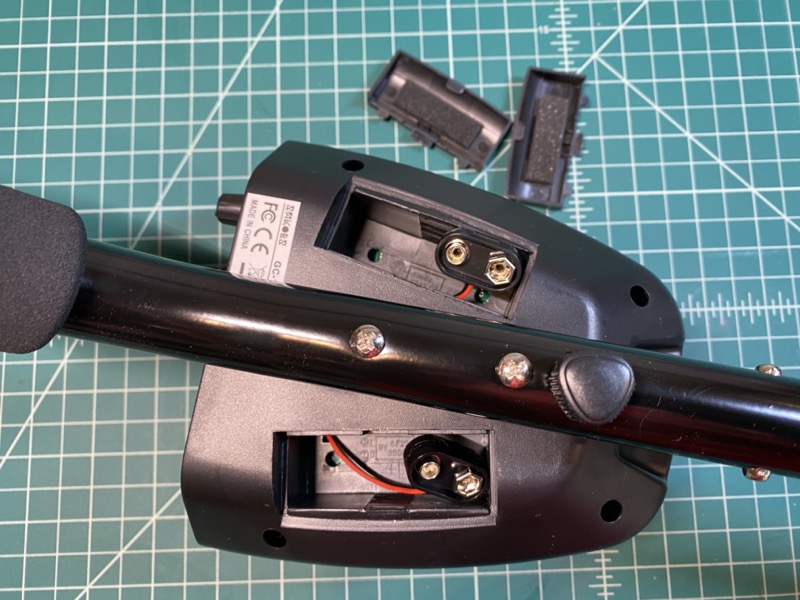 The 10 inch coil is held on by a plastic pivot. The coil itself is waterproof.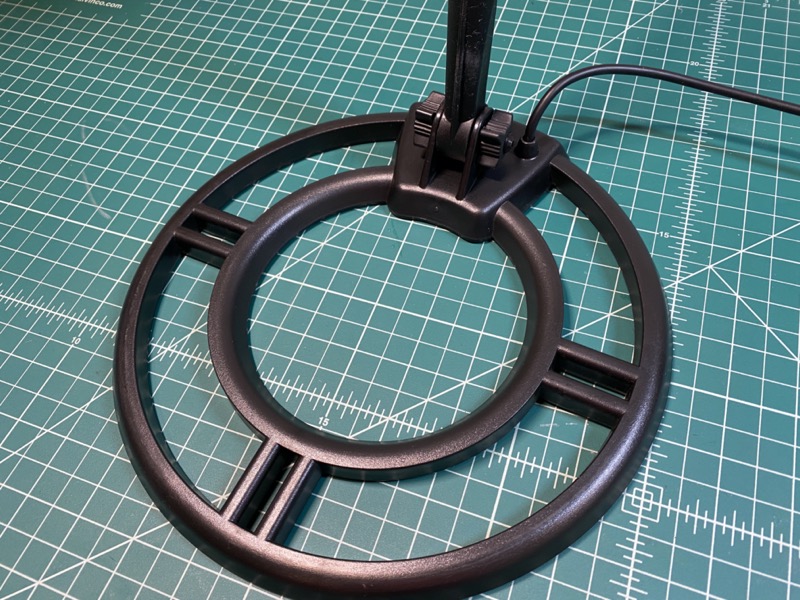 There's a hook and loop arm strap for comfort. The strap is very basic and not elastic. The grip not much more than a foam-like sleeve over the pole. It's spartan, but it works.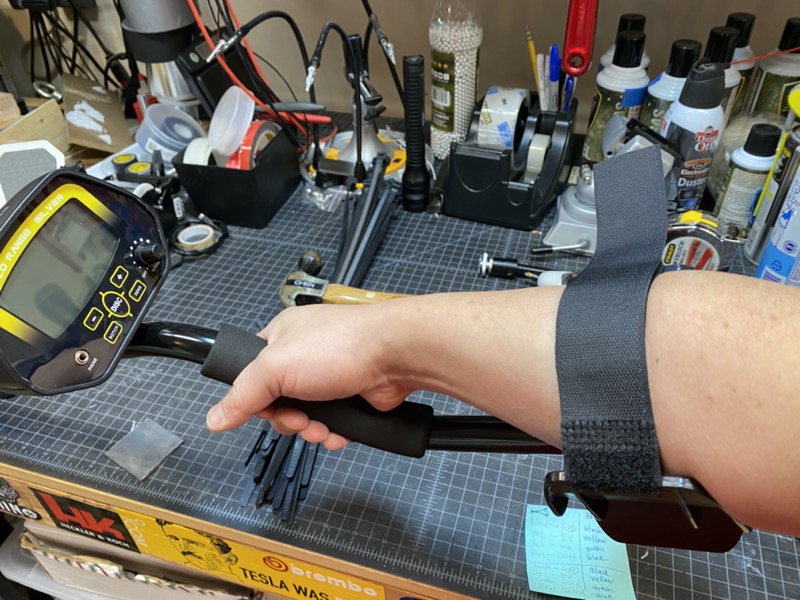 Performance
I grabbed a few items and went to the backyard to see just how well it could detect anything at all.
First up was a chunk of steel plate I just happen to have lying around.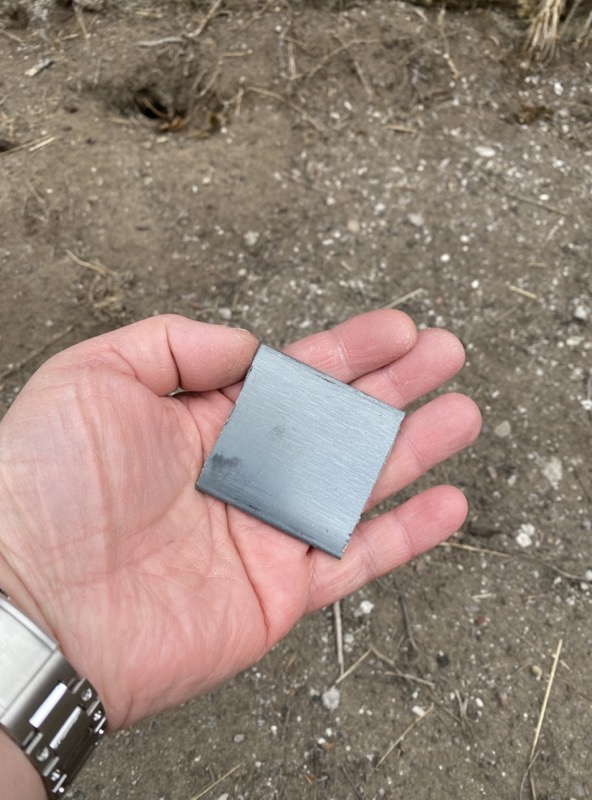 The Sakobs had no trouble picking it up (buried just under the soil) but the display jumped all over the place.
The detector has different audible tones (beeps and boops) that correspond with the kind of metal it thinks it sees. I couldn't determine what tones were what, but at least I didn't have to stare at the display. I found it more helpful to listen for tones.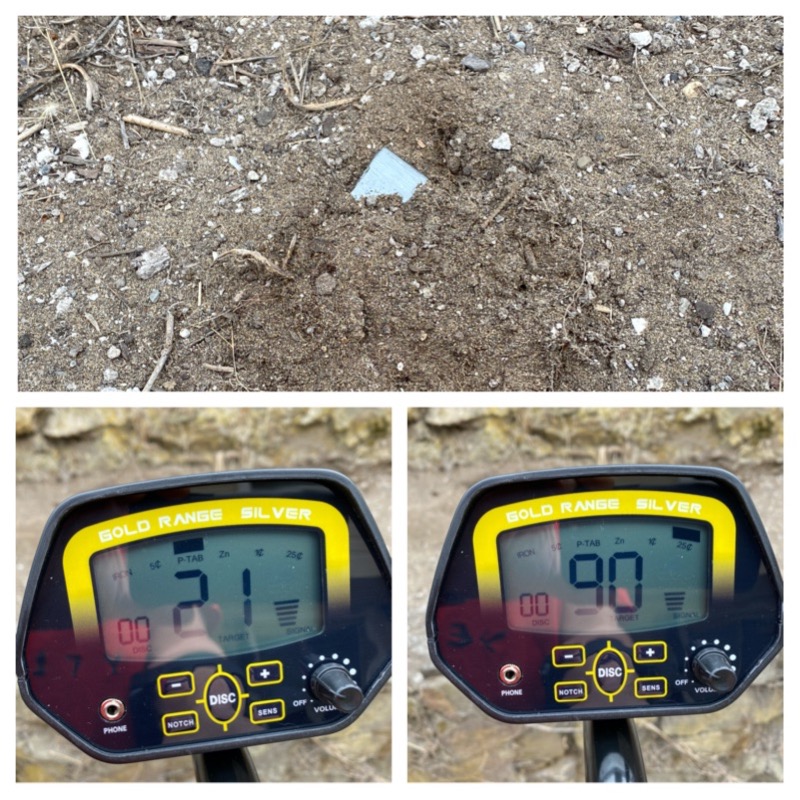 Next, I tried a $19 tungsten ring I bought off Amazon. Beep boop! Again, the detector jumped all over the place.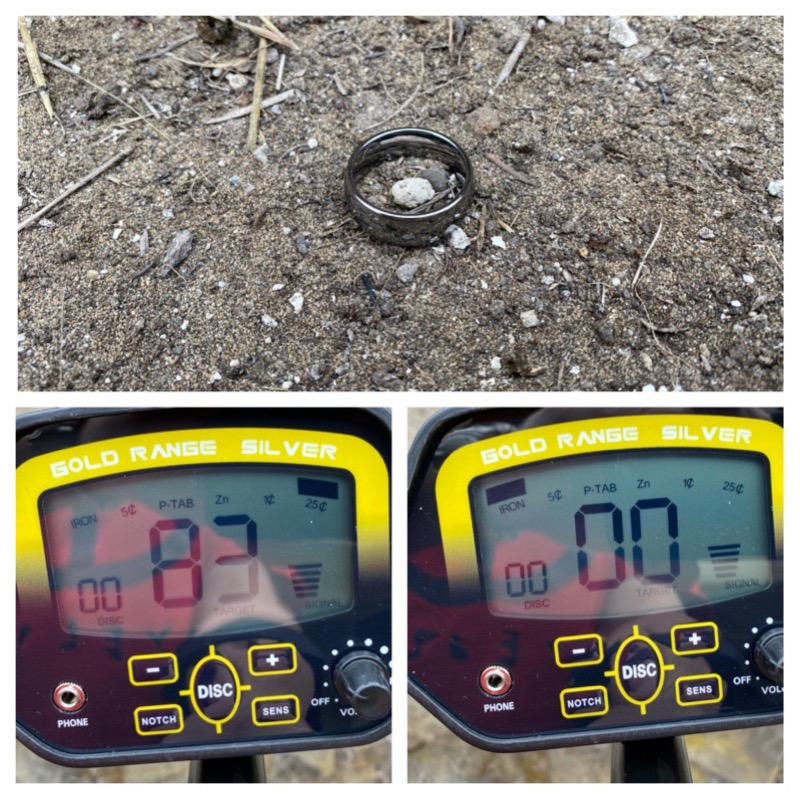 I found a piece of aluminum tubing in my backyard. No problem there, too. Beep boop indeed.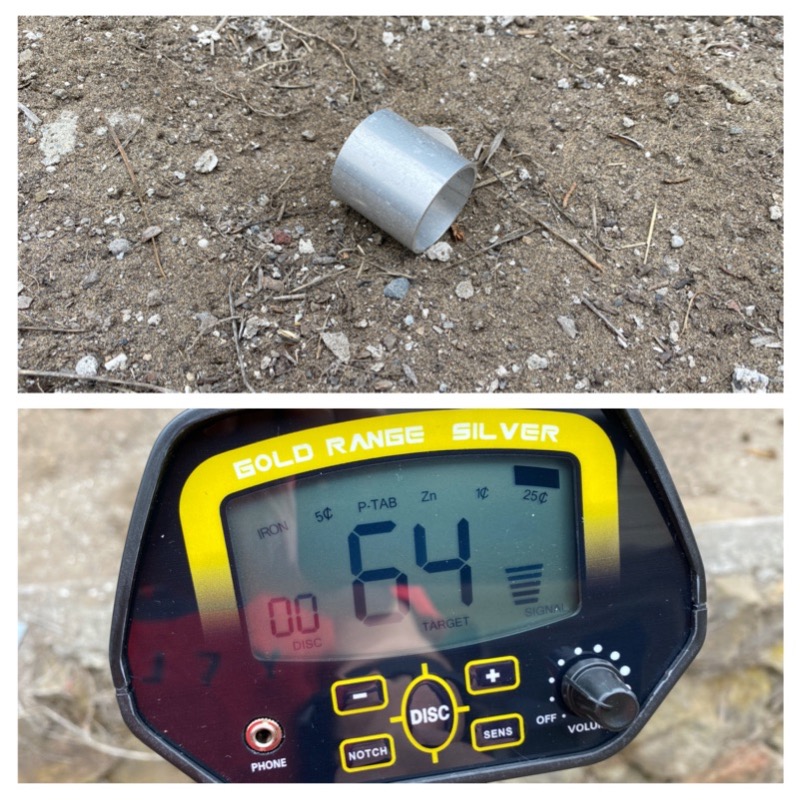 But what about coins? The top row clearly indicates 5 cents, pennies and quarters. I put some coins to the test on the surface of my backyard.
The detector was the most consistent with the quarter. Nearly every time, it ID'd correctly. Mostly. All the other coins were fairly random. Beep boop beep. Could be a nickel. Or a penny? How about iron or a pull tab? Hey at least it beeped to let me know there was SOMEthing.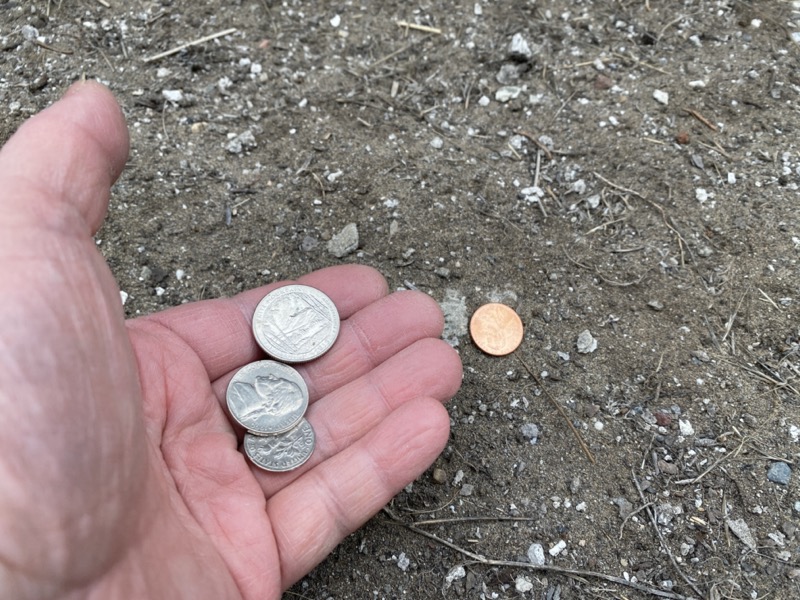 For reference, here's what the TARGET figures are supposed to mean. Since most coins are alloys of some kind, I'm not surprised it can't pinpoint exactly what thing is buried under the dirt. Also, I'm pretty sure it's not spelled "Hungting".

Next I set out to do some more "real world" testing. I assembled some things you'd hope to find, or hope not to lose: An old dollar coin, keys, a watch, and a gold ring (14K).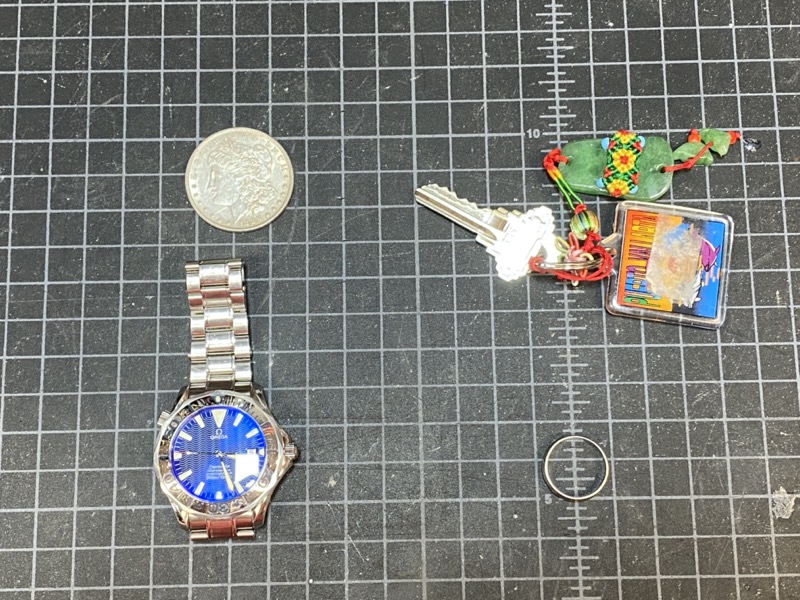 This is a coin my son got from his grandparent. It's a dollar coin stamped 1886.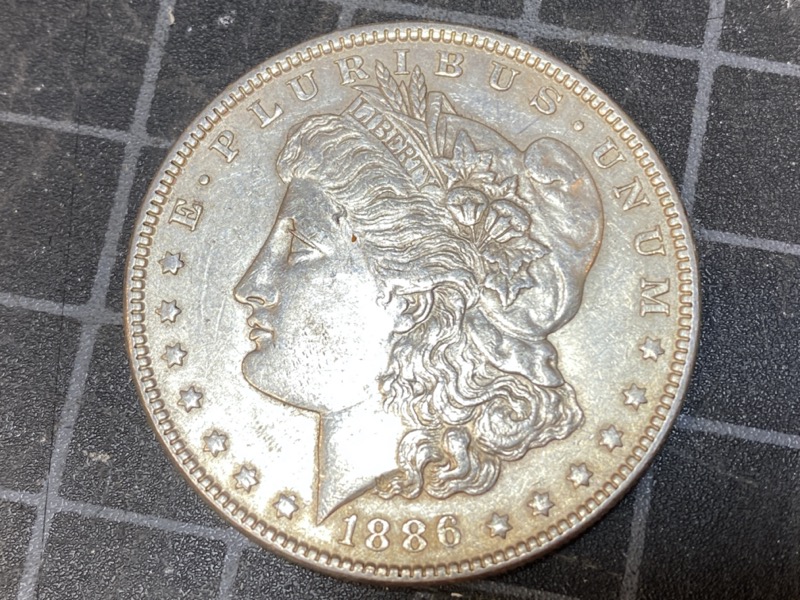 I bagged each item up with a bright pink string so I could find it again.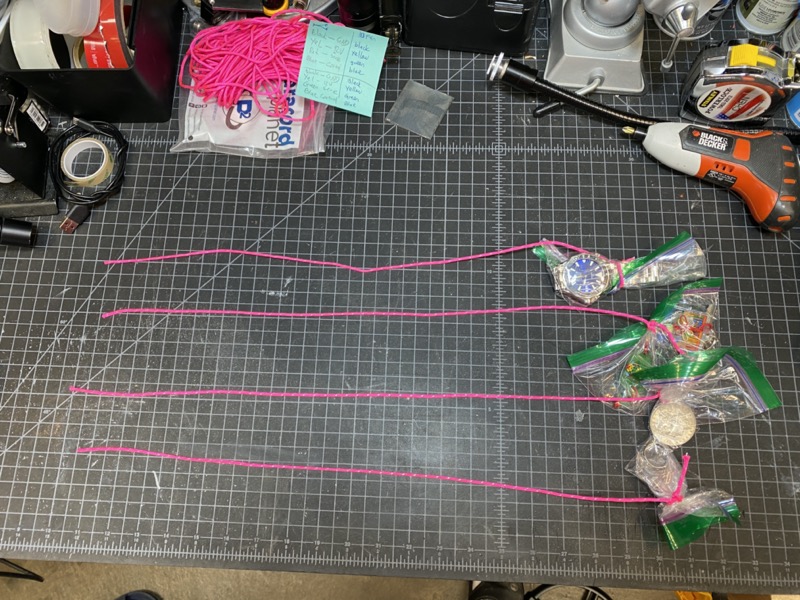 The Sakobs is rated to detect down to 8.7 inches (22cm), so I had my son bury each item about that deep.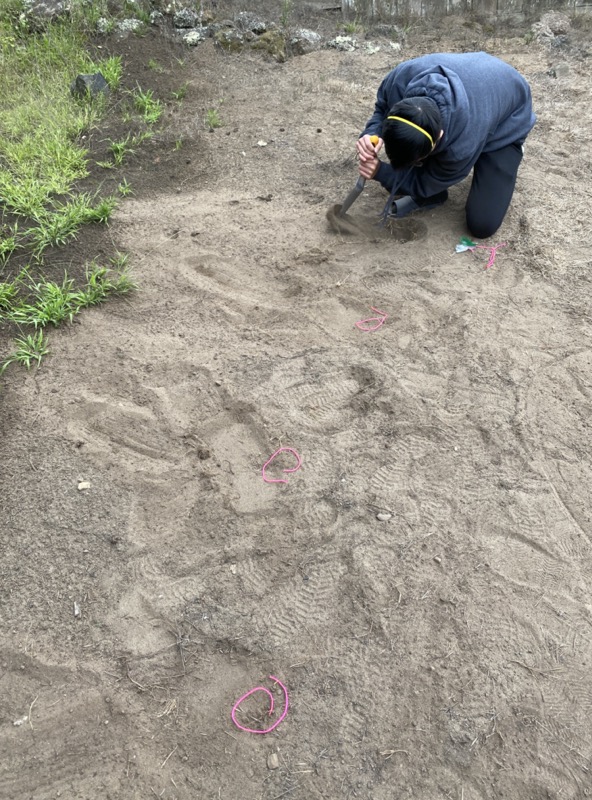 The results at that depth? Every item except the watch produced a beep or a boop. The display wasn't very useful: The numbers just jumped all over the place no matter what the settings were. Except for the watch. Silence. Had I lost that watch on the beach at that depth, I'd likely never find it again.
However, when brought up closer to the surface (less than 1″ below), each of the four items was easily detected. Here's my son braving the smoky Northern California air (Fall 2020).
I find the results puzzling. The watch was easily the heaviest and massive of the bunch. It's also stainless steel (not titanium) so the metal is fairly dense.
There are factors that affect detection, such as soil type. The soil where I live is very sandy, and neither of us are expert treasure hunters.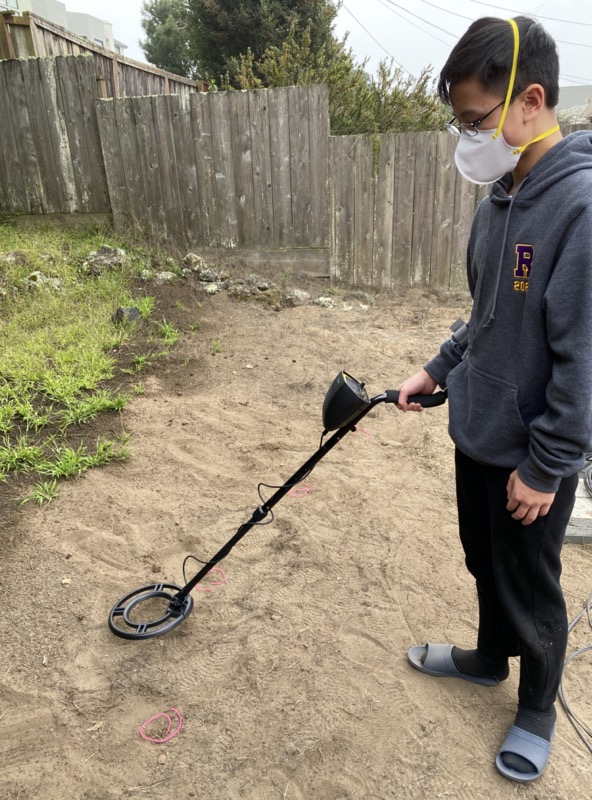 What I like
Lightweight
Inexpensive
Comes with a shovel and bag
What I'd change
Pretty fussy about what it's detecting
Final thoughts
I can see that this particular model is resold on Amazon under different labels. There are numerous spelling and grammatical errors in the Amazon listing and instructions. Enthusiast metal detectors can cost many, many times more than this, so I would not expect to weed out a gold nugget vs. scrap aluminum. As long as you're patient and willing to dig a lot, who knows what you might find? Just be sure you don't bury your Omega wristwatch deeper than 8.7 inches.
Price: $109.99
Where to buy: Amazon
Source: The sample of this product was provided by Sakobs.