We use affiliate links. If you buy something through the links on this page, we may earn a commission at no cost to you. Learn more.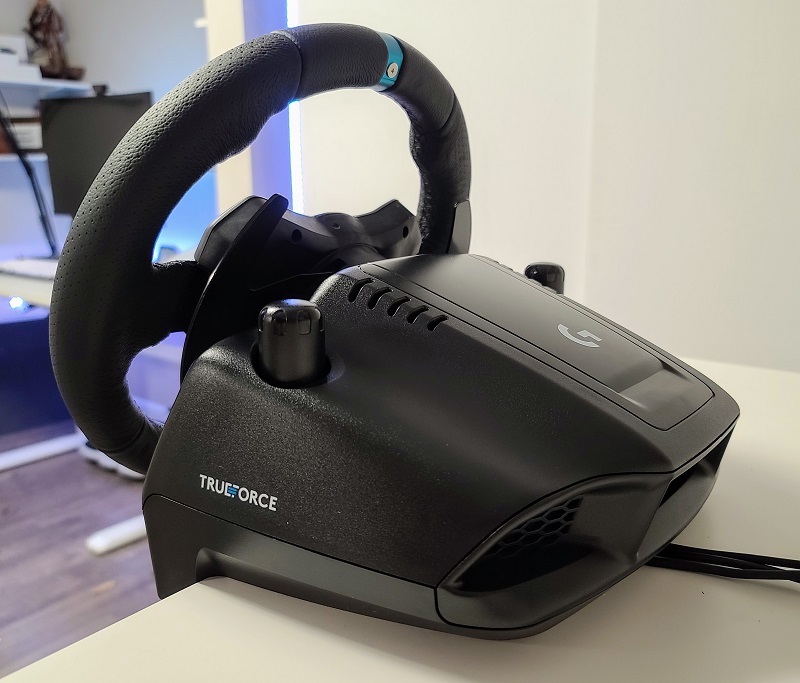 REVIEW – The Logitech G G923 Racing Wheel and Pedals from Logitech in the Arcade/Simulator racing gaming world is very interesting to me.  Compared to their previous offerings, they are positioning the G923 Racing Wheel as more simulator-leaning and immersive than their older similar wheels.  The biggest change is the new "TRUEFORCE" feedback engine, which promises more realistic driver feedback than before.  For the first few minutes while testing it out I felt like it was nearly identical to my older Logitech G27 wheel that I've used for years, until a car slammed into me and I felt like I was thrown to the left.  From that moment I was hooked, playing far more hours than I would typically spend on a review, with a smile on my face the whole time.
What is it?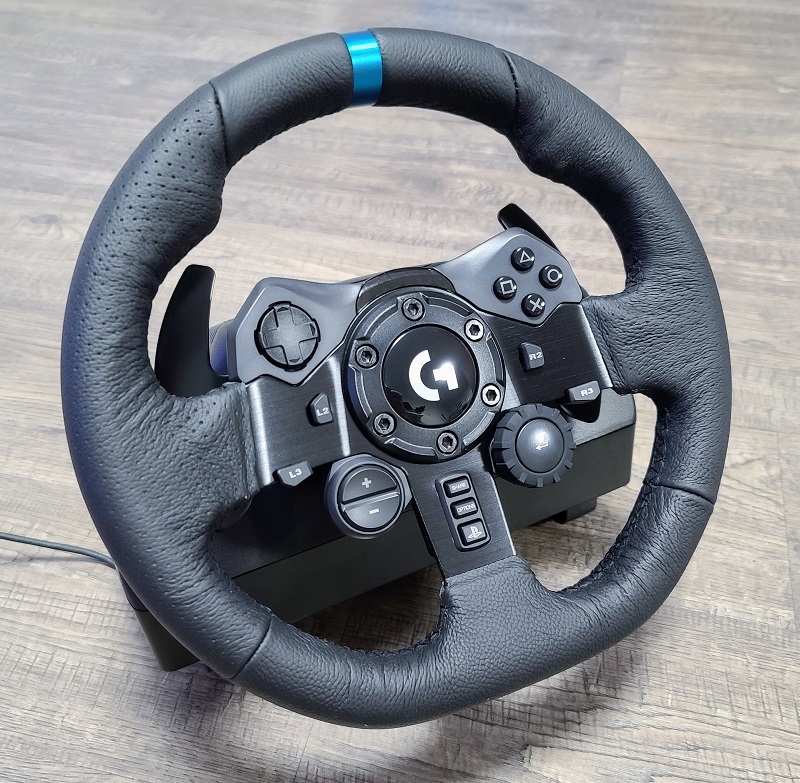 The Logitech G G923 Racing Wheel and Pedals is a video game controller system for Xbox/Playstation 4/Windows 10 games.  It has dual force feedback motors so you feel every collision, slipping of tires, and even the rumble of the engine.  There are two models (nearly identical), one for Xbox and the other for Playstation systems.  I reviewed the Playstation model on PS4, but both are also compatible with Windows 10 for PC gaming, which I also tested out.  Both models will be also be compatible with the upcoming next-gen Xbox and Playstation consoles as well.
What's in the box?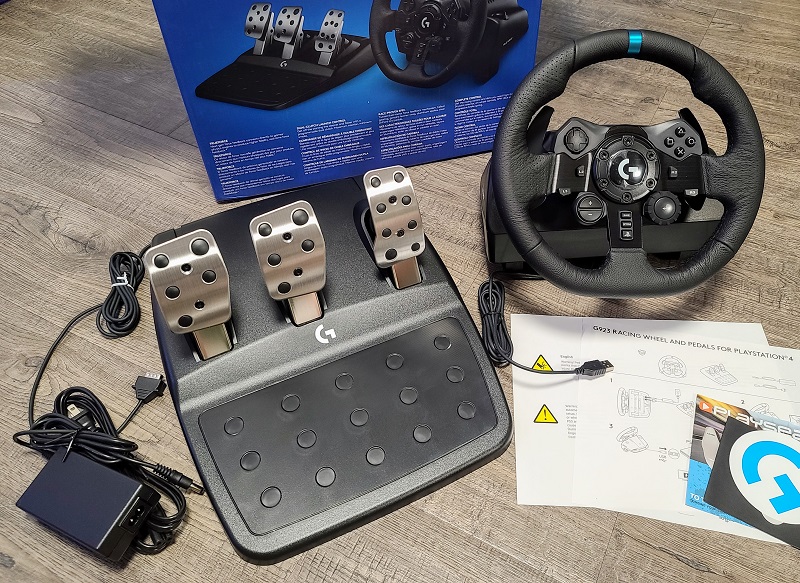 In the box is the Logitech G923 Racing Wheel, Pedals, a Power Supply, a Logitech "G" sticker, and instructions/documentation.  Everything was well packed and secure.
Hardware specs
Wheel Dimensions: 10.6″ height x 10.2″ width x 10.9″ depth (270 mm x 260 mm x 278 mm)
Pedal Dimensions: 6.5″ height x 18.4″ width x 12.2″ depth (167 mm x 429 mm x 311 mm)
Rotation: 900 degrees lock-to-lock
Hall-effect steering sensor
Dual-Motor Force Feedback (gear drive) with TRUEFORCE
Overheat safeguard
Nonlinear brake pedal
Carpet grip system
Textured heel grip
Self-calibrating pedals
2 year manufacturer warranty
USB 2.0
Design and features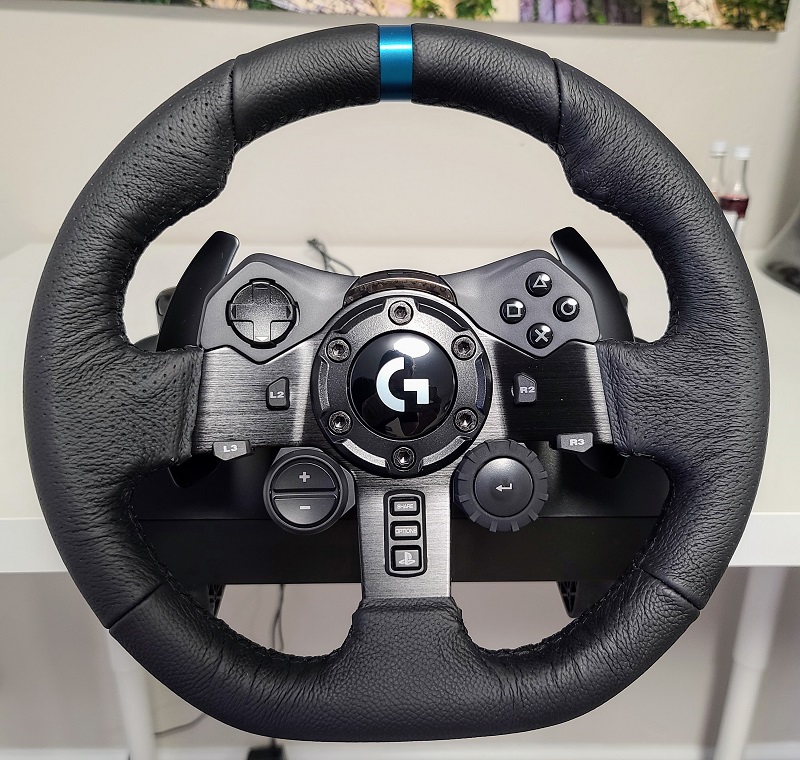 The racing wheel itself is a combination of synthetic leather, aluminum and other metals, and high-grade plastics.  Every surface you touch feels premium, and all of the buttons feel as good as any console controller or better.  The 24-point selection dial has a nice tactile click at each position.  The buttons on the Xbox version are laid out nearly identical to this Playstation model, except for different labels on the top right button cluster, and an Xbox button instead of the Playstation cluster in the bottom middle.  The top of the wheel features bright LED lights that indicate shifting points (in supported games).  The bottom right button/spinner is a 24-point clicking spinner that allows for fine tuning of vehicle settings or menu options (in supported games).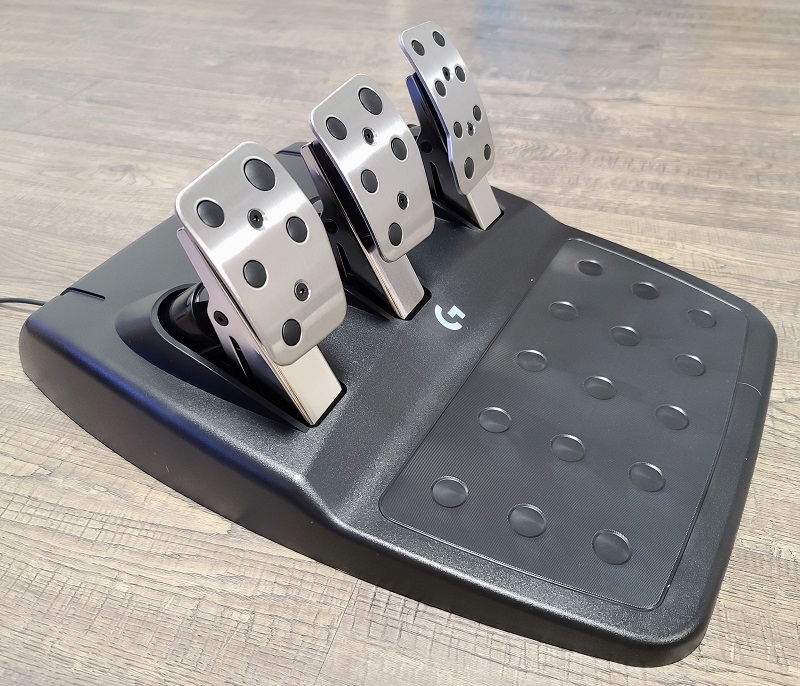 The pedals seem to be solidly built, and are metal with plastic bumps.  The base for the pedals is plastic.  Logitech advertised upgrades to the brake pedal specifically, and it does feel better than previous models.  It has a satisfying spring that feels natural while driving in games.  I had no complaints about the old models, but apparently many enthusiasts did, hence the upgrade here.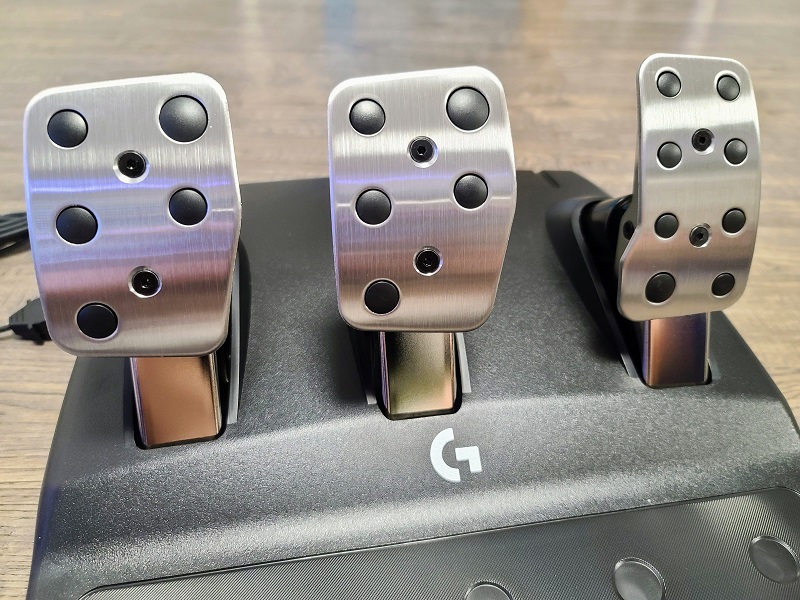 The finish on the pedals reminds me of a high end sports car, and through my hours of testing I never felt or heard any creaking.  Throttle, brake, and clutch all operated exactly as I would expect, I never had any issues with calibration or responsiveness.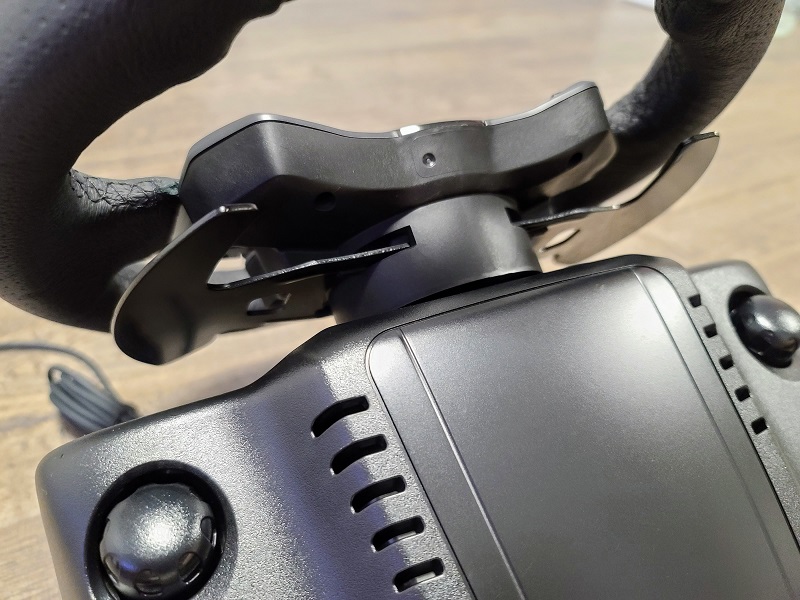 The shifters are solid metal and click/activate with only a bit of movement (and a decently loud "click" when used").  They allow for fast pinpoint shifting in supported racing games (most games I tested have settings to do manual/semi-manual shifting).  No complaints here, the shifter paddles worked perfectly.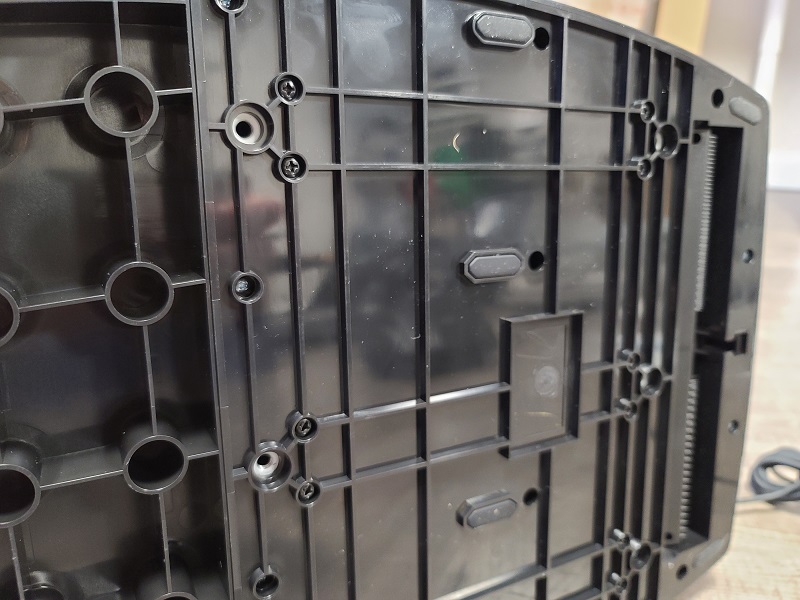 The wheel and pedals have screw points for (semi-) permanent mounting options.  There are a huge number of accessories for Logitech racing steering wheels and pedals including full simulator cockpits, or you could build your own!
Installation and setup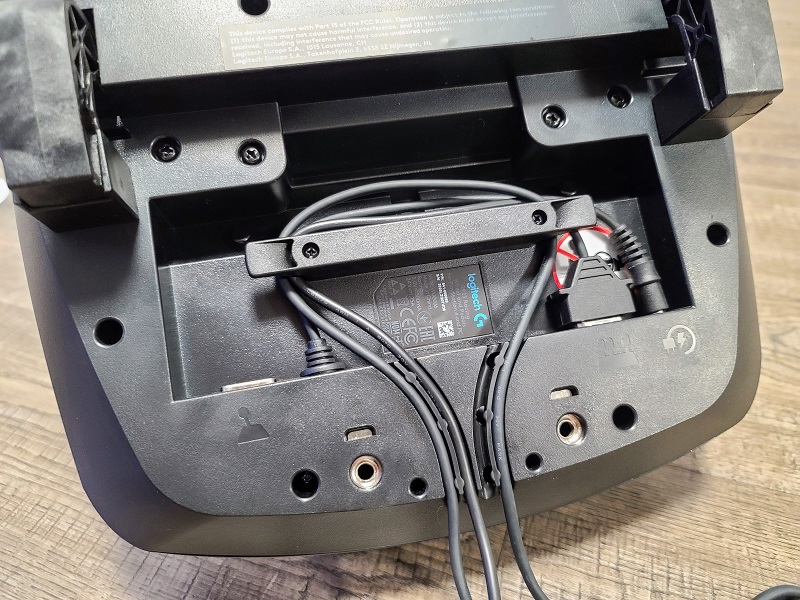 Installation of the Logitech G G923 Racing Wheel and Pedals is relatively straightforward.  Once removing all the components from the box you connect the pedal plug and power cord to the steering wheel and route them into the handy cable guides (so they don't get squished when you clamp onto your desk/table).  There is an empty connection reserved for a stick-shift accessory (sold separately).  I had one of these for my older Logitech wheel, and ended up almost always using the paddle shifters instead of the stick shift, so I'm glad they removed it as a part of the package to cut some cost.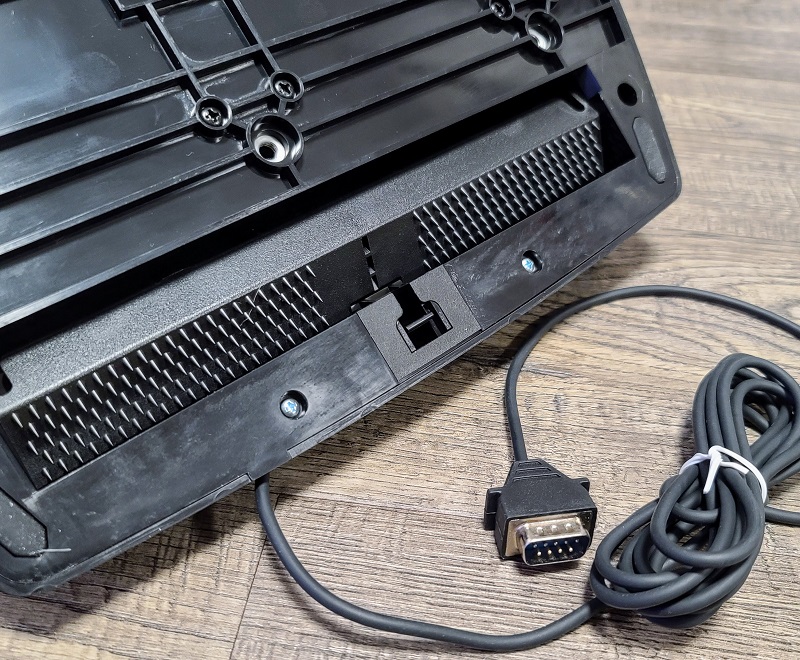 The pedal base has a carpet-grip device that can be flipped out by depressing a switch or stored by pushing it back in.  There is also rubber on the bottom for hard floors.  I tested on hardwood floors, but my older Logitech G27 wheel had the same design and worked great on carpet so I'm confident this will hold up to all but the most zealous drivers on carpet.  The cables are all long enough, a couple of meters each.  I was able to plug the power into the wall a good 4 feet away from my desk, and then run the USB another 4 feet in the other direction to the PS4/PC units.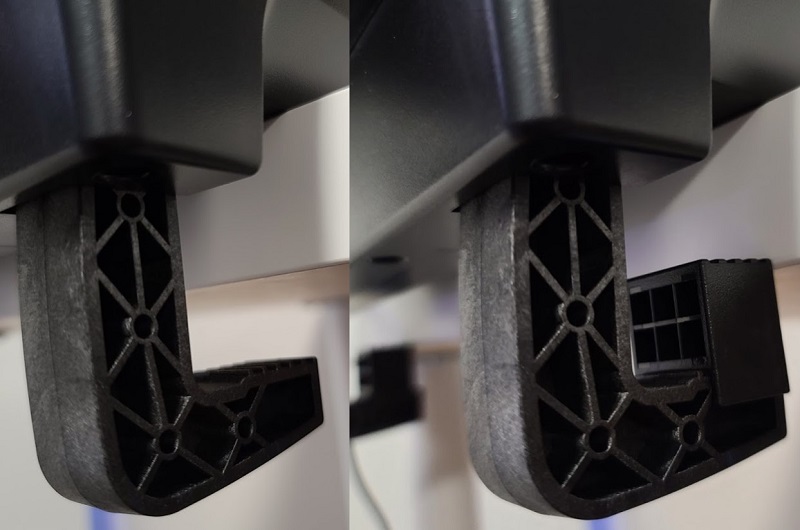 The wheel clamps seem to be well built (though they are still plastic – my Logitech G27 mounts are similar and held up for years, but I would have preferred metal to eliminate a possible breakage point).  There's a removable rubber block that allows you to clamp onto any flat surface ranging in thickness from nearly paper thin to about 2 inches thick.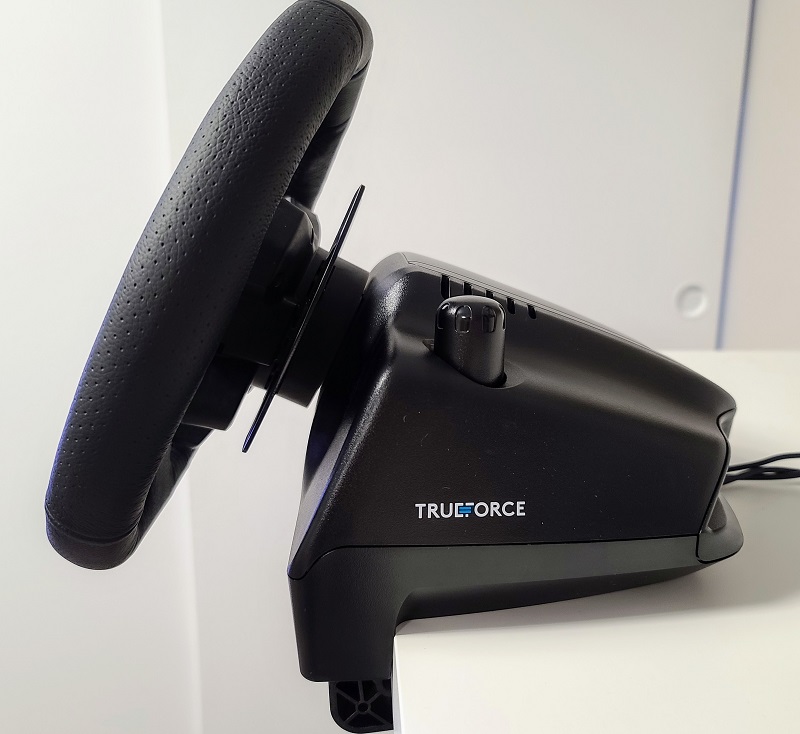 The wheel is secured by twisting 2 knobs on top of the wheel base.  These are easy to secure, and then can be pushed down into the base for a more streamlined look.  Once clamped, the wheel was fully secure.  Even in the most intense driving I never had it slip or move at all.
Once in place, you simply plug the USB and power in and the wheel does a little "calibration dance", where it spins all the way to each limit left and right, then spins back to the center.  The wheel was plug-and-play on both Playstation 4 and my Windows 10 gaming laptop (an Asus ROG Zephyrus G14, which I highly recommend for anyone that needs an all-day-battery portable laptop that can also game well).  More on Windows 10 gaming later.
On the Playstation 4, every racing game I tested worked well with the wheel.  GRID was the game that really shined though, as it supports the new force feedback technology that Logitech is pushing with this new wheel (TRUEFORCE).  Collisions with other cars actually felt like I was being pushed in a certain direction instead of just a general rumble.  The road surfaces were more pronounced than with other games, when driving over some curbs it felt like a bumped surface, and losing traction was uncanny, the wheel suddenly felt "loose" (something I'm very familiar with from hydroplaning or driving on ice in the Rocky Mountain winters here).
This brings me to my next thought, which is that TRUEFORCE is definitely an improvement over previous generations of Logitech wheels, but is only supported on ~2 games for each gaming platform right now.  I expect that many more games will support it in the future (it's been announced that the upcoming DIRT and F1 games will), so the Logitech G G923 Racing Wheel is a good future-proof option if you're trying to decide between this and previous Logitech wheel systems.
PC gaming was not as great an experience, but I was not surprised by this.  Setting up and tweaking racing wheels for various games has always been a bit of a chore on Windows 10 compared to the Xbox/Playstation console plug-and-play experience.  Out of 4 or 5 games tested, I was able to get the wheel working well in Project Cars 2 and F1 2019.  In both games, it worked superb but without the TRUEFORCE technology.  The overall experience felt very similar to my older Logitech G27 wheel and pedal system, but as more games add native TRUEFORCE tech it should get better over time.  The Windows 10 Logitech G Hub software was robust, allowing for keypresses or even macros to be assigned to various buttons on the wheel.  There's a plethora of customization and settings options to allow you to use the wheel in a variety of games (if not natively supported already by the game).
What I like
TRUEFORCE feedback engine is fun
Premium build quality and materials
Excellent gaming responsiveness and accuracy on the wheel and pedals
Built in rev-indicator lights are bright and useful (and supported in most games)
What I'd change
Logitech needs to ensure more games include TRUEFORCE (which it seems like they're working on)
Price (but maybe that's just the nearing-middle-age part of me that will also soon complain about the cost of stamps and milk?)
Wish the wheel clamps were solid metal
Final thoughts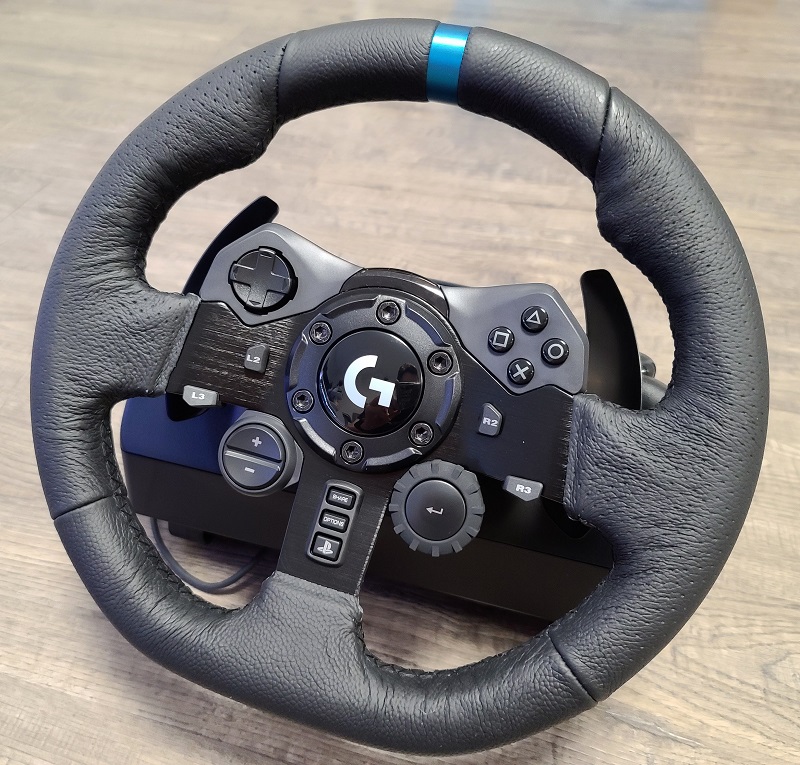 The Logitech G G923 Racing Wheel is great for arcade to entry-level sim gaming, but previous generation wheels are also excellent for a bit less.  These previous models have been supported by most games for years, so getting the G923 now should ensure a gaming controller that will work for many years to come.  You get a great racing experience, especially if you're new or an amateur.  More experienced sim-racers may want direct-drive wheels (which cost $1000+), and the immersive extras of the TRUEFORCE feedback may actually detract from hardcore racing performance (feeling every bump and RPM doesn't necessarily make you a better driver and in some cases can distract from what really matters to eke out the best lap time).  Overall though I loved every minute of my review period on this, and I think most people will enjoy it for years to come if they decide to get it.
Price: $399.99
Where to buy: Logitech and Best Buy
Source: The sample for this review was provided by Logitech.