We use affiliate links. If you buy something through the links on this page, we may earn a commission at no cost to you. Learn more.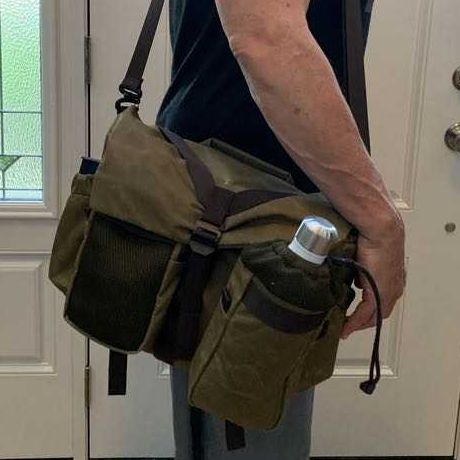 REVIEW – Vintage style combined with superb functionality. That's what Wotancraft is all about, and I'm seeing plenty of both in the Pilot Camera Messenger Bag. This little guy is a solid multitasker that will appeal to both photographer and the daily carry crowd without compromises. It looks good, too! We've got a lot of pictures in this one. To the review!
What is it?
It's a messenger bag and a camera bag that adds modular expandability to meet your specific needs.
What's in the box?
I'm reviewing the 10 Liter version of the bag. The bag includes 3 dividers for camera equipment (2 with lids), a detachable shoulder strap & shoulder pad, and a storage bag.
My review package also included 4 add-on modules available with the purchase. We'll walk through them in the review.
Hardware specs
This bag comes in two sizes. I'm testing the Medium size which specs out as follows:
Overall dimensions: 40 x 16 x 28 cm.
Cordura 500D tear-proof waxed canvas
Water-repellant teflon exterior coating, PU laminated interior coating
10 liter capacity
Total weight 900 grams
Design and features
Hailing from Taipei City, Taiwan, Wotoncraft's design aesthetic is inspired by vintage military styles & materials. The Lightweight Camera and Messenger bag I'm testing clearly pulls influences from WWII Swiss Army ammunition bags. Check out that sweet front profile.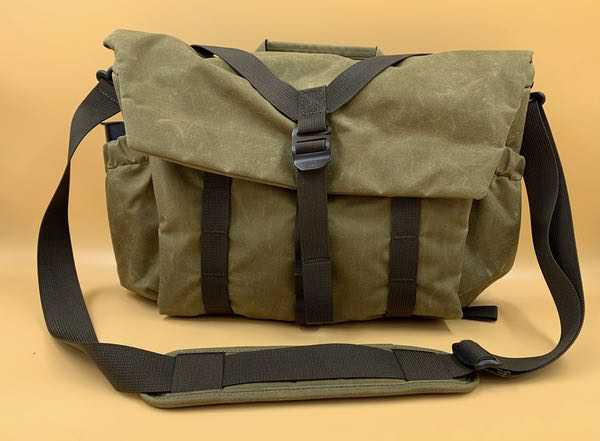 The material is a lightweight Cordura 500D waxed canvas that weighs in at a paultry 900 grams overall. But don't be deceived by the light weight; this build is serious business. Ultra strength nylon threading, YKK zips, zinc alloy & brass hardware, Duraflex buckles and snap hooks… all the components are built for heavy use.
While the style is vintage, you'll find that the Wotancraft Lightweight Messenger is packed with contemporary design and some really clever innovations. Let's start on the outside and work our way in.
The backside includes a luggage pass-through and a 32 cm by 20.5 cm zipper pocket for papers and such that uses a sealed YKK zipper (with a zipper garage) to keep the wet from getting to your precious papers and notebooks.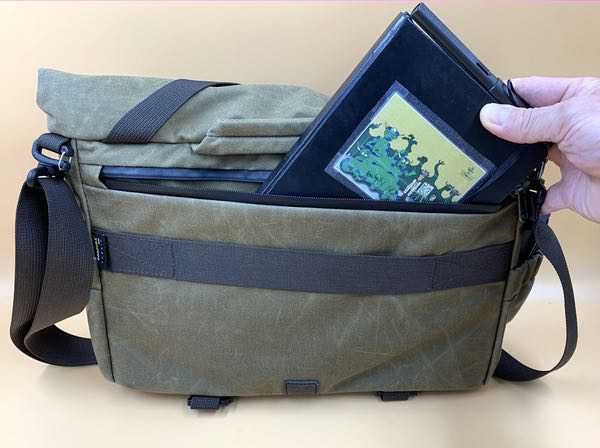 A simple grab handle sits is smallish, but that's OK given the overall size of the bag. It won't get in your way when you don't need it.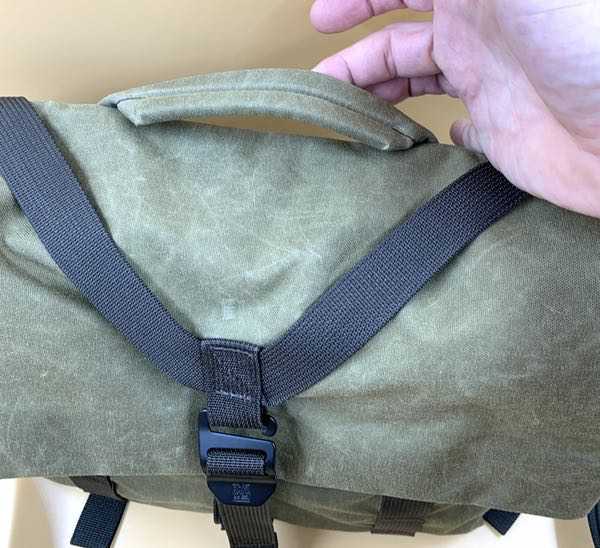 A pair of straps on the base of the bag allow you to tether a tripod or umbrella. These straps can be removed and attached to the loops on the front face of the bag if you prefer.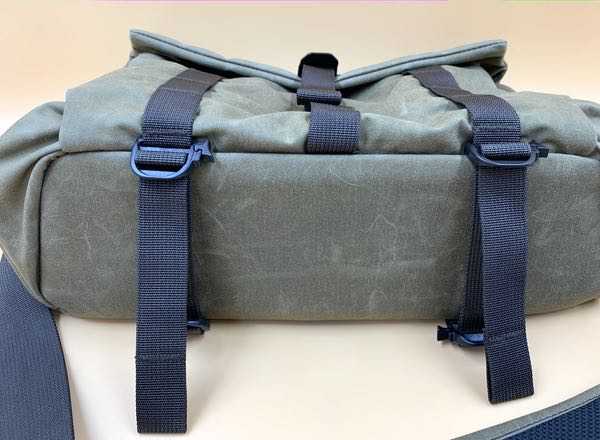 Those loops run the height of the front face of the bag, providing attachment points for carabiners and other accessories.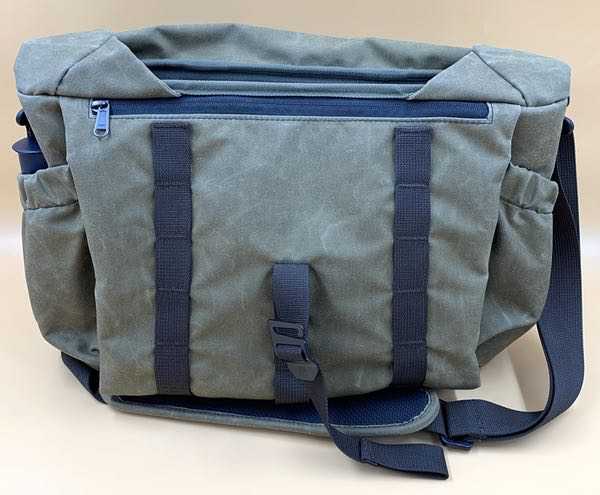 Dual side pockets will stash water bottles, sunglass cases, and similar items. I love the way the pockets swing around and attach to the inside of the front panel. It's a little thing, but this allows you to stash extra-fat items in these pockets like a chunky hydration bottle.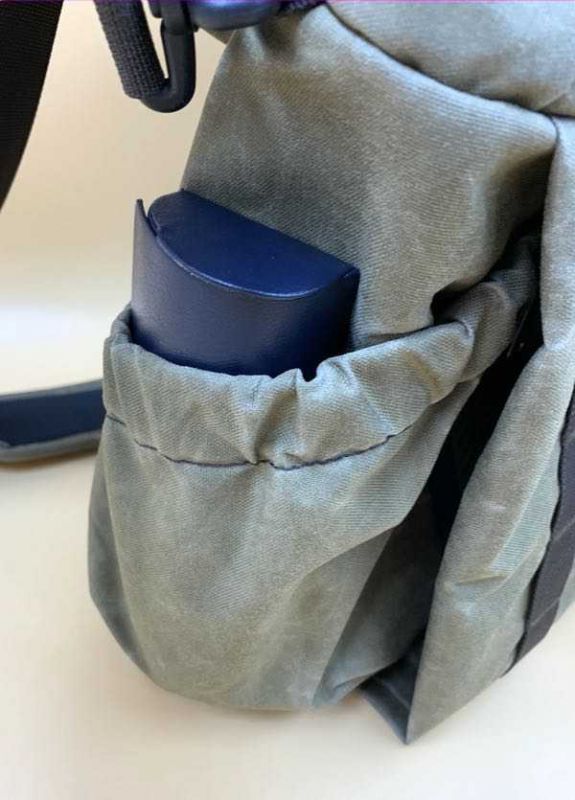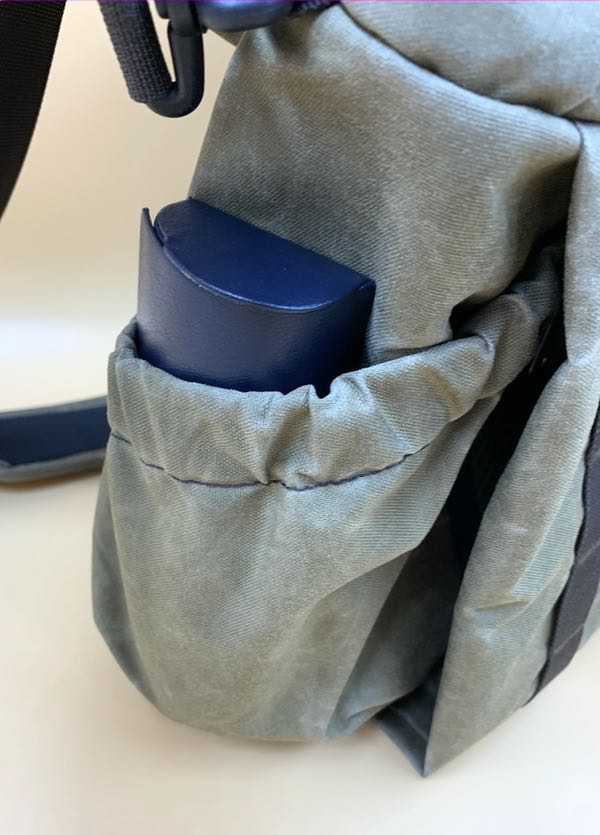 And that front panel hides another trick. Behind the panel is a pass-through that holds a mesh pocket to hide valuables. The really cool part of this secret pocket is that is accessible with vertical zips on both sides of the bag for added flexibility.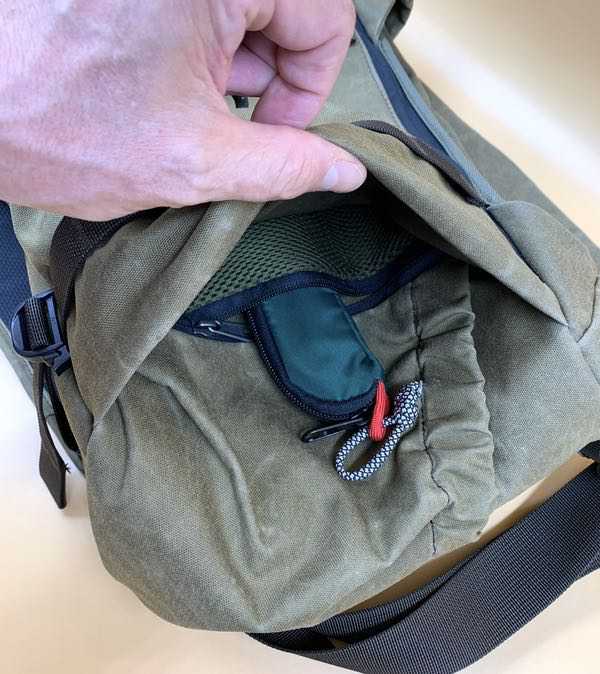 Let's talk about that flap to the main compartment. It locks in place with a hook that is adjustable so that you cinch the bag down for smaller loadouts. Now check out those wings of fabric when I open the flap. See those triangular bits at the top of the bag? They keep stuff from falling out of the bag (or being grabbed by wandering hands), despite there being only one latch point keeping it anchored. They also keep the wet out of the interior of the bag when you're on the go. Super clever.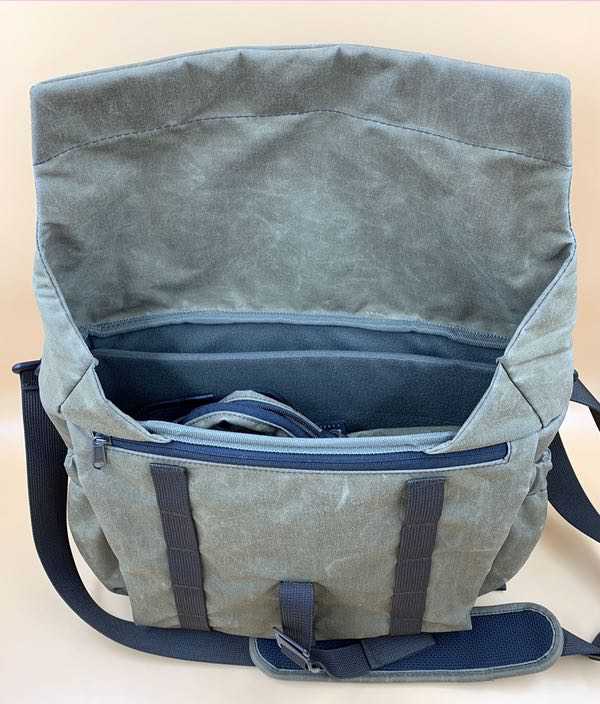 You'll find a front pocket on the bag that has two smaller pockets inside, perfect for your small stuff like phones. I have a pocketknife and earbuds in here. The sub-pockets are identically sized for easy organizing.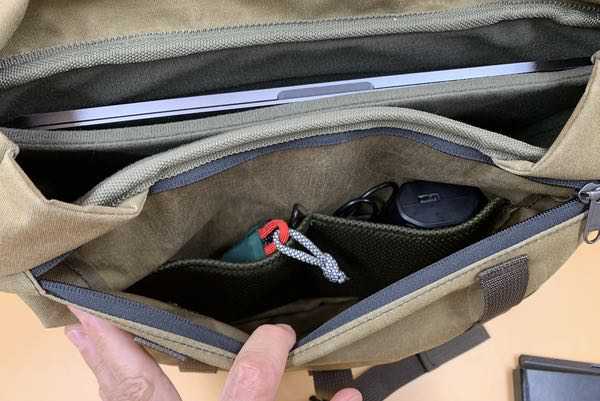 Now on to the main compartment. This space is configurable with multiple dividers that are included with your purchase. You'll find a padded laptop divider and three camera divider inserts (two with lids) as shown below.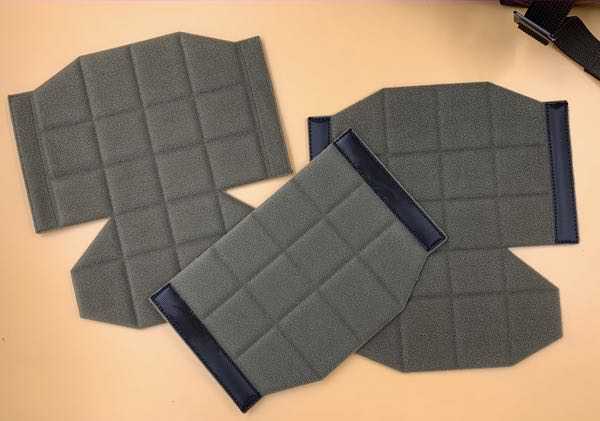 This gives you all sorts of options to configure the main compartment to your needs. Here's the interior cleared of all the dividers.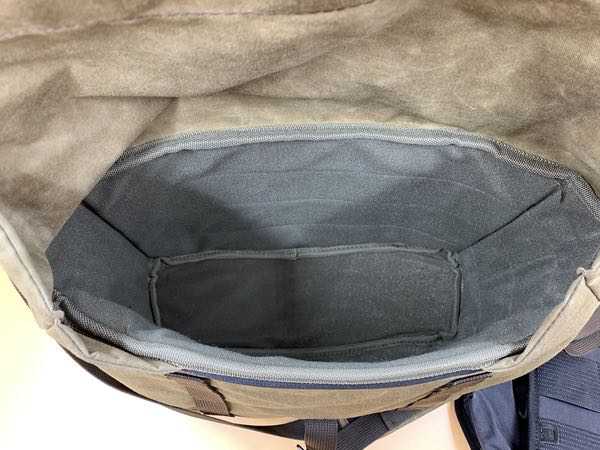 Here's the laptop divider inserted. It will take a 13″ MacBook or 12.9″ iPad.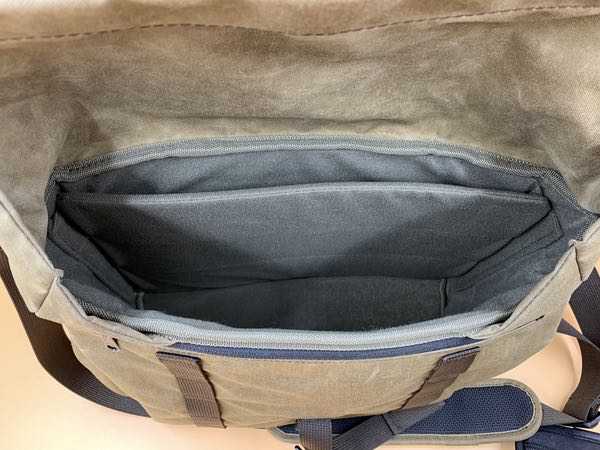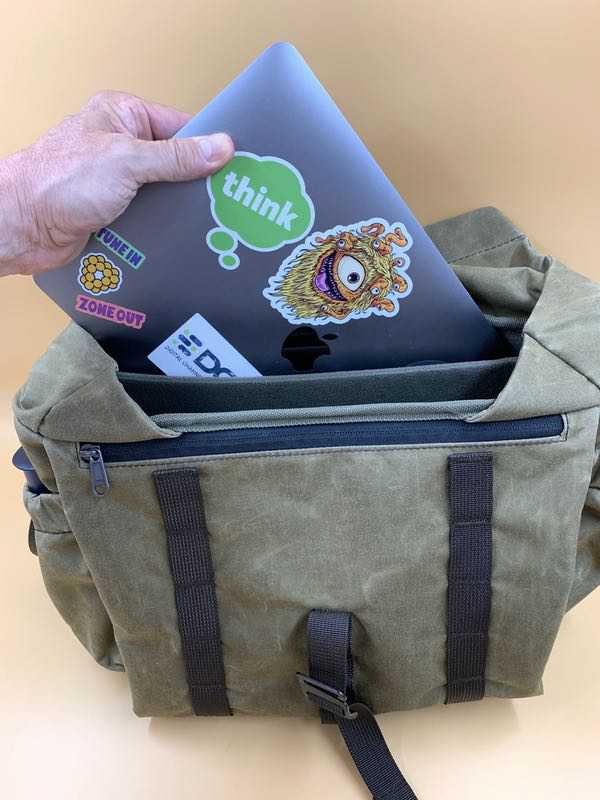 And here's one example of the space with the laptop divider removed and the camera divider inserts in place. You can reconfigure the compartments as needed based on the gear you're carrying at the time.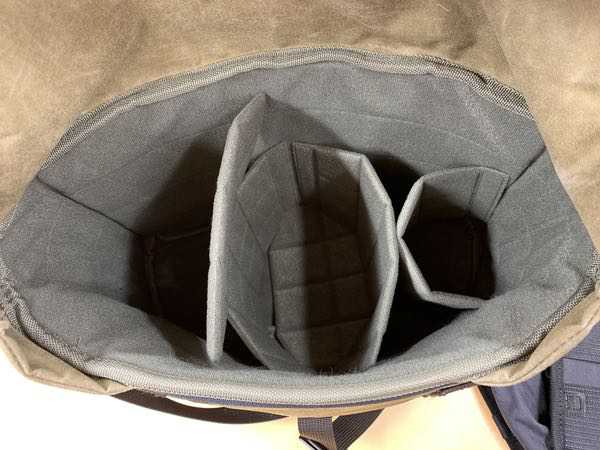 The build uses a "surgical grade microfiber" designed to resist pulling from adding and removing the velcro bits. This stuff is STRONG. Adding and removing dividers can be a wrestling match in that smaller space, but nothing is moving once you lock the pieces in place.
Your carry strap is also made of tough stuff. I love these beefy Duraflex swivel buckles.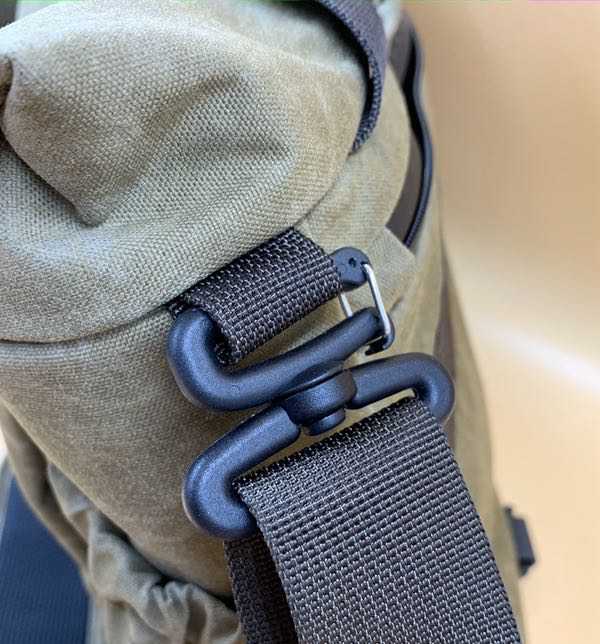 There's plenty of length in the shoulder strap to find a comfy fit. A generous shoulder pad with neoprene SCUBA fabric is a nice bonus for comfort.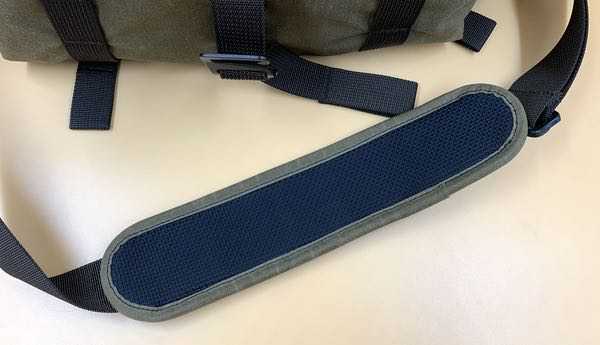 Accessories
Wotancraft makes a series of add-on accessories for the Lightweight Messenger Camera Bag to add organization above and beyond what's included in the bag. I got four different accessories to play with.
The first two accessories are made to velcro to the panels on the interior main pocket. The Zipperless Pocket Module is a pocket with a hood, made for quick access. I have my mouse in this module, but it's plenty big for a phone or additional components. I also like this one for collecting random small bits (like loose change or small tools).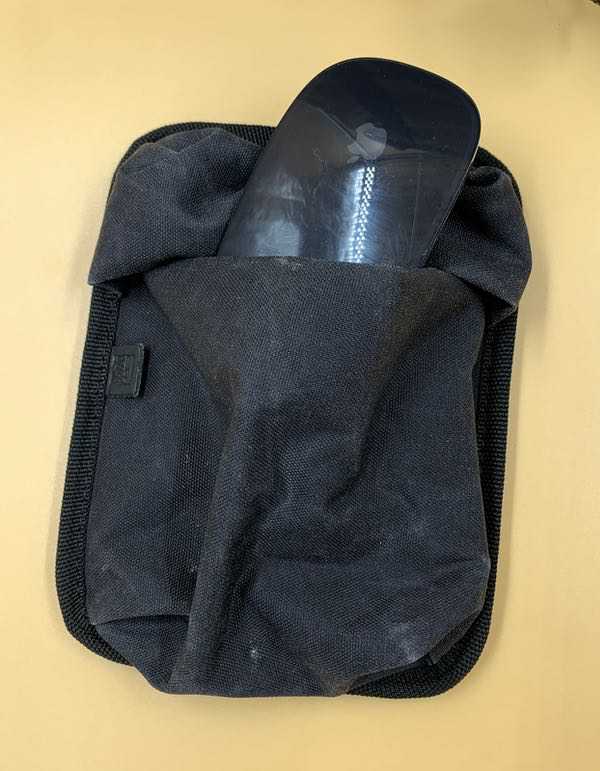 The second velcro accessory is the Cord Organizer/Utility Fastener Module. It basically three wide elastic bands that will hold your MacBook power brick, batteries, cables, and other stuff you don't want floating around in your bag. They make a version of this specifically for extra camera batteries and SD cards if that's your thing.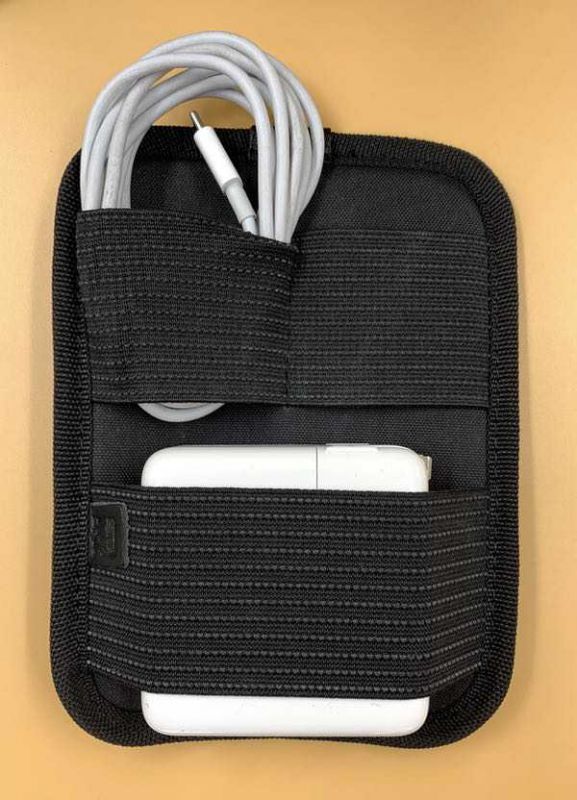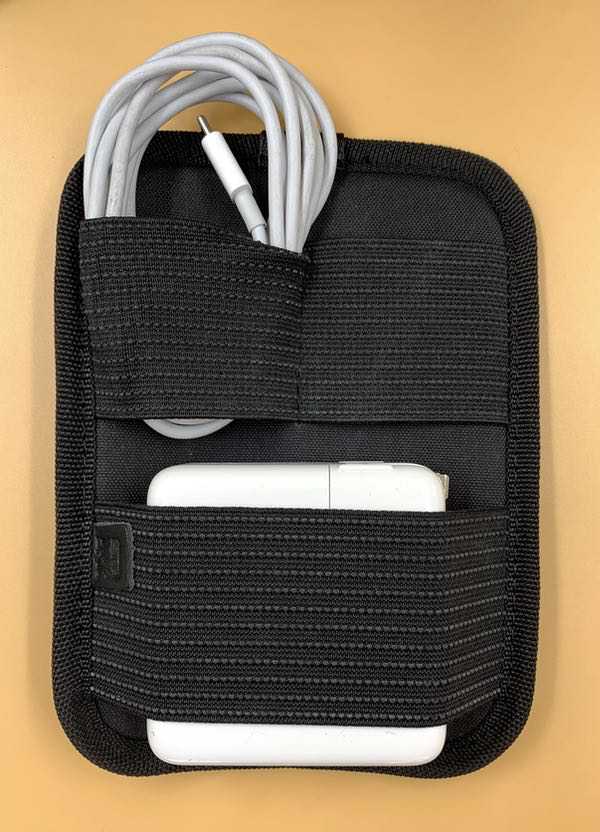 Either module will velcro to any of the interior panels of the main compartment. Here I have one attached to the laptop divider and the other to the front wall of the bag, but you can find all sorts of combinations with the camera divider inserts too.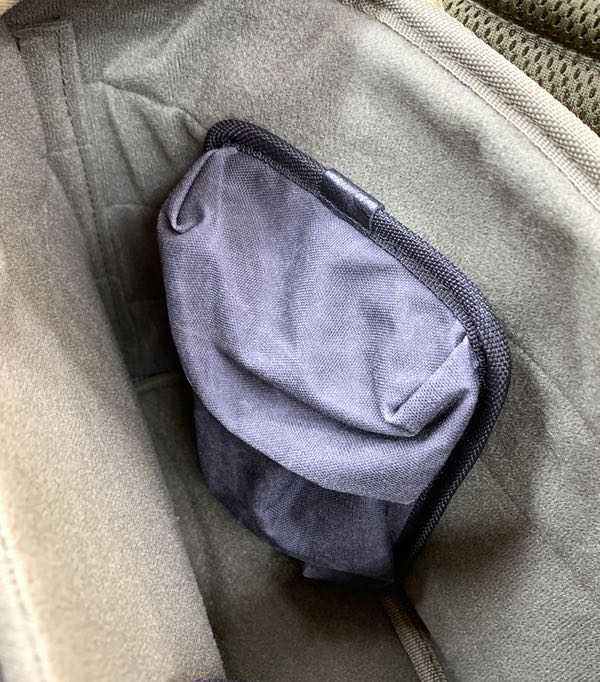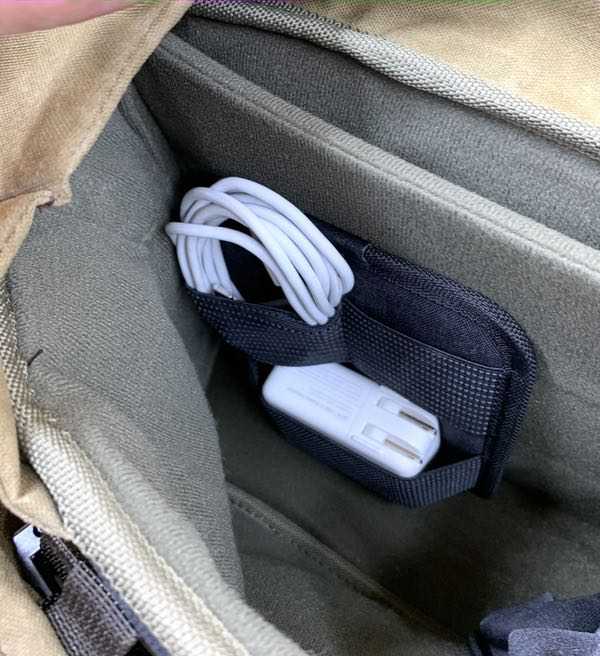 The next two add-ons are external pockets. These use YKK snap-on clips to attach to the loops on the front face of the bag. The Zipper Pouch includes an external webbed pocket and three more wide elastic loops for bits like your headphones.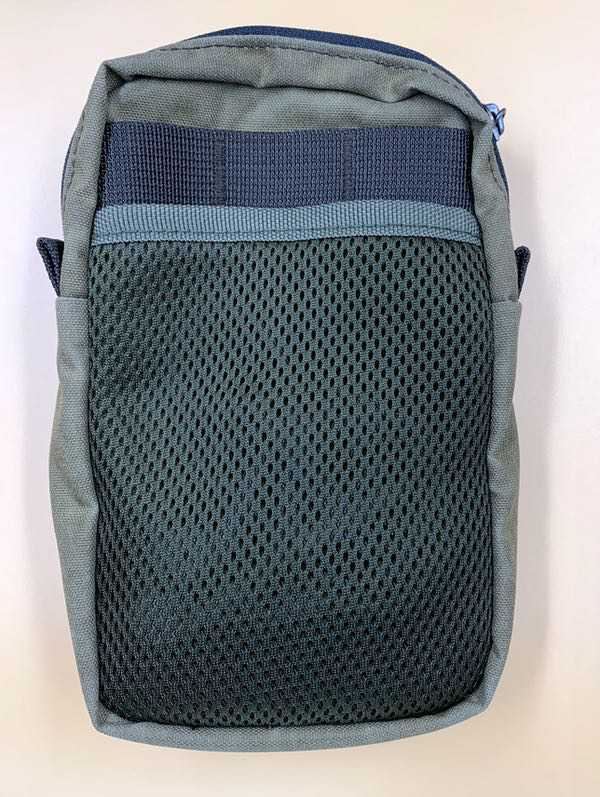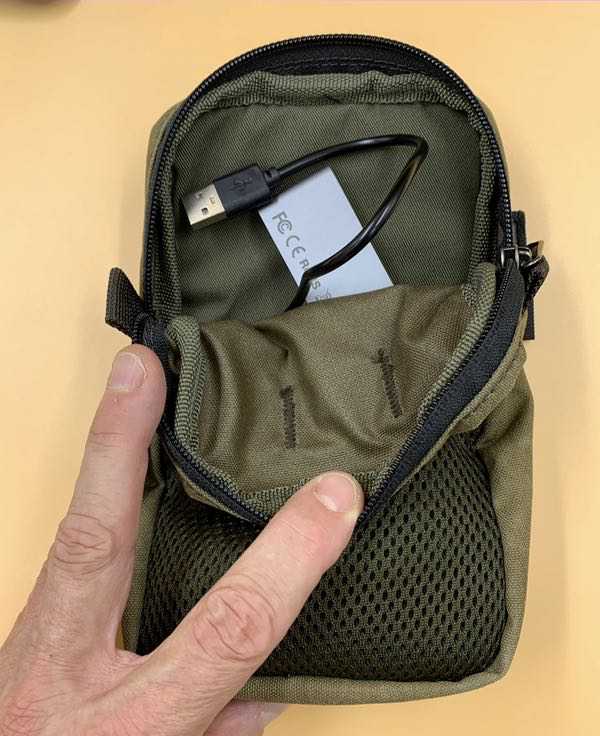 The Drawstring Pouch will handle a 500 ml water bottle.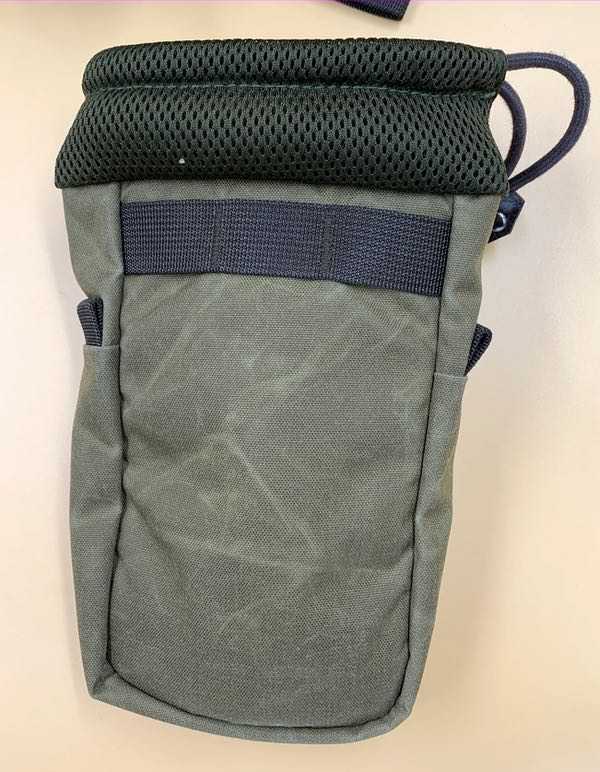 Flip either of these modular pockets over, and you'll find those clips.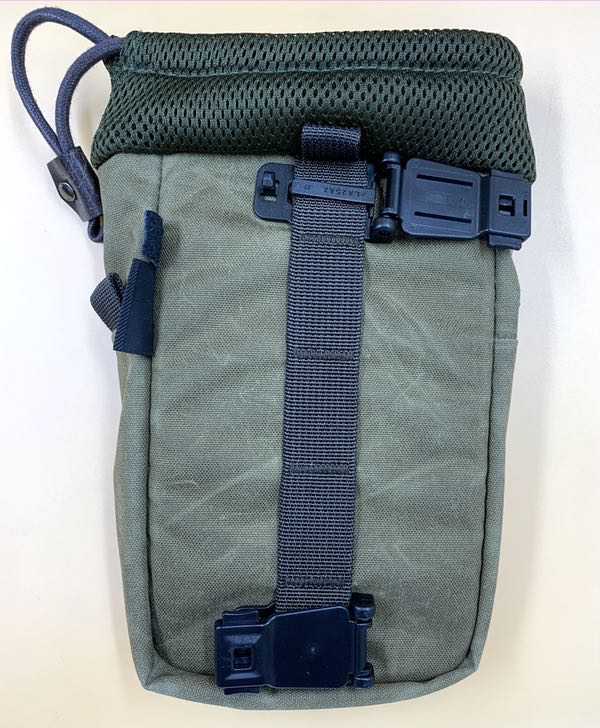 They pop easily onto the loops on the bag exterior.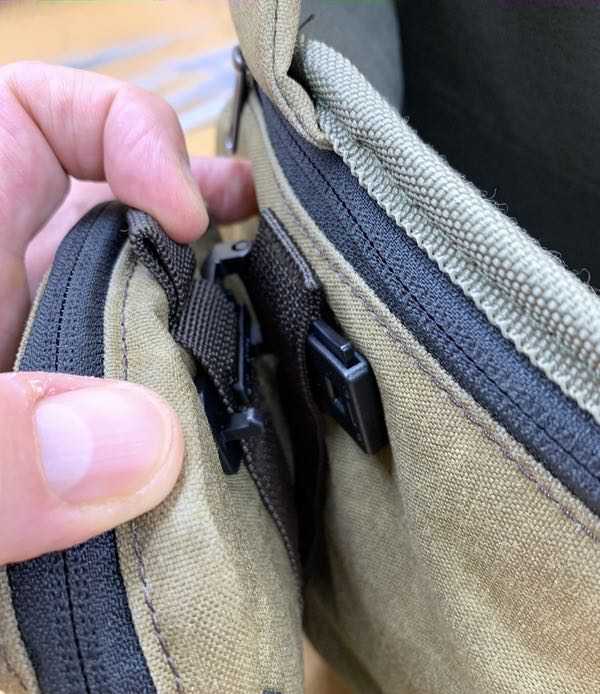 And BOOM! You're accessorized.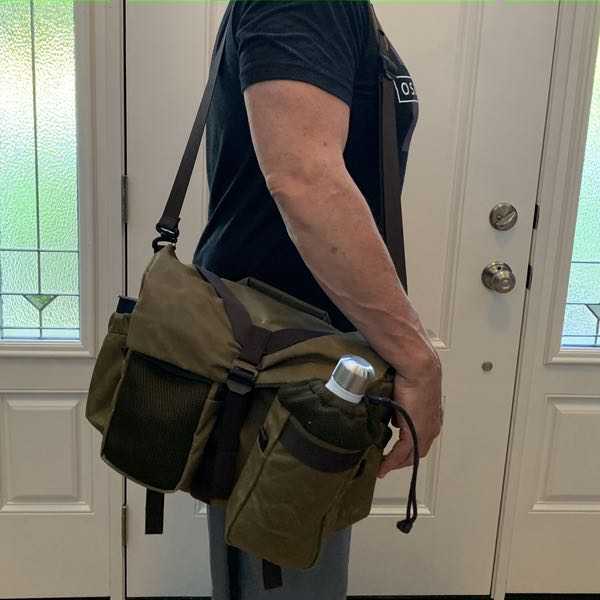 As an added bonus, these two modules come with carry straps so that you detach them from the bag and sling them over your shoulder for a hike or a walk through town.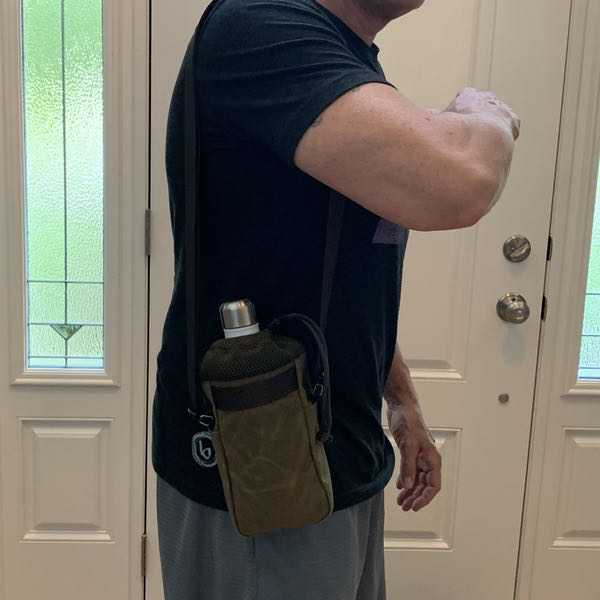 Performance
The Wotancraft Lightweight Messenger and Camera Bag packs excellent usability into a surprisingly small and lightweight package. It's easy to maneuver, and perfect for straight-up messenger use if you're rocking a laptop and your office stuff. Here's a shot of the bag without the accessory pockets.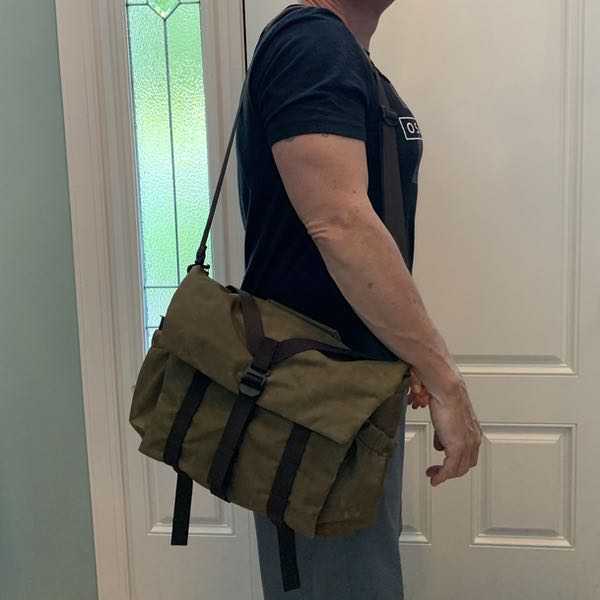 And here's another with the optional Zipper Pouch and Drawstring Pouch attached.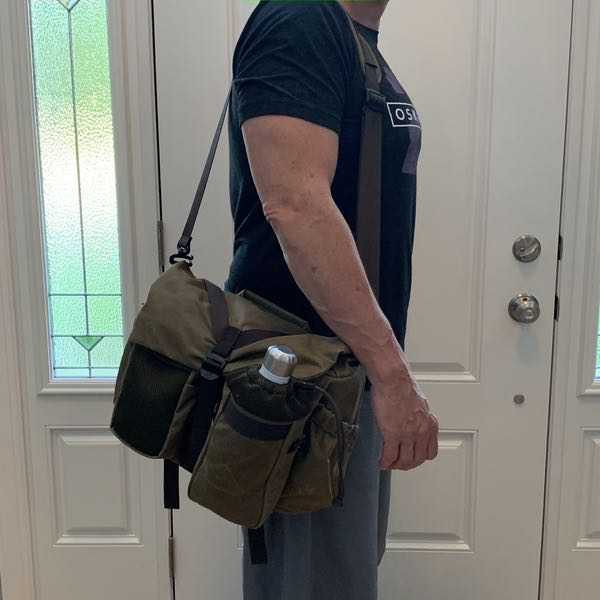 No matter how you configure the bag, you're getting excellent usability. Small bags can be problematic when it comes to accessibility as you add pockets and features that cramp the space of the main compartment. This is especially important if you don't want to be fiddling around in your main compartment for quick-grab items like keys, phones, headphones, etc.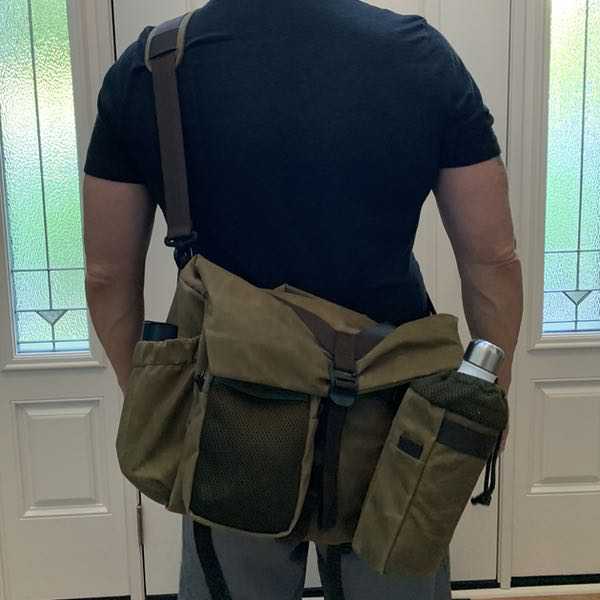 The Wotancraft Pilot Camera Messenger also shines with respect to flexibility. You can reconfigure this bag for travel, for the daily office commute, for photo sessions, or for simple daytrips with a few tweaks to your add-ons and inserts. It's a great multitasker, and that lightweight build makes it extremely shoulder friendly for long days.
I'm also impressed with the overall carrying capacity. While it is only listed at 10 liters overall, the external pocketing and onboard modules on this bag are designed in such a way that they don't compromise the main space. I find myself being able to load this thing up with as much stuff as I get in some of my 15- or 20-liter bags that have more rigid geometry.
What I like
Super lightweight.
Excellent organization and overall usability.
Flexible and adaptable, especially when you leverage the add-on modules.
Many configurations in one bag without compromising any details.
What needs to be improved
The velcro used on the inserts is super strong. This is great for stability, but can make for some wrestling to get the inserts into (or out of) position.
Final thoughts
This is my first experience with the Wotoncraft brand, and I'm really impressed. Excellent usability, simple functionality, modular flexibility, and vintage styling make this bag a true multitasker that fits a number of use cases. I'd wouldn't just recommend this bag for photographers. There's a lot to love for daily use and folks that carry a lot of tech gear as well. I'm looking forward to seeing more from this brand!
Price: $199. Accessory pricing varies, but discounts are included if you bundle them with purchase of your bag.
Where to buy: Follow this link to the product page on the Wotancraft web site.
Source: The sample of this product was provided by Wotancraft.