We use affiliate links. If you buy something through the links on this page, we may earn a commission at no cost to you. Learn more.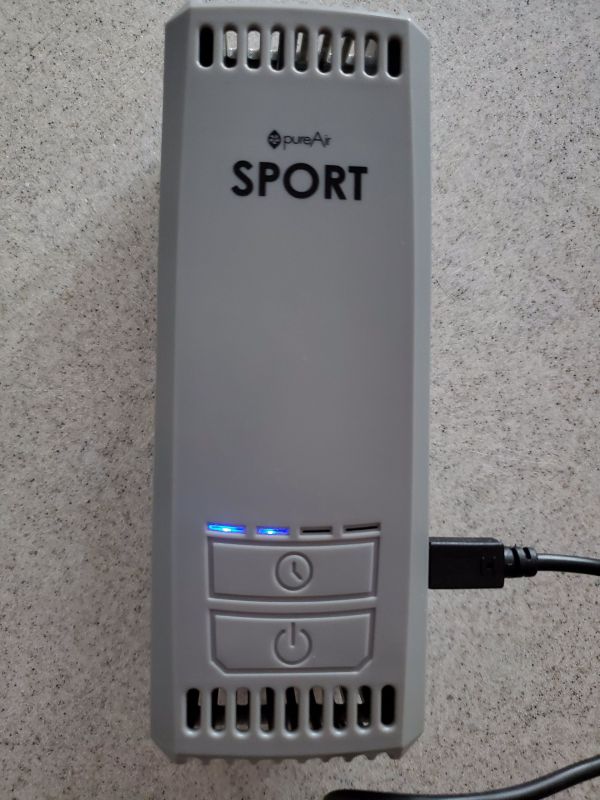 REVIEW – Before COVID-19 hit, I used to go to a gym almost every day.  That often meant I was carrying home wet sweaty clothes in my gym bag.  Let's just say, that bag did not smell like a bouquet of roses.  We also have a utility room where our washer and dryer sit that will sometimes get a musty smell if we leave the door closed on it all of the time.  The pureAir sport is an air deodorizing device that uses ions and activated oxygen to clean and freshen the air in small places.  Let's see if it has the magic to make things smell
What is it?
The pureAir Sport is a small handheld device that you can throw in a gym bag or put in some other small space where it will deodorize the environment using ions and activated oxygen.  It can be run via a USB rechargeable battery or by being plugged into a USB device.
What's in the box?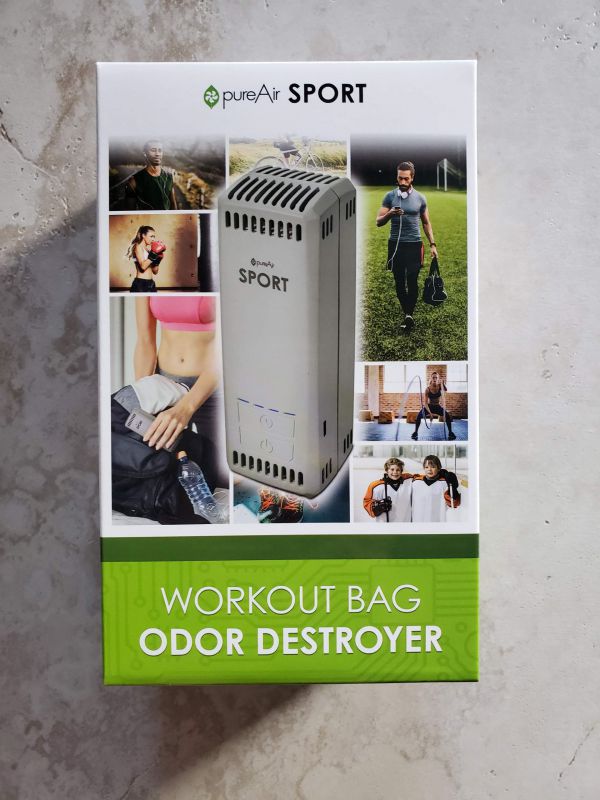 This is the box the pureAir Sport came in.  It was nicely packaged.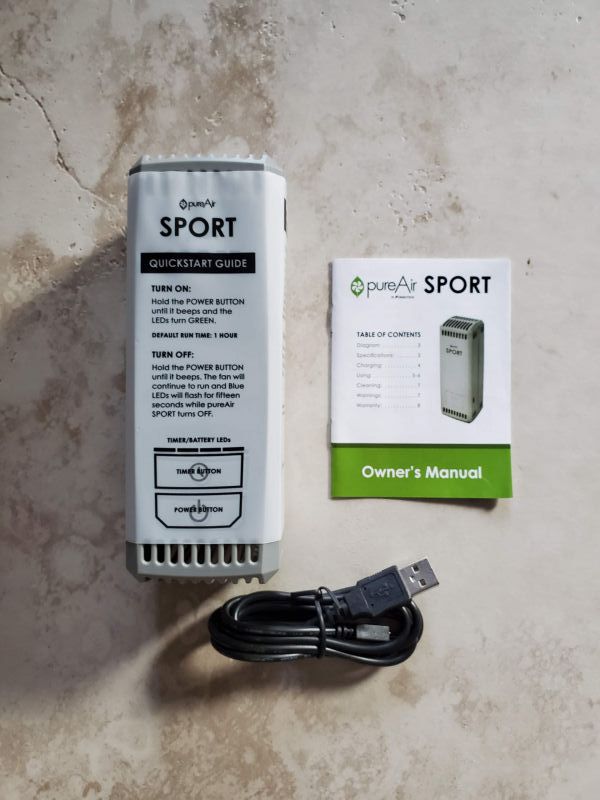 Inside the box, the following items were packed.
One pureAir Sport wrapped in a quick start wrapping
One owner's manual
One micro-USB cable
Hardware specs
Over 4 Hours of Operation Time
Timer Function
Continuous Operation Option
Battery Life Display Function
Rechargeable Lithium Battery
Unit Dims: (HWD) 6.00″ x 2.125″ x 2.25″
Unit Weight: 8.00 oz
Voltage: 3.7V
Battery: 5,000 mAh Lithium Ion
Ozone Output: 50 mg/h
1 Year Warranty
Design and features
The design of the device is pretty simple.  It is not made to stand up in any particular position.  It is made to throw into your gym bag where you have to make sure to leave the top vents open because that is the one set of ports where the ionized air comes out.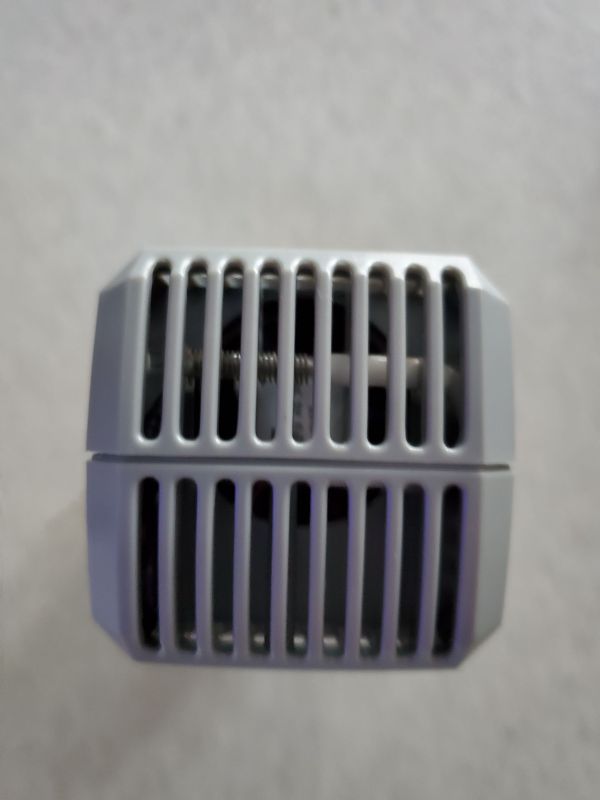 This is a picture of the top ports.  They are identical to the ones on the bottom.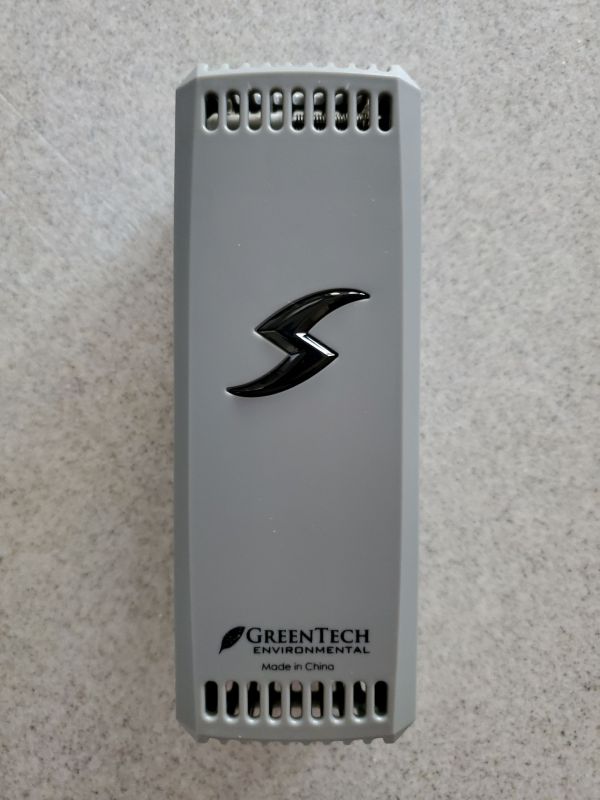 This is a picture of the back of the device.  You can see that it has intake ports on the top and bottom.  These same intake ports are on all four sides.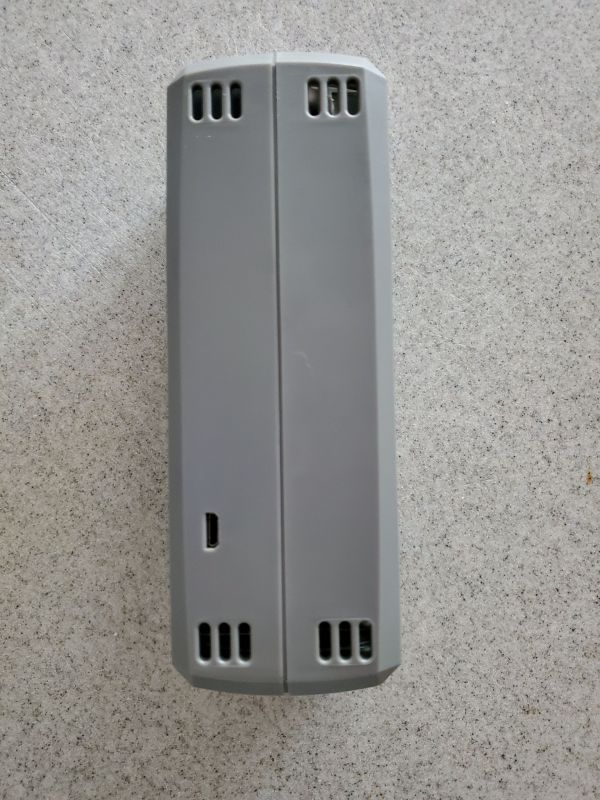 This is a picture of the side of the device with the micro-USB port.
Setup
Before using the device I had to charge it up.  The device can run for over just four hours and it certainly takes about that long to charge.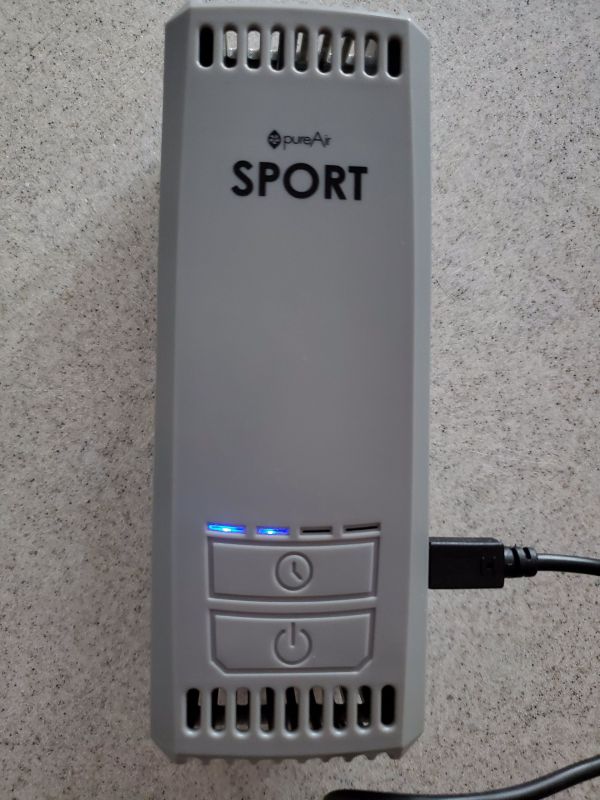 I plugged it into a USB charger right after I took it out of the box.  It already had a 25% charge.  There are 4 LED lights on the device.  Each one indicates 25% of the power.  The first light was a solid blue and the second light was blinking to show it was charging at that level.  Notice that there are two buttons on the front of the device.  The bottom button is the power button.  There is no tactile feeling to the button at all.  For a while, I could not figure out how to turn it on until I broke down and read the manual!  You have to press and hold until you hear a beep.  The LED lights will display in green to show it is turned on.  By default, only the first LED will light up showing that the device will run for one hour.  Each light indicates an hour of run time.  To add more hours, you press the top button.  As you press it (again there is no tactile indicator) you will see each subsequent LED start flashing green.  To run the full four hours, three LEDs will be solid green and the last LED will be flashing green.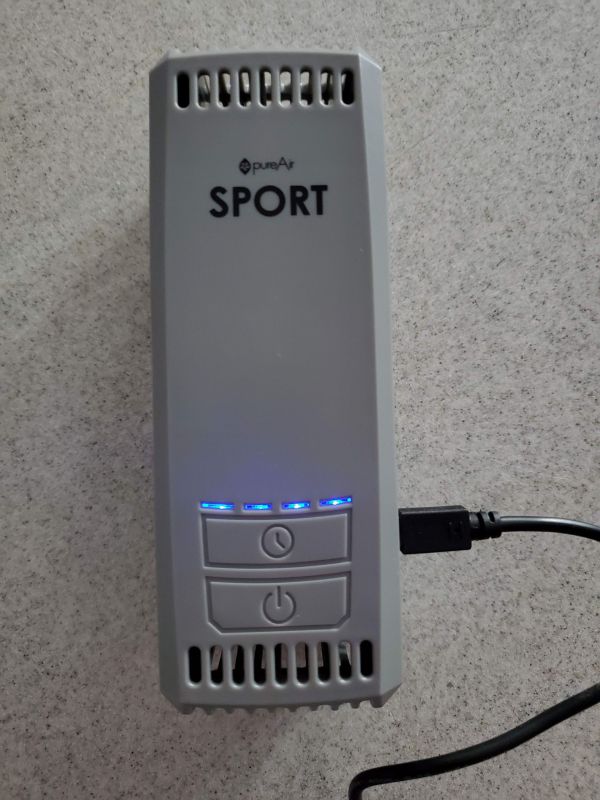 This was how the Sport looked after it was fully charged.  It did take about four hours for it to fully charge.
Performance
Well, I did not have any smelly gym bags to stick the device into, but I did have a musty utility room that I wanted to test the device on.  After fully charging it, I put the Sport on top of my dryer and closed the door.  I checked on it every hour and I could see like clockwork the LEDs were slowly counting down.  I got right at about 4 hours.   I put my nose at the top of the device and I could feel the air coming out and I could also smell the distinct odor of ionized air.  I don't find the smell particularly pleasing, but that is not what you end up smelling after it is done with its job.   After four hours I opened the door to the utility room and I could no longer smell the musty smell I always get when I closed the door.    It really seemed to do the trick.  I found that if I put the device in the utility room to run after I finished doing a load of clothes it kept the utility room clean and fresh smelling.  That is a big win for me.  I am sure it would work wonders on a gym bag as long as you don't block those top ports or too many other ports and keep it lying flat on top of some clothes.
What I like
small – easy to put almost anywhere
rechargeable battery so you can run it cordless anywhere
you have the ability to run it plugged in if you have a bigger job that needs to take longer than four hours to run
What needs to be improved
Make the buttons beep or be tactile in response.  Especially the timer button.  It was hard to tell if I was pushing hard enough to get the lights to come on.
recharging takes a long time
Final thoughts
If you have a stinky gym bag or small space that needs to have the air cleaned, I think this device can really do the trick.  I only have a few minor complaints and I have not seen any other small portable ionizers like this.  I have seen large room units, but nothing I could stick in a cabinet or gym bag if needed.
Price: $79.00
Where to buy: GreenTech Environmental You can also buy it at Amazon
Source: The sample of this product was provided by GreenTech Environmental.