We use affiliate links. If you buy something through the links on this page, we may earn a commission at no cost to you. Learn more.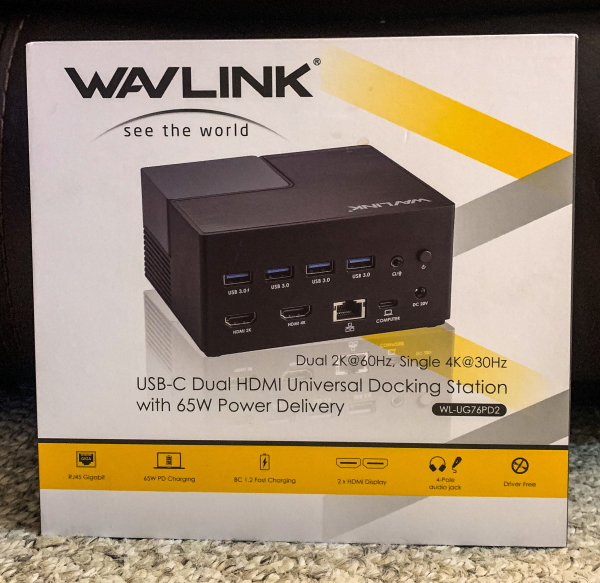 REVIEW – I spend hours each day in front of my computers either performing the duties of my daily job or tasks related to my other interests like photography, videography, podcasting, etc. I require the best access to several USB devices that I use as tools along with devices like a headphone, etc. The need for a powered and capable dock is inherent, and after trying several that have fallen short in meeting my needs in one way or the other, I now get to test the Wavlink UG76PD2 USB-C 4K Dual Display Universal Docking Station with Power Delivery.
What is it?
The WAVLINK USB-C Dual Display Docking Station with Power Delivery is a compact dock that offers expansion to 10 ports via a single USB port from your laptop. It also offers 65W of laptop charging (Power Delivery).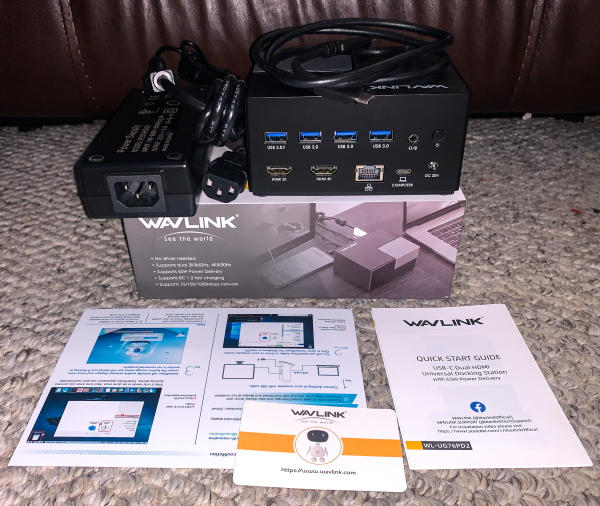 1 x Universal Docking Station
1 x USB3.0 C to C Cable with E- Mark
1 x User Manual
1 x DC20V/5A Power Adapter
Design and features
Features
USB3.1 Type-C and Standard-A connectors compatible both Type-C Laptop
100Watt Power Adapter support 65Watt upstream Laptop Power Delivery Charging
Built-in USB 3.0 GPU, Plug and Display Certified by Silicon Motion
The driver automatic installation becomes user friendly
Dual HDMI video ports support one 4K/30Hz output and another is 1080p display output
GPU built-in "Content Adaptive Technology" to decrease CPU loading and Multiple HW decoders to give video streaming faster performance
Hub with four USB3.0 USB-A to extend more USB connectivity and one port build in BC1.2 fast charging
4-Pole Phone Jack provided combo audio headset, microphone port
Gigabit Ethernet network RJ-45 backward 10/100/1000 Ethernet
Supports OS Microsoft 8, 10; Mac OSX and free driver installation
USB connection support 65Watt power upstream charging to USB-C with Power
Delivery Laptop Computer. USB-A cable connection does not support PD function.
Specifications
Ports: 3 x USB-A Port: 5Gbps; 1 x USB-A 5Gpbs (USB BC1.2 Fast Charge); 2 x HDMI (1x2K, 1x4K); 1 x 4-pole phone Jack; 1 x USB-C I/P: Upstream Charging 65W Max; 1 x DC Power Jack Port; 1 x RJ45 Gigabit Ethernet
Buttons: Task Switch On/Off Switch
LED: Blue
Power Supply: DC20V/5A 100Watt
Power Consumption: 88Watt maximum
This is a compact and lightweight dock with all of the connection ports on one side of the dock. Below are photos of the interface and the ports.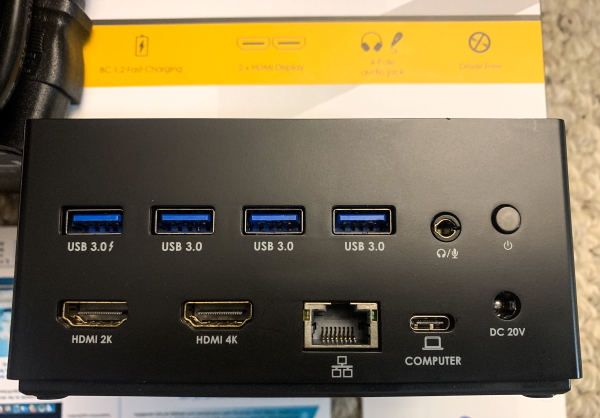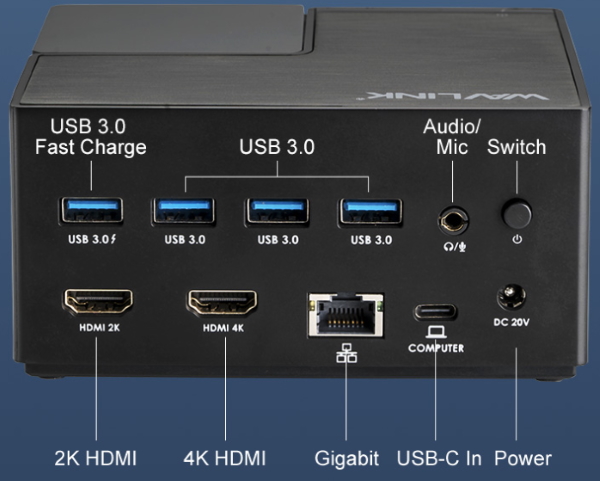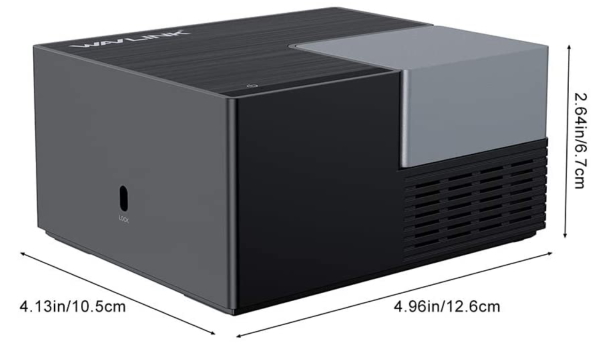 Performance
This dock is lightweight and compact and the ports are well laid out so that accessing them is easy. It is plug and play and uses their InstantView technology that allows you to connect to your computer via USB-C to USB-C or USB-C to USB-A. The available ports include 4 USB-C 3.0 ports with one of the ports offering a fast-charging capability, an ethernet port, a shared headphone/mic port, and 2 HDMI ports with 4K and 2K support.
As Wavlink has stated: "InstantView technology is unique and the first in the market. No other docks that can support both USB-A and USB-C without a driver. This brings great benefits for easy to use and help certain scenarios like conference room/classrooms where a monitor is shared among many computers".
The following diagram gives you an idea of the devices that can be connected to the dock.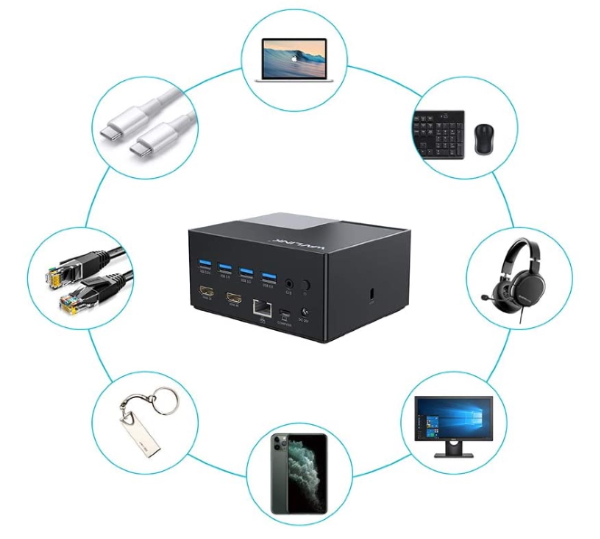 The following photos show how I have this dock set up on my desk, and some of the devices that I have connected to it.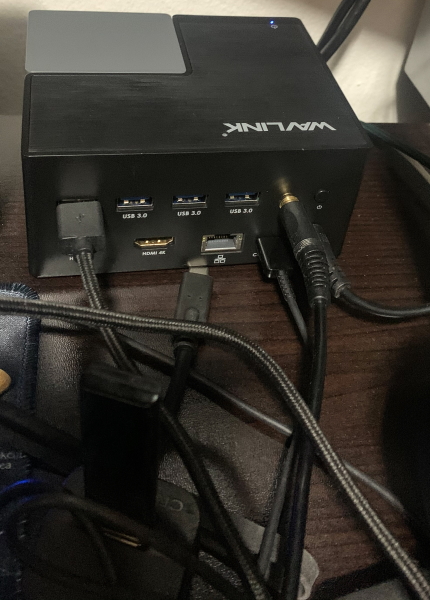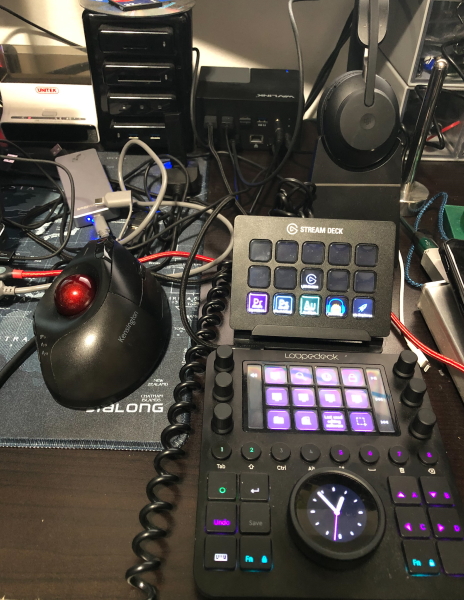 There are options for setting your up your monitors: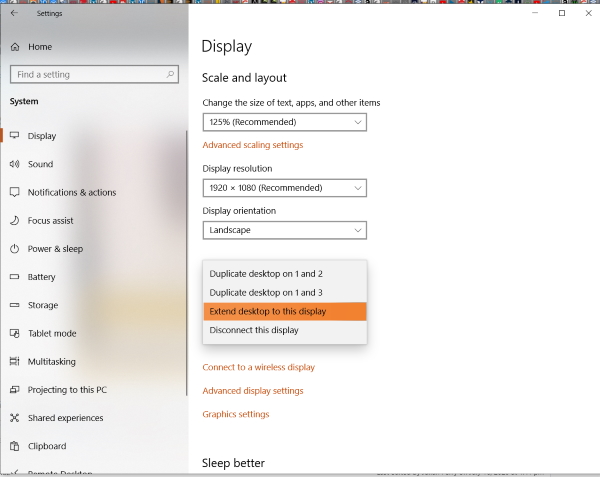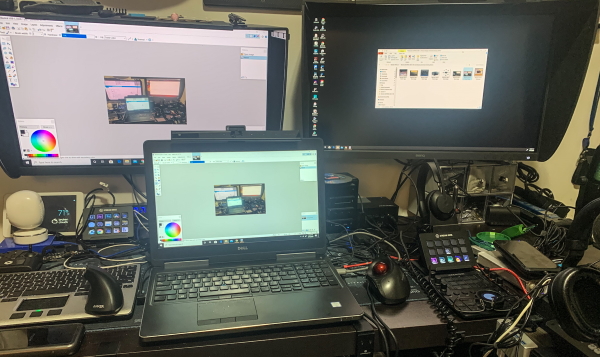 What I like
The build quality
The InstantView technology that is well implemented and makes installation easy
The variety of ports
The flawless performance
What I'd change
Being greedy, I would like a few more USB ports 🙂
Final thoughts
I absolutely love this dock. It offers great versatility and the ability to easily connect various devices. The InstantView technology works great and is integrated into the device. Here are some of the additional scenarios where the versatility of the dock is useful:
For businesses, any laptop can display in conference rooms or in the field without driver installation. In a shared office, InstantView allows employees who share desks to share monitors without any issues.
In today's modern classroom, teachers need to display their laptops on their screens constantly. In addition, during presentations students may need to share their work with their fellow students via large screens.
For specific businesses like hotels, in-room technology is becoming more advanced with smart TVs and tablets.
This dock offers great value for my personal workflows, and in my opinion, it gets a well done and two thumbs up!!
Price: $159.99
Where to buy: Amazon
Source: The sample for this review was provided by Wavlink