We use affiliate links. If you buy something through the links on this page, we may earn a commission at no cost to you. Learn more.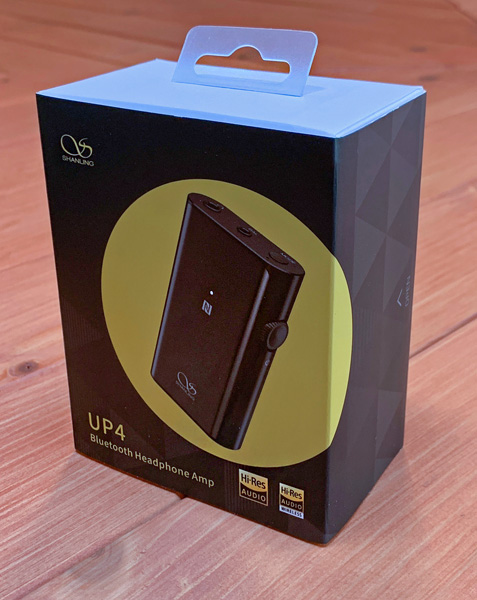 REVIEW – When I think about whether someone needs a portable digital audio converter (DAC) for their smartphone or not, I'm left with two more questions: "Will it allow me to use my older, wired headphones with my smartphone?" Or "What the heck is a DAC anyway?" Hopefully, in this review of the Shanling UP4 Bluetooth Headphone DAC/AMP, I'll be able to answer those questions and maybe educate you a little on the subjective subject of DACs.

What is it?
Shanling is a Chinese audio company that makes digital music players, convertors, and earphones. The Shanling UP4 Bluetooth Headphone DAC/AMP is a small, portable headphone amp that that converts a Bluetooth signal from a wireless digital source—such as a smartphone—into analog, so a wired headphone/earphone can be plugged into its headphone port. This allows freedom of movement that a wired headphone can't provide when hard-wired to an analog source. With the UP4, you can use older wired headphones with newer smartphones that have no headphone jacks—and it can make your music sound better than it does coming wirelessly from your smartphone. The UP4 uses dedicated dual Hi-Fi DAC/AMP chips while supporting many hi-res Bluetooth codecs. The plastic and aluminum build quality is first-rate.

In the box
UP4 DAC/AMP
Clip/case
USB-A to USB-C charging cable

Specs
Bluetooth 5.0 Codecs: LDAC,HWA, aptX, aptX HD, aptX LL, AAC, SBC
Bluetooth chip: Qualcomm CSR8675
Audio chip (X2): ESS Sabre ES9218P
Bluetooth range: 33 ft.
Power: 71-91 mW (3.5 mm); 160mW (2.5 mm balanced output)
USB DAC input: 16 bit/48kHz
Battery: 15 hours play/2 hours charging
Audio output: 3.5 mm and 2.5 mm jack
Size: 2.36 in. X 1.4 in. X .5 in.
Weight: 1.3 oz.

Design and features
There are some quick takeaways from the Shanling UP4 Bluetooth Headphone Amp/DAC. This thing is small—as in small. It's only a bit over 2.25 inches by 1.5 inches. Its design is minimal. There is nothing on the blank glossy black front except for a tiny lighted dot of color. Different colors mean different things depending on what mode the UP4 is in. I'll explain later.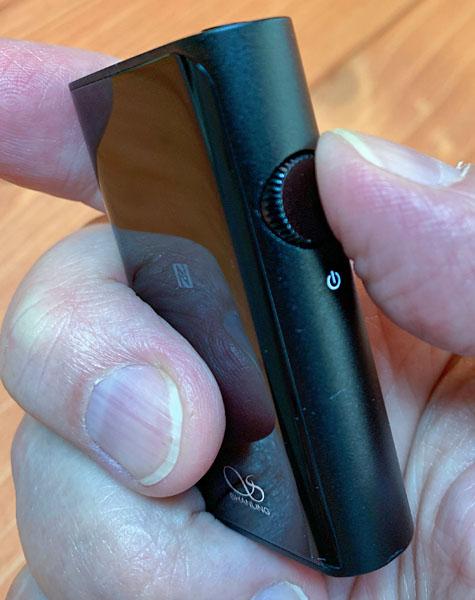 Continuing with the minimalist theme, there's a volume knob on the side of the UP4 that can also be pressed for (you guessed it) different functions depending on mode. Using the intuitive knob is comfortable to hold and easy to manipulate. The top of the UP4 holds two headphone jacks and the mode setting button. That's it.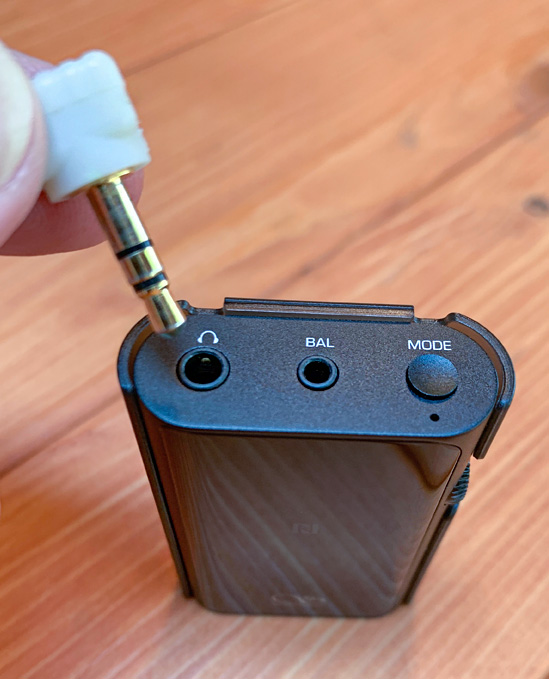 The headphone jacks are different sizes. The "mini plug" 3.5 mm jack handles 99% of all earphones/headphones. Next to that is a smaller 2.5 mm jack that directly connects to both internal DAC chips. We'll call it a super jack because it delivers the DAC/AMP chip's full potential that the regular mini-plug port does not. I don't know how much improvement is gained because all I have are 3.5 mm plugs on my headphones and earphones.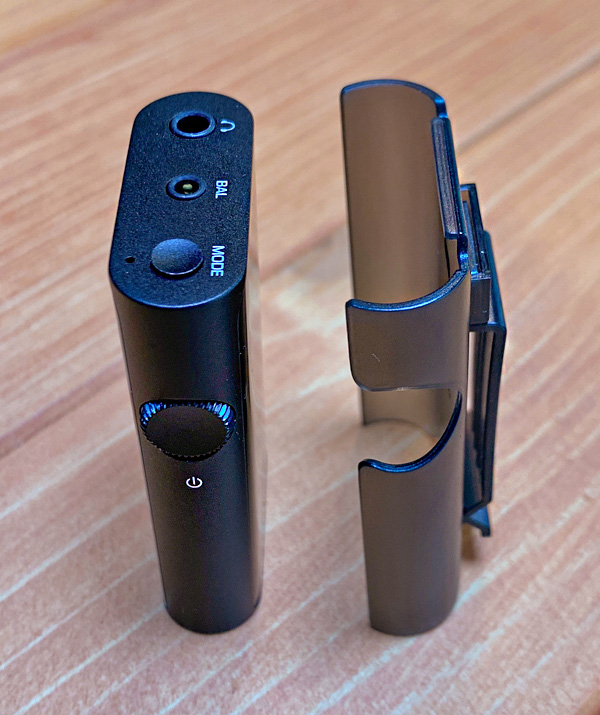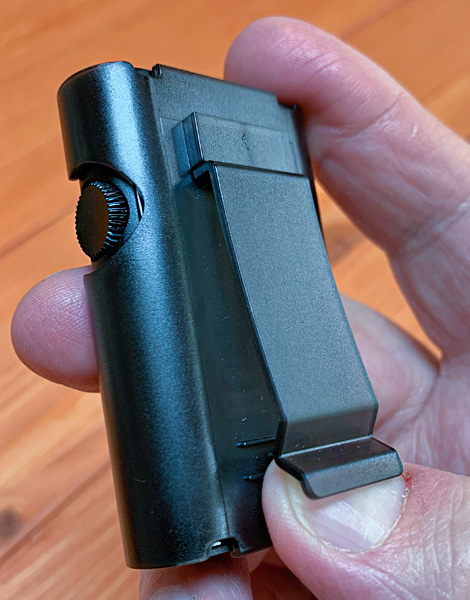 Since the UP4 is so small, Shanling has supplied a snap-on translucent plastic case with a clip for carrying. It can be easily clipped to a pocket or shirt.
The UP4 has a built-in mic for phone calls. It was weird using a regular wired earphone that has no mic on a phone call. The people I spoke with could hear me clearly—always a good sign. The one caveat was while on a call, I kept hearing a low-volume female voice tell me that I was successfully connected. Duh, I already knew that, but she kept reminding me about every 20 seconds anyway.
Connecting the UP4 to my iPhone was quick and easy. It connected on the first try and the connection remains solid and free of dropouts. Battery life is rated at 15 hours using the 3.5 mm jack. It's enough to get you through any day of solid listening. Battery life while on standby is 300 hours—practically forever.
The lone color dot/light on the front indicates what kind of Bluetooth connection you are utilizing. with my Apple iPhone XS Max, the codec is AAC, Apple's standard Codec—There's an argument whether one codec sounds noticeably better than another. With the newest Bluetooth versions, any difference in audio quality I've heard has been minimal. I don't worry about it anymore. For the record, the other Bluetooth codecs are LDAC (green), HWA (white), aptX (purple), aptX HD (yellow), and SBC (blue).
The Codec light on the front of the UP4 is not switchable—what you have is what you get depending on the source. What is switchable are the different colored dots while in other modes.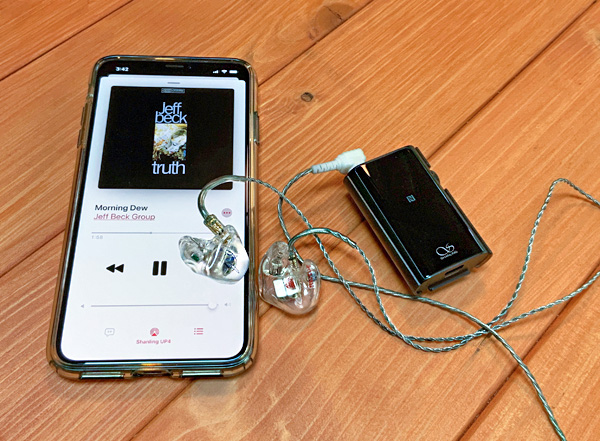 On to the more important audio part of the review. The next few paragraphs will get into the weeds a bit. Feel free to skip them if your eyes glaze over.
Let's talk Gain. There are three gain settings with corresponding colors on the UP4—Low (blue), High (green), and Dual DAC/Boost (yellow). Great, so what does it all mean? If you have a low gain setting, the volume will be lower, but the chance of distortion is reduced. Higher gain will sound louder but can introduce distortion with some music, depending on how it was produced. Dual DAC/Boost lets the UP4 use both of its DAC chips while using the optimal gain. I just leave it on Boost and forget it.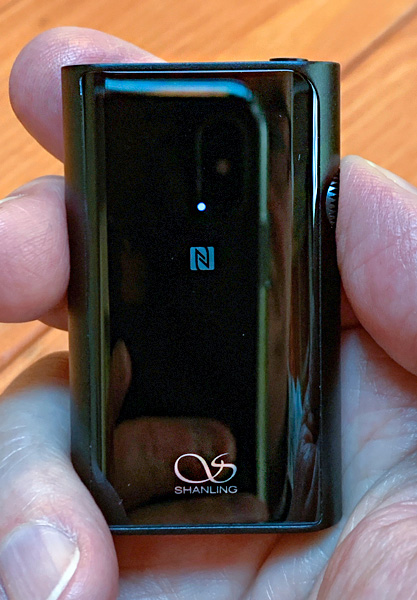 The other mode that can be customized is more interesting and more boring. Let me explain. Using the mode button, you can choose from four digital filters to adjust the sound to your liking. The choices are Linear phase fast roll-off (blue), Linear phase slow roll-off (green), Minimum phase fast roll-off (violet), and Minimum phase slow roll-off (yellow). Each digital filter choice affects how the two DACs handle the digital to analog conversions which changes how your music will sound. 
The Linear phase fast roll-off choice results in music sounding more natural. Linear phase slow roll-off is the more accurate sounding filter mode. Minimum phase fast roll-off results in a more mellow sound—think singer/songwriter music. Minimum phase slow roll-off produces a warm sound, meaning a slightly enhanced bass. The digital filters are like four equalizer settings. While all that adjusts the sound of your music in interesting ways, the results are minuscule at best. So … boring. I could barely tell the difference between modes even while listening with my super-sensitive JH Audio custom earphones. So once again, I set the digital filter to Accurate (green) and left it there.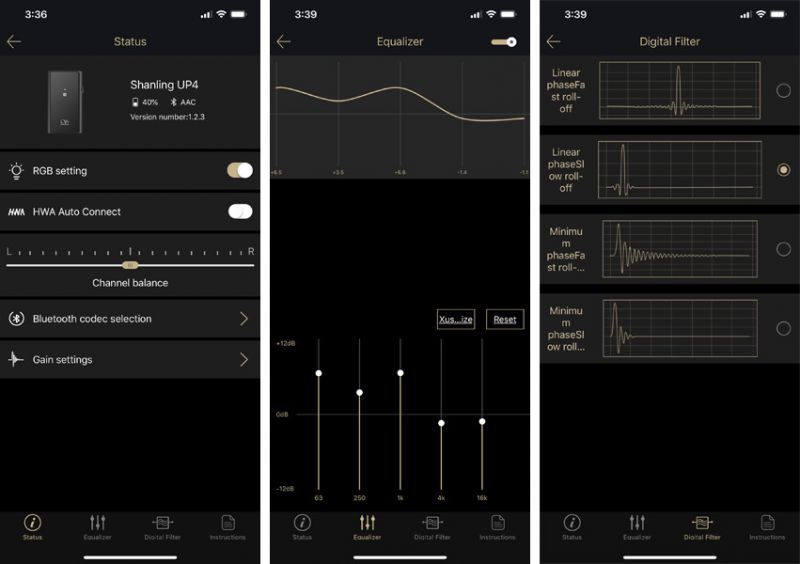 Note: If you want to avoid trying to figure out the manual buttons and modes, Shanling has a companion smartphone app that lets you control all things UP4. Shanling doesn't even mention the app on its UP4 product web page. Weird. Shanling also says its an Android app although I was able to download an iOS version. It's a pretty good app—though a bit sparse in controls. A built-in 5-band equalizer can be customized or set to some pre-made EQ settings. As with the UP4's manual controls, I found the settings that worked for me in the app and closed it. All chosen settings remain as is until changed.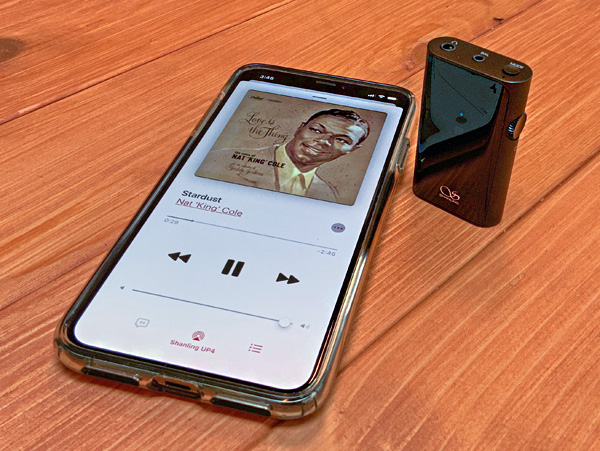 The audio quality of the Shanling UP4 Bluetooth Headphone DAC/AMP is pretty darn good. My music sounds a fuller and clearer—a bit less muddy. This is especially noticeable when switching back and forth between the UP4 and the Lightning dongle Apple supplied with my iPhone. The dual DACs and amp power in the UP4 are simply better than Apple's dongle.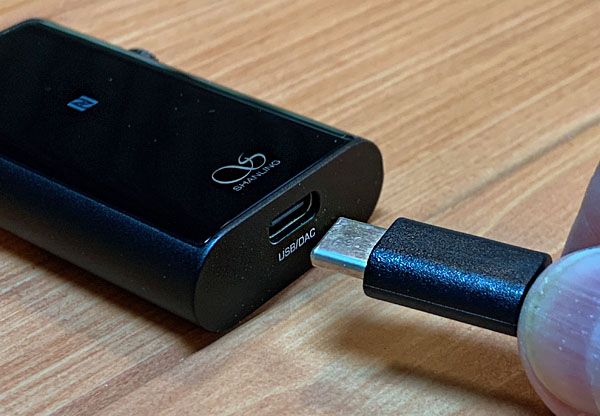 If that's not enough, the UP4 also doubles as a desktop DAC when connected to a computer. Using the UP4 as a DAC/AMP between a Mac or PC and headphones can dramatically improve the audio—much more than from a smartphone because computer DACs are generally awful.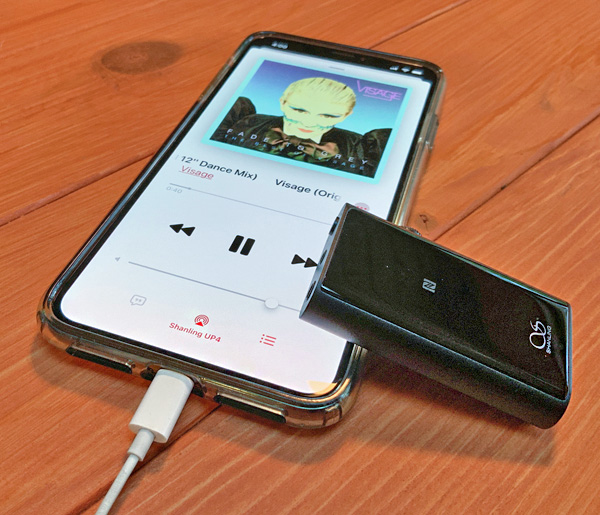 Whether the audio improvement is worth the inconvenience and added cost of an added gadget to the smartphone is where the subjective part comes in. If you're a casual music listener that relies on your smartphone, I would say no. However, if you take your music seriously and strive for the best sound you can get from your phone, then the answer is a qualified yes. I say qualified because many audiophiles won't settle on music from their phone no matter what added DAC/AMP is available. There are many (expensive) dedicated music players that can make digital music sound freaking great. So the UP4 falls somewhere between these two worlds.
What I like
Affordable audio upgrade
Impressive specs
Small
What I'd change

Final Thoughts
Unless used as a computer DAC, I'm not convinced there is a market in the US for a device such as the Shanling UP4 Bluetooth Headphone DAC/AMP. Most people I know either don't care or are just too busy to bother with improving audio quality from their smartphones. Yet, it's nice to know that someone like Shanling makes a product that fills a niche for those who do care or have wired legacy headphones that can now work wirelessly. At slightly over $100, the UP4 won't beak the bank and can be a great start down the road to music nirvana.
Price: $105 US
Where to buy: Amazon
Source: The sample of this product was provided by Shanling.