We use affiliate links. If you buy something through the links on this page, we may earn a commission at no cost to you. Learn more.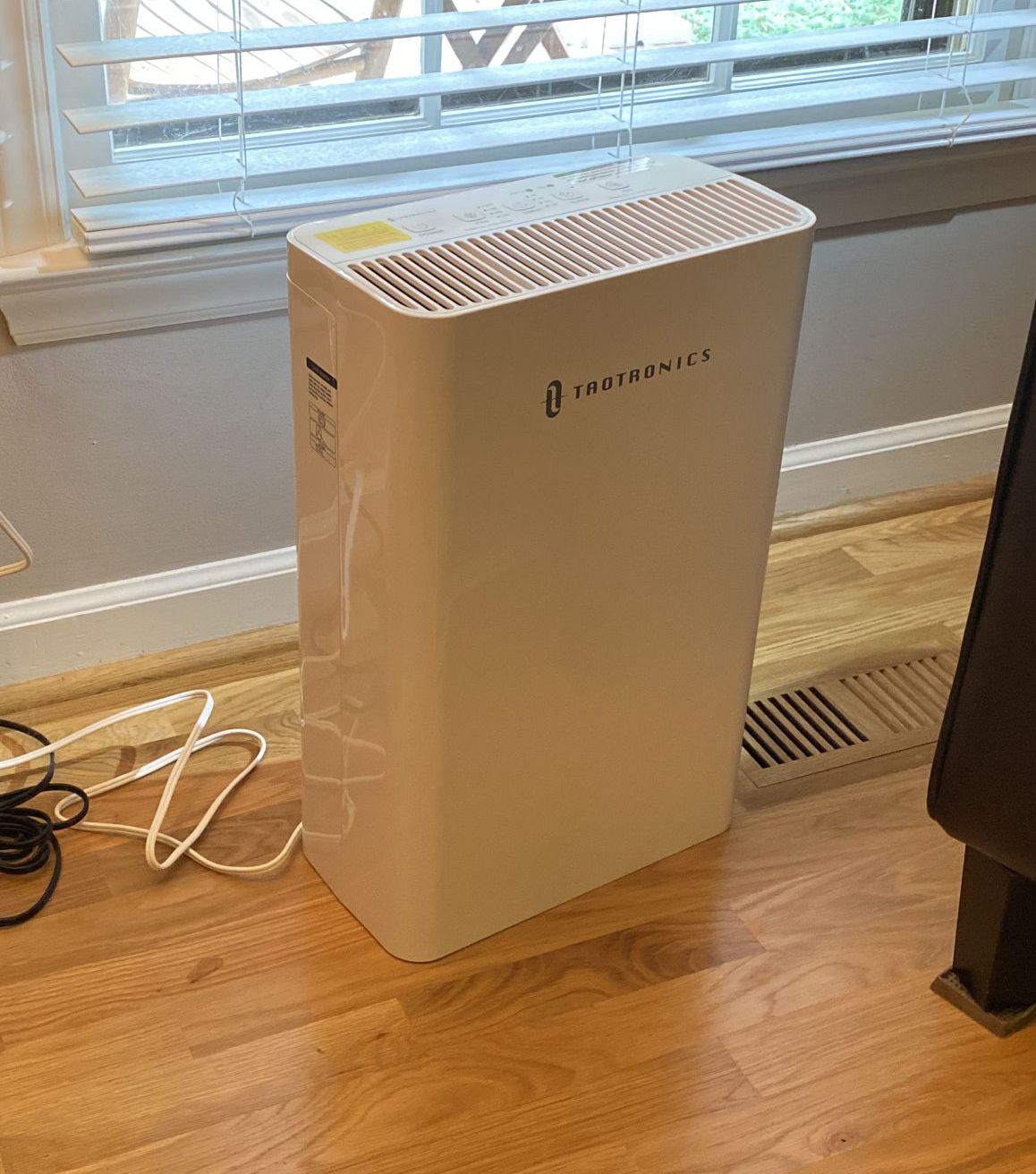 REVIEW – Many of us have been spending much more time inside with family during this lockdown. Over the spring, it was nice to have outside air filtering in, but that also meant pollen. And now, with summer, comes no outside air and stuffy pollutants. Happily, I was recently sent the Taotronics Wide Coverage Air Purifier and have been running it pretty much continuously for a month. Let's take stock of the AQI inside my house now.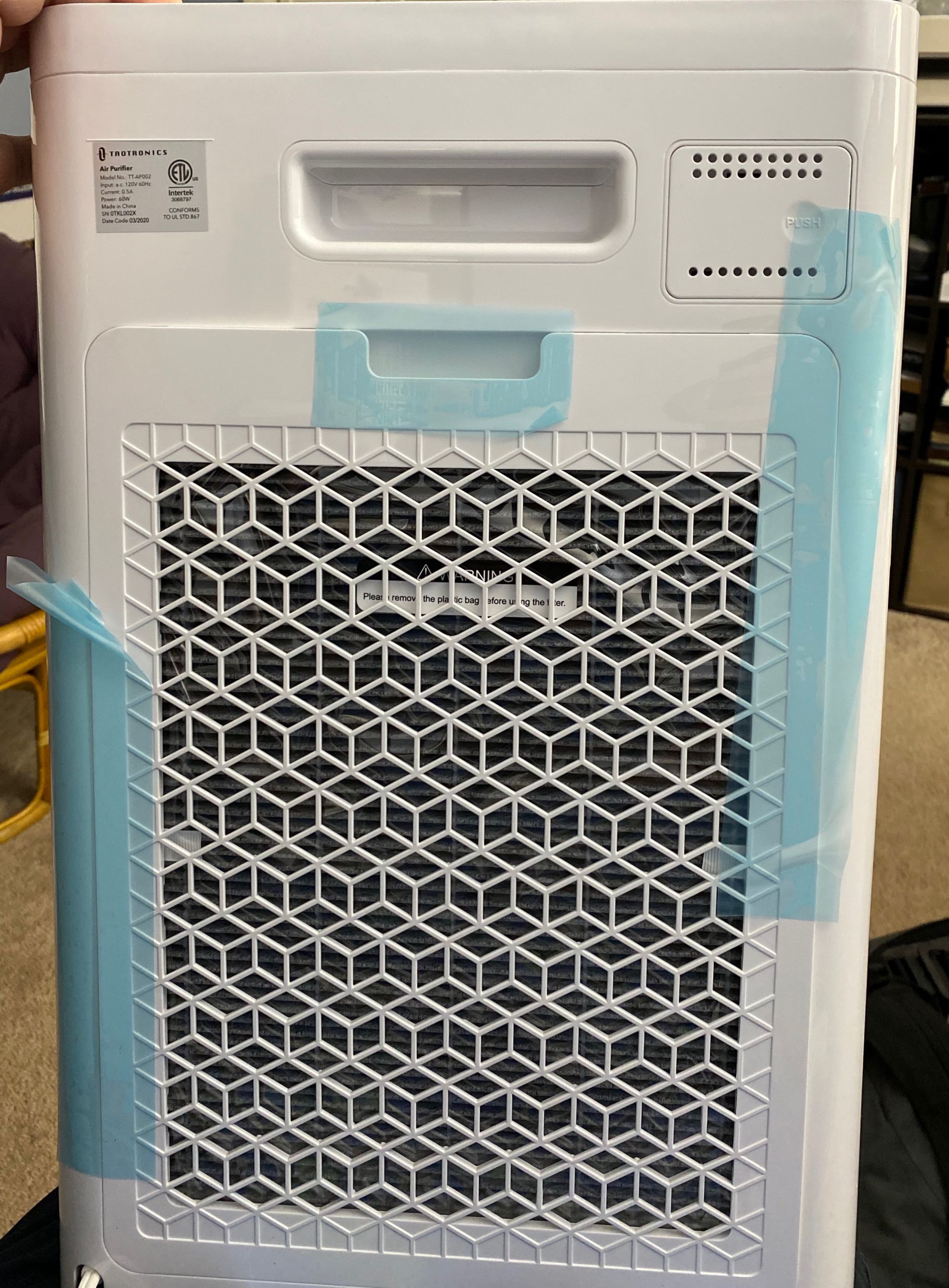 What is it?
A white, molded plastic air filter unit with an intake area over much of the back, grillwork on the top, and a few sets of buttons on top for controlling fan speed.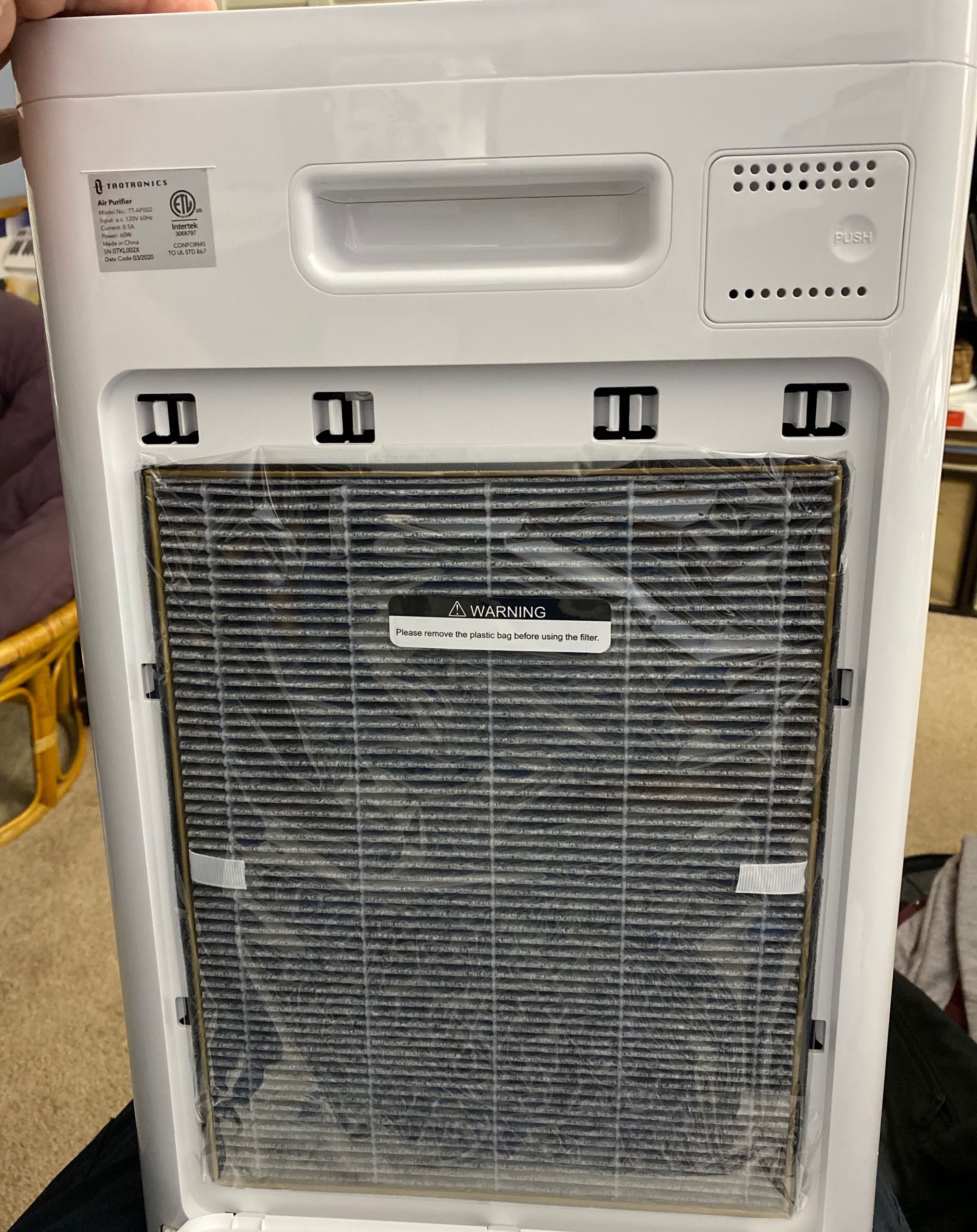 What's in the box?
Purifier Unit
One filter
User manual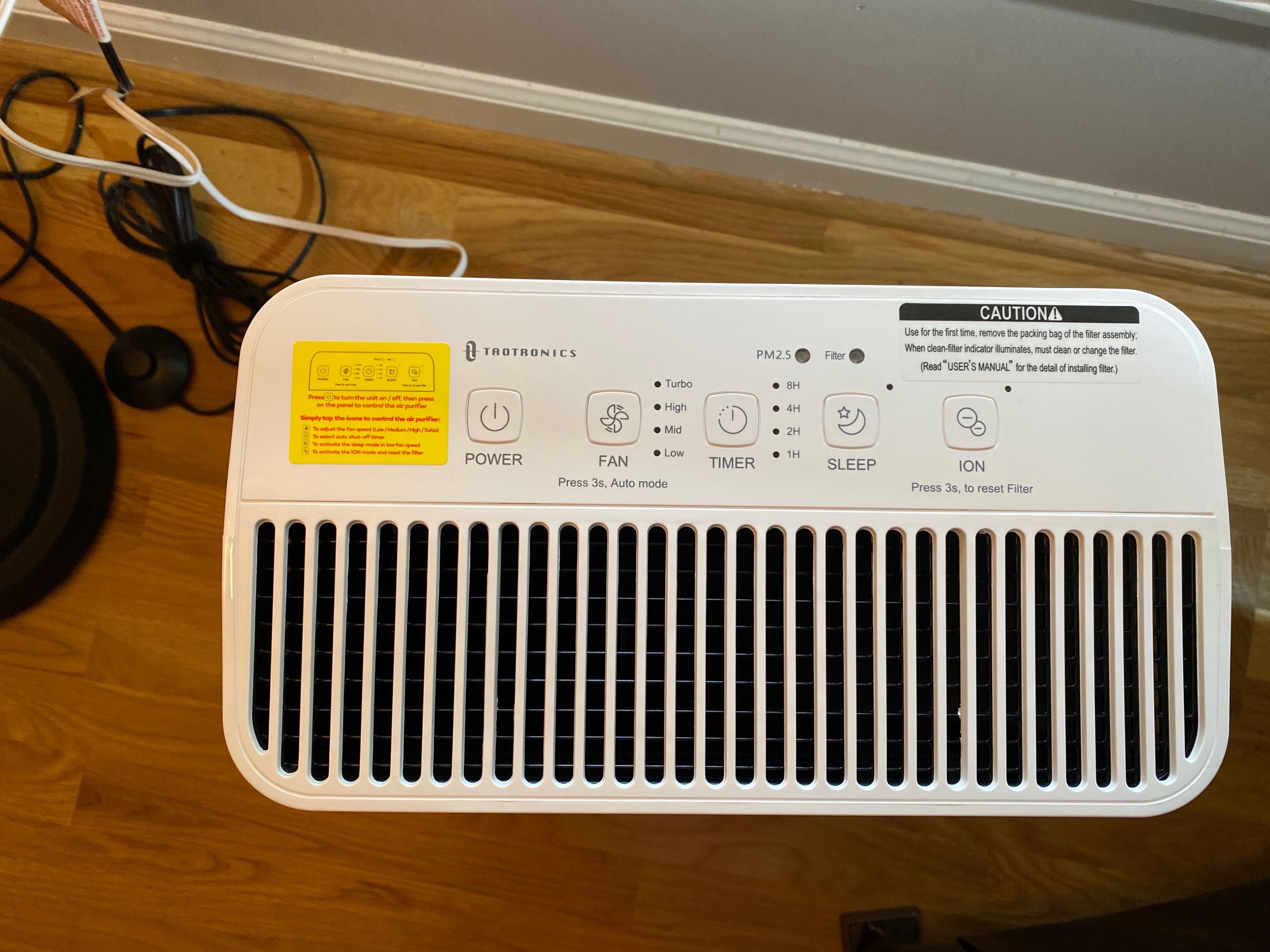 Design and features
Features (from company website)
High-Efficiency and Wide Coverage Filtration – With CADR rating of 300m³/h, True HEPA air purifier is made for large room up to 322.9ft²/30m²
Air purifier for large room has great air filtration process, pre-filter, activated carbon filter and true HEPA filter, tackles 99. 97% of airborne particles as small as 0. 3 μm
Air purifiers for allergies traps common impurities including allergens, smoke, pollen, odors, dust and mold, leaves you a clean and healthy environment
Air purifiers for room includes sleep mode, auto mode, timer, negative ion mode and 4 fan speeds, low, medium, high, Turbo, select the suitable mode and speed to purify the air effectively and efficiently
Air purifiers for kids and pets is for large space, guards your kids against pets hair and pet dander, allows all your families members to breathe pure air and live happily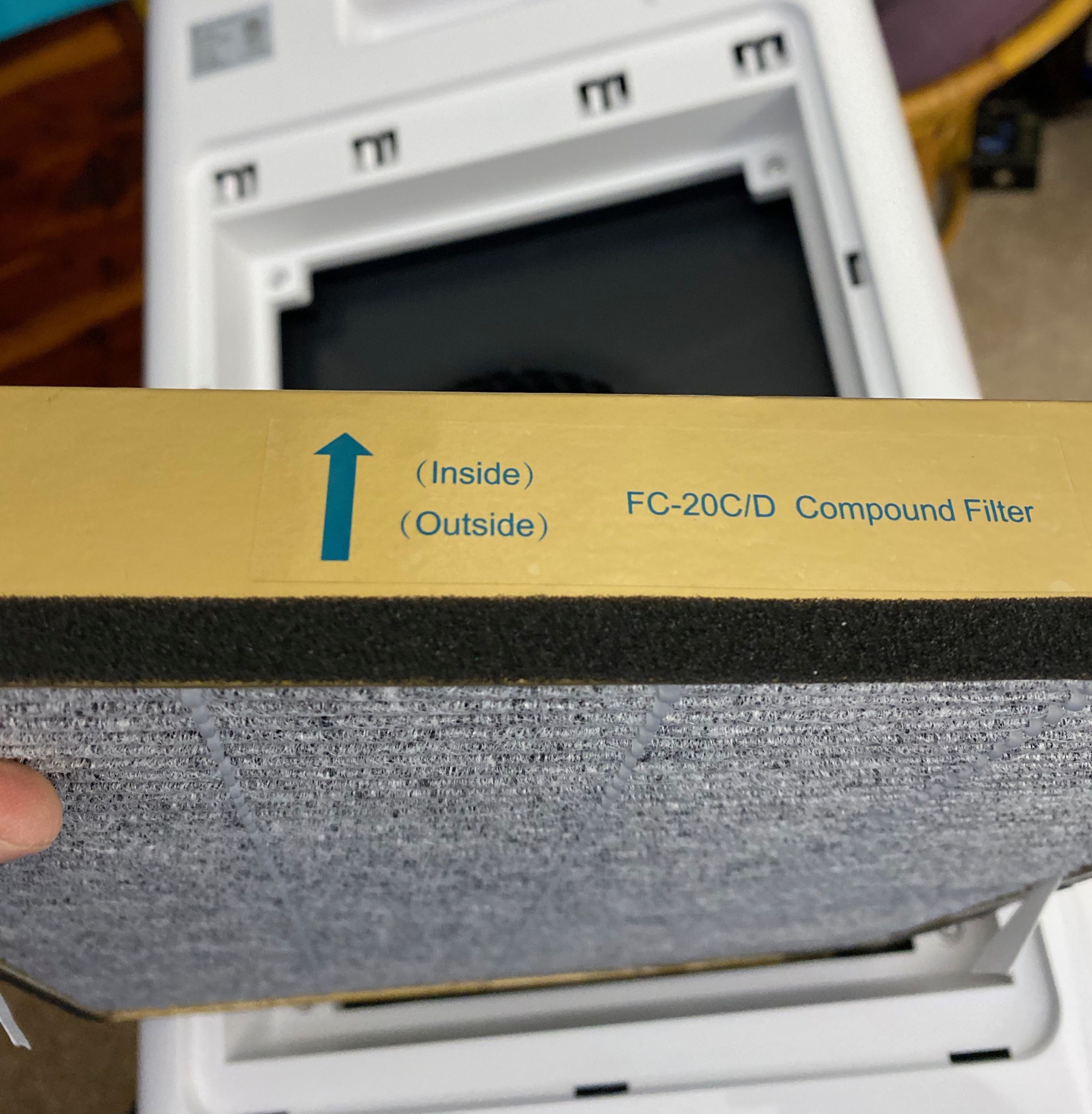 Taotronics has built several sizes of air purifiers with similar designs, but different air-handling volumes. The one I was sent is their multi-room unit, which measures about 13″ x 7″ x 20″. It is very slick, shiny "Apple" white plastic, tightly assembled with a snap-off grille cover on the back, and an instrument panel over half the top. The air outlet covers the other half of the top surface. The two-stage filter measures 9.5″ x 12″ x 1.5″. There is a grab handle centered on the rear that allows you to easily move it from room to room.
The front of the unit is solid white, other than the Taotronics branding. There are no sliders on the bottom, but it's very smooth, so I wasn't worried about scratching the floors.
The unit comes taped up, similarly to a printer, and you have to remember to remove the overwrap from the filter (which means removing the filter from the unit and reinstalling it). Once it's untaped and the filter is unwrapped, plug it in, choose the desired fan speed, and – it just sits there, purifying your air.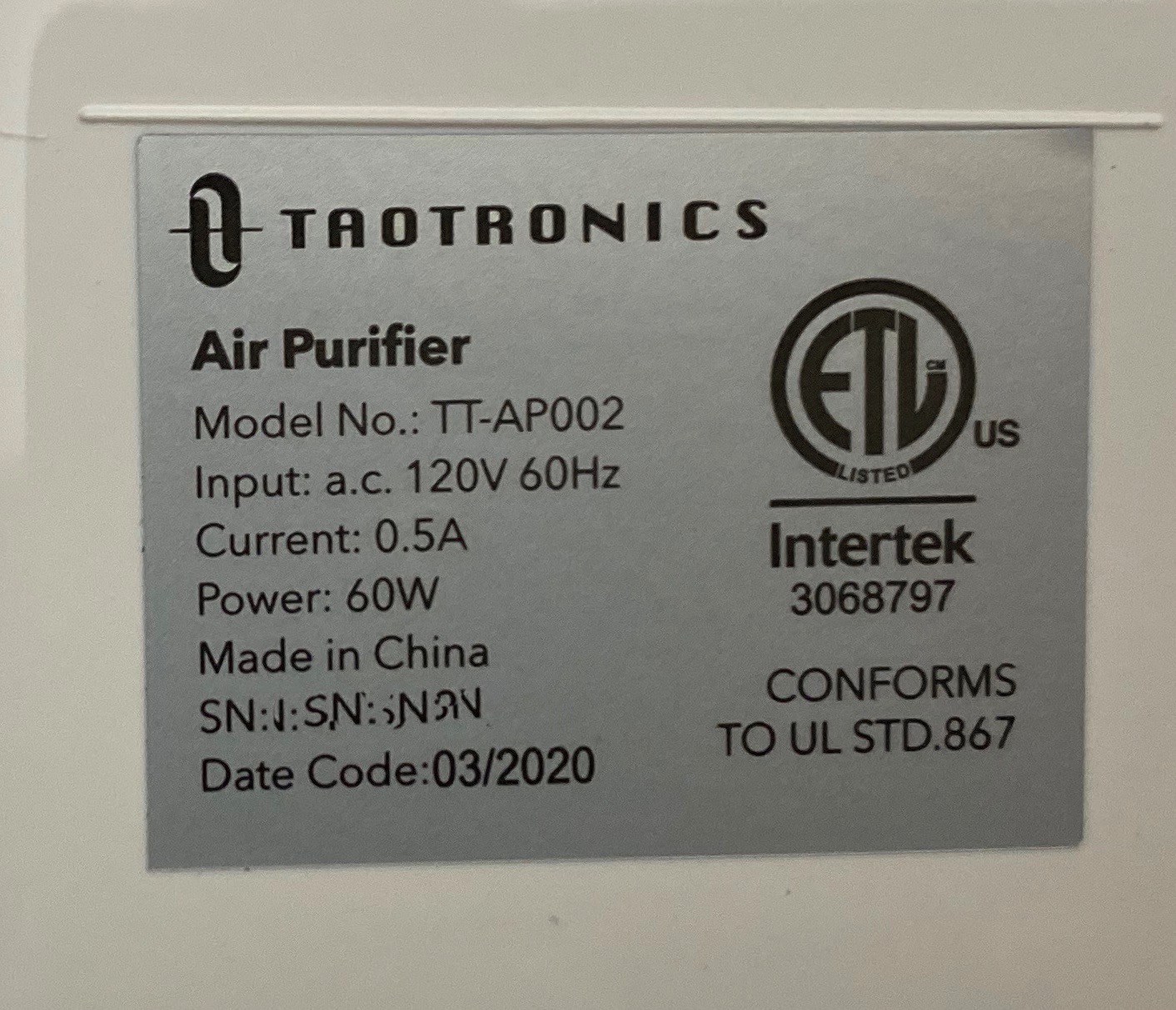 Performance
Reviewing air purifiers is difficult unless you have a sensitive person around or a lot of pollution. Having neither of those, I have enjoyed the comfort of knowing that the air is getting scrubbed continually. The unit runs without stopping as long as there is power. We've just left it in the corner of our living/family room, and it's not loud or bothersome. I questioned those who have more sensitivity to noise than I do, and the lowest two settings were not a problem for either of them. The higher levels were noticeable, but not overbearing for them.
There are four levels of fan speed: Low, Mid, High, and Turbo. On the Low setting, there is almost no noise, and you can barely tell there is air moving out of the grillwork. On the Midrange speed, you can barely hear it, like a furnace in the basement or an ice maker in the other room – it's not bothersome, but it is something added to the background. If you're using this in a room where you wish to have lower sound and light (a bedroom at night, for example) there is a sleep mode. In Sleep Mode, the only light that shows up is the light indicating Sleep, which, to me, is still too bright, but is far, far less intense than the Filter Status, Fan, and Ion status lights that are usually on!
As mentioned above, I'm not seeing an accumulation of debris like I see in our furnace/AC filters. After a three-week test with no real collection, I've turned up the fan. I'll update the article later with the results as things progress.
We had a power blip (My term for a power outage that lasts fewer than 10 seconds!) a few days into testing. When I turned the purifier back on (soft switches have to be reset after losing power), the filter light showed red, which indicates the filter needs replacement. I removed the inner filter, which I took outside and tried to tap out any debris (there was none). When I reinstalled it, the light was still red. I then decided to just run it with the filter installed as normal and give it a few minutes to test the quality of the air being exhausted. Sure enough, 2-3 minutes later, I looked over and the filter light was green, as expected. Must have been something with the hard power-down. Other than that, this thing has just been chugging along.
What I like
Clean design and minimal LEDs
One-piece filter handles both HEPA and larger particles
Easy to change filter
What I'd change
The whole ion filter/reset/sleep thing is a bit fiddly, and doesn't ever turn out *all* the LEDs.
Final thoughts
The Taotronics Air purifier runs quietly and draws very little power. I'm still monitoring the amount of impurities filtered out, but even with two long-haired dogs and hardwood floors (which tend to be dustier in my experience), I haven't noticed any huge collection of pet hair or dander. When we vacuum, there is a lot of dust and hair collected, but either it's not airborne, or it's not being pulled into the Taotronics' filter. Just this morning, my wife texted me from her office and asked if I'd mind if she took it to her shared space at the hospital. (Three advanced care RNs share a small room, wearing masks all day, as well as face shields. Hopefully, this will help freshen and protect these front-line workers! Stay tuned!
Price: $199.99 MSRP ($169.99 on Amazon)
Where to buy: Company Webstore or Amazon (promo code: 25724AP002 Discount: 20% off Start date: July 21, 2020 12:00:00 AM PDT End date: July 28, 2020 11:59:59 PM PDT)
Source: The sample of this product was provided by Taotronics.