We use affiliate links. If you buy something through the links on this page, we may earn a commission at no cost to you. Learn more.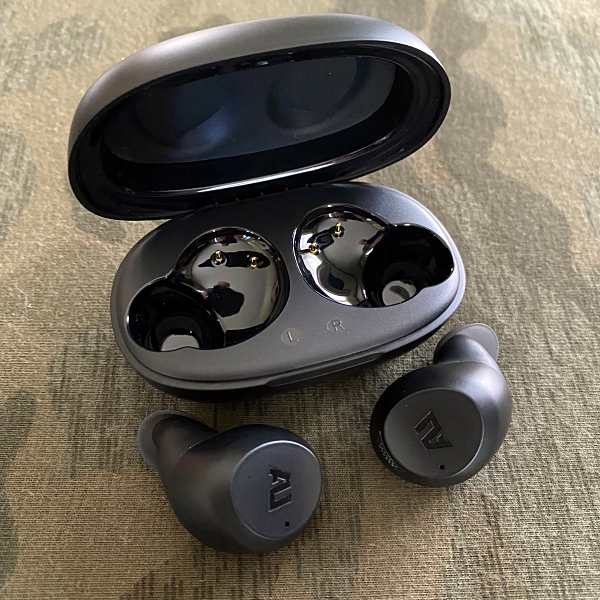 REVIEW – Truly wireless earbuds have been around for a while and are nothing new. However, TW earbuds with active noise cancellation is a more recent development. Recently, I was given a pair from a company called Ausounds to review. Having never used a pair of ANC earbuds, I was eager to give them a try. Here are my impressions of the AUSOUNDS AU-Stream Hybrid true wireless hybrid noise-canceling earbuds.
What is it?
The AU-Stream Hybrids are truly wireless earbuds with Hybrid active noise cancellation.
What's in the box?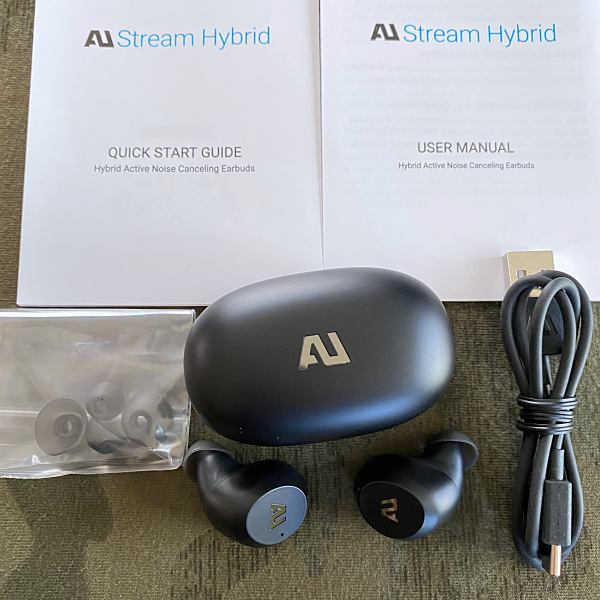 Wireless charging case

USB-C charging cable

Quick Start Guide

Warranty Card

3 ear tips (S, M, L)
Hardware specs
Frequency Response: 20Hz – 20KHz
Impedance: 32 ohms

 Driver Size: 9.2MM

 SPL: 100dB @ 1Khz
 Weight: 6.5g per earbud
Total Battery Life: 25 Hours Total Battery Life
Waterproof: IPX5
Design and features
The AU-Stream Hybrid earbuds are on the smaller side and feature a contoured design. There's a charging/Bluetooth LED indicator light located on the top of each earbud. The touch control interface is located on the flat surface of each earbud, more on that later.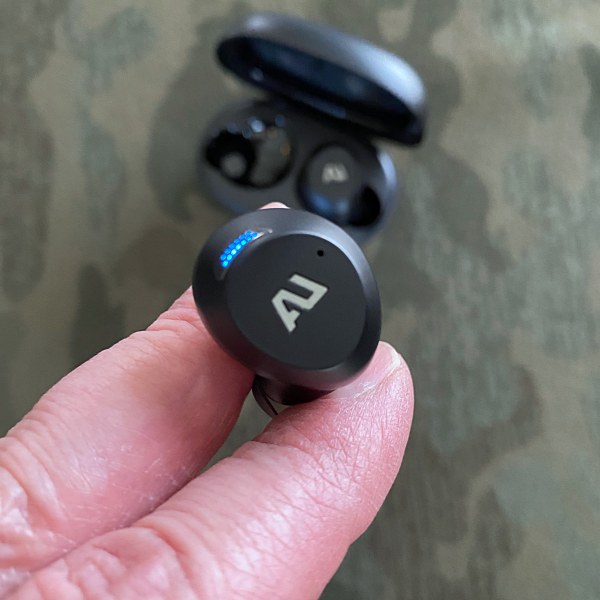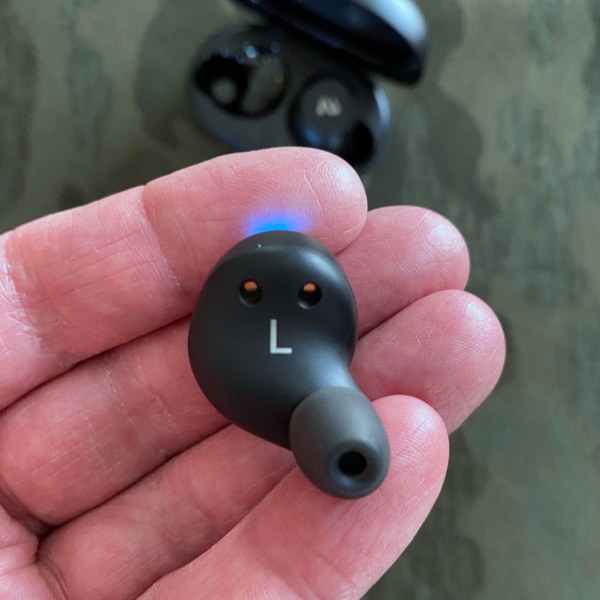 The charging case is about the size of your average key fob, perfectly sized to fit into your pocket. Although, I found that the shape and finish on the case made it a little slick and hard to hold onto when trying to remove the earbuds.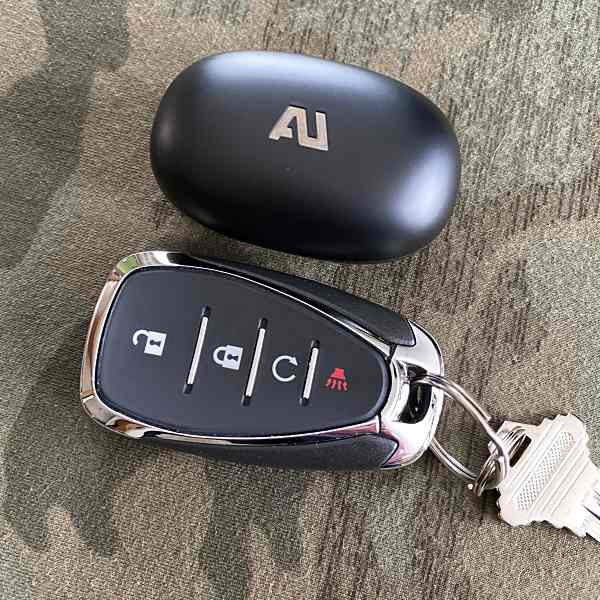 On the front of the case, there's an LED charging indicator, on the back, there's a USB-C charging port.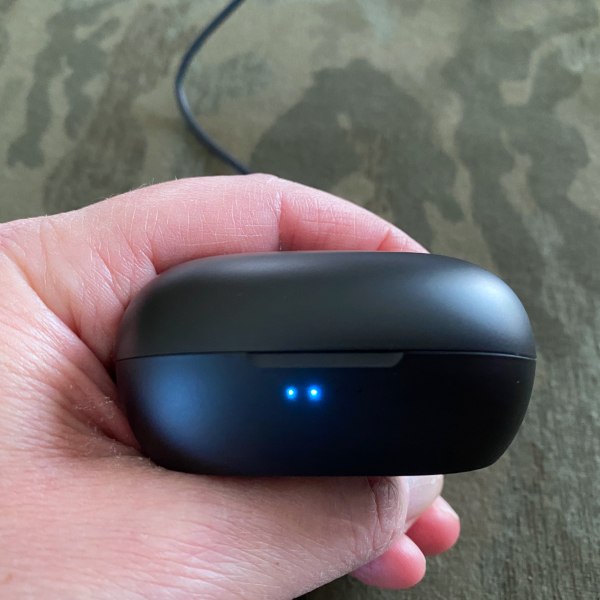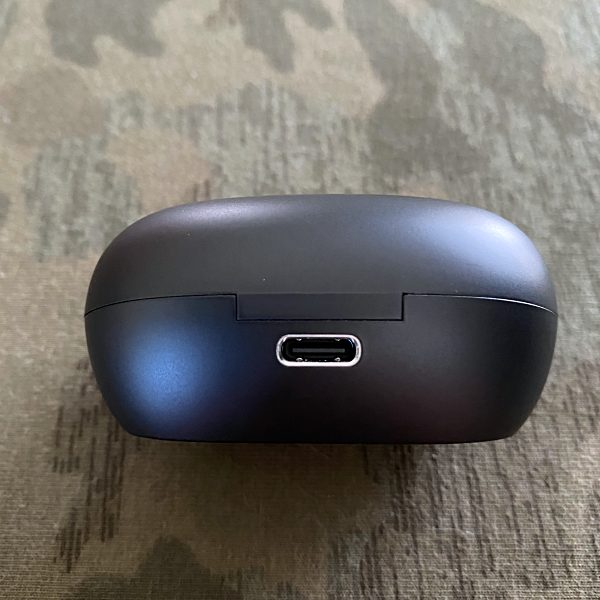 The AU-Stream Hybrid earbuds are available in four colors, black, gray, red, and gold.
Lastly, the AU-Stream Hybrid earbuds also sport IPX5 water resistance, so you don't have to worry about sweat or rain.
Charging
The charging case can be charged using the included USB-C charging cord. It also supports rapid wireless charging and can be charged using any Qi-certified wireless charger. 
The earbuds charge anytime their placed back into the case. And if you're in a hurry charging the earbuds for 15 minutes will give them three hours of use.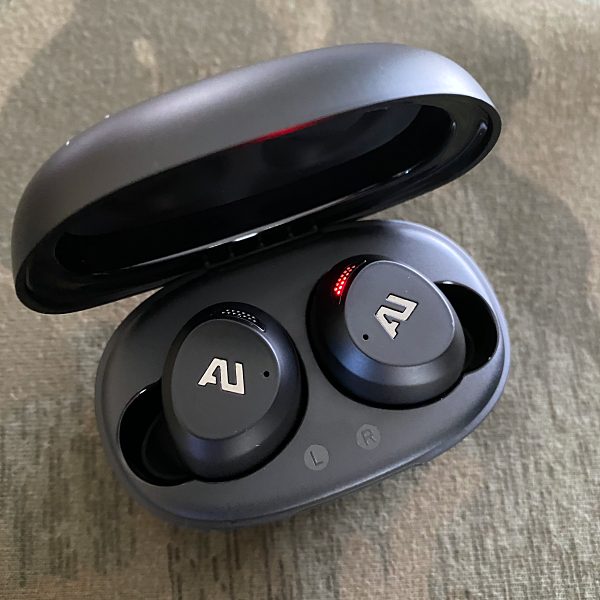 Battery
The AU-Stream Hybrid offers a total battery life of 25 hours with nine hours of talk and music playback, and an additional sixteen hours from the charging case.
Setup
When you take the earbuds out of the charging case for the first time, they will turn on automatically and enter pairing mode after 10-seconds. To connect them, go into your device's Bluetooth settings, and select AU-STREAM HB. After the initial setup, the earbuds will automatically connect to your device when they're removed from the charging case.
Fit and comfort
The AU-Stream Hybrid comes with three pairs of silicone ear tips, small, medium, and large. I went with the large ear tip because it created the best seal and felt the most comfortable. 
The earbuds contoured design fit nicely inside my ears and stayed in place amazingly well. I worked out using them, and they never once felt as if they were going to pop out of my ears. They even survived a rigorous shake test without dislodging.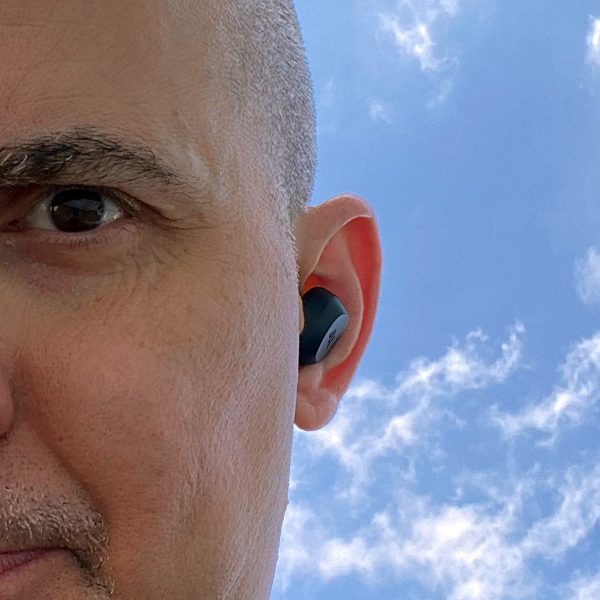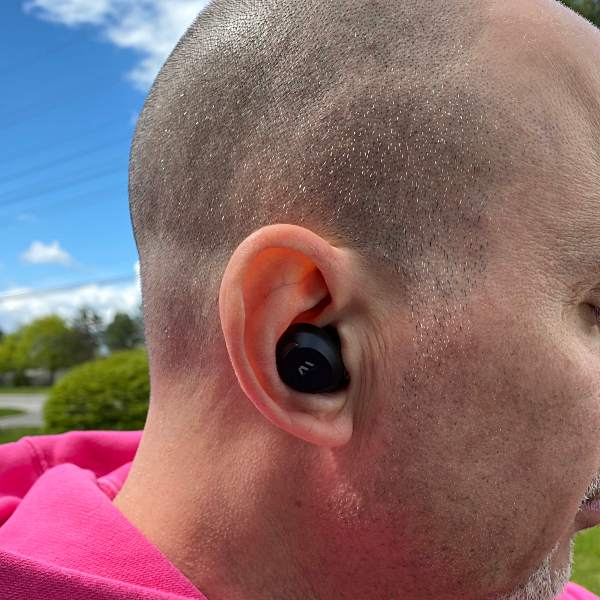 Controls
I found that the touch controls on both the left and right earbuds worked equally well. They allow you to perform functions like play/pause your music, answer/end calls, and use voice assistant. Unfortunately, the volume control is still reliant on using your phone.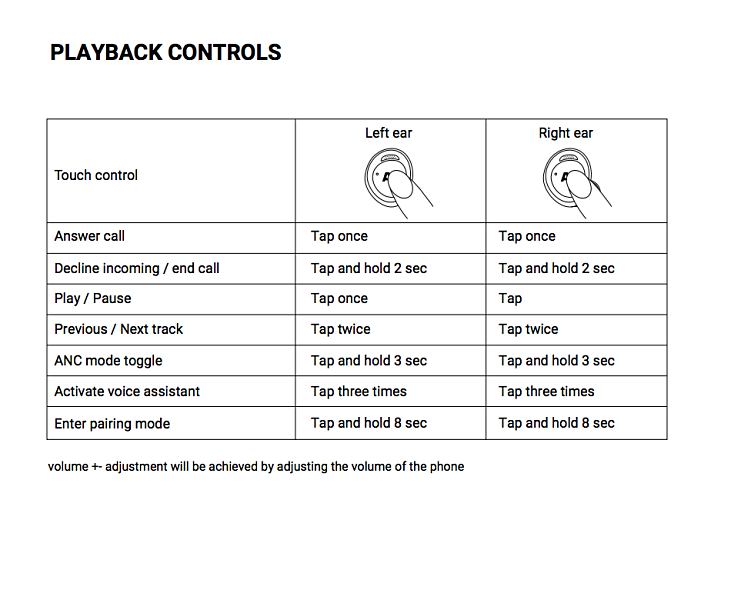 The earbuds can also be used independently of each other. If you want, you can use just the left or just the right earbud by itself. 
ANC
The standout feature on the AU-Stream Hybrid is the Hybrid Active Noice Cancellation (ANC). Hybrid ANC uses a feed-forward and feed-back noise cancellation design to ensure that surrounding noises are captured and eliminated.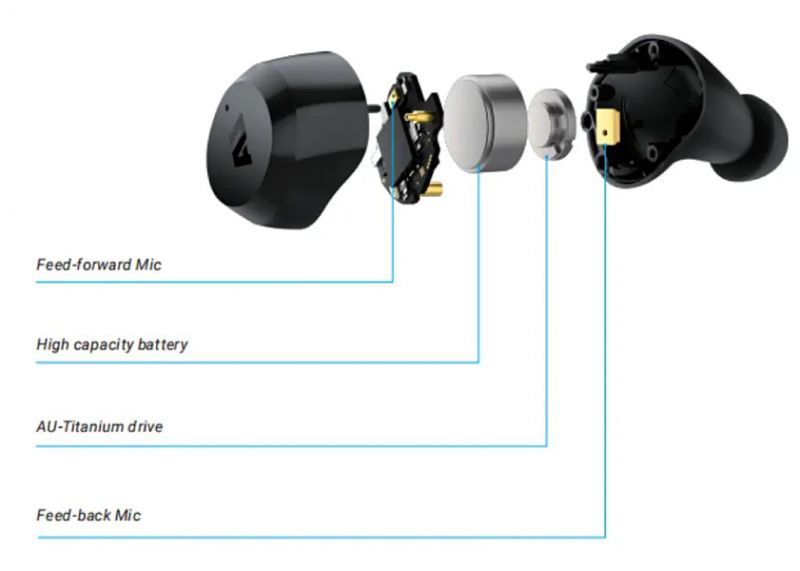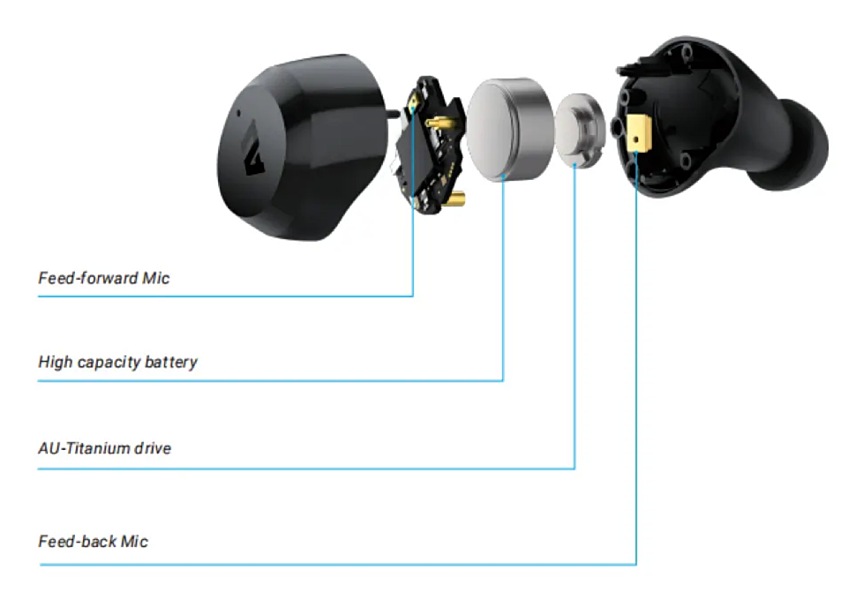 There are three modes, ANC off, ANC on, and Monitor mode. As you toggle the modes, a voice prompt will tell you what mode the earbuds are in. Interestingly enough, Monitor mode is not mentioned in the instruction booklet, or anywhere on the Ausounds website. I stumbled upon it while toggling the ANC. In Monitor mode, the ambient sound around you is amplified. I tested it briefly, and you definitely can hear more of your surroundings, especially traffic noise. Personally, it's not something I would use much. But, if you're a runner or cyclist, I could see it coming in handy, especially if you do either in a high traffic area. 
Having never used a pair of earbuds with ANC, I wasn't sure what to expect. I was pleasantly surprised by how much ambient noise was eliminated. Unfortunately, because of the current Covid-19 scenario, I was unable to test it in a crowded environment like my gym. However, I did test it out while walking my dog next to a moderately busy road, and it did an excellent job of significantly reducing the traffic noise. It also significantly reduced ambient noise from my TV, household appliances, and my dog barking at squirrels. Which happens a lot, by the way. The best part, it did it all without any reduction in sound quality.
Sound quality
The overall sound quality of these earbuds is exceptional, music sounds well balanced, and bass is solid without being too punchy. Vocals are also very clear. 
Voice call quality 
Like most truly wireless earbuds, voice quality for calls is good, not great. I spent over an hour talking to a friend, and the voice quality on both ends was satisfactory. But honestly, it's not a feature I use a lot. 
What I like
Comfortable

Supports rapid wireless charging

Effective active noise cancellation

Good sound performance

25-hour battery life 
What I'd change
The battery level indicator on the front of the charging case isn't always visible
Charging case is a little slick and hard to hold onto
Final thoughts
The more I use the Au-Stream Hybrid earbuds, the more I like them. Performance-wise they more then met my expectations. And with features like ANC and rapid wireless charging, the Au-Stream Hybrid earbuds are a solid choice at $190.
Price: $189.95
Where to buy: Amazon
Source: The sample for this review was provided by AUSOUNDS.