We use affiliate links. If you buy something through the links on this page, we may earn a commission at no cost to you. Learn more.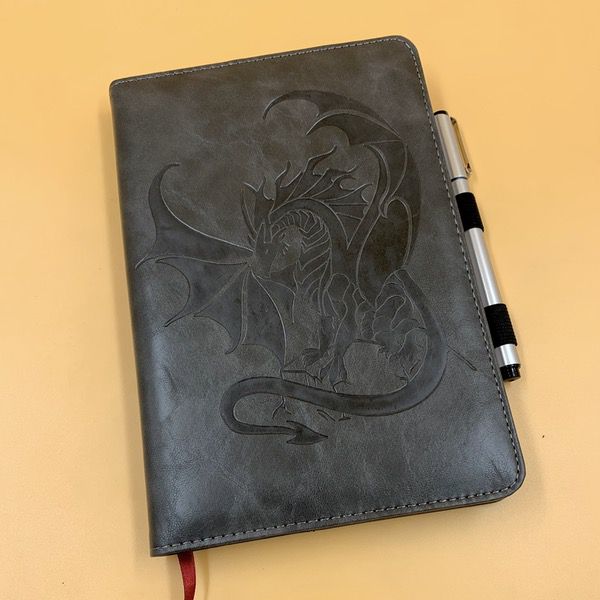 REVIEW – BEHOLD MY JOURNAL OF SORCERY!! OK, it may not be real magic… but my SohoSpark Journal is still pretty cool. It's a refillable journal for cataloging  all of my thoughts and dreams. And the dragon on the cover added just the right style to a Dungeons & Dragons session I participated in recently. How did the journal do? To the review!
What is it?
It's a refillable journal available with a number of different engraved covers: mountains, nautical images, animals, etc.
What's in the box?
You'll get the notebook, a lined paper refill, and two pen loops with adhesive backing to attach the the journal.
Hardware specs
Synthetic "Vegan" leather
6″ by 8-3/4″ by 7/8″
Refill size is 143mm x 210mm (5.63 x 8.27 inches)
80 gsm acid-free writing paper
Total weight 15 ounces
Design and features
So let's get one thing out of the way: this isn't a real leather journal. SohoSparks calls it "synthetic vegan leather." Some might call it "pleather." Whatever you want to call it, the SohoSparks Journal is a well-executed binder for your journaling needs. I've gotten numerous compliments already from friends and co-workers. You've seen the front view. Now the rear view approaches…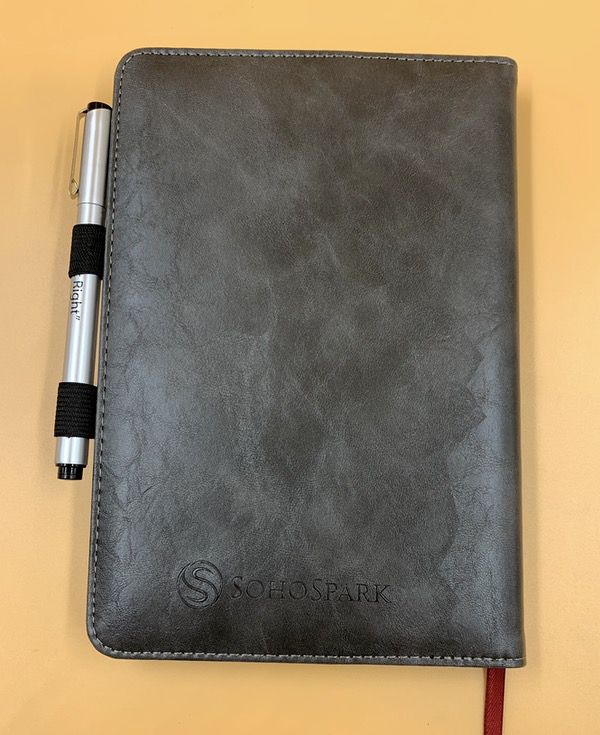 The surface has a light texture and a bit of padding that makes it very comfortable to handle. Construction and stitching is tight throughout with no obvious flaws or imperfections. And you'll get that debossed image etched into the cover to add some style. You could choose from a bunch of animals and other themes, but you want the dragon, right? Of course you do!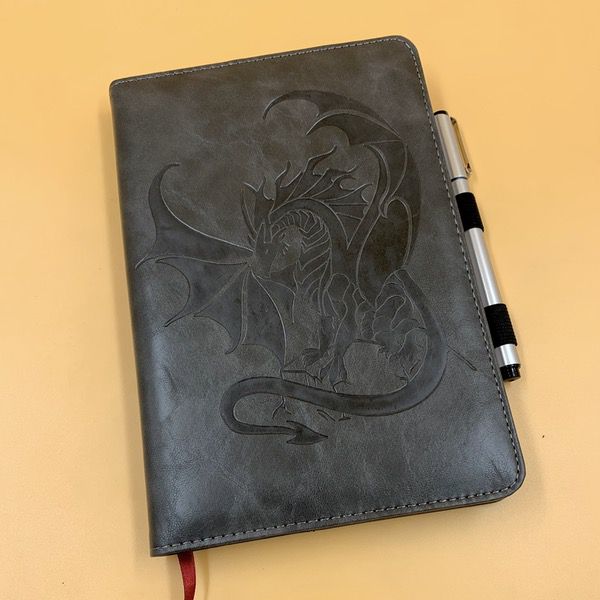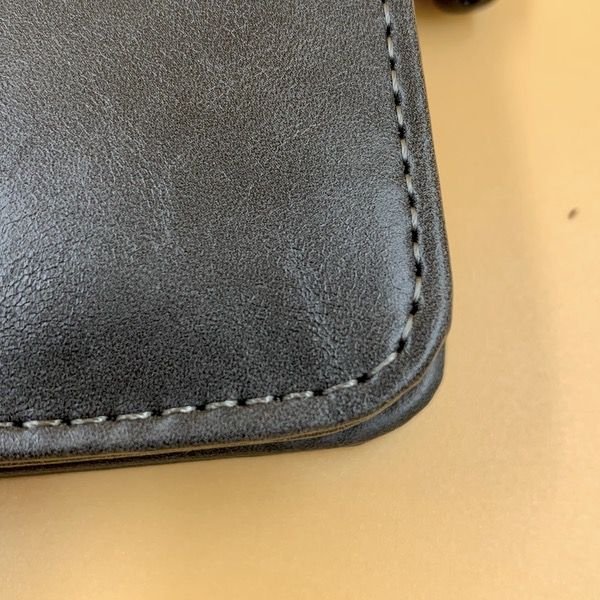 The different styles come in black, red, or brown finishes that also simulate slightly different leather finishes. Mine came in the black finish, which actually reads more like a dark grey up close.
The journal refills that SohoSpark provides are excellent. They use 80 gsm acid free writing paper which takes the ink from my fountain pens and ink pens nicely without bleeding through. I love the fact that the pages are also numbered for easy indexing. You'll also find an attached red bookmark so you can quickly find your latest deep thoughts.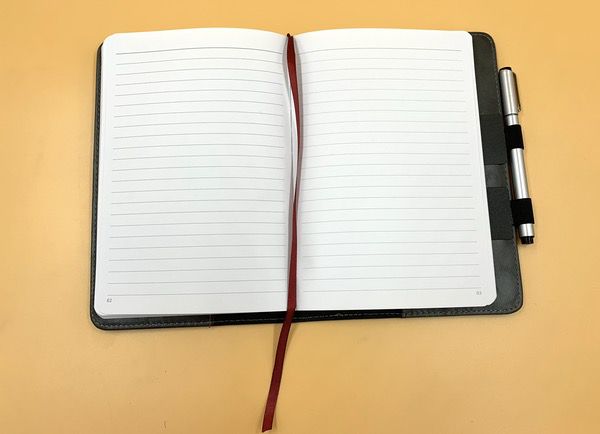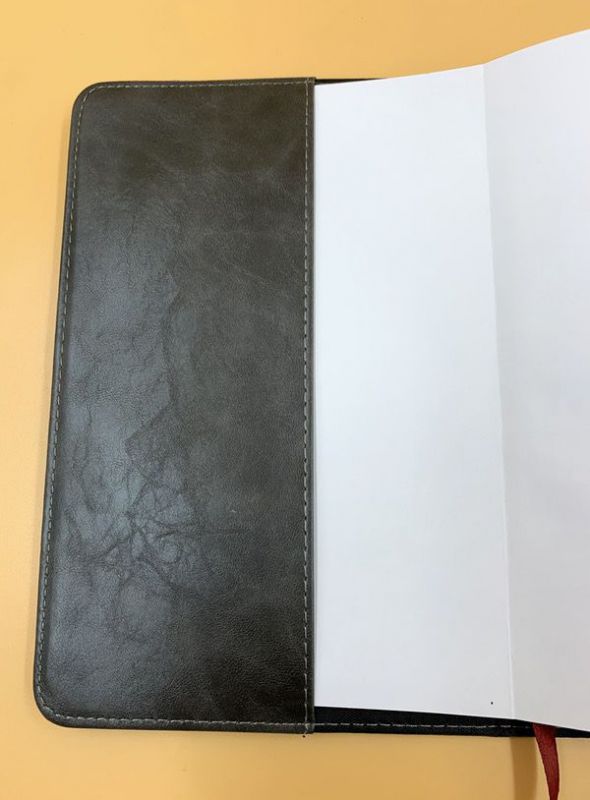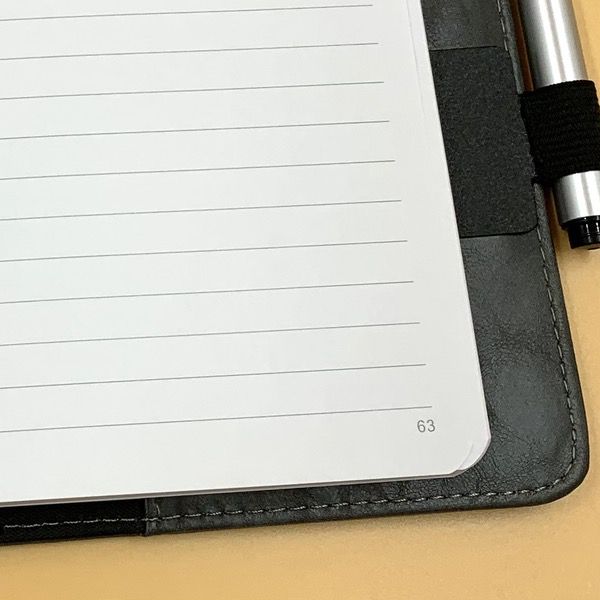 I do prefer a dot grid on my notebook pages, but the lined journal that comes with the pad is just fine. You can buy dot grid or blank refills if you prefer. The refills fit tightly in the cover, and the whole book lays perfectly flat. That's a really important feature for using your journal all the time.
Some basic pen loops are included in the package. They're elastic bands attached to adhesive tabs that you stick on the back panel of the journal. Or not. I like that you can customize the width to your pen, and the elastic is very tight. And if you want to remove them at some point the adhesive will easily wipe off the cover.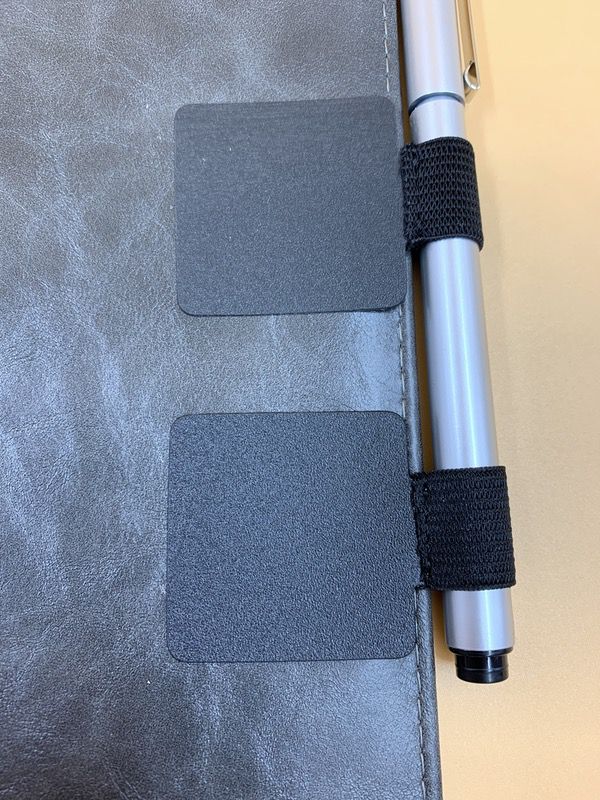 Now I recently started playing Dungeons and Dragons again after a long, long layoff. And what better journal to use than one with a dragon on the cover? It's been great for keeping my notes and assorted sketches as I go. The size is just perfect for room to write while maintaining a compact footprint.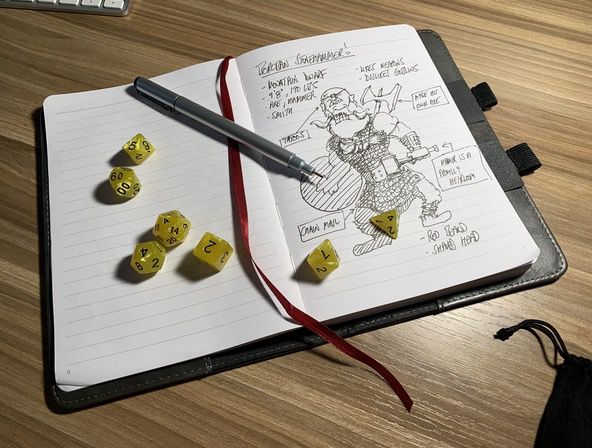 (If you were wondering, the session was great. Fun people, managed some great sketches, good times. Lousy dice rolls, though. I'm sending those dice to the recycle bin. I'll need to review some new dice in the near future!)
What I like
Perfect size for note taking, sketching and journaling
Nice construction
The padded & textured cover feels good to handle and lays flat
Excellent quality inserts
What needs to be improved
The cover style may not be to everyone's taste, but I like it!
If you're looking for real leather, this won't be your thing
Final thoughts
I'm really enjoying the SohoSparks journal. Comfortable to handle, very portable, and great quality paper at a nice price point. If you're capturing your memoirs, incantations or meeting notes (or all three), I'd recommend checking them out!
Price: $29.99. 240-page refills are available for $12.99 (lined grid) or $14.99 (blank and dot grid pages).
Where to buy: Check out all the styles on SohoSpark's Journal page on Amazon.
Source: The sample of this product was provided by SohoSpark.