We use affiliate links. If you buy something through the links on this page, we may earn a commission at no cost to you. Learn more.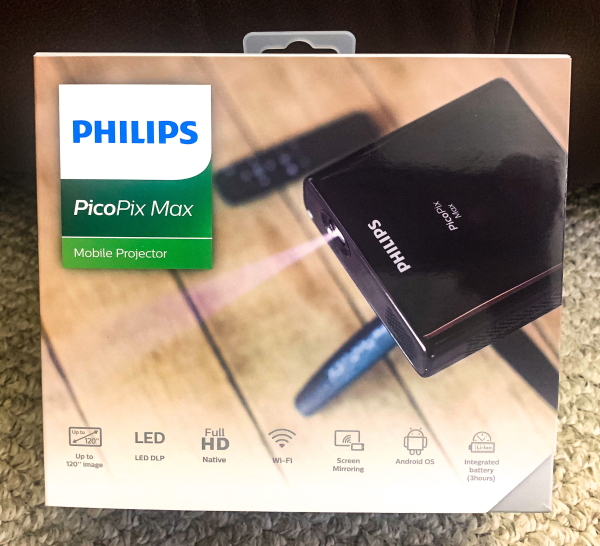 REVIEW – When I am at an event and shooting photos and/or videos, I have found that many of my clients really like when I project the live videos elsewhere at the venue or when I create a surprise slideshow and project it. Since I usually travel with a lot of gear, a large projector is out of the question. A smaller format projector would be great, but so far, the ones that I own do not project at 1080P HD resolution. Now I am excited because I now have my hands on the Philips PicoPix Max—1080p Full HD Pico Projector. Is it all bark, or can it actually bite!! Let's see!!
What is it?
The Philips PicoPix Max—1080p Full HD Pico Projector is a smart & fully wireless native Full HD projector with an ultra-vivid picture made for use anywhere. It features a built-in battery, Android OS, invisible top touchpad, Wi-Fi, Bluetooth and USB-C connectivity to play, work and mirror all your apps.
What's in the box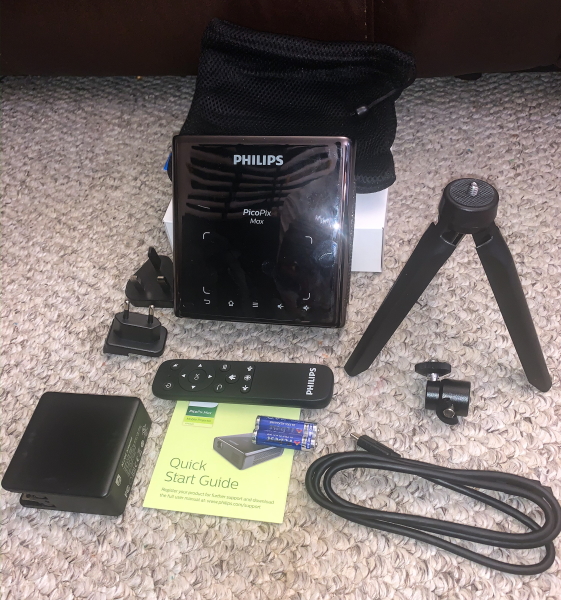 1 x PicoPix projector
1 x Remote control
1 x Travel pouch
1 x Warranty card
1 x Quick start guide
1 x Power adapter (EU UK US CH)
Design and features
Specifications
Display technology: DLP
LED light sources: last over 30.000 hours
Brightness: up to 850 Color Lumens
Resolution: 1920 x 1080 pixel
Resolution supported: up to 4K
Aspect ratio: 16:9
Throw ratio: 1,2:1
Contrast ratio: 10,000:1
Focus adjustment: auto
Keystone correction: auto
4 corners correction: yes
Screen size (diagonal): 76cm-305cm / 30″-120″
Screen distance: 78cm-320cm / 31″-126″
Integrated media player: yes
Internal memory: 16 GB
Built-in touchpad: yes
Operating system: Android
Wi-Fi: 802.11a/b/g/n/ac 2,4+5GHz: Airplay, Miracast
Bluetooth: 5.0; connect external speaker
USB: USB Type-C: 2x power and video
HDMI: x 1
Micro SD: x 1
Sound: Internal speaker 2 x 4W
Features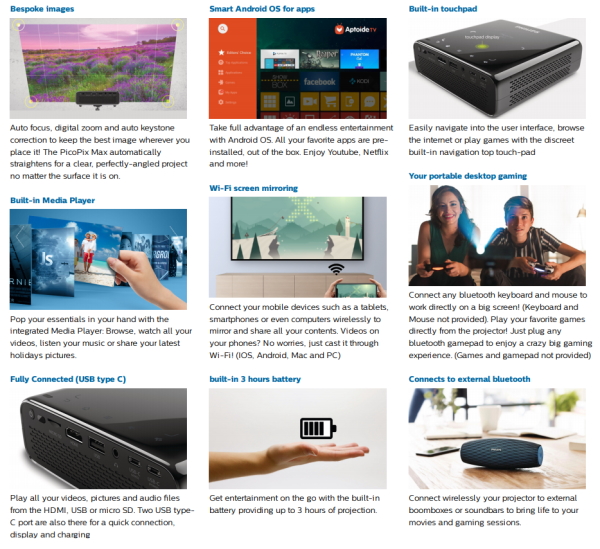 On the front of the projector, there is the lens and a speaker grill.



All of the connections on this projector are on the rear.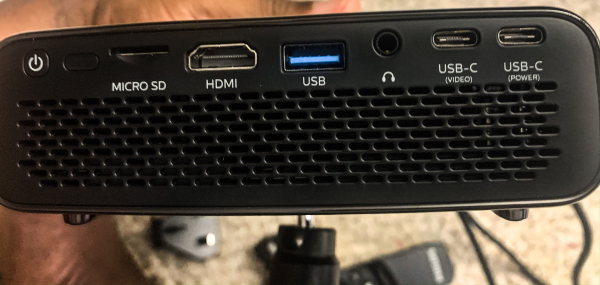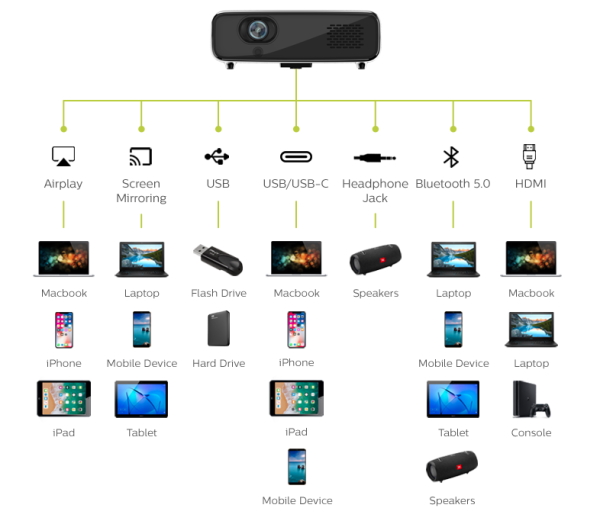 The top surface of the projector has touch buttons that are represented by icons, and within the area designated by the 4 white corner marks, there is a mouse touchpad surface.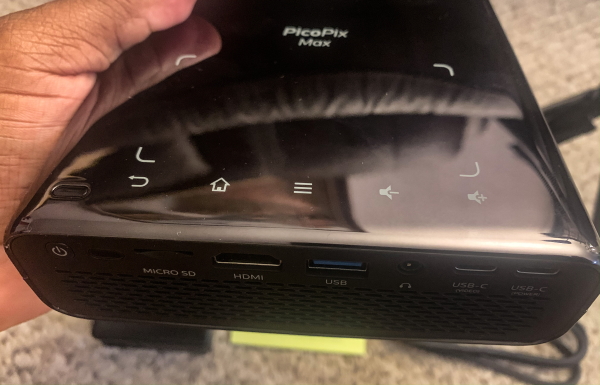 Underneath the projector, there is a 1/4-20″ tripod mount.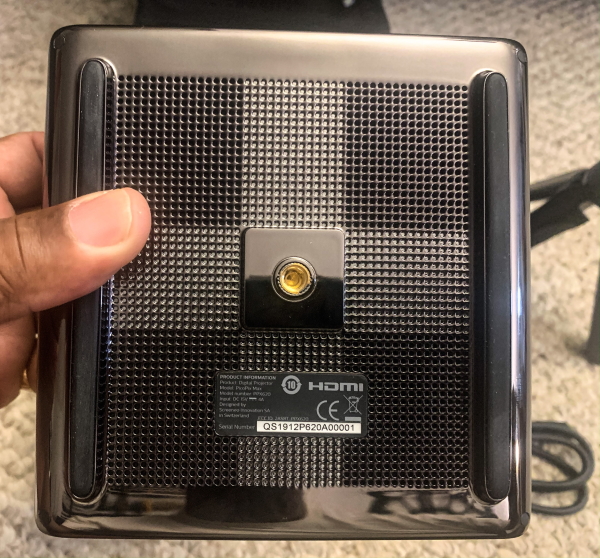 Philips includes a basic remote control that takes 2 AAA batteries.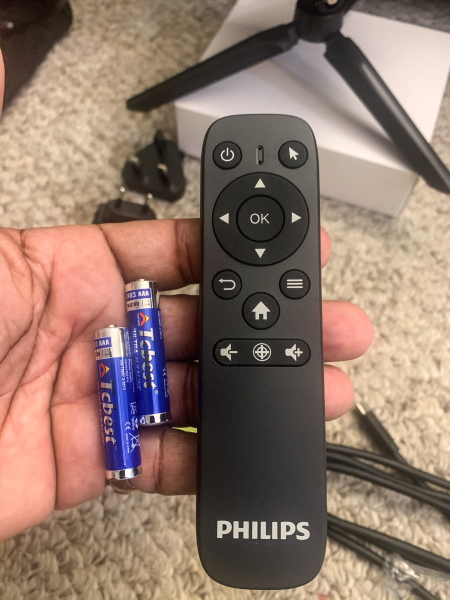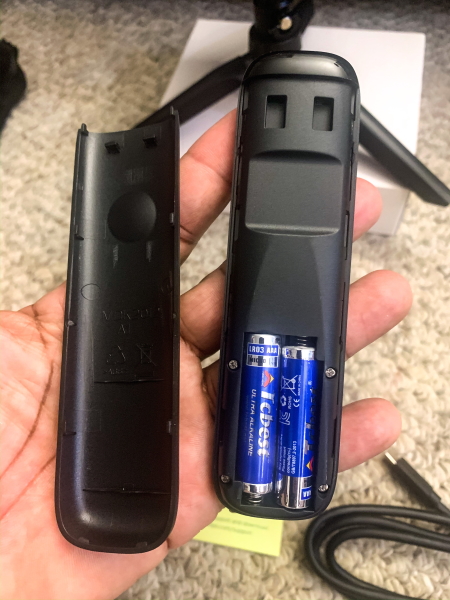 A tripod and a swivel tripod head are also included.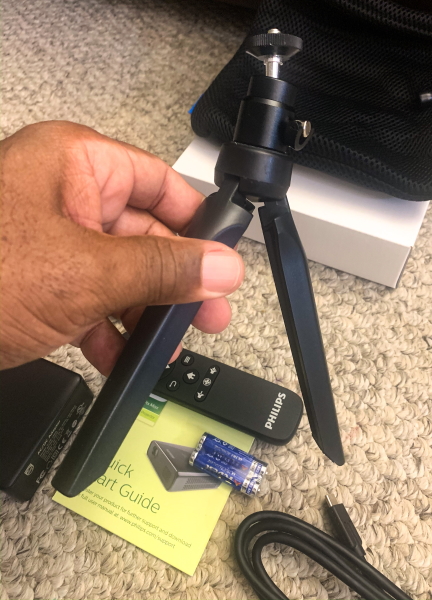 The wall-wart power adapter has a USB-C port and accommodates the US and foreign (European, etc) plugs that are included.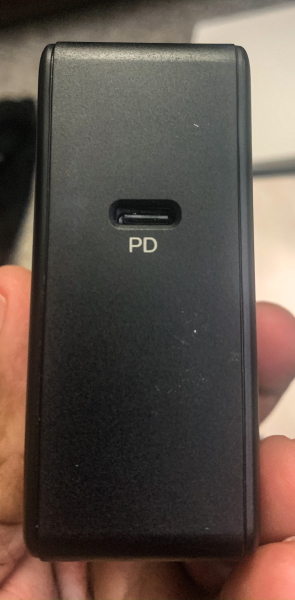 Performance
My first step was to mount the projector onto the included tripod and then I charged it. It has a built-in battery so that it can be used with or without the power adapter.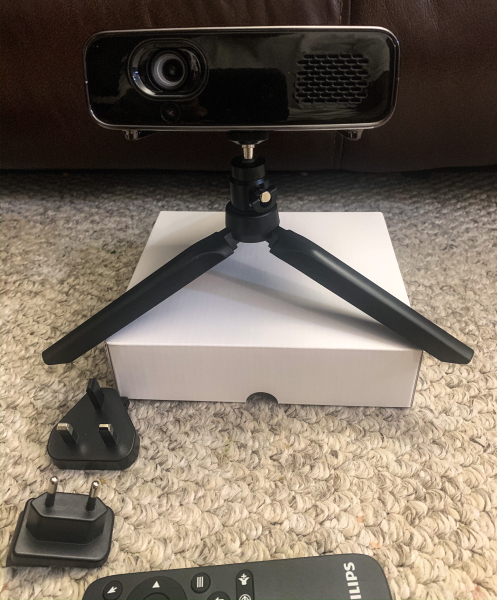 The LED indicator light on the top surface of the projector lights red when charging and blue when charged and when powered on.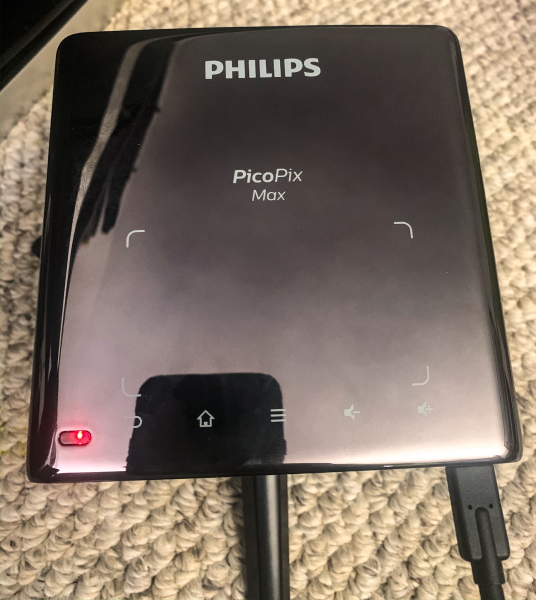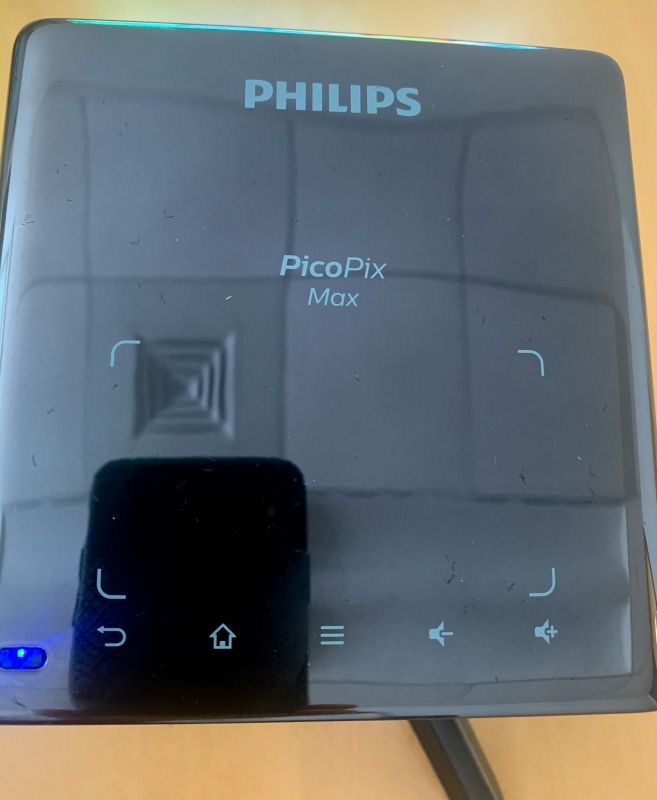 The following screenshot is of the main screen that shows when the projector is powered on: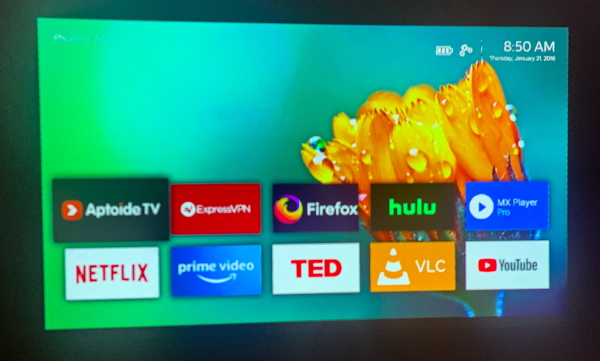 Below are screenshots from some of the many settings screens and options: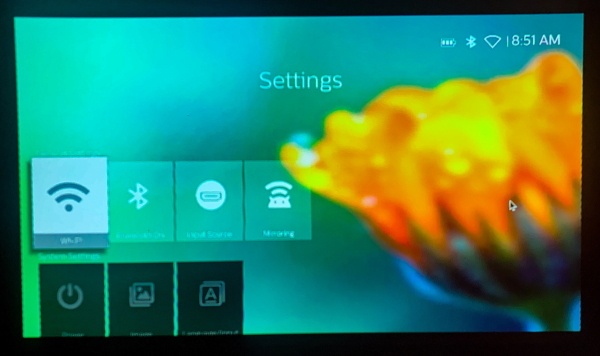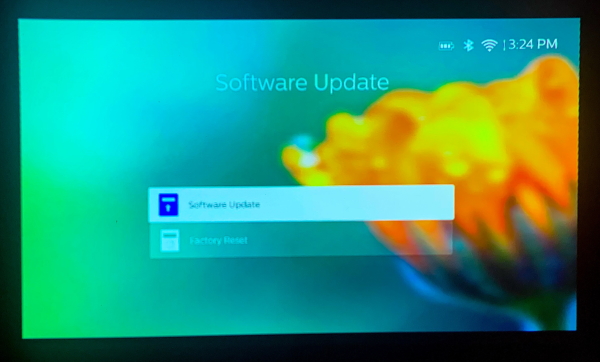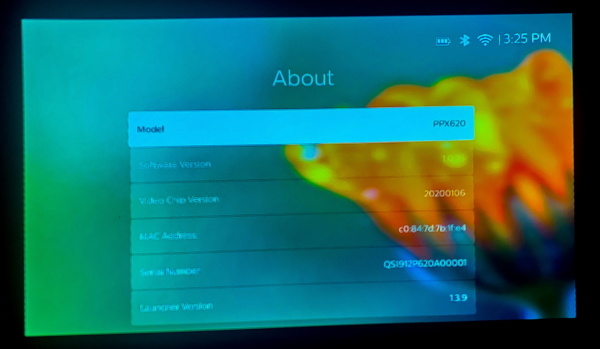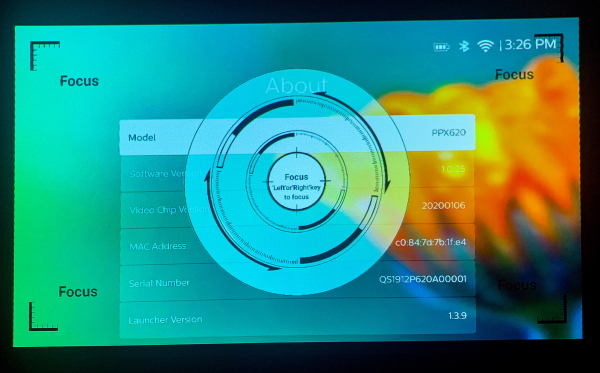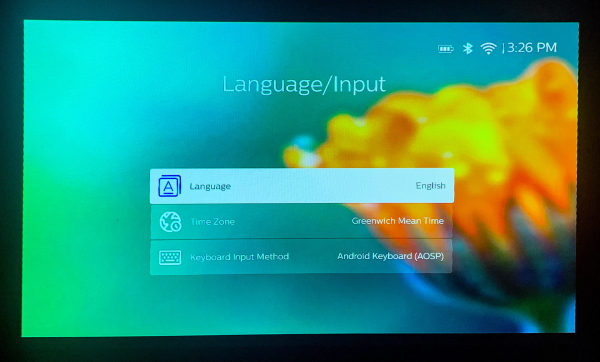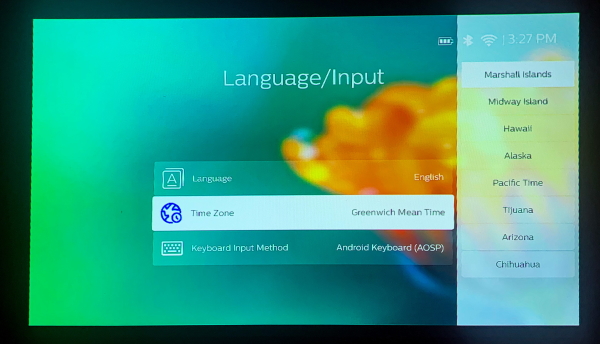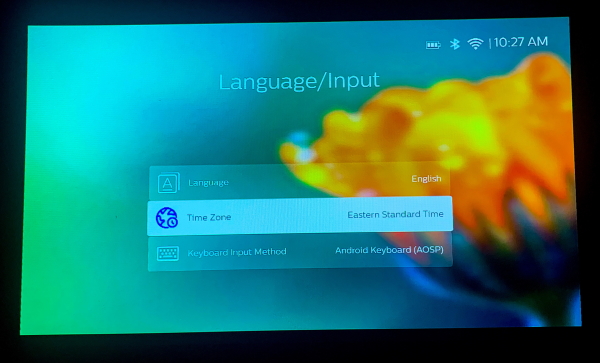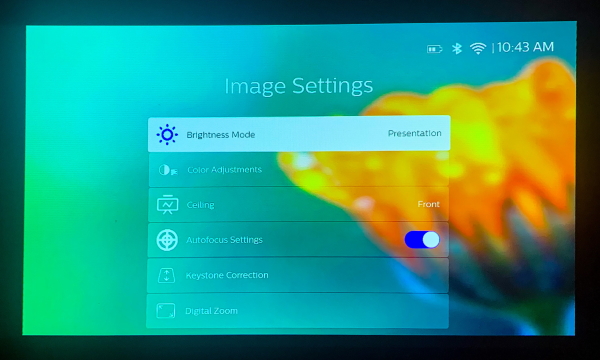 The next set of screenshots below are from my Netflix account using the Netflix app that is installed on the projector's built-in memory: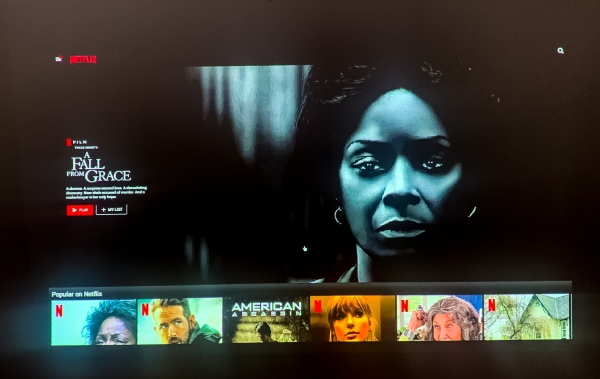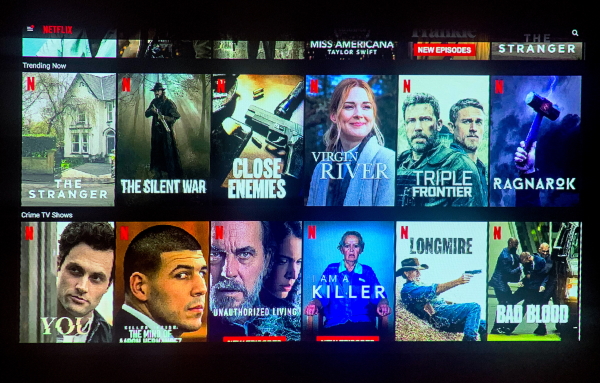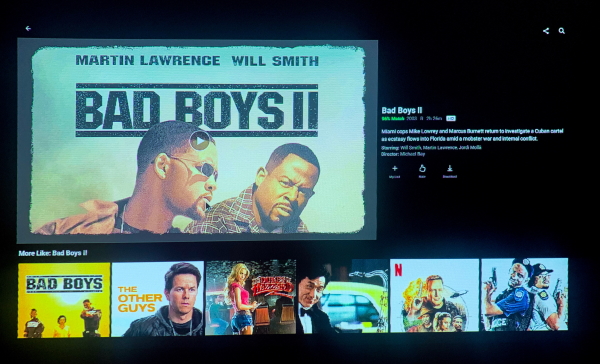 Before I discuss more details about the performance, take a look at the following 2 videos. This first one is playing a 1080p HD video:
This second one is a 4K video:
So let's start by discussing the overall experience with the software and navigation. This device uses android software and maybe it is the application design and maybe the processing hardware is underpowered, but the entire experience feels clunky and buggy and to be quite honest becomes exhausting. For example, when adding the device to your wifi, the selection of available access points keeps changing despite very strong signals, and you have to try to catch it to click on it before it disappears again.
Then for example when pairing Bluetooth headphones, you have to pair them as usual, but once paired, they do not connect automatically when you decide to use them. You actually have to go deeper into the settings and select connect to use them.
Another issue is with color/image adjustment/correction. If the issue is with the focus, that adjustment is available via the remote at the touch of a button. However, for all other adjustments such as brightness, saturation, sharpness, etc, you have to navigate away from what you are watching and go into the settings to adjust those properties. Since sometimes you want to adjust based on what you are actually watching, the process is impossible because you have to navigate away from your viewing.
When using the remote, it needs a line of sight to the back of the projector, and the range of the angle of use is very limited. Not only is this a pain because a few inches to the left or right causes the remote to be unusable, but in many cases when using the projector, it may be behind your viewing position so the remote will not work.
When actually viewing a video, 1080p HD works smoothly, but as you can see in the video above 4K video stutters. I have several other wireless 4K devices like Roku and the Amazon FireStick, and with my very fast wifi, they all play smoothly and flawlessly, as does my larger BenQ 4K projector. Obviously, regardless of the versatile connectivity via airplay, screen mirroring and HDMI. the experience is less than fully enjoyable because I still can't get the color/image quite right.
The only disclaimer I can make here is that the box that I received my review sample in was already opened, so maybe I got a beta or defective device.
What I like
The solid build quality
The versatile connectivity
The portability
The ease of use
The built-in apps
What I'd change
Create the ability for the remote control to have a better operating area/range around the projector
Better software design so that the user experience is less convoluted
Redesign Bluetooth pairing and connectivity process
Better picture/image management with the ability to set/reset during live viewing
Increased processor power for handling 4K video
Final thoughts
When I first read about this Philips projector, I was very excited. The 2 compact projectors that I previously tested do not project at 1080p HD and do not have as many connectivity options. After playing around with this projector for many hours, I am honestly disappointed. For its price, it should perform way better. The lack of streamlined software, the buggy and very limited remote, the lack of on-demand color/image correction, and the overall image quality leave much to be desired especially when compared to say my BenQ HD projector that sells for only a couple of hundred dollars more and while not compact, is amazing in video projection. Even the touchpad on the Philips while a nice feature feels just not quite right, and the Bluetooth process of pairing and connectivity just seems a mess. "If wishes were horses", this projector would be great. Sadly, in its current state, it is a miss and I will pass.
Price: $571 (Pre-order @ 42% off)
Where to buy: Indiegogo (Indemand)
Source: The sample for this review was provided by Philips