We use affiliate links. If you buy something through the links on this page, we may earn a commission at no cost to you. Learn more.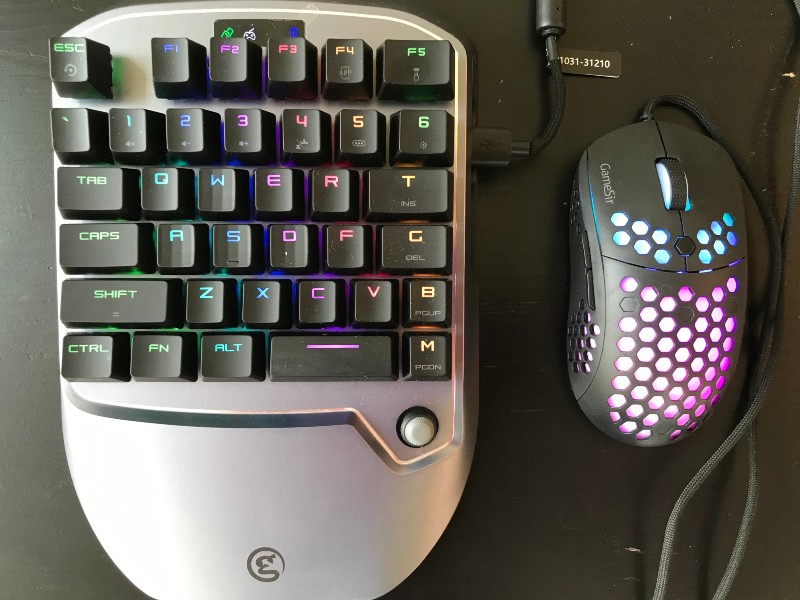 REVIEW – GameSir's VX2 AimSwitch is a light-up gaming keyboard and mouse combination that can be used on multiple platforms to enhance your gaming experience.
What is it?
This gaming extension offers lots of fun possibilities to ramp up your enjoyment while playing XBox, PlayStation 4, Nintendo Switch or your PC. It's backlight with nearly endless possibilities for color combinations and a unique, customizable way to get your game on.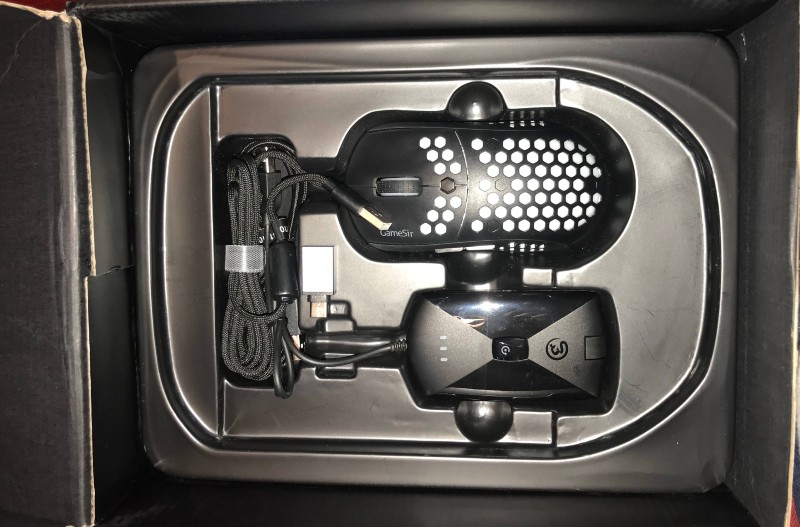 What's in the box?
Gaming keypad (VX2)

Receiver (VX2)

Gaming mouse (GM400)

USB type C cable

Manual

Our review copy came with a F4 Falcon mobile gaming controller, normally purchased separately.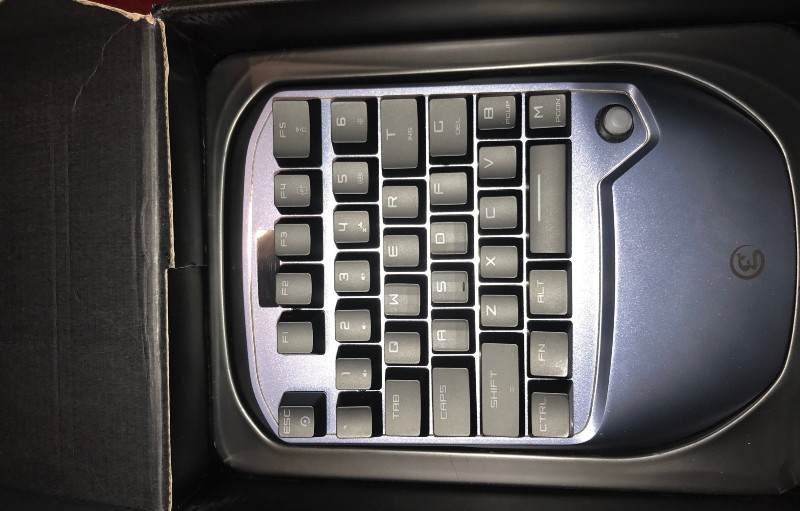 Hardware specs
Compatible consoles: Xbox One, Xbox One S, Xbox One X, PS4, PS4 Slim, PS4 Pro, Nintendo Switch, Windows PC

Connection: 2.4GHz wireless

Durability: 50 million keystroke lifespan

Connection: USB-C

Material: Aluminum alloy and ABS plastic

Battery: Built-in 3600mAh rechargeable lithium battery

Charging voltage: 3.7-5 volts

Working temperature: -5 to 45 C; 23 to 113 F

Micro-USB cable length: 3.28 feet

Product size: 26.77 x 18.19 x 5.59 inches

Weight: 1.18lb

Design and features
Setup
We tested this gaming keyboard and mouse with an XBox, PS4, Nintendo Switch and PC. It seems like it should be a simple plug-and-play design, but we found it easier to use on some platforms than others. For example, the XBox was easy and intuitive to connect; the Switch was confusing and we needed the manual to figure it out step-by-step and then needed to play with it for a while, trial and error, to get it Fortnite ready.
Fortunately, the GameSir website has many links to tutorials and manuals. (The G-Crux app also had several tutorials for GameSir products.)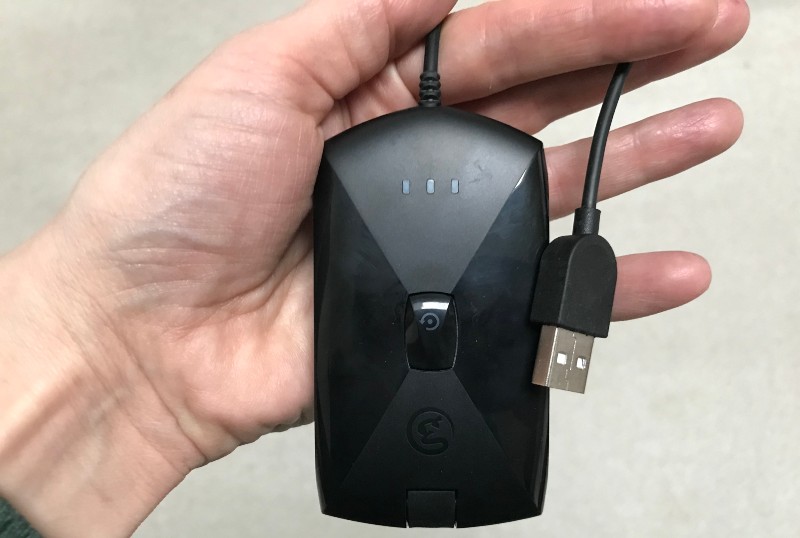 The receiver plugs into your gaming systems and has both a standard USB connection and micro-USB. 
The keyboard is wireless; the mouse plugs into the keyboard via USB connection with a very long 5-foot cord.
It takes 2-3 hours to fully charge the keypad. The indicator light flashes green while charging; is blue when connected; and turns red when battery life gets to 15 percent or below. When it gets below 5 percent, it automatically powers off.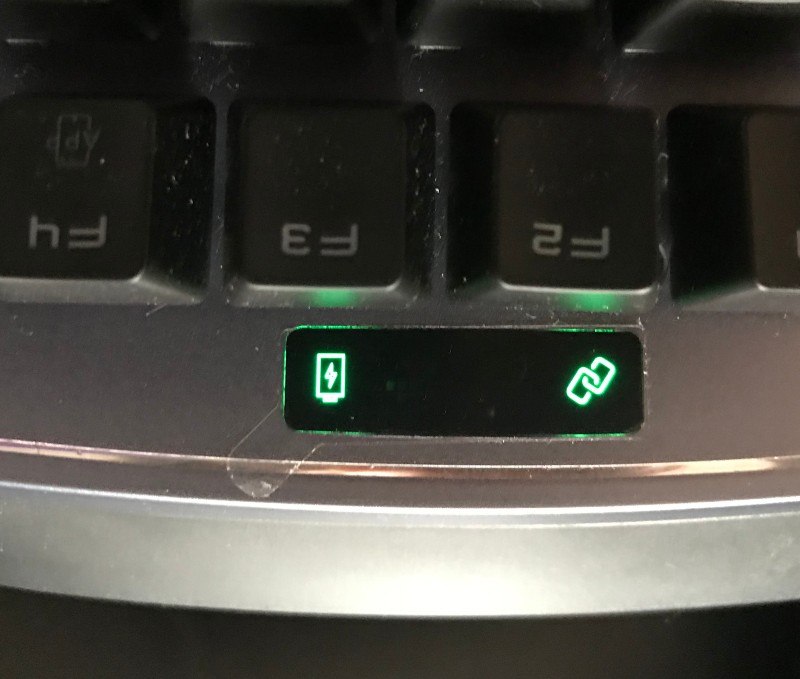 Performance
To use all the bells and whistles and customization on the gaming keyboard, you need to download the GameSir App, called G-Crux. 

At first, we had trouble connecting the app to the VX2 (we did connect it to the F4 Falcon right away). I sent a help request through GameSir's website and got a reply one day later. They advised me to press the FN and F4 keys of GameSir VX2 at the same time, and when the indicator flashed blue I could connect it with my G-Crux app.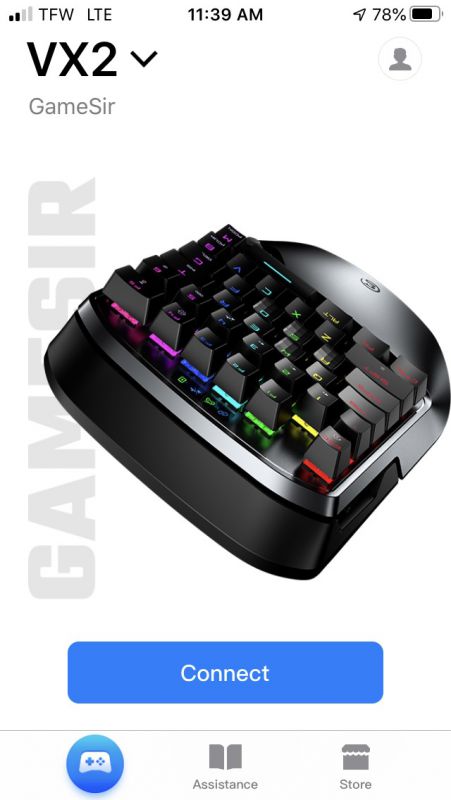 It worked like a charm.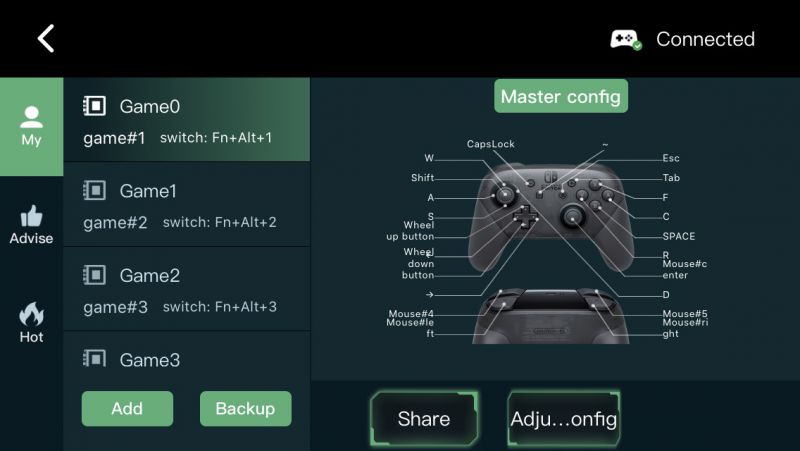 Our favorite part about this package was the colors—their website boasts 16.8 million different color options. The default color settings were fantastic. They were bright and beautiful, and also playful. Sometimes the keyboard would flick blue, and then with every keystroke it would send a blue ripple across the other keys.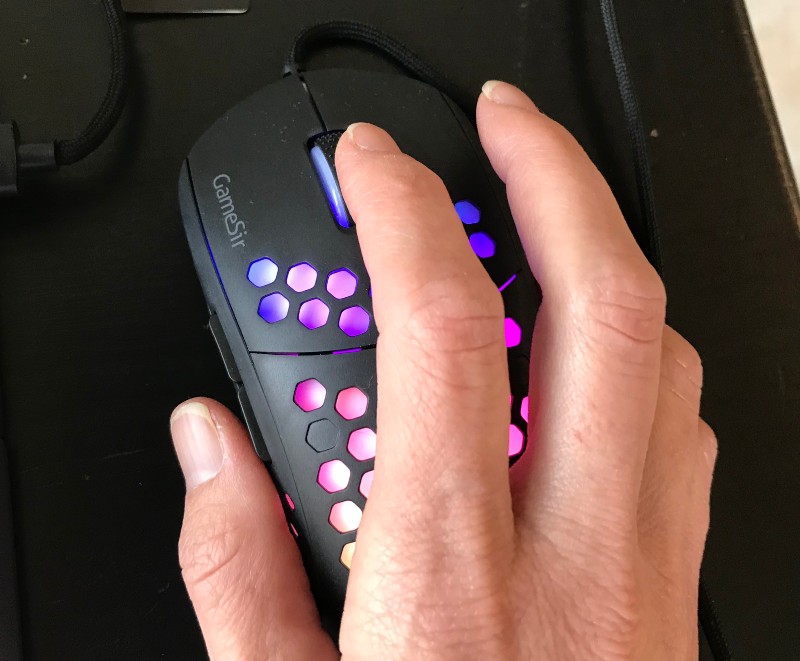 The photos give you a glimpse of the effect but don't quite do it justice. Imagine the rainbow of changing, merging and rippling colors, mid-game, especially if you play in a dimly lit room like my boys do. It's cool!
The keyboard, mouse and receiver are very light, making it quite portable. So it's easy to move from room to room, device to device. And the keyboard is stable wherever you set it, with anti-slip material around the bottom surface.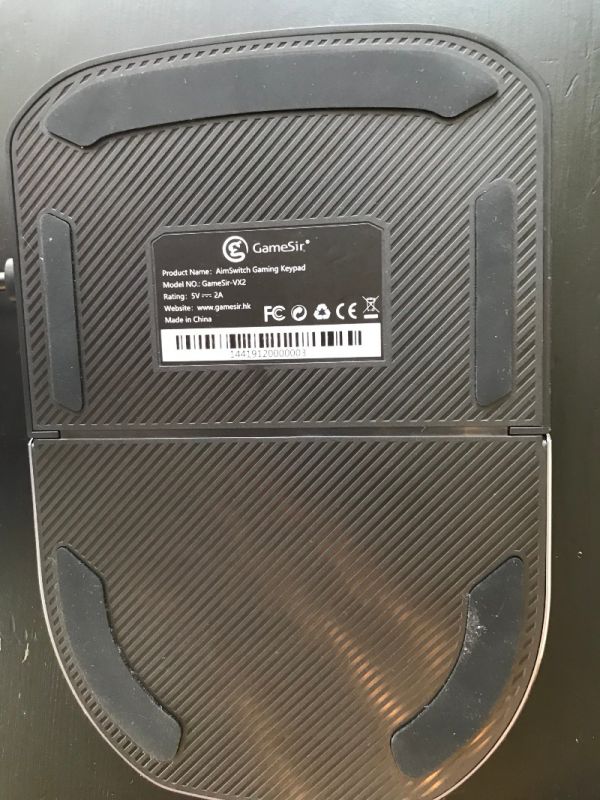 Interestingly, my son who couldn't wait for this to arrive ended up less enamored than my younger son. My co-reviewer, Mason, found the half-keyboard design awkward. He would have preferred either a full-sized gaming keyboard or a tiny full-alphabet button keyboard attachment that clips directly to his controller. My youngest, also a gamer, preferred this half-keyboard design. 
So it's really a matter of personal preference. Just be warned that this is not a full-sized keyboard, it ends at 6/T/G/B on the right side.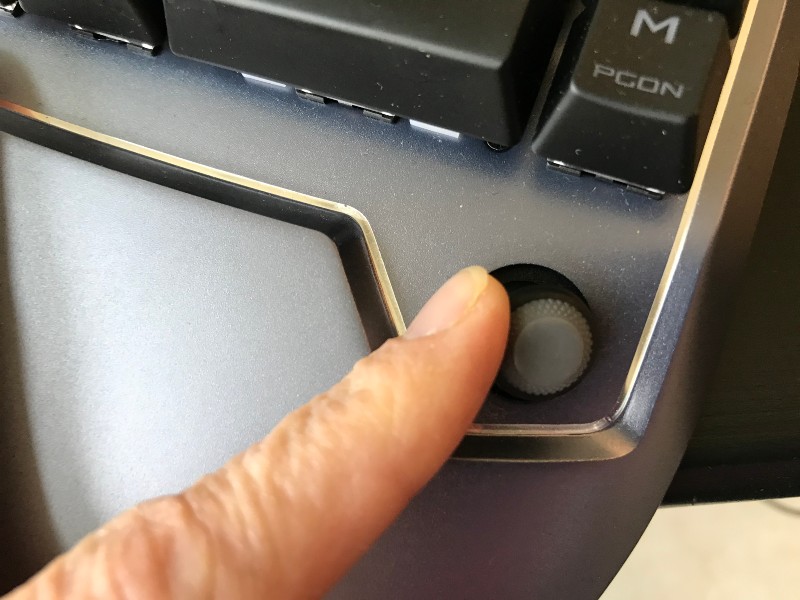 My youngest also liked the mouse with the long cord and mini-joystick on the bottom-right side of the keyboard. He used this to play Minecraft on the Xbox with three friends during a sleepover, using it as extra controllers to give everyone a job and a role in the game. 
Mason and I found the long mouse cord a bit cumbersome, but the younger kids didn't bat an eyelash. So again, it depends largely on which games you're playing and the type of setup you prefer.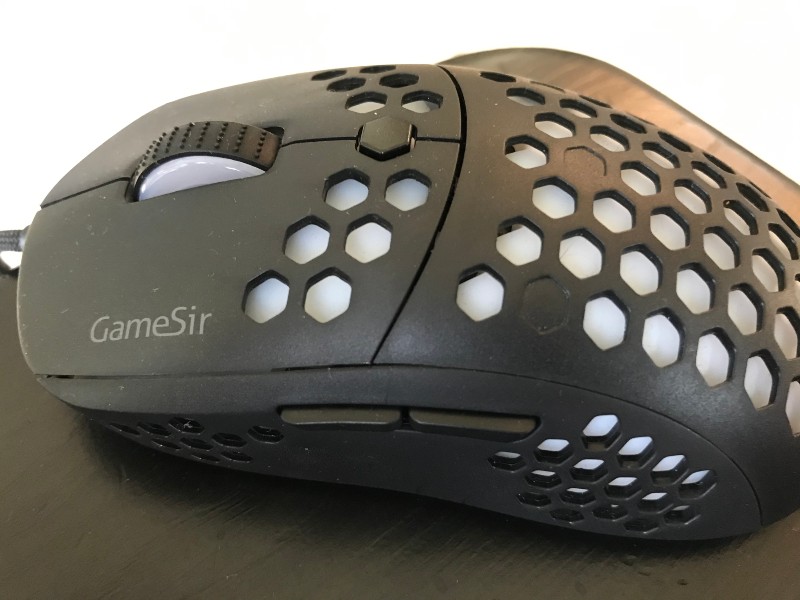 The mouse also lights up, and has two buttons on the left, a top button and a scrolling wheel, and right/left click buttons. The honeycomb design is comfortable, and I sometimes plug it into my computer to use while I'm working, just to enjoy the colors and subtle, shifting light show.
F4 Falcon controller
The Falcon controller is also available from GameSir. It's designed to use with your phone. It charges with a USB cable and then you just snap it into place.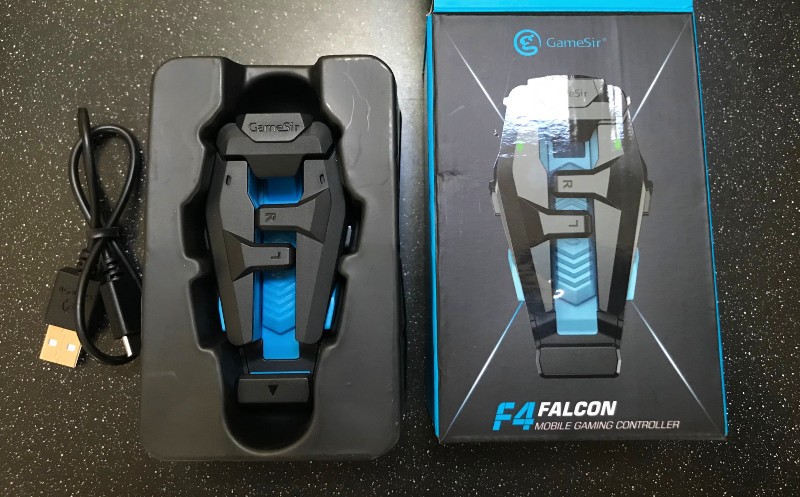 To use it, you must first remove your phone case. Your phone must be less than 10 mm thick (0.4 inches); 66-85 mm wide (2.6-3.4 inches); and less than 170mm long (6.7 inches).
We were able to use GameSir's G-Crux app to connect to the Falcon controller, which allowed us to adjust the trajectories and set the buttons to use with my iPhone 7.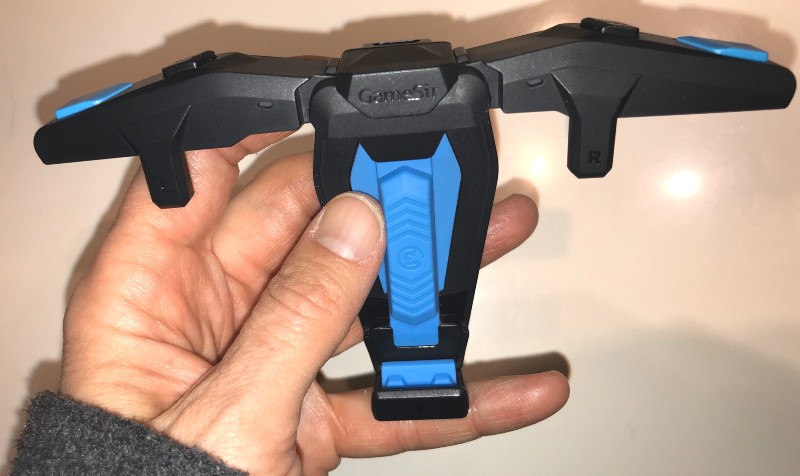 As far as the Falcon F4 performance, GameSir notes that it can be used for games whose buttons "can be dragged."  We found that for shooter games (we tested it with Call of Duty), it worked well and made the phone-version feel a little bit more like playing it on a gaming system because of the responsiveness and button position.
What I like
The VX2 AimSwitch has beautiful light displays on both the keyboard and mouse

The versatile design lets you the use mouse and keyboard as full gaming controllers, with a joystick and extra buttons
What I'd change
Easier connection to Nintendo Switch
Final thoughts
If you like the half-keyboard design and long-cord mouse, the AimSwitch VX2 will certainly add to your gaming experience with gorgeous light-shows and customization. The Falcon F4 is easy to use and fun for those who like to simulate gaming-system controls on their phone games.
Price: $129.99 for AimSwitch VX2; $29.99 for F4 Falcon available now for preorder
Where to buy: GameSir website and Amazon
Source: The sample of this product was provided by GameSir.