We use affiliate links. If you buy something through the links on this page, we may earn a commission at no cost to you. Learn more.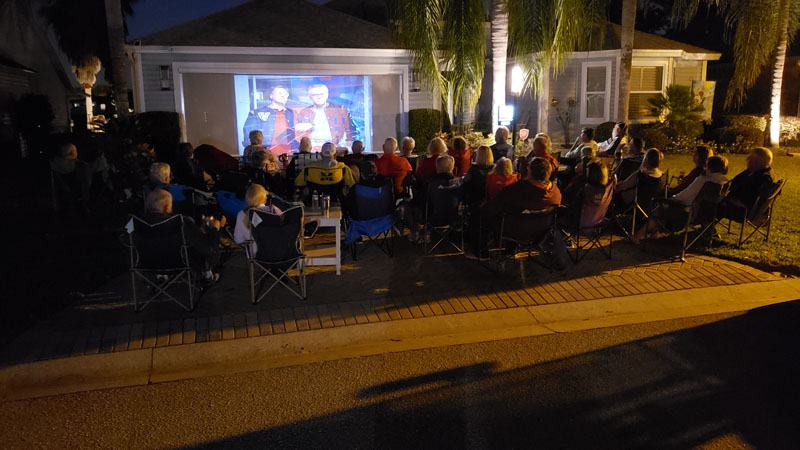 REVIEW – Big screen TVs are great and all that, but what if you want to go really big?  You can snag Samsung's 8K 98″ QLED for a cool $60-grand. Of course, for that price, you could also grab a nicely equipped Chevy Suburban or nearly cover a loaded Tesla Model 3. Plus, if you're going huge, you probably are going to be outside, so do you need 8K or is 1080P good enough?
I'll answer that – 1080P is good enough, so let's get into a solution that can work for your large-screen viewing pleasure, and also work for your modestly large-screen needs inside as well.
What is it?
The VANKYO Performance V630 is an LED/LCD-based projector that can produce images in 16:9 and 4:3 format at recommended sizes from 46″-300″ diagonally measured in full 1080P high definition.
What's in the box?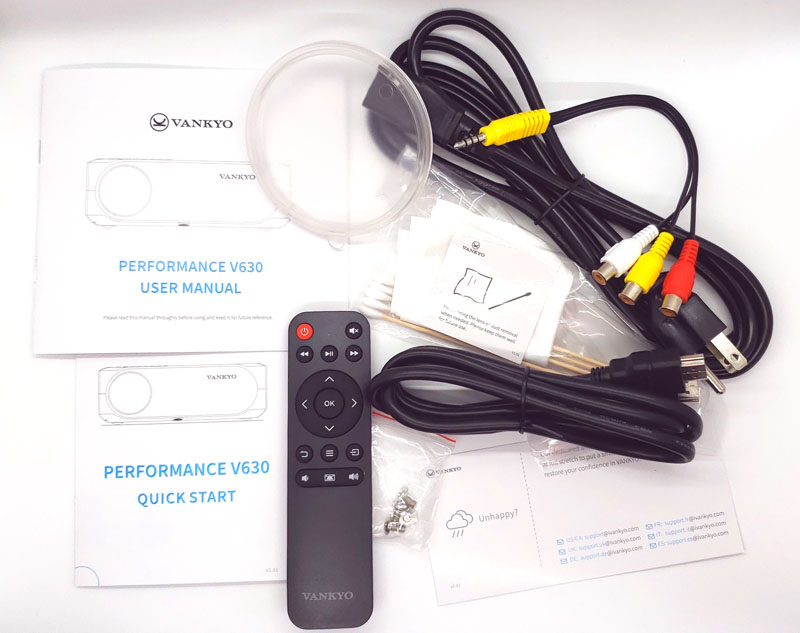 Projector
Power cable
HDMI cable
Audio/video cable
Remote control (no battery)
Four screws – not sure why
Lens cleaning cloths and swabs
Lens cover
User manual
Quick start guide
User satisfaction card
Carry case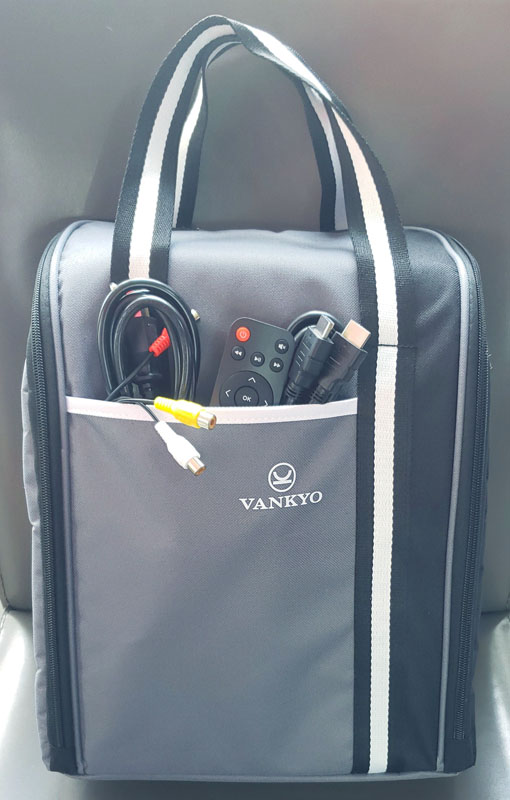 The carry case was quite nice with an outside pocket as well as an inside mesh pocket. It held the projector along with cables and remote and provided a nice handle for toting.
I should also note that Vankyo also included their portable, wrinkle-free 120″ cloth projection screen. Since that was not planned for the review, and since I have a larger screen option, that screen was not used for this review.
Hardware specs
Dimensions: 9.3 x 4.3 x 12.4 inches
Weight: 5,95 pounds
Brightness: 6,000 lux
Contrast ratio: 5,000:1
Resolution: 1080P full HD, 16:9 & 4:3 aspect ratio
Installation: Desk or ceiling, forward or rear projecting
Speakers: stereo 5Wx2
Lamp type: LED
Life expectancy: 50,000 hours
Inputs: VGA, USB, SD card, HDMI (2), combined A/V
Output: 3.5mm headphone jack, 5V USB
Keystone: manual +-15°; digital +-45°
Projector distance from screen / screen diagonal measure: 5.15ft-30.18ft. / 46″-300″
Design and features
Setup
There isn't really any setup to do other than connecting the power cable, applicable input source and positioning it.
Hardware design
The front of the projector has a large projection lens as the predominant feature.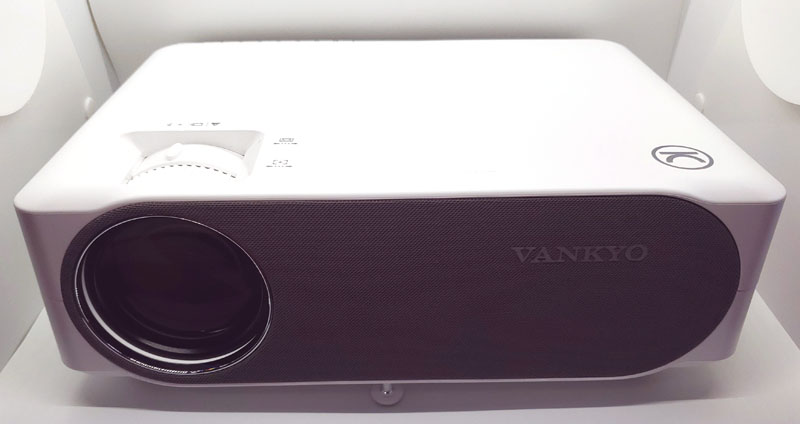 On the bottom center, you can also see the adjustable front stand used to tilt the projector up.
Above the lens are two wheels.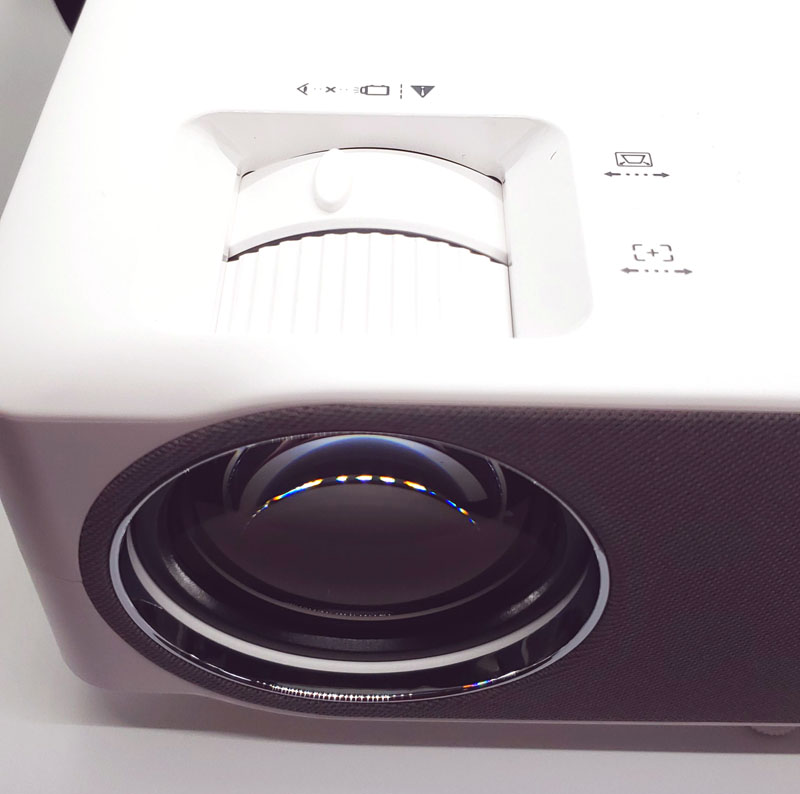 The forward knurled wheel is the focus adjustment wheel.  The rearward one with the small adjustment handle is the manual, mechanical keystone adjustment.  Keystone adjustment changes the shape of the projected image, tilting it so the top or bottom narrows or expands to compensate when you projecting at an upward or downward angle.
The right side of the projector holds the cooling vents.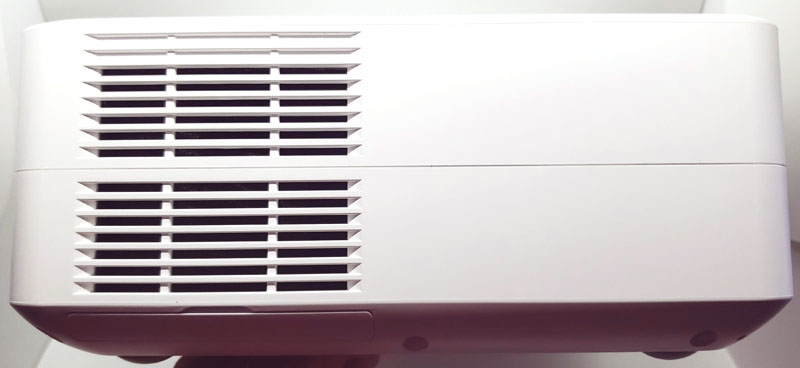 The left side holds the SD card slot and the two HDMI input ports plus additional cooling vents.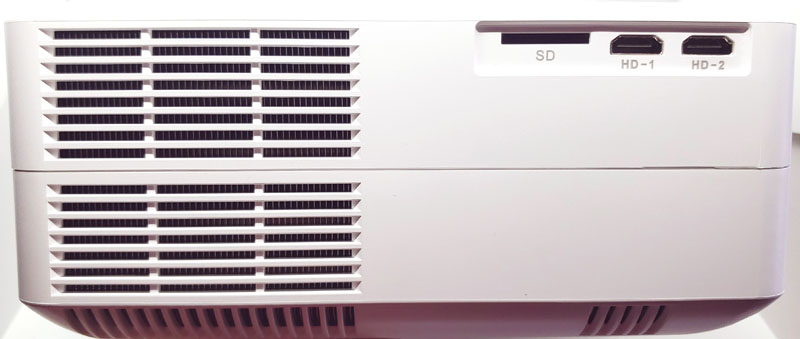 The back has the rest of the input and output ports.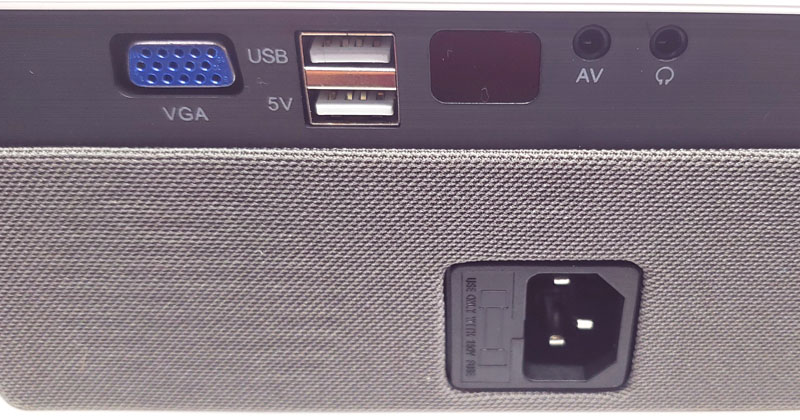 We see the VGA connector, a USB input port, a 5V USB power output port, I guess in case you need to power something, the audio/video input port, the audio output jack, and the power cord connection.  The dark rectangle is the infrared input window where the remote control signals are received.
The bottom of the projector features four small rubber feet at the corners.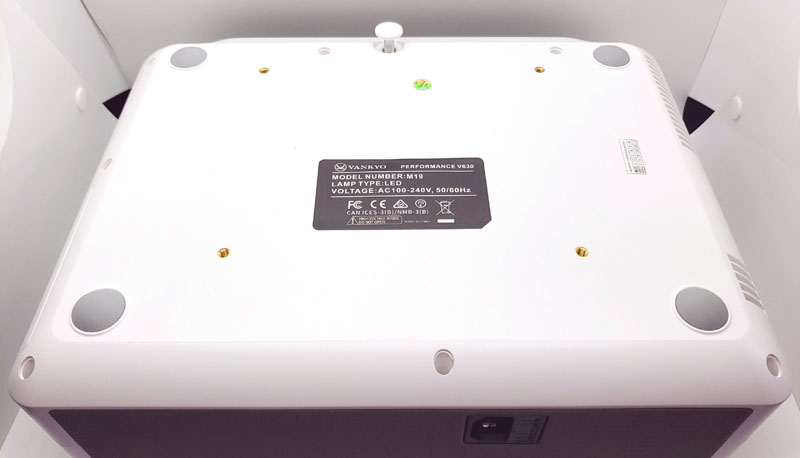 You can also see the four brass screw holes that fit the four included screws.  The included screws are so small, they seem essentially useless.  The holes, when used with longer screws, or more correctly, bolts, can be used to mount the projector. The projector can be mounted right-side-up or upside-down and can project on the front or rear of the screen.  All image direction controls are in the menus.
All the control buttons are located along the back edge of the top of the projector. They duplicate the functions on the remote control.

From right to left – Power, menu, input source, play/pause, OK, right, left, down, up.
Software design
The on-screen menu features three menus with multiple submenus.
Picture menu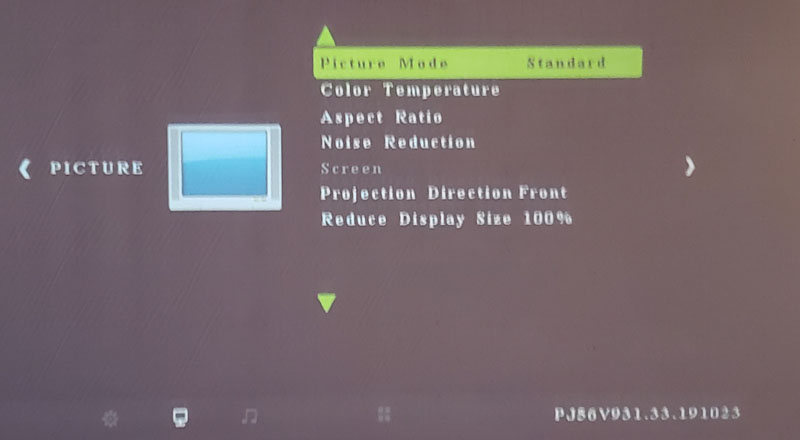 Sound menu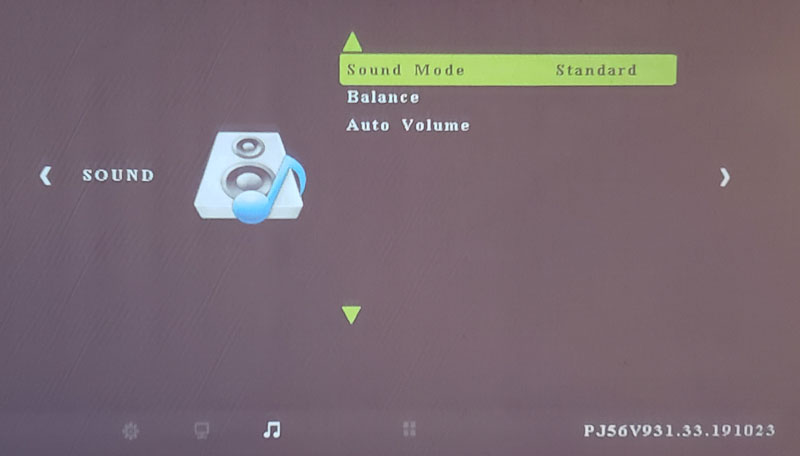 Options menu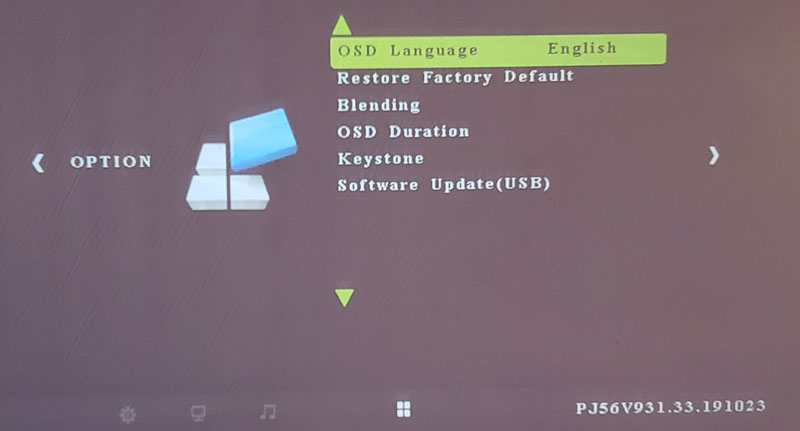 I won't go into every single option, but suffice it to say that you can control most aspects of the picture and sound as well as changing display languages.
Let's plug in a video source and get playing!
Performance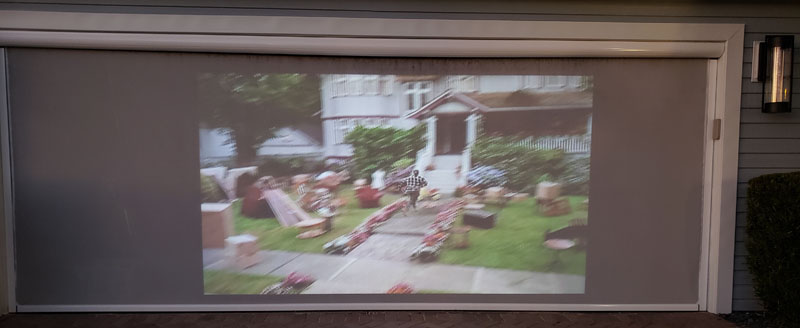 First, let me explain my use case.
We live in the largest retirement community in the world.  We're always looking for new ways to have fun, so my wife and I decided we wanted to start doing something here that we used to do when we lived in Michigan – set up a neighborhood "drive-in". Back in Michigan, we had an old low-def 4:3 projector and projected movies onto the side of our house. We'd get anywhere between 20 and 70 people in the side yard and enjoyed family-friendly movies in the late fall months when it started getting dark earlier, but the weather was still nice.  Here in Florida, we can take advantage of warm spells in winter months as it is dark at 6:30 pm and we get nice, warm nights from time to time.  The photo above shows an image projected on a roller screen we use to ventilate our garage.  It has a white finish, and even though it is perforated, it does a great job as a movie screen.
The screen area is 75″ high. At a 16:9 aspect ration, that means my horizontal measurement comes out at 133.33″.  Leveraging our friend, Pathogras, a little math yields a diagonal image size of 153″.  Not too bad.
I plugged in amplified speakers and an inexpensive DVD player with HDMI output.  The projector sprang to life.  The image quality was surprisingly good. Multiple people at our screenings made a point to comment on the quality of the picture. Here's the setup: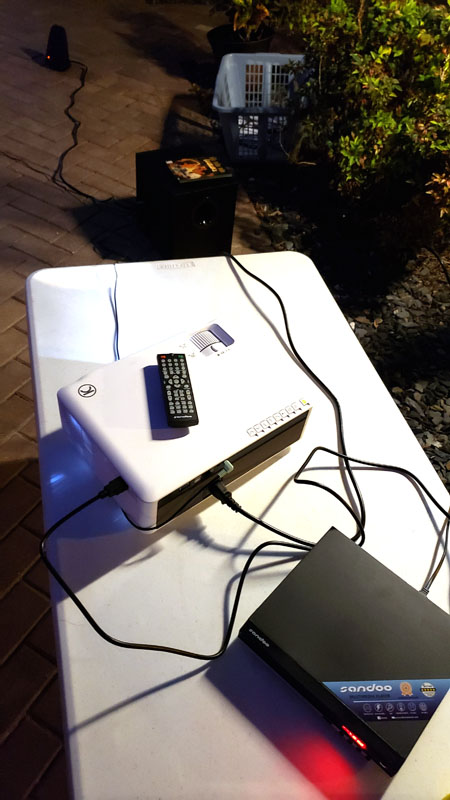 I had the projector off to the side of the driveway pointed at the center of the garage screen.  I was able to use the keystone feature to provide a nice, squared-off image even from this extreme off-center angle. The table is square to the screen, and you can see that the projector is quite skewed to the left.
Here are three shots from the movie tonight: Casablanca.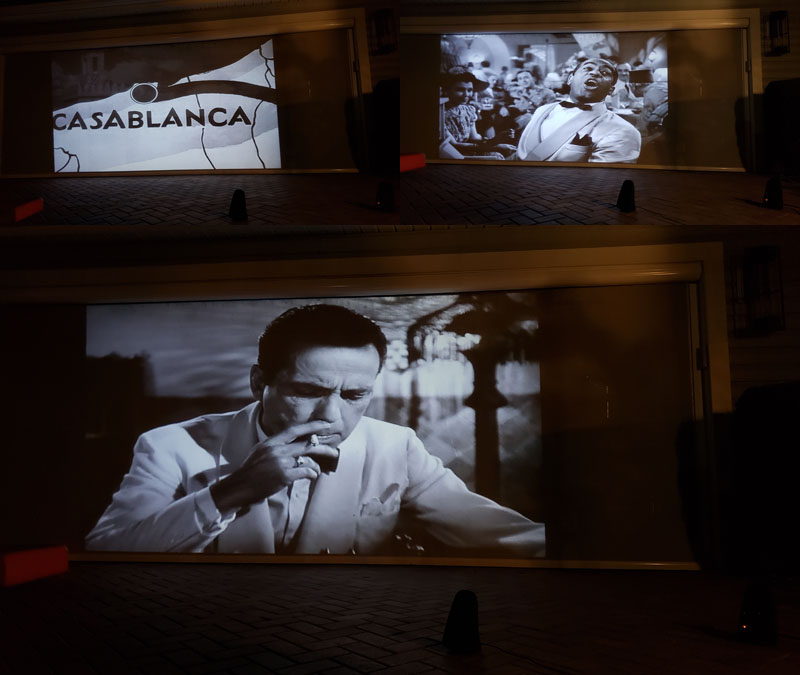 Like the last movie, people commented on how great the picture was.  At 6,000 lux and a 5,000:1 contrast ratio, it was plenty bright with deep blacks and bright colors, or whites in the case of this black and white movie.  All in all, it is a terrific projector in terms of picture quality.
Now, the little things that devalue it a bit.  First is the sound.  The included 5W speakers produce very little sound and that sound it a bit tinny to my ear. In my opinion, you need to add auxiliary speakers to make this a useful solution. Even with 200-watt amplified speakers, the volume is a little low.  I had the volume output level on the projector set to 100 – its highest level.  Also, I had the speakers up at full volume.  The sound level for the movie was simply too soft. There are multiple sound settings in the sound menu, and choosing Movie produced the loudest sound, but it was still too little for an outdoor venue. To be clear, I have another projector – a competitor to this one with similar specifications.  The sound output from that projector is noticeably louder.  The second thing is the noise from the projector itself – specifically the cooling fan. It is somewhat loud to the point of being noticeable. Again, when comparing projectors, this one was a bit on the noisy side.
Will these things bother you? It all depends on how you will use it.  If you are going to use it inside, the lower movie volume level won't be an issue but the cooling fan level might be.  If you're using it outside, as I do, the movie volume is an issue but the fan volume isn't a big deal. I don't want to overstate the fan sound, it isn't terribly loud, but to me, it was a bit noticeable.
What I like
Compact size
Image control options
High-quality picture – it garnered positive comments from multiple guests
What I'd change
Internal speakers are too weak
Even with amplified external speakers, the low sound output could be boosted
The somewhat noisy cooling fan could be quieter
Final thoughts
Overall, this is a capable projector at a bargain price.  It provides a bright, clear, contrasty image that looks great.  If it could put out more sound and have a quieter cooling fan, it would be near perfect. Still, if you are trying to get a big image on a budget, the Vankyo Performance V630 might be the projector you're looking for.
Price: $269.99 less currently available $40 coupon (Amazon)
Where to buy: Amazon
Source: The sample of this product was provided by Vankyo.