We use affiliate links. If you buy something through the links on this page, we may earn a commission at no cost to you. Learn more.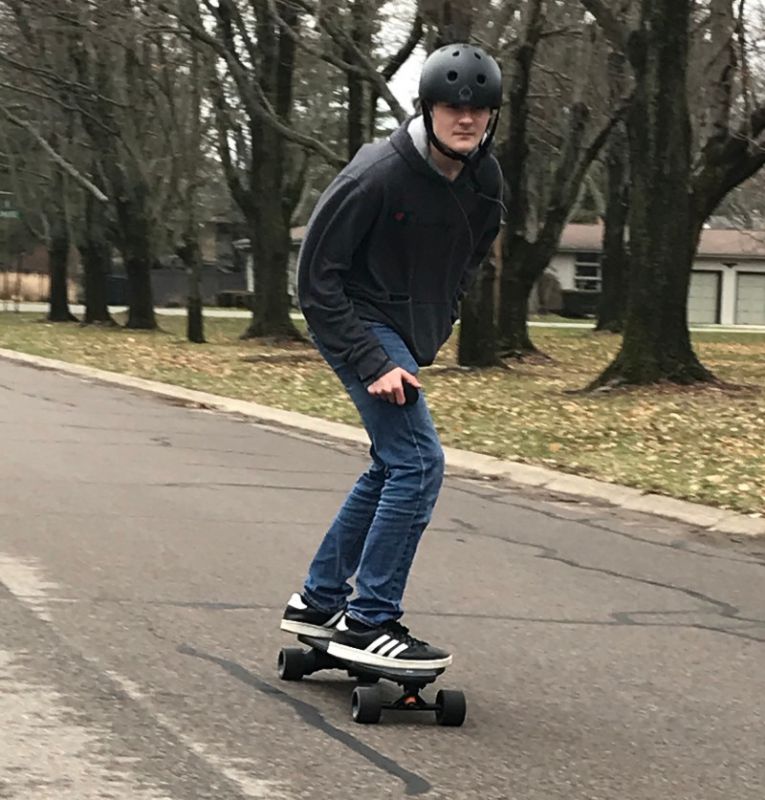 REVIEW – The Exway X1 Pro-Riot belt-driven electric skateboard appeals to adrenaline junkies and commuters alike, covering 8+ miles on a single charge and zooming with speeds up to 29 miles per hour.
What is it?
This electric skateboard has a longboard design, with weather-resistant features and extra-large wheels. It's controlled with a handheld remote that adjusts speed, triggers the breaks and displays real time battery life. The Exwayboard app helps you fine-tune your board's acceleration rate, and a multi-purpose skate-tool lets you adjust the trucks for comfortable turning.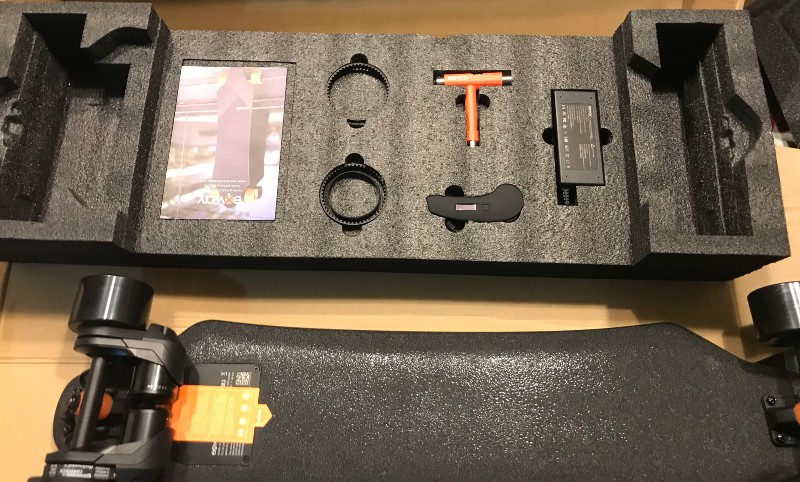 What's in the box?
Electric skateboard (longboard)

Standard skateboard charger

Multi-purpose skate tool

Manual

Spare belt

Remote control and charger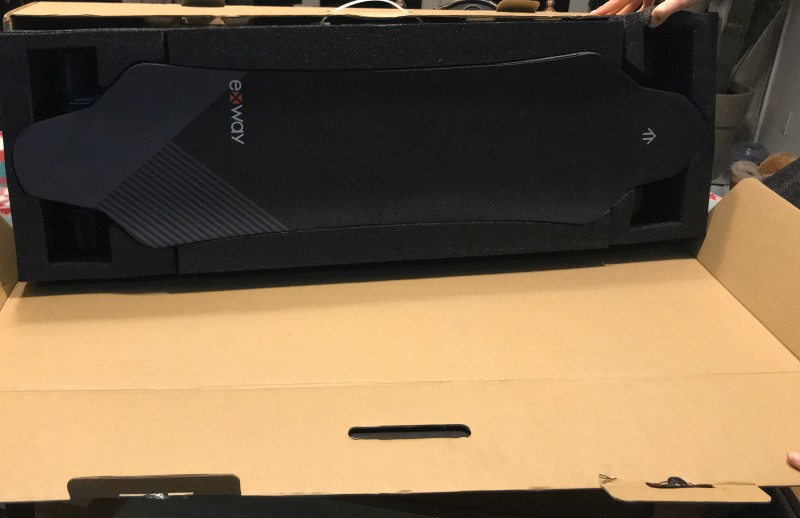 Hardware specs
Max speed: 29 MPH / 45 KPH

Max climbing grade: 30%

Range: 16 miles

Weight: 16 lbs

Torque: 5.2Nm x2

Max power: 1500W*2

Rated power: 750W*2

Rated charger power: 75 watts

Input voltage: 50V-4A Max

Battery capacity: 193 Wh

Grip tape: 2mm shock absorbing

Trucks: Seismic Aeon 45°

Reduction gear ratio: 2.57

Braking mode: regenerative braking

Motor: 5255-160kV

Belt: Continental (Germany) 5MM

Charging time: 2h 45min (standard charger) / 70 minutes (fast charger)

Warranty: 6 months
Design and features
Setup
After taking the longboard out of its tightly-packed box, you'll first want to charge it up. To do so, simply lift up the flap in between the motors (there's one motor on each back wheel) to connect the charger magnetically. The light on the charging cable glows red when charging and green when complete. The manual says it takes 2 hours and 45 minutes to charge, using the standard charger that comes with it (you can purchase a fast charger for an additional $79 on sale from $99). We found the 2.5-to-3-hour charging time to be accurate.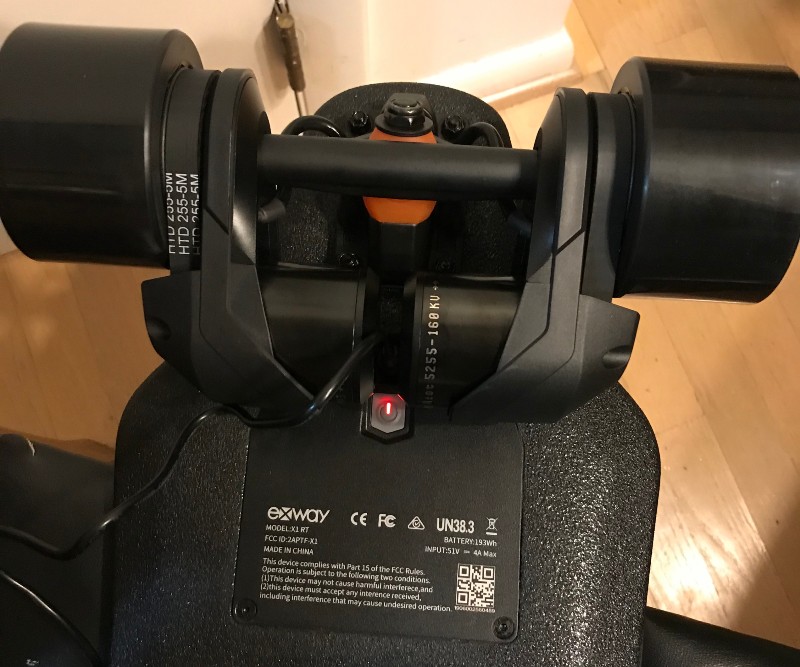 You also need to charge the handheld remote, which is quick and intuitive.
If you want to use the app, you can download it beforehand with the barcode on the manual or by searching Exwayboard. However, the app isn't required to use the skateboard.
Features and controls
If you don't have skateboarding experience, it will take time and practice to really get a feel for the Exway. We don't recommend going at higher speeds or maneuvering around curves or up and down hills until you've built up some experience. And helmets are always a smart move.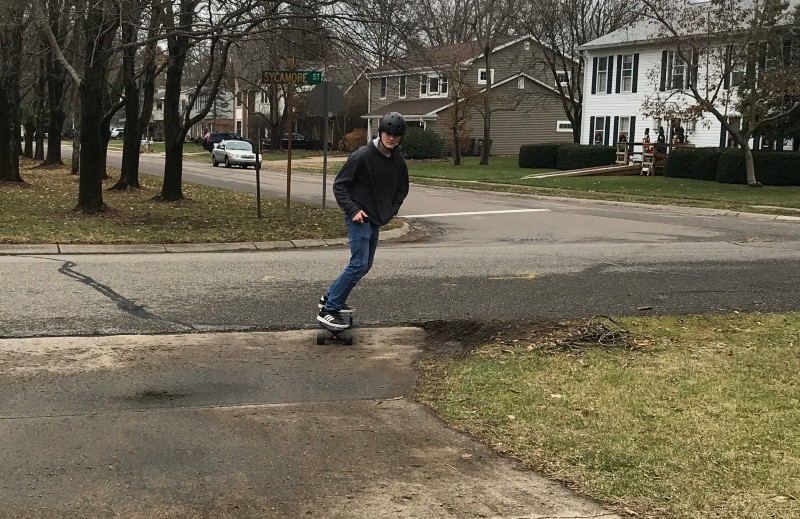 To turn your Exway board or avoid obstacles, you simply lean into it, just like you would with a normal skateboard. 
It comes with a multi-purpose skate tool, which allows you to tighten or loosen your trucks. This helps give each rider their own comfortable level of control, primarily when turning.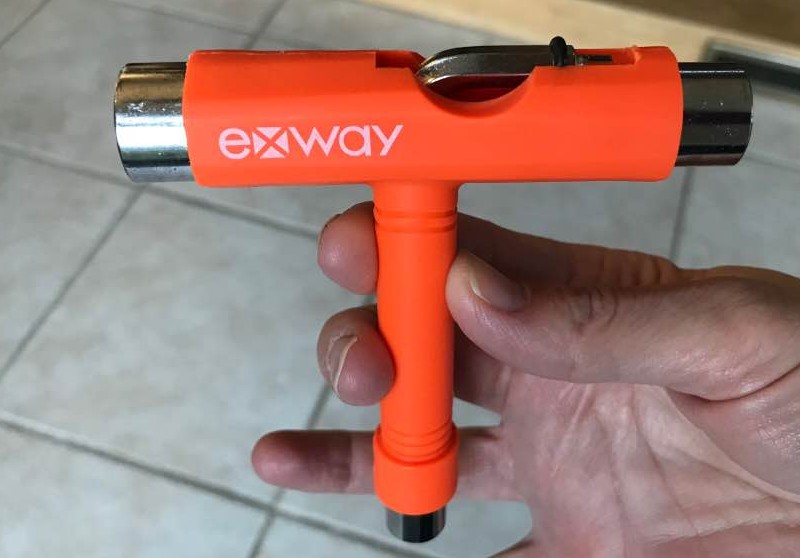 The Exwayboard app allows you to change the torque settings on your board, so you can set how fast you can accelerate. You can play with those to find your sweet spot and what feels best for you. 
The app has three present modes (beginner, default and race). Beginner has you start slow and steady. Race lets you accelerate the fastest. And default is between the two. 
The app also has four speed settings that you can customize, adjusting from 1 to 100, determining how fast you want to go and how quickly you want to accelerate.
When you're using the app, you can't use the skateboard's motors. As a result, you can't ride and play with the app on your phone at the same time. First, you must stop. Then adjust your app. Then put your phone away before firing up the board again.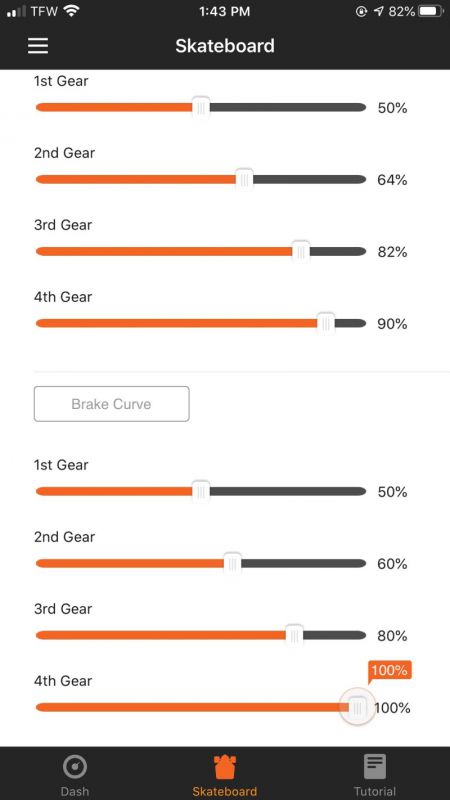 In addition, the app monitors the total distance you've logged, which is helpful in gauging when to stop for a power-up. To help with this, too, the handheld remote shows you the real-time battery life percentage so you can plan your trip accordingly. Note that the battery percentages on the remote shifted a little when testing this. For example, it would show 20 percent battery life and then jump to 30 percent. If you're cutting it close on your battery power, it's better to be conservative than to get stranded.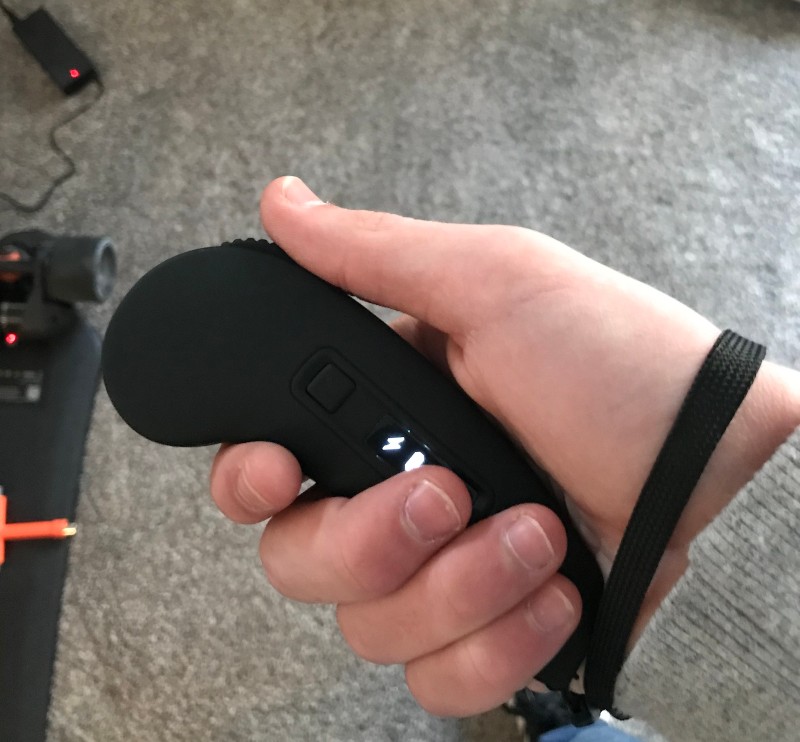 While the manual says it can go 16 miles maximum per charge, we'd plan on no more than 7 to 8 miles to play it safe, since you're never going to ride in picture-perfect conditions using ideal settings.  Mason (the skateboarder in this review duo) did a test run starting at 100 percent battery, riding on relatively flat paved city roads and bike trails, and made it 8.4 miles in 35 minutes before the battery died. He paused about midway and the remote showed 36 percent battery but quickly went all the way up to 46 percent. At the end of his ride, it would slow down and show about 6 percent battery, but if he stopped for a few seconds it would bounce up to 8 percent and let him ride a little longer. Because this is heavier than a normal longboard, it's very difficult to ride without the power, so you'll want to plan conservatively to avoid getting stuck somewhere.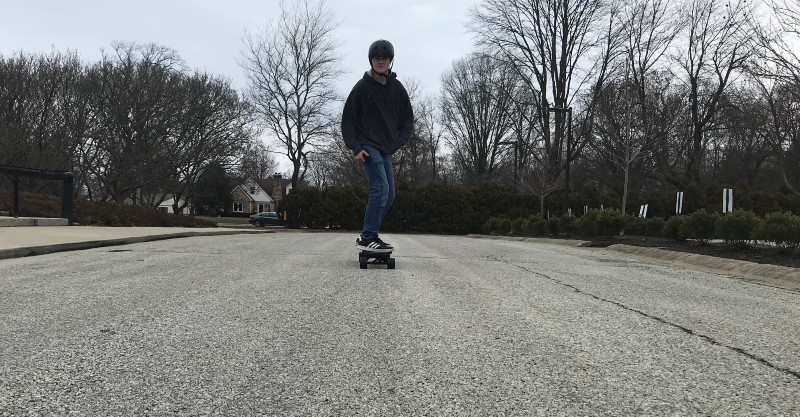 Performance
The Pro-Riot's longboard length is nice for stability and comfort. (It's not a skateboard for tricks or the skatepark.) The large-sized wheels, 85x56mm, make it easy to smoothly get over pebbles and other normal road debris, as well as cracks in the pavement.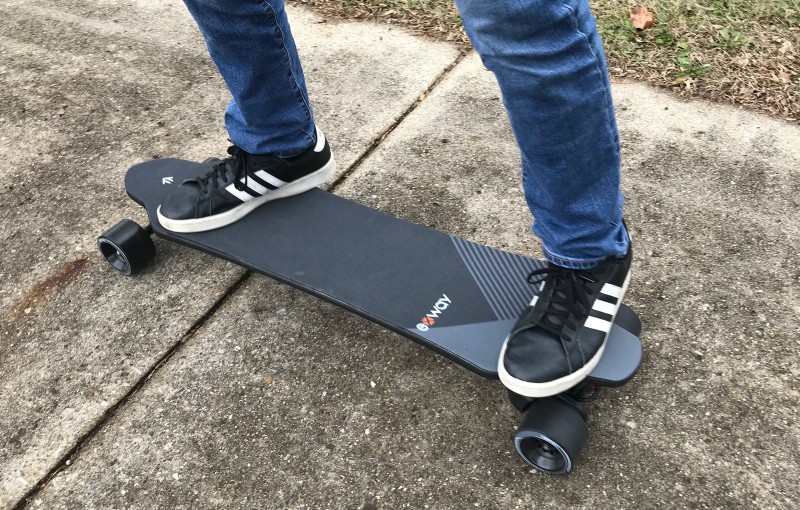 The enclosed motor design and water-resistant bearings keep it protected from the elements. However, even though it's weather-resistant, riding an electric skateboard in wet conditions can be slippery and dangerous. Ice (or snow!) would be even worse.
We've been lucky to have 60-degree temperatures in Indiana this December, but normally it would be much too cold to ride the Exway in the Midwestern US wintertime because even if you're bundled up, the windburn could get wicked. For Mason's 8-mile ride on New Years Day, it was 50 degrees and sunny but he was still chilly with the wind. Even though he absolutely loves riding it, he said he couldn't handle it if the weather was much colder.
The motors power up 1200 watts each, for high torque, acceleration and high-performance hill climbs, along with minimal heat production. Note that the board around the motors does get warm after persistent use, but not uncomfortably so. You could still touch it without burning yourself.
Mason reports that hill climbs were easy and natural. The board specifications say it can handle up to a 30 percent grade, and after testing it on several hills, he confirms that it's a comfortable ride with no noticeable power lag even on the uphills.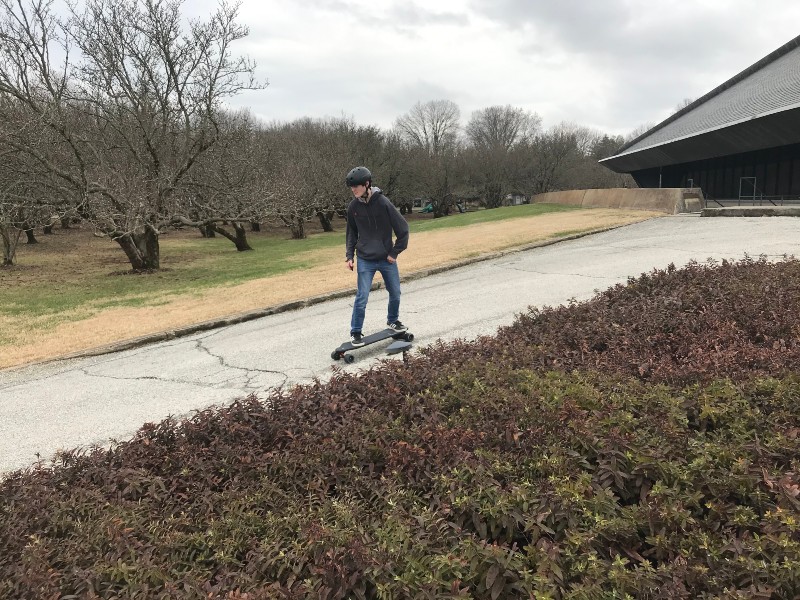 Acceleration is also impressive. Actually it's more like jaw-dropping. Riders should be extremely careful and cautious, especially when getting a feel for high speeds. Going 29 miles per hour on a skateboard is no joke. Mason reports that you'll feel "speed wobbles" when you really get it going. At max speed, you'll need to work to control that, though more experienced skateboarders will already know how to do this by feel.
Along the same lines, the brake is extremely sensitive. Mason almost never uses the breaks on his Exway (and doesn't recommend it) but instead lets the board slow down naturally. Because the break feature works so well, it could easily send you flying off your board. However, if you have a runaway skateboard, the break is perfect.
The noise? That's a bit subjective. You can certainly hear it coming, which I personally like because it gives others on the road some fair warning. Mason thinks the noise is cool. However, my husband finds it too loud. So it depends on your opinion.
This video does a good job of showing the Pro-Riot's speed and noise.
Both Mason's dad and his little brother (11) briefly tested the board. They both have a little skateboard experience and more cautious personalities. They found it fun to play with, but only tried minimal acceleration and didn't touch the breaks. The expense of an X1 Pro-Riot wouldn't be worth it for them, but perhaps a less powerful model would be more of their style.
For a skateboarder and fearless thrill-seeker like Mason, the Pro-Riot is a dream. In fact, he confessed that he'd always wanted something like this but was afraid to ask because of the price tag.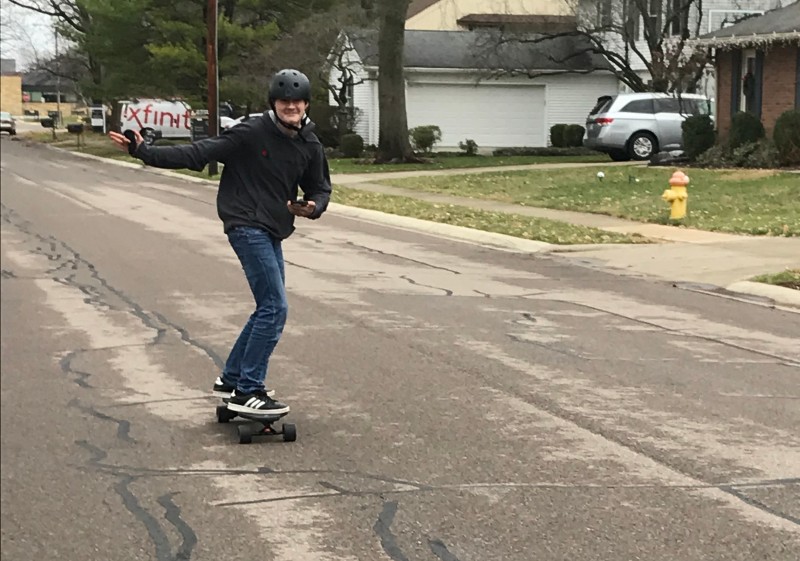 What I like
Straightforward, intuitive controls

Dual motors and overall hearty design

Impressive speed and stability
What I'd change
More accurate, consistent battery percentage readouts

Noise control for those who prefer a quieter ride
Final thoughts
The Exway X1 Pro-Riot electric skateboard is a fantastic piece of technology for experienced skateboarders, especially those who love speed. Commuters and hobbyists could certainly enjoy this, too, with a little practice and persistence.
Price: $799 on sale from $1099
Where to buy: Exway
Source: The sample of this product was provided by Exway.