We use affiliate links. If you buy something through the links on this page, we may earn a commission at no cost to you. Learn more.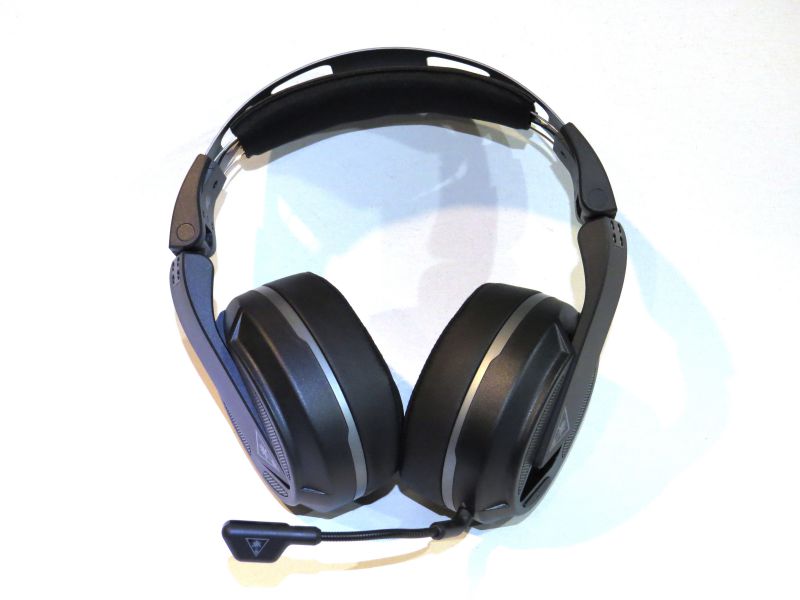 REVIEW – Headphones are something that sit on your head for hours a day without you even realizing it, that is, unless they don't fit well. I've had really good experiences with the comfort of Turtle Beach's wired headphones, so I thought I'd give their wireless Elite Atlas Aero headphones a shot. Are they comfortable? Did the wireless cut out? Let's see.
What is it?
The Turtle Beach Elite Atlas Aero headset is a wireless pair of headphones for everyday gaming.
Hardware specs
USB Wireless
3.5mm wired (optional)
12Hz – 20kHz
50mm speakers
Unidirectional gaming microphone
30 hours battery life
What's in the box?
Elite Atlas Aero headset
Wireless USB dongle
Detachable microphone
3.5mm cable
Micro-USB charging cable

Design and features
My first impressions of the Atlas Aero headset were positive. They were nice and light yet seemed sturdy, had a microphone I've used in previous Turtle Beach products that I know is solid, and were comfortable on the ears.
The first things I needed to do with these headphones was get acquainted with all the buttons and install the Turtle Beach Control Studio software. On the right earcup, you have no buttons whatsoever.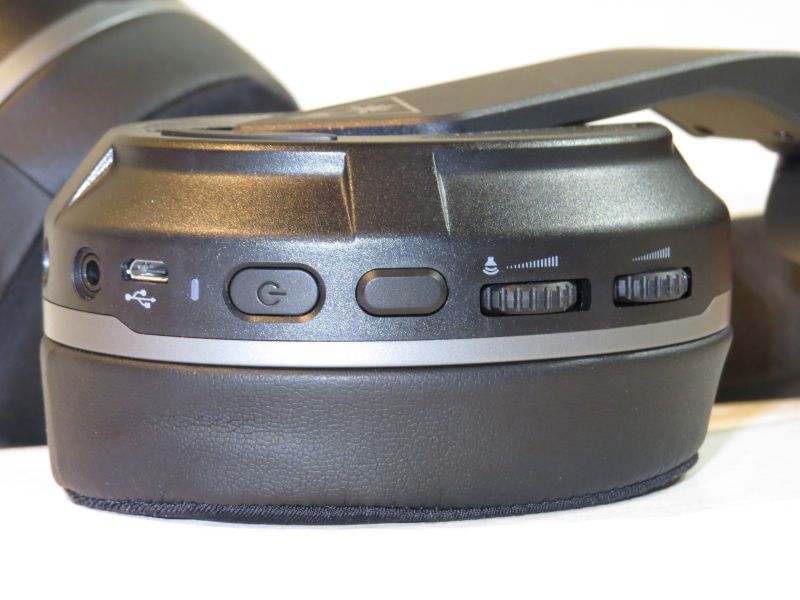 On the bottom of the left earcup, however, you'll find the microphone, 3.5mm headphone jack port, (if you don't want to use it wirelessly) Micro-USB charging port, power button, superhuman hearing button, volume dial, and a dial to modify the superhuman hearing button levels. On the Turtle Beach software, you can change the superhuman hearing button to something else such as mic monitoring or bass boost level if you choose.
On the side of the earcup is the microphone mute button. It took me a while to find out where this bugger was! It's in a good location though, and easy to turn on and off. There's an audible sound in the headset when the button is pushed.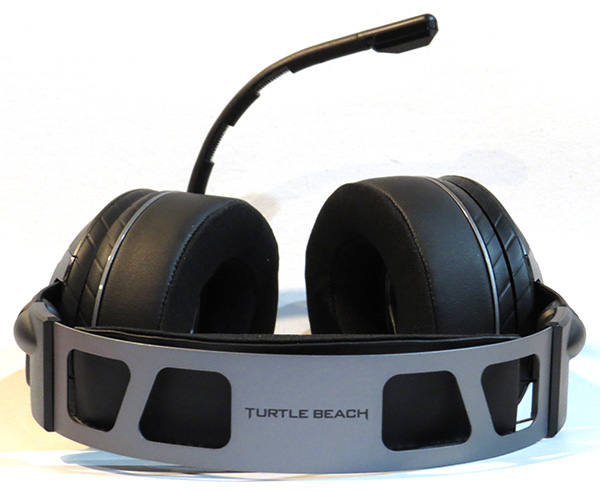 There's a soft cushion on the top of the headphones, and not once did I feel discomfort on top of my head from the cushion. It also never pressed hard enough to mess up my hair. The earcups adjust up and down, and you can also adjust how tight they are on your head. I have a small head so mine is as tight as they can go. I've worn these for far too many hours and they are still comfortable to wear.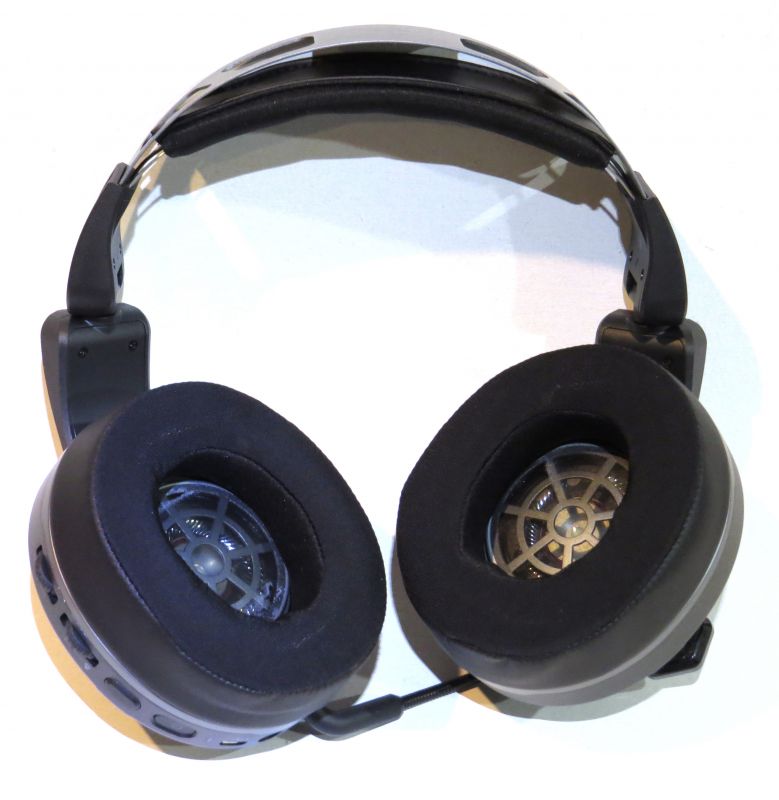 It didn't take terribly long to charge the headphones, but because the cord is so short, you cannot use them "wirelessly" and charge them at the same time. I put wirelessly in quotes because you are able to plug them in via a 3.5mm cable. Once charged I'd say the headphones would last around 25 hours, give or take an hour. I wish you could see the level of charge without having to go into the control studio software. They will beep when getting low, and you'll have maybe 10-20 minutes before they'll turn off.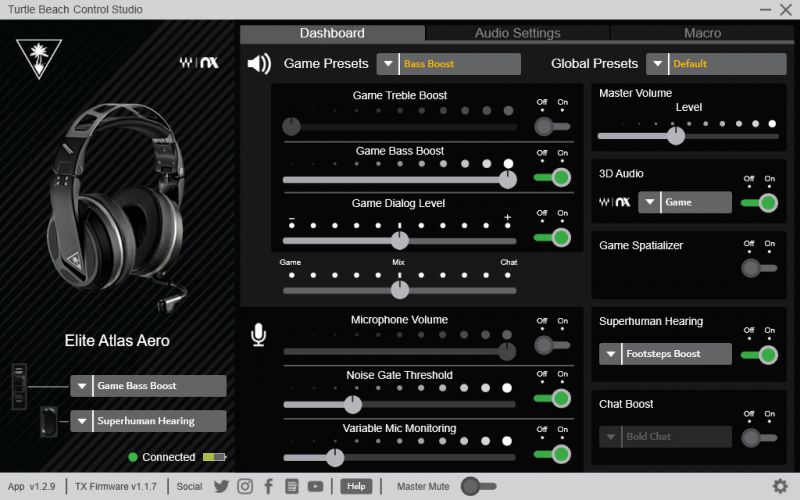 I chose to try the headphones without the optional Turtle Beach Control Studio software, and they were just fine with plug and play. I couldn't see the battery levels, however, and all I could do was turn on and off superhuman hearing mode for customization. Once I installed the control studio and messed with the different audio levels, it was a whole new ball game. I love bass, so I turned on that game bass boost, which also boosted bass for music as well.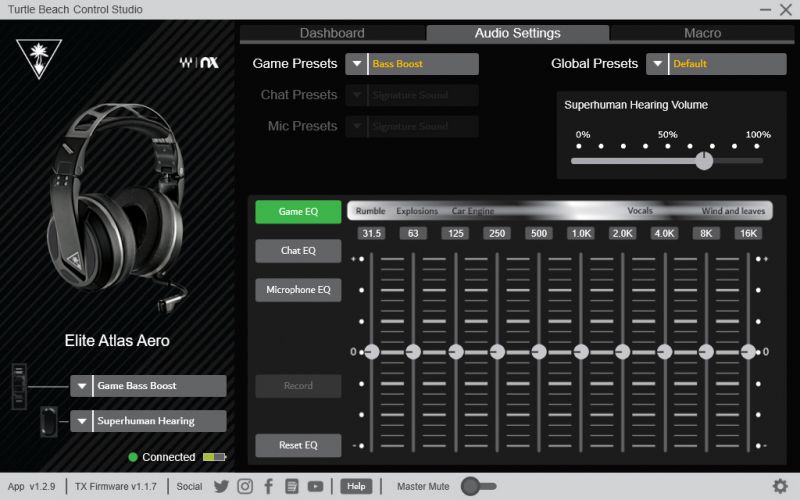 In game sound, movies, and voice chat audio quality was impressive with these headphones. Since they are wireless and have a decent price point, I would have expected the audio quality to suffer a little with the Atlas Aero headphones. I was very glad to be mistaken.
Superhuman hearing mode was something I didn't really find much use for, since there was just too much treble to use for long periods. I did find a decent use for it in Red Dead Redemption 2 for finding collectibles, and since I could turn it on and off with a press of a button, I didn't have to keep it on for long.
One thing I noticed was that the headphones didn't like it when I was doing something involving sound before turning them on. With Discord, if I would be in a chat channel or call with someone before turning them on, it would system mute Discord and I would have to go into the volume mixer on my PC to turn it back on. Other applications varied whether or not the sound would randomly be muted, but Discord was definitely one that caused an issue.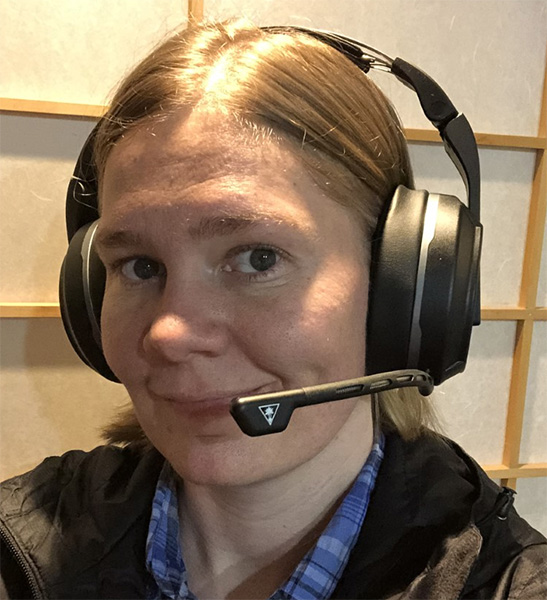 Never miss one of our posts again. Sent MON, WED, and FRI with the latest gadget reviews and news!
I could walk nearly to the garage with these, and that's across three rooms and a hallway before they gave out. I once stayed a bit too long in the garage and it disconnected from the receiver, which caused me to have to unplug and plug it back in to get it to connect once more. That's only happened once in the man hours I've used these headphones.



I was also sent a pair of the Elite Atlas wired headphones as well, and instead of writing another review, I'll just write a blurb on them here. Using the same software, the sound quality is about the same. The biggest difference is the lack of a dedicated superhuman hearing button, but, I can always set a macro to activate superhuman hearing, so it's not totally lost. There is a volume dial and mute switch built in to the cord to cover the essentials. The microphone is the same and interchangeable with the Atlas Aero and the sound quality is similar. They are a solid pair of headphones if your preference is wired. I would definitely recommend using the Turtle Beach Control Studio software to make your sound quality better with these more-so than with the Aero headphones.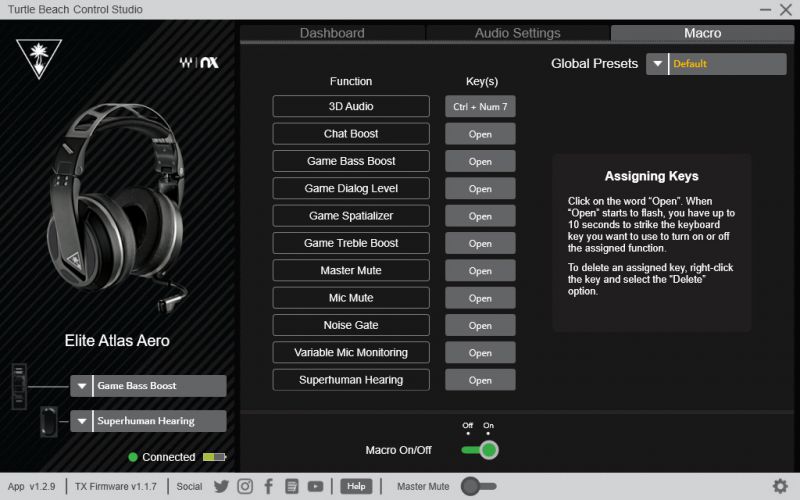 What I like
Wireless works across the house
Charges quickly
Very good sound quality
What needs to be improved
Easier way to check battery life
Longer charging cord
Sometimes causes muting issues on PC
Final thoughts
Overall, I really liked the versatility that the Turtle Beach Elite Aero Atlas wireless gaming headphones had to offer. It was great to be able to walk around the house while still talking to my friends, and to quickly pop in and out of superhuman hearing mode. The headphones were comfortable enough, and the microphone was clear. At around $150, I would recommend these for someone wanting a reliable pair of wireless headphones to game with.
Price: $149.95
Where to buy: Turtle Beach Website and Amazon
Source: The sample of this product was provided by Turtle Beach