We use affiliate links. If you buy something through the links on this page, we may earn a commission at no cost to you. Learn more.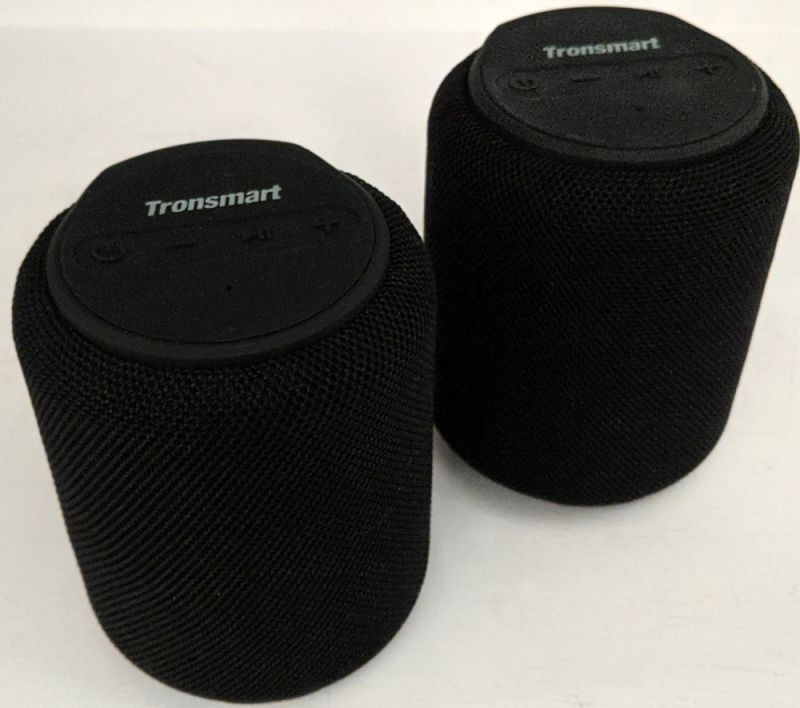 REVIEW – Who needs another Bluetooth speaker, right? I have so many of these things, in all different shapes and sizes.  So what's the big deal with this Tronsmart Element T6 Mini Bluetooth speaker?  This little gem packs some powerful punch, with a pretty cool feature.  And here's the kicker:  the price is only $29 on Amazon.  Let's dive into the review!
What is it?
A waterproof Bluetooth speaker with a powerful 360-degree sound and the ability to pair with another T6 Mini speaker to provide true stereo sound.
What's in the box?
1 x Element T6 MINI wireless speaker
1 x USB-C charging cable
1 x 3.5mm audio cable
1 x Detachable strap
1 x User manual
Hardware specs
Bluetooth: 5.0
Bluetooth compatibility: A2DP / AVRCP / HFP
Output (watt): 15W
Transmission distance: Up to 30m/100ft (open area)
Frequency range: 20Hz – 16000Hz
Waterproof: IPX6
Playtime: Up to 24 hours (50% volume level)
Talk time: Up to 20 hours (50% volume level)
Standby: 24 months
Battery: 2500 mAh
Charge input: DC 5V/2.1A
Charging time: About 3 hours
Product Weight: 19.8 oz
Product Dimension: 3.62 x 3.62 x 4.72 inches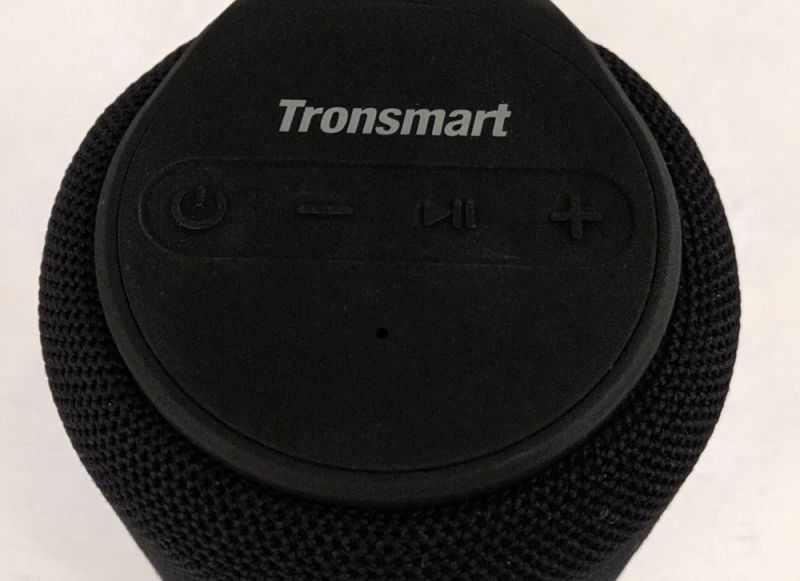 Design and features
When you look closely at the T6 Mini you will notice that it is about the same size as a can of Chunky soup, although a little more plump.  (I love Chunky soup, but I digress).  You'll notice that it is covered in a fabric weave with a rubberized membrane that extends from the top, down the back, and across the bottom of the speaker.  There are also 3 rubberized feet on the bottom that keep it elevated off the surface to allow you to hear the bass coming from the subwoofer radiator.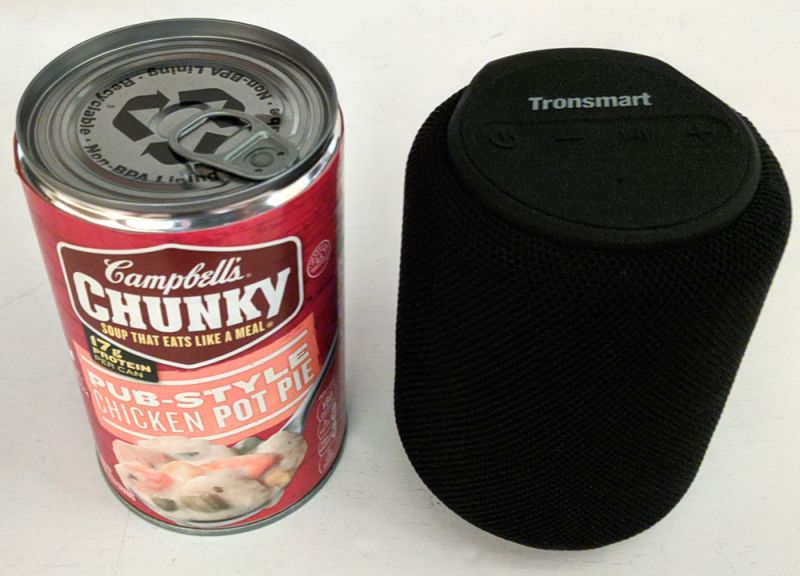 You can't submerge the T6 Mini in water, but it is IPX6 waterproof so you won't have to worry if it gets caught in the rain or splashed on by kids in the pool.  It has 4 buttons on the top for power, play/pause, volume up, and volume down.  On the back you'll find a flap that you can pull open to find the microSD card slot (to play your own music directly from the card), the USB-C power port, and an aux jack.  At the base of the speaker on the back, you'll find 2 holes to thread the shoelace-like rope through, so you can secure it to things like your wrist or hang it from things.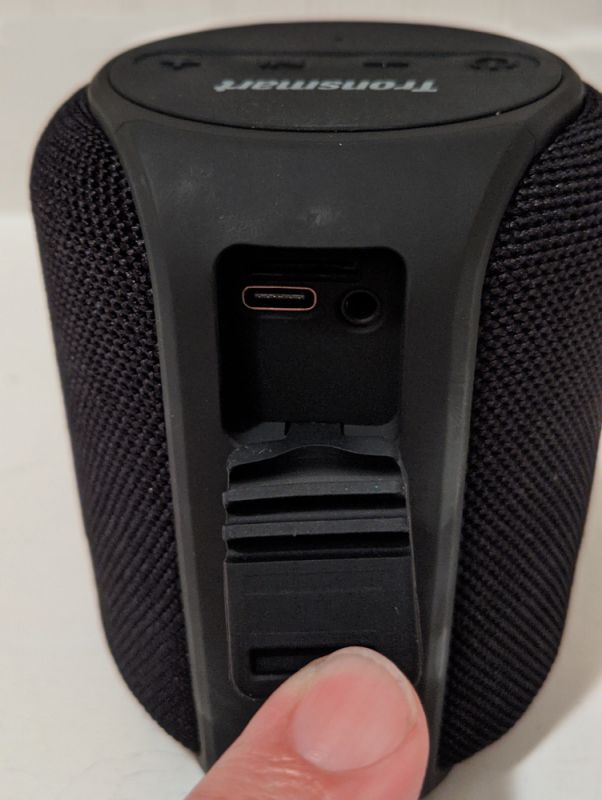 It takes about 3 hours to charge the T6 Mini fully, and I was able to get about 18 hours of continuous playtime before it died.  Tronsmart says you should be able to get 24 hrs of playtime with 50% volume, but c'mon, who listens to music that low??  Obviously, not me. The 2,500 mAh battery is much smaller than other Tronsmart Bluetooth speaker batteries, but this one is also smaller and more portable.  And of course, with an output of only 15 watts that means the battery lasts longer!
There is a small microphone hole on the top that provides the ability to use the T6 Mini to accept phone calls through your phone. And when the speaker is on you can press the power button to activate your phone's assistant, in my case, Google Assistant.  I didn't use this feature except to test it, and it works as designed.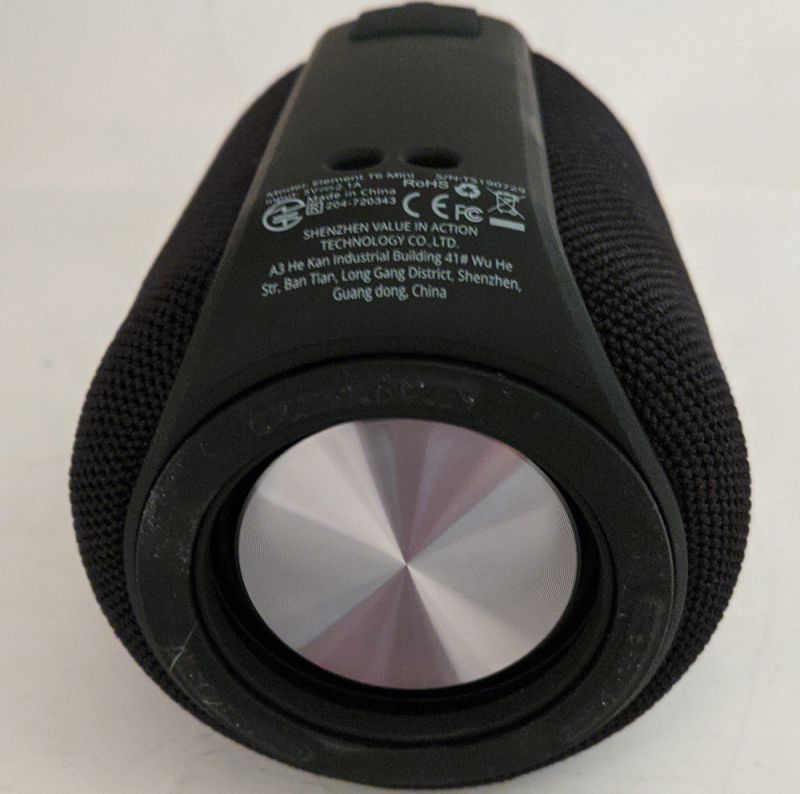 The quality of the 360-degree sound coming from this little speaker can't be understated.  It truly is wonderful.  It is weird walking around this speaker and hearing this sound and thinking about the price and the fact that you are only listening to 15 watts of output.  Tronsmart hit a home run with this one.
And the coolest feature (or for you millennials, the feature that is 'lit') is the ability to have two T6 Mini speakers and pair them together via Bluetooth to provide true stereo sound.  This is truly the killer feature of the T6 Mini. Follow the instructions for pairing them and from that point forward every time you turn them on they automatically pair together in a few seconds.  And if you turn off one of the T6 Minis, they both turn off.  Nice touch Tronsmart.
What I like
Amazing price
Wireless 360-degree stereo sound is impressive
Long battery life
Ability to pair with another T6 Mini
What needs to be improved
Can't think of anything.  Maybe they could have included a carrying pouch, but that would have increased the cost.  Seriously, I have no complaints.
Final thoughts
For a price of $29 you no longer have an excuse about not knowing what gift to get someone for Christmas or their birthday.  And at this price, it doesn't make sense to buy only 1 of them because of the pairing feature.  So get your buddy 2 and he'll thank you!  It is small enough to take with you, loud enough to fill a room with sound, and rugged enough to be used in any situation.  I said it once and I'll say it again… Tronsmart hit a home run with this one.  I highly recommend it.
Price: $28.99
Where to buy: Amazon
Source: The sample of this product was provided by Tronsmart.