We use affiliate links. If you buy something through the links on this page, we may earn a commission at no cost to you. Learn more.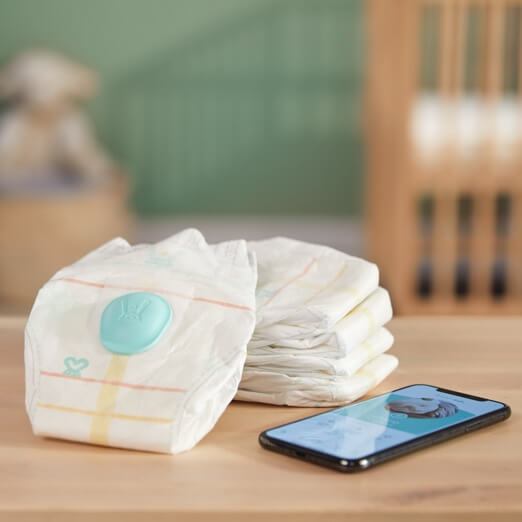 NEWS – Yup. Smart diapers are now a thing. Lumi is a line of smart diapers made by Pampers. They are similar to Pampers Swaddlers but are uniquely designed to work with a reusable sensor that is placed in a secure attachment area. The Lumi diapers come in sizes N-4 and will detect whether a diaper is wet or not. The Lumi app uses the sensor to keep track of your baby's peeing habits (but apparently not pooping habits) as well as sleep activity. The app also allows you to manually enter and keep track of your baby's feeding habits and vaccinations.
The battery on the sensor works for about three months, after which you will be sent another one free of charge as long as you are a Lumi subscriber. The sensor is connected to your device via Bluetooth, which will limit the range to the next room (depending on the construction of your home). However, if you are out of range, the sensor will store up to 12 hours of data and transfer it to your device when it is back in range. It is also important to note that once you connect the sensor to your device, you can't turn it off.
There are different Lumi purchasing options available. The Lumi Connected Care System is the entire system which includes one sensor, one video baby monitor with dock (a 1080p camera with night vision designed with Logitech that uses the latest security standards and has a wide-angle 180 degree view as well as 2-way audio with continuous audio monitoring), and up to 10 days of diapers for $350.
Or you can choose just the monthly subscription for $59.95 per month which includes the Lumi diapers, a sensor, and a month's supply of diapers (6 packs). The subscription includes a free sensor replacement when the battery runs out (included in the 2nd, 6th, and 9th subscription deliveries).
You can also choose not to subscribe and instead purchase one box of diapers at a time for $59.95 (this is about a month's supply of diapers or six packs of diapers). This allows you to re-order diapers when you need them. Or you can purchase one pack of Lumi diapers at a time for $11.95.
The number of diapers per pack varies based on the size:
Size N/1 – 37 per pack, 222 per box
Size 2 – 34 per pack, 204 per box
Size 3 – 30 per pack, 180 per box
Size 4 – 27 per pack, 162 per box
If you need to purchase another sensor separately, it is $49.00.
You have the flexibility to get multiple size diapers in your delivery, choose the frequency of deliveries, and cancel at any time without penalty.
When subscribing you'll select the diaper size, how often you want to receive your deliveries (every 3, 4, or 5 weeks), and whether you want to add wipes to the delivery. If you are only purchasing a single pack or a box (one month's supply), you'll only need to choose the size and whether you wish to add wipes to your order.
To learn more about the Lumi system, please visit the Pampers Home webpage or the FAQ section. If you are interested in any of these purchasing options, you'll select the product you wish to purchase by visiting the Pampers Products page. If you are not happy after 30 days of using the Lumi diapers, they will give you your money back.
So, is this a product you never knew you needed? Personally, after hearing about the existence of smart diapers, I was left scratching my head. Anyway, let me know what you think in the comments section below. Let's keep it "clean" folks!! 😉