We use affiliate links. If you buy something through the links on this page, we may earn a commission at no cost to you. Learn more.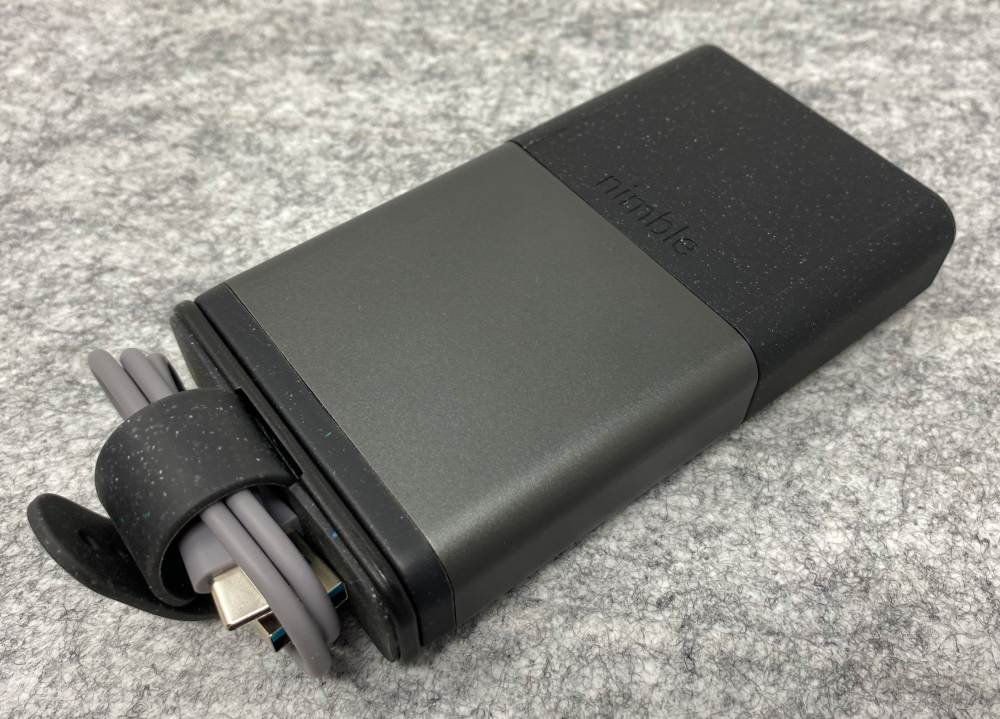 REVIEW – I recently finished a review on Nimble's Bottle Case for iPhone 11 Pro and one of the key takeaways was the company's commitment to being eco-friendly. It's clearly a company mission that they carry through all their products. So, how does that apply to more complicated electronics like batteries? Let's find out as we take a look at their 3-Day Fast Portable Charger.
What is it?
The Nimble 3-Day Fast Portable Charger is a relatively small unit that packs a punch with 10,000mAh of charge, roughly equating to 3 full charges on my iPhone 11 Pro.
What's in the box?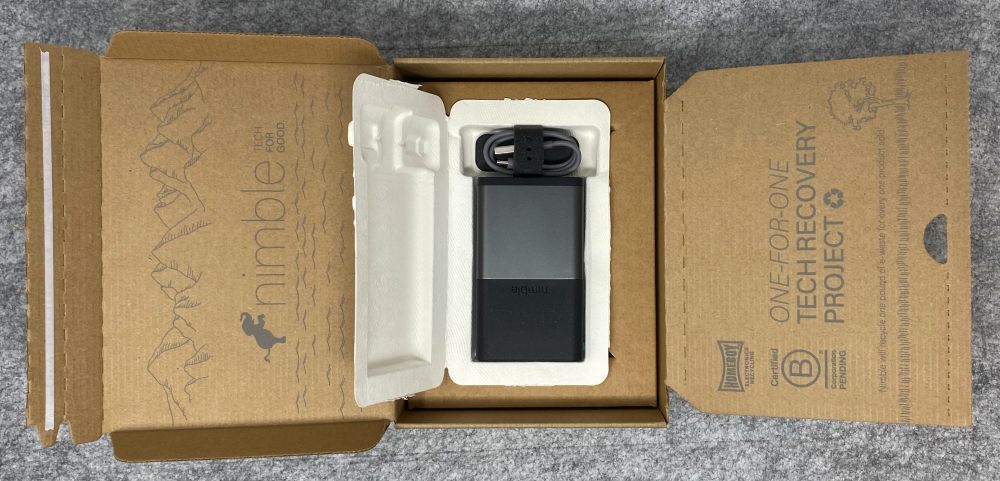 Let's actually talk about this box. Easy to open, protective and no plastic. Woohoo! It's a corrugated outside box that opens with a pull strip. Inside is a starch based inner pack sealed with a paper label that keeps the product protected all the way to your hands. All of this breaks down easily for recycling. Let's look at the contents.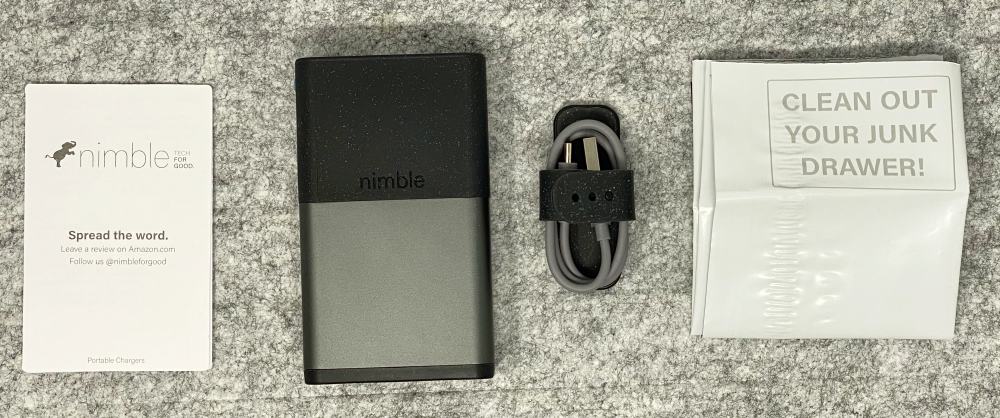 Quickstart guide
3-Day Fast Portable Charger
Magnetic Cable Caddy and 12″ USB-C to USB-A charging cable
One-for-One Tech Recovery Product Pouch
Hardware specs
Capacity: 10000 mAh (3.6V, 36Wh)
Input: USB-C: PD 3.0 (5V,2.5A / 9V,1.8A)
Output 1: USB-C: PD 3.0 (5V,3A / 9V,2.0A / 12V,1.5A)
Output 2: USB-A 1: (5V,2.4A / 9V,2.0A / 12V,1.5A)
Output 3: USB-A 2: (5V,2.4A Max)
Fast Support: Apple and Samsung fast charging, Qualcomm Quick Charge and USB-C Power Delivery

Design and features
The Nimble 3-Day Fast Charger may have a typical rectangular battery shape about it, but everything else begs for a closer look. From the visual split in the center to the material choices and the cable holder, there's a lot to discover.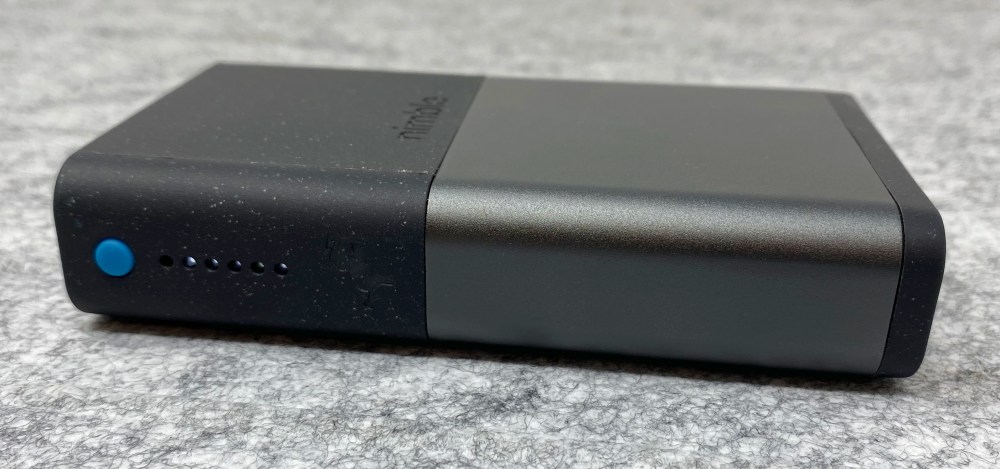 The speckled half of the charger is the first hint that there's something unique going on here. The specks are mica, a natural crystal, whose placement gets randomized during manufacturing so no two are the same. The internal frame which you can't see without getting inside is actually a plant based material using corn and sugarcane to create a structure that will eventually breakdown unlike traditional plastics. The rest of the enclosure is made with recycled aluminum.
The contrast color of the power button makes it easy to find without looking at all sides first, and the 6 segmented LEDs are easy to read letting you know how much charge you have left. When charging a device, the first LED is multicolor and lets you know the speed of the charge. Green means standard charging whereas high-speed PD charging will illuminate orange. The remaining 5 LEDs show remaining battery level of the pack.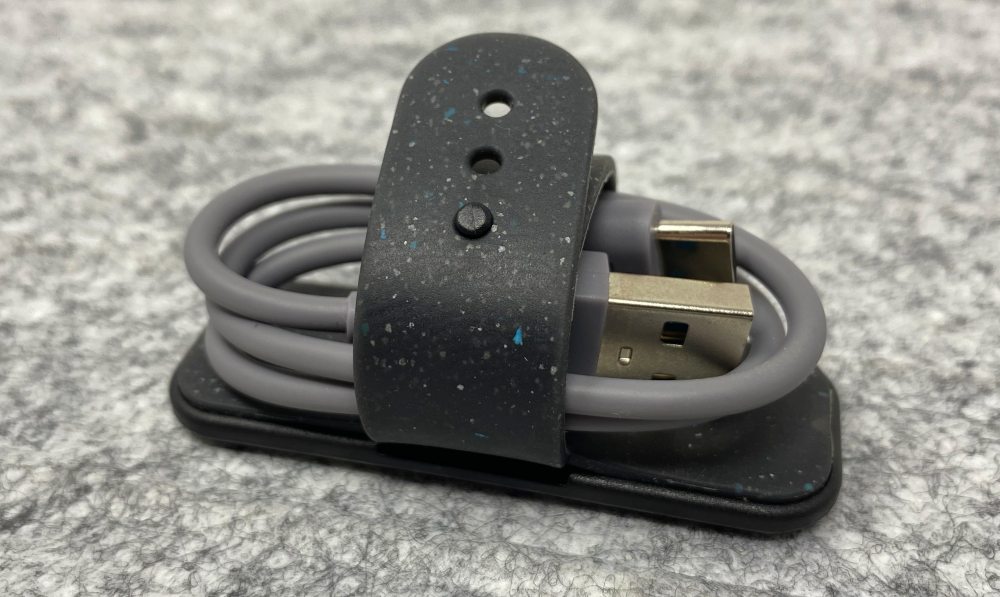 The non-charging end has embedded magnets letting Nimble's cool cable caddy easily attach and keep the included 12″ cable close at hand.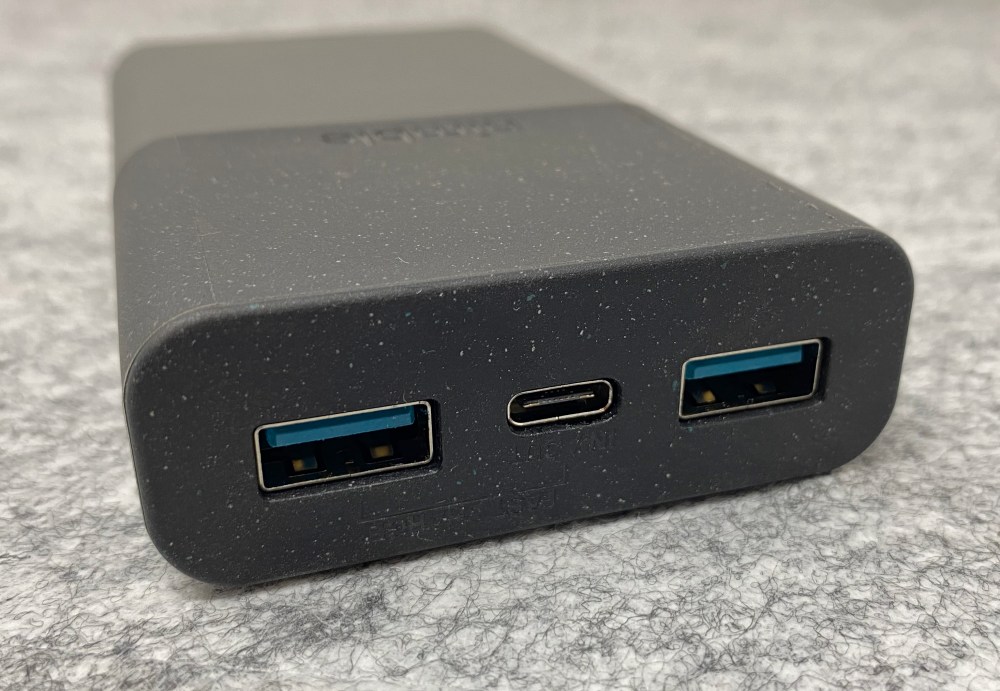 On the business end of the charger there are three ports; 2 USB-A and one USB-C. Your fastest charge will be from the USB-C while one of the USB-As supports some alternative voltages. The best news is that you can use all three ports simultaneously.
Nimble's One-for-One Tech Recovery program is a really nice inclusion.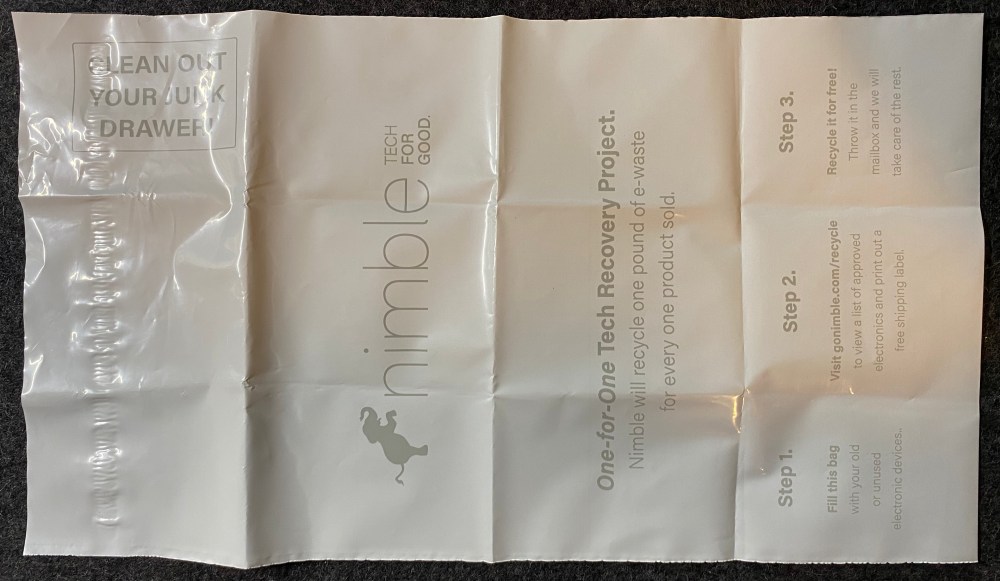 It's simply a shipping bag that you can load up to 1 pound of e-waste into. Go to Nimble's link and print out a free label to send it off to recycling. It's a commendable step. I currently have way more than a pound around my house so I'll be finding a local location where I can just drop stuff off.
Setup
Getting started is easy. Connect the Nimble Charger to a power source with the included USB-C cable and allow it to charge fully prior to initial use. You'll notice two things in doing this. First, the LEDs increment as the internal battery charges. Second, this thing charges really fast! It's important to note that the charge speed is dependent on the source, so use the highest rated adapter you have available for best speeds.
To charge from the Nimble Charger, connect the appropriate cable from your device to one of the available ports either USB-C or USB-A and it will begin charging. To stop, unplug the cable.
Performance
The Nimble 3-Day Fast Charger is setup to charge just about any USB charged device you may have. It really can charge multiple devices at the same time although you've got a total of about 18w to divide amongst the three ports. That means a tablet, phone and smaller accessory are likely to charge at full speed, but two tablets, may see a decrease.
The size hits a sweet spot for me. The width and length is less than my iPhone 11 Pro which means I can hold it agains the back of my phone in one hand when needed.
The exception will really be laptops which may have been outside the product goals anyway. But for your consideration, it's good to know that it's possible. I'm charging my MacBook Pro 13″ from the Fast Charger as I type type this. I'm at 63% and it says it will take 3:35 to finish charging. 5 minutes ago I was at 61% and it estimated 3:15. You'll have better luck with lower powered laptops and even then you'll want to charge a closed laptop to get any efficiency.
The only real gripe I have is with the magnetic cable caddy. The tether has 3 positions and even Nimble's own 3 ft cord still uses the smallest setting so you're left with extra length that when tugged lightly pops open.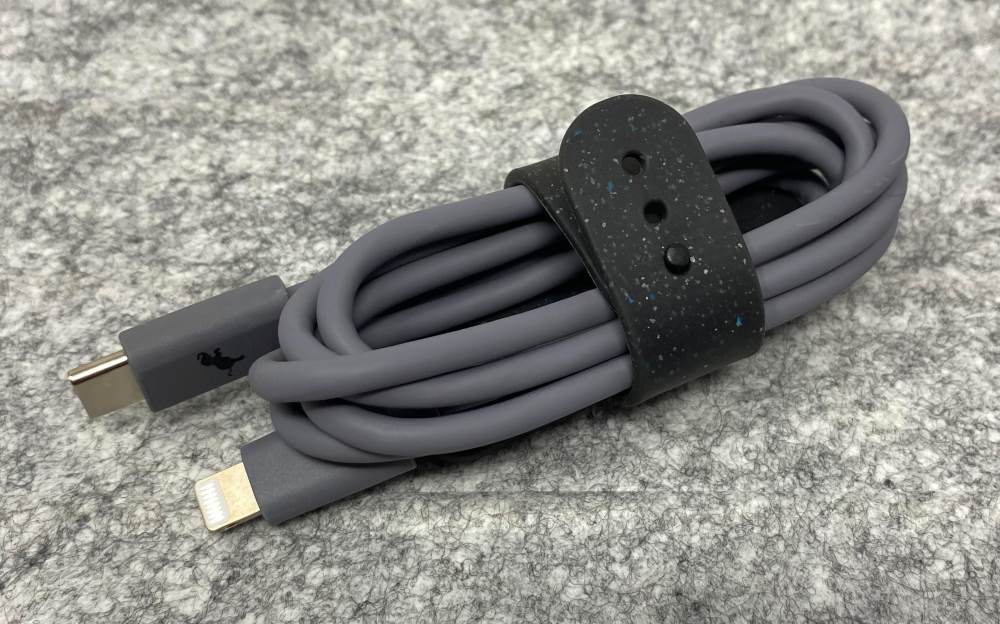 Next, the magnets are only mildly strong, and the larger the cable you wrap in there, the weaker it feels. It's weak enough that if you have it loose in your bag, it won't be on there when you extract the charger later. It does however feel like a bonus feature that missed the mark rather than a performance problem of the charger.
What I like
Great size, big enough without being too big
Charge up to 3 devices at once
High speed input and output
Environmental consideration
What I'd change
Magnet cable caddy is not as functional as you would hope
Final thoughts
Nimble has a fantastic product here, and have larger capacity versions should you need something a little bigger. This 3-Day charger is an ideal balance of size, weight and the ability to charge multiple devices simultaneously. If you need a single charger for your bag, this is a pretty good option.
Price: $79.95
Where to buy: Nimble and Amazon has the 5-day version.
Source: The sample of this product was provided by Nimble