The Gadgeteer is supported by readers like you! If you buy something through links on our site, we may earn an affiliate commission at no cost to you. Thank you! Learn more.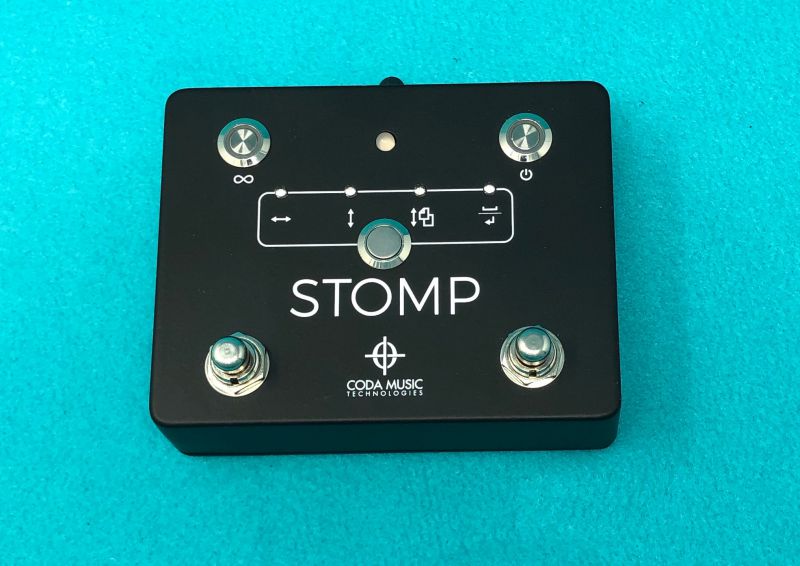 REVIEW – I have performed music since the age of three. Usually, I memorize lyrics and tunes, but lately, I have played more with a chart or fake book or just a lyric sheet. Being that these things are now totally electronic (i.e., on my iPad), reaching up to flip to the next page involves possibly touching the wrong part of the screen, or possibly missing something I should be playing. Coda Music Technologies has made the perfect product to combat this issue: the Stomp Bluetooth Page Turner and App Controller. I was sent a unit to test out.
What is it?
A stage-ready "stomp-box" effects pedal that can connect to your device and turn pages in your electronic music scores without using your hands.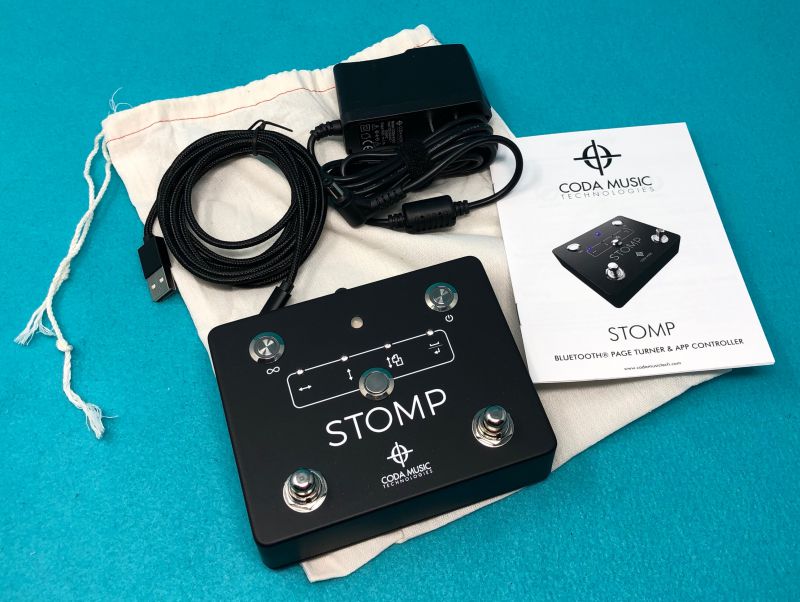 What's in the box?
The Stomp Box itself
9V power supply
A USB cable to connect to your tablet
Design and features
The Stomp is a black box 4.5″ x 3.5″ x 1.5″ with 4 non-slip bumpers on one large side and an assortment of buttons and LEDs on the opposite large side. On the backside that joins these two, there are two ports – a USB-A port (for charging your tablet or phone) and a 9V charger port, plus an extended range antenna that looks like a rubber nub between those two ports.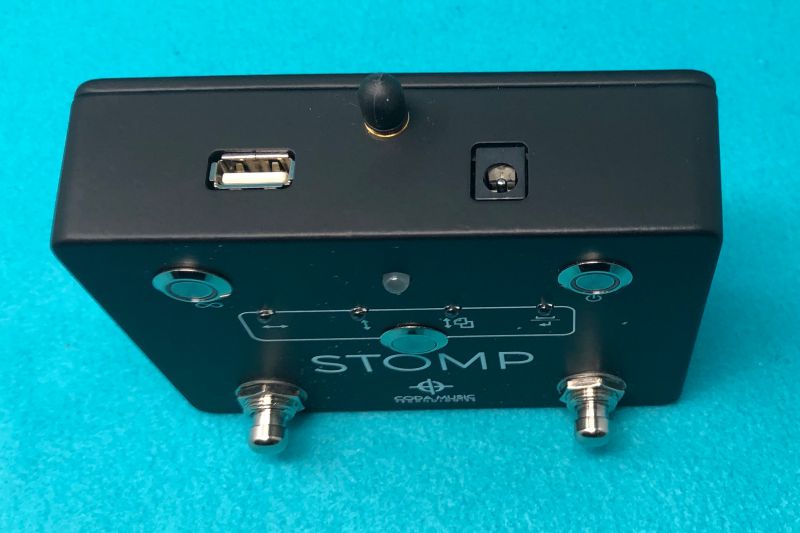 The top-side configuration has two heavy-duty push-buttons on the lower left and right corners. There is an on/off flush-mount button on the upper right, and an "infinity" flush-mount button opposite on the upper left. This prevents the box from shutting down when not accessed for a time. Between these is an LED that indicates power and, if in use, battery level.
In the center, there is a function flush-mount button that will change the functions (modes) of the main foot-operated buttons. Since these emulate actual keyboard keys, they are (left to right) Left/Right arrow, Up/Down arrow, Page Up/Page Down, or Space/Enter. Depending on the app, these can be changed to give the features needed. If You're just using off-the-shelf software, it's just going to be that collection of eight keys.
There's a warning in the manual that the virtual keyboard will not appear when you're connected to the Stomp. Pressing both main buttons at the same time temporarily allows the unit to pause sending keystrokes and will bring up your virtual keyboard. The power LED will flash rapidly when in this mode. A second simultaneous press of both buttons will bring it back to life.
If you're a musician who plays any instrument with an electric pick-up, you know that there a million effects pedals and boxes that litter the floor onstage. This one will easily add control of a device to help you have your set-list, lyrics, chords, or actual sheet music in front of you during practice or performance. It's solidly built (here in the USA) of heavy-duty, gig-ready materials, and comes with a one-year warranty.
What I like
Pairs with any device
Allows pass-through charging for your tablet/phone
Available for many apps
What I'd change
Since it takes over the keyboard, it can be irritating to use with some apps that have keyboard input fields.
Changing the functions cannot be accessed without pushing the flush-mount buttons. This cannot be done with your foot.
Final thoughts
Initially, I wanted to test the Stomp with music software for performance, but as I used it, I realized there are a lot of other applications where it could work. If you're demonstrating a complex process with your hands, and need to advance instructions or show a Keynote explaining the thing you're doing, this would be a great way to control your presentation. If you're cooking, and need to see the next steps of your recipe without having to wash up and dry your hands to flip the page, this could be helpful. If you're leading a sing-along, and have your lyrics displayed for the audience, this would again be a great way to keep folks on the same page, literally. Reading while knitting or feeding an infant, following along while changing the oil in your car, or following written instructions for installing a stereo kit could also be controlled with the stomp.
Price: $129.95
Where to buy: Coda Music Website
Source: The sample of this product was provided by Coda Music Technologies.