We use affiliate links. If you buy something through the links on this page, we may earn a commission at no cost to you. Learn more.

REVIEW – Call me an Apple fanboy if you must, but I love my AirPods. That design, "just works" functionality and sound quality are all top-notch… the only problem being they constantly threaten to fall out of my ears. As luck would have it, EarBuddyz offers not one, but two inexpensive solutions to this very problem, with their line of Earbuddyz Ear Hooks.
What is it?
The EarBuddyz 2.0 and EarBuddyz Ultra are silicone ear hooks that slide over the bulb part of AirPods and are designed to help secure loose AirPods in place.
What's in the box?
The EarBuddyz 2.0 come with 3 identical pairs of ear hooks, while the EarBuddyz Ultra come in small, medium and large ear tip sizes, one pair of each. The Ultras also come with a small silicone pouch that can fit one pair of ear hooks.
I wanted to review both versions in one shot since they are so similar in design.
EarBuddyz 2.0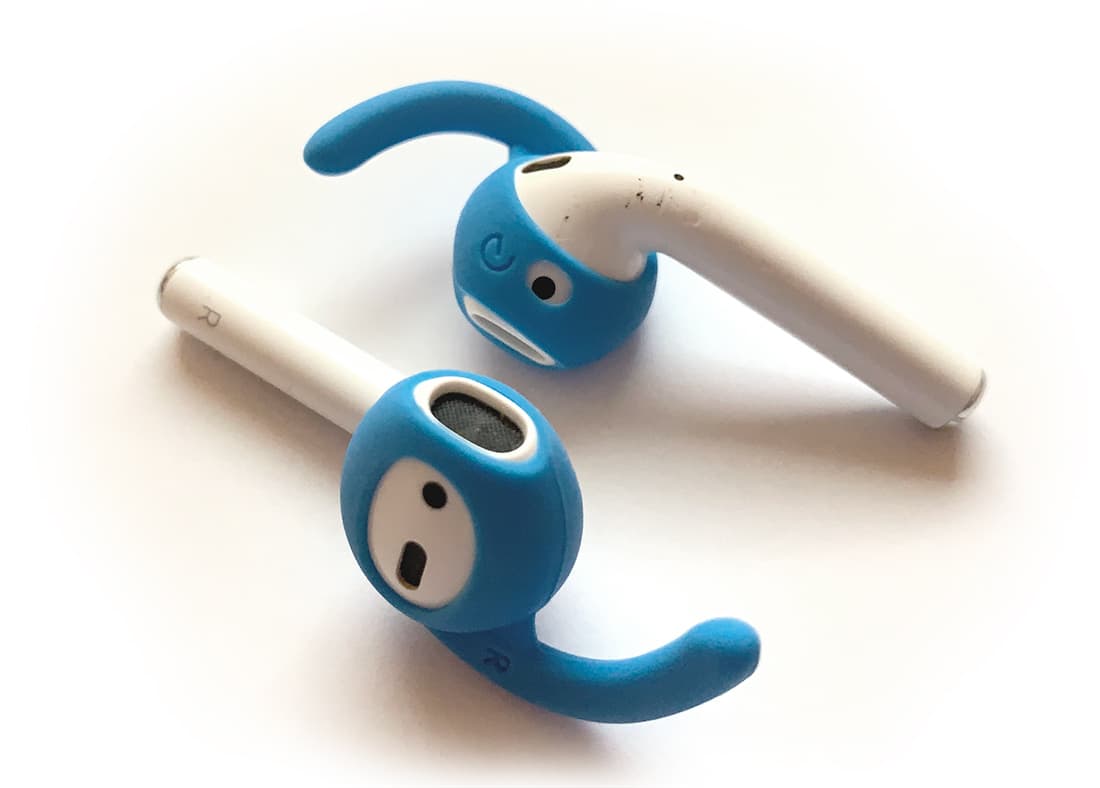 The EarBuddyz 2.0 are a simple AirPod wrap with a curved ear hook attached. Slipping them in place is a fairly simple procedure, but since they add a bit of extra thickness, they will need to be removed every time you want to charge your AirPods. This creates a minor annoyance of having to attach and remove them every time you want to use your AirPods, as well as having to remember to keep them with you. I was glad to have 3 pairs to keep in the car, at work and at home.
There is a small hole to allow the optical sensor on the AirPods to still function normally, that is, the black dots that let the AirPods know they're inserted in your ears.
Since these ear hooks do add a tiny bit of thickness and grip to the slippery plastic of the AirPods, it was enough to keep them in place even without the hook itself, and all the better with the hook. I still couldn't whip my head around or bounce around too much or they felt like they might come loose, but they were far better than nothing at all.
EarBuddyz Ultra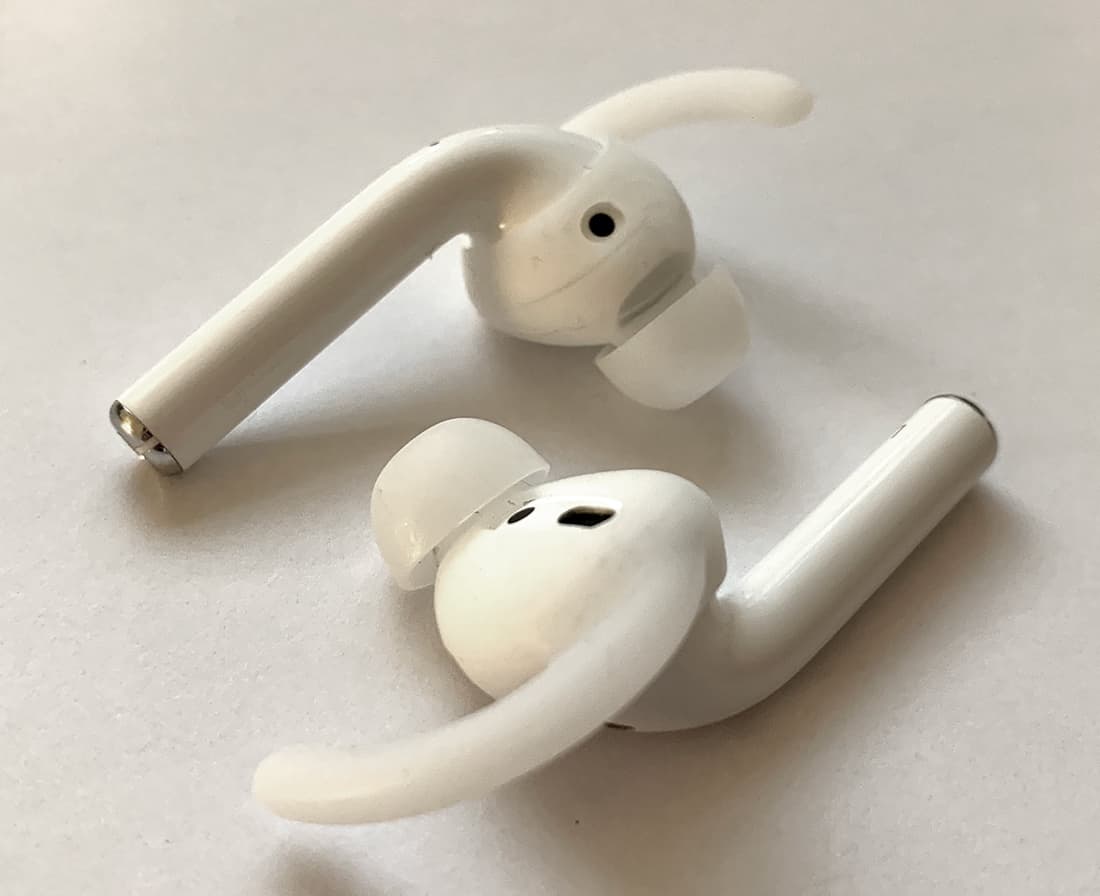 Now we're talking. The addition of the in-ear tips to the ear hooks really secure the AirPods in place. They have a similar construction and material to the 2.0 version and came with 3 different sizes. I felt like my ear holes were closer to a medium than a large, probably in between, but the medium size felt much more comfortable than the (quite large) large.
Nothing could jar the Ultras loose. Jumping around, headbanging, shaking my head… they stayed firmly in place. In fact, the only thing I didn't like about these ear hooks was the fact that they obscured the AirPod speaker holes just a little bit, but it was enough to make them sound muffled. I think it's because, from the look of the construction, the sound is slightly funneled through a small turn through the ear tips.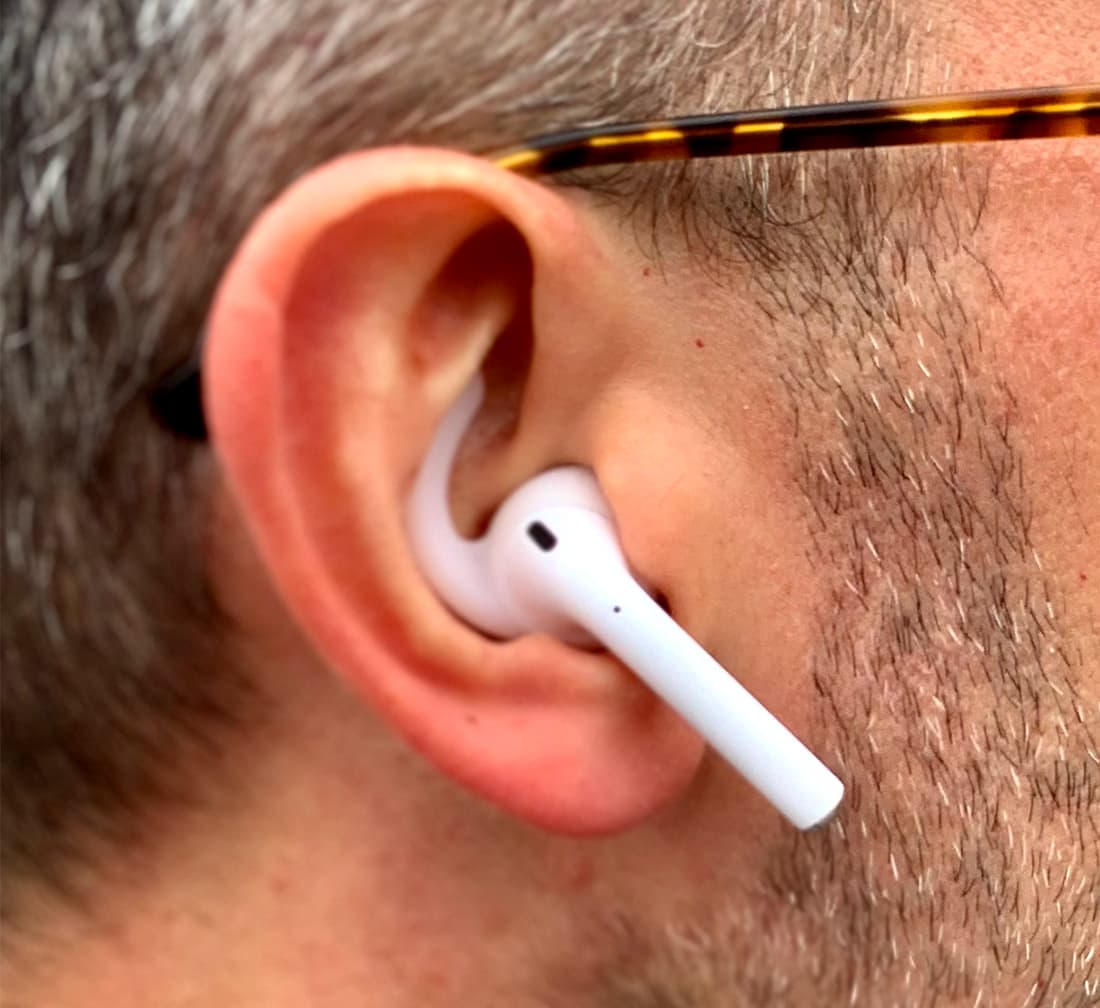 It's a very minor drop in sounds quality, noticeable compared to a naked AirPod. (I never thought I'd write those three words in succession.) The tradeoff being a more secure fit and some sound isolation.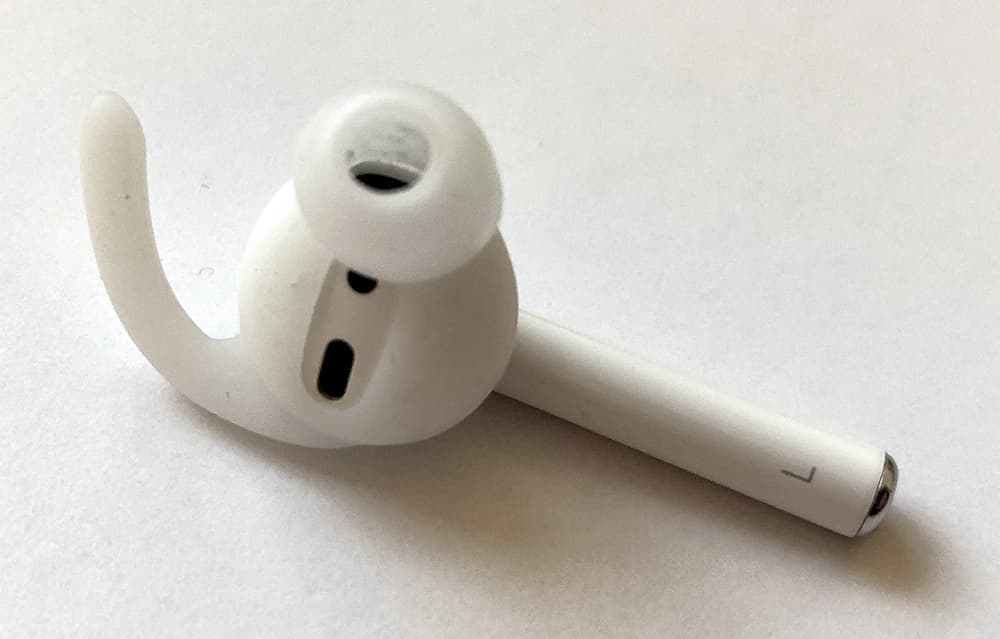 The only other complaint I had, and this is very minor, the plastic of the AirPods plus the silicone of the hooks, plus some ear grease makes for a slippery combination. It's easy to accidentally slide the ear hooks over the light sensors on the AirPods themselves, which really only serves to stop playing music when removing one of them. Again, very minor.
Bonus: PodSkinz AirPods Silicone Case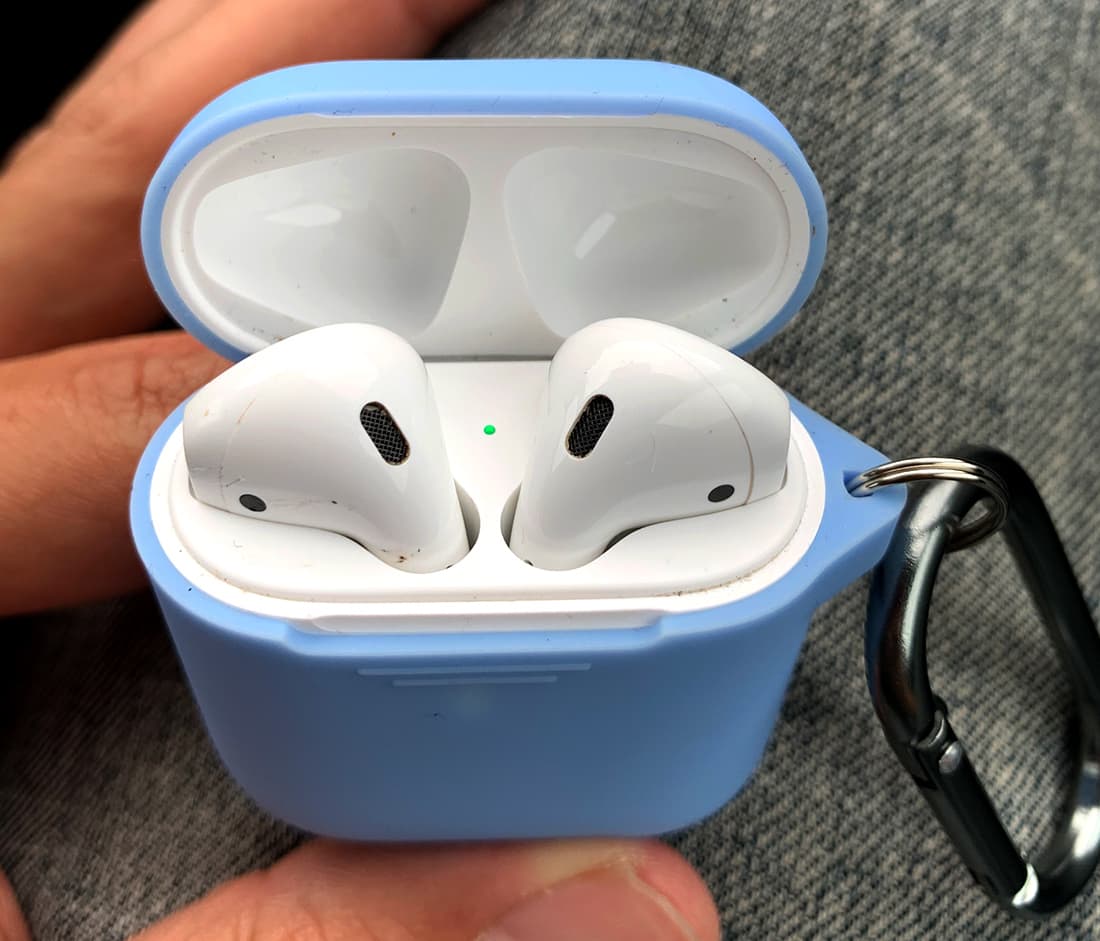 EarBuddyz was also kind enough to send along a sample of their PodSkinz silicone wrap for the AirPods case. It's a great compliment to their lineup and, once in place, is a lightweight, thin, protective cover for your super-scuffable AirPod case.
It also features a cover for the exposed Lightning charging port, and a small ring loop/carabiner on the side for attaching the case to your belt loop or backpack. Although, I super advise against doing that.
Call me paranoid, but that case lid pops open much to easy for my comfort, and I could imagine a quick smack against a door or passerby would be all it would take for those AirPods to come flying out and skittering across the pavement. And, with my luck, down a sewer grate.
But, it is good at keeping your case nice and neat, even if it does attract a ton of lint and crud from your pockets or backpack.
What I like
Both versions help keep loose AirPods in place
The Ultra version is a far superior fit and offers some sound isolation
What (very minor things) I'd change
Silicone materials may slide around, covering the AirPod sensors
They do seem to muffle the sound slightly
They pick up loads of lint and dust, but that might be unavoidable
Final thoughts
Both the 2.0 and Ultra versions of EarBuddyz ear hooks worked wonders in keeping my AirPods in place, with the Ultra version being my favorite. It's a literal game changer. They're an inexpensive and simple solution for anyone who feels like their Pods are always on the verge of falling out. And since AirPods are largely modeled after Apple's wired EarPods, these ear hooks will do the trick for those, as well.
Price: $11.95 – $13.95
Where to buy: EarBuddyz sells their products directly through Amazon, so you can grab a 3-pack of the AirPods Covers 2.0 here for $11.95, or the Ultra Ear Hooks in small, medium and large sizes for $13.95. They also have AirPods Protective Silicone Cases in multiple colors for $6.95 each.
Source: The samples of these products were provided by EarBuddyz.