We use affiliate links. If you buy something through the links on this page, we may earn a commission at no cost to you. Learn more.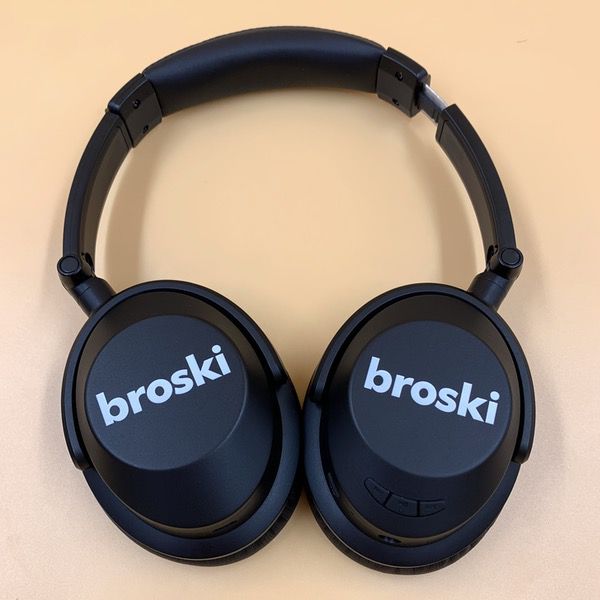 CROWDFUNDING REVIEW – The broski Lety Headphones promise a premium experience to compete with the class leaders, but at a much more affordable price. A lofty goal indeed… and you know what? Despite a few issues, they kind of nailed it. To the review!
What is it?
They are lightweight noise-canceling headphones that are sweat resistant.
What's in the box?
broski does a nice job of including accessories in this kit. The package includes:
A hardshell carrying case
A drawstring carry bag
The headphones
A 72″ AV cable
A 72″ USB-to-Micro-USB charging cable
A 2-prong airline socket adaptor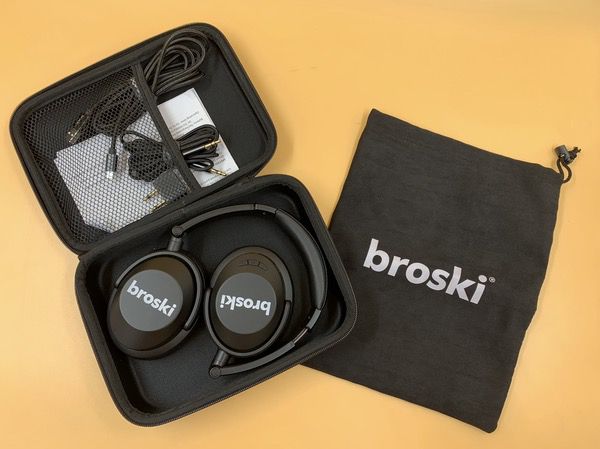 Hardware specs
Active Noice Cancellation.
Long-range Bluetooth (256 feet).
20 hour battery life, with 200 hours standby time.
3 hour charge time.
Design and features
The first thing that you'll notice about the broski Lety Headphones is the packaging. These folks have put together an outstanding kit that looks and feels premium from the get-go. You've got a molded hard case for keeping your goodies from getting crushed in your bag.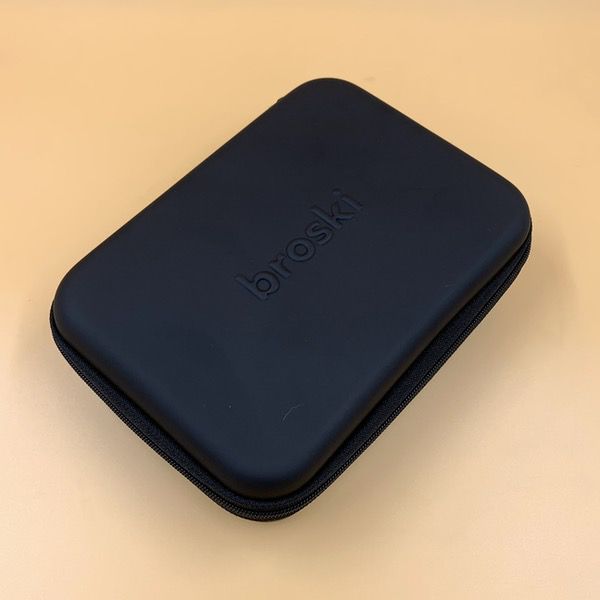 Unzip the kit, and you'll find an additional carry bag along with multiple adaptors.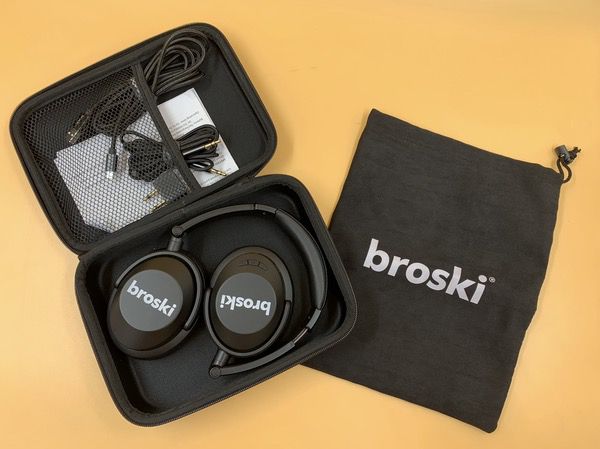 And those adaptors are excellent. It feels to me like a nylon fabric sleeve on the cables, which is classy… and both the charging cable and the AV cable are 72″ long! It's a little detail that's a big deal when you're traveling, or plugged in at your desk (or one of those hotel desks). There's also a two-prong airline port adaptor so you can plug in during your flight.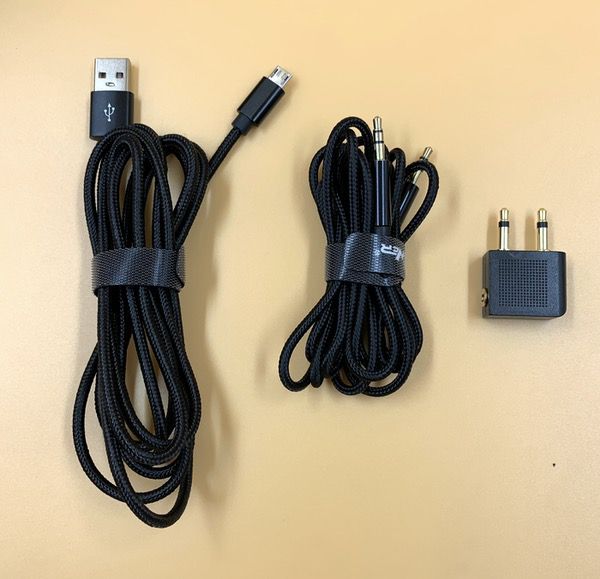 The premium feel matches the quality of the headphones themselves. The whole build is designed to be super lightweight and comfortable, with soft leather cups and a headband made from the same leather. You also get a big ol' indicator of which cup goes on which ear.
The details in the build are top-notch. While the materials are lightweight they are substantial, and length adjustments respond with a satisfying "snick" as you adjust the headphones to fit.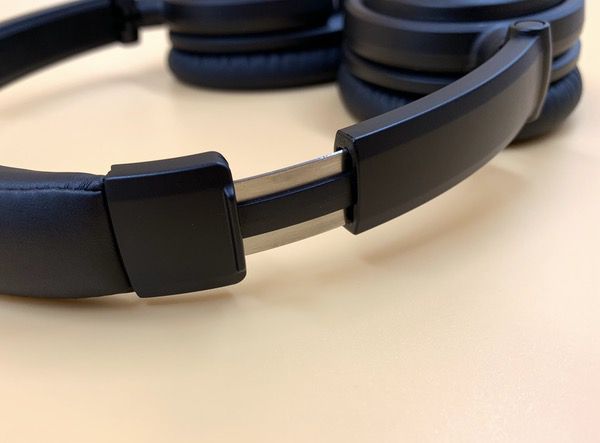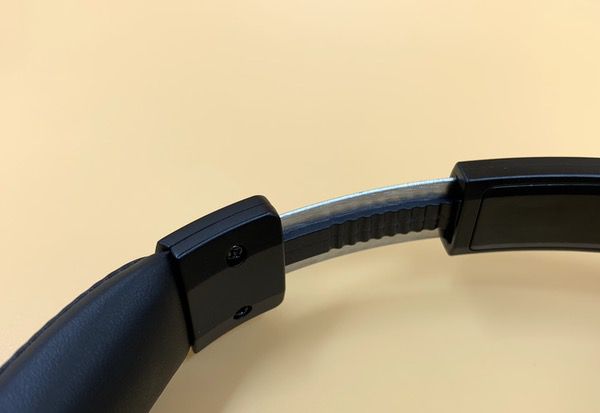 The cups themselves feature multiple points of articulation to adapt to whatever size noggin you're sporting.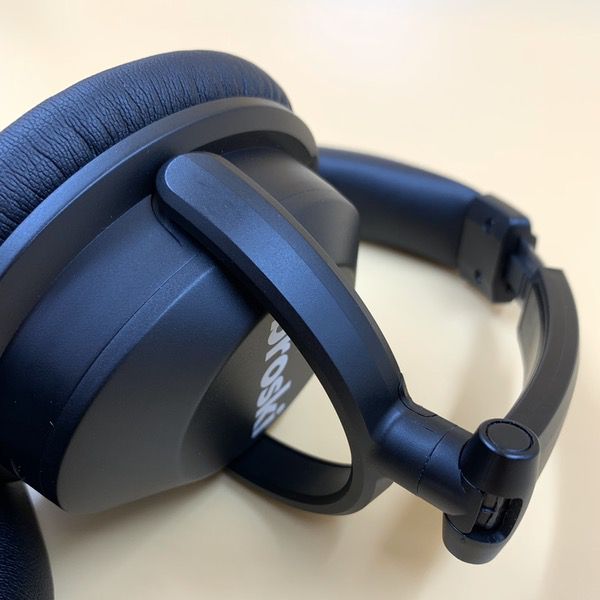 Your right ear cup contains all of your controls. The middle button is for play, pause, answer/end calls, and enabling the bluetooth connection. The right and left button are used for adjusting the volume and skipping songs back and forth.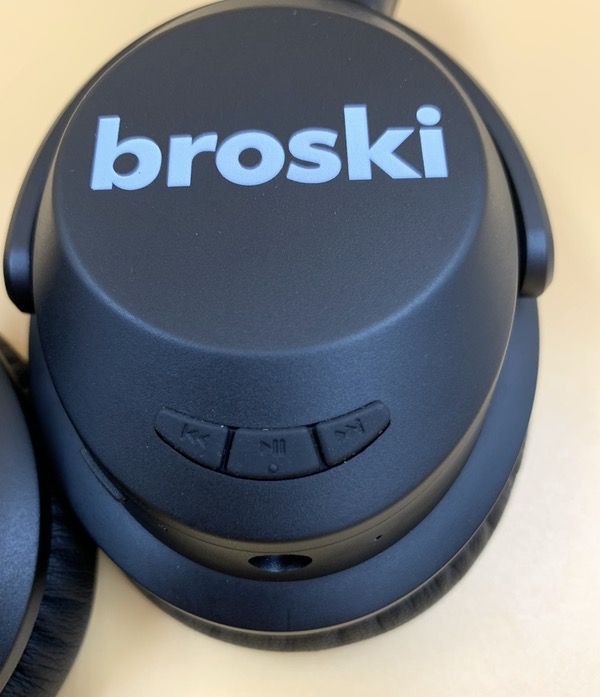 On the base of the right ear pod is the AV port and your active noise canceling function. The left pod (not shown) is where you'll find your charging port.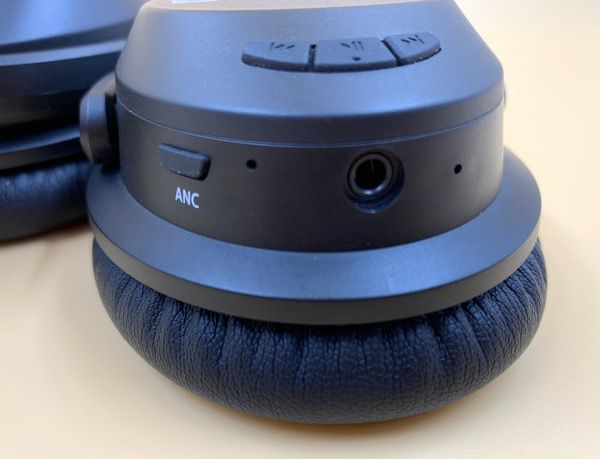 The whole build weighs in at a super-lightweight 6.5 ounces and is sweat resistant for use during your workouts.
Bluetooth setup is an easy and straightforward affair. I won't belabor you with the details, as most devices like this use the same configuration for pairing and connecting. What I will tell you is that I had no issues connecting, disconnecting, and switching between multiple devices.
Performance
Back in the day, my parents had a pair of those big ol' lush headphones for listening to records on the turntable. I remember how soft and gloriously comfortable those headphones were… like pillows for your ears. Get the picture? The broski Lety Headphones feel like that. Just ridiculously plush and comfortable. But unlike those old school beasties, there are amazingly lightweight and streamlined for the quality. Look! Head shot!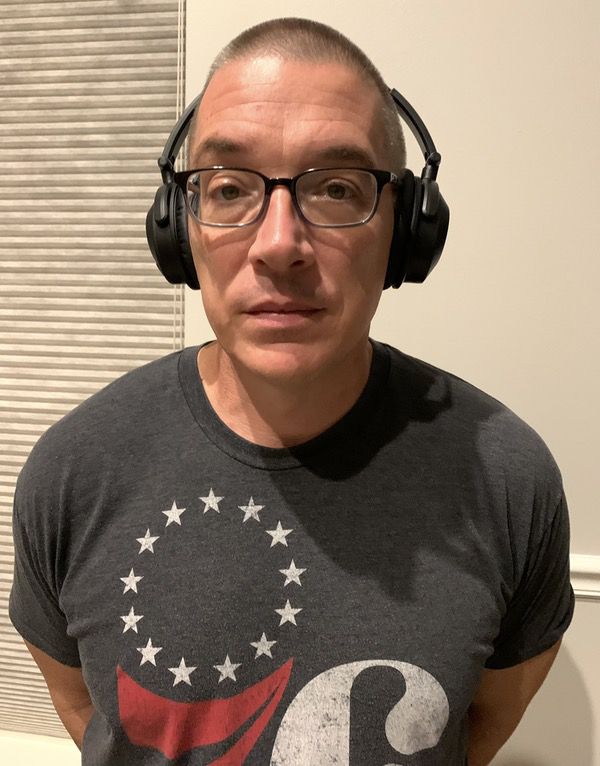 The side profile is really interesting. Check out how they're kicked at a slight angle to match your ear, but the headband orientation is vertical. They just fit really well, even on my oddly shaped melon. I could wear these all day.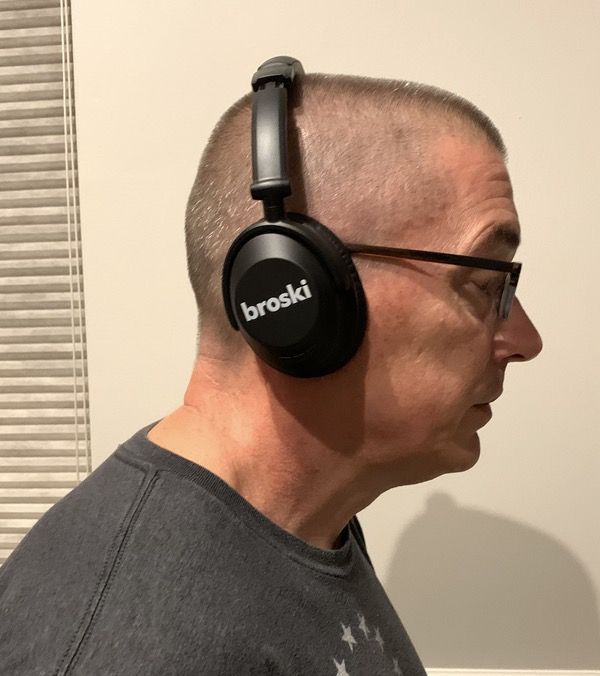 You will notice that the "broski" name is printed in large type on the sides of the cups. Yeah, it's a bit goofy. Some subtlety in branding would be better here.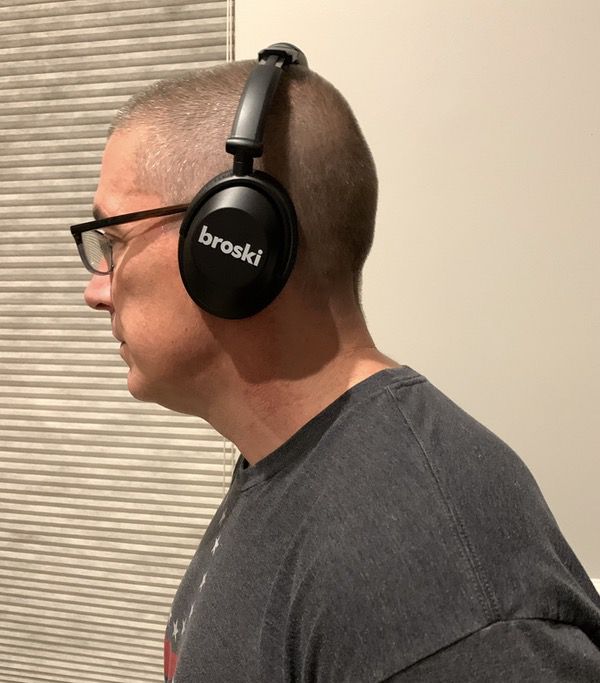 Of course, all of that comfort doesn't really matter if the sound isn't so good. And I am happy to report that the sound is mostly excellent. The range of sound is outstanding with deep, clear audio notes if you're listening to music or watching a video. But I did notice some variation when connected to the Bluetooth. Connecting to my MacBook Pro, for example, delivered fairly muted tones for Bluetooth connections as opposed to using the AV plug (which was amazing). I also noticed that my iPad and iPhone XS MAX seemed to provide a better range at higher volumes. That's not to say that the quality isn't good overall, but there does seem to be some variation depending on my device.
The Active Noice Cancelling works exactly as designed, removing virtually all background noise when enabled. I also received comments that phone calls were surprisingly clear compared to some other Bluetooth headphones I have worked with. Audio out was reported as very good, while incoming calls tended to be a bit muted (but clear) on my end.
Using the broski Lety Headphones during a workout is wonderful for sound, and they are designated as sweatproof… but I did notice some sweat buildup during a run. There's just nowhere for the moisture to go with those full-ear cups, so that's a thing you'll need to be aware of. Expect to wipe them down when you get done your work.
What I like
Super comfortable and lightweight
Adjustable to just about any head size and shape
Great quality sound overall
20 hour battery life between charges
Excellent package with 72″ charging cable, AV cable, and airline adaptor
What needs to be improved
That broski logo on the cups is a bit overdone
Noticed some variation in sound quality testing different Bluetooth connections
Some sweat buildup during workouts
Final thoughts
As I said in the intro, I think broski delivers on its promise of a premium headphone experience at an affordable price. They may be the most comfortable pair of headphones I have tested yet, and I don't see any of the issues I noted in my review as being deal breakers. You absolutely won't go wrong here if you're looking for a versatile pair of headphones for travel, commuting and the gym. You'll just need to get by that big ol' logo placement.
Now let's talk pricing. It looks like the broski Lety will retail for $95, which is pretty great compared to the high end competition.
Price: $95
Where to buy: Available through the Indiegogo Indemand
Source: The sample of this product was provided by broski.