We use affiliate links. If you buy something through the links on this page, we may earn a commission at no cost to you. Learn more.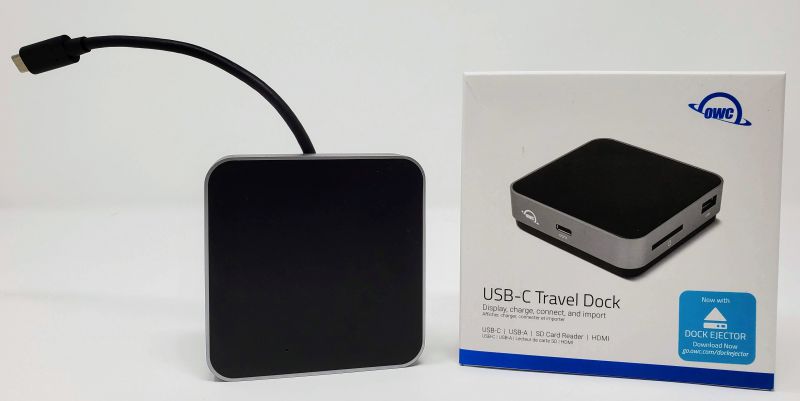 REVIEW – With the arrival of my shiny new Samsung Galaxy Tab S6, I decided to try an experiment.  For quick out-of-town work trips, I would leave my laptop at home and use the keyboard case and the DeX software to replace it.  I wanted to plug into the TV in my hotel room(s), be able to access external USB storage, and still keep my tablet charged and ready to go.  In order to make this experiment work, I needed a USB-C travel dock, so I turned to the OWC Gen2 dock.  Break out your lab coats and join my experiment!
What is it?
The OWC (or Other World Computing) Gen2 USB-C Travel Dock is a portable dock that features USB-C power pass-through up to 100 watts along with 2 USB 3.1 type A ports, an SD-card slot and an HDMI port which will drive a display up to 4k at 30Hz.  The dock has a nice feature – the cable to connect to your device is neatly stored on the bottom of the unit (more on that in a moment).
What's in the box?
Gen2 USB-C Travel Dock
Very brief instruction sheet
How does it work?
The dock is a small, square unit that is very nicely constructed.  It feels solid yet light-weight.  The connection cable stores neatly under the dock – attention, other manufacturers: you could learn something from how OWC does this.  Carting this around on my travels I never once had the dock get hung up via the cable on something else in my backpack.  Combine this with the aluminum case and general feel, and it could easily pass for a more expensive dock solution.  This is how the cable is stored: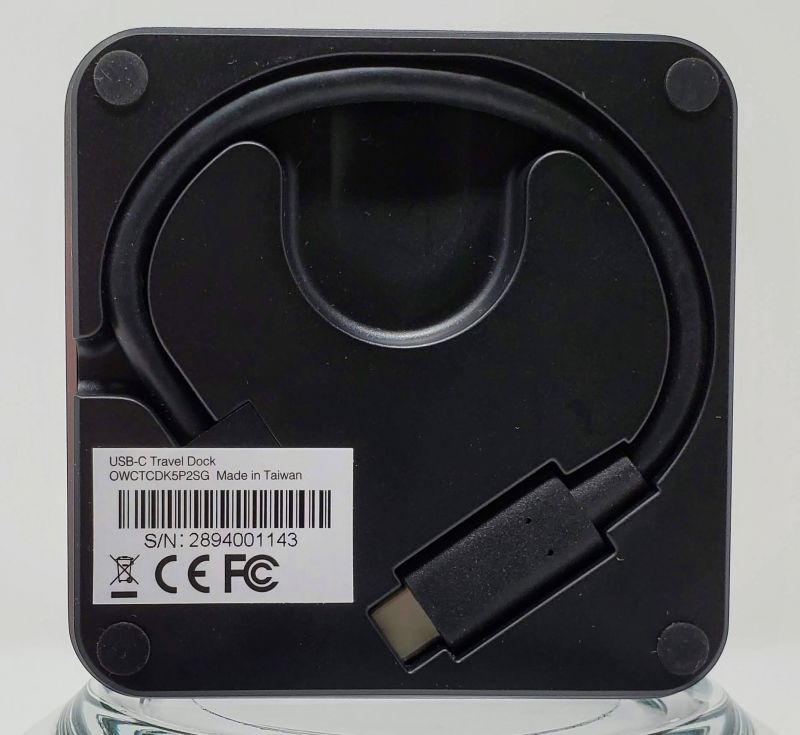 On the front of the unit there is a USB-C port that acts as the PD port and can handle up to 100 watts of power (depends on your source) – plug your power source in here (in my case, an Anker 60 watt PD plug – overkill for my tablet, but great when there are multiple USB power hogs attached to the type A ports).

On the left side (relative to the PD port) there is a type A USB 3.1 port and the HDMI port.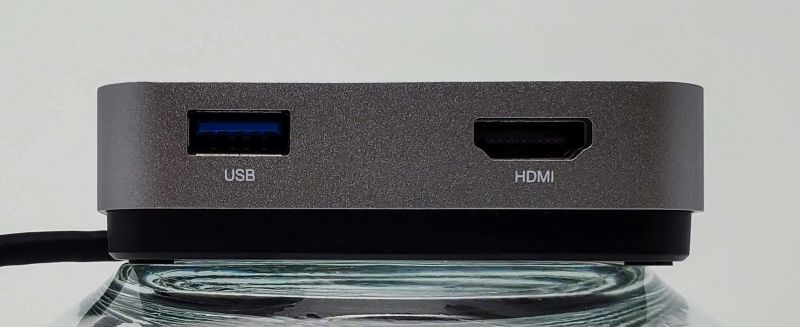 Never miss one of our posts again. Sent MON, WED, and FRI with the latest gadget reviews and news!
And on the right is the other type A port along with the SD-Card reader.

OK, so the $64k question – does this work?  Answer – yes, very well.  With the Anker power block attached, I was able to drive my tablet at full charge speed (15 watts), a Western Digital Passport 5GB external drive, the occasional USB stick in the other port and various TV's in a couple of different hotel rooms at 1080p and 60Hz.  All handled easily, without undue heat being generated.  Every once in a while I put my 512GB micro-SD card into an adapter and added that to the mix – not because I needed it, but because I was trying to see where the limits of this device were.  And in a couple of weeks of constant travel, I can say that I wasn't really able to find where the limits were.  The dock just works as expected and without me having to compromise somewhere.
To be honest, though, it is not all wonderful.  While this is a truly nice dock, it is missing some ports that can be found on comparably priced docks.  For example, the OWC dock does not have an Ethernet port, which seems like a major miss to me.  Granted, a lot of hotels and other locations rely almost solely on wireless, but my hotels in Seattle and Denver had a wired option which – I presume – was more reliable than what I could get wirelessly at the end of the hall in my room.  Also, without a micro-SD slot, if I wanted to use the card in my phone I had to carry an adapter.  At this price point, I would have expected the micro-SD slot, an Ethernet port and perhaps a USB 2 type A port added to the mix.
Hopefully, we will see those additions in a Gen3 soon.  In the meantime, this is a solid solution for the road warrior looking to drive a host of peripherals off a single USB-C port.
What I like
The construction and design feel premium
With the right power input, you can drive all sorts of devices simultaneously, so no compromising on whatever your work entails
That input cable storage solution – really, other manufacturers, the ship sailed on that while you were waiting at the airport
What I'd change
The only thing I would add is an Ethernet port – do that, and this becomes the perfect travel solution
Final Thoughts
At $54.99, this is a should-have in your travel kit.  Add an Ethernet port, and this becomes a must-have.  The design and build are first-rate, and in a harried road trip, I never once had to worry about whether I could get work done.  The dock works with the Samsung Galaxy Tab series (I tested on both the Tab S4 and S6), MacBook Pro (tested with my i7 2018 laptop) and the Surface Book 2 line (not PD-compatible – shame on you, Microsoft for not including USB power! – but nice in that I could drive external storage and a second monitor without sapping power from my laptop).
If you are looking for a travel solution – or something to use at home – the OWC Gen2 dock should be on your shortlist.
Price: $54.99
Where to buy: MacSales
Source: The sample for this review was provided by OWC. Please visit their site for more info.