We use affiliate links. If you buy something through the links on this page, we may earn a commission at no cost to you. Learn more.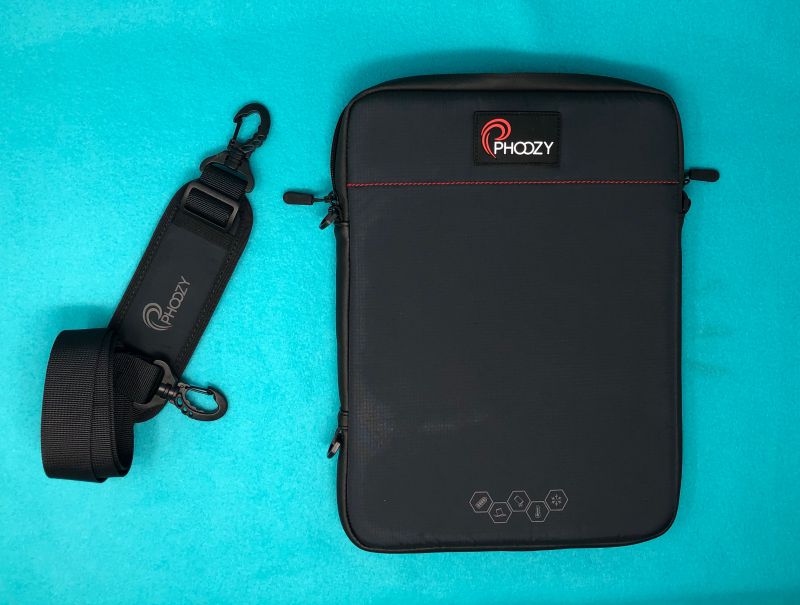 REVIEW – Laptops and tablets are – big slabs of glass and electronics that want more than anything to find a hard surface or body of water to throw themselves into. Or it can sometimes feel that way when you're traveling with them! A company called Phoozy has created a series of covers they call the Capsule that expands on their drop protection and thermal barriers to offer floating protection for your electronics. IP66 water-resistance keeps your laptop or tablet from rain, snow, spills, and actual immersion!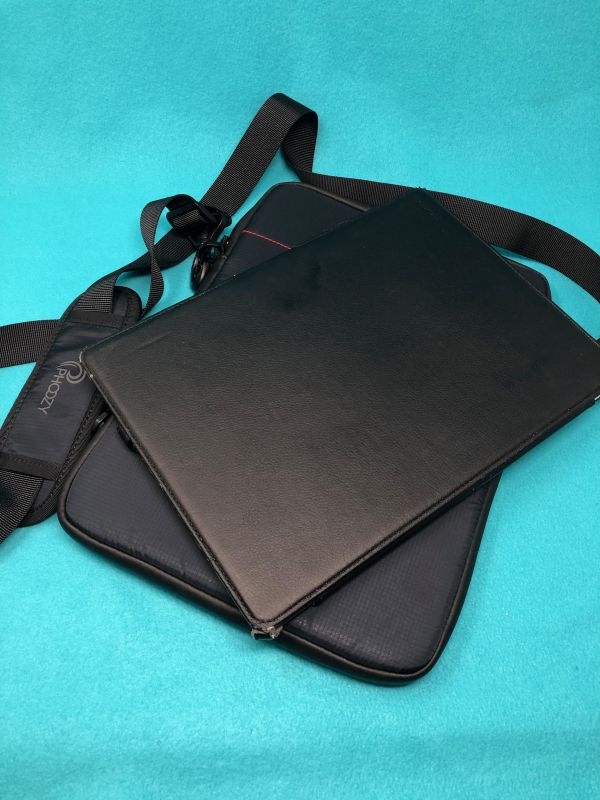 What is it?
A layered soft cover that zips around tablets and laptops to protect from overheating, freezing, water damage, and impact. (That's an original 12.9″ iPad Pro with a full MoKo case on it in the photo above and in several other photos below.)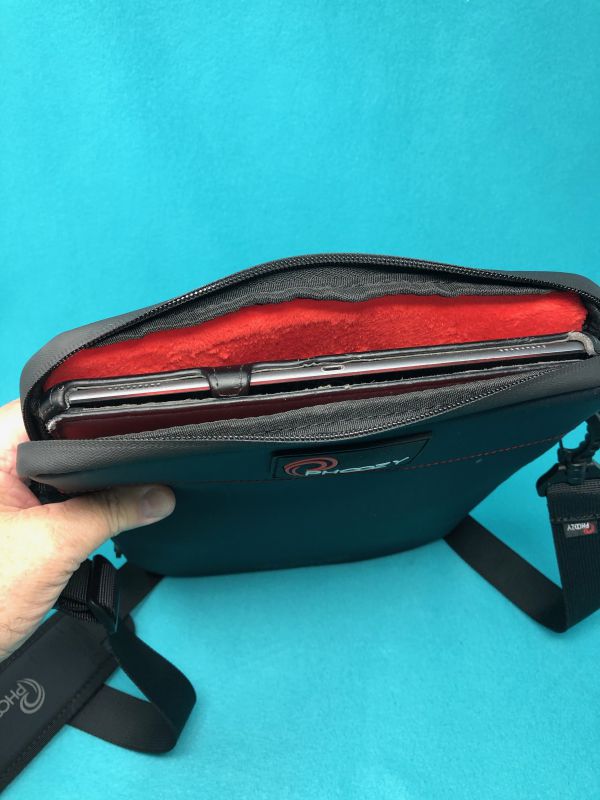 Specifications
Patented Chromium Thermal Barrier is adapted from the NASA technology that protects astronauts, electronics, and satellites in the extreme conditions of space.
IP66 water-resistance rating protects your laptop from rain, snow, spills, and water.
HydroGuard Technology in our materials and zippers repels water and fully floats in water if the unthinkable happens.
The Impactor Core 2.0 delivers military-grade shock protection to absorb impacts and help reduce damages caused by accidentally bumping.
Sleek, Slim, light-weight design easily slides inside other bags or use the included adjustable, quick-release shoulder strap with pad for comfortable wear across body or over the shoulder. Multiple strap connection points allow for vertical or horizontal carry.
Laser-cut Molle Connection Panel on the back allows you to easily connect other PHOOZY products and gear to customize your load.
The PHOOZY Tablet/Laptop Capsule provides 6-layers of protection to keep your devices protected while helping maintain their operating temperature as long as science allows when exposed to hot or cold temperatures. However, the capsules are not designed to be left in a hot or cold vehicle for more than 3 hours.
Case will not interfere with cellular, WiFi or Bluetooth signals.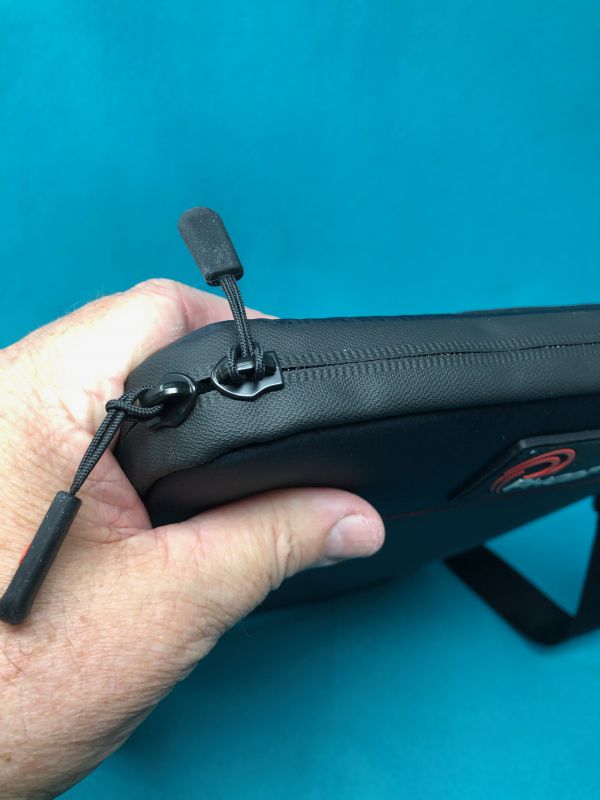 Design and features
The Phoozy Capsule comes in two sizes – 11″ and 13″. Each size is available in four colors: Cosmic Black, Iridium Silver, Iridium Gold, and Realtree Timber. I was sent the 13″ model in Black.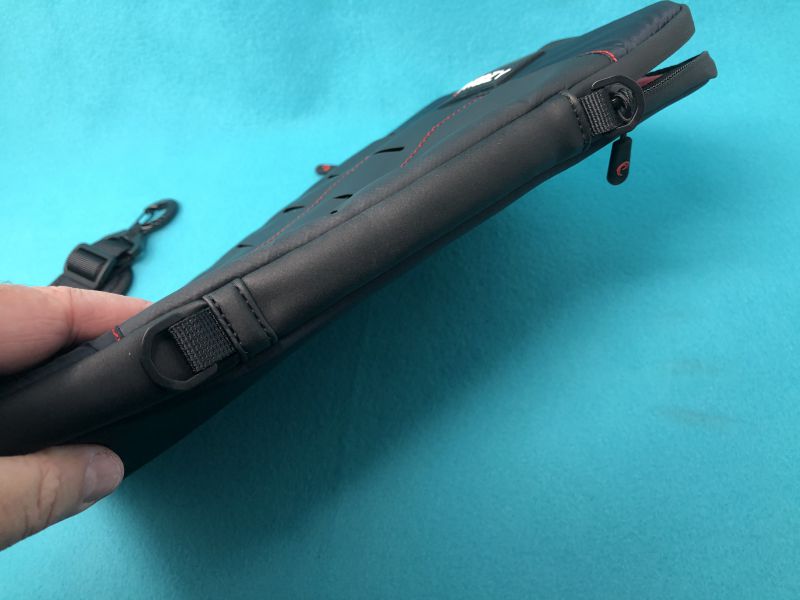 Overall size is 13.5″ x 10″ x 1″. The double-pull zipper extends across the top and 3.5″ down each long side. At each zipper end, there is a molded plastic D-ring sewn into the body of the sleeve. On one side, there is another D-ring sewn about 3 inches up from the lower side as well, which allows the user to attach the included 53″ 1.25″ nylon webbing adjustable strap in a horizontal or vertical orientation. The strap has 2″ clip-on swivel hooks at either end and an 8″ padded shoulder piece that can slide along the full length. Sadly, there is no grab handle to use when you've removed the shoulder strap and packed the sleeve into a larger bag.
Inside, the Cosmic Black model is lined in a plush red microfiber material. There is good padding all around.
On the opposite side, there are three rows of molle strap lace points six deep. If you've got anything that can use this attachment system, you can add pockets to the outside of the Phoozy.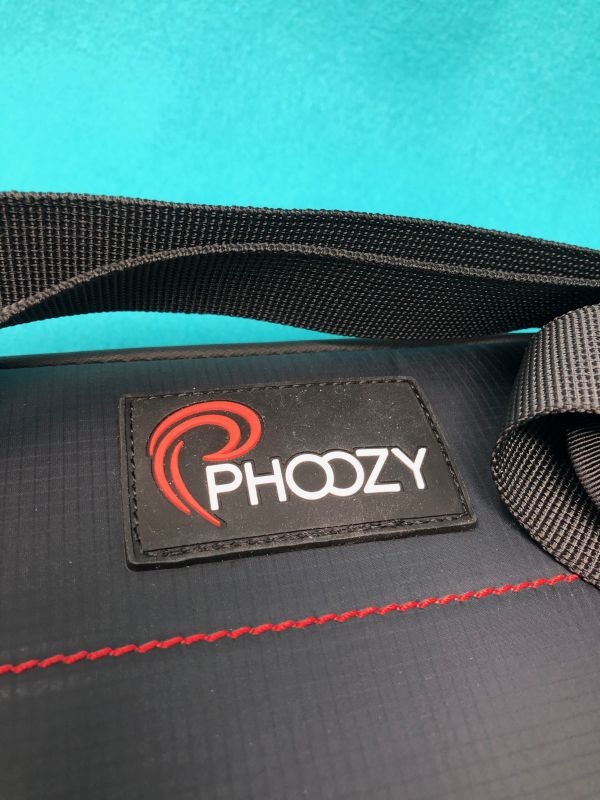 I tested it with every portable computer in the house (13″ MacBook Air, 12.9″ Original iPad Pro, 10.5″ iPad Pro, and iPad mini.) They all fit easily, and some could even double-up.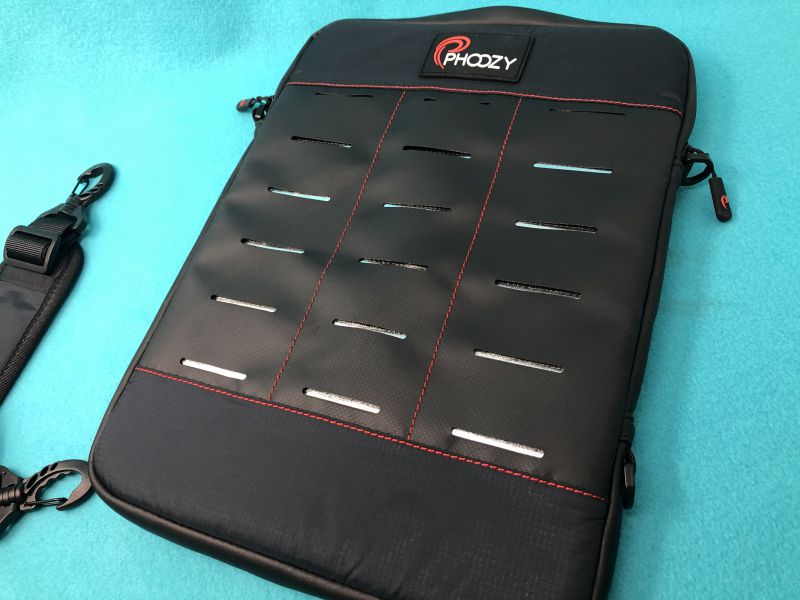 What I like
Solid design layout and manufacturing.
Great that you can carry horizontal, vertical, or as a sleeve inside another bag.
Surprisingly roomy.
What I'd change
Adding a grab handle across the top would be a nice touch.
Final thoughts
We have all had cases and covers for tablets, phones, and laptops. Some work OK, others protect from the dented corner or allow you to worry less about running to your car in the rain. The Phoozy system is based on NASA technology and not only protects from freezing by insulating your tech inside, but protects from water, overheating in a hot car, and will still pick up your messages through the bag. Not too shabby.
Price: $59.99 for 11″, $69.99 for 13″
Where to buy: Phoozy.com and Amazon
Source: The sample of this product was provided by Phoozy.