We use affiliate links. If you buy something through the links on this page, we may earn a commission at no cost to you. Learn more.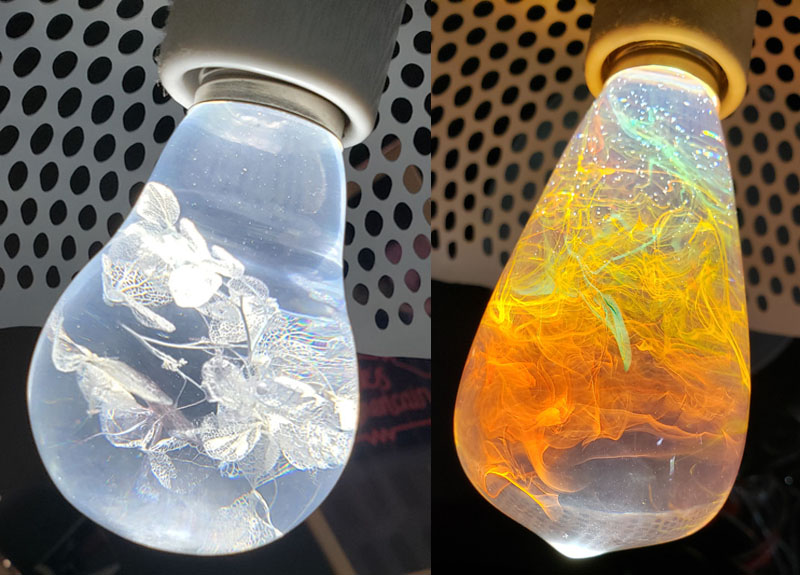 REVIEW – Lightbulbs have been around for years.  Thanks to Thomas Edison and his publicity and marketing genius, we are all familiar with the traditional, screw-in incandescent lightbulb. Of course, lately, incandescents have fallen out of favor due to their inherent energy inefficiency and have been all but replaced by LED bulbs.  These satisfy our basic lighting needs.  But…what if you have some decorative lighting requirements?   What if you're looking to get something of a quirky, funky look without breaking the bank?  EP Design Lab might have the answer for you with their line of E.P.Light colorful resin bulbs with cool internal designs and colors.
What is it?
E.P.Lights are resin lightbulbs with LEDs in the base and various colors and design elements embedded in the resin.  Each bulb is unique.  EP Design Lab offers a wide variety of bulbs in several different color schemes and shapes. They are designed to screw into a standard Edison-style (E26 or E27) socket.
What's in the box?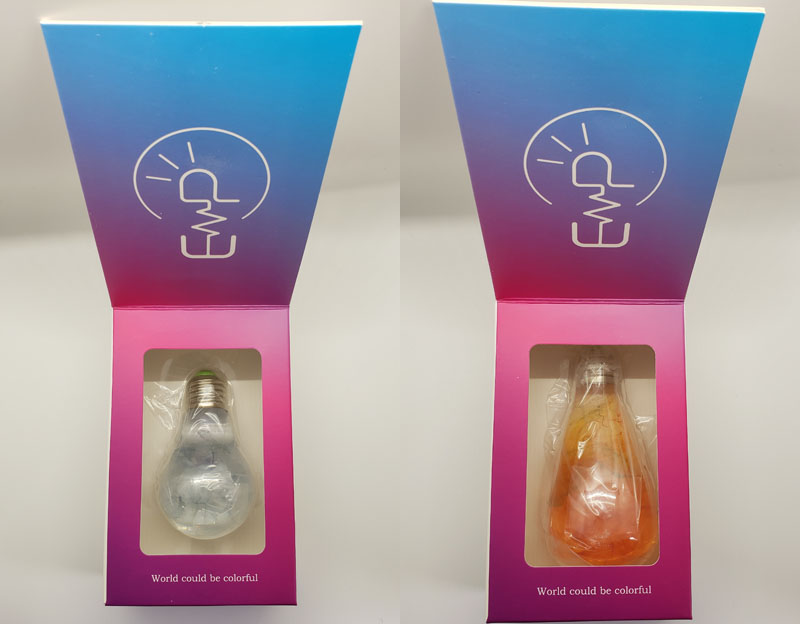 Hardware specs
Light source type: LED
Wattage: 3W
Voltage: 95VAC-264VAC, 50/60Hz
Dimmable: No
Color temperature: 3000K (warm white)
Base: E27-E26 (Edison)
Lifespan: >100,000 hours
Operating temperature: -20 to +50 degrees Celcius, -4 to +122 Farenheight
Material: polyethylene
Weight: 5.3oz (Blue Hydrangea); 8.6oz (Nebula)
Dimensions: 4.33″L x 2.36″W (Blue Hydrangea); 5.75″L x 2.52″W (Nebula)
Design and features
I was sent two different bulbs.  The blue bulb is their Blue Hydrangea bulb.  It is a light blue color with a flower-like internal design in a standard bulb design.  The brown/orange bulb is their Nebula bulb. The color ranges from reddish-orange to yellow to blue, depending on where you look. It has a spacey, cool, swirly look to it. It comes in a water drop bulb design that is larger than a standard bulb.
The first thing I noticed was how heavy and solid the bulbs feel.  The fact that they are solid is due to the fact that they are solid polyethylene resin. They feel almost unbreakable, but I wasn't about to test that.
One issue I had in testing these is that I don't have many plain-old lamps sitting around.  Luckily, I do have an arc lamp in the living room that takes a standard screw-in bulb. The bulbs are really designed to be on display, so a lamp with a lampshade simply won't do justice to these bulbs.
Let's take a look at the bulbs themselves.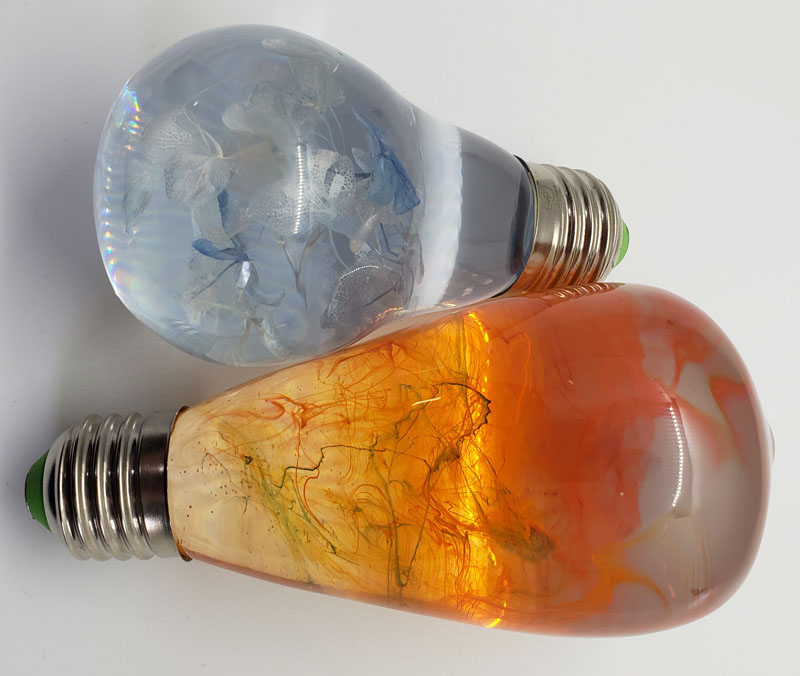 One cool feature is the three-dimentionality of the bulbs.  Depending on which side you look at, they take on very different looks.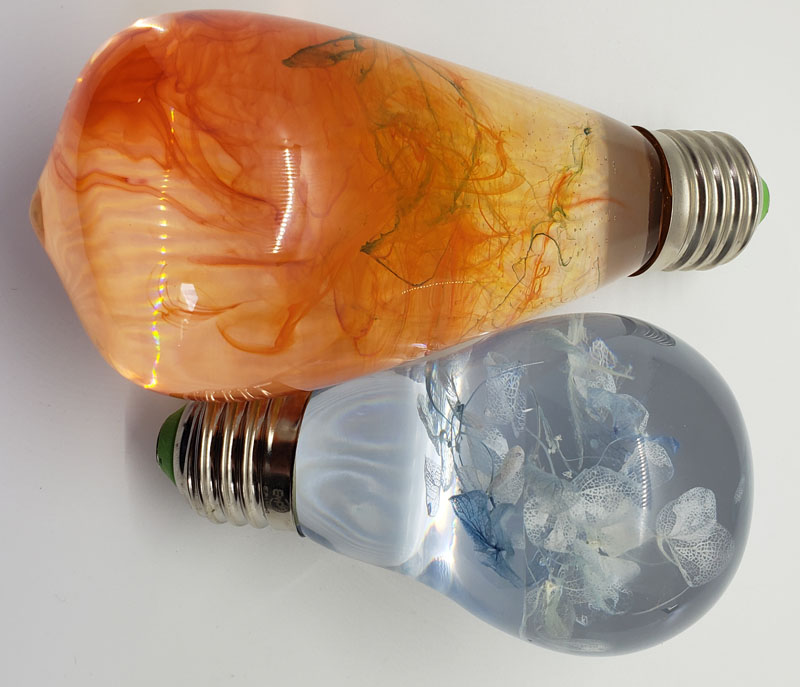 Here's a look at the Blue Hydrangea from a couple of different angles.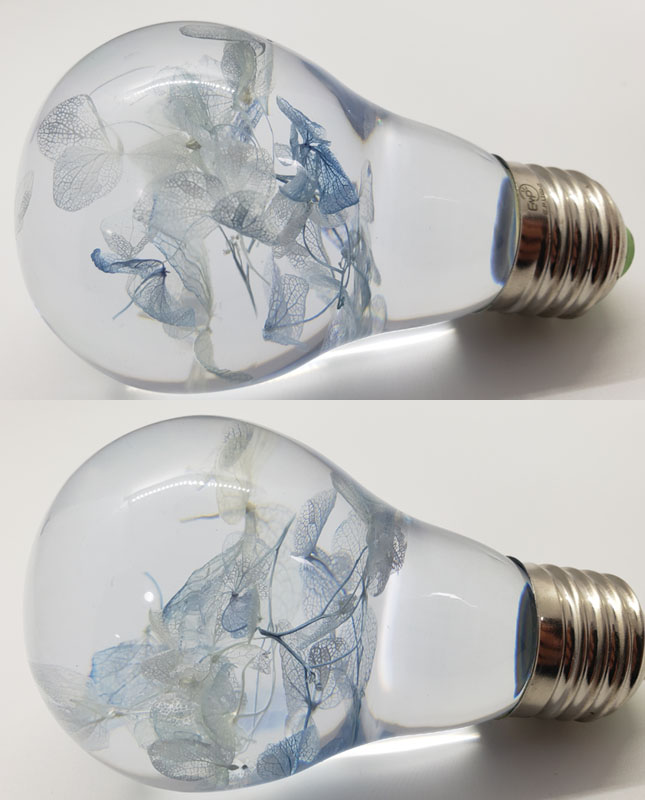 And, the Nebula: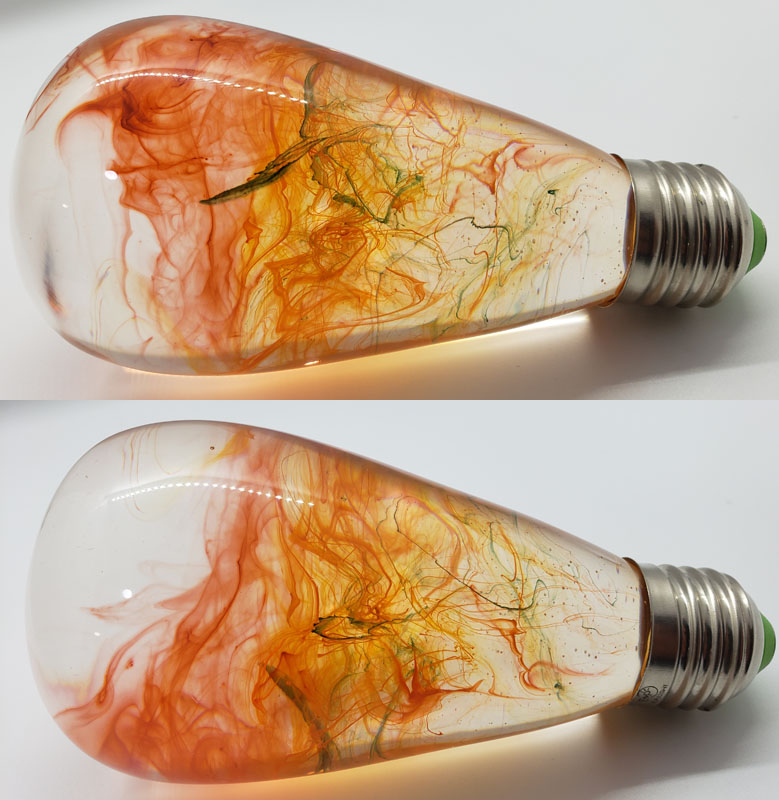 Putting the bulbs in a lamp is where they really shine. (See what I did there?) 🙂
Blue Hydrangea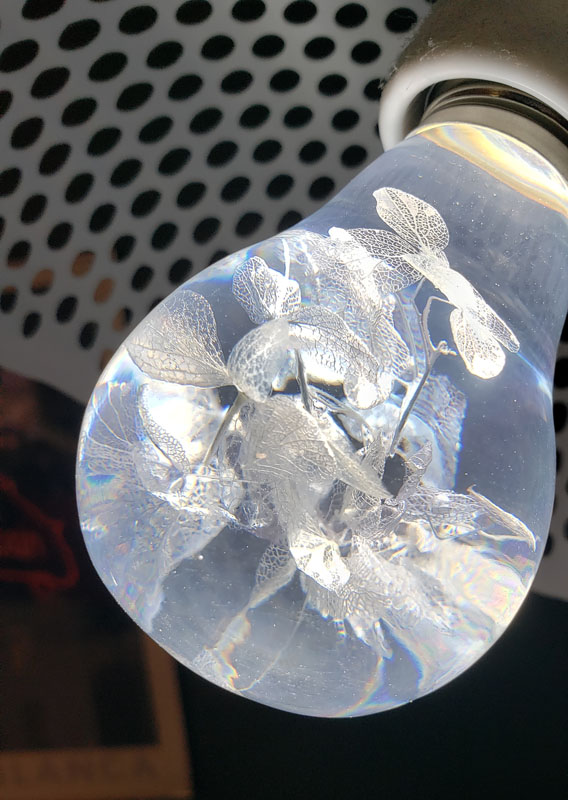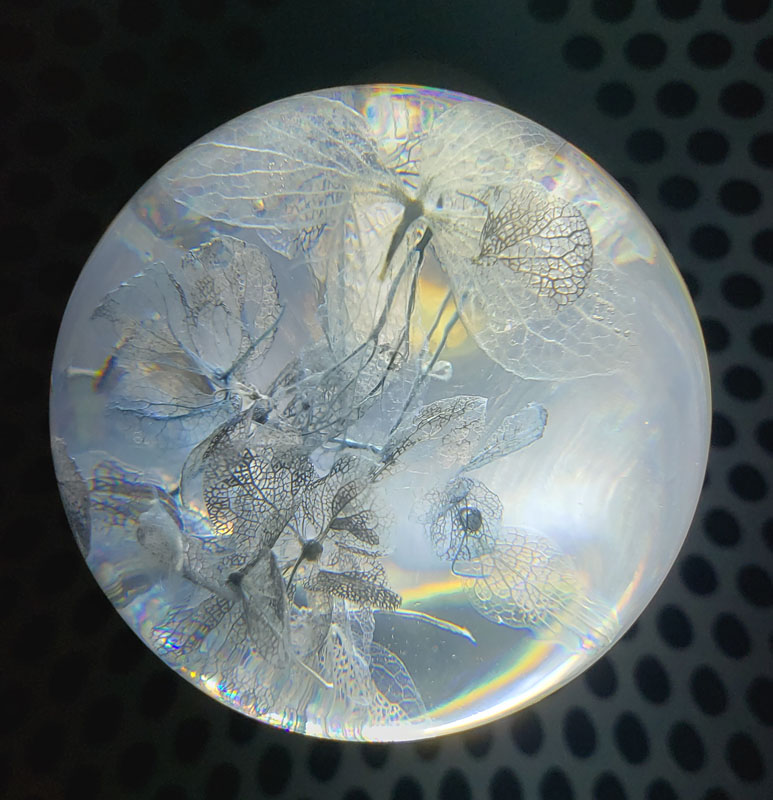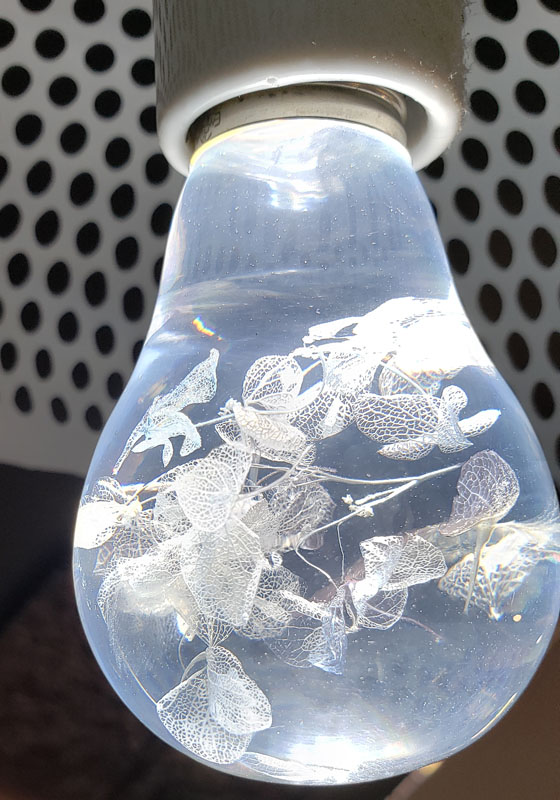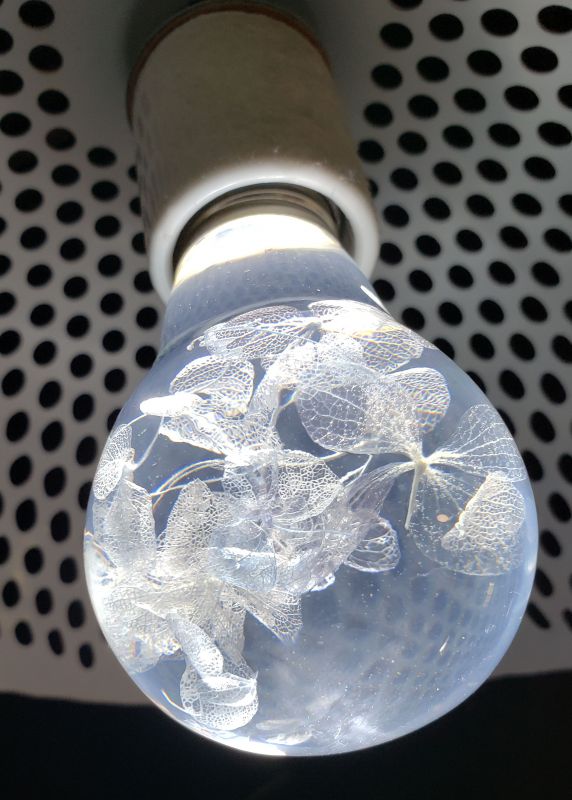 Nebula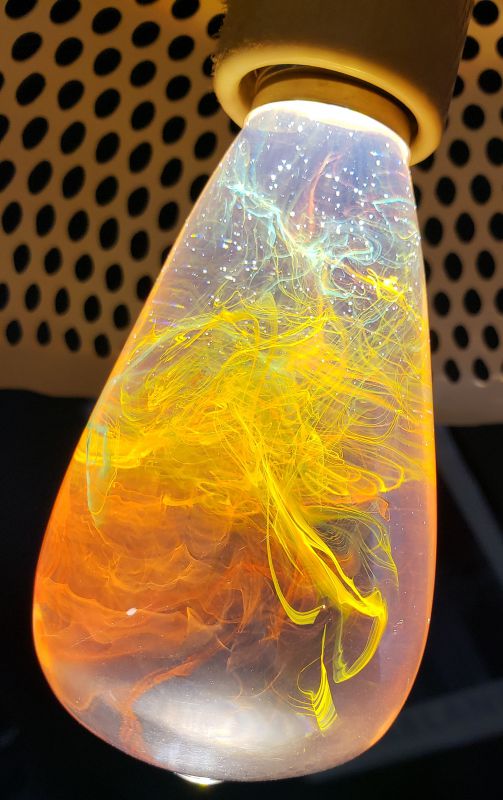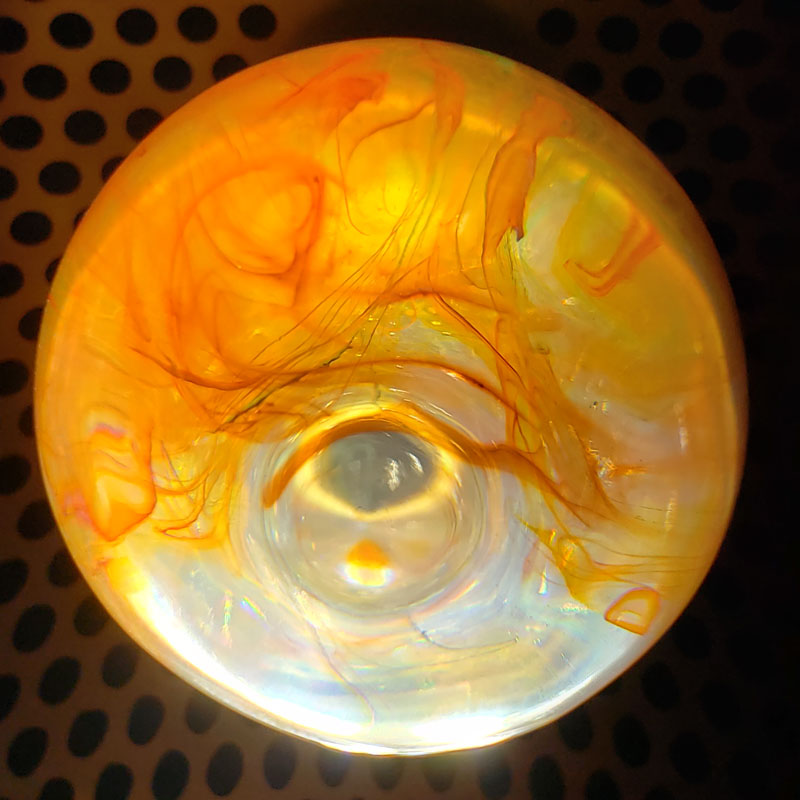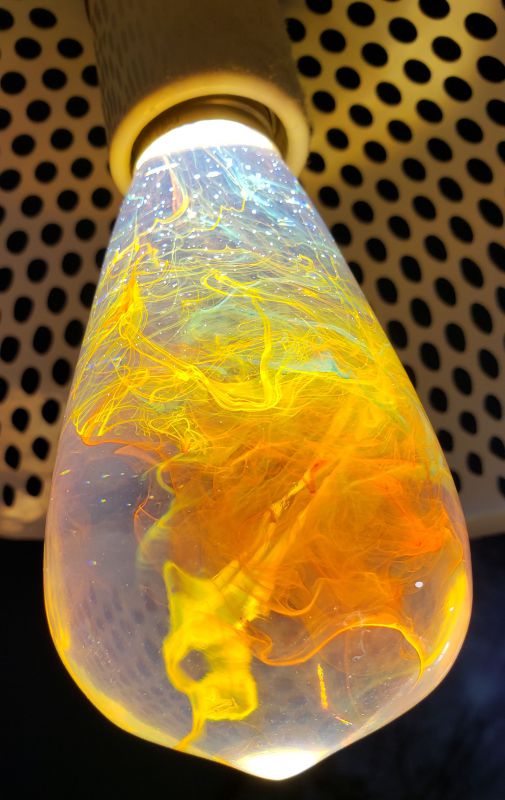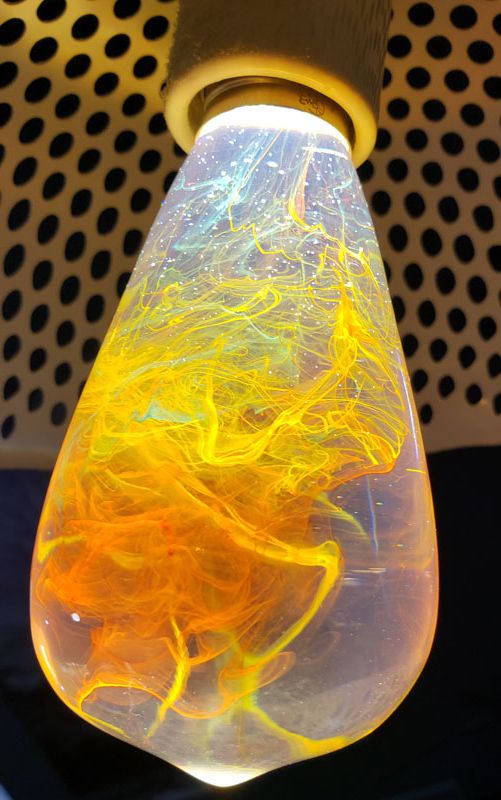 These are not reading lights.  They are accent lights designed to provide nice, soft accent lighting on a desk, in a corner, or hanging from a pendant fixture.  The soft glow from the bulbs is quite pleasing.  They provide just the right amount of accent lighting without being too bright to look at directly and enjoy the visually interesting internal designs. With the wide variety of bulb shapes, internal designs, and colors available, almost anyone should be able to find a design that can fit into their decor.
EP Design Labs has a couple of tabletop bases available, but, alas, I was not sent one.  The first is a basic wood base to set on a table with the bulb screwed in, facing up.  The second base has LEDs in an exposed cup. You place the bulb upside down on the cup in the base and let the LEDs in the base light up the bulb.  I really like this as it leaves the bulb's screw-in base exposed for a really funky, contemporary art look.
What I like
Well made
Visually very interesting
Wide variety of shapes, colors, and styles available
What I'd change
If I had to come up with something, I guess I'd say they are a little heavy
Final thoughts
I like these bulbs.  I can easily see these becoming part of our home decor. I wish that EP Design Labs had included a base for testing as well.  I might take a swing at making one myself, or perhaps just order one. My next step will be to find a final location for these in our home. Then, I will need to get a couple of smart plugs so I can schedule these to turn on each night. Having these provide a nice glow in our living room will certainly be a nice accent.
Price: $29.95
Where to buy: EP Design Lab
Source: The sample of this product was provided by EP Design Lab.