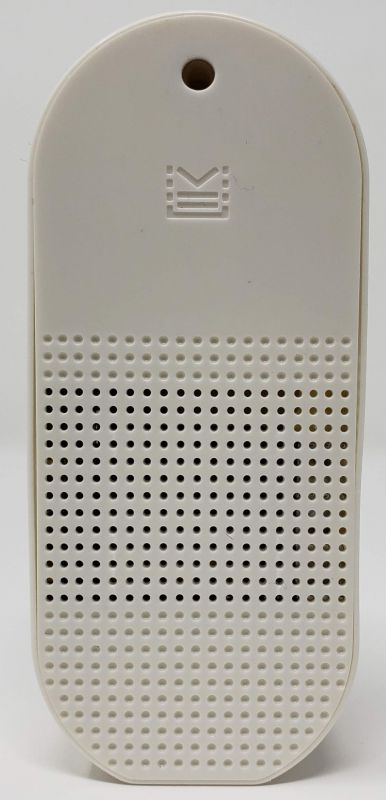 REVIEW – I may have mentioned this already, but I travel a LOT for work.  Because of that, I am always on the lookout for gadgets which will make my travel easier or which reduce what I have to carry.  I've tried packing cubes, roll-up bags, and many other clothing compression options but so far all have come up short.  The Atmos pump is a small, lightweight, battery-powered option that I hope will do the trick…
What is it?
The Atmos Portable Vacuum Pump is an inflation/deflation pump that lets you either pump up a volleyball for a day at the beach or compress clothing to let you carry a single bag to the beach.  Although these devices have been around for a while, Atmos is running a Kickstarter project to fund a smaller and lighter version of a vacuum pump.
What's in the box?
The Atmos Vacuum Pump
An 11 inch micro-USB charging cable
1 plastic space bag adapter (for deflating)
4 inflation needles of varying sizes
1 medium space bag (19.7 inches by 27.5 inches)
Instruction sheet
Contents will vary depending on the pledge level.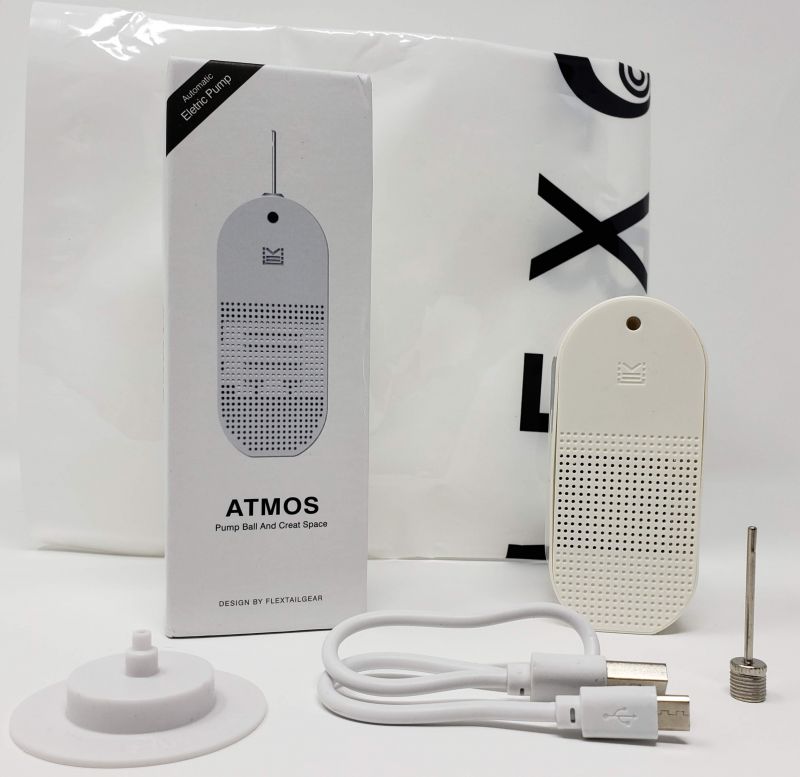 Design and Features
The Atmos pump is a 3.1 oz. device that is 3.6″l x 1.4″w x 1.6″h. The pump in its final delivery model sports 8-1000mAh Lithium batteries – I was sent what appears to be a pre-production unit because the battery life is not close to the advertised specs.  As the pump is just going into production as I type this, I am assuming the pre-production state.  Delivery of the production units to backers is scheduled for September of this year.
Looking at the first picture in this review, you can see a small hole above the logo on the front of the pump.  This is the connection for deflating and as you can see there is no screw attachment here.  The port relies on a pressure connection, and the supplied plastic adapter for space bags fits snugly in this port.  I am concerned that over time the friction of inserting and removing in this fashion will cause the adapter to lose the seal and will end up becoming less effective.  Hopefully, replacement adapters will be available for sale.  More on the adapter in a minute.
On top of the unit there is a screw-mount for the inflation needles.  The needles supplied in my kit fit pretty much any type of sports ball you want to throw at it (pun intended).  Missing, however, are any sort of attachments to inflate pool floaters, most air pillows and similar products.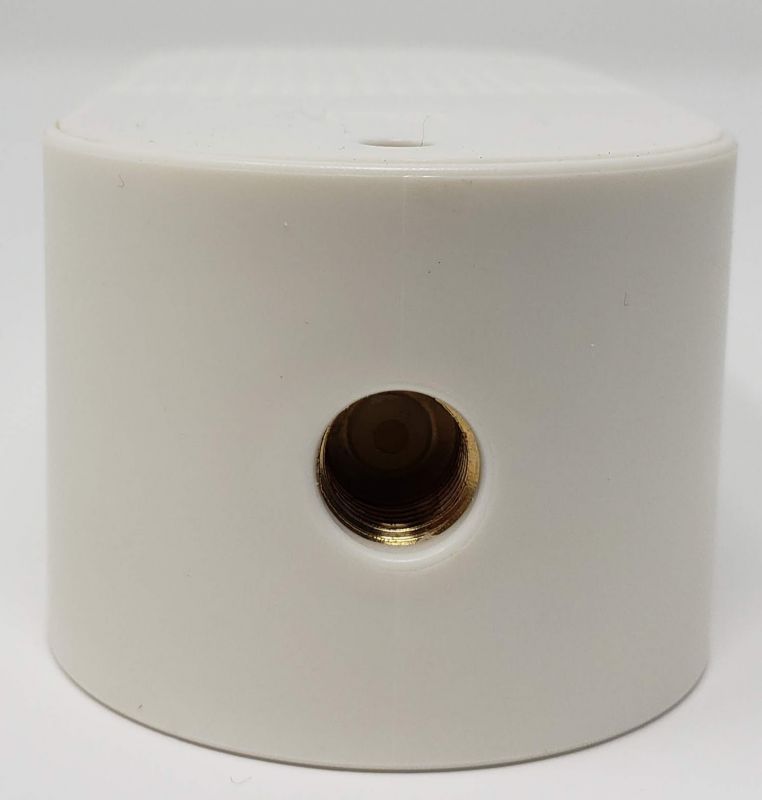 On the bottom of the unit is the micro-USB charging port.  The Atmos does not come with a wall charger and the 11 inch cord is VERY short.  I started off because of the size of the plug by charging via a USB port on my Surface Book 2, but after 4 hours of seeing the red charging light on the Atmos, I decided to try a different approach.  I plugged the supplied cord into an Anker charging block but could not get the unit to charge – no red light or for that matter, any light at all.  I tried a Samsung travel charger with the same result.  So I changed to a different cord and all chargers worked – and worked much faster.  Fully drained battery to fully charged using the Anker charger and alternate cable was just under 3 hours.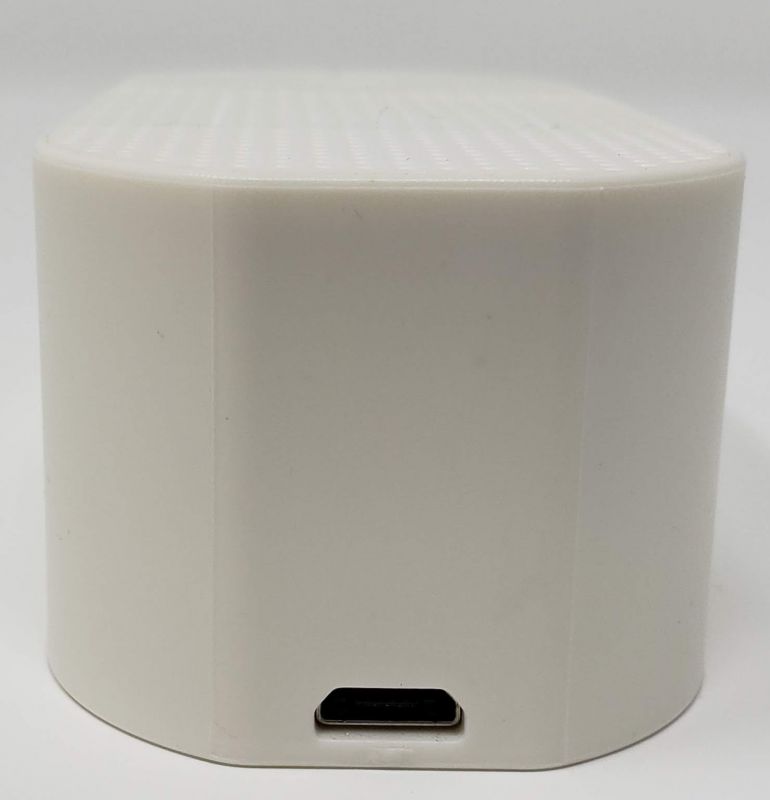 The left side of the pump has the on/off switch.  A right light glows through the plastic housing when the pump is charging and changes to green when fully charged.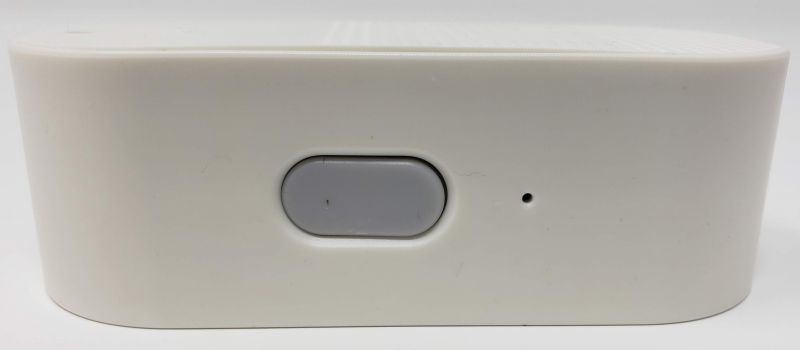 How does it work?
In two words, not well.
For inflating a ball or two, the Atmos is an adequate solution if time is not a factor.  At a 3 liter per minute flow rate, you are not going to win any speed contests.  The Atmos team claims that on a full charge the pump should be able to inflate 25 average balls.  Assuming I have a pre-production unit, I can't confirm that.  At best, I could get maybe 3 balls inflated before the performance was so degraded that I had to put it back in charging mode.  And I learned that the pump does not function while charging – you must have a charge on the battery in order to use it.
As I said, though, my primary use case is for reducing storage while traveling, so that is where my focus is.  With the size of the storage bag sent, I grabbed 2 pillows from our guest bedroom to use as an experiment.  Here's where we started: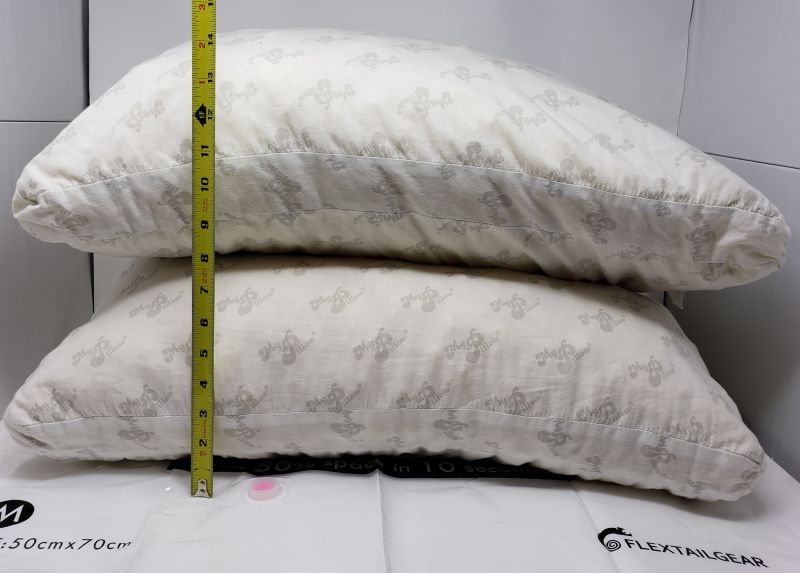 Before being stuffed into the bag, I was looking at just over 14 inches of pillow to compress.  I moved the sealing cap from the bag, attached the adapter (it just screws on like the sealing cap does) and then stuffed the pillows into the bag.  As with any Ziploc-style bag, sealing it was quite the chore, even with the supplied plastic clip meant to help speed up the process.  Eventually the bag was sealed and I was ready to deflate.
I plugged the fully charged Atmos pump into the adapter and hit the on button.  The pump made some noise and it looked like a little air was starting to come out.  After about 3 minutes, however, there was little evidence that the pump was working.  I turned it off and checked the bag for leaks – and none were found.  I put the pump back on charge and opened the bag to let the air back in.  I fully sealed the bag again, and once the pump said it was charged, I started over.  This time, I let the pump go until it sounded like the charge was mostly exhausted.  This is how far in 10 minutes I was able to deflate: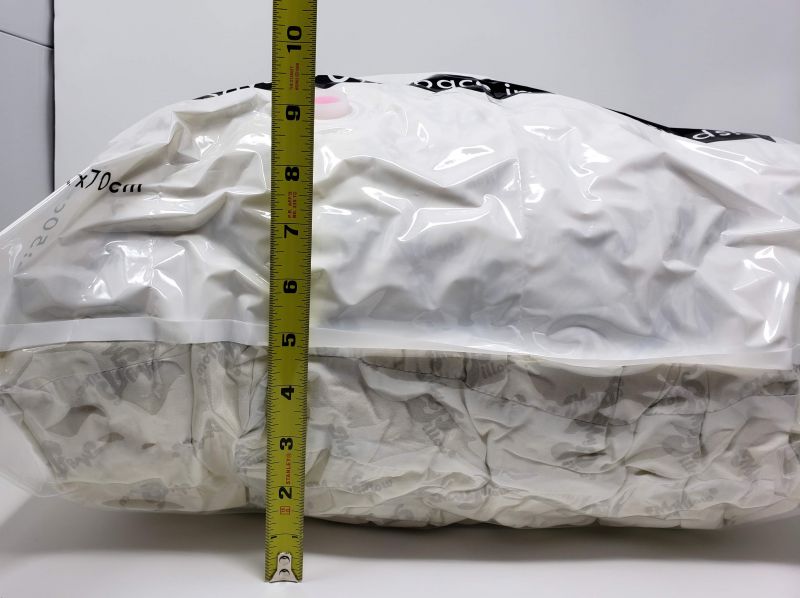 I was able to compress about 4.5 inches on a single charge.  After removing the pump, the bag was stable – it did not reinflate for over an hour, so it would appear that the pump did all it could for this experiment.  According to the campaign, however, the pump should be able to compress 8 storage bags (although the sizes of those 8 bags are not specified).
I wanted to be sure this was not a problem with the bag – just trying to be fair here – so I grabbed a pump I already own.  The ZK190 is a powered pump with a 5 liter per minute flow rate.  The adapter for this pump was just a tad too large for the port so I had to hold the adapter against the bag while deflating.  Using the same bag, fully inflated, this is what it looked like 90 seconds later: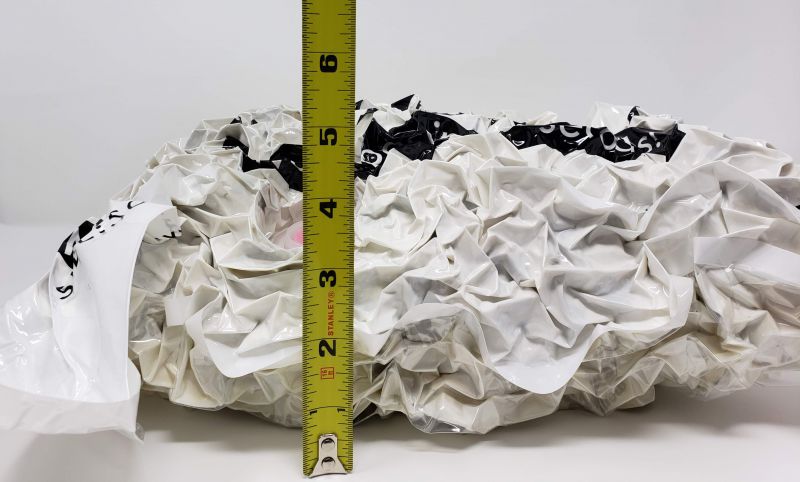 Just over 5.25 inches.  Without a good seal to boot.
One last shot – I intended to use a small Ziploc branded bag with the now fully charged Atmos.  Problem was that the adapter diameter was too small – I just could not get it to fit on any size of the other space bags I had, where the ZK190 adapter fit all of them perfectly.  This may be a solution that works with only their bags.
What I like
The size and weight of the pump
What I'd change
Pretty much everything else
Final thoughts
There are a few other considerations, some targeted at this device while others are more generic of the devices in this category.
First, there are TSA regulations against carrying Lithium batteries in checked luggage.  As a travel device, you would have to carry it onboard your flight to be compliant with regulations.  The Atmos could only be packed in a suitcase if it was rendered inoperable – for example, if the device could not power on, so batteries fully depleted.  With this restriction, I cannot recommend the Atmos as a travel device.
Then there is the wrinkle factor.  If you use any compression device for travel, at some level you will have wrinkled clothing to deal with at your destination.  I have found that compression cubes and rolling space bags (the kind where you roll up the bag rather than use a pump to remove the air) yield less wrinkled clothes.  The more air you remove, the more wrinkles you will end up with.  And so-called wrinkle relaxing sprays do little to help with the situation, so you are pretty much assured you will be spending quality time with an iron before you go out in public.  In the end you trade space for effort – given the cost of checking a bag on airline flights these days, that might be an acceptable trade-off.
Finally, you have to consider the size of the bag and the average suitcase.  The medium bag I received when fully compressed barely fits width-wise inside a 26 inch Samsonite suitcase.  I can pack probably 4 days of clothes in a medium bag, but with an average trip length of 10 days, I have to take 2 medium and a small – and, fully compressed, I still need to bring 2 bags to fit that plus toiletries and other essentials.  I just have more empty space nothing else will fit in because of the bags themselves.  So, for me, this really isn't a good solution.
Price: Varies depending on the pledge level.  Pledges start at $24 for the pump alone.
Where to buy: You can contribute to the Kickstarter campaign here.
Source: The sample of this product was supplied by Flextail Gear.
Support The Gadgeteer
:
We may earn a small affiliate commission from purchases made from buying through links on our site. As an Amazon Associate I earn from qualifying purchases. Learn more.