The Gadgeteer is supported by readers like you! If you buy something through links on our site, we may earn an affiliate commission at no cost to you. Thank you! Learn more.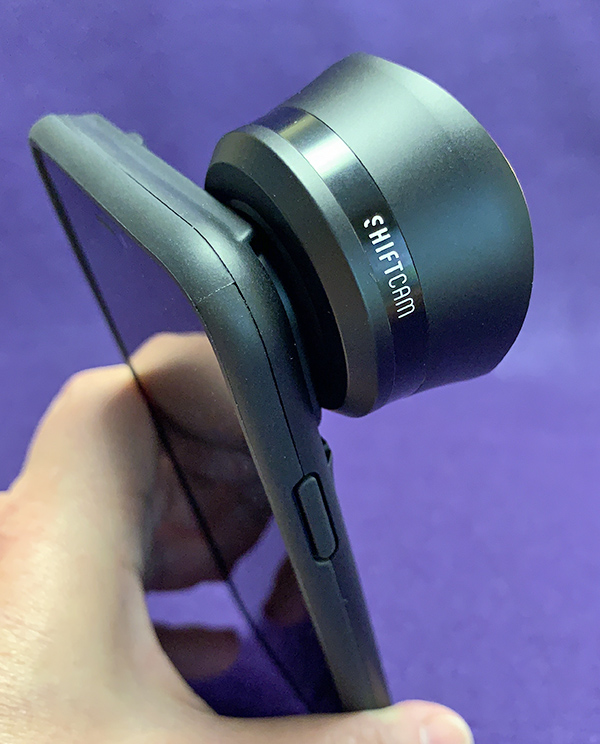 REVIEW – Let me state up front: I am not a photographer—pro or serious amateur. My camera is my iPhone XS Max. I once desired a DSLR camera, but as smartphones have gotten ridiculously good at photos and videos, I gave up on that expensive quest. Which brings us to the ShiftCam Aspherical Ultra Wide Angle mobile phone lens (say that fast five times). Can a high-quality lens improve on a photo taken with a smartphone? Well …

What is it?
The ShiftCam aspherical ultra wide-angle lens is an aspherical lens with zero distortion at a 122º wide viewing angle. A nano-coated lens reduces flares. The lens is good for close-ups or long shots, indoors or outdoors. It attaches via an optional and proprietary iPhone case. Note: There is a universal lens mount available for other non-Apple smartphones.

In the box
12mm ultra wide-angle lens
Magnetic lid
Prolens adapters for iPhone 7/8, 7/8 Plus/ X, XR, XS/Max
Microfiber lens bag

Design and features
ShiftCam makes many camera-enhancing lenses for Apple iPhones. The aspherical ultra wide-angle lens is the latest addition. It's currently on Kickstarter and Indiegogo with way over the amount of funds needed to produce the lens.  Delivery is set for August 2019. The fact that I have a fully functioning lens and that ShiftCam already makes many other lenses helps me feel certain that they will meet the August deadline.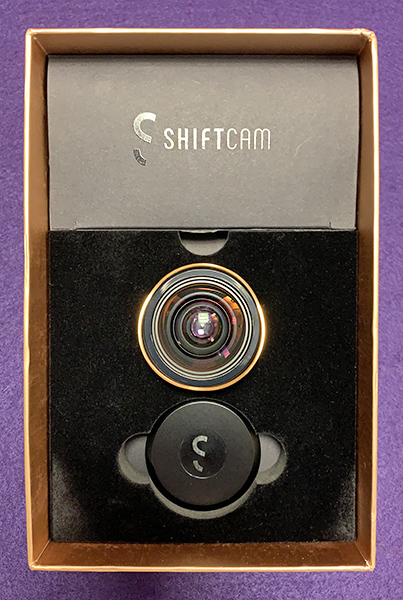 When talking about lenses, what does ultra wide-angle mean? It simply means that there is more peripheral image captured in the photo—or more stuff in the photo than you would see in a regular photo. 
When you take a photo with your iPhone (not zoomed), it has what is called a focal length of 4.25mm which is close to a 26mm lens on a "normal" camera. Your eyesight field of view is the equivalent of a 50mm camera lens. So basically, the iPhone in regular mode is already taking a wide-angle photo showing you more than you see looking straight ahead. So the 12mm ShiftCam lens when mounted on an iPhone becomes an "ultra" wide-angle lens. Get it? It captures more in the photo than the iPhone's already wide lens. 
However, that's not the tricky part. It's not hard to make a lens that is wide-angle. The hard part is doing so without distorting the edges—especially noticeable when straight lines are in the photo—such as shots of buildings. The lines become curved, sometimes severely in cheaper lenses. Keep in mind that some distortion will always be there. The trick is minimizing it as much as possible—which ShiftCam is good at with this ultra wide-angle lens. With the right photo app, some of this distortion can be adjusted on-the-fly.
An ultra wide-angle lens is great for those shots involving a group of people where you're always yelling, "Move closer together!"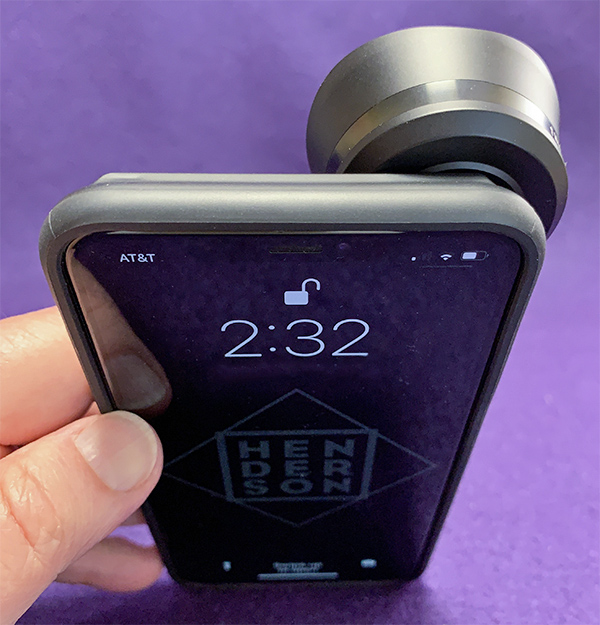 The Aspherical ultra wide-angle lens is made as well as any lens I've owned from my days of SLR photography (remember film?). It's a coated glass lens in a metal enclosure. And it's heavy. An iPhone XS Max (what I use) weighs 177 grams sans case. The lens weighs 96.7 grams, yet when I hold them, the lens feels like it weighs as much as the iPhone itself. However, when attached, the weight of the lens makes the iPhone quite top-heavy. So, be careful when carrying around. The weight distribution can make things a bit unwieldy.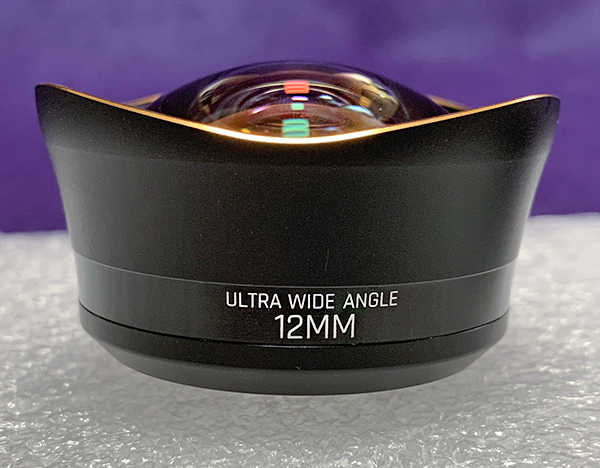 The lens comes in piano black with a nice, tasteful brass-colored band around the housing. A magnetic lens cap helps protect the bulbous lens from dirt and scratches. Needless to say, keep the cap on when not in use.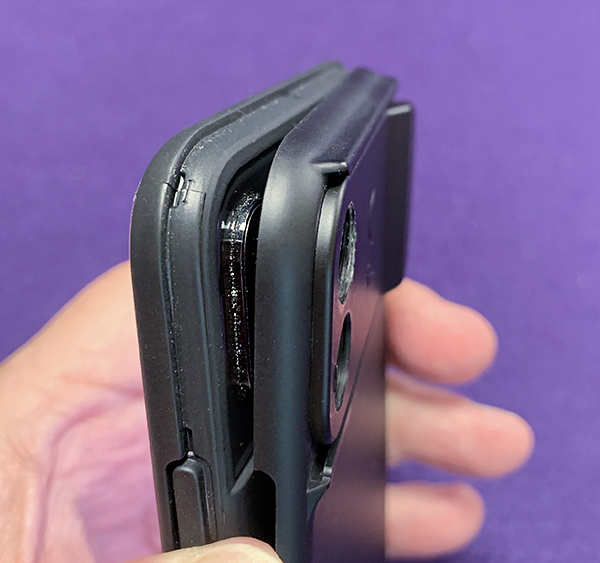 The lens case is a light-weight plastic with what ShiftCam calls the S-mount system—an adapter for screwing the lens into place. Once the lens is secured, it stays in place, but the screw threads are so fine that many times, I had to try and try again to get the threads to match so I could tighten the lens. It quickly became apparent that you have to be absolutely sure that the lens is secure. If you don't, the lens may not be properly screwed into place and fall from the case mount. That could be disastrous. Also, the S-mount on the case is plastic. After a few uses, the plastic threads were already showing signs of wear. The case also separated at one of the seams which blurred and distorted one of the corners in the photo window. Time will tell if the case will hold up under more repeated tightening and loosening. It's too bad the case doesn't have the same build quality as the lens.
The case only provides basic protection to the iPhone itself. It will help keep the iPhone free from dirt and if dropped, but don't mistake it for a specialized case that offers great drop protection.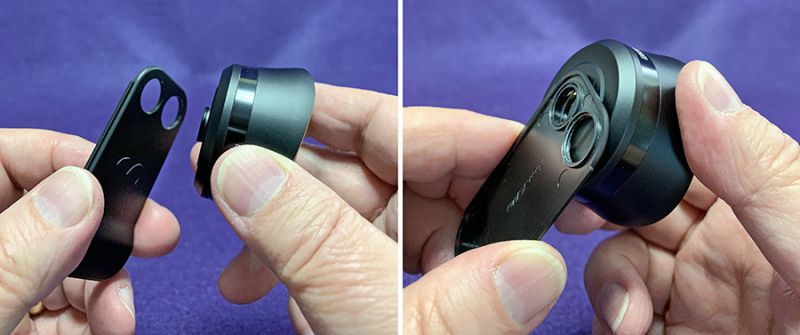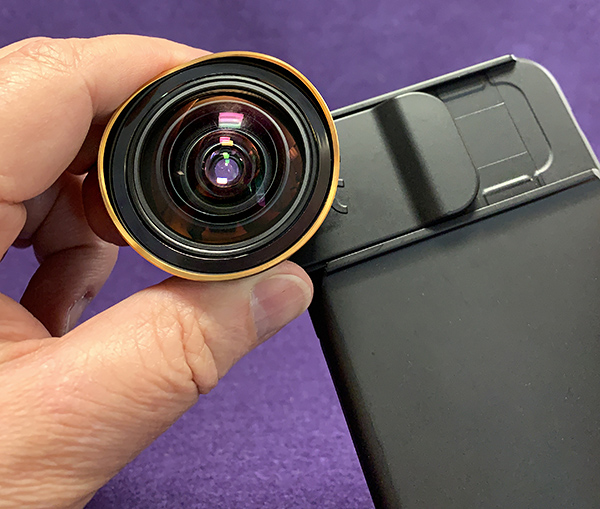 The S-mount system included with the lens comes with many different slide-in adapters—depending on which iPhone you have as early as the iPhone 7. These adapters slide in easily and snap into proper alignment with the iPhone lens. Once in place, the aspherical ultra wide-angle lens can be attached. Or the lens can be attached to the adapter first and then slid into place.
Taking photos with the aspherical ultra wide-angle lens is no similar to just taking a photo with the iPhone—with one important difference: The dedicated zoom lens on the XS and XS Max does not work with this lens. Not surprising, because why would you want to combine a zoom with wide-angle anyway?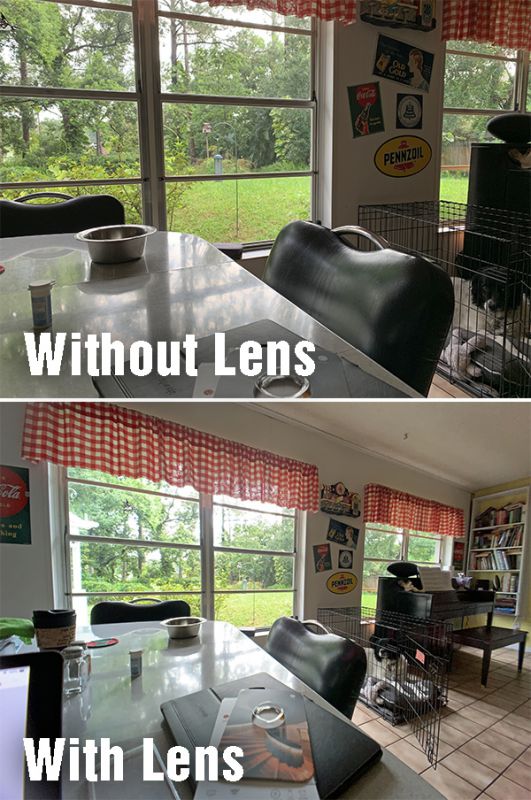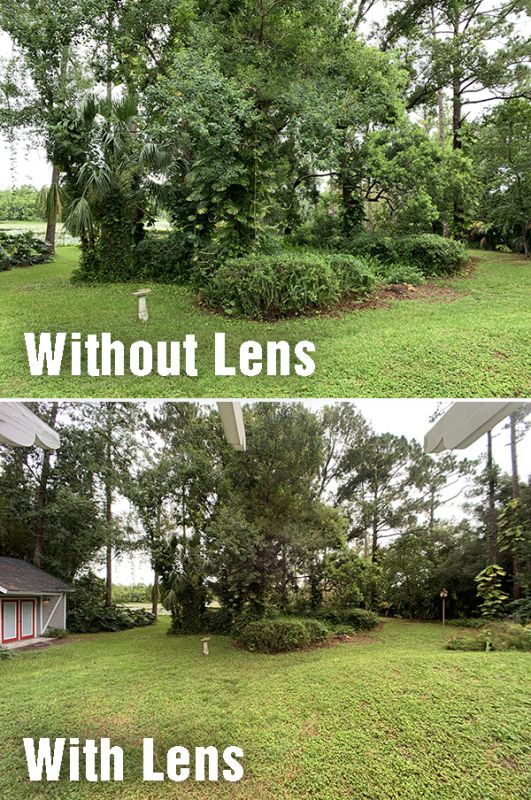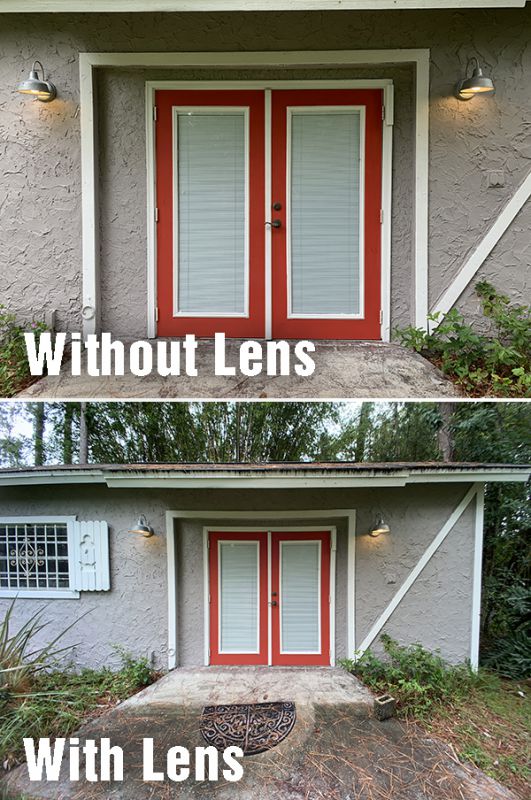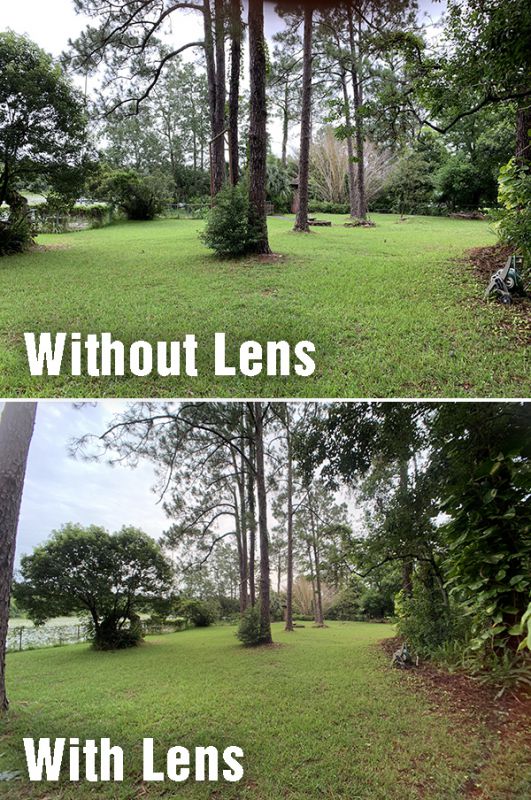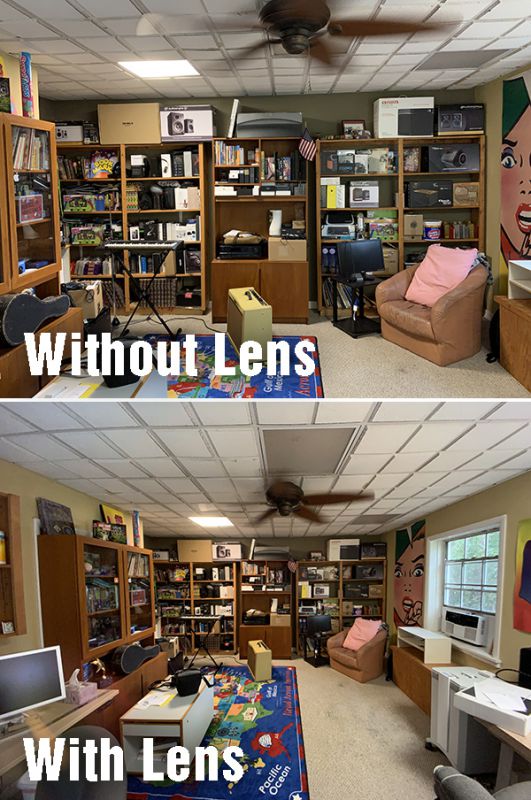 When comparing photos with and without the lens, I couldn't tell any difference in focus or digital grain quality between the two. Note that the wide-angle lens will not improve the quality of a photo taken with just the iPhone's lens. It can't. The photo will only be as good as the weakest link in the lens chain—so to speak. What the lens will do is add a wide-angle feature you can't get with just the iPhone. ShiftCam's other lenses will add other features, depending on the lens' function.
The aspherical ultra wide-angle lens comes in Piano black. There is a Limited Edition Vintage Brass version depending on the Kickstarter backer level.

What I like
Build quality
Solid feel
Quality of photo taken with lens

 
What I'd change
Case could be more durable
Lens weight makes iPhone quite top-heavy
S-mount system requires attention for a secure connection

Final thoughts
If you're looking to add a bit of variety to standard iPhone photography, the ShiftCam aspherical ultra wide-angle lens offers a great way to give those vacation or group shots an added flair. There is so much more information you can capture with this lens attached—without sacrificing image quality in any way. Just attach the lens and start shooting. It's that easy.
Price: $99 for lens and mount
Where to buy: Indiegogo
Source: The sample of this product was provided by ShiftCam.