We use affiliate links. If you buy something through the links on this page, we may earn a commission at no cost to you. Learn more.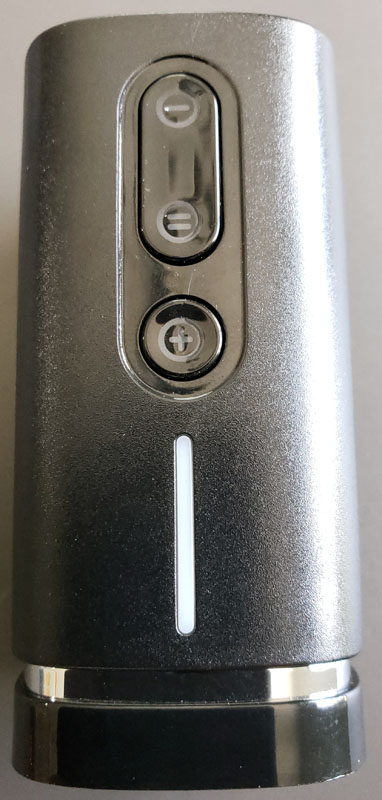 REVIEW – Airline fees. I hate them. A lot. But, they're here to stay so we need to deal with them.  One of the most annoying is baggage fees since most of us take some sort of bag with us when we travel for more than a day.  Yes, you can fly Southwest with two bags free, but there are some less expensive options for some routes.  How do we minimize the number of bags we carry, or, cram everything into a carry-on and avoid checked bag fees? Pacum's solution is a portable vacuum and vacuum packing bags.  By eliminating the air from our packed clothes, Pacum claims to be able to double our packing capacity.
What is it?
Pacum is a multi-function vacuum and inflator.  Its primary purpose is to evacuate the air from vacuum bags, but it can also serve as an inflator for sports balls, small inflatable toys, and floats.  It is not a high-pressure device so it won't inflate tires.
Pacum started out as a Kickstarter project by Masterspace. Once funded and shipping, orders are being processed through Indiegogo.
What's in the box?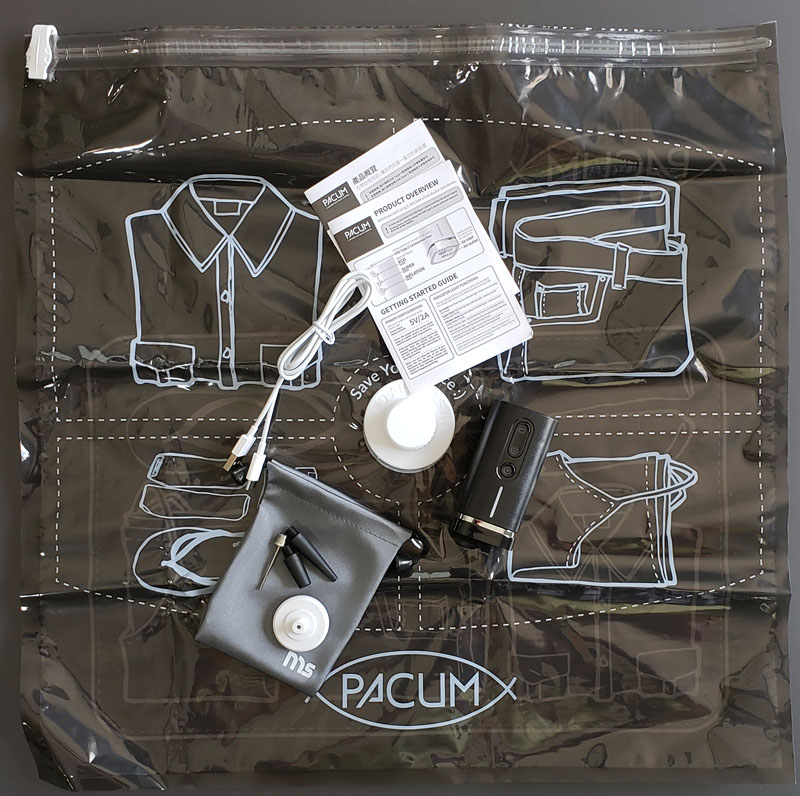 Pacum deflator/inflator
1 Pacum large vacuum bag with one-way valve and clip-on seal tool
USB-A to USB-C cable
Multi-language product overview pamphlets
Accessory kit

Carry bag
Inflator needle
Inflator narrow tip adapter
Inflator wide tip adaptor
"Padaptor" vacuum adaptor for other bag brands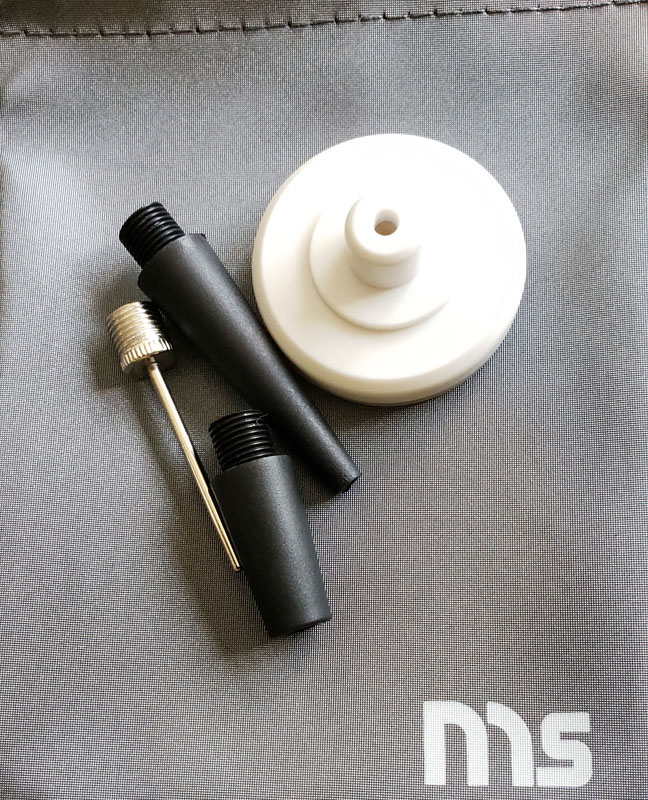 Hardware specs
Size: 1.5″W x 1.5″D x 3.5″H
Weight: 5.2 oz
Power: USB-C 5V/2A
Airflow: Up to 7.5 liters/minute; up to 65 KPa/minute
Design and features
The Pacum feels solid and well made.  The front, pictured above, has three buttons.  The lower (+) is the inflator button.  The top two are on a dual-button style of button featuring the "eco-mode" (-) and "supermode" (=) buttons.  There is no description of the difference between modes. Based on the sound, eco-mode delivers air more slowly than "supermode". In addition, "supermode" automatically turns off when it determines that all air has been removed. A vertical indicator light is below the buttons. White indicates power, blue indicates deflation, orange indicates inflation, and red indicates errors.
On the top, we find the USB-C (yea!) port.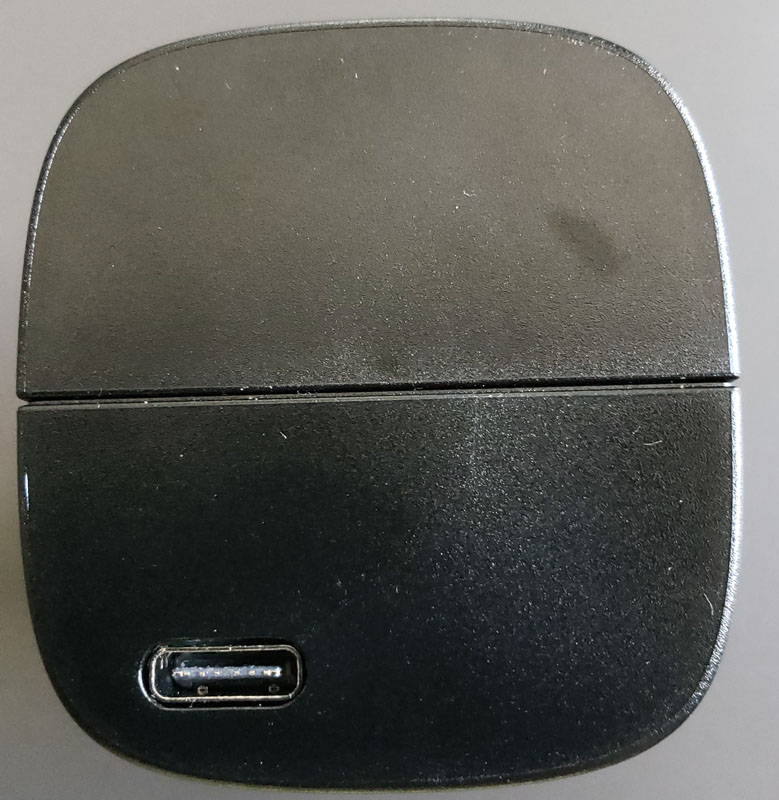 On the bottom, we find the inflator (+) and deflator (-) ports.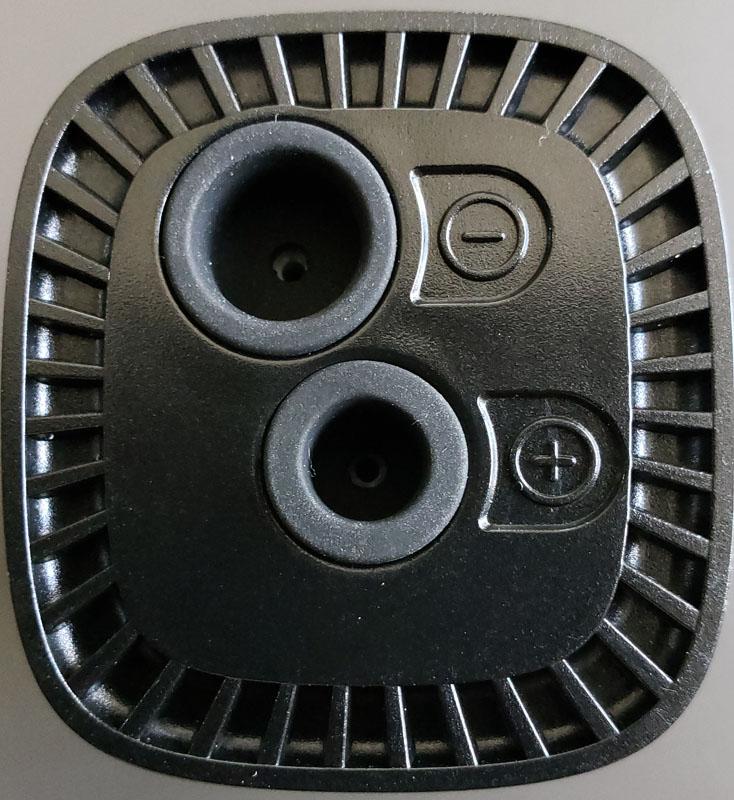 The included vacuum bag has a one-way valve in the center of the bag. The valve comes with a screw-on cap.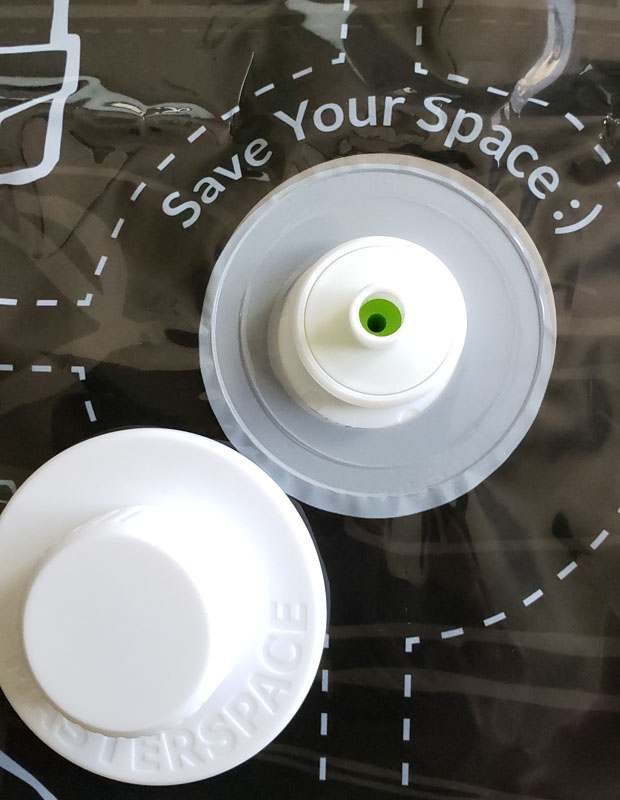 The bag is sealed with a dual-channel zip-loc style zipper. A clip-on tool that slides along the top makes closing the bag really simple.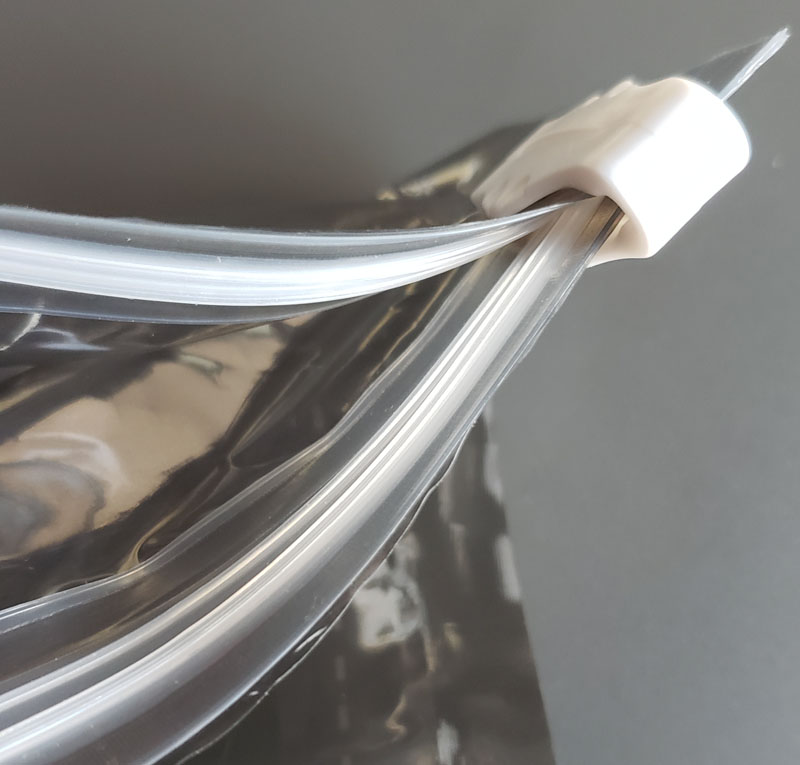 Performance
I ran into a problem immediately when I started testing the Pacum.  I grabbed one of my Samsung fast charge USB adaptors.  I read the back where the label confirmed it has a 5V/2A output that the Pacum needs.  I plugged it in and plugged the Pacum into the adaptor.  The LED turned white and I hit the inflator button.  The light turned off and nothing happened.  Then the light turned back on, but it still wouldn't power-up in any mode.  I tried four different Samsung USB power adaptors, all with 5V/2A output with no luck.  What to do?
I had a lightbulb moment and grabbed the MyCharge Unplugged10K wired/wireless charging pad that I reviewed back in April 2019.  It has two USB ports and has 5V/2A output. I plugged in the Pacum into the MyCharge and lo and behold, it worked! I wanted to reach out to Pacum tech support to get some input on the charger issue, but searching the included overview pamphlet, Kickstarter, Indiegogo, and Pacum.co, I couldn't find any link to tech support. At least I had a solution so let's move on to testing!
Deflation/vacuum
Here are two stacks of five polo shirts.  I didn't get the best capture below, but even after pushing down on the stacks, they were about five inches high.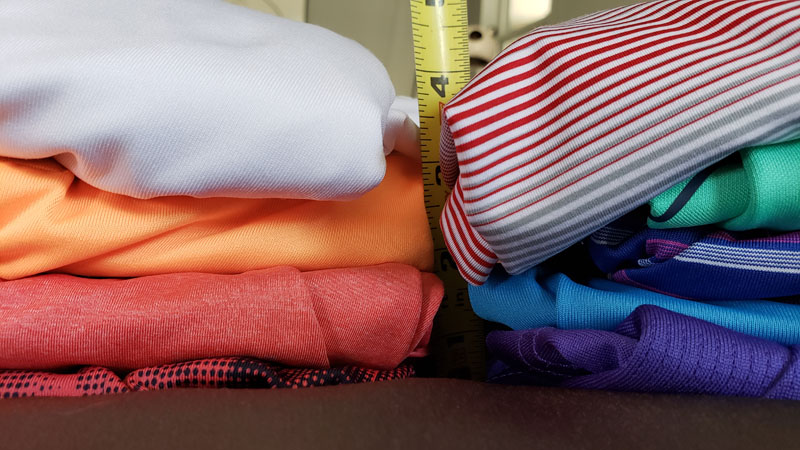 I stuffed the two stacks into the included Pacum bag. The bag was still about five inches high.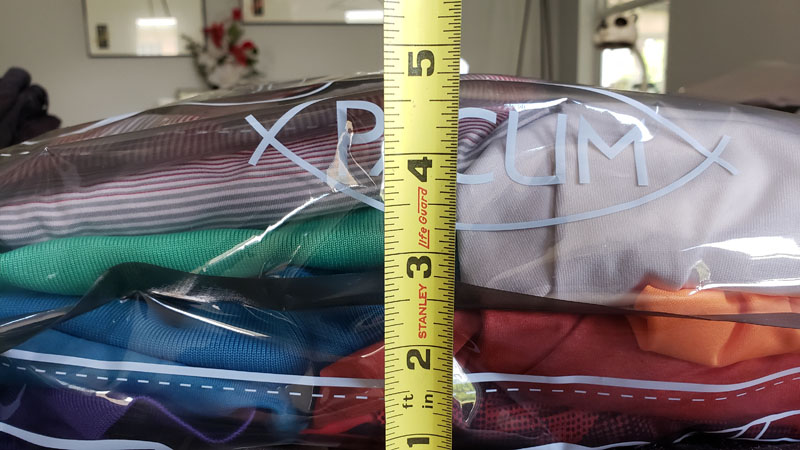 Once I zipped the bag shut, I plugged in the Pacum and let it go to town. On the Pacum bags, the Pacum attaches securely and doesn't require holding. If you use another bag and use the "padaptor", you will have to hold the Pacum in place while it is working.
Let's watch the actual deflation process.
As you can see in the video, the deflation process took just under a minute to complete.
And…our results?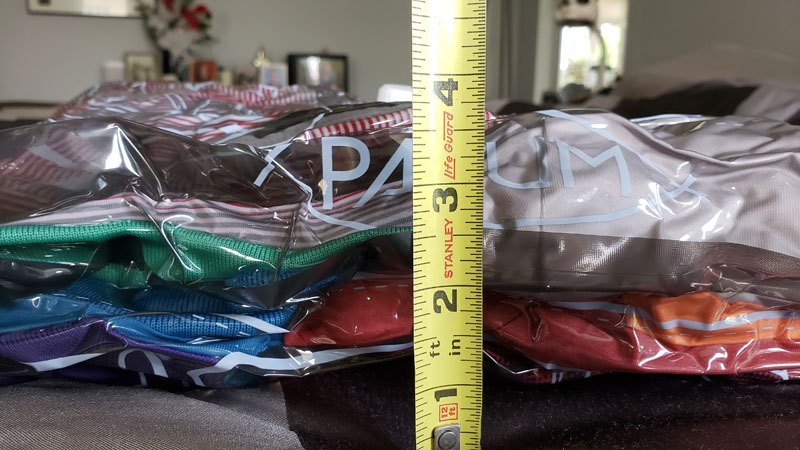 The bag is about an inch, or 20%, thinner than before. Overall, the bag was four inches or less in height.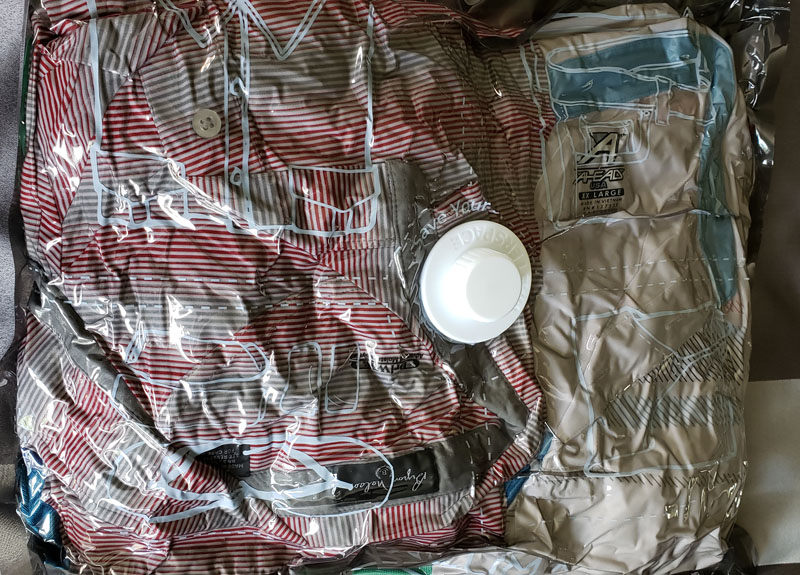 Everything was tightly compressed and the bag felt a bit like a solid brick.
Pacum claims to double your packing capacity.  I will argue that is a bit of a stretch, at least with my polo shirts.  Really fluffy sweaters or comforters?  Perhaps.  But t-shirts, shorts, underwear, socks?  Nope. Still, a 20% reduction could be significant if you're packing a larger suitcase.  Weight will become an issue before volume.
What happens when you need to open the bag up?
The bag opened easily and everything inside quickly reinflated to its original size and fluffiness.
Is this ultimately worth the trouble?  Let's see!
I recently learned the benefits of rolling clothes. This is now how I normally pack.  This packing cube contains the same ten shirts I used in the first test.  Before anyone yells that there are only nine, the pink shirt on the lower right is actually on top of another shirt.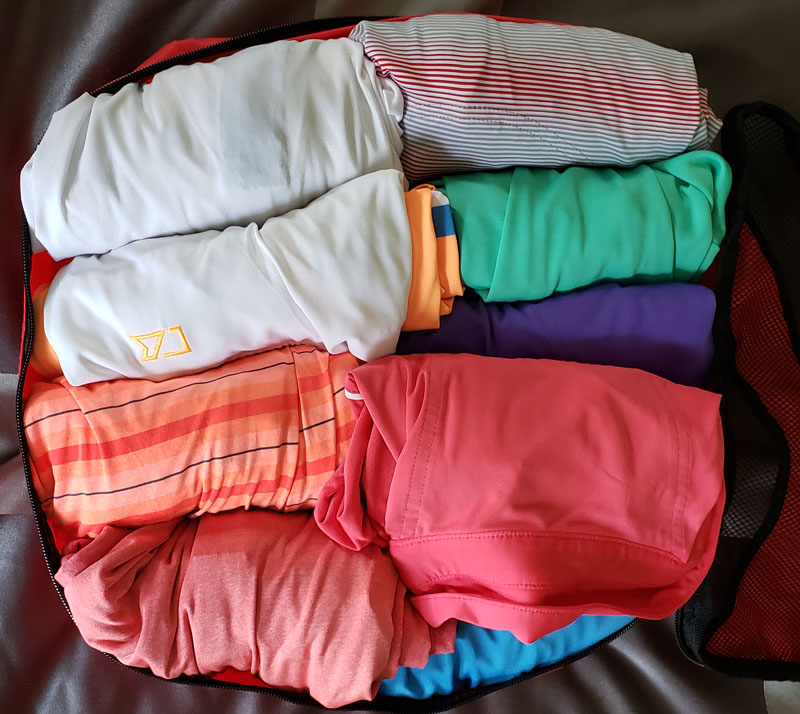 After zipping up the bag, I had a nice, compact package.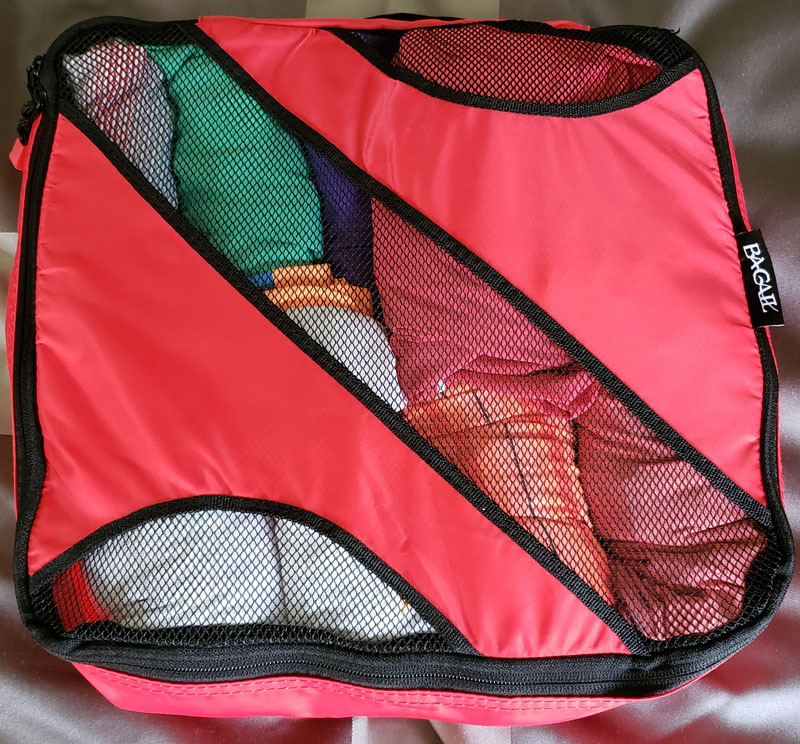 But, at its highest, where the two shirts were on top of each other, we're still pushing about five inches.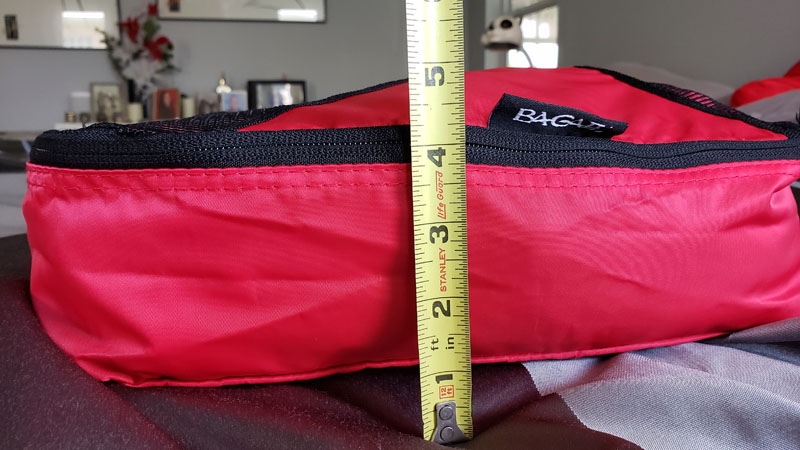 Still, the rest of the bag is only about four inches or about the same size as the compressed bag.
Hey – I've got an idea!  Let's throw the packing bag into the Pacum bag and see if we can get any gains.
And…we do!  The tallest portion of the bag was just over four inches, with a lot of the bag closer to three and a half inches.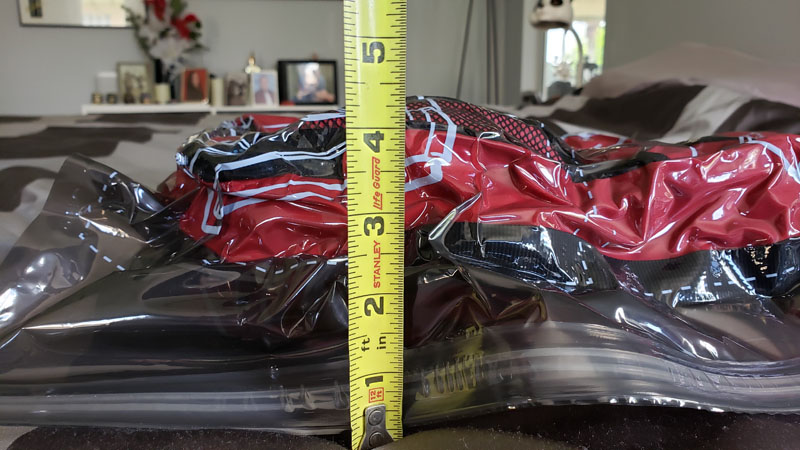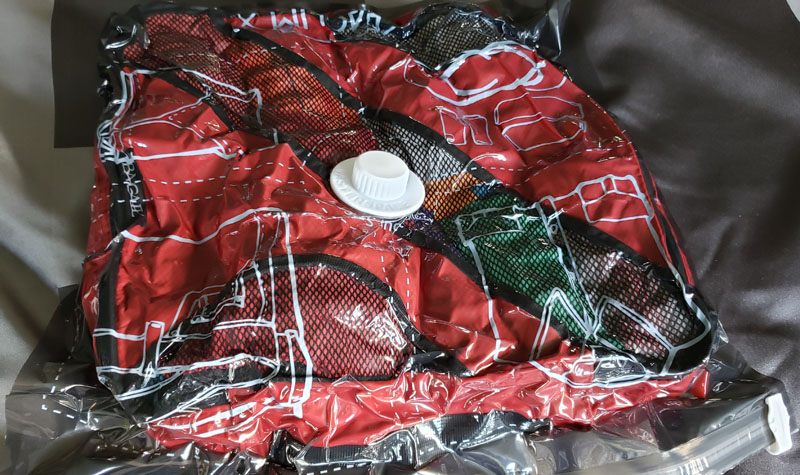 Again, the bag felt like a brick – almost completely solid with no spare wiggle room.
And, like before, opening it was easy and everything reinflated immediately.
Beyond packing, Pacum can also deflate food vacuum storage bags and with the included "padaptor", supports all current vacuum storage bags. For home storage, I can see a real benefit if you regularly store seasonal clothes like sweaters or seasonal bedding like comforters. Those items are typically very thick and would compress even more than the clothes I tested with. This would really save storage space as well as keeping those items dust and odor free in the offseason.
Inflation
The Pacum device is also an inflator. With two sizes of inflation tips plus a sports ball needle, it is pretty versatile from a design standpoint.  To see if it has the guts to actually blow up something, I grabbed a prop I had from a murder/mystery dinner where I was cast as a lifeguard.  I bought an inflatable lifeguard rescue can.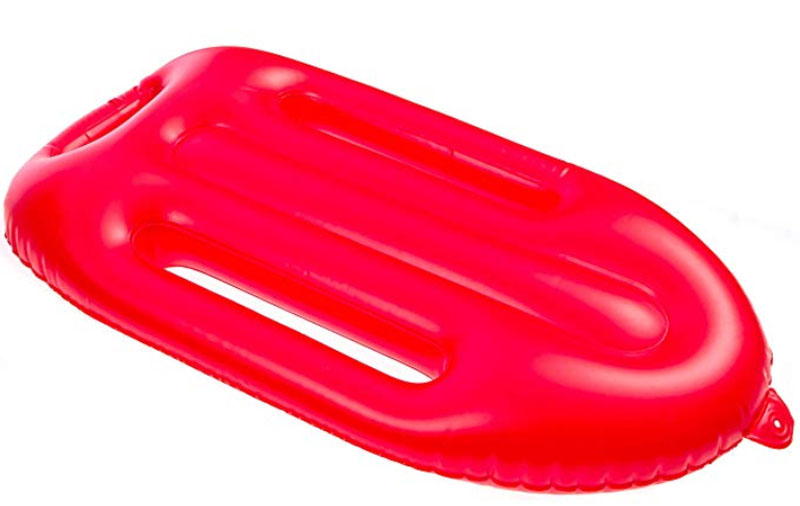 If you're picturing me with it, running in slow motion, for your own well being, stop. Just stop.
The can is about 27″ long, 13″ wide and a couple of inches thick, give or take when inflated.  I hooked up the thin inflator tip, stuck it onto the inflation valve on the can and let it rip (not meant to be a current joke).
It took about two minutes, which I thought was more than acceptable. Based on the Pacum's performance, I have no problem imagining it being able to inflate sports balls and even smaller pool floats. While the inflator tips are too small to fit in the deflator port on the Pacum, I held the narrow inflator tip in place in the deflator port and pinched the valve on the rescue can. Pacum deflated the rescue can in a little over 90 seconds and it was a lot easier than trying to roll the air out while pinching the valve.
What I like
Small size – packs easily
Powerful vacuum
At one minute to evacuate the air from a large bag, it is really quick
Nice accessory pack to support other vacuum bags and also various inflation tasks
The included bag is well made and seals very well
Airflow volume for inflation is more than adequate for smaller inflation tasks
What I'd change
I would like this to work with a regular USB power adapter that is rated for 5V/2A
If there is product support, I would publicize how to reach support
Make the Pacum bags available for sale – they are only available as part of a Pacum bundle
Final thoughts
I'm a pretty adept packer.  I recently went on a five-day cruise with only my backpack and a carry-on bag.  Pretty impressive when you consider that beyond shirts, t-shirt, shorts, underwear, and swimsuit, I also brought a full tuxedo, tuxedo shirt, bow tie, and dress shoes. I regularly roll my clothes and use packing cubes and that has worked pretty well for me.
Having said that, shoes are a problem.  I have size 11 feet – not huge, but sneakers and dress shoes are not small items. My thought is that with a couple more packing bags, after rolling and cube-packing my clothes, vacuum bagging those cubes will buy me enough space so that I can fit my shoes in the same suitcase. And, since the Pacum is tiny, it will also find a spot in my suitcase as well. When pairing it with the MyCharge battery pack, it is a truly portable solution.
Price: $36 as tested, $47 with five additional bags
Where to buy: Pacum's Indiegogo site
Source: The sample of this product was provided by Pacum.