We use affiliate links. If you buy something through the links on this page, we may earn a commission at no cost to you. Learn more.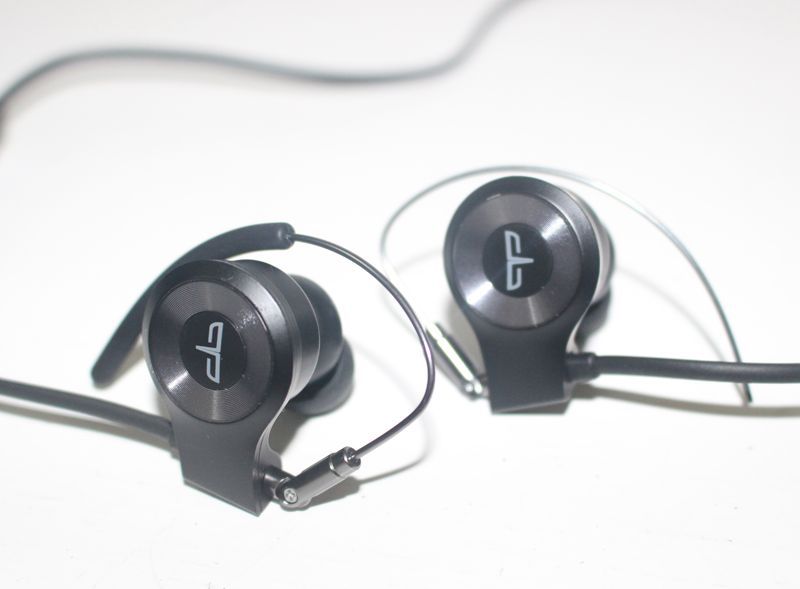 REVIEW – The world of Bluetooth headphones/headsets/earphones is wide and varied, and grows every day.  Every shape and size conceivable is out there, to fit every lifestyle and circumstance.  I myself own just about every kind you can imagine… wireless earbuds, wired earbuds, over the ears, in the ears, around the back of the head, waterproof, not waterproof, and on and on.  Just about every pair I have ever owned has something that I like and something that I don't like.  Enter the $99 Origem HS-3 HDR Bluetooth Smart earphones, fresh off a Kickstarter campaign.  It has some nice features that are worth considering, and 1 feature that is a game changer.  Let's find out what it is!
What is it?
Bluetooth earphones that provide an over-the-ear fit, 6 hours of playtime, IPX5 waterproof ability, and built-in voice control.
What's in the box?
A padded zipper case to hold everything.
A Micro-USB cable for charging
Extra sets of earbuds to fit any size ear
The Origem HS-3 HDR Bluetooth earphones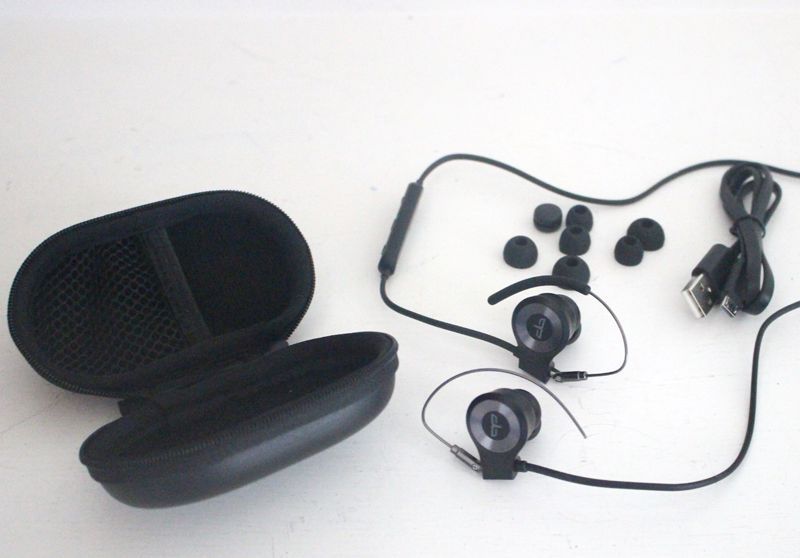 Here are the specs from the manufacturer:
They are rated "IPX5 waterproof", for intense exercise and bad weather, but can't be submerged in water.
They have built-in fast charging and can be charged in 30 minutes to provide 6 hours of listening time.
They come with multiple sized earbuds to fit most ears.
Each ear piece has hinged earhooks to provide a secure fit.
It comes with Bluetooth 5.0
HDR (high dynamic range) algorithm detects the sound pressure of the listening environment and volume of the sound to dynamically adjust loudness for all different frequency levels.
Built-in voice recognition provides no-hands control of the music and voice calls.
In-line controls provide physical touch controls.
Design and features
As mentioned in the specs above, there are some features that you might come to expect from a $99 headset.  IPX5 will allow you to have a heavy workout, in the rain, and keep on ticking.  6 hours of playtime, coupled with a 30 minute charge time, will keep you happy almost all day.  Multiple sized earbuds will mean every sized ear should be happy.  And an in-line physical button control is what most Bluetooth earphones have these days.
But now for the big differences.  The design of a hinged hook that goes over the top of your ear and rests snuggly behind it means that these earphones will never fall out, no matter what you are doing.  I have always hated those earbuds that you have to basically suction into your ears to keep them from falling out.  They always fall out.  But the Origem HS-3s will not.  No amount of running, rolling, jumping, shaking, etc, is going to dislodge these.  And honestly, after a short time you forget you have them on.  As you can see by the pictures, the wire that goes behind your ear has a cushioned covering on it to make for an even more comfortable fit.  Unfortunately, one of my earphones lost that cushioned covering at some point, and I never noticed it.  I still have no idea what happened because they are either on my ears or in the zippered case.  But anyway, even without the cushioned covering for my left earphone, I still think they are comfortable.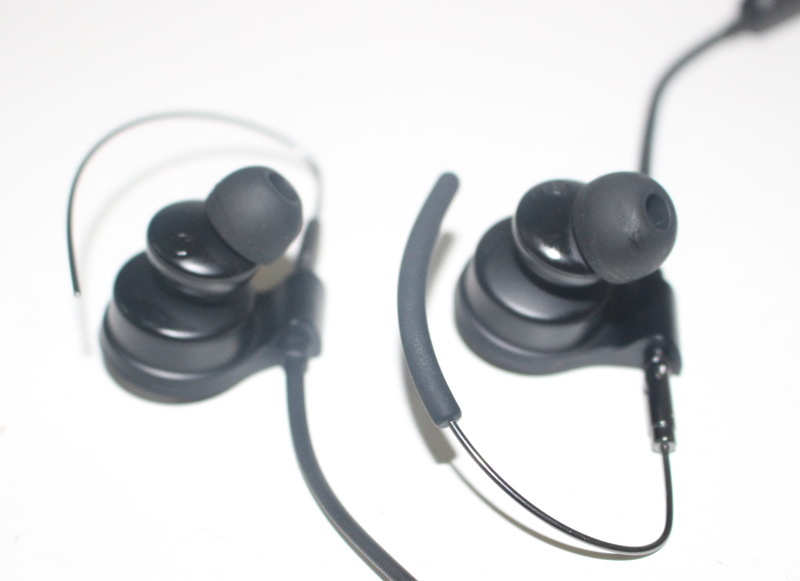 The second feature worth mentioning is the HDR sound.  I have come to expect crappy/so-so sound from most earphones/earbuds.  But I do think that the HDR feature actually works.  The sound I get through these earphones is very full.  I can hear very good highs and mid-tones.  You won't get a very deep, rich, bass sound, but it isn't bad at all.  I would call the sound just 'very full'.  I can say that apart from my collection of more expensive headphones that have big cushions that completely cover my ears, these are the best earphones that I own, hands down.
Finally, the feature that is a game changer, in my opinion, is the built-in voice control, which is a feature I don't have on any other headset/earphones that I own.  When a phone call is coming in you can simply say "Answer call" or "Reject call" and your phone responds accordingly.  When music is playing you can simply say "Play music" or "Pause Music" or "Next song" or "Previous song", without ever touching the in-line physical controls.  You can even say "Hello VoiceQ" and your phone's assistant (Google or Siri) will come to attention and provide you all the voice control features that those services provide.  And it works flawlessly every time I use it.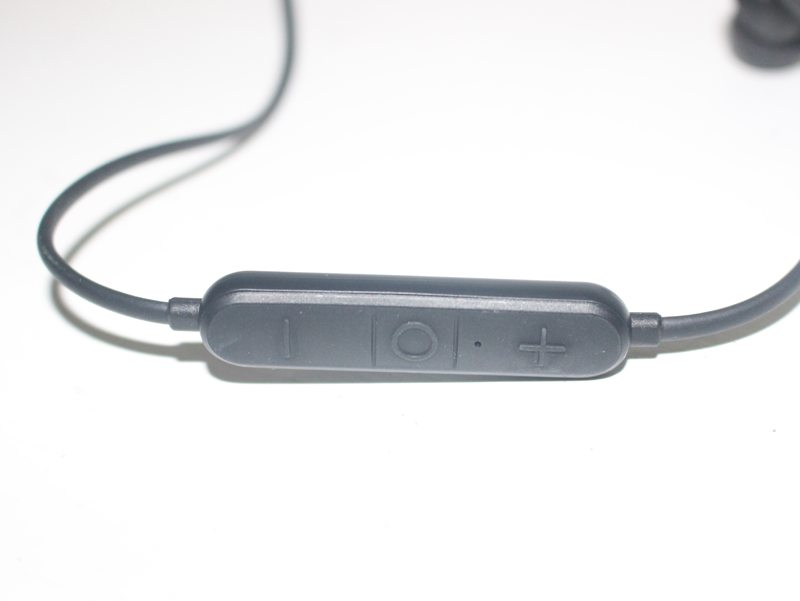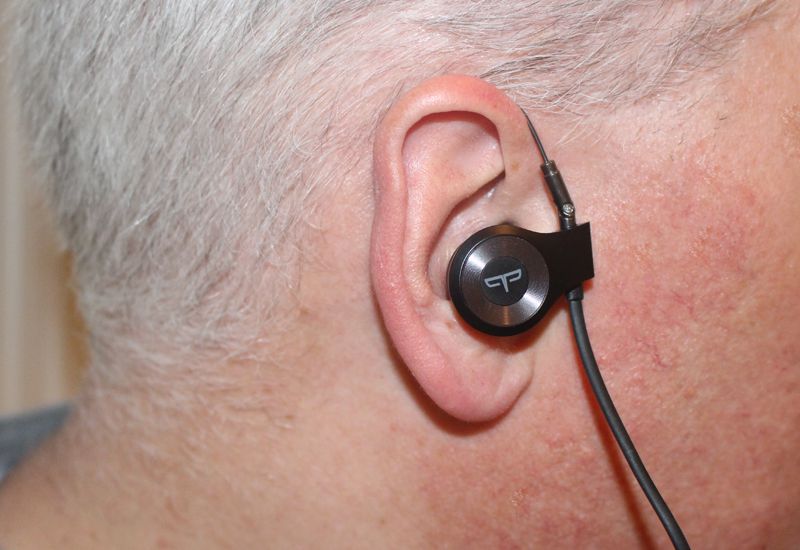 Now, before you object and say "But Steve, my Plantronics headset can do that!", let me tell you more.  I used to own that Plantronics headset and used it daily before it died.  And yes, I could use hands-free voice controls through it as well, and answer and reject calls as well.  But here is the difference.  My Android phone's screen has to be on before my phone will respond to direct voice commands to do something.  You know… "Hey Google".  With the Origem HS-3 my phone can be sitting there with the screen completely off and I can tell the Origem "Hello VoiceQ" and it will awaken my phone so that it is ready to accept whatever voice command I give it. And it is over Bluetooth, which means I don't have to be sitting right beside my phone to do it either.  I can be across the room.  I am telling you, this is a feature that other headsets are going to want to incorporate into their products because it makes life easier.  I have used it to initiate phone calls, start my music, set calendar items, ask for a ballgame score, ask about the weather, and many more things.
What I like
Great comfortable, stay-put, fit
Great overall sound quality
Amazing voice controls
Great price for the value you get
What needs to be improved
The zippered pouch is a little too cramped
The cushion on the wire that goes behind the ear needs to be more securely fashioned.  It can slide off too easily.
Final thoughts
The price of $99 for these earphones is well worth the price.  My dislikes are petty as well.  I wish the zipper cushioned case was slightly bigger because putting the HS-3s into the case is a bit cramped, and it takes a hot minute to unscramble the wires when you take them out.  I also wish the cushioned covering on the wire behind the ear was a bit tighter, which could have prevented me from letting one of them slip off undetected.  But those are minor squabbles.  I highly recommend these for the person who wants great sounding, great fitting, and highly useful earphones.
Price: $99.00
Where to buy: Origem.com or Amazon.
Source: The sample of this product was provided by Origem.