We use affiliate links. If you buy something through the links on this page, we may earn a commission at no cost to you. Learn more.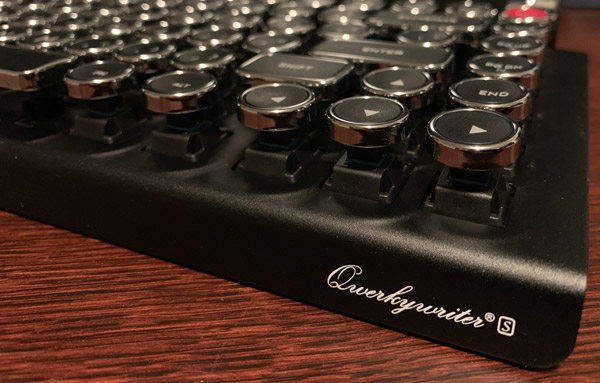 REVIEW – As I'm sure the Gadgeteer Kid, my wife, and many friends & family would attest to, I'm pretty old school. While I do love tech-toys and modern conveniences, I could easily see myself living in past decades. So when I came across the Qwerkywriter S, it definitely caught my attention. I've been wanting to try a wireless mechanical keyboard paired with my iPad Pro for a while now and the Qwerkywriter S's Ernest Hemingway vibe pushed me past the line to give it a try.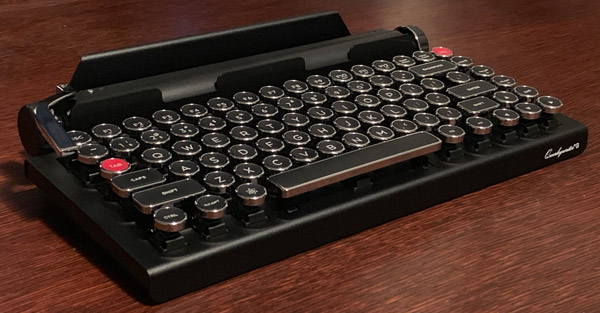 What is it?
The Qwerkywriter S from Qwerkytoys is a typewriter-inspired wireless mechanical keyboard with an excellent last century, retro look and feel to it. Its design aesthetics are meant to emulate a pre-electric typewriter from way back in the day. The Qwerkywriter S is a second generation device with a multitude of improvements/refinements over the original.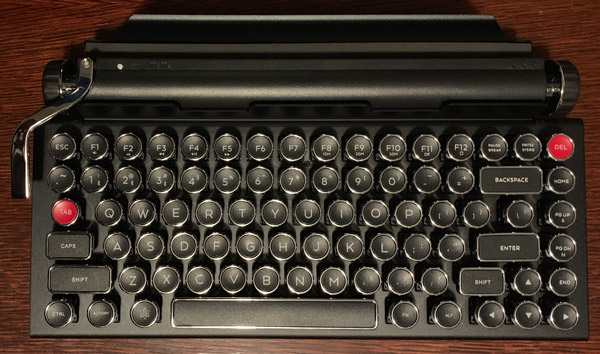 Design and features
The Qwerkywriter S is very well constructed from solid materials with a hardy utilitarian, World War II design to it. But don't let looks fool you, this keyboard has all of the functions and capabilities as any modern counterpart. The Qwerkywriter S isn't what I would consider a full-sized typewriter but its key spacing/layout isn't any smaller than the average laptop keyboard either. The Qwerkywriter S has a pretty standard layout with letter keys, modifiers, number row, and function row. The right side has additional keys including page up/down, home, and the arrow keys.

The main body of the Qwerkywriter is made from a relatively thick, aluminum giving the keyboard a great heft to it. The aluminum chassis has a scratch resistant matte coating applied to it. To contrast its black matte finish, the keys and other hardware have bright, shiny chrome accents. The keyboard is approximately 13″ x 7″ x 2.5″ and weighs in at just under 3 lbs.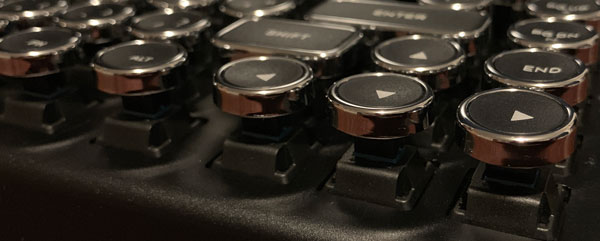 The keys are made from a hard black plastic with each symbol stenciled onto their tops. The mechanical keys are Cherry™ MX "clicky" switches for that "ultimate tactile feedback" and sound experience. I think the click sound these mechanical switches produce is cool/endearing but my wife did point out how much the "noise" irritated her when she was within earshot.

The key travel seems like miles compared to my 12″ MacBook butterfly mechanisms and does take a while to get use to. The phase…"hunting and pecking" does come to mind. When compared to my Apple wireless keyboard, the Qwerkywriter S does take up more space/volume of my desk but its weight and design keeps it from sliding around my workspace which my Apple one does often.

As I said, the Qwerkywriter S has most, if not all the modern day features and functions of any other wireless keyboards currently on the market. The Qwerkywriter S has multi device wireless connectivity enabling you to pair it to three devices at one time. Allowing you to quickly and easily swap between devices. In addition to wireless connectivity, the Qwerkywriter S has the ability to direct connect via microUSB cable.

The Qwerkywriter S has a tray built into the back where you would have inserted a sheet of paper into the rollers of a real typewriter back in the day.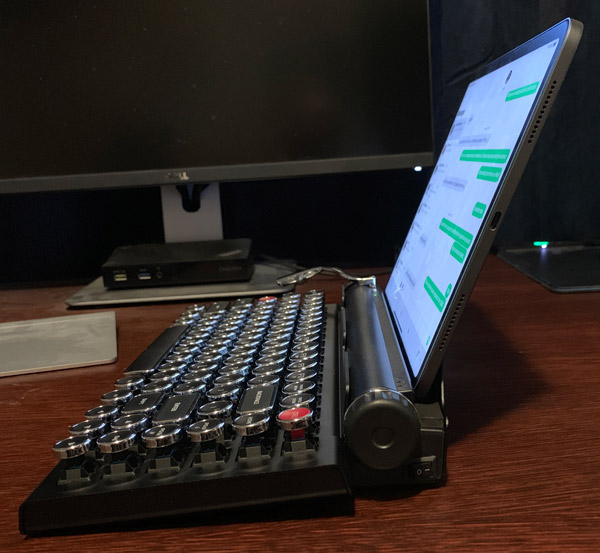 The slot is designed to be a tablet stand and does an excellent job of holding my iPad Pro securely in place. The slot has a thick rubber-like foam on the bottom to protect the sides of your tablet. That said, I would suggest Qwerktoys coat the backrest with some soft material to prevent the metal from scratching your back of whatever device it's supporting.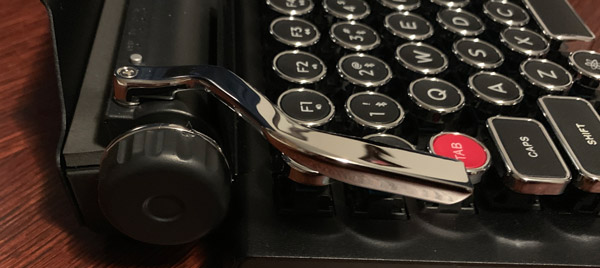 Qwerkytoys has engineered a programmable macro key that you really can't miss…the large, chrome Return bar. The carriage return lever comes preprogramed as the Enter function but I found myself using the standard Enter key on the right side of the keyboard 99% of the time.
The Qwerkywriter S has dual function scroll knobs that control volume on the left knob and mouse scroll on the right knob.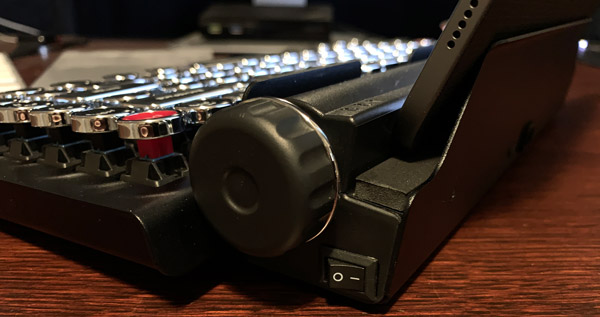 The power button is located on the back, rear right side on the keyboard.

The keyboard is recharged via a microUSB port. There is a 1,000mAh internal battery that Qwerkytoys promises keeps the Qwerkywriter operational on Bluetooth for approximately a month. In addition to Bluetooth, you can physically connect the USB cable directly to your computer which enables you to type and charge the Qwerkywriter S concurrently.
What I like
Excellent build and material quality
Heavy, does not slide around your desk
Classic key clicking sound
Programmable macro keys
Great old world vibe
What needs to be improved
Expensive
Backrest could scratch your tablet
Classic key clicking sound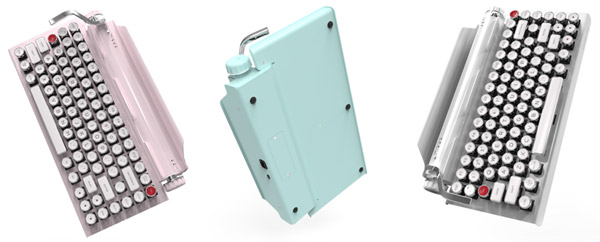 The Qwerkywriter S is available with US, UK, German (QWERTZ), French (AZERTY), Italian, Nordic, and Spanish key layouts. In addition to a variety of keyboard layouts, Qwerkytoys has recently announced that the Qwerkywriter S will also be available in Pink, Mint, and White.
Qwerkywriter S is compatible with iOS, macOS, Android, and Windows and comes with a one year warranty.
Final thoughts
I grant you the Qwerkywriter S is a bit of a niche device with a look, feel, and sound experience all its own. Its novelty and aesthetics might be lost on many in today's modern world but I find it a definite keeper. I love its manual Remington typewriter, Ernest Hemingway vibe. Its built-in tablet stand makes it an excellent iPad Pro, stay on your desk wireless keyboard. I'm not sure just how much I'll actually use it with my MacBook, but I will be putting it on display as desk-art and conversation piece when not paired up with my tablet.
Price: $259.99
Where to buy: The Qwerkywriter S is available on Amazon or directly from Qwerkytoys.
Source: The sample of this product was provided by Qwerkytoys.