We use affiliate links. If you buy something through the links on this page, we may earn a commission at no cost to you. Learn more.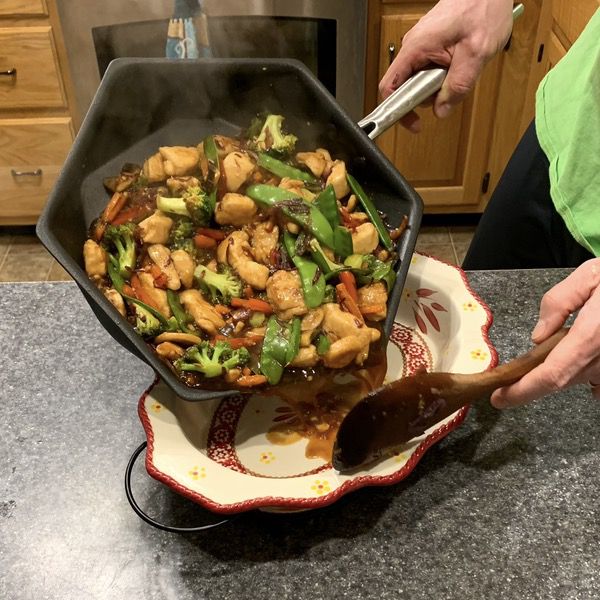 REVIEW – The award-winning designers at Edge of Belgravia are at it again. But this time we're not looking at knives… we're looking at cookware! The Stingray nonstick pan is kicking off a new kickstarter campaign this week. I got a pre-launch sample to see if it's more than just sharp looks. How did it perform in the kitchen? Let's cook!
What is it
It's a nonstick frying pan.
Hardware specs
19.25″ long by 12.25″ wide by 2.5″ deep.
2 pounds, 14 ounces.
Aircraft grade aluminum construction.
New ILAG nonstick surface.
FDA tested non-toxic and PFOA free.
Induction range compatible.
Oven safe to 480 degrees fahrenheit.
Design and features
I reviewed the Edge of Belgravia Gallatine knife set and Black Diamond knife block last year, and loved the combination of avant-garde design and performance. They're still my day-to-day weapons of choice. The Stingray is the company's first foray into other cooking products, carrying through their unique design language in a frying pan design.
The hexagonal design of the Stingray just looks incredible. The "Stingray" moniker comes from the unique shape coupled with the contoured handle, that vaguely resembles the sea beastie that we all know and love.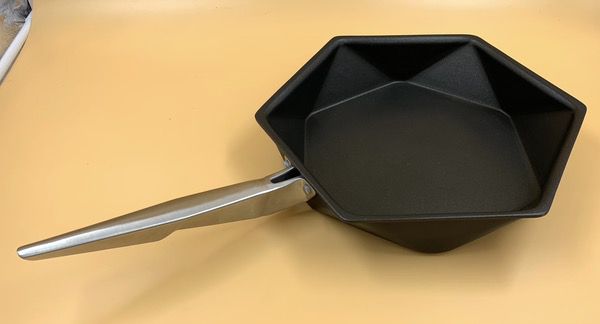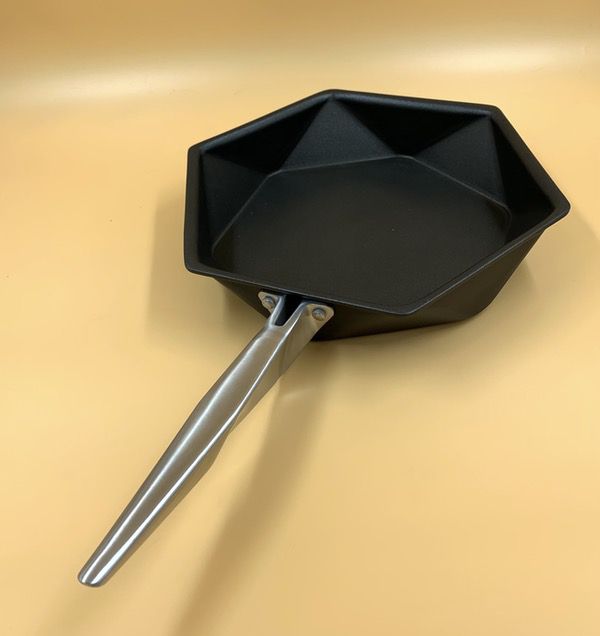 But there's more than pretty looks behind the design of this pan. Heavy-duty aluminum is the primary material. It's got the stability and thickness of cast iron, but weighs in at just under three pounds. A diffuser on the base promotes even heating and is compatible with induction cooktops.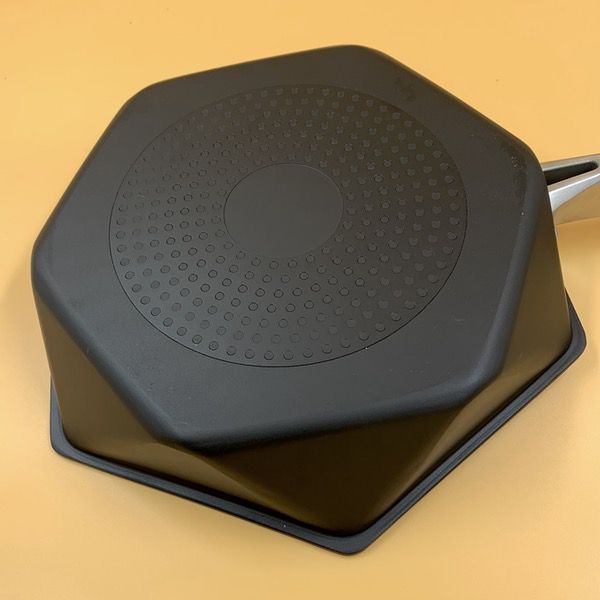 The handle has a nice contoured grip that makes for comfortable maneuvering when put to task. Notice that the angle of the handle keeps your knuckles from brushing against the stove top, and the 9″ length gives you plenty of room to keep your digits safe from the heat.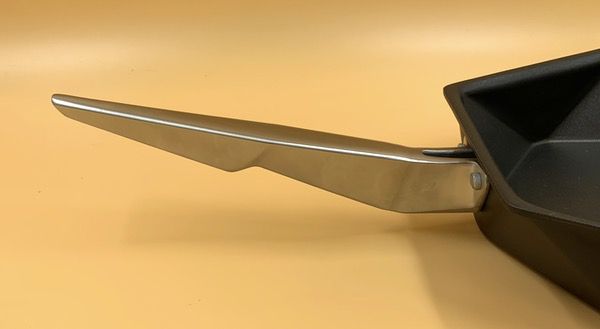 A pair of bolts connect the handle to the pan, and there's no wiggle to be found in the grip. The construction is rock-solid.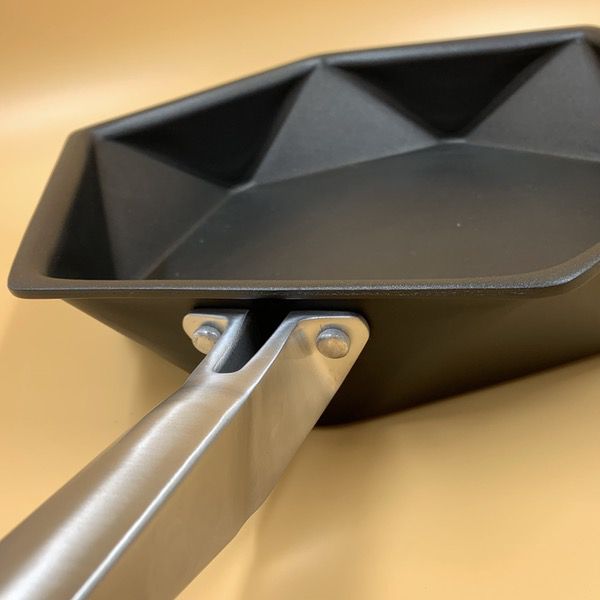 To put the pan to the test, I decided that stir-fry was the way to go. The thick walls of the pan do a great job of absorbing & retaining heat, which is essential for stir-fry. I started with browning some chicken. The hexagonal shape is perfect for that fancy flipping maneuver that makes your guests say "oooh!" I was also able to get a nice sear on the chicken. Check out the action shot below.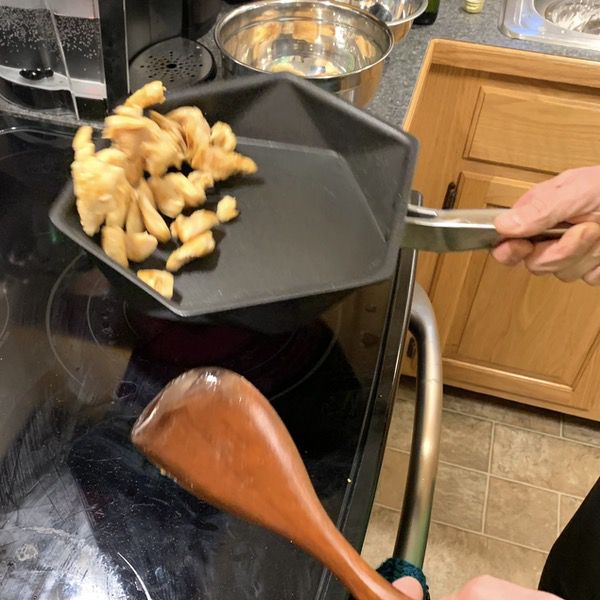 The pan is coated with a new nonstick formula that is reportedly provides better durability and will last longer than traditional nonstick coatings. After browning my chicken, I was able to get nice even searing on the veggies with just a touch of cooking oil for flavor.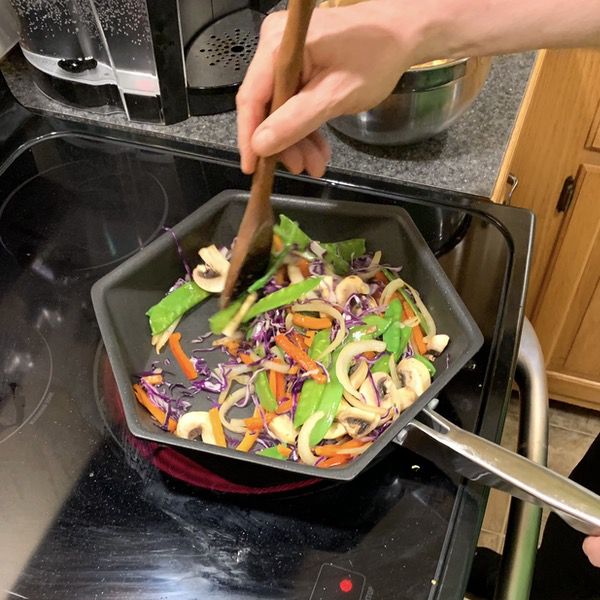 With a 2.5″ pan depth, this pan is great for both frying and simmering tasks. I added all my ingredients back in the pan along with a sauce to simmer for a few minutes. There's 1.5 pounds of chicken in there, a whole bunch of vegetables, and a cup of the sauce liquid. I've got a meal for 6 in one pan.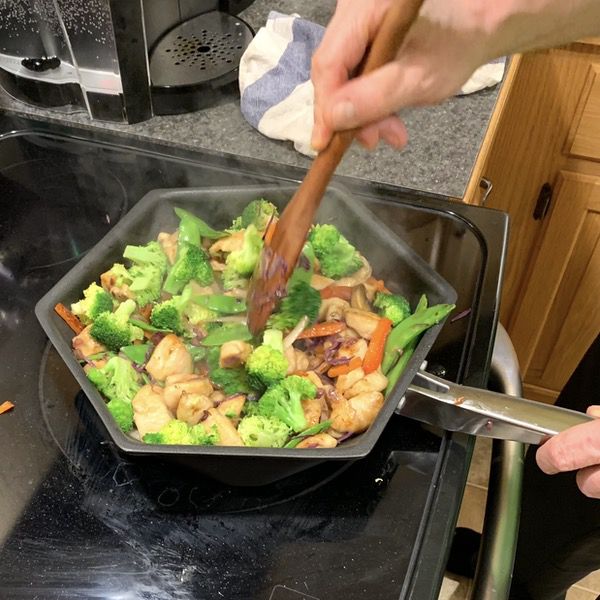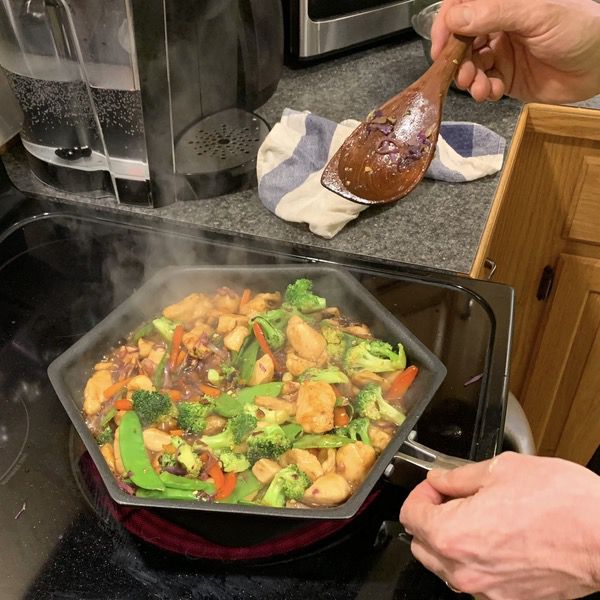 Once the cooking is complete, that hexagonal shape is ideal for pouring out your masterpiece. Check out how the corners help me control things when I am pouring out the contents of the pan. I have a LOT of stuff in there, and nothing is leaking out onto my counter.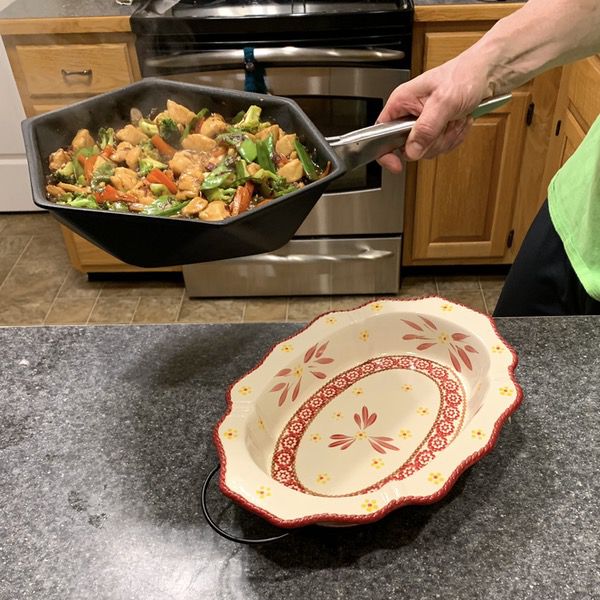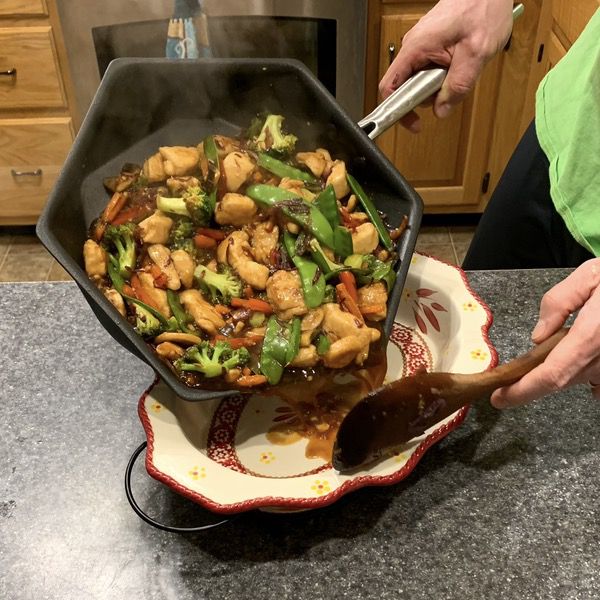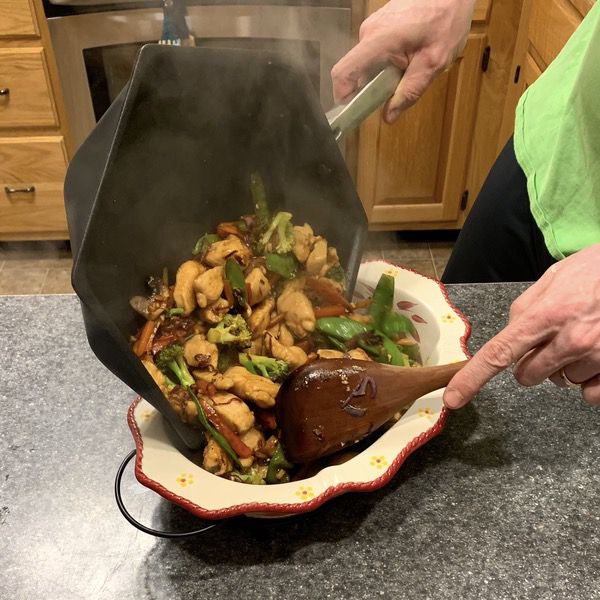 The finished product, ready to serve: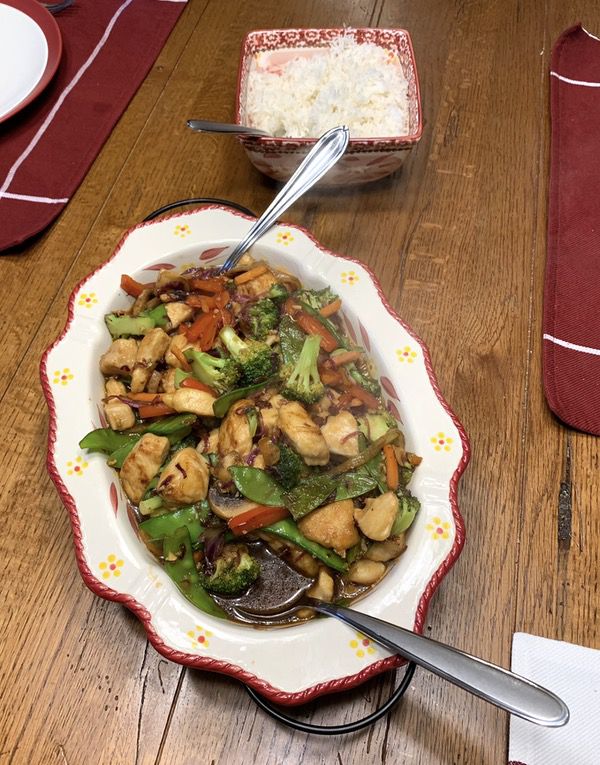 I'm liking the way the pan retains a consistent heat without the heft of a cast iron skillet. Check out the close-up. We've got some nice searing going on.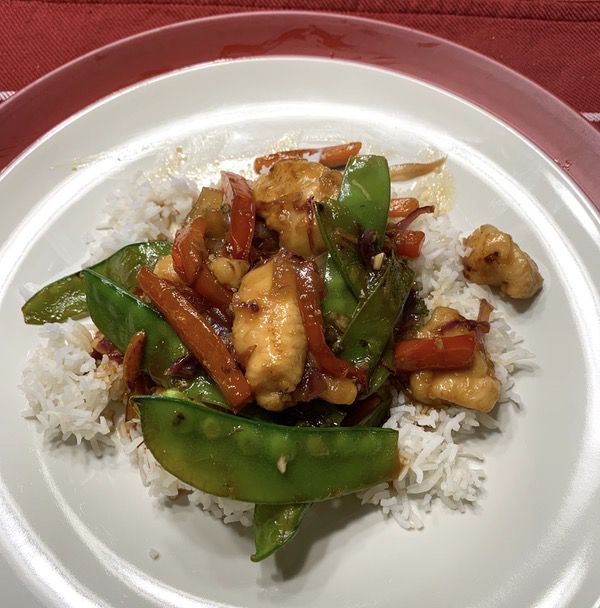 We'll have to see how the nonstick surface holds up to long-term use, but I am pretty impressed with what I am seeing so far. It looks pretty tough in my brief test under higher heat, and cleans up well, and leaves no marks or residue on the pan. Edge of Belgravia states that the pan can handle up to 480 degrees in the oven, a temperature that will destroy many nonstick surfaces. We'll see how that lasts in extended testing.
There are a few things I did find in my testing that you should be aware of. That abrupt vertical angle on the sidewalls is great for simmering and pouring out liquids, but I haven't tested it on dispensing large flat items (like omelets) yet. I think it should do the job well. The handle can also get warm at higher heats, closer to the contact point with the pan. It does stay cool at the far end of the handle. I think a matching lid for this piece would also be an excellent addition. I used a round lid to steam some broccoli for this dish, but the mismatching shape does cause liquids to condense and dribble down the sides. Maybe we will see that in the future.
What I like
Hefty, yet well balanced for handling
Great handle design
Durable, with an excellent nonstick surface
Hexagon shape aids with flipping and pouring
What needs to be improved
Handle can get warm neat the contact point with the pan at higher heats.
Would like to see a matching lid for steaming and simmering.
Final thoughts
I'm really liking this pan, and have used it several times already for routine cooking tasks. It does a great job of retaining heat and even heat distribution, even on my old glass cooktop. It's very maneuverable compared to cast iron, and that lighter weight combined with a great handle design makes for confident cooking. The nonstick surface looks to be a winner, too.
The Edge of Belgravia Stingray Kickstarter fires up this week. The pan will be offered in 8″, 10″ and 12″ sizes with a starting pledge of about $60 for the 8″ model. You can choose from a variety of packages and combinations from there. The Kickstarter ends on April 30, with a planned delivery date of November 2019. Check out the link below to learn more!
Update 8/24/20
Bad news to report on this one. I'm already seeing scratches in the nonstick surface, despite trying to be really careful with it. You'll see that eventually with any nonstick pan, but I didn't expect that so soon here given the hype around the high-tech surface. That's a super bummer.
Price: Starting pledge of about $60 US.
Where to buy: Go to the Edge of Belgravia Kickstarter page.
Source: The sample of this product was provided by Edge of Belgravia.