We use affiliate links. If you buy something through the links on this page, we may earn a commission at no cost to you. Learn more.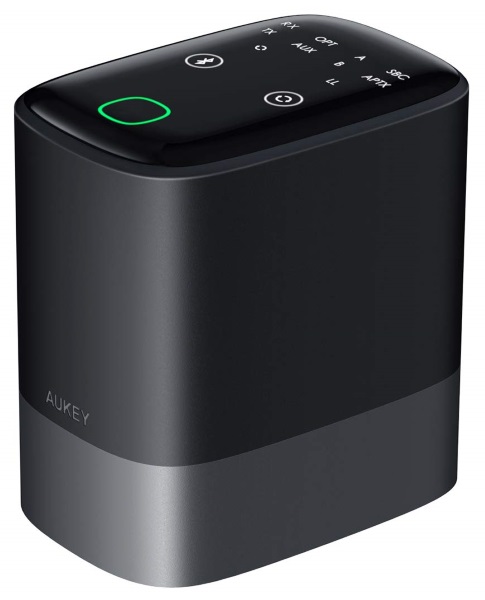 REVIEW – Bluetooth connectivity has been around long enough now that I have been spoiled by it and simply refuse to consider portable audio devices that do not include this feature and I even look for it as an included feature in some non-portable components. None of the televisions in my home have built-in Bluetooth, but I figure that it would be great to use my Bluetooth headphones and watch TV in the living room while being able to ignore the kids as they engage in activities that I am now convinced are designed to blow my eardrums and make my head spin!! LOL!! The Aukey Bluetooth 5.0 Transmitter Receiver seems like it could be the answer for me and finally an opportunity to score one win in the dad vs kids duel.
What is it?
The AUKEY Bluetooth 5.0 Transmitter Receiver provides dual-mode connectivity for devices lacking built-in Bluetooth. It offers a connectivity range of up to 50m/164', and it features the aptX Low Latency codec to ensure high-quality wireless sound and synchronized audio and video for gaming and watching movies. It also features a touch control display to control functions and to display the connection status and audio codec used. There are also two slide switches on one side to select the operational mode and function.
What's in the box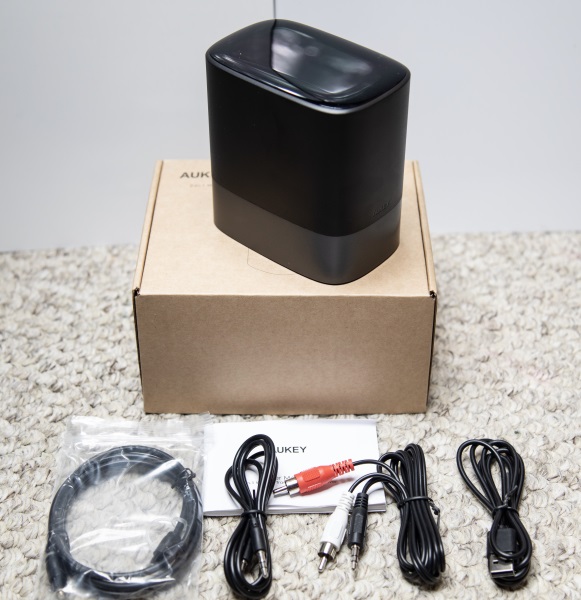 1 x AUKEY BR-O8 2-in-1 Wireless Transmitter and Receiver
1 x Micro-USB Cable
1 x 3.5mm Audio Cable
1 x 3.5mm to RCA Audio Cable
1 x Toslink Optical Cable
1 x User Manual
Design and features
Specifications
Model Number: BR-O8
Technology: BT 5, aptX, aptX-LL
Frequency Range: 2.402GHz – 2.480GHz
Input: DC 5V
Operating Range: Up to 50m / 164ft
Dimensions: 113 x 110 x 73mm / 4.45" x 4.33" x 2.87"
Weight: 300g / 10.58oz
Features
Bluetooth 5 Technology:
The latest Bluetooth 5 greatly increases the connection range (up to 50m/164ft). Higher bandwidth enables faster pairing and better audio quality for compatible devices.
Low Latency Audio:
aptX Low Latency codec avoids sound sync issues when watching movies or playing games.
Dual-Device Connection:
Simultaneously connect two pairs of Bluetooth headphones. Share your favorite TV series or play a game with a friend or a family member.
Transmitter Mode:
Wirelessly broadcast audio from your non-Bluetooth TV or computer to your Bluetooth headphones, headset or speakers.
Receiver Mode:
Wirelessly broadcast audio from your smartphone to your non-Bluetooth speaker or home stereo system.
Bypass Mode:
Switch to a pure cable connection between two adjacent or non-Bluetooth devices without unplugging from the BR-O8.
On the back of this device, there are 2 slide switches. the top one allows you to power on in Bluetooth mode or in Bypass mode. The second switches the device to either Transmit or Receive mode.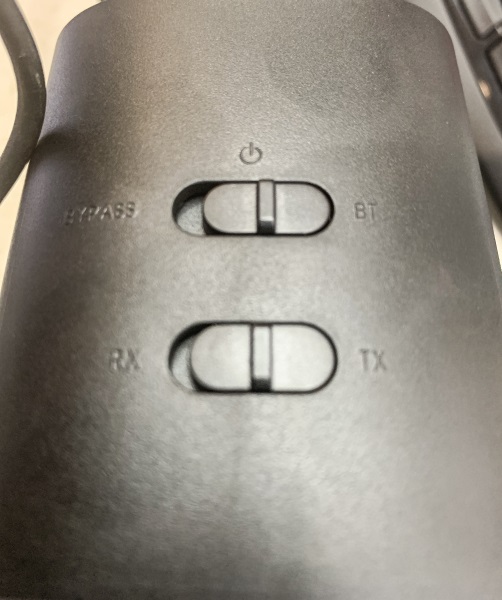 At the bottom of the device, there are the connectivity ports that include a DC in power port, an RX Output 3.5mm port, a TX Input 3.5mm port and one Optical port each for Transmit and Receive connections.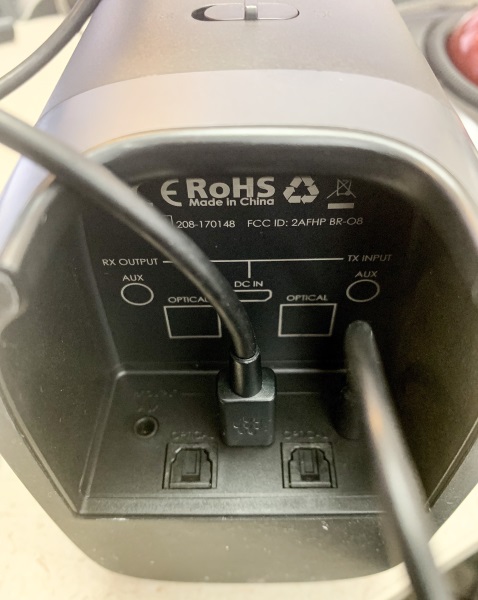 The illustrations below show the functionality, connectivity, and operational options.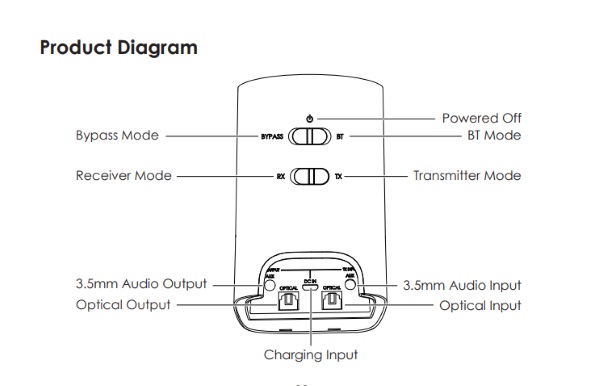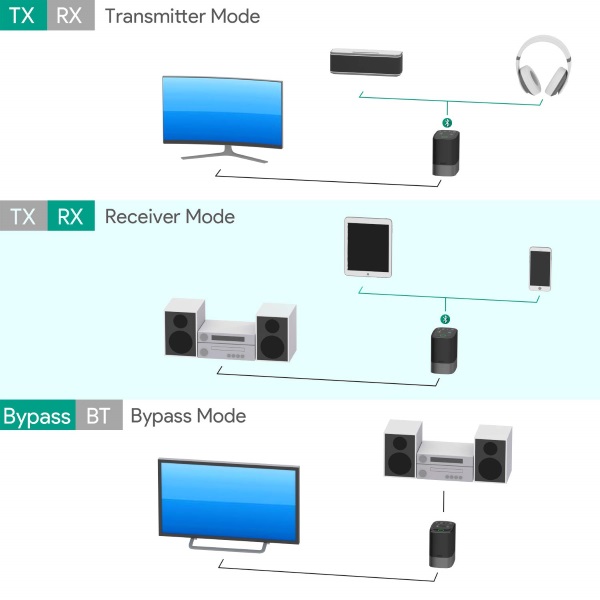 Performance
This Bluetooth 5.0 Transmitter Receiver is very easy to use. Right out of the box it is plug-n-play ready. Pairing with one or two devices is quite easy and I did not experience any issues using it in either Transmitter or Receiver mode. The diagram below lists the indicators and the meaning of each.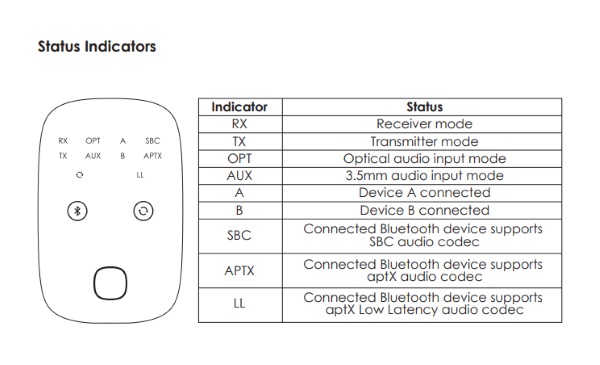 Connecting using Bluetooth is very simple and the instructions are clear and accurate. The touch screen at the top of the device displays the mode of operation (TX/RX), the type of connection and the audio mode. The circular button shown on the bottom right of the touch screen is the selector button that you use to switch connection types. For example Aux or Opt. The "A" shown indicates that one Bluetooth device is connected. In this case, it was headphones.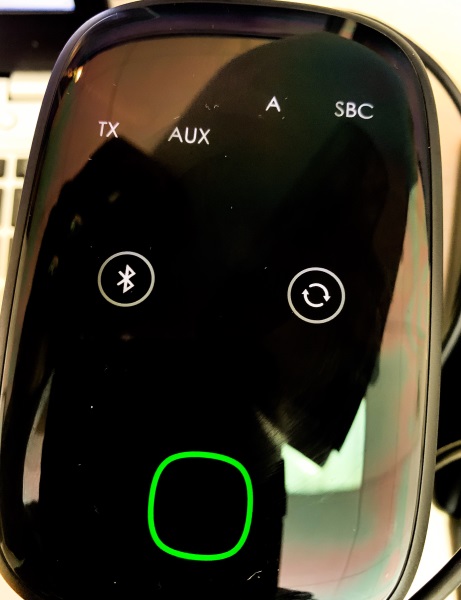 The photo below shows "A" and "B" indicating that I had 2 Bluetooth devices connected. In this case, it was headphones and earbuds. Oddly enough I forgot to change the connectivity selection to Aux, but it still worked in OPT mode with the auxiliary cable as the connection.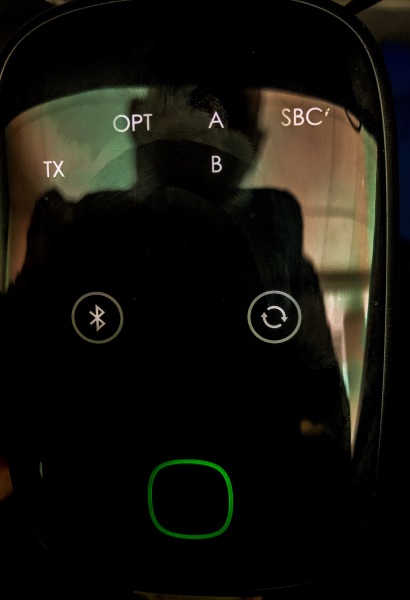 As shown in the picture below, the status indicator is white when it is in RX mode as opposed to green when it is in TX mode. The "A" indicates that I had one device connected which in this case was wired earphones, and I used the device in Receive mode to listen to music from my cell phone.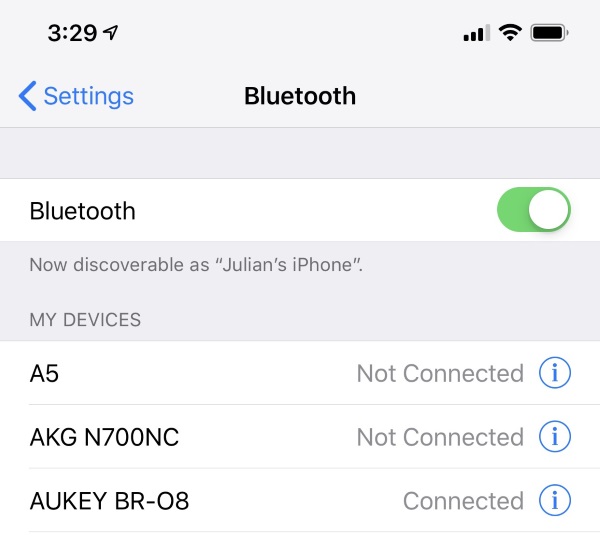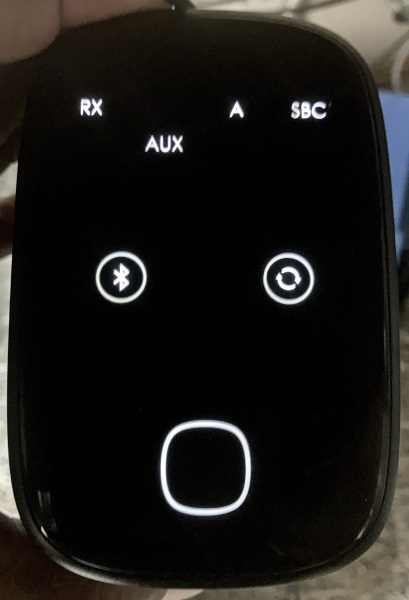 The following information confirms what you see in the pictures above with the indicator as green in Transmit mode and white in Receive mode. It also explains the visual indicators.



While testing this device, I became obsessed with trying to make it completely portable and I connected it to my USB power bank. It worked, but it seemed to draw too little power to be continuously recognized by the power bank and so the after less than a minute the power bank would turn off.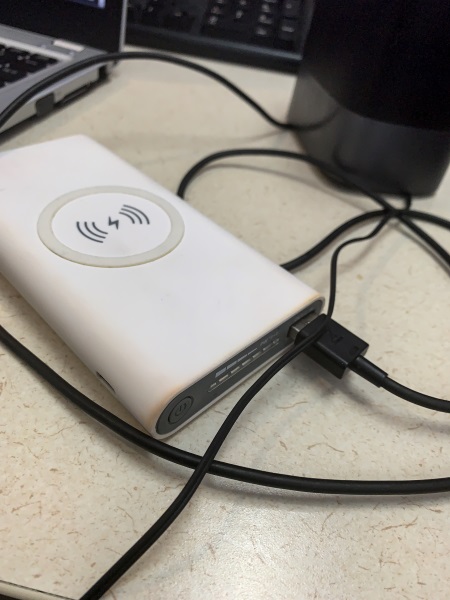 For additional information, you can read the manual by clicking here.
What I like
It is lightweight but not fragile
It is both a Transmitter and a Receiver
It can connect to two accessories simultaneously
The ease of pairing
What can be improved
The addition of a built-in battery so it is a stand-alone portable device
The touch control top is a fingerprint magnet
Final thoughts
This Aukey Bluetooth 5.0 Transmitter Receiver is a handy, compact and lightweight device that functions very well for what it is designed to do. I have no complaints except that since it is so lightweight, I can think of some scenarios I could use it for if it had a long-lasting built-in battery. Since it seems to need very little power, I would think that the addition of a battery would be doable even if it adds a bit of weight. Regardless, I am giving this device a two thumbs up and a well done!!
Price: $59.99
Where to buy: Amazon
Sample: The sample for this review was provided by Aukey.